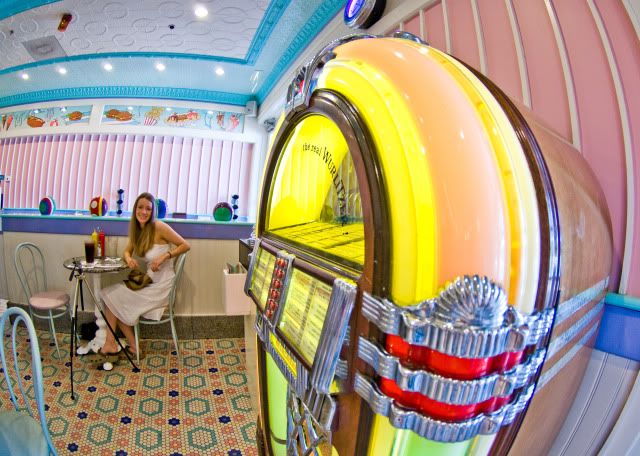 Beaches & Cream is an inexpensive table service restaurant themed as an old-fashioned soda shop at Walt Disney World's Beach Club Resort. It's a table service restaurant in that it has a menu with a number of basic entrees, most of which are delicious, but the real star of the show is the ice cream. Beaches & Cream's dessert menu is second to none at Walt Disney World, and the restaurant is famous for its behemoth Kitchen Sink dessert, which has been featured on the Travel Channel.
We've eaten at Beaches and Cream at mores than I can count. Sarah lobbies for a stop at Beaches & Cream on just about every trip we take, and it seems that we end up going there quite often. Never once have we had a bad meal or anything close to a poor experience. The food has always been great (much better than The Plaza Restaurant in the Magic Kingdom, which offers similar fare at similar prices) and the ice cream has always been phenomenal.
This review could be pretty short and sweet: go to Beaches & Cream. It's an excellent restaurant with a fun theme that doesn't require reservations, and the prices are reasonable by Walt Disney World standards. There should really be no question as to whether you should eat here, especially if you are not on the Disney Dining Plan (it's a poor use of credits on the Dining Plan).
One of our favorite visits to Beaches & Cream occurred during the "Weekend of Deliciousness," as we like to call it, on our "Disneymoon" (Disney Honeymoon) which included stops at Victoria & Albert's and California Grill. During that weekend with trips to some Walt Disney World dining heavyweights, Beaches & Cream was the sleeper hit. We figured we'd hit it prior to Cali Grill for a light meal and some ice cream. I had mentioned the Kitchen Sink to Sarah far in advance. I think she thought I was joking, or maybe she hoped I'd forget. Quite the contrary: I deeply ingrained it in my brain and fixated on it to the point that there was no way around getting the Kitchen Sink. Even if I had to eat it alone. I actually planned on only getting that and nothing else.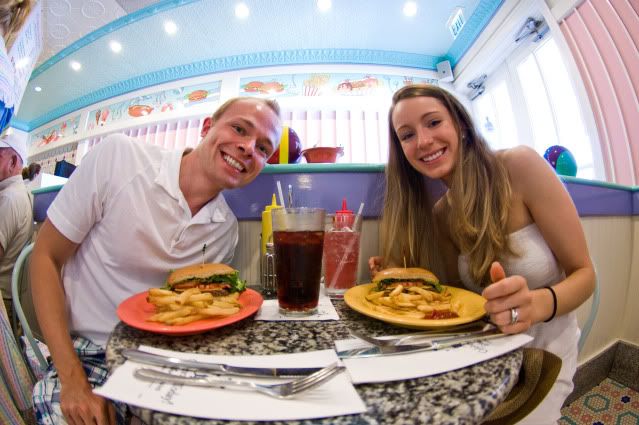 Upon getting ready and arriving at Beaches & Cream, I knew I couldn't get just ice cream. The burgers looked and smelled too good. We agreed to split a burger, which turned out to be a huge mistake. Those burgers are way too delicious to split! If anything, I'd recommend getting more than one. Seriously. The nice toasted and buttery bun, perfectly cooked meat makes for the best burger I've had on property. I think by getting me to agree to the burger, maybe Sarah was hoping that I'd lose my desire for the Kitchen Sink. Not so. We ordered it, somewhat to the surprise of our very courteous server, who didn't seem to believe two people like us could eat it.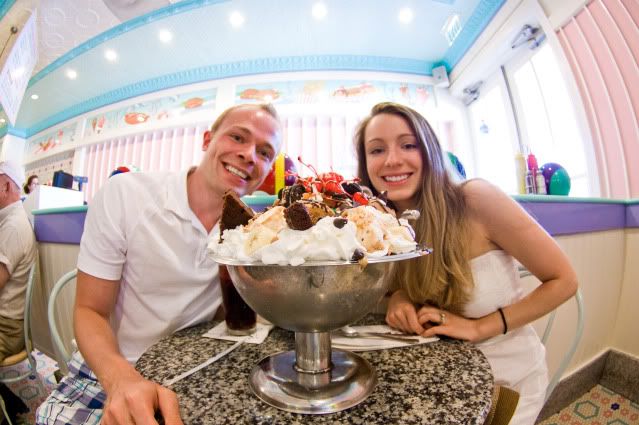 When the sirens went off, I knew our time had come to consume one of the greatest desserts known to man. Ladle of Chocolate Fudge, Ladle of Butterscotch, Ladle of Peanut butter, 2 Scoops Vanilla Ice Cream, 2 Scoops Chocolate Ice Cream, 2 Scoops Strawberry Ice Cream, 1 Scoop Coffee Ice Cream, 1 Scoop Mint Chocolate Chip Ice Cream, Pineapple Topping, Strawberry Topping, Entire Banana, Muffin, Entire Can of Whipped Cream, Large Brownie, Angel Food Cake, Entire Milky Way Bar, 4 Oreos, Every single type of sprinkle in the house, Chocolate Syrup, Marshmallow Topping, and topped with a handful of Maraschino Cherries. Oh yeah baby, we were going home full!
As the evidence in the above video should clearly indicate, I contributed a lot more to our Kitchen Sink consumption effort than did Sarah. Not to diminish what she did, as we both ate a lot—way too much, actually. Although we weren't given any sort of medallions for conquering the epic dessert, we were champions in our own minds. The crowd (in our heads) cheered as we left the restaurant.
For us, with its odd assortment and hodgepodge nature, the Kitchen Sink is a 'one and done' dessert. It's cooler in principle than it is in practice; eating it was a really cool experience, but I've had better desserts there.
Sorry about the photo of the carnage!
We had been to Beaches & Cream before that visit, and we've been several times since. Although we (wisely) haven't done the Kitchen Sink again, we have tried numerous other desserts on the menu, and a couple other entrees besides the burger. The burger remains my favorite menu item, and is superior to even more expensive burgers at Walt Disney World. The No Way Jose is probably my favorite dessert, although nothing beats a Kitchen Sink for "fun factor." If you're a family of 4 or so with small kids, the experience of getting the Kitchen Sink is something you cannot pass up (in fact, it made our list of the Top 101 Tips for Walt Disney World!). Your kids will remember the spectacle for years, and even if you don't eat it all, it will be a great memory that is well worth the price.
In keeping with its relaxed atmosphere, reservations are not accepted at Beaches and Cream, which can be disappointing for rabid ADR-makers, but is a nice change of pace for those lounging around Stormalong Bay who decide to 'shirt up' and head down the block for some cool treats.  However, if you have kids, I'd highly recommend it as it is one of those 'uniquely Disney' experiences that is worth doing once.
Overall, Beaches and Cream is a quaint (as far as Disney goes) little restaurant located in the Beach Club Resort.  The food is exceptional and reasonably priced, the theming is excellent, with the whole place looking like it's an old fashioned soda fountain or ice cream shop (it's the kind of place the Father in Carousel of Progress would "meet the boys for a cold sarsaparilla"). Its charming appearance with pastel colors definitely fits well in the motif of the Beach Club.   The jukebox provides a nice assortment of songs that can be selected to really add to the ambiance.  The menu is reasonably priced, the atmosphere laid back, and the food and ice cream are delicious. You cannot go wrong with Beaches & Cream. Pencil it into your plans now. 
Your Thoughts…
Do you think Beaches & Cream lives up to the hype? Is it a "Must Do" for you, and if so, which dessert is your favorite? Planning on going? Share your thoughts in the comments!
Read our other Walt Disney World restaurant reviews and Walt Disney World Trip Planning resources. 
Overall Score: 10/10