Biergarten is a buffet restaurant in Epcot's World Showcase Germany at Walt Disney World that is set in the middle of a Bavarian Village celebrating Oktoberfest year round. Biergarten serves authentic German cuisine for lunch and dinner. At the center of the village is a stage where costumed musicians perform traditional Oktoberfest entertainment and where guests can get up and fun fun on the dance floor. Biergarten is a 1-credit restaurant on the Disney Dining Plan, and also accepts Tables in Wonderland. As a buffet, it's priced slightly below average for a table service restaurant, making it a good option if you're paying out of pocket, but a poor option for maximizing your value on the Disney Dining Plan.
Biergarten is an interesting restaurant. The exterior is somewhat understated, with only the painted name of the restaurant above a small archway at the back of Epcot's Germany pavilion. However, once you step inside, you're inundated by the sounds of the traditional oompah music, other entertainment, and a Bavarian Village setting (outside, no less!). The seating is communal, which may not appeal to all patrons, but was fine by us. The other guests at our table chatted with us throughout the meal and we had a good time. If you're looking for a romantic meal or are shy, this may not be the best dining option for you.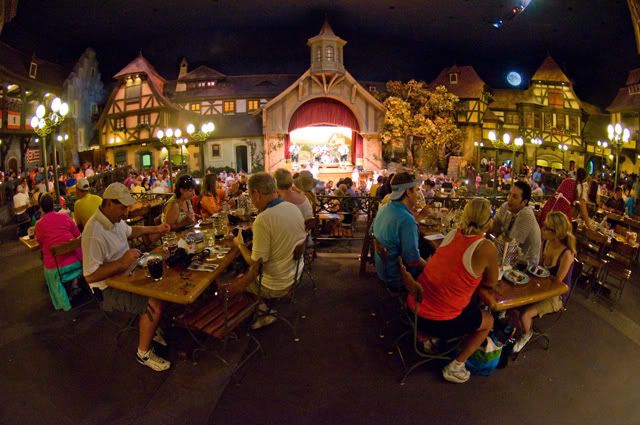 At the start of our meal (ironically on one of the first days of our honeymoon!), little did I realize that Sarah was already husband-shopping, and that the family style seating would give her the perfect opportunity to find her prey. I guess I should have seen it coming. I am only in my twenties and have most of my hair. Clearly, not what most people look for in a man. The gentleman across the table from us, with his wife, mind you, was easily in his late 60s, and looked much like Santa Claus with shorter hair. I know how Sarah loves Christmas, so this should have come as no surprise to me.
While I innocuously went to get my second helping of German meats I can't pronounce (besides bologna!), Sarah made her move. Over a microphone, one of the CMs began to congratulate Sarah and me on just having gotten married. Naturally, I assumed this was an elaborate ploy by Sarah to secure the man's affection, as the CM drew attention to Santa and Sarah, as if they were the two who had just gotten married. Okay, maybe this isn't quite how Sarah "plotted" the event. Truth be told, she was a little embarrassed about the announcement, as she said a lot of people looked over at our table oddly. Were I in their position, I would have done the same thing. Later we both got a pretty good laugh out of it, but I can imagine that it was fairly embarrassing for her at the moment!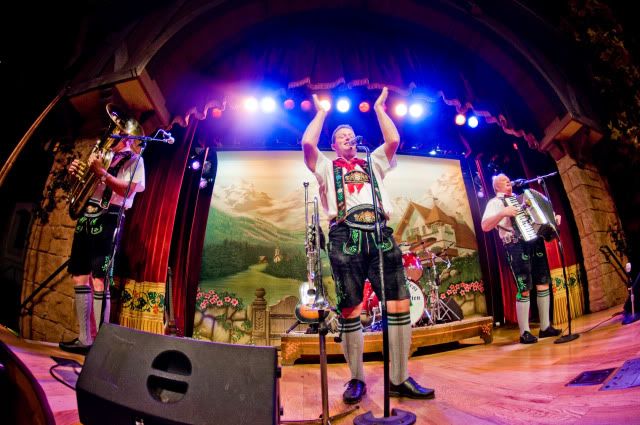 Now that I've shared this story that probably adds nothing to the substance of the review (I thought it was amusing, at least), I'll cut to the chase. The ambiance was good, the entertainment was great, and we even had a great time dancing together after a couple plates of food.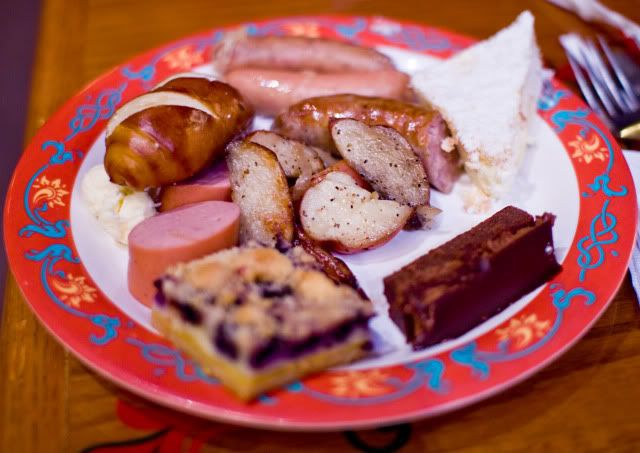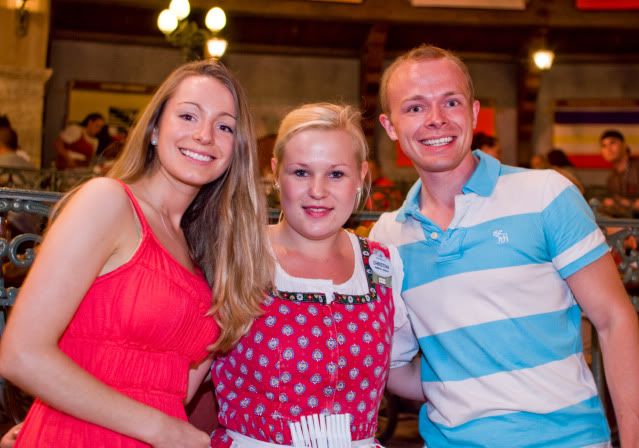 As for Biergarten's food, it was pretty decent but nothing exceptional. The first round of food we had was on the lukewarm side, with the second round being considerably warmer. My usual theory with buffets is that you can get unlimited amounts of decent food versus a decent amount of good food at a 'normal' restaurant. It all depends on how hungry you are, and I'm sure buffet quality varies widely based upon when you go. Such is the hit or miss nature of these restaurants. This was a somewhat unique buffet in that it contained foods I typically wouldn't expect from a buffet, but none of them were really exceptional or overly unique (it's far from adventurous). Although I can't say either of us really ate that much the evening we visited Biergarten, we enjoyed the experience.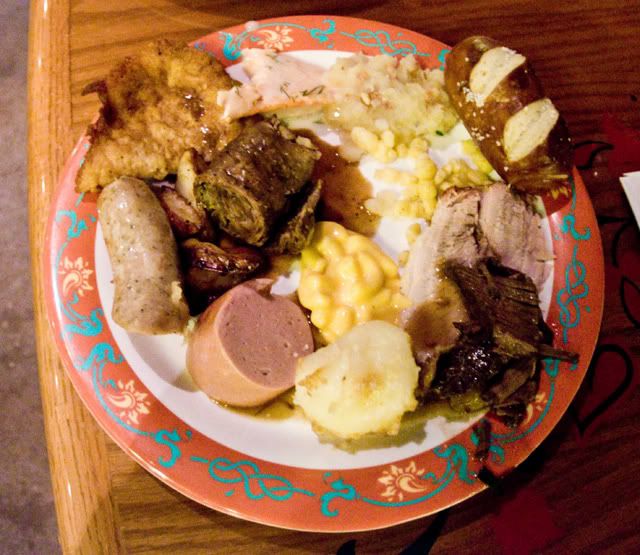 Overall, I would recommend Biergarten, but would qualify that by stating that it's not for everyone, nor does it have the best food in Epcot's World Showcase. Like I said at the outset, it probably isn't the ideal honeymoon restaurant as you're seated with other parties, so I would not recommend it to anyone looking for a romantic evening. Its ambiance and "fun level" really help its score here, though. I've heard the best time to visit Biergarten is during the Christmas season, when it becomes much more festive. The next time we dine there, that's probably when we'll go, but as of right now it's not extremely high on our list of priorities.
Your Thoughts…
If you've been to Biergarten, did you like it? Do you think it's a great option for dining in the World Showcase, or do you think the food falls a little short? Planning on going? Share your thoughts in the comments!
Read our other Walt Disney World restaurant reviews and Disney Dining Plan resources. 
Overall Score: 7/10