California Grill is a Walt Disney World Signature Restaurant located in Disney's Contemporary Resort. The restaurant features classic cuisine with a California fusion twist that makes for an experience that is simultaneously conventional, but also a bit adventurous. Thanks to this balance, California Grill is a Disney restaurant that will appeal to just about anyone–even picky eaters. Since it is a Signature Restaurant, it will cost you two credits on the Disney Dining Plan.
California Grill reopened from an extensive "re-imagining" in September 2013, with entirely new decor and a re-invented menu. Early reports from guests who have dined at the new-look California Grill have been resoundingly positive. Although we haven't had a chance to dine at California Grill since it reopened in September 2013, if photos and first-hand reports are to be believed, California Grill is about to become even more popular. While not all initial reviews have been glowing, many have. We've eaten there numerous times over the years, but the new menu and design actually looks significantly better than before. We can't yet offer our opinion on the restaurant, but if you're planning a Walt Disney World trip for late 2013 or 2014, you should seriously consider making Advance Dining Reservations at California Grill.
For an idea of how nice California Grill was before the refurbishment, here's a look at some of our experiences, and reviews of its menu (some of these items are still on the new California Grill menu.) California Grill will always be a special place for Sarah and I. Almost oddly so. It may seem silly and meaningless to most others, but it our first trip there in 2007 was quite special. That trip was our second to Walt Disney World together, and our first trip that Disney was a "serious" deal for us. While we had gone the previous Summer, that was a weekend jaunt, and while it sparked our mutual love of Disney (a love that had lied dormant since both of our childhoods), the 2007 trip is the one for which we really planned. We made Advance Dining Reservations, purchased the Disney Dining Plan, booked at stay at Saratoga Springs Resort–heck, I even logged roughly 2,000 posts on WDWMagic.com's forums between 2006 and 2007 trying to plan everything perfectly!
This dinner at California Grill in 2007 was on the first night of our trip. Prior to the trip, we had purchased 10 day No Expiration Park Hopper with Water Park Fun & More Option with the intent of using these tickets over the course of several trips. Not wanting to waste a day of the ticket on a half day, we decided a lavish meal at the California Grill would be a good way to start the trip. Sort of like the Opening Ceremony for the Olympics (and the next week would prove to be an endurance test of Olympic proportions, to be sure!), if you will.
When researching California Grill, the menu, both prices and fare, seemed indicative of a high end establishment. When we were informed that there was a dress code when making our reservations, this solidified that belief. While the dress code was somewhat relaxed, we assumed it was still custom to dress nicely, and not knowing what to expect, we erred on the side of dressing how we would expect to have to dress for similar restaurants in our area (it's better to be the best dressed person in the room than the most under-dressed, after all).
Our assumption was widely off the mark, and we were considerably overdressed. However, I'm glad we did it. It added to the experience, and definitely made the meal more special. Finally getting around to my original point with how it's a special place for us, it was also special because, in addition to that, it was our first encounter with an exemplary Cast Member.
This trip was back during the Dining Plan's infancy, when tip and appetizer was still included on the plan. (Those were the days!) We did not know we were supposed to tell our server we were on the plan prior to the meal, and it turned out that two of the sushi plates we ordered were not covered on the DDP. He told us that normally we would be charged for them, but he overrode that on the computer. We had told him we had just arrived at the start of the meal, so I think he understood we hadn't any experience with the DDP. He kindly told us that in the future, we may want to let the server know we're on the DDP ahead of time, so they can inform us of any items not included on the plan. To this day, that encounter is ingrained in my brain.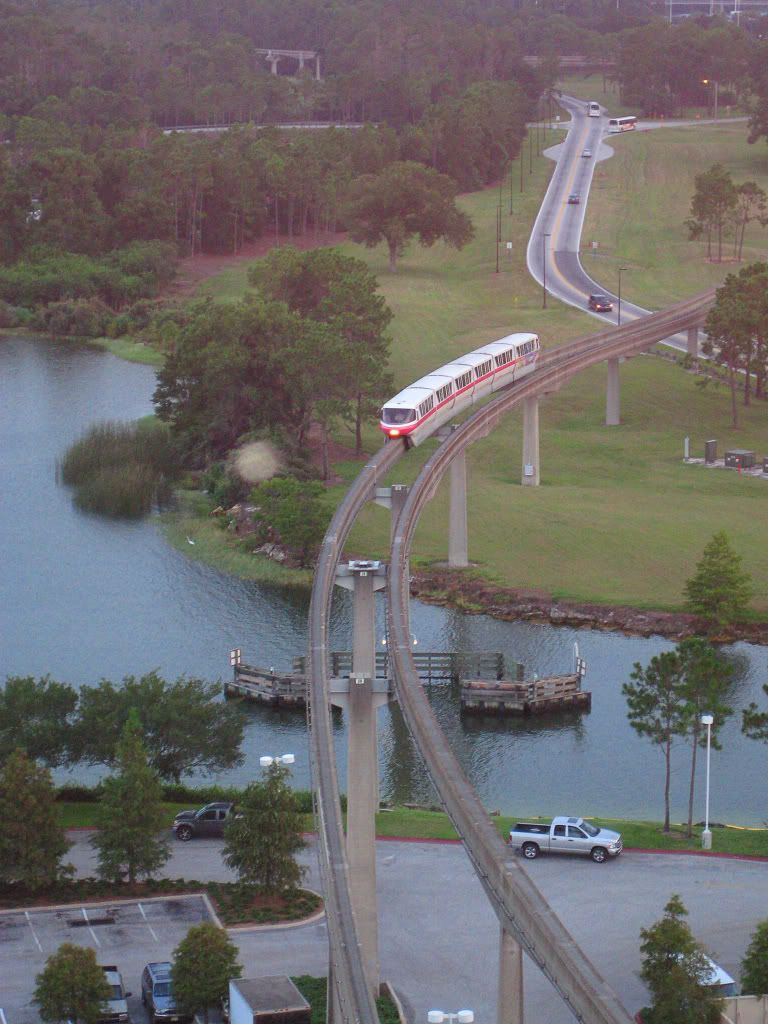 Following the dinner, I distinctly remember boarding the monorail for a nighttime spin around the monorail loop. On our 2006 trip, we did not ride the monorail, so this was the first trip since my childhood, and it brought back some wonderful memories. Although not specifically part of that first meal at California Grill, it is inextricably associated with the meal, in my mind.
Anyway, I've rambled on long enough–my apologies–I'll cut to the chase with the California Grill review.
If you're going to California Grill, even if you're on the Disney Dining Plan, you'd be remiss to not try the sushi or a flatbread. Their sushi is some of the best I've had anywhere, with the "Snake in the Grass" and Yoshie's Deluxe Sushi Platter being my two personal favorites. Next time we go, I plan on trying the Spicy Kazan Roll as that also sounds quite delicious. As far as the flatbreads go, the BBQ Chicken and Triple Cheese flatbreads are both excellent. I would imagine the others are similarly delicious.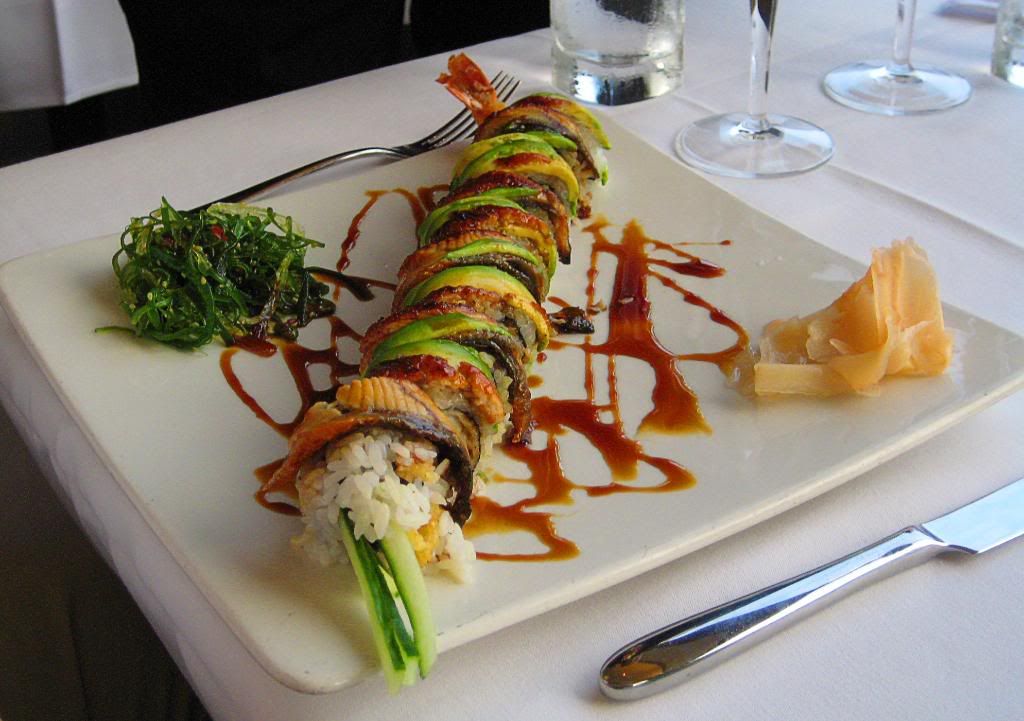 As we've always ordered sushi or a flatbread, neither Sarah nor I have ever tried any of the items on the first course menu. Since most people reading this will probably be paying for these items out-of-pocket, I just can't quite see the value-for-money in these items, so I can't recommend them to cash paying customers. If you're not paying cash, I can't recommend them, either, as the sushi is better bang for buck for those on the Deluxe Disney Dining Plan. So I suppose my advice here is to avoid this portion of the menu.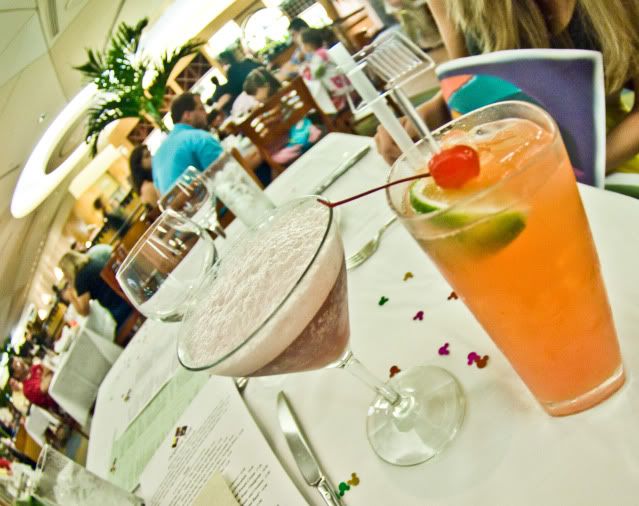 The main courses are delicious, albeit overpriced. These plates seem to change regularly, but of the items presently on the menu, without question our favorite right now is the Oak-fired Filet of Beef. The beef is tender and incredibly flavorful, and the accompanying mashed potatoes are the perfect compliment to the meat. We have generally found the seafood at Cali Grill to be of lesser quality than the other meats, but even still, the seafood is typically good. (I notice now that there is presently no salmon on the menu, which I really enjoyed in 2007.)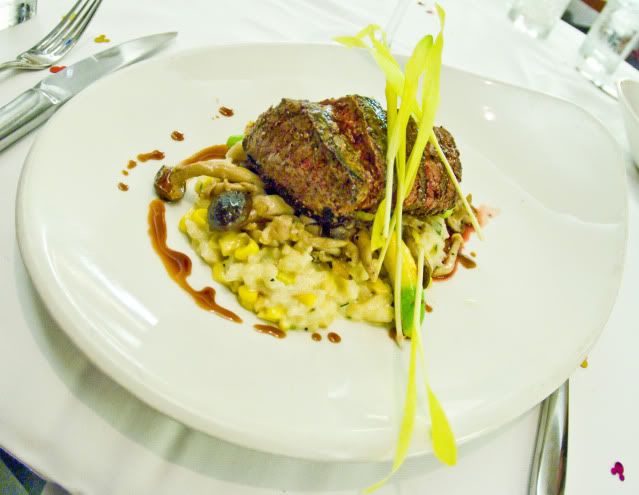 As its former name, Top of the World Restaurant, implies, California Grill has some great views. If you're there around sunset or Wishes! wait the extra time for a window seat. Actually, regardless of when you're there, wait for a window seat. At prices this high, you should get the full experience. My only disappointment is that, for such a nice restaurant, the dress code is so lax, and the place is so often filled with obnoxious small children. If your kids can't behave for a meal, take them to the Neverland Club at the Polynesian. If you can afford to eat a rather pricey meal, have the decency to dress appropriately for it. I realize it's a restaurant outside of a theme park, but it's a nice restaurant, nonetheless. I wish other guests would dress accordingly. (Sorry for the rant, which ostensibly has nothing to do with the review–although it's my belief that these things do damper the ambiance!)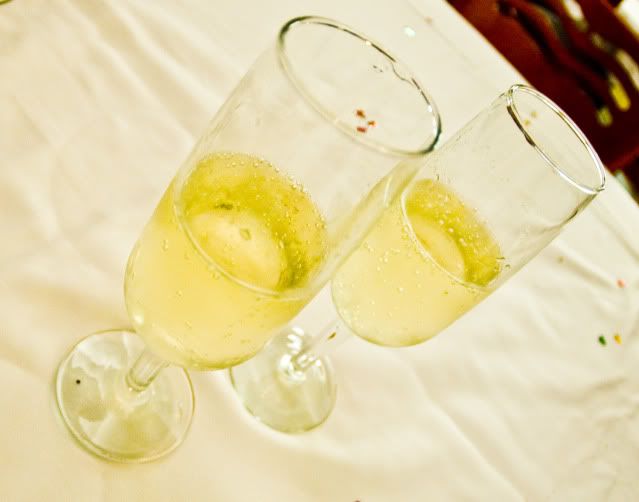 California Grill takes some heat in the online community for being a shadow of its former self. While I can't speak to this as we started dining there in 2007, if you examine the accolades lining the halls towards the restrooms (in the waiting area), it is apparent that there has been a somewhat precipitous drop-off in the recognition Cali Grill has received in recent years (that, or management is lazy about updating the walls).
California Grill is the most expensive restaurant on property besides Victoria & Albert's. If you get an appetizer, entree, and dessert, the price can easily exceed $70 per person. In fact, our most recent meal there, without alcoholic beverages, was roughly $75/person. By contrast, our meal at Victoria & Albert's was roughly $135/person. Yes, this is approximately a $60 difference, but California Grill does not even come close to comparing to Victoria & Albert's–and I'm not one of the people who thinks California Grill is incredibly overrated. This substantial disparity between Victoria & Albert's and California Grill makes it difficult for me to recommend Cali Grill. (If you're looking for table service top "value" picks, check out: The Wave at Disney's Contemporary Resort, Kona Cafe at the Poly, and Beaches & Cream at the (Yacht &) Beach Club Resort.) I do love the restaurant: its views and cuisine are great, even if the ambiance created by other diners is a little laid back for a restaurant of its price. However, I would much rather have one meal at Victoria & Albert's than two at Cali Grill.
Your Thoughts…
Are you a fan of California Grill? If so, is it for the food, for the ambiance and view, or for both? Are you excited to dine at the "new look" California Grill? Have your ADR for 2013 or 2014 yet? Share your thoughts in the comments!
Read our other Walt Disney World restaurant reviews and Walt Disney World Trip Planning resources. 
Overall Score: 8.5/10