One of the most popular events of the Christmas season at Walt Disney World is the Candlelight Processional at Epcot. Here is the Epcot Candlelight Processional 2012 schedule (subject to change without notice):
November 23 – 25: Geena Davis (Academy Award-winning actress and TV star)
November 26 – 29: Neil Patrick Harris (Emmy winner; Broadway star and TV host)
November. 30 – Dec. 1: Whoopi Goldberg (television host; actress and comedian)
December 02 – 4: Andy Garcia (actor and TV star)
December 05 – 7: Blair Underwood (actor and director)
December 08 – 10: James Denton (TV star)
December 11 – 13: Jodi Benson (singer and actress)
December 14 – 16: Lea Salonga (voice of Mulan)
December 17 – 19: Alfre Woodard (actress and TV star)
December 20 – 22: Trace Adkins (country music artist)
December 23 – 25: Gary Sinise (actor and musician)
December 26 – 28: Amy Grant (pop & gospel music artist)
December 29 – 30: Marlee Matlin (Academy Award-winning actress and TV star)
Tips
The parenthetical that the schedule is "subject to change without notice" is no joke. Celebrities will cancel if "something better" comes up, and it's not uncommon for multiple iterations of the schedule to be released as the date draws nearer. Make sure you monitor the schedule to make sure your chosen performer is still set for the date you're attending as your trip draws closer.
The standby line for most performances gets super long. Ridiculously long. So long that if you're a tourist or visiting on vacation, you should not even consider not getting a lunch or dinner package for the Candlelight Processional. These packages include a meal consisting of an appetizer, entree, dessert, and non-alcoholic beverage (or full buffet "experience," where applicable), reserved seating at the show and access to an exclusive fireworks viewing area. For what you get, the dining package is not that expensive, and your time on vacation is definitely worth the price. I know the three hours or so of waiting in line that we've saved by purchasing the dining package has been well worth it–to us at least!
The following are the locations participating in the dining package for the Candlelight Processional in 2012. Check out our dining reviews for reviews of the top restaurants on this list!

Biergarten – Germany (Our Pick for Value/Christmas Ambiance)
Chefs de France – France
Coral Reef- The Seas
Garden Grill – The Land
La Hacienda de San Angel - Mexico
Le Cellier Steakhouse - Canada
Nine Dragons Restaurant – China
Restaurant Marrakesh – Morocco
Rose and Crown – UK
San Angel Inn – Mexico
Teppan Edo and Tokyo Dining - Japan
Tutto Italia – Italy
Via Napoli – Italy (Our Pick for Value/Quality)
For prices and to book the 2012 Candlelight Processional Dining package you can call 407-WDW-DINE (407-939-3463).
Review
A lot of people absolutely love the Candlelight Processional. We like it quite a bit, but we aren't absolutely gung-ho, call Disney Dining the very first day the packages go on sale, crazy like some people. It's neat, but definitely not the highlight of our trip. It's beautifully done, but at some points it seems overly stuffy. I suppose I would much rather hear the recital of some Christmas Carols by the choir with the celebrity enthusiastically telling some other Christmas story. As it is, it's very solemn and proper. It just doesn't seem animated or lively enough for me, but that's just my personal preference, I suppose.
We likely will not go in 2012, as we saw Neil Patrick Harris in 2011, who we think is about the coolest person ever, and the hosts this year when we'll be in town don't stack up to him. In 2008, we booked the package the package, but it was mostly to see John O'Hurley, or J. Petermann, as fellow Seinfeld fans may know him. In 2010, we went to see Whoopi Goldberg, because seating was included with our D23 Magic & Merriment event package. Whoopi Goldberg was okay, but on the "cool scale" she just doesn't stack up to NPH or J. Petermann!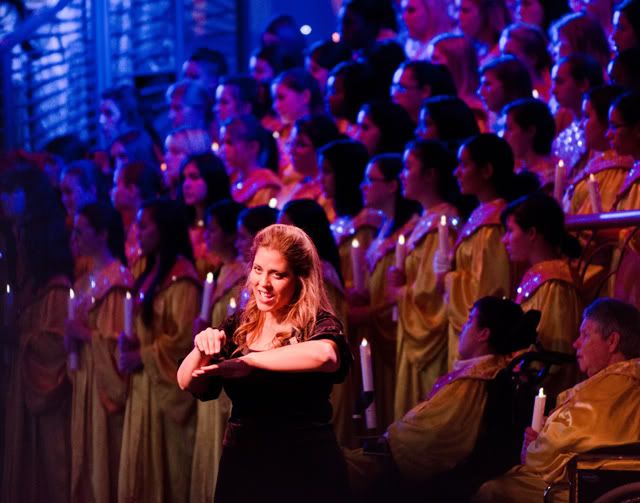 For comprehensive tips for planning your Christmas-time trip to Walt Disney World, check out our "Ultimate Guide to Christmas at Walt Disney World."
Are you a fan of Candlelight Processional? Do you usually book the dining package or wait in line? Share your thoughts in the comments!