Coral Reef is a seafood restaurant in Epcot at Walt Disney World; the restaurant is located in The Seas pavilion and features a stunning view into the large aquarium. Although Coral Reef is primarily a seafood restaurant, it has options for everyone for both lunch and dinner. Coral Reef is a 1-credit restaurant on the Disney Dining Plan, and also accepts Tables in Wonderland. Coral Reef is one of the more expensive non-signature table service restaurants at Walt Disney World, making it a bad option if you're paying out of pocket, but a good option for maximizing your value on the Disney Dining Plan.
We've dined at Coral Reef a few times, with this review featuring photos from our most recent visit to Coral Reef. It was our first visit in 4 years, and it took us so long to return because the food we had there the first time was somewhat underwhelming (except the dessert, which was amazing on our previous trip). We had low expectations this time, and really only booked it because of the ambiance.
Ironically, the ambiance was definitely better the previous trip because we were able to get a seat right next to the tank (and due to a slight "issue" I had with catching a bus from Hollywood Studios to Old Key West–to make a long story short, I caught a bus from Boardwalk, where we were staying, to DHS so that I could catch another bus to Old Key West Resort to pick up our room keys that contained our Dining Plan credits–as it took over an hour for the bus at DHS to pick me up and by that time our ADR time had long passed as had our shot at a tank table). If you have reservations for Coral Reef, we highly recommend waiting the extra 20 minutes or so that it typically takes to be seated at a tank table.
That said, on the plus side, the food was considerably better this time. It was actually very good, unexpectedly good, resoundingly good. As you might have gathered from the superlatives, this was not something either of us were expecting. While we both really enjoy seafood, it can be easy to poorly prepare, and many times even well-prepared seafood is just so-so. Not the case here, and I would compare our meal to some of the better seafood dishes we've had at top-tier real world seafood restaurants. At the time, we would have said that Coral Reef leap-frogged Flying Fish as the top Disney seafood restaurant, but a subsequent meal at Flying Fish in May 2011 reaffirmed it as the top dog in its category.
One of the fun things about sitting at a tank table, especially if you have small children or wildlife enthusiasts, is that the restaurant will provide you with a fish guide describing and picturing various creatures living in the tank. This can lead to hours of fun for your 8 year old…or your "Tom."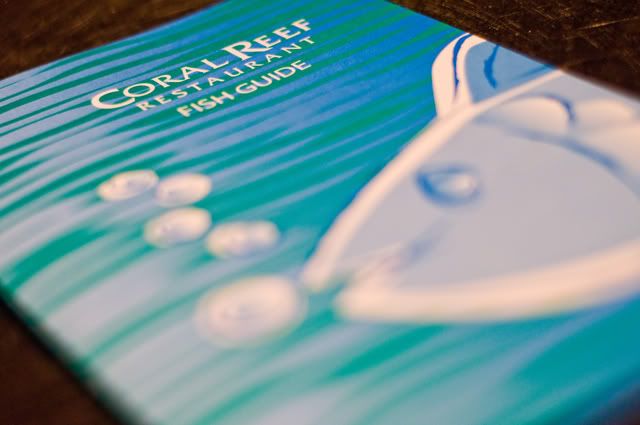 We dined at Coral Reef for lunch (even well in advance, it was extremely difficult to secure dinner reservations for a day we wanted), and many options on the lunch menu were enticing. Despite this, we both ordered the Grilled Mahi Mahi. In the future, we need to plan these things better so that we can sample some of each others' dishes and try multiple dishes. It just sounded so good, though!
And good, it was. The creamy, coconut-lime sauce was the perfect compliment to the grilled mahi mahi (which is right up there as one of my favorite fish, anyway), which had a wonderful texture and flavor thanks to its preparation. Even the rice, something I normally view as a sort of filler, tasted fairly good. Don't even get me started on the rock shrimp; I'm salivating at my desk as I think back to their crisp crunch and perfect taste. It's not often that Disney prepares shrimp this well. They're usually either soggy and cold or rubbery and cold. These were perfect. I don't think the cilantro really added a whole lot to the dish besides being a nice garnishing touch.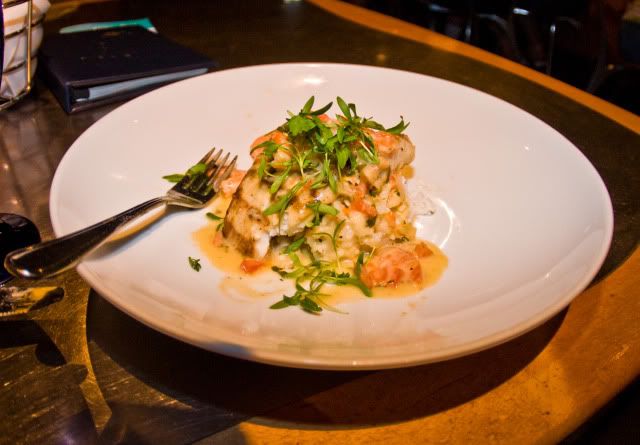 The Chocolate Wave was, of course, delicious, too.  Again, we both ordered this, but after such a great experience with it our last time at Coral Reef, this should be no surprise. It doesn't really look like anything special in the photo here, and honestly, I remember the preparation being a lot more impressive on our last trip, but it was still quite decadent. Certainly something you should consider ordering, but from what I understand, most desserts at Coral Reef are actually pretty good.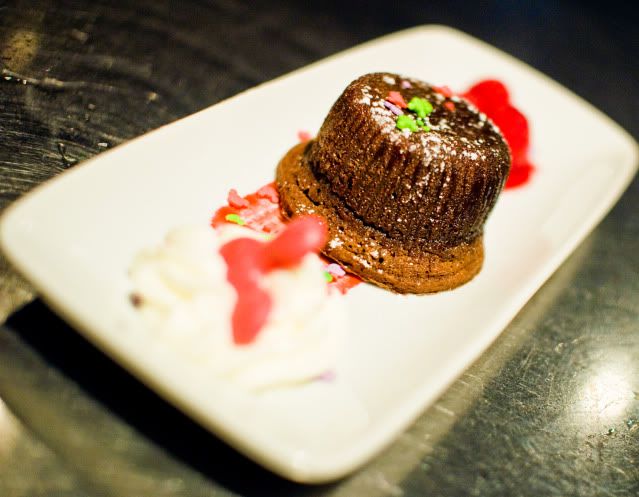 Our server was inattentive, but it appeared that she was serving a lot of tables. I wouldn't be surprised if they were short-staffed that day, so I don't blame her. I would rather give people the benefit of the doubt in these situations. Still, I expect attentive service (regardless of who is at "fault") when dining out, so it was still disappointing, although it certainly could have been a fluke, and nothing on which you should base your decision.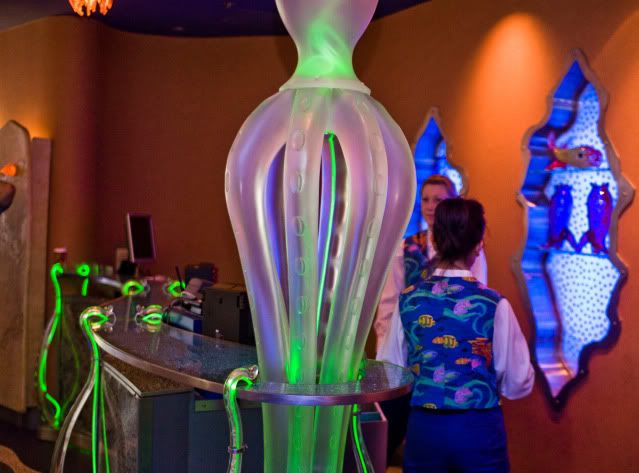 Overall, Coral Reef treated us very well, and was a real surprise. It should be noted, if you're on the dining plan, that Coral Reef is one of the absolute-best values at any of the parks and resorts (based upon the average cost of a single entree). For this same reason, if you're not on the dining plan, Coral Reef can be a bit pricey (it's not California Grill or Flying Fish expensive, but some entrees exceed $30), and may not be such a good value. I've also heard that the food is a bit hit-or-miss, and our own experiences corroborate this. Knowing exactly how much of a hit it can be has me optimistic for the future, and we've decided that if we ever get another subpar entree at Coral Reef, we'll likely send it back. After all, the restaurant has demonstrated that it's capable of preparing amazing dishes, and with the prices it's charging, patrons certainly shouldn't accept anything less than an exceptional meal. I am confident that Coral Reef will deliver well on most guests' expectations. Coral Reef is currently one of our favorite dining options at Epcot and we look forward to returning here soon, but it does lose a point for its noted inconsistencies.
Your Thoughts…
If you've been to Coral Reef, did you have a poor or great meal (or somewhere in between)? Do you think it stacks up to the highly praised options in Epcot's World Showcase, or would you rather dine at one of those restaurants? Planning on going to Coral Reef? Share your thoughts in the comments!
Read our other Walt Disney World restaurant reviews and Disney Dining Plan resources. 
Overall Score: 8/10