After questions about photography, the top questions we receive in response to our trip reports are where Sarah gets her "cute clothing" that she wears to Walt Disney World and Disneyland. She shops at a variety of stores (broken down by category further down the page), but first, a little on her general approach to shopping for clothes to wear to the Disney theme parks.
As is indicated by the title, this covers just clothing. For creative recommendations on other thing to pack for your trip, visit our "What to Pack for Disney" page.
What to Wear?
Sarah prefers to wear dresses, comfortable sandals, and hats to the Disney theme parks. This is because the parks are typically hot and involve a lot of activity in the sun. Dresses can make getting into and out of low-sitting attractions a little more difficult, but they are so much cooler, especially when you have long hair. These dresses are typically sundresses that are better suited to wearing to the parks, rather than expensive ball gowns or evening wear.
These work well with her general philosophy of finding a good balance between clothing that will look nice and is "utilitarian" for the purpose of visiting the parks (that means no heels or other clothing likely to slow her down or make her uncomfortable!) The dresses Sarah purchases are typically inexpensive (relative to dresses), which is mainly due to her knowing where to shop.
Sarah also likes to infuse little "touches of Disney" in her park attire. Rather than wearing Disney t-shirts or other over-the-top tourist wear, she likes to keep it low-key. She has a few necklaces and a Mickey Mouse watch (all of which she got from Macy's a couple of years ago when they had a Disney line), and also has a few baseball hats from the parks that she wears when she's not wearing her "big floppy hats." She likes to wear hats from one coast on the other coast for "street cred" (her words). For outfits that are strongly inspired by Disney, but don't scream Disney, check out the incredibly awesome Disneybound Tumblr.
She also carries the LeSportsac 'it's a small world' bags, which feature the classic Mary Blair art in striking designs that only say "Disney" to those who are familiar with the art. Sarah carries the "Small Cleo" bag, which is large enough for a poncho, camera, sunscreen, and various other things she carries to the park. The upside to these bags, unlike the popular Dooney & Bourke bags, is that they are durable and suited for the wear and tear of park activity, rather than a night out. They're also significantly cheaper! (Disclosure: Sarah was provided with a selection of these bags to carry to the parks by LeSportsac.)
Sample Sales
These are discounted invite-only sites that sell nice clothing that's usually past-season or overstock (although not always) that sell limited inventory through short few-day long sales. They are all legitimate and authorized retailers. We shop these sites more than anywhere else, and have saved a lot of money buying through these sites rather than the mall or other e-tailers. Some items here are really expensive, so don't get turned off from these sites if you can't find anything reasonably priced at first.
Here are our favorites ranked in descending order:
#1 – Gilt Groupe – easily our favorite of the bunch, Gilt is the most popular sample sale site online, and one of the few sites on the list that Tom buys clothing from.
#2 – Ideeli – this site has great women's clothing and accessories (I bought a nice Cuisinart food processor here, too!). It doesn't have a well-rounded men's department, though.
#3 – Rue La La – Rue La La is probably the most steadily improving site. By the time you read this, it might even be #2. Great prices, selection, and not too redundant. High shipping prices, though.
#4 – HauteLook – HauteLook has some great items, but it can be hit or miss. Sometimes, I'll see two sales in one day that I really like. Then, it can go weeks without a good sale.
#5 – Beyond the Rack – BTR is also hit or miss. They seem to sell a lot of risque products and gaudy items. Every once in a while they have great items at great prices, though.
Online Shopping
Although sizing can be difficult without actually seeing the clothing in person, online shopping is generally so much cheaper, that it makes the slight hassle worthwhile. Plus, free shipping from most stores (we love our Amazon Prime account) and free return shipping a lot of places really makes it easier. Certainly beats spending money on gas to drive all over town!
Here are some of Sarah's favorite stores:
Amazon's Discounted Dress Shop
 – Amazon has great prices on dresses in their dress shop! Sarah recently picked up two great dresses from Amazon.com. Check this page daily for new deals. It's definitely a new favorite!
Macys.com – Their sale selection online from time-to-time has some really good deals.
BlueFly.com – BlueFly can be a great site, or it can be overpriced. Sometimes the prices aren't as good as Amazon's dress shop (some of the same items can be found in both locations), but they get a lot of things that aren't sold anywhere else.
SlickDeals.net and Fatwallet.com – These aren't stores, but they are great places to find amazing deals on clothes. A lot of people are familiar with the front pages of each of these sites, but where these sites are really useful is in their forums. If these sites seem overwhelming at first, register and set up "Deal Alerts" so you receive emails whenever someone posts a new deal on your favorite brands!
In-Store Shopping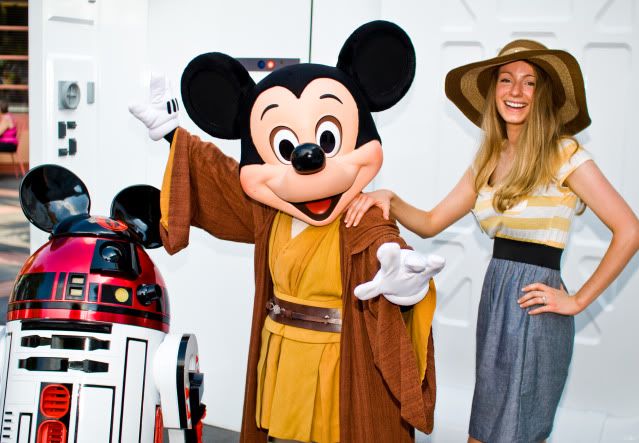 Von Maur – they have a website, but it really stinks and doesn't have that great of functionality. If you are lucky enough to have a Von Maur near you, shop there! It can be expensive, but they have some great sales if you look closely. Plus, they have a 14 day price-match policy.
TJ Maxx/Marshall's – this is pointing out the obvious, but these stores are great. It's important to get to these places when they first get shipments as they get picked over quickly.
Sak's Off 5th/Nordstrom's Rack – they finally opened a Nordstrom's Rack in Indy, which is great! These stores are more expensive than TJ Maxx and Marshall's, but you can find better things here. Sign up for their emails in the store to receive awesome coupons (sometimes 40% off!).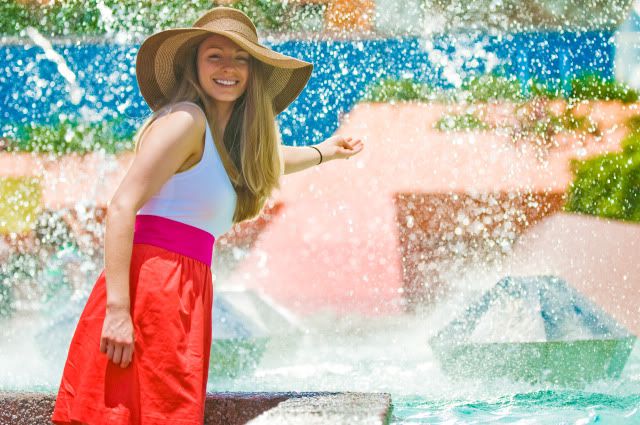 Express – obviously Express has an online store, but avoid buying from them online unless there is an online-only special. Too many things they have look cheap, and it's hard to tell how it really looks online. There also are some sizing issues. Just go to the store.
J.Crew – J.Crew makes wonderful sun dresses, but sometimes the sizing is inconsistent. Watch their sale racks, as they often have deep discounts on past-season clothes. Plus, if you're a student (or have a University ID) you get an extra 10% off in-store!
Hope this helps plan the perfect outfits for Disney!
Planning a Walt Disney World trip? Read our other Walt Disney World restaurant reviews and Walt Disney World Trip Planning resources. 
Your Thoughts
Hopefully this helps you assemble a gorgeous and comfortable wardrobe for traveling to Disneyland or Walt Disney World at affordable prices. If you have your own tips on places to shop while not breaking the bank or on what to wear, please share in the comments. If you have any questions, leave them there, too!