When I was young, my parents and I used to stay at Fort Wilderness in our camper. However, I hadn't stayed there in roughly 15 years. The few memories prior to this trip that I could recall from Fort Wilderness are good ones. I remember getting a Dale (dressed in his Chip 'N' Dale Hawaiian shirt) plush on one of our first trips there at the Outpost, and I remember going to the Hoop De Doo Revue a couple of times, but that's about it.
When Sarah and I first stayed at Fort Wilderness, we didn't  book it because of this, but rather, for lack of a better option. By the time we went to book a room, none of the Value Resorts had discounted rooms, and for only $20 more per night, we could do a Fort Wilderness Cabin. Why not, we thought? My biggest concern initially was the internal bus routes at Fort Wilderness, as we have heard that they can make getting to and from the Parks a pain.
Some of those fears were alleviated the weekend before our trip after doing some more research online and finding a Fort Wilderness oriented forum. After spending a couple hours combing through its pages, I became very excited about staying at Fort Wilderness.
We wouldn't have too much time to enjoy Fort Wilderness, as it was a short weekend trip with late park hours, but I wanted to make sure to at least do some exploring of the Walt Disney World resort at which I had stayed so many times as a child.
After we checked in, we waited for a van to take us to our room. It took the van about 15 minutes to pick us up, and my mind began thinking, "so it begins" with the Fort Wilderness transportation system (as if the general Walt Disney World transportation system isn't bad enough!). The van finally picked us up, we got into the room where I snapped some quick pictures of the inside of the room.
The inside of the cabin was nothing short of gorgeous. Like a Deluxe Villa perfectly set inside of a log cabin, our cabin didn't disappoint. It was perfect both in a thematic sense and in a space and amenities sense. The main living area, in addition to the coffee table pictured, had a pull-down double bed. I really liked all of the paintings in the living room—the old Fort Wilderness train was definitely my favorite. It was a nice nod to the history of the resort.
The bedroom had a double bed and a bunk bed. The bunk beds were probably of such a size that they were only suitable for small children. The cabins sleep 6 plus infants in a crib, but sleeping 6 adults comfortably would be quite a feat. Uncomfortably, you could probably sleep 8 people in one of these bad boys!
The kitchen is definitely reminiscent of what you'd find in a one bedroom villa, with a refrigerator, stove, microwave, dishwasher, toaster, and dishware. Since they're giving you the ability to cook, they give you a place to eat the food, with a rustic dining room table with seating for six. If you'd rather eat outside, the patio deck has a picnic table and charcoal grill.
While we didn't stay at a campsite, I've heard they're par for the course. In addition to the rooms, the entertainment offerings at Fort Wilderness are robust, with shows like Hoop-Dee-Doo Musical Revue, the petting zoo at the Tri-Circle-D ranch, and the Settlement Trading Post, which sells is your typical gift shop/grocery location. If you're looking to rent a recreational "device," the Meadows Recreation Area has a bike barn and the Fort Wilderness waterways and bicycle trails. You can also swim, and play tennis or volleyball at the complex. Fort Wilderness also contains one of the hidden gems of Walt Disney World: Trail's End Restaurant. This is an all-you-cant eat (although it has tested an a la carte menu at times) cafeteria found in Pioneer Hall.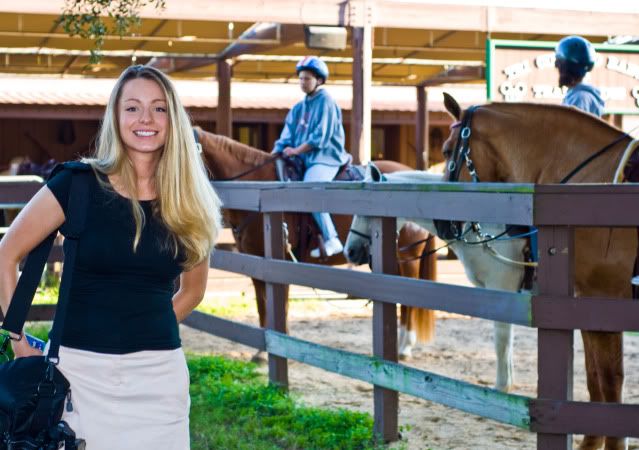 I had planned on requesting a room in the 2800 loop upon check-in so that we could walk to the Outpost Depot. However, doing Online Check-In precluded me from doing this, and we ended up in the 2500 loop, near the bus stop. The pictures of the inside of the cabin don't really do it justice. About the only thing missing from the room was a washing machine and dryer, but for our purposes, these weren't really necessary.
My fears were definitely unfounded with Fort Wilderness' transportation. We had excellent luck on catching buses at exactly the right minute, but even without that, I would score the transportation system well. The internal transportation system scared us at first, but it was really a non-issue. Obviously your mileage may vary on this–you may find yourself waiting constantly–but during our stay, buses were abundant and there was no issue quickly getting to any destination.
Likewise, the marina transportation was quick and enjoyable. The smaller boats that transported guests to the Contemporary and Magic Kingdom showed up promptly and provided an enjoyable and unique method of getting from Fort Wilderness to the Magic Kingdom.
I was up early one morning, so I figured I might as well get up and go take some sunrise shots of Fort Wilderness—I really wanted to explore the place anyway, and I was hoping maybe I could see some remnants of River Country, too.
The walk from our loop to the Marina was a nice one. It was cool seeing all of the decorations people had set out, and it was fun checking each trash can for the elusive "Musket Mickey" (I found one) and the even more rare "River Country" trashcans (didn't find one; I don't even know if there are still any around).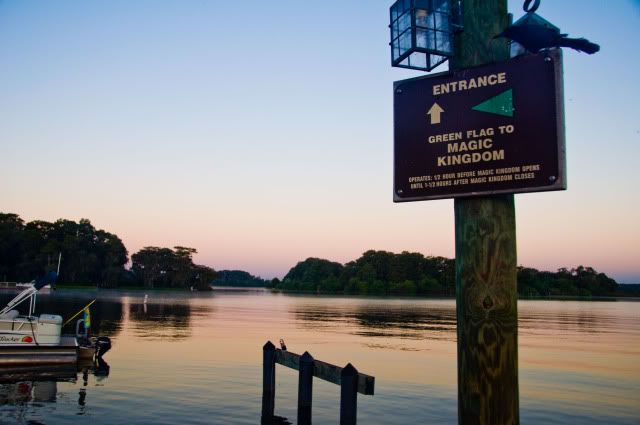 This early morning walk of the resort was a great experience, and really made me appreciate the place all the more. It's so tranquil and undeveloped, and in many ways, still retains a lot of the charm of old school Walt Disney World. It's almost as if the resort is "off the grid" and hasn't been victim to as many of the changes made by Team Disney Orlando that have sanitized and made some of the other original "Vacation Kingdom" resorts less endearing.
While I would definitely stay at Fort Wilderness again soon at the opportunity, it's definitely someplace where we'll stay when we have kids. I look forward to our kids enjoying playing at the playground, fishing, and enjoying other things like the Campfire Sing Along with Chip & Dale. To me, it seems Fort Wilderness offers more for young children to explore, especially boys, than many of the other resorts at which we stayed. In an era when entertainment for kids primarily occurs in front of an LCD screen, Fort Wilderness is a breath of fresh air.
On top of that, the amenities are wonderful, cabins are gorgeous, and the transportation system is surprisingly effective. I would not hestitate to book a stay at Fort Wilderness if a more rustic setting appeals to your party.
Considering booking Fort Wilderness? Visit Expedia for current promotions and discounted rates at Disney's Fort Wilderness Resort & Campground
Your Thoughts…
What do you think of Fort Wilderness? Are you a "Fort Fiend" or is Fort Wilderness not your style? Share your thoughts in the comments!