Located in Walt Disney World's Polynesian Resort, adjacent to the busy 'Ohana, Kona Cafe is a restaurant that is a not-so-hidden gem. Kona Cafe's menu adds some Asian twists into traditional American breakfast, lunch and dinner. The restaurant participates in the Disney Dining Plan. It also accepts the Tables in Wonderland card for a 20% discount. Kona Cafe is a reasonably good value on the Disney Dining Plan for lunch and dinner. This review focuses on dinner at Kona Cafe–we'll cover breakfast in a subsequent review.
The ambiance of Kona Cafe is nothing special, and is really the only thing that prevents it from attaining a perfect score. Essentially, it's an open-air restaurant that exposes restaurant patrons to the open-air atrium of the Great Ceremonial House. As the Great Ceremonial House is well-themed and relaxing, you might think this is no big deal. Unfortunately, Kona Cafe is adjacent to the incredibly popular 'Ohana, and even during slower times of the year, guests waiting for 'Ohana are often loitering about right outside Kona Cafe. To us, this really takes the ambiance down a peg. If you're seated as far away from the outer edge of the restaurant as possible, you may not notice this, but we've never been so lucky.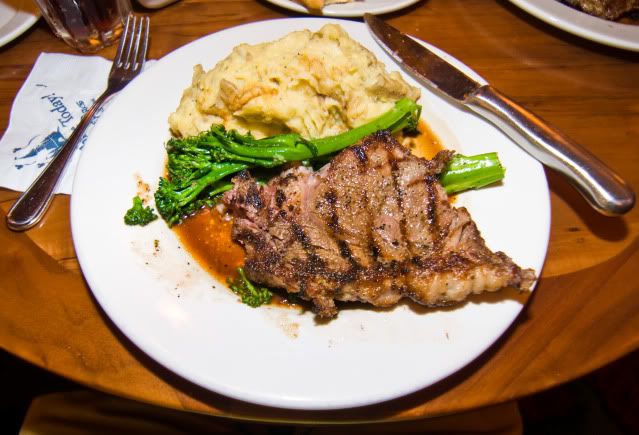 We last ate at Kona Cafe on our Walt Disney World Honeymoon when we were on the Disney Dining Plan, so we received a drink, entree, and dessert. We both ended up ordering the New York Strip Steak on this particular occasion. I don't know if that's what influenced me to order the New York strip—what island makes a good steak!?!—but whatever influenced me, I thank. Condensing my meal to a word, the steak was amazing. Everything a steak should be: lean yet flavorful, hearty, and with the perfect amount of fat to give the steak a little flavor without being "fatty." A pineapple teriyaki sauce also gave the steak a different flavor than you'd find elsewhere, which was the perfect Polynesian touch.
Honestly, I can't go on for fear I will head to the airport today for Walt Disney World. The steak was perfect. In addition to the steak, I had mashed Yukon potatoes, which were also amazing.
Then, prior to dessert, our waitress brought us a celebratory treat for our honeymoon. It was a nice touch and something we appreciated, but it doesn't affect my review of the restaurant either way, as this is probably not something most guests will receive. Still, if you're celebrating something on your trip, it would be wise to note this when you make your advance dining reservations.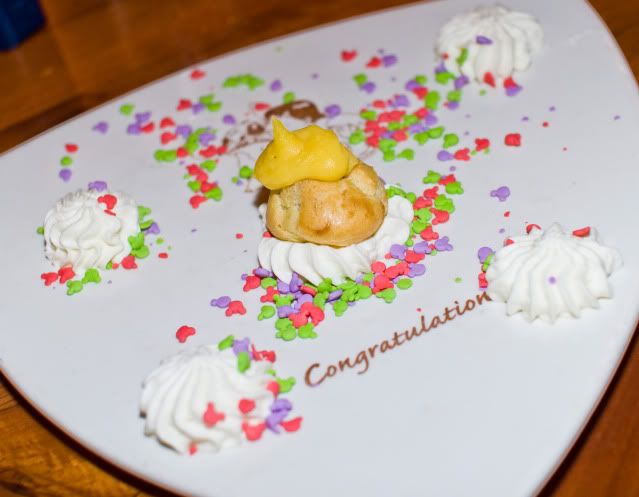 During the course of this trip, Kona Cafe's steak became the "measuring stick" of Walt Disney World steaks for me. Sarah ultimately ended up preferring Le Cellier's, but I did not (Le Cellier's review can be found here). Both had amazing steak. We've eaten at Le Cellier a few times now; to me, Kona's steak was better. When accounting for the whole experience, Le Cellier wins, as our waiter was more knowledgeable and personable. However, this isn't a review of Le Cellier…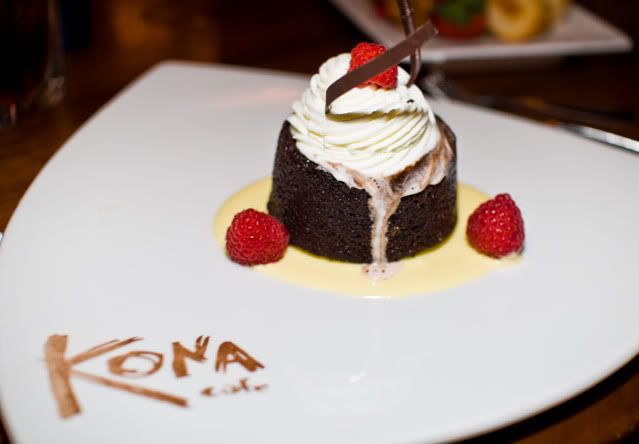 Dessert at Kona Cafe was also excellent and offered a bit of Island flair. The Kilauea Torte, Chocolate Fondue, and Pineapple Upside-down Cake are all excellent choices, and are very appropriate choices for the restaurant. They're all also reasonably priced, so even if you can't do an entire meal at Kona Cafe, it may be worthwhile to stop over to enjoy dessert before relaxing on the beach to enjoy the sunset.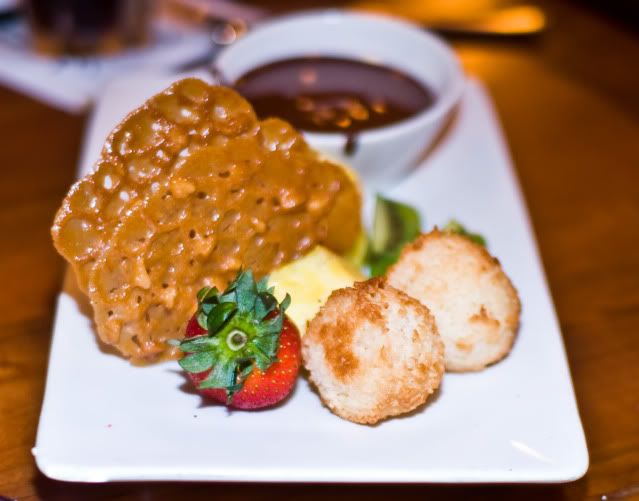 Overall, Kona Cafe scores major points not only because of the delicious entrees, but also because it is in our favorite resort—where we got engaged–Disney's Polynesian Resort. I strongly believe that anyone taking a trip to Walt Disney World, even if not staying at the Polynesian, should head over once for a meal and to soak up the ambiance. Do it on an late-afternoon when the Magic Kingdom is crowded and hot, as it will offer a nice reprieve. The ambiance may not be perfect, but the food here is, and on that basis, it scores well.
Your Thoughts…
Are you a fan of Kona Cafe? If so, is it for the food, for the Polynesian ambiance, or for some other reason? Share your thoughts in the comments!
Read our other Walt Disney World restaurant reviews and Walt Disney World Trip Planning resources. 
Overall Score: 9/10