The delicious meats of Canada beckon carnivores like us from opposite ends of the park. Le Cellier is one of the most popular restaurants at Walt Disney World, and it has a legion of fans. While we like the restaurant, we don't believe it's as great as many make it out to be. Le Cellier is located in Epcot's World Showcase in the Canada pavilion. Le Cellier participates in the Disney Dining Plan. It also accepts the Tables in Wonderland card for a 20% discount.
We last dined at Le Cellier in 2012, but 2013 changes to Le Cellier's status (it's now a Signature Restaurant for both lunch and dinner, and has one single menu so you can't choose less expensive options for lunch) have caused us to revise this review slightly. We typically pay out of pocket when dining here, as this restaurant is not a good value on the Disney Dining Plan because it requires two credits.
What can be said about Le Cellier that hasn't already been said? How about this: I think it's slightly overrated. Now, before you jump down my throat wondering where I came up with such heresy, I temper that statement with another: Le Cellier is a good restaurant. It's just not one of the best in Walt Disney World, nor is it Signature caliber. As far as cuisine goes, my biggest issue with Le Cellier is that I think the food, especially the steaks, is often over-salted and over-buttered. This isn't always an issue, but it sometimes happens. That is enough to knock it down a rung for me. Beyond that, the food is generally good, it's just not as good as other Signature Restaurants. For example, the nearby Yachtsman Steakhouse trounces Le Cellier as far as Walt Disney World steakhouses go.
As far as theme goes, Le Cellier feels like a steakhouse you'd find in Canada. While the lighting and decor of the restaurant are fabulous, the spacing of the tables leaves a bit to be desired–but it's not as bad in Le Cellier as in other restaurants. It's also nice that Le Cellier's theming isn't simply a caricature of Canada. It doesn't feel like a rustic lodge, there aren't antlers in all of the decorating, and the carpet isn't red and black flannel. The ambiance is actually one of our favorite aspects of Le Cellier, and we enjoy it so much that we named Le Cellier as one of our most romantic Walt Disney World restaurants.
Being overrated is relative, and my stance is that in comparison to its actual quality, the popular opinion of it (at least as expressed in the Disney online community), and more importantly, the restaurant's pricing, is a little too high. People constantly gush over it, it's the restaurant I most frequently see called #1, and I just don't think it's quite up to the hype. It is a good restaurant, no doubt, and the service is great, but there are some better restaurants at Walt Disney World, especially at Le Cellier's price points. I think a big part of Le Cellier's reputation is premised upon the value it used to offer on the Disney Dining Plan.
As recently as 2010, it was a great value on the Disney Dining Plan, and an incredibly difficult reservation to land. Changes to the Disney Dining Plan and price increases at Le Cellier have decreased its relative value, and without that value, there's really no reason to rank it so highly. There are at least 10 restaurants at Walt Disney World that are better than Le Cellier–probably more like 15-20, actually.
This is not to say that Le Cellier is bad. It's still a very good restaurant, and has great options for appetizers (the Canadian Cheddar Cheese Soup is universally loved), entrees,  and desserts. Beyond that, the bread service is excellent, and Le Cellier is a beer-lover's paradise with several great options from Unibroue.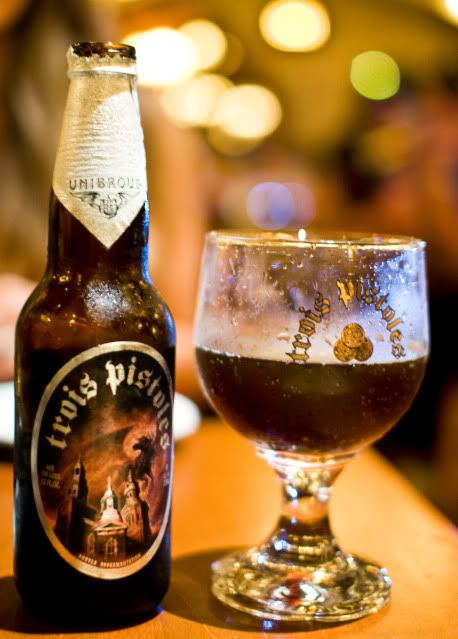 Our Le Cellier servers have always been exceptional and very knowledgeable regarding the different entrees. It's nice to have servers who are actually willing to make a recommendation instead of indecisively saying "they're all good." Le Cellier can be a bit crowded, but the service team is used to this; we have never had a bad meal at Le Cellier.
One one occasion, our server offered descriptions of the beers that actually persuaded us to each try one, when initially we were unsure of whether any of them sounded good. He really was a great salesman for the restaurant. The beer, which came out first, was delicious. I had the Trois Pistoles and Sarah had the Blanche de Chambly; mine was a darker, heavy beer yet one with fruity and spicy tastes, Sarah's was a lighter, hopsy and somewhat lemon or orangy beer. Interesting enough, Unibroue (the brands of beers mentioned above) has since become one of our favorite breweries. Following the beer came the bread, which is something so good that Sarah remembered it from a previous trip. While I love some good bread and butter, I don't think I'd remember it for that long. That alone speaks volumes about this bread. We think the pretzel bread is the best.
While we have sample a variety of entrees at Le Cellier, the one I keep coming back to is the New York Strip Steak. I am always tempted by the filet, especially with those mushrooms, but the larger, slightly more marbled cut is more up my alley. I really like the taste of a good NY Strip, especially if it's seasoned well. I enjoy a good filet, too, but I'll take the size combined with the taste of a strip over a filet most any day.
I've had many New York Strip Steaks at Walt Disney World, and while Le Cellier can serve an excellent one, it's far from consistently the best. Same goes for the filet. It's not that Le Cellier does either of these cuts poorly–they're quite good–they're just not as good as some of the other steaks at Walt Disney World.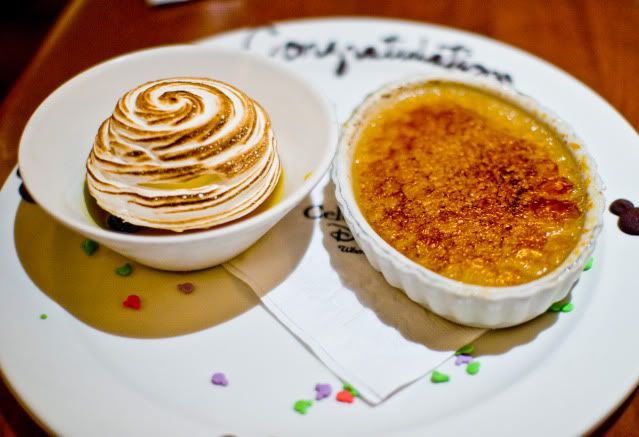 As far as desserts at Le Cellier go, my favorite is the Maple Créme Brulée. This ranks right up there with the best desserts at Walt Disney World, in my opinion. We've tried a variety of other desserts at Le Cellier, but once I discovered that Maple Créme Brulée, it's the dessert I have always gotten since. Sarah really likes the Le Cellier Mount Blanc Semifreddo, too. Based on our experience, you really can't go wrong with any of the Le Cellier desserts.
Overall, I think Le Cellier is a very good restaurant, but I think much of its reputation is built upon internet hype and scarcity of reservations. In 2013 when Le Cellier became a full-time Signature Restaurant, that was probably the last straw for us of it losing its luster. If we're on the Disney Dining Plan, it's not better than other Signature Restaurants to justify using the credits, and if we're paying out of pocket, the prices have been inflated such that's also not worth it from that perspective. It's definitely a solid restaurant, but I don't think it compares with any of the Signature restaurants we've visited (and dinner at Le Cellier is now considered a Signature meal).
Anyone willing to spend the money or Dining Plan credits will find a good restaurant in Le Cellier. The meats aren't the only great things at Le Cellier, as the desserts and beer selection at Le Cellier are also fabulous. I know all of this seems like praise given my "overrated" stance, but this restaurant is frequently cited as the best restaurant in Walt Disney World, and that is not the case, in my opinion. It's a good option, but certainly not a place to visit every trip (and if you are still visiting Le Cellier once per trip in 2013, it's time to change that).
Your Thoughts…
If you've been to Le Cellier recently (2012 or 2013), do you think it lived up to the hype? Do you think it's one of the best Walt Disney World restaurants, or have you had better steak at Walt Disney World? Planning on going? Share your thoughts in the comments!
Read our other Walt Disney World restaurant reviews and Disney Dining Plan resources. 
Overall Score: 7/10