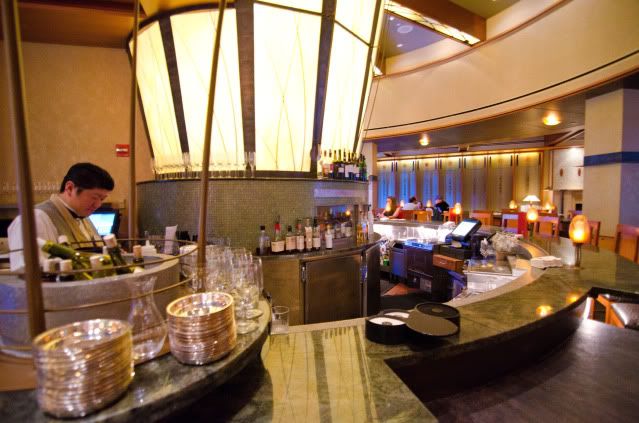 Napa Rose is Disneyland Resort's flagship restaurant, and is located outside the parks in Disney's Grand Californian Hotel, meaning that California locals can dine there without park admission. It's actually a fairly popular spot for foodies, and it's definitely the real deal from the perspective of cuisine.
The day we ate at Napa Rose, we decided to do an early dinner, as we didn't have reservations.  This was actually our first trip to the Grand Californian Hotel & Spa at Disneyland, and we were quite impressed when we walked inside.  When I envisioned this restaurant based on reviews and the menu I had read online was something comparable to California Grill at Walt Disney World Resort. Although California Grill gets bonus points for being on the top floor of the Contemporary Resort (why oh why didn't Disneyland build Napa Rose to overlook Disney California Adventure?! Think of the stunning views of Paradise Pier or Grizzly Peak!), the ambiance of Napa Rose is great in its own right.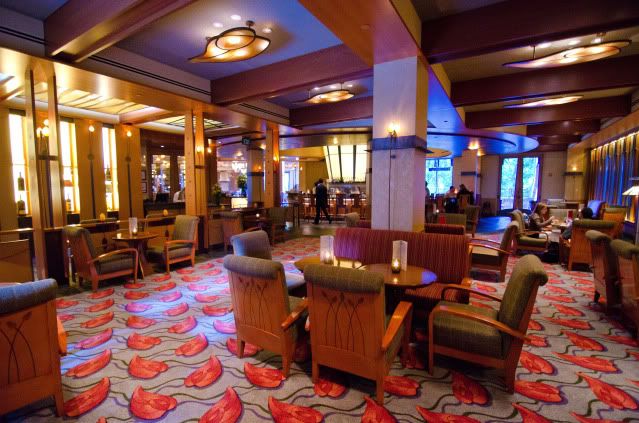 Joining us for dinner was our friend Henry. I started out by wandering the restaurant, taking some photos. Since it's a nice restaurant in the LA area, and I had a "big" camera, I'm sure other patrons assumed that I was stalking some celebrity. Why else would I be taking photos of the inside of a restaurant?!
Of note about the restaurant is that many bottles it's wide selection of wines are on display. The coolest things in the wine room were Pixar wine bottles that some dude had scribbled on. I'm hardly a handwriting expert, but I suspect those scribblings were the signature of John Lasseter. Some people view Hollywood bimbos and drunken country music singers like celebrities, I view Walt Disney Imagineers and animators as celebrities. To each his own.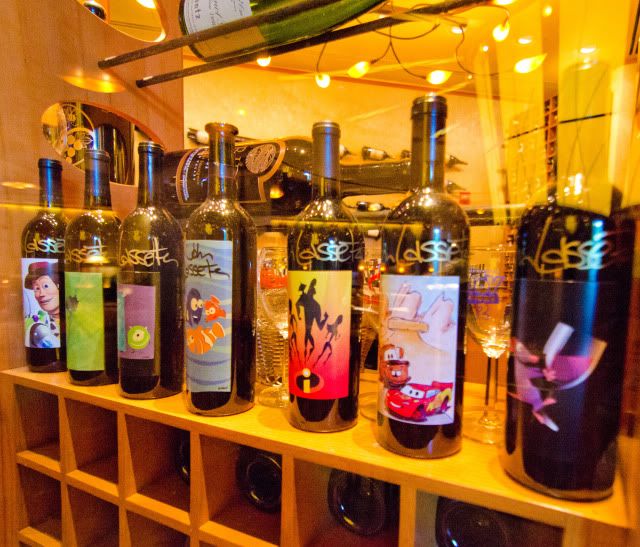 Given its impressive wine collection (every server is a sommelier), Napa Rose has a disappointing beer selection. Incredibly disappointing. There are a few decent beers on tap, but overall, nothing special. I wouldn't have been disappointed if this were your garden variety Disney restaurant, but as one of the top restaurants in Anaheim/Los Angeles, this beer list was unacceptable. It's annoying that restaurants fail to realize that there are beer snobs out there just like there are wine snobs. Sorry, but Corona is not even comparable to a craft beer.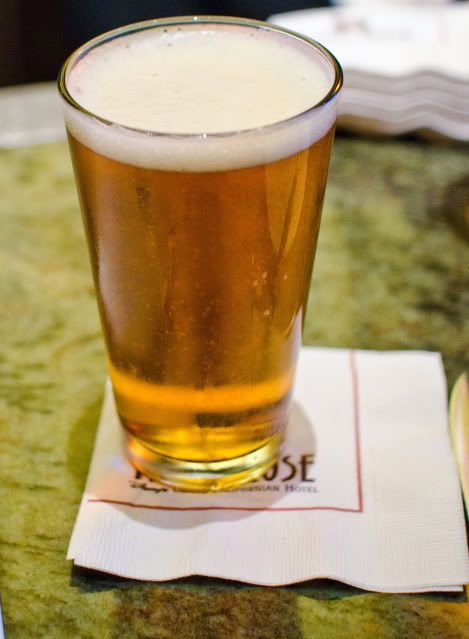 I ordered a Franziskaner Hefe-Weisses, a beer I had never tried. It was pretty good. Creamy and moderately thick, it had a nutty flavor, but more surprisingly, a pretty strong banana undertone to it. After a long day in the sun, one of these really hit the spot. The truncated beer list is about the only negative thing that could conceivably be said about the dinner.
The positives, and there are many positives, I could extol for quite some time. We could have easily sat anywhere in the restaurant, because at this early hour (it was around 5 pm), the place was still pretty dead. Reservations are certainly not required for early seatings, but I would highly recommend them for busier hours, as I've heard the restaurant can become quite busy, especially on weekend nights.
After enjoying our beverages, we prepared to order. When I saw it on the menu, I instantly knew what I must order: the Grilled Filet of Angus Beef. Other things may have looked good, but it was like a spotlight from on high shined down on the menu when I first opened it, illuminating that item. Duck, salmon, sea bass–forget about it. I was ordering the Filet. Wait was the hardest part.
The dinner started out with our server bringing out a basket of breads, which included ciabatta, sourdough, olive, and cracker bread covered with parmesan cheese. The bread was delicious, and that and conversing helped us pass the time until our food arrived. And arrived it did, quite quickly.
The light that shined on the Filet before became a beacon now. I don't know how I mustered the ability to take photos of the steak rather than stab my steak into it and tear it apart like a madman, but I did. Bathed in Fire Roasted Chestnut Puree, Parsnip, Brussel Sprouts, and Cabernet Essence, I could tell by the presentation and aroma alone that I was in for a real treat.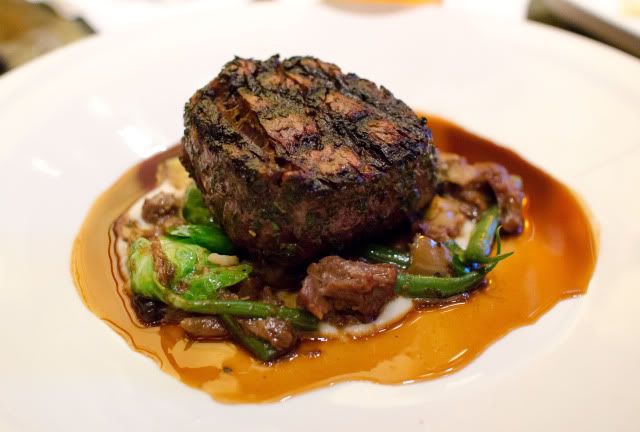 My knife went through the steak like it was cutting through butter. Cooked to perfection, it was thinly seared on the outside and gradually turned more and more pink towards the center. Thick cut, flavorful, and juicy, the Filet was pure perfection. The puree and cabernet essence were the perfect compliments to the steak, and even the sprouts, something I probably wouldn't give much thought to eating, were excellent. It was the best Filet I've had at any Disney restaurant, and probably one of the very best I've had in my life.
Sarah had the Salmon, which was pretty good, at least from the taste I got. While I love fish, salmon is one of those things that can be colossally screwed up, but is difficult to truly prepare as a "wow" dish. Don't get me wrong, I've had some excellent salmon, but I don't think even a great salmon dish prepares to a good steak. Maybe that's just indicative of my steak-preference. Perhaps all of the salmon aficionados out there will lambaste my unrefined "salmon-palate," but that's my take on it.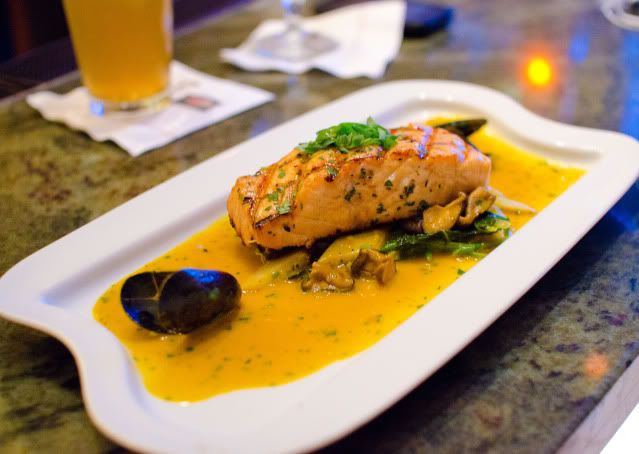 The dinner left us so full that we elected to skip dessert. The desserts we later saw, and read on the menu looked absolutely decadent with gorgeous presentation, and I am STILL kicking myself over this terrible decision. Look for a future review that includes the desserts, as we now have an excuse to go back! (Although the cuisine supplied us with ample excuse!)
Overall, Napa Rose is the ultimate Disneyland foodie experience. A few days after our meal at Napa Rose, we ate at Disneyland's highly regarded private restaurant, Club 33, and despite it costly more than twice as much as Napa Rose, it wasn't as good. Napa Rose is even better than the newly opened Carthay Circle Restaurant in Disney California Adventure. It's probably the second-best domestic Disney restaurant at which we've dined, with the best restaurant being Walt Disney World's Victoria & Albert's. The two meals can't be fairly compared, as Victoria & Albert's is considerably more expensive and is a proper multi-course meal. I would hazard a guess that the Chef's Counter at Napa Rose might compare quite favorably to V&A's, actually. The subpar beer menu at Napa Rose is only a minor blemish on an otherwise amazing dining experience, and does not impact the final score here given the high quality of the rest of the meal.
Your Thoughts…
Do you agree that Napa Rose is the best restaurant at Disneyland Resort, or do you think Napa Rose is overrated?  Planning on going? Share your thoughts in the comments!
Read our other Disneyland Resort restaurant reviews. 
Overall Score: 10/10
---