Pizzafari is a counter service restaurant in Disney's Animal Kingdom at Walt Disney World that serves (you guessed it) pizza! Pizzafari accepts the Disney Dining Plan, but, like most counter service restaurants, does not accept the Tables in Wonderland card.
Like all things at Disney's Animal Kingdom, Pizzafari is incredibly well-themed. The place just oozes vibrant colors. From murals on the wall featuring a myriad of animals in murals on the wall to the design of the building itself, Pizzafari is definitely worth exploring even if you don't plan on eating there. About the only thing it's missing is a singing AA alien (but that may not fit the theme!). Pizzafari is a large restaurant with several themed rooms and outdoor eating areas immediately outside some of the rooms. These themed rooms include: the Home Room, Nocturnal Room, Upside Down Room, Camouflage Room, Four Seasons Room, Bug Room.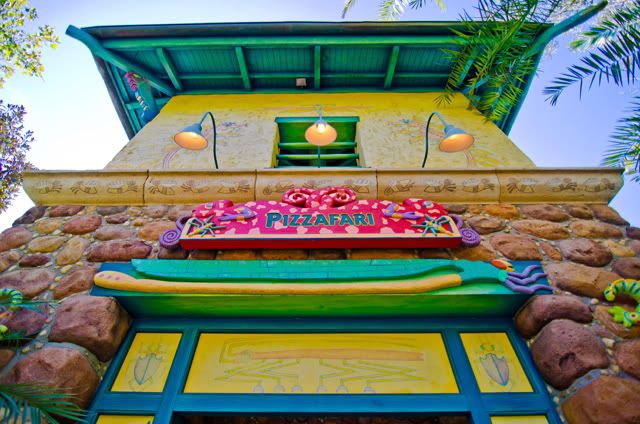 Unfortunately, with Flame Tree BBQ, which offers similarly excellent (albeit laughably morbid) theming and fabulous food, in the general vicinity, it might be difficult to convince your party to eat at Pizzafari.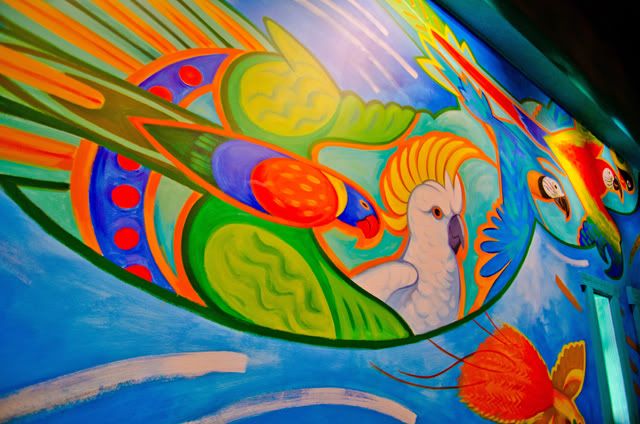 Pizzafari's food is pretty lackluster, with the exception of a couple of menu stand-outs. Unsurprisingly, Pizzafari serves pizza. The same pizza you can get at Pizza Planet, and other counter service pizza places on property. It's not terrible pizza as far as counter service goes, but it's not great, either.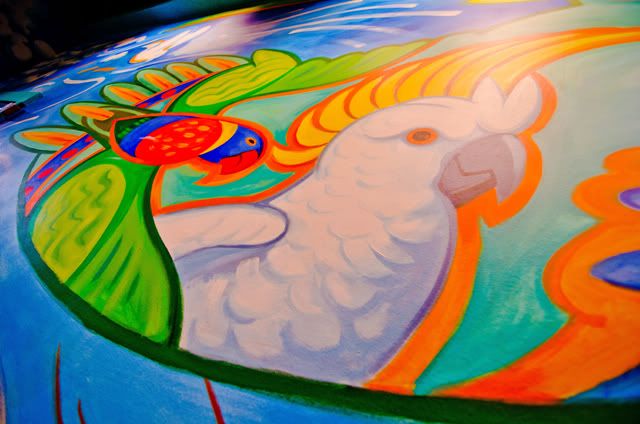 If you're going to get pizza only once or twice on your trip, you should save those times for Via Napoli, the solid World Showcase Italian restaurant, or Pizza Planet, which is one of the better counter service options in Disney's Hollywood Studios (but that isn't saying much). In Animal Kingdom, Flame Tree BBQ is the infinitely better option.
There is one stand-out menu item here, and that's the Hot Italian-Style Sandwich. Combining , the Italian-Style Sandwich is actually quite good, and filling to boot. Our only complaint is that it only comes with carrots or potato chips, and not a caesar salad like the other entrees (although on our most recent visit, we received complimentary caesar salads when asking if we could substitute our chips for them, so it's worth asking if you can make the substitution!). The Chocolate Mousse was a decent dessert, but nothing overly exciting or special.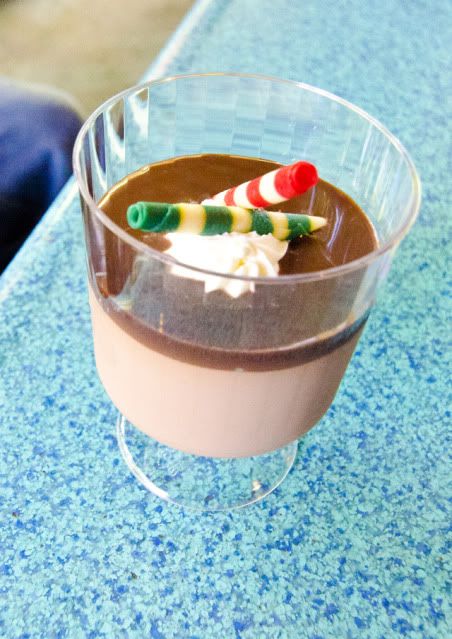 Overall, Pizzafari is a place to visit and explore, as it has some of the absolute best theming in all of Animal Kingdom (which is really saying something, given how well the park is themed!), but it's not a great place to eat unless you're a big fan of pizza or you want to try the Italian sandwich. For a restaurant this large, it would seem that more menu items would be in order, as the options here are quite limited. This wouldn't be so terrible if Animal Kingdom had more Counter Service options, but as of now, it is severely lacking.
Your Thoughts…
If you've been to Pizzafari, did you like it? Do you think it's a good option for a quick meal at Disney's Animal Kingdom, or would you rather stop at Flame Tree BBQ? Planning on trying Pizzafari? Share your thoughts in the comments!
Read our other Walt Disney World restaurant reviews and Disney Dining Plan resources. 
Overall Score: 5.5/10