Located at Walt Disney World's Polynesian Resort, adjacent to Kona Cafe, 'Ohana serves family-style Polynesian specialties. Dinner options include meat skewers roasted over an expansive 18-foot oak fire pit (more on these delicious, delicious skewers later!) and side dishes such as stir-fried vegetables, fried dumplings, lo mein noodles and salad. The restaurant participates in the Disney Dining Plan. It also accepts the Tables in Wonderland card for a 20% discount. 'Ohana is a reasonably good value on the Disney Dining Plan. 'Ohana also offers a character breakfast, but this review focuses solely on the dinner menu.
What's so great about 'Ohana? Let's start with its location. Disney's Polynesian Resort is, without question, our favorite resort at Walt Disney World, and not just because we got engaged there. The ambiance, vestiges of the "Vacation Kingdom of the World," and awesome photo ops make the resort top notch. If only we could actually afford to stay there! Although the resort conspicuously lacks a Signature Dining option (sorry, Spirit of Aloha, you don't count), its restaurants are yet another reason why we love the place. 'Ohana's Best Friends Breakfast with Lilo & Stitch is one of our favorite breakfast options, but where we feel the restaurant really shines is at dinner.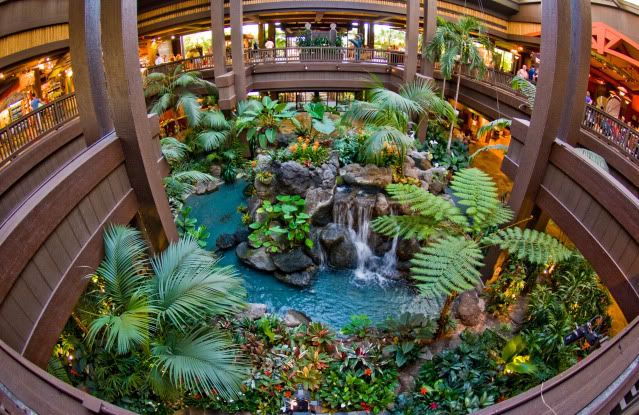 We had done breakfast prior to doing dinner at 'Ohana, and while breakfast was great, I am always a little skeptical towards family style or buffet dinners. In the real world, the food is invariably cold, sub-par, or best for people who place an emphasis on quantity over quality when eating. I think the family style restaurants and buffets at Walt Disney World are, surprisingly, typically far superior to real-world buffets. Highly subjective, of course, but that has been Sarah's and my experience at the buffets.
Any skepticism we had was wiped away as soon as we were seated for our ADRs after a long wait. The energy of  'Ohana was palpable, with the cooks in plain view preparing meals over flame as the restaurant pulsed with tropical song and rhythm. We received a window table, which made the experience all the better. Shortly after being seated, the first side dishes arrived, which included stir-fried vegetables, cooked pineapple, fried pork dumplings, lo mein noodles, and salad. Although we were hungry, upon seeing some of the meat being served all around us, we quickly learned to enjoy these sides in moderation.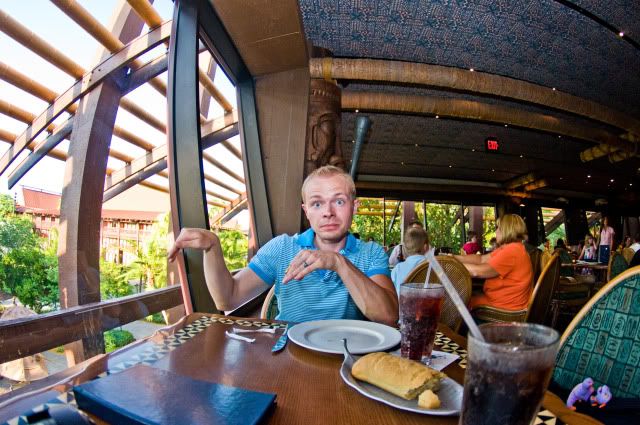 As I mentioned above, we had eaten at Ohana for breakfast a few years ago, and we really enjoyed it. We knew it wouldn't be at all the same for dinner, but one of our favorite things about the restaurant is the ambiance. This should be no surprise, as I don't think I've ever written or spoken a negative word about the Poly.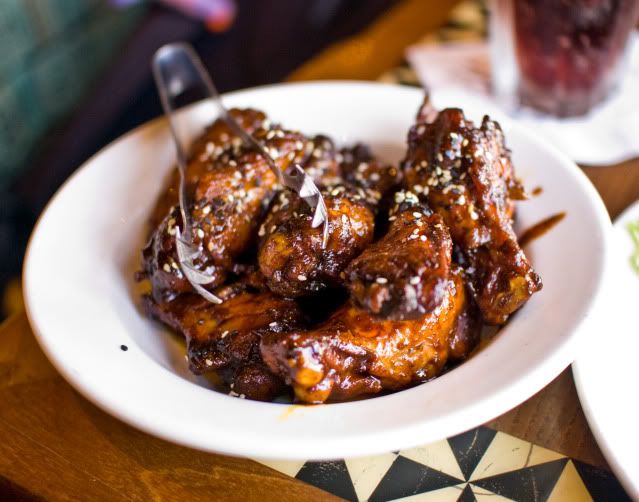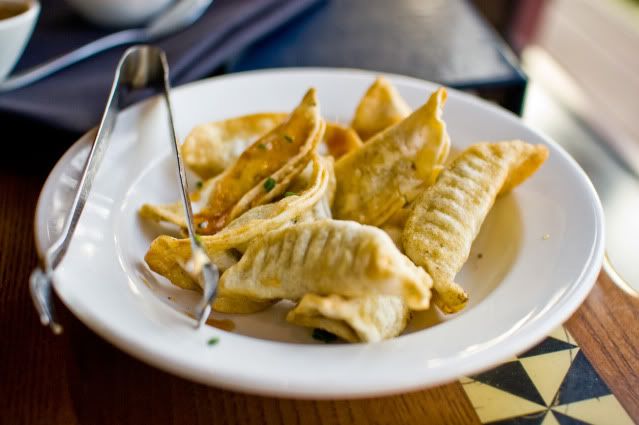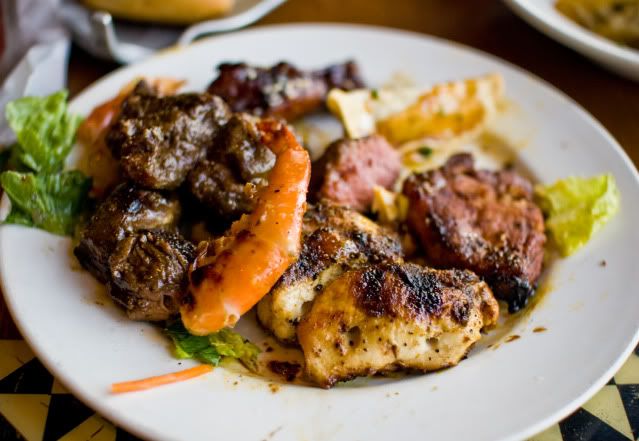 The meats were delicious, especially cooked over the fire pit and brought around on skewers. The skewered meat included Oak Grilled Chicken, Asian Barbecued Pork Loin, Marinated Sirloin Steak, Spicy Grilled Shrimp, with Honey Coriander Chicken Wings also served, sans skewers. The shrimp were easily our favorite, with the sirloin steak being second; both of these had excellent flavor. The pork loins and grilled chicken were fairly good, albeit slightly dry.
Had I ordered a dish with either one of these, alone, I would have considered it a decent meal, but as we were eating family style and much better options were at our table, we instead opted for those better options–making it an excellent meal. While we ate, various entertainment, including song, dance, and entertainment for children, took place, continuing that fun atmosphere.
Potentially adding to the atmosphere were the Lapu Lapus that we ordered from the Tambu Lounge after seeing them at the table adjacent to us. One Part Myers's Rum, One Part Bacardi 151, One Part Orange Juice, One Part Sweet-and-Sour Mix, and a whole lot of Disney Magic combined together in a pineapple for this delicious drink. While it's not particularly manly (although depending upon how much 151 is in there, it could be!), being manly wasn't my primary objective this particular evening.
The drink was somewhat expensive at $12.95, and obviously a bit gimmicky, but those little gimmicks can be what makes a Disney vacation so fun. I'd recommend this drink–just make sure to scrape the sides of the pineapple when you're done to get all of the fruity nutrients (which, I've heard, offset any potential health risks contained in alcohol).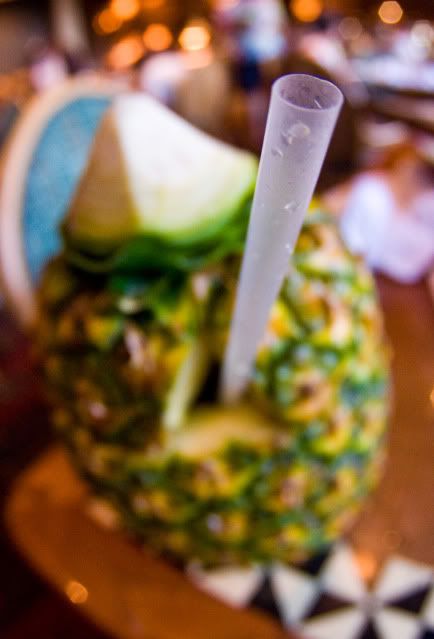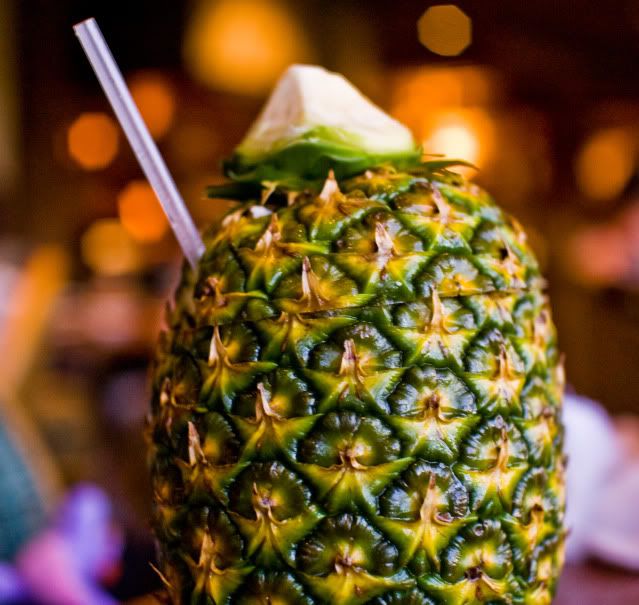 We didn't get quite as many shrimp as we wanted, and we both were itching to get back into the Magic Kingdom after dinner, and we didn't want to wait around for more to be brought to us, plus we were already pretty full (so much so that we passed on the banana bread pudding dessert–although we did split a small cupcake). Readers have told us that the banana bread pudding is absolutely not to be missed, so if you do visit 'Ohana, make sure to have that!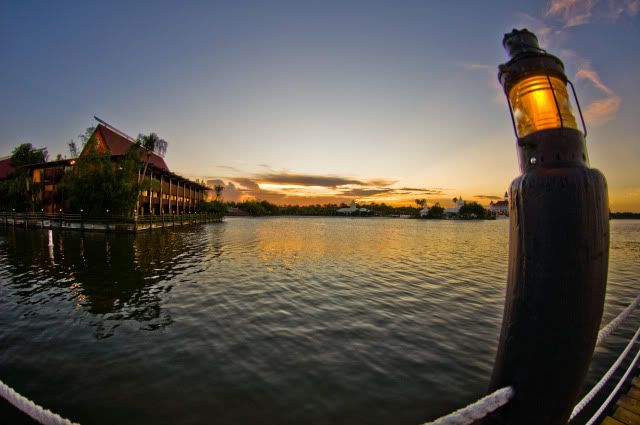 Overall, 'Ohana is a great restaurant to visit for a relaxing meal–just don't expect it to be quiet. The atmosphere here should in no way be considered a negative. Unlike California Grill or another Signature Restaurant, this is a family restaurant and its ambiance should reflect that. It has a level of "relaxed excitement"–a seeming contradiction in terms–that makes it one of the most enjoyable restaurants at Walt Disney World from the perspective of ambiance. When you go, bring your childlike enthusiasm, let loose and unwind, and have a good time. With delicious food, drinks, and even some entertainment, the restaurant is a top notch option that is not to be missed. While I would consider the often overlooked Kona Cafe superior to 'Ohana by a slight margin from the perspective of cuisine, 'Ohana edges it in ambiance and fun (Sarah thinks the cuisine, too, is better at 'Ohana–it is one of her absolute favorite restaurants at Walt Disney World). It quite possibly offers the best combination of fun and food at any Walt Disney World restaurant!
Your Thoughts…
Do you share our praise for 'Ohana, or do you think it's overrated? If you've never been to 'Ohana, do you plan on going? Share your thoughts in the comments!
Read our other Walt Disney World restaurant reviews and Disney Dining Plan resources. 
Overall Score: 9/10