We arrived at the Magic Kingdom prior to Mickey's Not So Scary Halloween Party starting, so we did a few attractions. I can't remember which ones, but I think PhilharMagic was in the mix.
If you read the earlier installment of the trip report covering the Disney Parks Blog Trick or Meet-Up event, you'll know that I had two costumes, and that I wore the Beast costume rather than my "special" one that night.
My special one was a bit divisive. It actually dates back to last year, when I planned on wearing it to a Mickey's Very Merry Christmas Party. I was concerned that costumes weren't acceptable at Mickey's Very Merry Christmas Party, plus I was missing a key component of the costume, and it would have been too cold for the costume, anyway.
There were other concerns that the costume was…ahem…a bit out there. Now I will concede that it's not your average costume, but believe me, I've worn far "worse." One year in college I went to a costume party as the Devil. I think that photo speaks for itself. Suffice to say, after that party, there was red coloring all over my apartment. Bad idea in retrospect.
My point is that I like cool costumes, and I'll gladly take one that is a bit out there over one that is store bought. By out there, I don't necessarily mean provocative, but rather, one that a lot of people wouldn't wear.
I preface the unveiling of my costume with all of this information because Sarah and Henry (oh yeah, someone let him show up) didn't seem like the biggest fans of my costume. I disagree, but I see from where they *might* be coming. The line between "insanely awesome" and "just plain insane" is a thin one, but I think I toed the line like a boss. Heck, I think I was so far on the "insanely awesome" side that I couldn't even see the "just plain insane" line. But I suppose reasonable minds could differ on that one. Henry and Sarah did!
So here it is, the costume in all of its glory: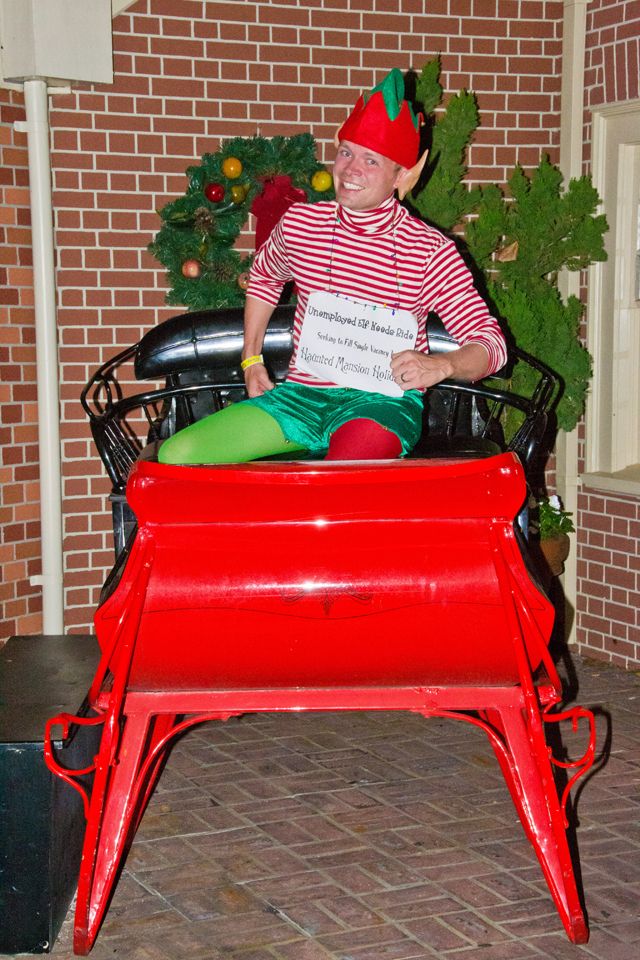 In case you're unable to read the sign on my chest, here's what it says: "Unemployed Elf Needs Ride, Seeking to Fill Single Vacancy in, Haunted Mansion Holiday." If this doesn't make any sense to you, don't worry, you're not the only one.
This sign was the whole reason I wanted to wear the costume to the Disney Parks Blog Meet-Up, which was themed around the Haunted Mansion. Obviously, an elf has very little to do with the Haunted Mansion, so I wanted to concoct a way to make the costume fit the theme. Bingo, Haunted Mansion Holiday. Haunted Mansion Holiday is Disneyland's Halloween and Christmas version of the Haunted Mansion, featuring a Nightmare Before Christmas overlay.
The only problem was…how does an elf fit in Haunted Mansion Holiday? Then, it hit me. I would be a somewhat dim-witted unemployed elf, who had heard of Haunted Mansion Holiday, and, knowing only the attraction's name, assumed it had a Christmas theme, and would be a place he could find work. It was the perfect backstory…or so I thought.
The issue was, how would I convey this story. I kept coming back to a sign, the kind hitch-hikers commonly carry. I'd be a hitch-hiking elf! So, I began work on the sign, downloading appropriate fonts. The next issue was what the text would say. I couldn't decide, so I printed out multiple versions, and brought them all with on the trip. My favorite was "Unemployed Elf Needs Ride to New Orleans Square." It was simple, and didn't hit you over the head with the message. Haunted Mansion Holiday is located in New Orleans Square, and that's where I'd be seeking employment during the Halloween season.
Unfortunately, this made very little sense to multiple people I asked. Because of this, I settled on the most obvious of the signs I brought (the above one). I figured the bit of backstory would be patently obvious based upon this sign. Still, no one got it. Henry could sense my frustration by this, and would ask random people that we saw what the sign meant. Most of the time, after my ensuing explanation, they humored me and said, "clever" but I could tell my costume had failed to convey its original story. Since I didn't wear it at the Haunted Mansion-themed Parks Blog meet, I should have just gone as a regular ole elf. Eventually, I ended up just throwing away the sign. I now have a new appreciation for Disney backstory that I, and others, deem too contrived. I guess creating an organic backstory that just "works" isn't that easy at all. If you like the backstory (or just want to humor me, too!) let me know in the comments.
Sarah still plans on using her original costume at some point (so I won't reveal what it was), but not all of the components arrived in time, so she ended up going as…uh…girl in ugly 1970s-era bridesmade dress? Barbie? A mash-up of Aurora and Belle? I'm not really sure. It was better than nothing, which was Henry's costume.
As Mickey's Not So Scary Halloween Party started, we met with Scarlett and Ben, who were dressed as dogs, lions, cats, bats, or something. Scarlett works with us at TouringPlans, and Ben is from the United Kingdom. They're cool, especially because Ben has an awesome accent.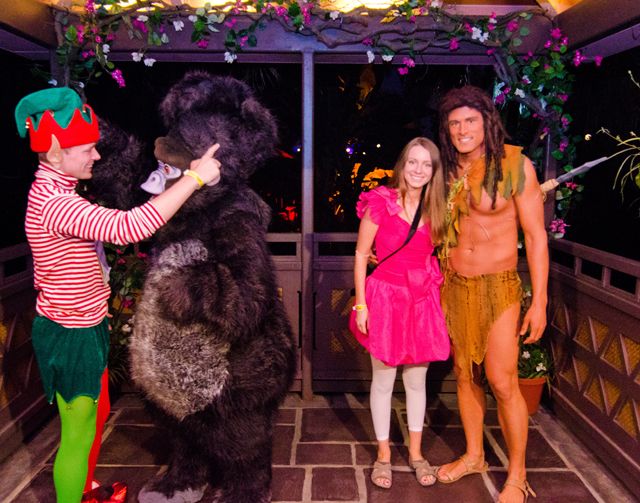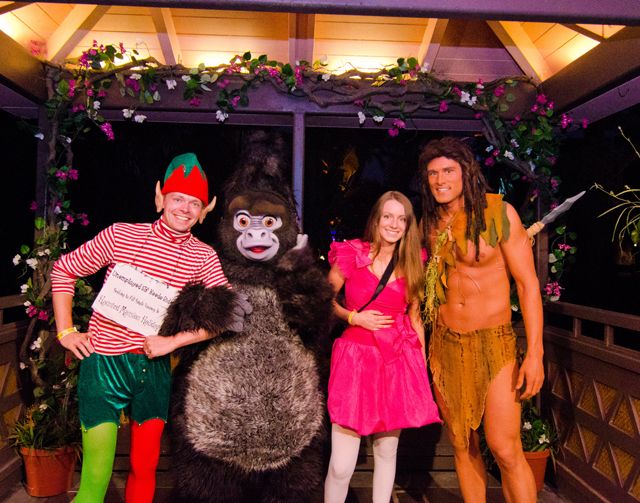 We started out by hitting a few meet and greets with short lines, including Tarzan and Rafiki. Following that, we split off for a bit as we headed towards Main Street to watch the first Villains Mix N Mingle. We caught portions of this three times throughout the night, and I still can't quite tell you what the plot was. It was a fun, high-energy show, featuring villains. Mickey Mouse and co. weren't present, so I assume the villains were not trying to take over the Castle or invade anyone's dreams, which would be my go-to basic plot if that were the case.
After the show, the villains come down to do brief meet and greets. Knowing this in advance, we lined up during the show. I had no idea who would be in which line, and I didn't really want to ask, as I figured we'd be doing this for a couple of shows. I really wanted to see Maleficent, but we ended up with Captain Hook. No big deal, we hadn't seem him in a few years. We'd see Maleficent later in the night.
As Mickey's Not So Scary Halloween Party continued on, it was about time for the Boo to You parade. This parade seems almost universally more loved than Mickey's Once Upon a Christmastime Parade that occurs during Mickey's Very Merry Christmas Party, but I definitely prefer the latter. Don't get me wrong, both are cool, but I think the overall bright and cheery ambiance on Main Street is better than the moody ambiance. Plus, the gingerbread men, toy soldiers, and reindeer…how can you not love them?!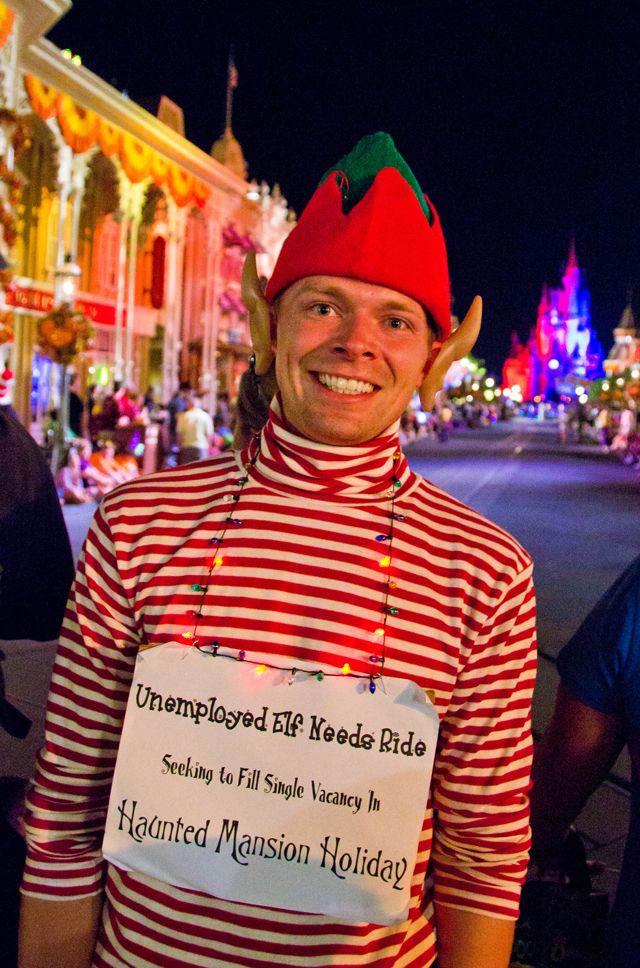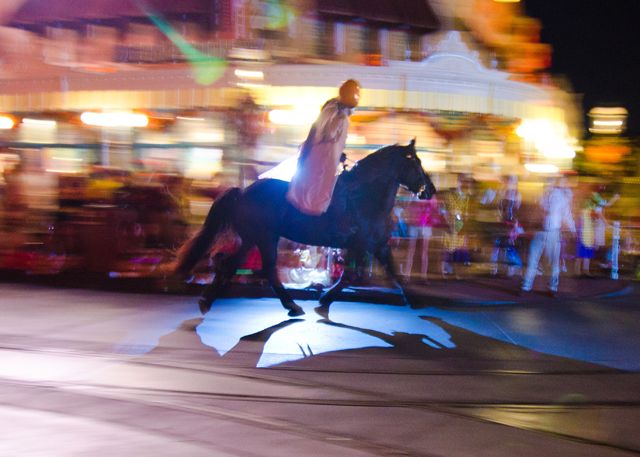 The other thing I dislike about the parade is that the headless horseman runs way before the rest of the parade arrives. I understand that this is a necessary evil given his speed versus the rest of the parade, and we could remedy this if it really bothered us by watching the parade in Frontierland, but Main Street is without question the best viewing location for the parade. A minor gripe, and a self-induced one, but a gripe nonetheless.
We didn't have the best spots for this parade as we had a 'second-row' location right behind some people, so I got lazy with the photography and mostly just watched the parade.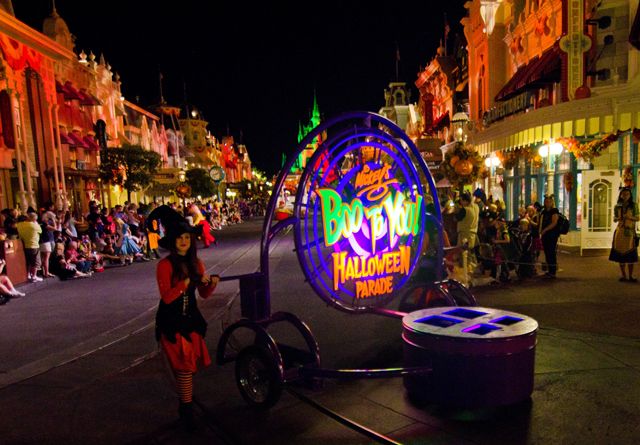 After the parade, it was time to get a spot for the fireworks. Even with the extra time taken for the parade due to our Main Street location, the party was flying by!
Whenever shooting these shows, I have two decisions to make: lens and location. Since it was a hard ticket event, the fireworks had perimeter bursts, which narrowed my location down to the area past the buildings on Main Street, and my wide angle or fisheye lens. Those lenses in that location would catch some of the perimeter bursts; the wide angle would catch less of them but allow me to use a neutral density filter, whereas the fisheye would allow me to capture almost all of the perimeter bursts, but it wouldn't allow me to use a neutral density filter.
Pragmatic judgment would have led me to use the fisheye lens, as that would have given me a greater number of shots (due to the shorter exposure time), but more importantly because I hadn't used my new neutral density before (besides a one-shot test at home to ensure image quality) the trip at all, and I had no idea how it would do with fireworks.
Of course, my judgment is rarely pragmatic, so I went with the neutral density filter. I had plenty of fireworks shots, and the long exposures would allow me to pay closer attention to the fireworks rather than being fixated on the camera. If I screwed up, oh well. The challenge was fun. I had a few minutes to "practice" with the filter, so I took some photos of the Castle. Finally, I determined what aperture I would probably want to use, and got an idea of what shutter speeds might work. Many people told me using this strong of a neutral density filter would be crazy, but I think it ended up being CRAZY LIKE A FOX! I didn't get many shots due to the exposures being incredibly long, but I also had a great keeper rate. Only 2 duds out of 14 shots. Here are a few of them: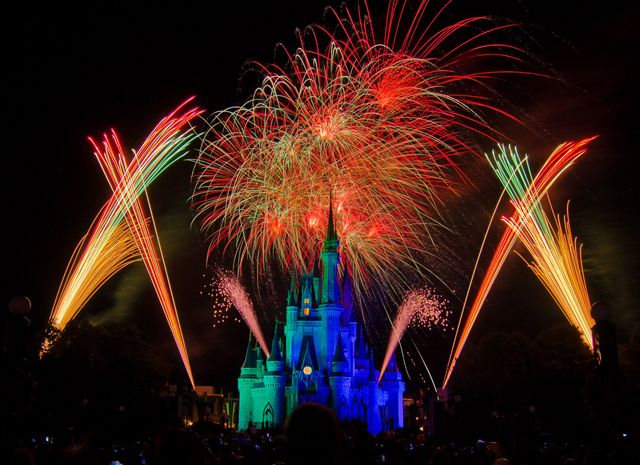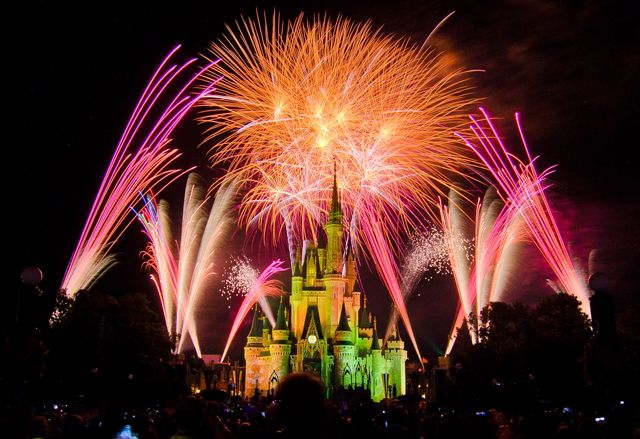 After the fireworks, we chatted briefly with a few of the other Flickr photographers. We had not seen much of them this trip, so it was nice to catch up. Some of them were heading over to the Diamond Horseshoe for some dancing, so we tagged along. We find these dance parties at the parties surprisingly entertaining!
There are multiple pages in this Walt Disney World trip report installment. Navigate to the next page below!
Pages: 1 2