Via Napoli is located in Epcot's World Showcase at Walt Disney World in the Italy pavilion. Via Napoli is lauded as Walt Disney World's best pizza place, and it participates in the Disney Dining Plan. It also accepts the Tables in Wonderland card for a 20% discount. We have always paid out of pocket at Via Napoli, as it's not a good value on the Disney Dining Plan on the Disney Dining Plan if ordering large pizzas. If ordering personal entrees, it's a much better value.
Opening in the Summer of 2010, Via Napoli is one of the newest World Showcase restaurants. According to many, it serves the best pizza "pies" in all of Walt Disney World. The first day we dined at Via Napoli, the waiting area was packed! Apparently word traveled quickly that the place served such good pizza. We've dined at Via Napoli a few times since, and its popularity seems to be dying down a bit. It's not a difficult Advance Dining Reservation (ADR) to get at this point.
Most of the people, it appeared, were walkups being turned away after pleading for availability for a few minutes. If there is no availability for a given restaurant, I wish Disney would put out a sign, or have a separate check-in for guests with ADRs. We waited in line for roughly 10 minutes to check-in, and I believe only one other party checked-in before us in the line.
Depending upon when you go, Via Napoli might be pretty busy. Nights and weekends especially, large crowds can form around the door, and being seated can take a while.
While waiting to be seated on our first visit, I wandered around the restaurant. Disney had gone all out with this one. The inside was beautiful, with wonderful details, lighting fixtures, and craftsmanship. By far my favorite feature of the restaurant was the open-air cooking area, including the three-ovens.
Even though the pizzas are quite expensive, the true question is whether it costs more to eat a meal here than at most restaurants. If paying out of pocket and eating pizza, I would answer with a resounding "no." The largest pizzas on the Via Napoli menu run approximately $36. That would be a fairly high price if these pizzas could only feed one. However, they can feed 4-6 people, depending upon appetites. $6-9 per person for an entree at a table service restaurant, especially one of the better World Showcase restaurants, isn't that bad. Add in appetizers and drinks, and the total is around $15-20 per person, which is still quite reasonable given the alternatives. It's still quite a bit for pizza, but in Disney, you pay for the ambiance and location. It's not the best-value in the EPCOT area (a crown that goes to the gem, Beaches in Cream, in the EPCOT-resort, All in all, it's not that bad. We didn't use the Disney Dining Plan for our trip to Via Napoli, so I can't speak to whether it's a good use of credits.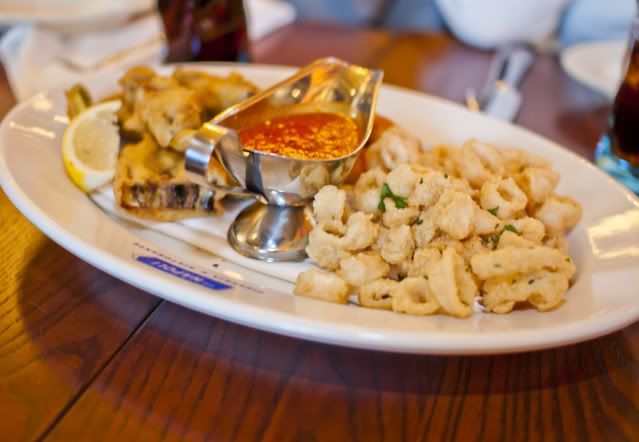 For an appetizer, we ordered the Calamari Fritti. I've never encountered calamari I didn't like, and this was no exception. The sauce was rich and fairly well-flavored (not the best I've ever had, not the worst), and the calamari itself were perfectly breaded. I definitely have a weakness for calamari, and this really hit the spot. I probably would have been fine with two orders of calamari for myself, for my entree.
Here are a couple of other appetizers that we've tried since that first meal at Via Napoli:
For our pizza, we got a Wood Fired Authentic Pizza Napoletana with spicy Italian sausage. There was a calamari pizza on the menu, but it seemed no one else was interested in that option. After disastrous results with seafood pizza at another Italian restaurant (my favorite Italian restaurant, actually), no one else dared mix the two again.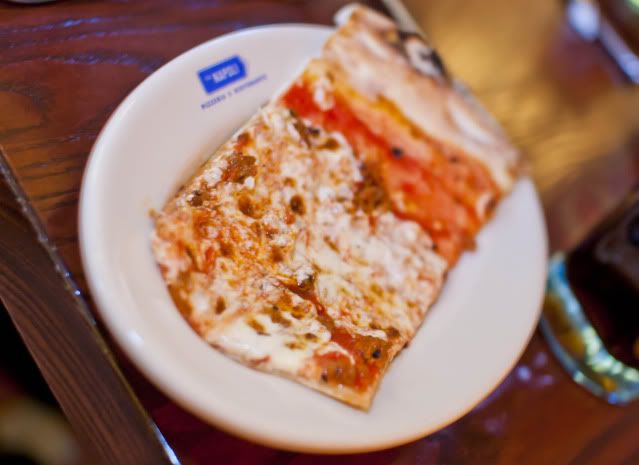 Overall, the pizza was good, but nothing that knocked my socks off the first time we dined at Via Napoli. It probably is the best pizza in Walt Disney World, as many claim, but there isn't much in the way of competition (it's certainly better than Pizza Planet and Pizzafari). After eating there the first time, I didn't think it came close to most pizza places in Chicago.
Sausage pizza is my favorite pizza that we've tried at Via Napoli, but Pepperoni is also good.
Since, we've eaten at Via Napoli twice, and both times, the meals have been incredible. Not just the pizza or the appetizers, but both.
The calamari was crisp, perfectly cooked, and not over-salted. The Salami e Provolone was flavorful without being overly greasy, and even the Eggplant Caponata–something I wouldn't normally sample–was delicious. And that's just the appetizers. The pizza? The pizza was incredible, with the cheese pizza soft, perfectly cooked, and with excellent and flavorful crust. Likewise, the pepperoni pizza was also stellar. It went from being "nothing that knocks my socks off" as I called it at one point, to being an excellent pizza, and a worthy competitor to many real-world pizza places at which we've eaten. (Even though we favor Chicago-style deep dish pies, we loved these thin ones!)
Countless individuals in the Disney community have indicated what makes Via Napoli so special is the water. The team at Via Napoli sought out to find water-wells in Florida similar to those in Naples. Consequently, Via Napoli uses water nearly identical in chemical composition to the water of Naples, Italy. Purportedly, this produces the best density for the dough, which in turn makes the pizza better. It seems to me to be more marketing fodder than anything else, but the dough on the pizzas we've had on our recent two visits has been really good. I wonder how many people who have gone to Via Napoli without knowledge of the dough-water have thought, "wow, this is some amazing dough!!!" Not many, I'd imagine.
Another thing that has been heavily advertised is the varying hot spots that frequently change in Etna, Vesuvio and Stromboli (Via Napoli's three ovens), which greatly affect the cooking. I have noticed some unevenness in our pizza, namely on the underside of the crust, and this has added to the taste. Also to Via Napoli's credit, the ingredients tasted very fresh and the sausage was excellent!
When I first wrote this review, it ended with the following conclusion: "We had read some pretty positive reviews of Via Napoli prior to the trip, so we were fairly excited about the meal. However, I think with any new Disney restaurant, there is a bit of "inflation" that occurs in the Disney fan community. People so want the restaurant to be the next Le Cellier that, psychologically, it seems better than it actually is (as Mulder from the X-Files would say, "I WANT to believe."). I'm not saying Via Napoli wasn't good–it was very good–it just didn't match the hype I had read about the place. I would not place it in the "must do every trip" realm. Still, it was very good, well worth a visit, and definitely not as expensive as some reported, assuming you get one of the larger pizzas and share it."
I can no longer say that this is accurate. We've now eaten at Via Napoli three times, and it's no longer a matter of "wanting" to believe. I DO BELIEVE. Via Napoli is one of the best World Showcase restaurants, and a great value, to boot, if you split a pizza. It's a really fun restaurant, and it lives up to the hype. We highly recommend giving it a shot.
Your Thoughts…
What do you think of Via Napoli? Do you think it's the best Walt Disney World pizza, or do you think it's overhyped? Planning on going? Share your thoughts in the comments!
Read our other Walt Disney World restaurant reviews and Disney Dining Plan resources. 
Overall Score: 9/10