Victoria & Albert's Review
Victoria & Albert's is a AAA 5-Diamond award winning restaurant in Grand Floridian Resort at Walt Disney World that offers a unique fine-dining menu of contemporary American cuisine. It has won numerous awards over the years, and in 2016, it was named the #2 restaurant in the United States by TripAdvisor.
Suffice to say, this is by far the best restaurant at Walt Disney World. It's not even close. Victoria & Albert's is also the most expensive. (Again, it's not even close.) Additionally, it does not participate in the Disney Dining Plan, nor does it accept the Tables in Wonderland card.
Although we recommend reading the rest of this review if you're considering dining at Victoria & Albert's, no review really is necessary. Victoria & Albert's is, hands down, the best dining experience at Walt Disney World. It's well worth the expensive price, and actually is not overpriced when compared to comparable "real world" restaurants.
Sarah and I have had some nice meals at restaurants comparable to Victoria & Albert's, and usually they aren't my thing. Although I enjoy fine dining, I get impatient when eating several course marathon meals that take several hours, and I feel out of place at the lavish restaurants where everyone else is seemingly aged 60-80. We have received poor service at some such places, I feel, because the staff felt we "didn't belong" due to our age. Consequently, on the rare occasions that we dine out, I try to steer us towards more moderate restaurants.
Moderation is not a word in Victoria's (or Albert's) vocabulary. As we ascended up the stairs and the polished mahogany (I'm no expert of woods, but it sure looked like mahogany; even if it wasn't, that just sounds cool!) of the grand doors came into view, my stomach became unsettled, as I wondered if we had just forked down a substantial amount of money for what might only amount to a few hours of discomfort. I curled my Mickey Mouse camera strap into my hand as we approached the check-in stand, not wanting to appear like an "outsider."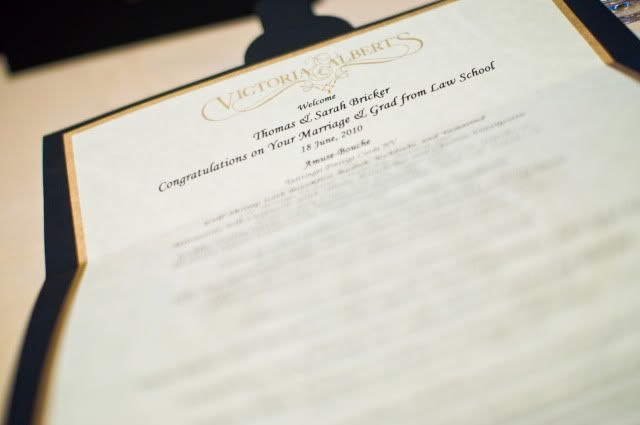 My fears would quickly be allayed. We had two maids (waitresses and waiters go by maids and butlers at V&A) who were both incredibly friendly and personable. Immediately, they offered to bring a stool for our cameras. The rest of the experience was only uphill. Our meal and the options were explained to us, and we were given a wine list. Actually, I think it might've been some sort of catalog from which to purchase a new car. The names of the cars didn't register (they were mostly French and older models), but the prices certainly suggested that it was a car catalog. Upon realizing all but the cheapest wines were out of the question (we didn't end up ordering any), we were given the menu for the meal.
The explanations for some of the items on the menu were humorous, to say the least. My favorite was some type of beef that is born in Australia and then flown to Japan, where he is massaged daily (I'm going off memory, so those locations may be wrong—the massage part is definitely correct). The beef is the world's most tender. All I could think of while our maid was describing this was some guy going out to the fields, 9-5 (or perhaps longer), to give a cow a massage. Do you think he takes a table and a white cloth to cover the cow up? When asked by his friends, what does he say he does for a living. Certainly there is a way to 'dress it up' to make the occupation sound better, but how different from the reality of the job can you make "Bovine Masseuse" sound?!
After ordering, one of our maids brought out palette stimulators, compliments of the chef. Upon my first spoonful of the egg, I knew I was in for the most amazing meal of my life. Up until that moment in my life, this was the best thing I had ever tasted. I don't think my palette is refined enough to describe all of the tastes (even if it were, I couldn't remember them so long afterward), but it was amazing. The other three portions were incredible, as well.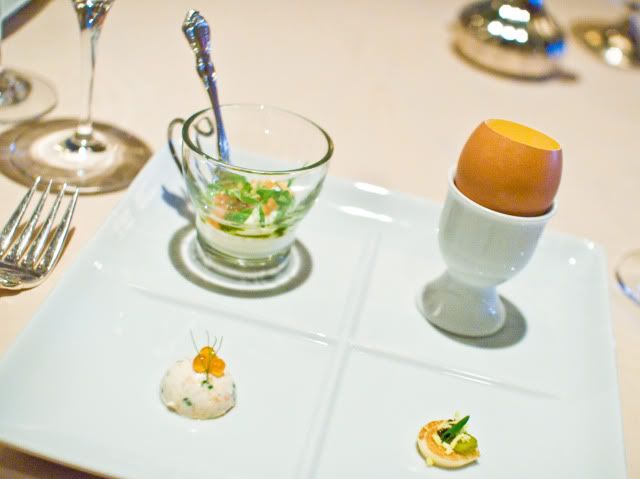 My first course was Minnesota Elk Carpaccio. After the first course, I was incredibly excited for this, as I love wild game. The elk was delicious with excellent presentation, but it left me wishing for a little more. It was so thinly sliced that it was almost difficult to properly taste it (at least I thought). Still, wonderful.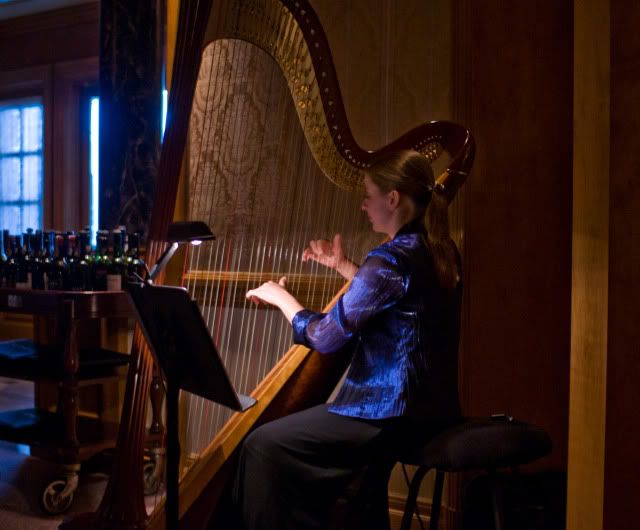 For her first course, we can't quite remember what Sarah had (it's pictured below). She was equally impressed with her course.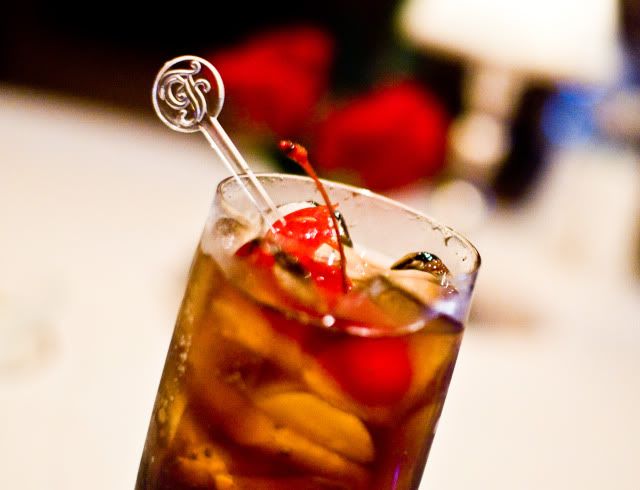 After this, the maids served us bread. This was some of the best bread and butter I had ever had. The butter had garlic in it that, while probably not massaged daily, was rich and smooth beyond belief. The bread itself was delicious, too.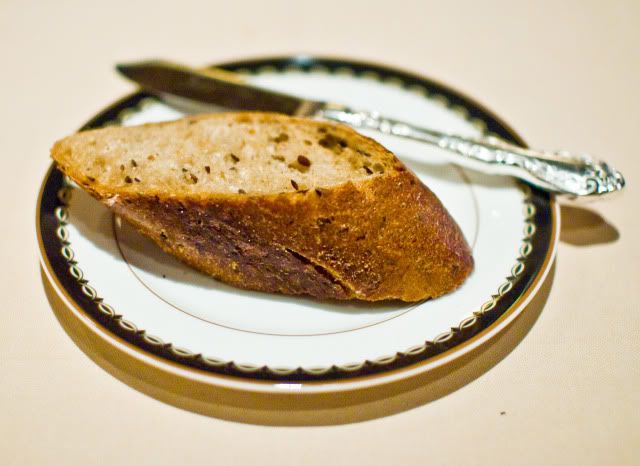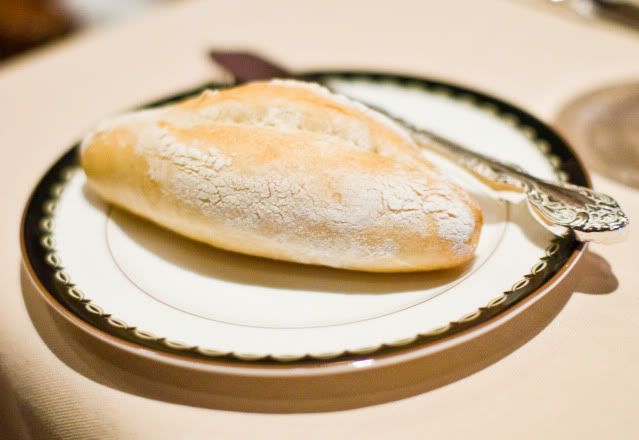 For the second course, we both got the Marinated King Salmon; it was sweet and tender. Probably the best salmon I've ever had.  Very delicious.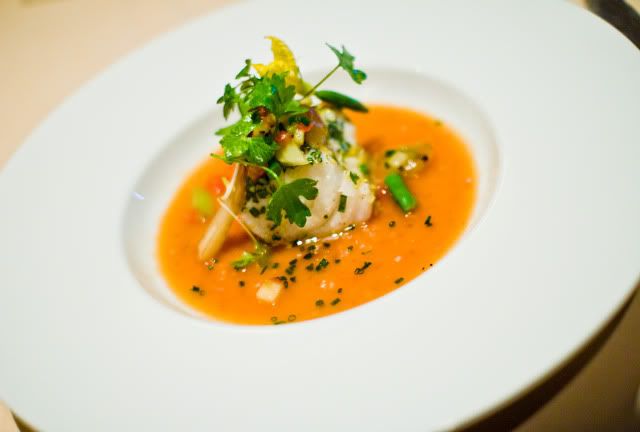 Throughout the meal, the maids were incredibly attentive and personable. Sarah asked one how she liked working at WDW, and they chatted for a few minutes about how (eventually) we'd like to work at WDW. The maid encouraged us to do it, which always lights up Sarah's eyes. I give it no more than 10 years before we're living somewhere in Florida.
Sarah had the Duck Breast, Duck Sausage and Confit, which I almost ordered as well. The sausage, especially, was delicious, and although I don't know what confit is, it sure made the plate delicious!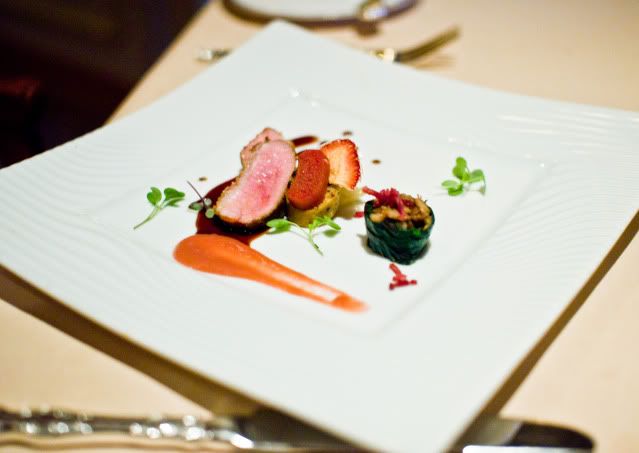 My rationale for not ordering the duck was that our meals were already going to shape up very similarly, and the Poulet Rouge with Mushroom-Truffle Ragout intrigued me. Truth be told, I had no idea what this was when I ordered it, and the maid's explanation didn't really elucidate things for me, but I decided to go for it anyway. I absolutely love mushrooms, and I figured it would be good. It was rich, flavorful, and incredibly excellent. Some of the best mushrooms I've ever had, and this is coming from an expert Northern Michigan Morel hunter.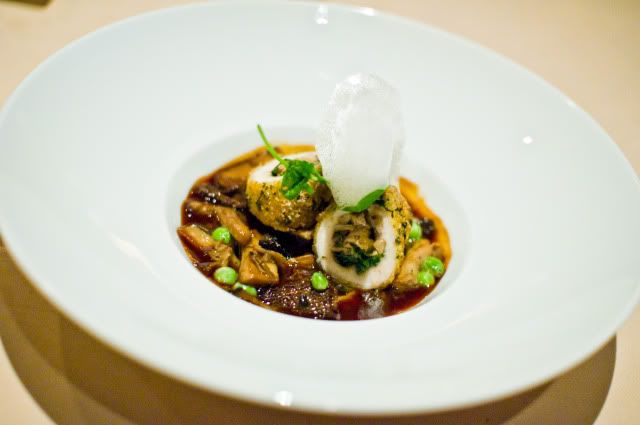 Next was the main course. Sadly, we decided against shelling out the extra money for the hand-massaged cow, instead both opting for the Niman Ranch Lamb. It was amazing. Out of this world delicious. At this point, though, it was a bit anti-climatic. Every course before it had been so amazing that we fully expected the perfect main course. It definitely delivered; cooked perfectly, nice and tender. It's right after lunch as I write this, but even thinking about it on a full stomach makes me crave it.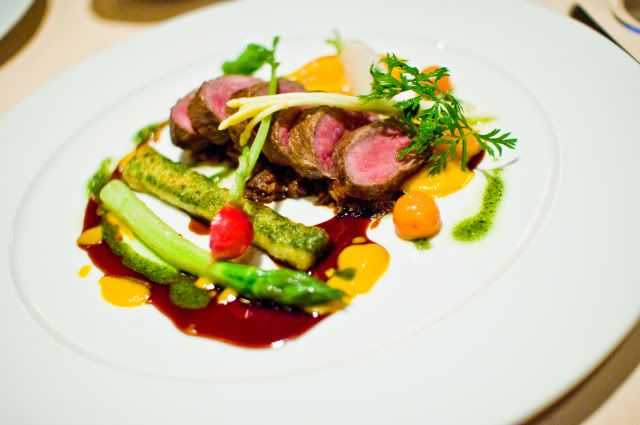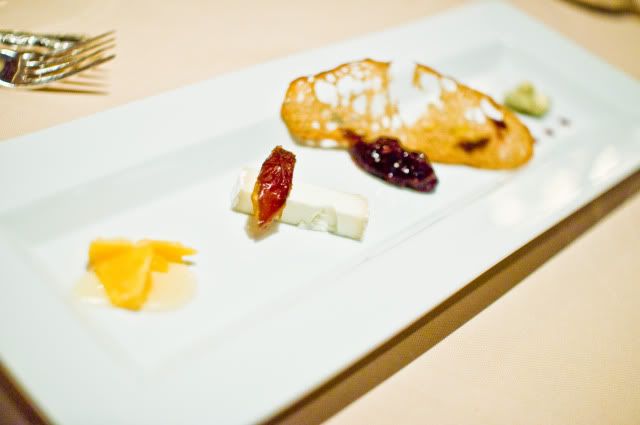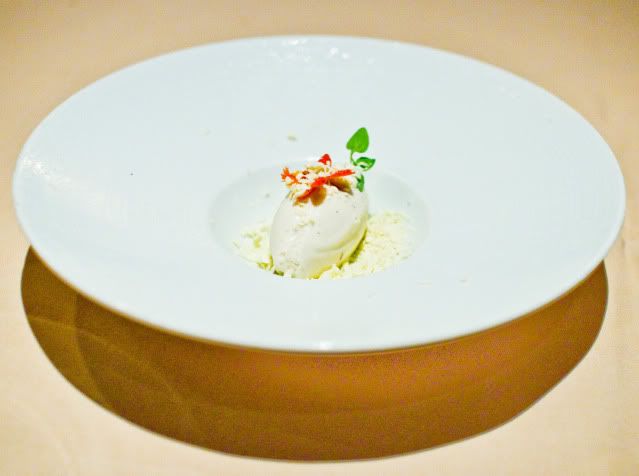 For dessert we were torn. It was really only a two horse race, but torn we were, nonetheless. Eventually we decided that Sarah would get the Hawaiian Kona Chocolate Souffle and I would get the Grand Mariner Souffle. Prior to this trip, I hadn't been a big chocolate or desserts person (much to the disappointment of my waistline, I've become a convert). Hallelujah, I saw the light on this trip! I don't even know if I could put into words the deliciousness of that dessert. Rich. Decadent. Super-awesome-fantasmic!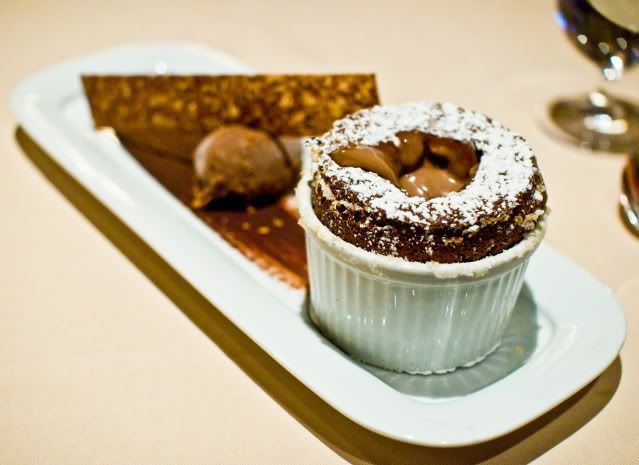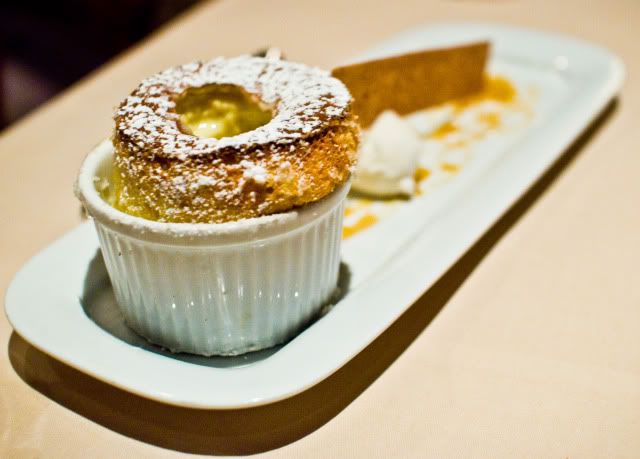 Finally, we were treated to some wonderful candies. (V&A doesn't even skimp on the candy!) Sarah was given a rose and we were given a dessert bread to take home. As the experience drew to a close, the maids gave us one last "course" that would prove wonderful—access to a private room in which we could take as many pictures as we wanted! The room, the Queen Victoria's room, was set up for overflow or perhaps parties, and the bookings were very light that evening, so it was not in use. We went in there, set up a tripod, and went to town!
After finishing our pictures in there, I convinced Sarah that we ought to take some pictures around the grounds of the Grand Floridian before changing and heading to the Magic Kingdom.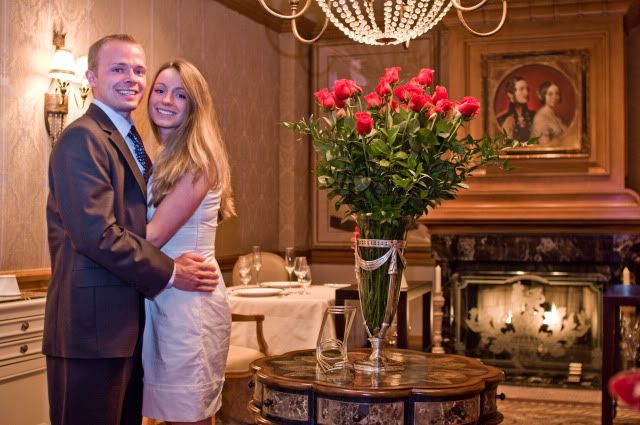 The thing I'm asked the most about Victoria & Albert's is whether it was worth the money. Obviously if people are asking, they're in a situation like us: value for money matters, and a trip there would be splurging to some degree. My advice, unequivocally, no matter what degree of splurging it may be, would be to find a special occasion to celebrate there, and go. I don't say the 'special occasion' bit so you have a nice "in" to get a freebie, but rather because I think it provides a nice reason to be there, and something to "embrace" while you're dining.
The meal is absolutely amazing, as was the service; really, I can't say enough good things about the experience, except for the price (fixed-price cost for the regular dining room is $135 per person; wine pairings are $60 per person). That said, in terms of value, even at its high cost, I would rate Victoria & Albert's very highly. In my mind, it's one of the few restaurants that is not overpriced for the food and service it offers.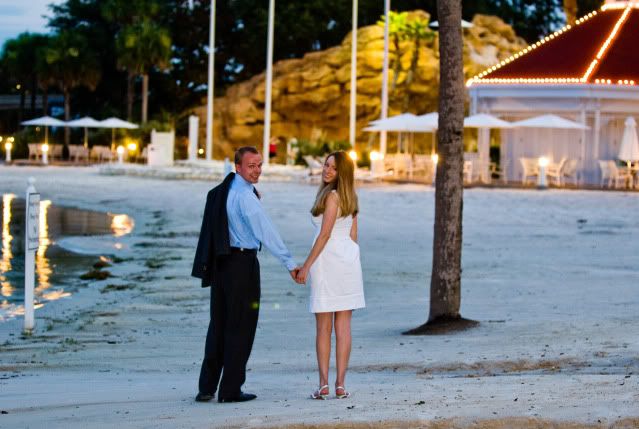 Simply put, this is the best restaurant at Walt Disney World by an incredibly wide margin. No matter what amount of saving it requires you to do, it's definitely worth doing once. If it weren't for our honeymoon, I'm not so sure I could have enjoyed it as much in our present financial circumstances; rather, I'm pretty sure I would've been thinking about how much it was costing and wondering why we're doing it. In the context of a once-in-a-lifetime celebration, though, thoughts of price didn't cross my mind once (well, besides when looking at the wine list). I cannot wait until we are financially stable enough to enjoy our next meal there.
Planning a Walt Disney World trip? If you're interested in learning more about hotels, our Walt Disney World Hotels Reviews page is a good place to start. For where to eat, try out our Walt Disney World Restaurant Reviews page. If you want to save money on tickets or determine which type you should get, read our Tips for Saving Money on Walt Disney World Tickets post. OurWhat to Pack for Disney Trips post takes a unique look at unconventional things you should take on your trip. Once you arrive at the parks, our Walt Disney World "Ride Guides" are great for determining what to do and when to do it.
For overviews of all of these topics and so much more, the best place to start is our comprehensive Walt Disney World Trip Planning Guide to make the most of your experience!
For updates on Walt Disney World, the latest news, free eBook downloads, discount information, and tips, sign up for our free monthly newsletter!
If you enjoyed this post or found it helpful, we would really appreciate it if you would share this post via social media, or leave a comment below. We put a lot of work into making this blog a helpful planning resource, and hope it's useful to you! 🙂
Your Thoughts…
If you've been to Victoria & Albert's, did you like it? Do you think it's the best Walt Disney World restaurant, or did it not live up to the hype for you? Planning on going? Share your thoughts in the comments!
---