This would prove to be a poor idea. Despite sleeping in that morning, we were both still really tired. After a relaxing bus ride, we were both a little groggy, and even with that delightful evening atmosphere in the Magic Kingdom, we decided we wouldn't be staying for long. We were there for such a short period of time, and I was so tired, that I didn't even take a single picture, which is a real rarity for me. Since we didn't want to make a trip there for naught, we took another spin around Tomorrowland aboard the TTA, then picked up our first ever chocolate chip cookie ice cream sandwich. Wow, was it good. Messy, but good. I planned on grabbing another one later in the trip, but I forgot.
With my hands thoroughly sticky and my face covered in chocolate and melted ice cream, we headed for the bus to take us back to BoardWalk. In case you're keeping score at home, our travel pattern for the day was Boardwalk to EPCOT, EPCOT to BoardWalk, BoardWalk to Animal Kingdom, Animal Kingdom to Animal Kingdom Lodge, Animal Kingdom Lodge to Animal Kingdom, Animal Kingdom to Magic Kingdom, and finally, Magic Kingdom to BoardWalk. Add in BoardWalk to Beach Club and back for me to start the morning, but that doesn't really "count." If everyday were like that, we might just have to bite the bullet and rent a car. I dread considering how much time we lost by relying on Disney transportation. Still, it's fun to just sit back and let someone else do the driving.
Full of energy, I got up early that morning to catch the sunrise while Sarah got ready. Unfortunately, it was already incredibly hot, and foggy and humid to boot, so it took my camera about 20 agonizing minutes to adjust to the temperature difference (fogging up before finally reaching the appropriate temperature). Consequently, I only got two decent pictures. Talk about a waste of time.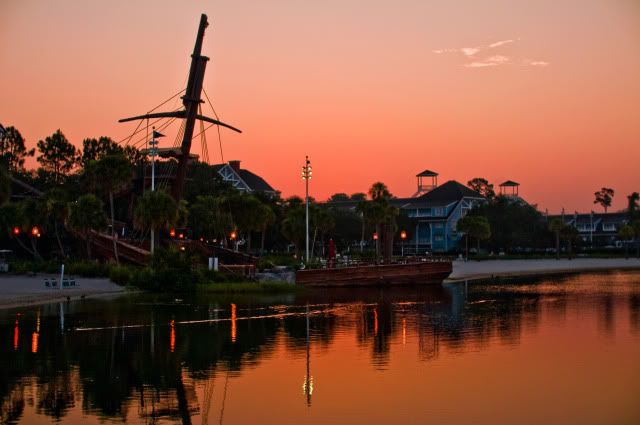 That morning was to be epic: Magic Kingdom morning EMH. I had visions of grandeur: "okay Sarah, first, we'll hit Space Mountain twice, then we'll do Peter Pan's Flight, then Big Thunder Mountain, then Splash Mountain, then…" We barely got there before park opening, and we definitely weren't some of the first people in; however, when we got to the Tomorrowland rope, we were near the front of the pack. Ah, to be young, agile, and able to walk very briskly.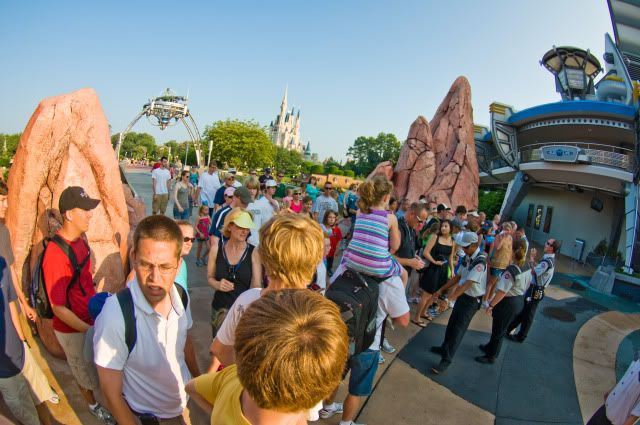 When the rope was dropped, we used our brisk walking abilities to arrive at the FastPass kiosks for Space Mountain first. On our way, we heard a disconcerting voice, "Space Mountain is currently down." We got FPs anyway, thinking they'd be valuable in the future. We then headed towards Fantasyland; luckily, Peter Pan's Flight was not down. Following that, we were off to Frontierland. There, we discovered Frontierland was roped off. Not giving it much thought (or rather, thinking BTMRR and Splash might be "down" too so the land hadn't opened) we headed to Adventureland. Down too.
We asked a CM for a Times Guide (I'm a typical man—it takes me a few hours of being "lost" before I'll finally ask for directions), something we should have done upon arriving to the park, and we discovered that only Tomorrowland and Fantasyland were open that morning—but with all of the attractions in each of those two lands open. Knowing that, we would not have come so early! As truly important as it is to see Carousel of Progress and Stitch's Great Escape first thing in the morning to avoid the heavy crowds they accumulate, I would rather get a little more rest.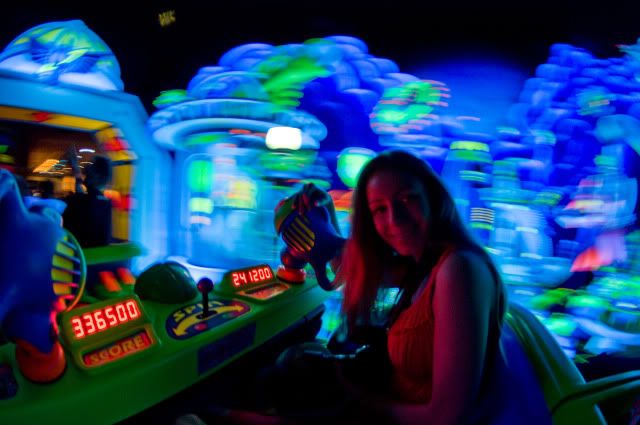 I was more than disappointed that few headliners weren't open. I would assume most people partake in EMH to hit the headliner attractions with lower crowds, and when only Dumbo, Buzz, Space, and Peter Pan are open for that hour, we felt a little shortchanged. Especially when Space wasn't open and Dumbo wasn't something that interested us. I have no idea if this has become common practice (opening only two lands for EMH) to save money or what, but I really hope it reverts back to the past system of opening key/headliner attractions in each land for EMH. This was the only morning EMH we did in MK, and none of the evening EMHs there were like this, so I have no idea if it was a test, or what. Anyone know?
We returned to Fantasyland to make the rounds there. Riding Pooh again further established my opinion that it's an extremely underrated attraction—one that I think will only get better with the new queue. I wish some cheaply done sections were a little more high quality, but I think even with those, it rivals Peter Pan's Flight as Fantasyland's best. Speaking of Peter Pan's Flight, it boggles my mind that this attraction draws such extreme wait times. While I enjoy the attraction, and I understand that the FastPass integration coupled with the slow loading inflates wait times, I still think they're too long. The ride is incredibly short, is showing its age, and other than being up in the air over London, doesn't really have an "awe" factor. Don't get me wrong, the ride is a Must-Do for us, it's just something for which we wouldn't endure the midday Standby wait times.
When the other lands finally did open, we quickly hit the Frontierland headliners before collecting another FastPass and heading to Main Street for breakfast. There was quite a line, but after seeing the breakfast croissants, I knew it would be worth the wait. When it was our turn to order, the CM behind the counter asked if we were on our honeymoon. We responded that we were, and she told us to hold on. She came back with a large copy, and told her it was on the house. When I say large, I mean pizza size. It was huge! I think WDW must have been fattening us up in the hopes that we wouldn't be able to leave. The cookie was very nice, as were all of the freebies we'd receive, but even all of the little "congratulations" really made our days. We heard these from so many Cast Members every day, it really was impressive. Either that many CMs are genuinely interested in making the magic (which is impressive) or Disney has done a great job instilling the importance of the "Celebrate" theme of the year (which is equally impressive). Regardless of whether they were genuine congratulations or not, we really appreciated them.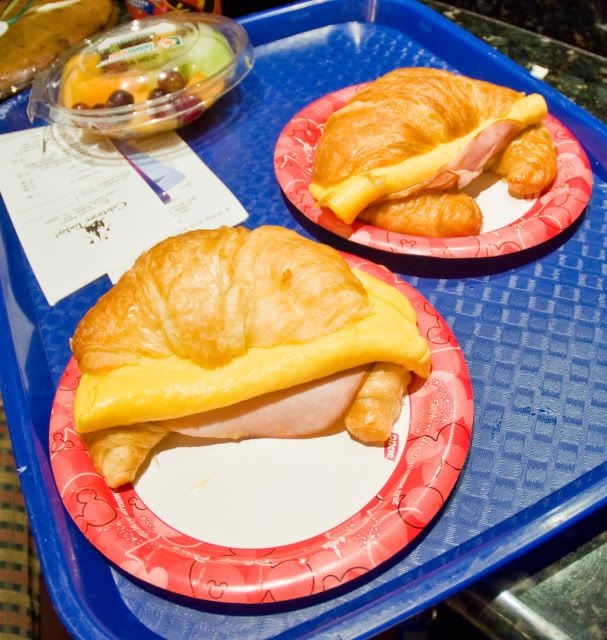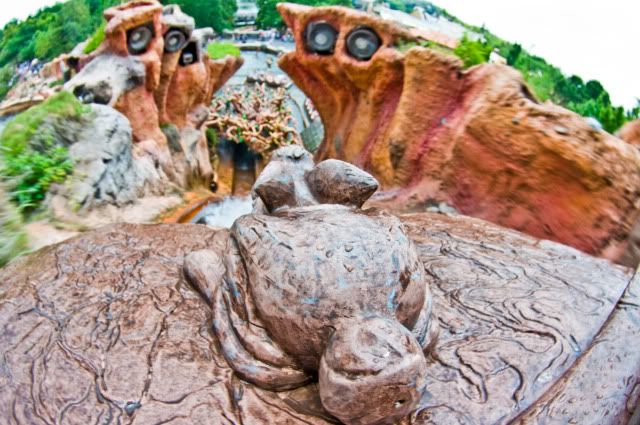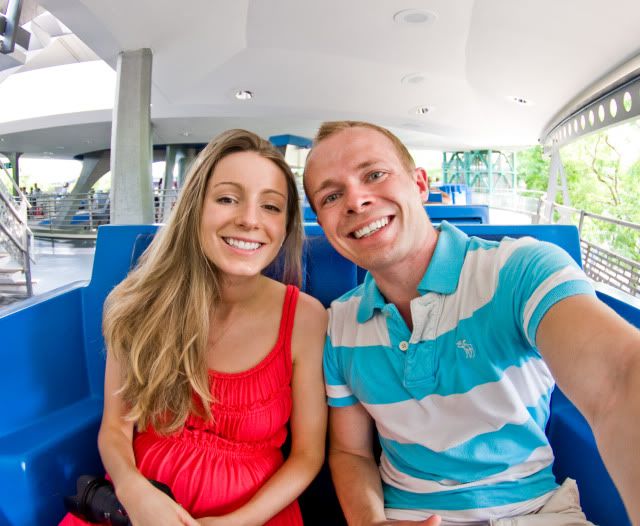 There are multiple pages in this Walt Disney World trip report installment. Navigate to the next page below!