Whispering Canyon Cafe Review
Whispering Canyon Cafe is an off-the-wall (expect some fun hijinks and antics from your server!) restaurant in Wilderness Lodge at Walt Disney World specializing in western foods. This review features food photos, our take on the zany atmosphere, and opinions on the ribs, chicken, beef strip loin, baked beans, corn bread, and other cuisine served here. Whispering Canyon Cafe accepts the Disney Dining Plan (and it's an objectively great value on the Disney Dining Plan) and also accepts the Tables in Wonderland card for a 20% discount.
We've dined at Whispering Canyon Cafe a couple of times now, and think it's the perfect place to stop for a meal during the Christmas season, perhaps while doing our "Free Walt Disney World Yuletide Tour." Since Whispering Canyon Cafe is an open-air restaurant with views into the lobby of Wilderness Lodge, dining here during the holiday season is an awesome way to enjoy the decorations. The ambiance of Whispering Canyon Cafe itself isn't much more than what you can see of the lobby along with a few things lining the walls of the restaurant, so its ambiance draws greatly on the ambiance of the Lodge's lobby.
Once you're seated, at Whispering Canyon Cafe, it's time to start the show…err…meal! There are a number of things you can do to get the staff to mess with you, but we recommend you don't research these, so your experience is a surprise and more "natural." Much like 50's Prime Time Cafe, the "show" component here is very strong, so if that's not your thing, flip the coasters (pictured below) on your table to the red side for a "no-fun zone" experience. 😉
While we think the main draw of this restaurant is the antics of the servers, we can understand how this isn't for everyone…
On both of our visits to Whispering Canyon, we've ordered the exact same thing (we'll cover that below), so I'm going to offer a narrative here of one of our experiences so you can get a taste for what you might experience.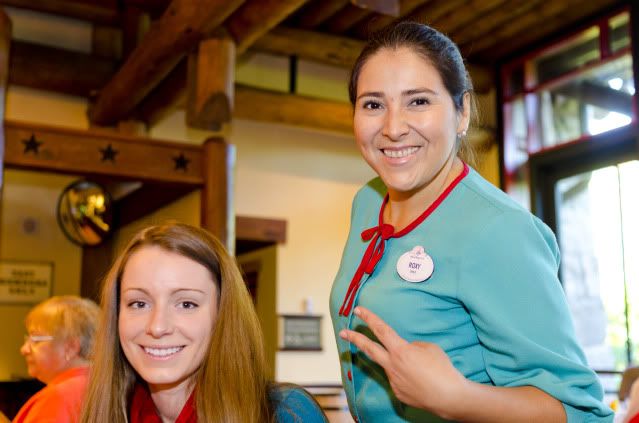 On our first visit, our waitress, who seemed put-out by having to serve us (in a good, hilarious way), started by throwing a handful of straws at our table. On top of that, she told us that the tap water was from the pond, and made a few other witty remarks.
The highlight of the meal, though, was her bringing a gigantic cup of Coke for me after I rather quickly finished my first glass. I don't think I've ever seen a Mason Jar quite that large. Her humor was very dry (as has that of other servers we've had). For those curious as to how this might play with kids, we have always noticed the kids at adjacent tables to ours eat this up, and "get it" because it's typically accompanied by visual gags.
As far as the menu goes, look no further than the Canyon Skillet. This all-you-can-eat skillet contains ribs, chicken, pork sausage, mashed potatoes, corn on the cob, baked beans, and corn bread. These are incredible, and I'd hazard a guess that 90%+ of guests who go to Whispering Canyon order the skillet. The fact that there are other menu options is more a formality than anything else, and I can't imagine going here if I didn't want the show element of the meal or the Canyon Skillet. (There's really no point, as the ambiance plus that dish are the reasons why Whispering Canyon Cafe is awesome.)
On one visit, Sarah ordered some sort of chicken or turkey sandwich–I don't recall, and it wasn't that memorable. Sarah was going to get the skillet, too, but when she asked the server for a recommendation as between the sandwich and the skillet, the server said to get the sandwich, as we had already ordered the skillet and Sarah could just try food from our skillets. I was surprised that she would suggest this, but it was nonetheless nice of her. (So I guess this could serve as a tip if you want to try the same?)
Suffice to say, the Canyon Skillet is excellent. Everything–from the mashed potatoes to the ribs and the pork sausage are all standouts. Really, it was all good, except for the beans, which I did not try. Even the corn bread, something I'd normally consider a filler to prevent you from eating too much of the meat, was very good. If you like a good homestyle BBQ, you really cannot go wrong here. I'd consider this an almost "iconic" dish at Walt Disney World, and I'm craving one as I sit here writing this.
Overall, Whispering Canyon Cafe is an excellent choice, especially at Christmas. It's one of those rare restaurants at Walt Disney World that offers both an exceptional show and great food–usually it's just one or the other. Guests are brought right into the wry humor of the show, which is very amusing for most, but might not be as fun for the shy. Although pricey, the Canyon Skillet is the definite standout on a menu that otherwise is fairly reasonably priced if you have big eaters in your party thanks to being an all-you-can-eat dish. If you can, dine here around Christmas, so you can see the most beautifully decorated Walt Disney World resort while you enjoy your meal.
Want more dining tips? Check out our 101 Delicious Walt Disney World Dining Tips. For where to eat, read our Walt Disney World Restaurant Reviews.
Planning other aspects of a Walt Disney World trip? Learn about hotels on our Walt Disney World Hotels Reviews page. To save money on tickets or determine which type to buy, read our Tips for Saving Money on Walt Disney World Tickets post. Our What to Pack for Disney Trips post takes a unique look at clever items to take. For what to do and when to do it, our Walt Disney World Ride Guides will help.
For comprehensive advice, the best place to start is our Walt Disney World Trip Planning Guide for everything you need to know!
For Walt Disney World news, tips, discount info, and free eBook downloads sign up for our free monthly newsletter.
If you enjoyed this Walt Disney World dining post, we'd really appreciate it if you'd share it via social media to spread the word! We put a lot of work into making this site a helpful planning resource, and hope it's useful to you. 🙂
Your Thoughts…
Do you enjoy the food and hi-jinks of Whispering Canyon Cafe? What "pranks" have your servers pulled on you here? Planning on trying Whispering Canyon Cafe? Share your thoughts in the comments!
---