Walt Disney World 40th Anniversary Recap, Photos and Video
As I'm sure just about everyone reading this website knows, Walt Disney World Resort celebrated its 40th anniversary on October 1, 2011. As dedicated (read: crazy) fans of the Disney theme parks, we were on hand to celebrate the day. Luckily, we weren't the only crazies out there, as the Disney fan community turned out in full force, flooding the Magic Kingdom early on Saturday morning, staying late into the night after an enhanced version of the Wishes! fireworks show.
It was an early morning for us, as we arrived at the Magic Kingdom at 8:20 am before the turnstiles opened. Our original goal was to arrive at 8:45 am, as I figured it might be a little crowded, but when we saw Tweets upon awaking indicating people had been at the Magic Kingdom since 5 am (mostly those who wanted merchandise wrist-bands) and that the Magic Kingdom entrance area already had a crowd at 7:30 am, we decided to fast-track getting ready.
When we arrived, we were barely able to make it through the turnstiles due to crowds, but shortly thereafter, we moved ahead a reasonable distance, as Cast Members requested Guests make more room.
The day started off in typical fashion, with the Magic Kingdom Opening Ceremony, albeit in modified form to give a few nods to forty years of the Magic Kingdom. As always, it was a fun show to see, seeing it play to a packed and excited crowd made it all the more enjoyable.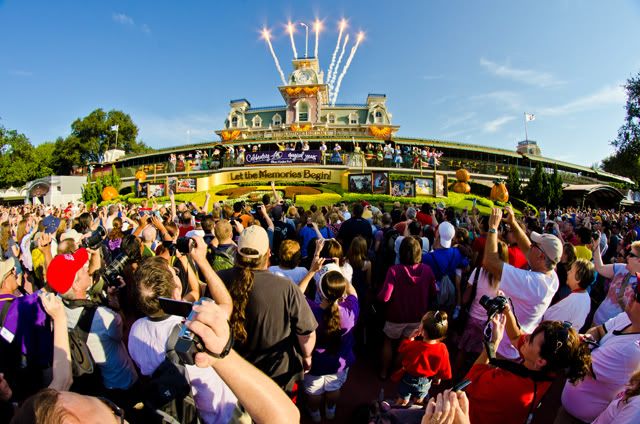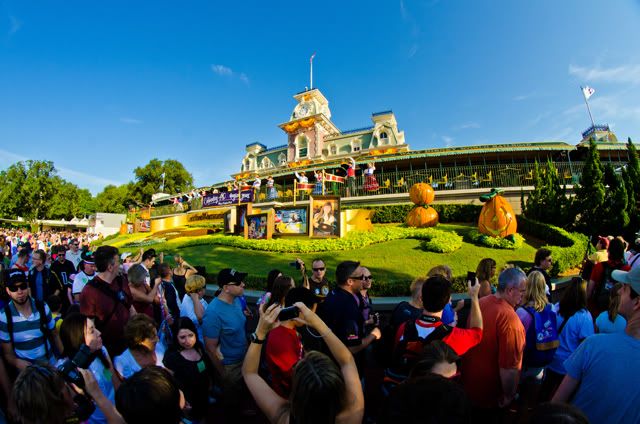 Once the show ended, we inched our way inside, where we were handed commemorative retro-inspired park maps and 40th anniversary buttons. The park maps were really, really cool, and paid homage to the exaggerated conceptual-style artwork of early maps by Paul Hartley and others (I don't knew who created this one, specifically). The team behind that map really deserves some kudos, as it was beautifully done, all around. Icing on the cake would have been if the team convinced Kodak to re-run one of its old "photo tips" ads on the back, but that's really expecting too much.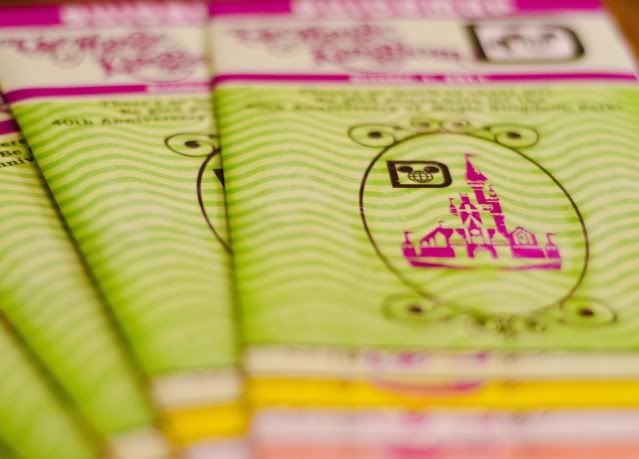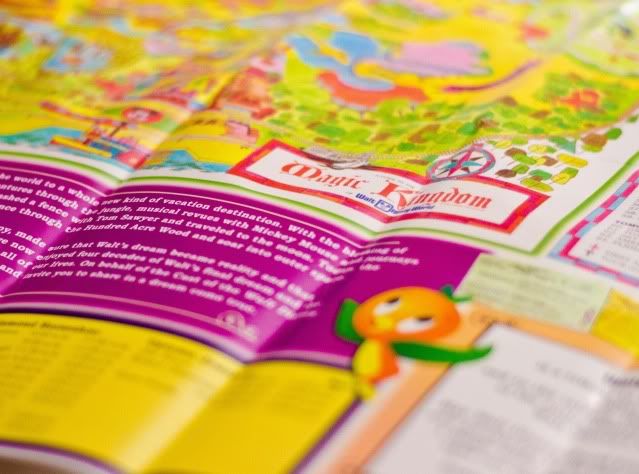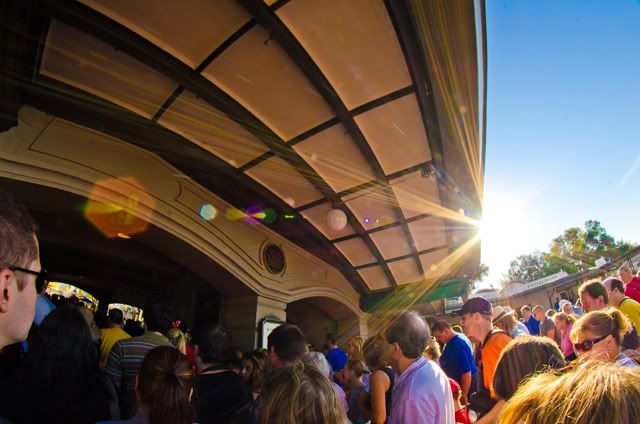 Once inside the park, we scurried to the Emporium. It was already nuts in there. Since I wanted a good spot for the 10 am Cinderella Castle Ceremony, Sarah bought both of the special shirts offered that day, while I headed towards the Castle. In retrospect, both shirts are really lacking, but oh well. (Tinkerbell? Really?! Not the Orange Bird, Mr. Toad, or wealth of other vintage characters who would have appealed more to those in attendance?)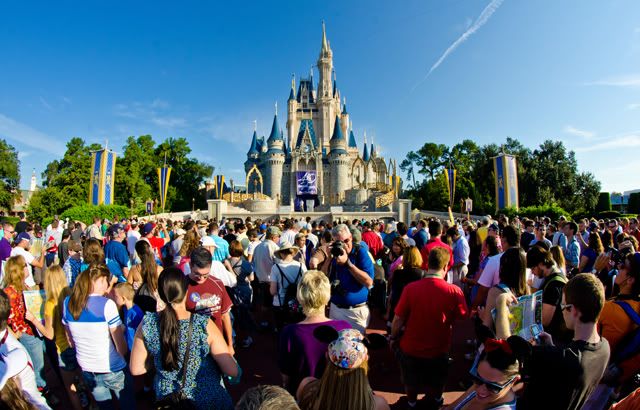 As we stood in the throngs of crowds awaiting the 10 am ceremony, the excitement from the crowd was palpable. Not necessarily for what Disney had planned, but for the memories made by so many in the crowd, and the integral role these theme parks had played in so many of our lives. Walt Disney World undeniably has a lot of nostalgic value for a lot of people, and this day was probably one of the ultimate days for fans to wax nostalgic about the resort's past. As stood packed like sardines near the Cinderella Castle stage, we heard other Guests reminiscing about attractions of the past. I heard mention of favorites like If You Had Wings, Mr. Toad's Wild Ride, 20,000 Leagues Under the Sea, Alien Encounter, and even some long-gone favorites such as the Swan Boats.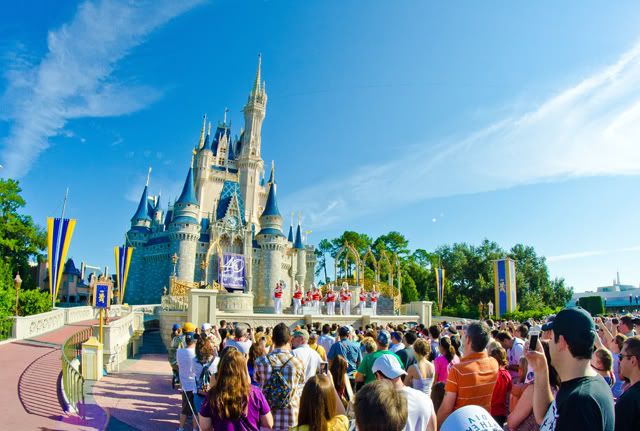 While I appreciate Disney doing something to honor the day, make no mistake, the ones who made it special, for us at least, were the fans. Everywhere you looked you could see Guests who grinning from ear to ear, sometimes teary-eyed, and often wearing shirts sold during past anniversaries.
Seeing this outpour of support made us happy, as if this insane level of attendance demonstrated to us that many fans really care about these parks, it should clearly demonstrate the same to Disney, which arguably did not expect this type of turnout at the Magic Kingdom on an off-season morning the first weekend of Food & Wine Festival at Epcot.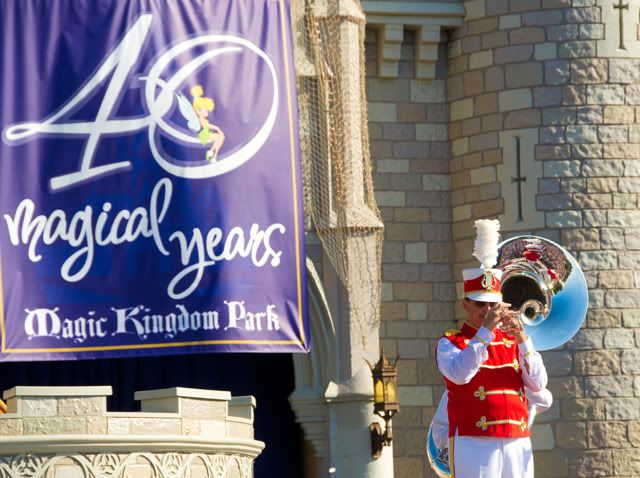 The ceremony itself was also fun. It began with the Main Street Philharmonic Band playing various Disney (film) songs after being introduced by current Walt Disney World Ambassadors Norman Vossschulte and Jennifer Mason. The band, as always, was excellent, and it was great to see them included in festivities.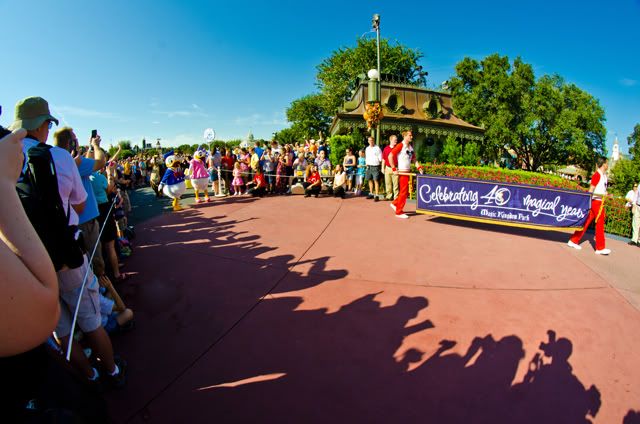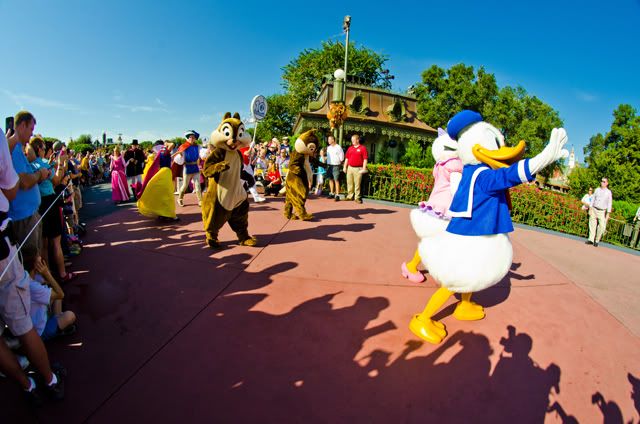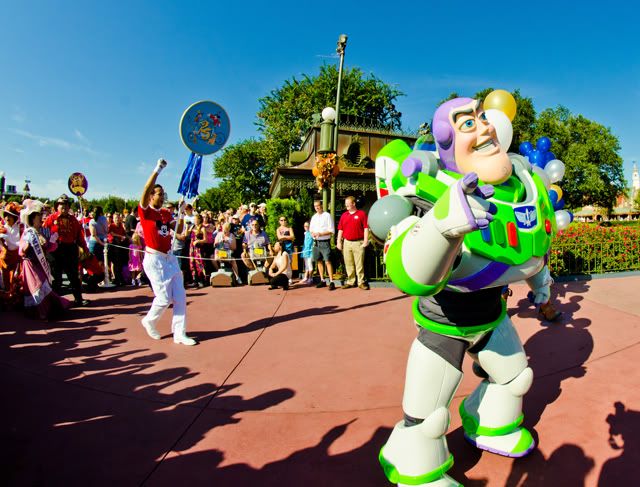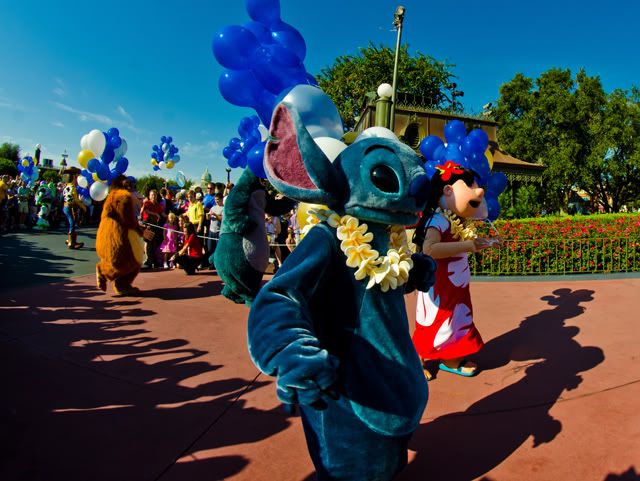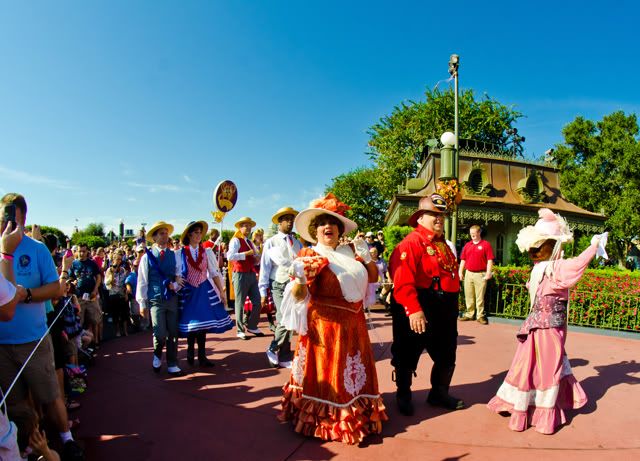 Then, as promised, a character cavalcade came down Main Street, USA, to the music from anniversary celebrations of years past. While I don't remember hearing a number of them first hand from my visits as a child, it was still chills-inducing to hear these songs played once again in the Magic Kingdom. Although this was a relatively minor detail, this, along with the park maps, were probably my favorite parts of the official offerings.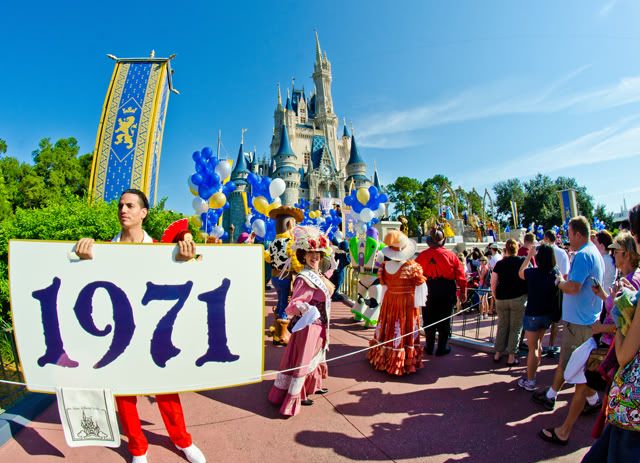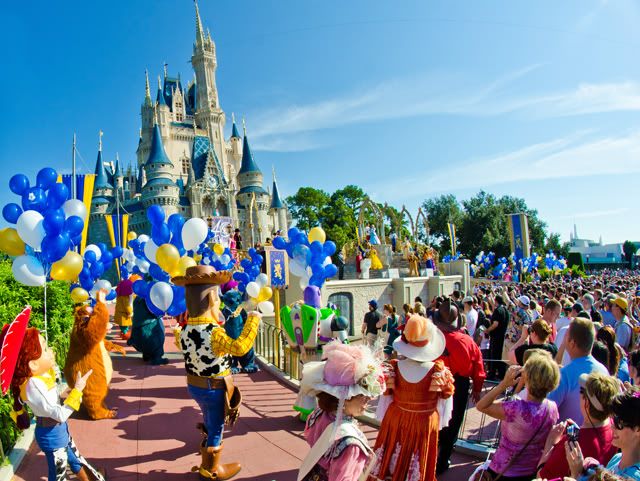 It continued with Meg Crofton discussing the importance of Guests in Walt Disney's vision for Disneyland, and the importance of Guests in the continued vision of Disney management for Walt Disney World. After Ms. Crofton spoke, Phil Holmes took the stage, recalling his early days as a Cast Member at the Haunted Mansion (and making a humorous remark about accepting "A" tickets for some Guests who entered the Haunted Mansion).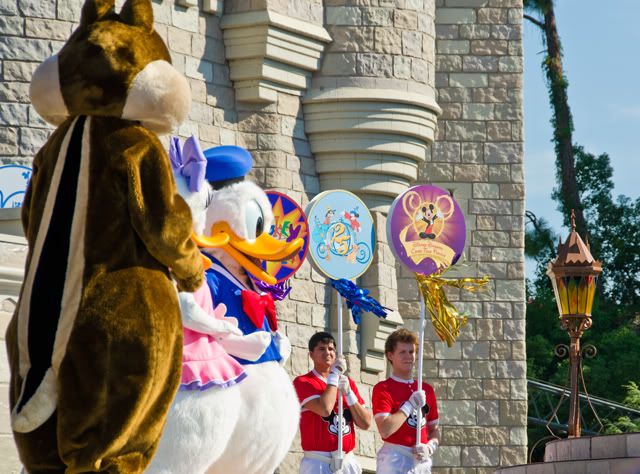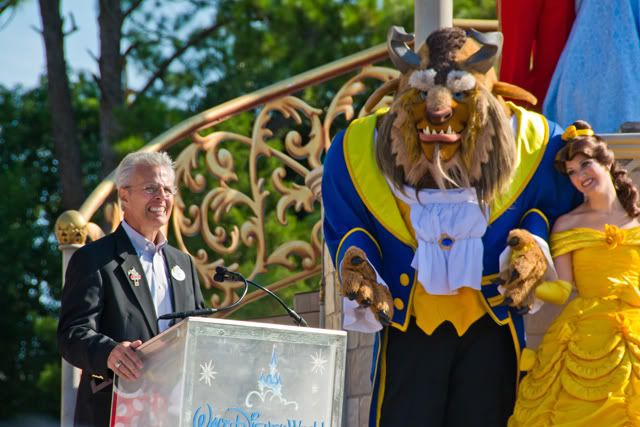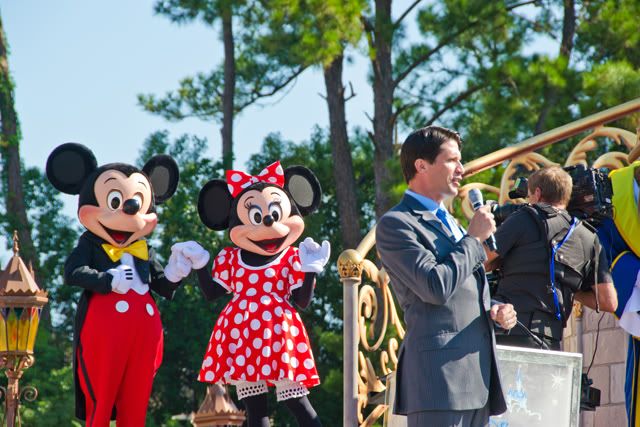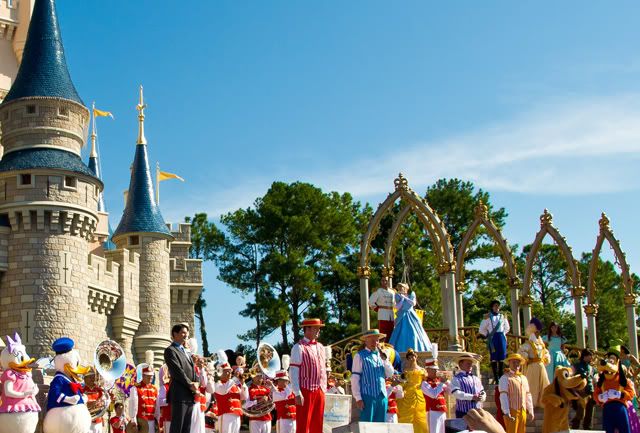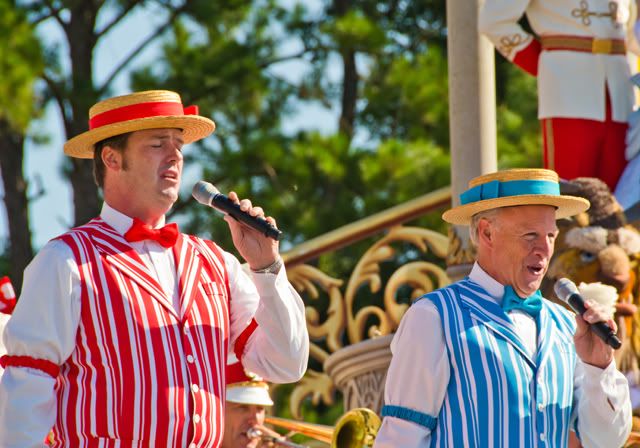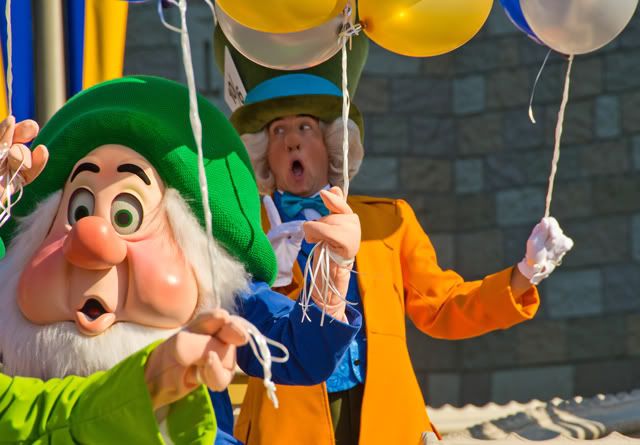 The ceremony concluded with the Dapper Dans signing a stirring rendition of When You Wish Upon A Star, which finished with fireworks exploding above Cinderella Castle and confetti exploding into the crowd, before the tens of thousands of Guests crowding the Magic Kingdom dispensed throughout the park, often filling typically less-popular attractions.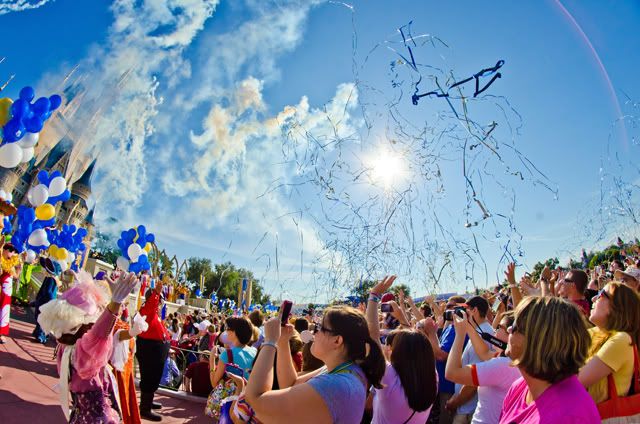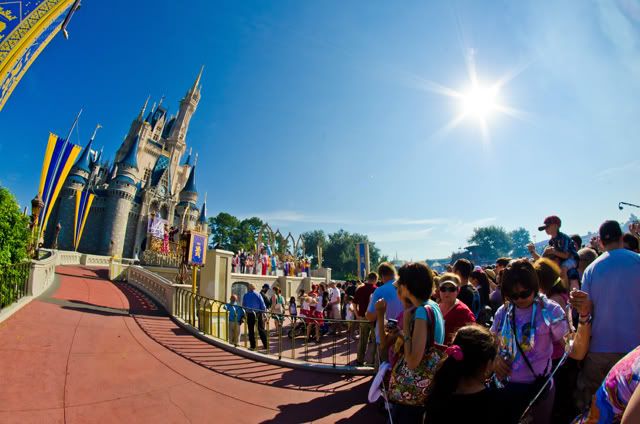 The under-used Diamond Horseshoe was the station for unique merchandise and artist signing events, and many waited hours in line for the opportunity to purchase items there.
The Main Street Bakery also offered special 40th anniversary cupcakes for purchase. For those curious, the E-Ticket on the top of ours didn't get us FastPass access at Space Mountain, but it did taste delicious.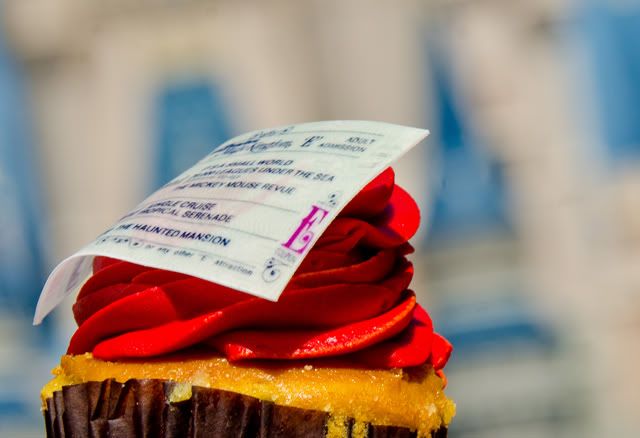 Throughout the day and weekend, there were several fan-meets (many of which we attended and cover fully in our Walt Disney World 40th Anniversary Trip Report) before the day ended with an enhanced version of Wishes!
This enhanced version featured some of the best perimeter bursts I've ever seen, and judging by the crowds, was viewed by just about everyone in the Magic Kingdom from Main Street, USA.
My tripod was bumped a couple of times, ruining otherwise good shots, but I still managed a couple decent photos of the memorable fireworks. With the fireworks over, the special events for the 40th anniversary concluded.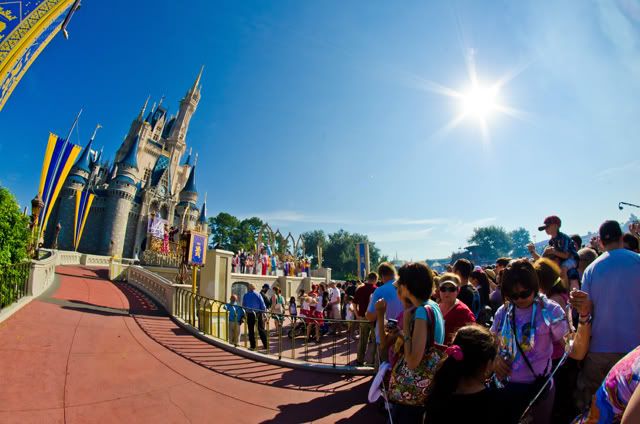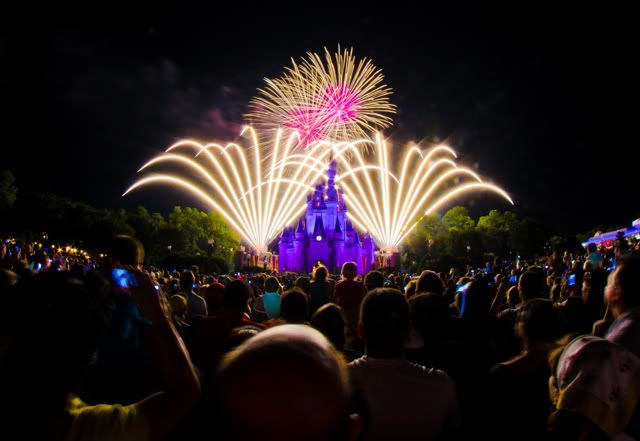 Although I write this post to honor and reflect upon the great day at the Magic Kingdom, I'd be remiss if I didn't at least acknowledge what everyone else is discussing: how little Disney planned for the day. From a personal perspective, I have to admit that I was a little disappointed by Disney's offerings. Between scheduling two marathons in other parks the same day to only announcing that anything would be done via Twitter in September, it seemed clear that Disney didn't take the day quite as seriously as most fans. That is what it is.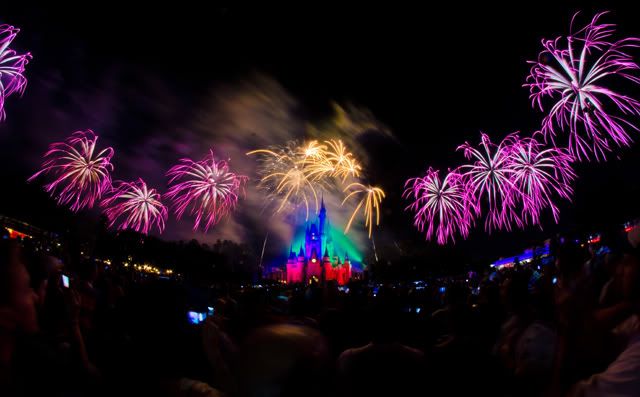 I don't think it's a matter of "saving it for the 50th," as many have stated in an attempt to explain away the paltry offerings for the 40th (what will happen if the 50th isn't celebrated? "They're saving it for the 100th!"). I think the environment at Disney has simply changed. Gone are the days when every anniversary ending in a 0 or 5 received a year long celebration, replaced by the days when every year receives its own "celebration" created with more broad marketing appeal. I'm not making a value judgment on this change—if anything, I understand the change, since Disney operates as a business, and one type of celebration has a lot more value than the other. That said, I think from the perspective of increasing business goodwill among its most loyal Guests, it might have been wise to offer more than a small ceremony, merchandise, and Wishes! with perimeter bursts. While Disney has already "captured," so to speak, the business of many of us who were there on October 1st, it's never a good idea to take loyal customers for granted. Even from a business perspective, I think spending a little more to make a truly special weekend would have been a good long-term investment (and probably, actually, would have been quickly recouped in additional merchandise sales) as it would have made these loyal customers even more happy, and they would, in turn, be more inclined to spend more in the future.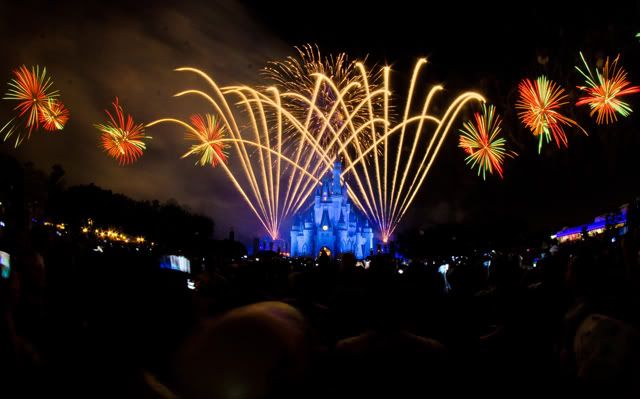 As fans continue to turn out in numbers at these Walt Disney World anniversaries and as other offerings, like Disney Vacation Club, continue to increase the number of frequent visitors, I think (or hope) Walt Disney World management may be starting to learn some lessons from California. It has been apparent from the availability of 40th anniversary merchandise and Disney Parks Blog posts over the course of the last year that some within the Company took this anniversary more seriously than Epcot's 25th.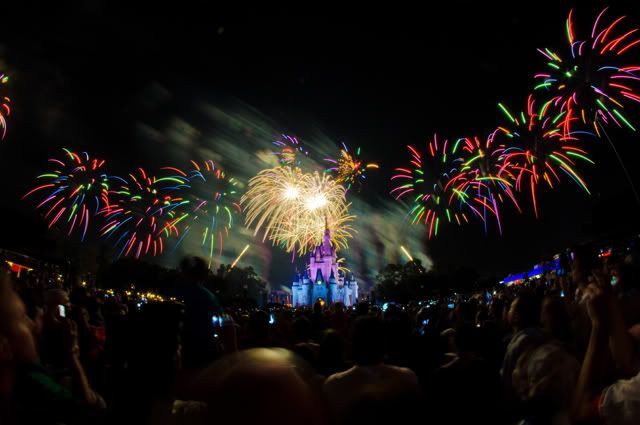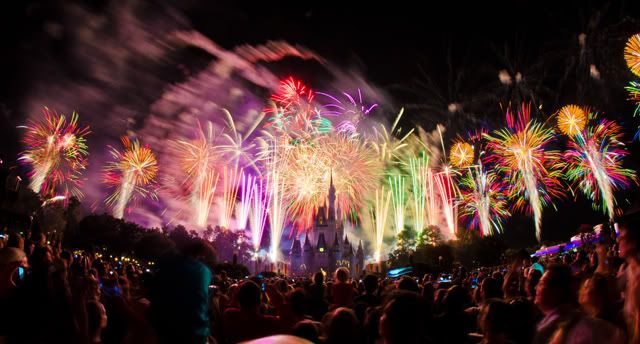 Of course, as I mentioned above, the day for us was all about being there in the presence of other like-minded fans and paying our respects to the Vacation Kingdom of the World to which we have a deeply emotional tie. To that end, it was a truly special day, and sharing it with old and new friends made it even more special.
If you enjoyed this post, please help us out by clicking the +1 button above to increase DisneyTouristBlog.com's visibility on Google (no Google account necessary). If you have Facebook, click the "Like" button, too!