Epcot Food & Wine Festival Snack Reviews
Epcot's Food & Wine Festival makes fall great at Walt Disney World. This post reviews the best Food & Wine Festival Snacks, and how to save money by getting the most bang for your buck and value from Epcot's Food and Wine Festival snacks. This is a great foodie event, but let's be real: it's also an expensive event. These snack tips can help you save time, money, and valuable stomach "real estate," while also aiding you in finding the best of the Epcot Food & Wine Festival snacks!
Even if you're not a "foodie," per se, the Epcot International Food & Wine Festival is still a lot of fun and a great way to spend a day grazing the World Showcase at Epcot enjoying good food and drinks, capped off with an evening of Illuminations. The downside to all of this is that grazing Epcot's International Food & Wine Festival can be expensive. Prices for these snacks range from around $3 to $7. Add beer or wine to the mix, and one person could easily spend over $100 on snacks in a single day. That may seem outrageous, but it has happened to us! Unless you have plenty of snack credits on the Disney Dining Plan or you are careful and only go for the snacks that are good values, expect to spend a decent amount of money at Epcot's Food and Wine Festival.
With these Epcot Food & Wine Festival reviews, hopefully you can better (and more economically!) experience the fun without breaking the bank by ordering the "duds" at the various Food & Wine Festival booths. We have ordered many, many items at Epcot's Food & Wine Festival over the past few years, and have gotten a great idea of what tastes good, what tastes bad, what's a good value, bad value, etc.
Note that there is a bit of selection bias in these reviews, as we no longer order things we tried in our pre-blogging days (you know, before we started taking oddly dramatic photos of everything we ate) and didn't like or thought offered poor value, and when new things are added to Food & Wine Festival, we generally only try those things that have a little buzz or sound good to us. Thus, there are proportionately more "Top Picks" in this post than there would be if we did a post reviewing every single item at the Epcot International Food & Wine Festival.
NOTE: This post has not been updated for the 2016 Epcot Food & Wine Festival, and some of these snack photos are a few years old. For this year, we will be covering every single food item on our Epcot Food & Wine Festival Menu page. What follows may be useful in some regards, but that menu page is much more current.
While the menus and booths at Epcot's International Food & Wine Festival change each year, they don't completely change. Some items are offered one year, removed the next, and return the following year. Based on our experience, the offerings are about 25% new each year, with the other 75% being returning favorites. These Epcot Food & Wine Festival reviews cover foods we have had at Epcot's Food & Wine Festival in the past few years. The items listed here may or may not be back this year, so make sure to consult the actual menus before you get too excited about a particular item.
With all of that said, here are our Epcot's International Food & Wine Festival snack reviews, in no particular order…
Canada: "Le Cellier" Wild Mushroom Beef Filet Mignon with Truffle Butter Sauce
We have heard people rave about this, and it's regularly cited as the best/most popular item. My guess is that's because of the "Le Cellier" name attached, as people seem to love that overrated restaurant. This ended up being the worst thing we tried a couple years ago, and based upon the reactions of others, it sounds like this is a very hit or miss item (from the perspectives of size, amount of sauce, and meat quality). For something this expensive, it shouldn't vary this much in quality. We won't be trying it a second chance. Order at your own risk.
France: Escargots Persillade en Brioche – TOP PICK
It should come as no surprise that escargots is expensive, so value for portion size here is actually pretty decent given the size. Just know that the portions are small. In terms of quality, I thought these were really good, although the butter flavor and breading did overwhelm the rest of the escargots. This is a great option for those on the Disney Dining Plan because it counts as a snack credit on the Disney Dining Plan. If you're on that, go wild, as this is a great way to maximize your snack credit value on the Disney Dining Plan.
Australia: Grilled Lamb Chop
This is one thing that seems to be tweaked from year to year. A couple of years ago we had it when it was served with potatoes and goat cheese, and was amazing (a definite top pick). The next year, it was served with mint pesto and potato crunchies. Not only were the accompaniments not as good, but the portion size seemed smaller. Both times we've tried it, it has been relatively fatty. So this one is definitely a YMMV item. This is on the more expensive end of the snack spectrum, but it offers decent value if you receive a large portion size.
Greece: Griddled Greek Cheese with Pistachios and Honey – TOP PICK
This was one of my favorite things at Epcot's Food & Wine Festival, but take that with a grain of salt because I'm a sucker for cheese. This had great flavor, was nice and oily, and garnished with pistachios and honey that really worked well with the flavor of the goat cheese. In terms of value, it was moderately priced but my piece of cheese was on the large side (for cheese). Cheese is often more expensive than it seems it should be, so I think this was a pretty good value.
Greece: Chicken with Tzatziki
This gyro tasted pretty good, although the meat was a bit more mild than I would've liked. The dressing was great, but overall the item wasn't that memorable. In terms of portion size, ours was relatively small, which is what prevents it from being a top pick.
Desserts & Champagne: Dessert Trio – TOP PICK
If you followed Sarah's travels on Instagram, you might have noticed that we purchase this snack a lot…and she shares photos of it each time! The individual desserts in this change each year, but are usually worthwhile. I could string together a list of superlatives to describe each of the snacks in the trio, but that shouldn't be necessary. Buy this, you won't be sorry. The desserts in this trio change each year, but it's always a good value for the money.
Scandinavia: Taste of Scandinavia: Cured Salmon, Herring, and Shrimp Salad – TOP PICK
Up until 2013 when it mysteriously vanished (such is the nature of everything good at Epcot!), the Scandinavia booth was our favorite booth at the Epcot International Food & Wine Festival. Seriously, this list used to have 4 Top Picks on it from the Scandinavia booth. Unfortunately, this isn't one of the booths so we've removed the other Scandinavia booth items from the list (it would just be mean to tease them!), but we REALLY hope it returns, so we're leaving this one here as a reminder of the greatness that was the Scandinavia booth. Maybe when Dreamfinder returns to the Journey into Imagination pavilion, he will bring the Scandinavia booth along with him! 😉
Hawaii: Kalua Pork Slider with Sweet and Sour Dole Pineapple Chutney and Spicy Mayonnaise – TOP PICK
Since Hawaii is one of the first booths you might encounter, this is a nice way to start out your snacking–it'll set the bar high. The bun is a wonderful and buttery (unsurprisingly) Hawaiian roll, the sauce is rich and not too spicy, and the meat is moist and perfectly flavored. Since Hawaii was added a few years ago, we have really had to restrain ourselves each year from ordering more of these bad boys! Even though, as best I can tell, Hawaii is not a country, it was a great addition to the Food & Wine Festival!
Belgium: Belgian Waffle with Berry Compote and Whipped Cream – TOP PICK
The waffle here is good, but what makes this snack is the berry compote. I'm sure they weren't, but the berries tasted fresh, and the syrup has a bit of an edge to it (perhaps a hint of lemon?). We feel that this is a great value, as its fairly reasonably priced and the portion is usually good.
Hawaii: Tuna Poke with Seaweed Salad and Lotus Root Chips
The tuna is delicious and it tastes fresh, but I wouldn't say this is an especially great option. The portion is on the small side and the seaweed salad is nothing memorable. The single lotus root chip is more garnish than anything. If you love seafood, you might give it a try.
France: Créme Brûlée au Chocolat au Lait – TOP PICK
This was a surprise favorite for us. It was perfectly crip on top, with delicious chocolat au lait below. The portion size was about the same as you'd get from Le Cellier at dessert, and we thought this créme brûlée was arguably just as good as Le Cellier's. The French know how to do dessert!
Morocco: Kefta Pocket (Beef in a Pita Pocket)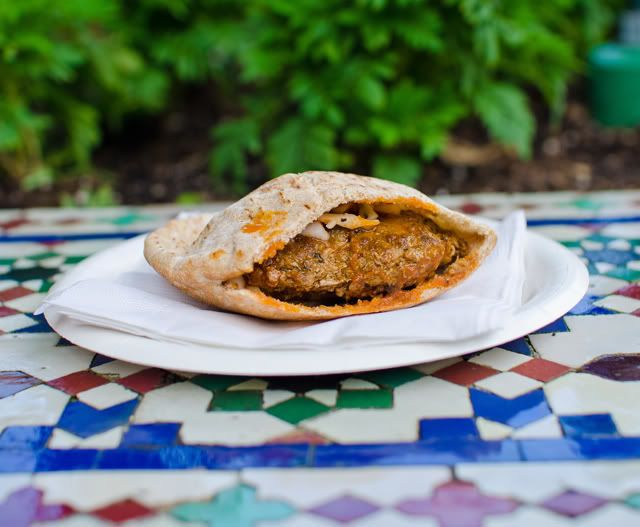 The lamb kefta at Sanaa is great, so we figured this kefta pocket from Morocco would be worth trying. As far as value goes, I would say it did poorly. However, the taste makes up for that, as it was a meaty and very flavorful dish. The portion size was fairly large, too. On second thought, maybe the value wasn't that bad, after all!
Canada: Chicken Chipotle Sausage with Sweet Corn Polenta
I refuse to eat soup in hot weather, so we pass over the Cheddar Cheese Soup about which everyone raves. All was not lost for us at the Canada booth, as we instead sampled this delicious snack, which offered good value and even better taste. The sausage itself had a bit of bite to it, but nothing that most palates can't handle. The polenta provided the perfect compliment. This snack is not currently offered, but we hope it returns!
Japan: Any Sushi Roll
We don't recommend any of the sushi at the Japan kiosk. Not because it's bad (it's okay), but because it's pretty comparable to what you can get any day of the year at Katsura Grill in terms of variety and quality (not necessarily the exact rolls).
Hops & Barley: Linda Bean's Perfect Maine Lobster Roll
This is a difficult recommendation. On the one hand, this lobster roll is fantastic. It's real Maine lobster, with big chunks of lobster in it, and not overly loaded with filler. However, it's small and it's the most expensive item in any booth at the Food & Wine Festival. Hops & Barley regularly rotates their lobster offering, but it's always expensive. This snack is not currently offered, but we hope it returns!
Belgium: Steamed Mussels with Roasted Garlic Cream & Baguette
This dish is one of the best snacks, both from a taste and value perspective, at the Food & Wine Festival. The mussels were tender and tasted great. The cream sauce was utterly amazing, but the broth was no slouch, either. Much to Sarah's chagrin, I discretely headed to a hidden nook and licked the rest of the garlic cream sauce off my plate when I was done with this one. Uncouth? Sure. Totally worth it? Double-sure. This snack is not currently offered, but we hope it returns!
Australia: Shrimp on the Barbie with Pepper Berry Citrus Glaze
This is an okay option, but it's another one-and-done for us. The glaze isn't all that memorable, leaving you with a pretty ordinary barbecued shrimp skewer. For shrimp, it's a decent value, but if you are concerned with only trying the best of the best, you can safely skip this. This snack is not currently offered, and we're pretty much okay with that…
New Zealand: Seared Sea Scallop with Kumara Red Curry Puree and Apple Radish Salad
The sea scallop was good, but it was a single scallop without much of the puree or salad, and was fairly pricey. We have seen photos from others who have ordered this, and they received a lot more of the red curry puree. Even with more puree, this is not a very good value. Not currently offered.
Hops & Barley (aka Beer+America!!!): Pumpkin Mousse with Ocean Spray Craisins and Orange Sauce – TOP PICK
Before you get too excited, this exact snack isn't available this year, but a different 'craisin' snack is available every year, so we hope this little gem (our favorite thing about the Food & Wine Festival) returns soon. Please, Disney, please! We love all things pumpkin. Heck, we do a yearly pumpkin beer sampling because we love pumpkins so much. Sarah makes pumpkin smoothies. A pumpkin candle (which we do NOT eat) sits on our coffee table in the fall. That said, we are both pretty discerning when it comes to pumpkin-cuisine. We don't just love everything with the word pumpkin slapped on it that just happens to have a hint of pumpkin and an over-abundance of cinnamon (a common error in pumpkin-food preparation).
I think we ended up having about 5 of these over the course of our trip the first year this was offered. The perfectly balanced mousse was definitely the highlight, but the Craisins (this new Ocean Spray sponsorship is really proving to be a huge win for Walt Disney World guests!) were a surprisingly good compliment to the dish. Each year, we assume this is going to jump in price, but it has remained a good value since it's introduction. This is easily the best mix of value and taste at Food & Wine Festival. Order this (or a few of this!) for sure.
Overall, we always have a great time sampling the different snacks at Food & Wine Festival. A few of our favorites aren't on the list (like the Jerk Spiced Chicken Drumstick with Mango Chutney) because we haven't tried them in the last couple of years and don't have photos of them, but the "Top Picks" here do cover most of our current favorites, and the snacks we buy year after year (assuming they're offered every year).
Many of our other favorites have disappeared over the years, but as the Food & Wine Festival continues to expand, it seems the good replacements usually outnumber the "extinctions."
We stressed this at the beginning of the post, but it bears repeating: if you're not on the Disney Dining Plan with Snack Credits to spare, you can spend a lot of money rather quickly in an afternoon wandering around the World Showcase. Portion sizes are typically small, and prices can be high. Dining at the Food & Wine Festival is not a good way to experience Walt Disney World on a budget, and you will spend far more on these snacks than you would on a counter service meal–especially if you add drinks along the way.
That said, there are some snacks that represent good bang-for-buck options, and most of the snacks are quite tasty. If you choose to order something not pictured here, we highly recommend that you ask to see it first at the kiosk (they will show you the items). We made the mistake of not doing this a couple of times, and were either underwhelmed by the portion size, or were disappointed to receive a pre-packaged snack. Most of the time this will not be an issue, and you'll likely to enjoy most what you try!
If you're attending Food & Wine Festival, make sure you read our full Epcot's International Food & Wine Festival Guide before you go to get an idea of what to do, strategy for the festival (yes, you will need a strategy), and much more!
For Walt Disney World trip planning tips and comprehensive advice, make sure to read our Walt Disney World Trip Planning Guide and related articles. Also make sure to read our other Walt Disney World restaurant reviews and Disney Dining Plan resources.
For updates on Walt Disney World, the latest news, discount information, and tips, sign up for our free monthly newsletter!
Your Thoughts…
With literally hundreds of snacks at Epcot's International Food & Wine Festival, it's impossible for us to review them all, so what are some of your favorites? Which snacks at Food & Wine Festival do you NOT like? Hearing from you is half the fun, so please share your thoughts in the comments!