Epcot's Sunshine Seasons is one of the best counter service restaurants at Walt Disney World. This review features food photos, our take on ambiance, and random other thoughts about the restaurant. For starters, the Sunshine Seasons menu offers a wide variety of choices, including many healthier ones, with some of the best desserts at Walt Disney World. Along with Cosmic Ray's Starlight Cafe, it's one of our sentimental favorites for Walt Disney World counter service dining. Sentimentality aside, we have to say that Sunshine Seasons is also great from the perspective of the food.
Sunshine Seasons participates in the Disney Dining Plan as a counter service meal. Like most in-park counter service restaurants, it does not accept the Tables in Wonderland card. If you are on the Disney Dining Plan and want to eat here, you're in luck, because as this restaurant is an exceptional value on the Disney Dining Plan (to read about the other best restaurants for getting the best bang for buck on the Dining Plan, click here).
About the only place where Sunshine Seasons stumbles, and that's just a little, is in terms of ambiance. The seating area is just a large open-air area in the middle of The Land pavilion, and it can get loud in here at lunch time as people leave Soarin' and immediately stop at Sunshine Seasons. It's also a fairly plain seating area, and almost reminiscent of a mall food court. This is too bad, as there used to be a beautiful fountain in the middle of the dining area that made the ambiance more interesting. Still, we really enjoy dining here in the middle of the afternoon or late at night when it's not nearly as busy, and the background music and balloons overhead give Sunshine Seasons a deceptive sense of calm.
We've had most of the major menu items at Sunshine Seasons, but going through each of them would be a bit of a chore. Instead, we'll take a look at some of the highlights, and offer our takes on the best things to order. It's actually a bit humorous (to us, at least) that we've been to Sunshine Seasons so many times.
What's so special about Sunshine Seasons? Well, how much time do you have… 😉

One highlight of the menu is the Oak-grilled Rotisserie Chicken. The first time I tried it, I was instantly hooked. The chicken was tender and moist (miracles at a quick service restaurant) with plenty of flavor. At that time, it came with mashed potatoes. Those were not the standard 'instant' type you find at many quick service restaurants, but were soft with a buttery and herb flavor.
We were shocked at the quality of the meal for the price. Since the first time having that entree, we have made it a point to eat at Sunshine Seasons once per trip. For all the praise World Showcase gets for its dining options, we feel that Sunshine Seasons is the best counter service restaurant in Epcot.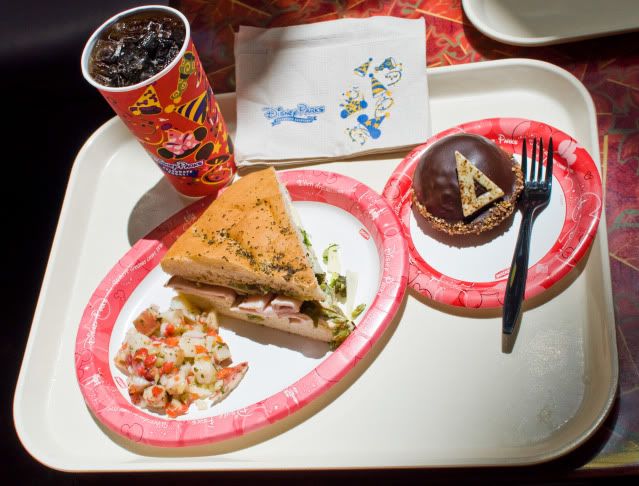 Another great option is the Turkey and Monterrey Jack Cheese on Ciabatta. The sandwich is great; nice and "fluffy" for lack of a better term (yet filling).
The Chipotle Mayonnaise is really what makes this sandwich something special, but everything from the bread to the meats and cheese all make it a winner, despite being a deceptively simple and ordinary option. While the Cast Members serving you will not indicate this, you can mix and match sides.
As you can see by my many photos of it from the last few years (I've had it 6 times in 3 years), it's my go-to. I know it's a safe option, but it's sizable, tasty, and filling, giving it good value for money. The perfect thing so I don't spend $850 grazing from kiosks during Epcot's Food & Wine Festival.
Above you see it in "Tom Style" (order it by name…and they will have no clue what you're talking about), with extra Chipotle Mayo and a side of mashed potatoes. The default side for the sandwich is often a pasta or potato salad. If you don't speak up, you will receive this side by default. We highly recommend ordering the sandwich from its station with no side, and then walking over to the grill station (where mashed potatoes are served), and ordering a side of mashed potatoes. Your order will still be treated as a sandwich combo with one side. Seriously, these mashed potatoes are the stuff dreams are made of. Opting for a side other than the mashed potatoes would be a grave error.
Order it this way and you'll be really cool. Or, if you want to be da real MVP, you can order the entree just out of view in my photo of the sandwich above…
That's right, I'm talking about Lamb Skewers. These aren't even officially on the menu. However, if you go to the grill station, you should see a little sign with them as an option. These have been served for around a year at Sunshine Seasons, including our most recent visit in 2016. They could disappear at any time, though.
These skewers are flavorful, fairly tender (for lamb), and extremely high-quality by counter service standards. I've ordered these instead of my go-to sandwich on every visit since they came to my attention. So long as Sunshine Seasons has this "secret" option, I'm going to keep ordering it. As you can see in the caption to this Tweet, I think these are the two best meals at Sunshine Seasons. It's on Twitter, so it must be official.
Sarah has had the Sesame Crusted Tuna with Asian Vegetable Noodle Salad a couple of times, and found it to be hit or miss. On one occasion, the tuna was so overcooked that she took it back. Both other times she's had it, she has enjoyed it, and recommends it as a healthy and unique dish.
Sarah also really likes the Mongolian Beef with Vegetable Fried Rice. She finds it to be a flavorful, somewhat healthy option. While I agree that this is a good entree, it pales in comparison to some of the other choices.
Some other choices we like at Sunshine Seasons include the Sweet-and-Sour Chicken and Slow Roasted Pork Chop. Sarah also likes the Asian Shrimp Stir-Fry, which is another relatively unique option at Sunshine Seasons.
The Pork Chop earns high marks thanks to its size and quality, both of which are shockingly good for a counter service restaurant–a common refrain in this review. Sunshine Seasons used to have a shockingly good grilled salmon entree (…same refrain), but we haven't seen that recently. It seems to have been replaced by a Spicy Fish Tacos, which we've yet to try.
Salmon is still on the kids' menu (!!!), and Sunshine Seasons stands out in that regard, too. Above is the kids' Cheese Panini ordered by Josh of easyWDW.com when he joined us for a meal. He commented that it was one of the better counter service values at Walt Disney World.
Sunshine Seasons is also great for dessert.
Our number one pick is the Key Lime Pie. This is one of the best desserts at any counter service restaurant. Everything about it, from the rich tangy flavor to the lightly singed cream on top (a nice touch, we thought), to even the excellent graham cracker crust make it a dessert to be reckoned with.
The Key Lime Pie is not the only dessert that's excellent at Sunshine Seasons. We rate the Strawberry Shortcake and Chocolate Mousse Cake very highly, too. It's large in size, is moist, and has some delicious whipped cream frosting. Plus, it has a lot of strawberries, so it must be healthy! These are our two go-to desserts at Sunshine Seasons, but they aren't the only ones we like.
Although the selection rotates (we haven't seen our favorite, the Asian Chocolate Cheesecake in a while), the cheesecake at Sunshine Seasons is also typically pretty good.
The Tiramisu is also a nice, light snack that tastes excellent. The only downside to it is that it's smaller than the other desserts and more expensive, so it's not quite as good of a value. We've tried numerous other desserts at Sunshine Seasons, and most have been very good. Our one recommendation with regard to desserts here are to go for something other than cupcakes or cookies. You can find those anywhere–Sunshine Seasons excels at the more "advanced" counter service desserts.
On top of the food quality, we've found the restaurant's location to be perfect for our touring style, as usually we can use our first FastPass for Soarin', eat lunch, then head for a relaxing voyage on Livin' with the Land after lunch. Of course, there have been a couple of times where we've been so hungry (or arrived to the park a little late), and Sunshine Seasons made a good stop right after picking up our Soarin' FastPasses.
Sunshine Seasons also is one of the few Epcot restaurants that serves breakfast. There are only two options: the breakfast platter and the breakfast panini. The platter is the standard breakfast plate you can find at a number of restaurants around Walt Disney World.
The breakfast panini is a bit more unique, but unique does not equal good. To be honest, both of these breakfast options are fairly lousy. We aren't big fans of the "standard" Walt Disney World counter service breakfasts, as most taste like they have fake eggs, rubbery bacon, and just are not that good. Sunshine Seasons is no exception to this. We don't knock it down any points for their breakfasts because it's basically just the default breakfast to be avoided, and we're only mentioning it so you know not to expect more. Still, it would be nice to see a breakfast menu as ambitious as the lunch and dinner menu at Sunshine Seasons.
We absolutely love Sunshine Seasons. The food at lunch and dinner are unique, (mostly) healthy options and our memories of it are cherished. While the atmosphere is a bit chaotic at times, Sunshine Seasons still always manages to seem tranquil when we're there. The unique and healthy food is also a big plus. For me, this is no doubt because of its location in The Land pavilion, a pavilion I associate with the earth and healthy living and eating. Even if the food isn't actually good for you, it sure seems like it is!
Overall, while the food obviously isn't on par with Walt Disney World's great table service restaurants, it does come close to some of the lower end table service restaurants at Walt Disney World. Quite a feat, since Sunshine Seasons is certainly not comparable in price to any table service restaurants! In its category, Sunshine Seasons is one of the best-performing restaurants at Walt Disney World. We really enjoy a lot of restaurants at Walt Disney World, but many of them are places we visit once every few years or so. We really put our money where our mouths are with Sunshine Seasons, and typically eat here once per trip or more. It's far and away the Walt Disney World restaurant at which we dine most frequently. Even the so-so ambiance and culinary options of World Showcase don't stop us from dining at Sunshine Seasons with regularity. The menu is that good.
Want more dining tips? Check out our 101 Delicious Walt Disney World Dining Tips. For where to eat, read our Walt Disney World Restaurant Reviews.
Planning other aspects of a Walt Disney World trip? Learn about hotels on our Walt Disney World Hotels Reviews page. To save money on tickets or determine which type to buy, read our Tips for Saving Money on Walt Disney World Tickets post. Our What to Pack for Disney Trips post takes a unique look at clever items to take. For what to do and when to do it, our Walt Disney World Ride Guides will help.
For comprehensive advice, the best place to start is our Walt Disney World Trip Planning Guide for everything you need to know!
For Walt Disney World news, tips, discount info, and free eBook downloads sign up for our free monthly newsletter.
If you enjoyed this Walt Disney World dining post, we'd really appreciate it if you'd share it via social media to spread the word! We put a lot of work into making this site a helpful planning resource, and hope it's useful to you. 🙂
Your Thoughts…
Do you agree that Sunshine Seasons is the best Counter Service restaurant at Walt Disney World? If so, which entree is your favorite? If you don't like Sunshine Seasons, why not? Share your thoughts in the comments!