Cosmic Ray's Starlight Cafe Review
Cosmic Ray's Starlight Café is a counter service restaurant in Magic Kingdom at Walt Disney World. This review will offer food photos from Tomorrowland's most popular dining option, as well as our thoughts on dining here. For starters, some basics. Cosmic Ray's has a menu consisting mostly of stereotypical American theme park food, and is organized into three bays for ordering. It participates in the Disney Dining Plan, and it offers excellent value on the Disney Dining Plan thanks to its diverse menu.
The restaurant is the highest volume locations in Walt Disney World, and has expanded twice in the last couple of years. Rumors swirl that Cosmic Ray's is the 'busiest restaurant in the world,' although I have no clue if this is actually true. I'm inclined to believe it, though. If you've ever dined at Cosmic Ray's during the midday rush, you probably do, too.
Our opinion of Cosmic Ray's has changed over time. While it may not sound like anything special, it is. Cosmic Ray's Starlight Café is a super galaxy franchise. The menu is from outer space, including the fries! Seriously, it's one of the coolest places to eat in all of Walt Disney World. However, this has very little to do with the food…
Rather, it has everything to do with the entertainment. Cosmic Ray's features arguably the most interesting unique present-day Walt Disney World character, Sonny Eclipse.
Mr. Eclipse is from the planet Zork (Yew Nork, specifically) and he plays the Astro Organ, with back-up vocals from his amazing Space Angels.
In "reality," Sonny Eclipse is an Audio Animatronics alien figure who performs his musical act in a loop for guests in the main dining area.
Sonny Eclipse's full show lasts about 25 minutes, at which point he repeats it for new guests. Check it out:
We enjoy Sonny Eclipse's performance so much that the full show is one of my most played songs in our iTunes libraries. Entertainment-wise, no other restaurant in Walt Disney World can compete with Sonny Eclipse. He performs an entertaining 20-some minute loop of music that is infused with corny jokes.
It's actually quite catchy, and he's great entertainment in what is otherwise a lightly-themed restaurant. Try to grab a seat somewhere in the restaurant where you can hear Sonny Eclipse (which is most seats) or on the other side of Cosmic Ray's with a view of Cinderella Castle.
Due to the relatively sterile theming beyond Sonny Eclipse, Cosmic Ray's can be a bland experience if you don't eat in one of these spots.
With that said, it's probably abundantly clear that our review of Cosmic Ray's may not be the most unbiased in the world. We have a soft spot for Cosmic Ray's because of Cosmic Ray's, and because it's where we ate most of our meals when we were broke college students traveling to Walt Disney World.
Speaking of which, thanks to the toppings bar, you can customize your burger and make it substantially larger than the average burger at Walt Disney World. In itself, the burger at Cosmic Ray's is nothing special. It's not awful, it's just nothing to write home about. The toppings bar is what makes it a solid meal, especially for the value-conscious. So, it scores points for that.
The menu at Cosmic Ray's is incredibly unambitious. This is the place to go because you want a restaurant that will be a crowd-pleaser among picky eaters, not because you want a meal that's actually good.
Things like the Barbecued Pork Sandwich, Chicken Club Sandwich, Half Rotisserie Chicken, and Greek Salad are all fine–but are nothing special.
A few years ago, Disney experimented with the menu at Cosmic Ray's to give it some unique options. One of these options was an atrocious Angus Pizza Burger (pictured below).
I tried this once, and while I give Disney points for experimenting with the menus, this burger tasted like something Cheech and Chong made at about 3 am after raiding their freezer. It was unquestionably bad and I actually became sick after eating it. It was quickly removed from the menu.
This is probably our biggest complaint about Cosmic Ray's–the current menu is boring. There's nothing on it that you can't find at a ton of other restaurants around Walt Disney World.
There's nothing wrong with menu options that are boring-but-crowd-pleasing, but there should at least be a few fun and interesting choices mixed in, too. At the very least, it would be nice to see a "signature" burger added to the menu at Cosmic Ray's like many other restaurants have had added in the last couple of years.
As of right now, the "signature" burger of Cosmic Ray's is a "toppings bar special," which isn't exactly on the menu.
Honestly, if that's what you're after, you should instead opt for Pecos Bill in Frontierland, as they recently added new items to their toppings bar, making it far better than the one at Cosmic Ray's.
At Cosmic Ray's, the toppings bar contains lettuce, tomatoes, pickles, onions, relish, green peppers, mushrooms, grilled onions, BBQ sauce, mayonnaise, mustard, ketchup, and cheese sauce, and really helps you get great bang for your buck if you order a burger.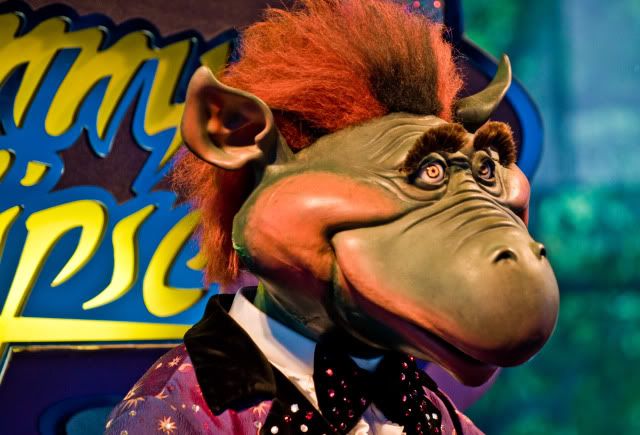 One new upside as of Spring 2017 to Cosmic Ray's is that the separate bays for Chicken, Burgers, and Sandwiches that once only serve those things now all serve everything.
This means that families with parties wanting different options no longer have to wait in separate lines. This used to be a big deal with readers (just look at older comments below), and is likely going to appease many families.
However, depending on the attitudes of your fellow party-members, getting a little break from the other people in your group may not be such a bad thing, so this may now be a downside. 😉
Few things are as satisfying as sitting in booth at Cosmic Ray's Starlight Café, in the heart of Tomorrowland, late at night during Evening Extra Magic Hours, scarfing down a mushroom, tomato, onion, cheese, etc. laden burger while the symphonic sounds of Sonny Eclipse cascade into your ear drums.
That experience alone makes this place a "Must Do" on a trip for us, and jettisons Cosmic Ray's rating out of this world onto the planet Zork! If you've only ever eaten at Cosmic Ray's during the lunch or dinner stampedes, you owe it to yourself to experience it during this tranquil time of day.
Overall, Cosmic Ray's Starlight Café provides great ambience, a great location, and potentially good value, depending upon what you order. Sonny Eclipse is like an attraction all by himself (one of our favorites at Walt Disney World!). On the downside, the food is only so-so at best, and the menu is one of the most uninspired in all of Walt Disney World. Additionally, there is no busier restaurant in all of Walt Disney World during the lunch and dinner rushes. This can make for a stressful and unpleasant experience at mealtime, which can otherwise make a nice break from the crowds and chaos of Walt Disney World. If you want a relaxing meal, Cosmic Ray's may not be the best choice for you. However, for a pretty cool show to go along with an off-hours meal, Cosmic Ray's is a fun option.
Your Thoughts…
What do you think of Cosmic Ray's? Are you a fan of Sonny Eclipse? Any additional tips to make the Cosmic Ray's dining experience more enjoyable, or to help avoid the crowds? Any order recommendations? Hearing from you is half the fun, so please share your questions and thoughts in the comments!