D23 Magic & Merriment Review
We attended D23's Magic & Merriment in December 2010 at Walt Disney World. The three day event was held in early December, and overall, was a fun time. In 2012, Magic & Merriment will be two separate 2-day events. This review is of the 2010 Magic & Merriment.
UPDATE: We attended again in 2011 and the event was a marked improvement over 2010's. The organization was better, the tour of the holiday facilities was great, and the presentations were more polished and relevant. The price was also higher, but we felt the event offered better value for money. After reviewing the 2012 lineup, we've decided not to do the event this year. The events don't seem worth it to us for the amount charged.
The event started at Disney's Hollywood Studios on Friday, December 10th. That evening was check-in, an archives film screening, and a "surprise." After much waiting in line, only to find out that we had an additional hour of waiting to "explore" One Man's Dream, Sarah and I elected to go take photos of the Studios while we waited. Once we returned, we were seated for a screening of "Archiving the Archives," a new documentary about Dave Smith and the Disney archives. Sarah and I debated long and hard about even going to this evening of the event, as there was a 'late' check in the next day, and we didn't really care about the documentary. However, after reading accounts from last year that surprises and giveaways occurred at various events, we decided to suck it up and attend.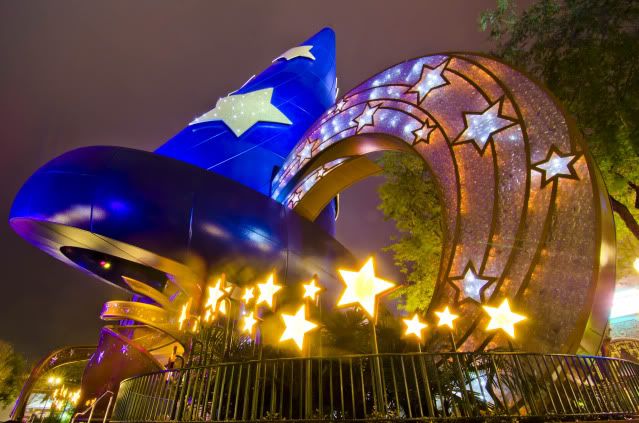 The film was interesting, but I find a film, accompanied by little else (say, CircleVision or 3D) as a worthy theme park attraction. The event concluded and we all were dismissed without anything being given away. If Sarah and I didn't spend that time taking photos, I really would have been irritated that this evening was packaged as an "event." Wasting two hours of time (plus transit time) to see a 30 minute documentary that I would have had the same experience watching at home is not a good use of theme park time, nor is it a valuable option on an expensive private event. Just as my blood began to boil over this, a D23 Cast Member came up to us, and said he wanted to exchange event lanyards with us (another D23 CM had done this with someone else prior to the documentary). At first we were skeptical, but quickly we realized what was happening, and we agreed to the exchange.
Overall, I would rate the film screening a solid F. If a lower grade were possible, I'd give it that. It was unnecessary, poorly organized, and time was not managed well. Moreover, the event didn't really offer anything holiday-specific or even worthwhile.
Day Two
This morning, we were let into Epcot early and escorted to the Odyssey for breakfast.
We arrived at the Odyssey Center, were handed some goody bags, and I found seats while Sarah scheduled a Castle Suite tour time.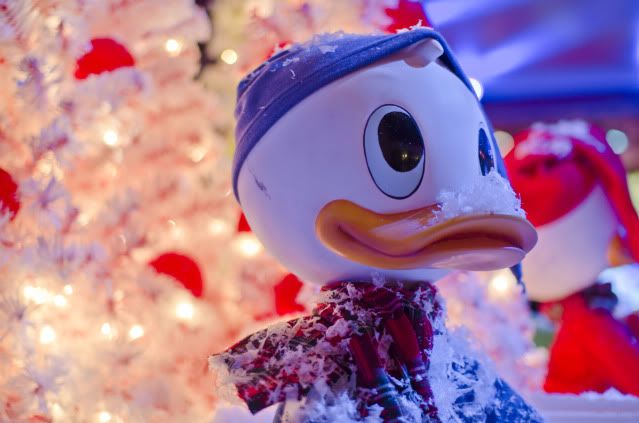 Thereafter, the presentations began, the first with three chefs from Germany giving a presentation of an array of Christmas topics, mostly German food at Christmas. I don't remember of the credentials of each, but one is the head chef at Biergarten. These guys were really amusing, and interesting. I was surprised by some of the discussions of Biergarten. I wasn't highly impressed with the place (I'd say it was on the upper end of mediocre), but their discussion gave me new interest in the restaurant. They didn't seem like the types who would recite the company line or fluff things up, so I buy what they had to say. They were engaging, humorous, and had plenty of "un-Disney" zingers. They did rely on PowerPoint a little too heavily, but overall, it was good.
The next presentation was from Meg Crofton, President of Walt Disney World.
Her speech was nice, but decidedly canned. While all of the other presenters spoke candidly and in a conversational manner, she gave a presentation that said "all of the right things" and ultimately felt impersonal. I much preferred the irreverent and off the cuff humor of the chefs. As soon as her speech was over, she exited the building, never to be seen again.
Next up were more chefs, one of whom was the Head Pastry Chef at the Grand Floridian, and and the other was the Head Something at all Resorts. These two, again, had great chemistry. The "all Resorts" Chef previously worked under the Grand Floridian chef, and it was clear they had a pretty good dynamic. More off the cuff jokes, including some ribbing about the Grand Floridian chef being Austrian rather than German.
These guys were awesome, sharing how the Grand Floridian's ginger bread house is made, why it cannot be consumed, and how to make good German ginger bread. During the course of the presentation, they alternated construction of a ginger bread house up on stage, which was pretty cool.
After their presentation concluded, a presentation began by two gentlemen whose names I forget. One of them is a former Imagineer who creates DVDs of the parks, the other runs the temporary tattoo stands around the parks. Figuring this was going to be a lame advertisement, I dismissed myself to the restroom. I also took this opportunity to get some complimentary Ginger Bread coffee.
As I was getting the coffee, I noticed that the presentation actually sounded somewhat interesting. It concerned this new endeavor of the tattoo man creating bead necklaces and bracelets out of recycled guide maps. To make the maps, they had partnered with a non-profit that had impoverished women creating the beads. The men described the inherent difficulties in this, as it required work to import the bracelets, and required changes to the typical process of the bead-makers, as their previous beads wouldn't get approval from Disney's labs (if I recall correctly, this was due to the weather in Florida).
The men also discussed the involvement of Imagineering in the project, and how Imagineering created the carts for these locations, the price signs, and a host of other things (recycling bins for the maps). They also discussed how the first test cart at Rock 'N' Rollercoaster. They gave us a couple of samples, attached to the guide map from which they were made, explaining that how the beads were rolled would impact their color. Very cool stuff.
After the presentations concluded, the chefs and bead folks were on hand for meet and greets and book signings.
Overall, I would give this event an A-. The only things that was a bit disappointing was that it didn't include a proper breakfast, and that Meg Crofton couldn't be bothered to descend from her mighty thrown and mingle with the commoners. The gift bags were somewhat lacking, with gifts that were clearly just advertising material for other arms of the company (Tangled soundtrack), rather than special gifts. The one one Magic & Merriment-specific gift was a patch. Do people honestly still use patches? On their denim jackets, or what? Also, while the final presentation was interesting, it had nothing to do with the Holidays, which where the theme of the weekend.
Following this event, we had the day to enjoy EPCOT before Candlelight Processional. We wandered World Showcase, trying to stay in the festive mood.
The Candlelight Processional was exactly what you'd expect out of the show. Whoopi Goldberg was the narrator. It was nice having reserved seats without paying for a dining package, but we certainly still paid for the seats given the price of the weekend!
After Candlelight Processional, we took a group photo. This was incredibly disorganized and downright aggravating. One of the D23 Cast Members ultimately took the photo with a weak point and shoot camera. Why didn't he just use his cell phone camera? I mean, if the photo really didn't matter and all…
We then headed backstage and boarded a secret monorail (okay, charter buses) to take us to the Studios. This was one of the most irritating parts of the weekend. After we got on the bus, it took around 40 minutes before we departed. At the time, no one on our bus had any idea what was taking so long. I later came to find out, after reading a report of someone else who attended the event, that one of the other buses was having difficulty loading wheelchairs/scooters. Thus, several people were just standing outside waiting to board that bus for that 40 minutes. I would have been even more irritated if I were one of those people waiting in the cold. Either way, there is no excuse for that issue. Yet another example of the poor organization and inefficiency of the weekend, which were both prevalent.
Once FINALLY there, we entered the set of Indiana Jones Epic Stunt Spectacular for dinner. We have always wanted to do one of the on set/in ride dinners, so we were glad that this was included in the event. We went around to various set pieces and took photos around them.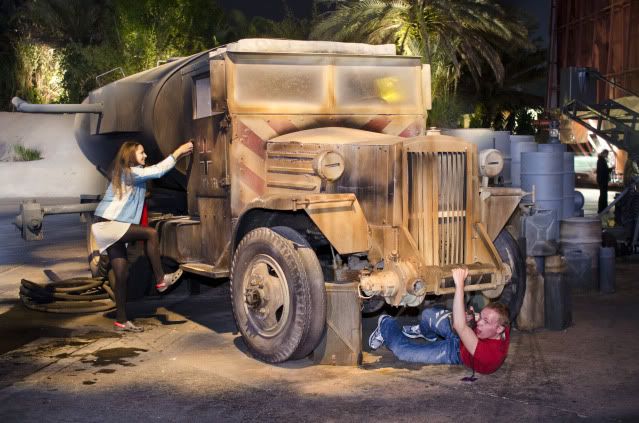 Dinner was legendary. The food was delicious and the beer and wine were unlimited. It was easily the best buffet I've had at Disney. I can't recall everything on it, but it was all hot, and well-prepared. I was actually a little surprised.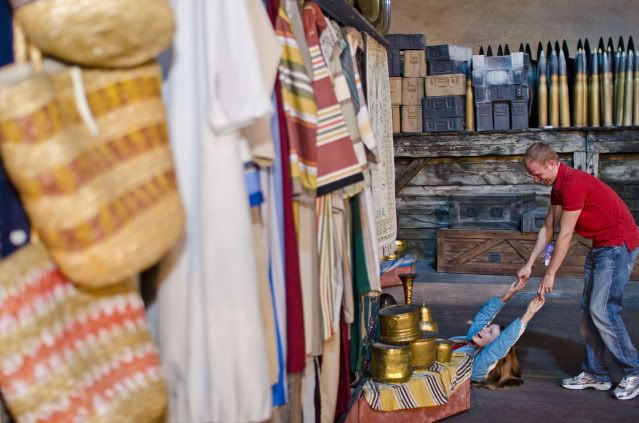 After dinner, we had our photo taken with Chip & Dale against a festive backdrop. Very cool.
Overall, I would give this event a B+; while being on the set was cool, the Indy set just doesn't strike me as being as immersive as, say the Great Movie Ride. I would have given it a solid A had those spears that pop up from the ground been active. If one of those bad boys popped up, it would've soiled anyone going through the buffet line!
Once dinner concluded and the park cleared, we got word that it was time to head to the Osborne Lights for a private showing and behind the scenes information from the show director, John Phelan. It was a very interesting presentation, but we had heard him give it before, so we decided to enjoy the opportunity to take photos and enjoy the lights sans crowds. Overall, this event was really short, which is not that surprising given the possible huge energy costs for so few people. I'll give it a solid B+, with it losing points due to the short time duration.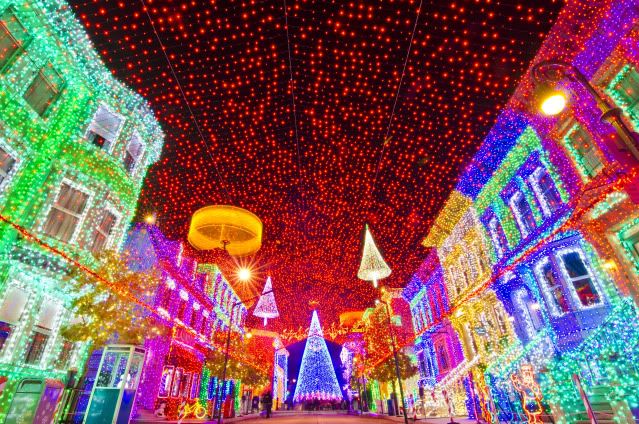 Day 3
Brunch at the Top of the World lounge in Bay Lake Tower at Disney's Contemporary Resort.
As soon as we arrived, we received a reusable DVC tote with loads of DVC advertising materials. If any of you out there are looking for a confidant with whom to share secrets, I suggest steering clear of Disney. I can only imagine how it treats "normal" secrets given its blatant advertising of its "Best Kept" secret.
The food here was delicious and the Top of the World Lounge was a great location. I was a bit disappointed at the lack of variety in the food, but what was offered was pretty good. Although it was exceedingly windy outside (which stunk, because we had to eat outside until some space inside cleared), the morning views were gorgeous, and the photo op set up with Mickey was a nice touch. My only complaint would be the in-your-face DVC advertising. Between the bags and the subsequent constantly-announced tours, it was a little much. I understand that this was probably part of the Faustian Bargain made in order to secure the exclusive Top of the World Lounge, but if that was necessary, maybe D23 should have looked into getting the California Grill or some other location? Clearly the Top of the World Lounge was not large enough for us all (at least indoors). Even with the advertisements, this event gets a respectable B.
The Big Cheese mad an appearance at the event, with another festive backdrop for photo ops.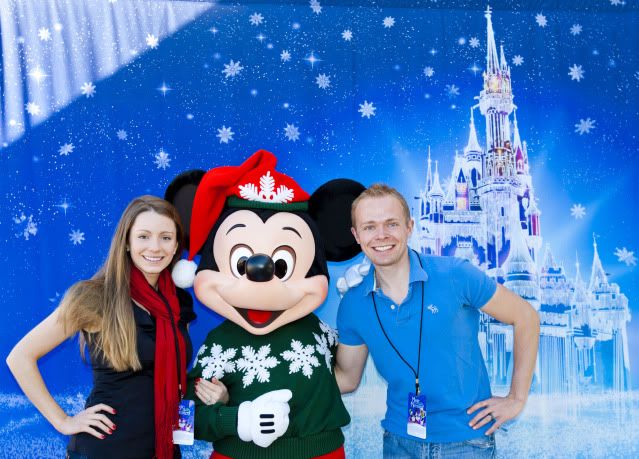 The next event would be one, if not the, biggest events of the weekend for us. The Castle Suite Tour (to read all about our tour, read/view our full Cinderella Castle Tour post). It would only be fifteen minutes long, but we made the most of that time, balancing the desire to take photos like a madman with the desire to enjoy the experience. Like everyone says, the Suite is surprisingly small. I managed to get some neat photos, too, so I was pleased.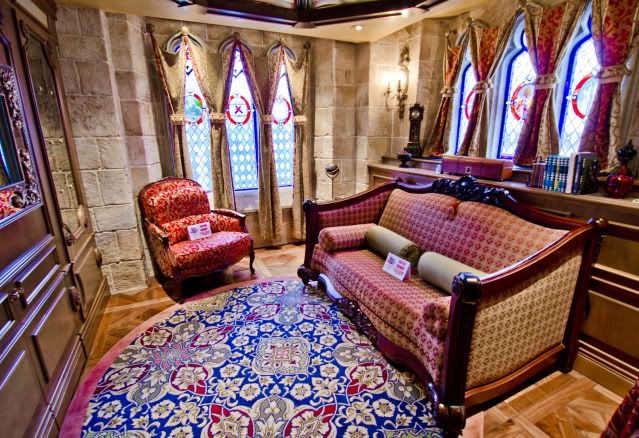 The 15 minutes (I actually think it was more like 10) passed in no time, but given that they had to get all of us through in one afternoon, I understand the time constraint. Part of me was hoping at the end of our tour, we would be told we had won a stay in there for the evening, but it was not to be. I guess my only recourse for that is to change my last name to Cruise and have some cosmetic work done. This event gets an A-.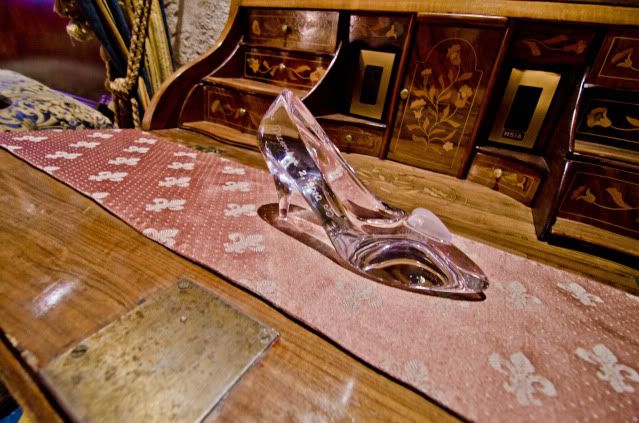 The Castle Suite Tour was the last unique event of the weekend. We also were provided Mickey's Very Merry Christmas Party tickets for that evening (with "reserved" spots for the fireworks and parade–in terrible locations). I know I've already aired a number of grievances about the event, but another one for me was that there was no real end–no concluding event. That struck me as a little odd, but perhaps I'm alone in that sentiment.
Conclusion: for those unfamiliar with this event, the tickets were priced at $235 each, and sold out in a matter of seconds (literally). I don't think this necessarily speaks to the value of the weekend, as the tickets were so limited that it's somewhat of an artificial market. While we were waiting to go on our Castle Suite Tour, a couple of the D23 CMs informed us that the events are only self-sufficient, and the cost of tickets only covers the cost of the event. Personally, I find this hard to believe. Tickets last year cost less, and the event contained more. The only feasible explanation I can find for the additional cost (if what the Cast Members said is true) would be the first night. However, as I indicated above, that was a huge turd of an event. That, or maybe paying for the ridiculous number of D23 CMs at the event. If the event ticket factored in their salaries for the time they worked, I am also peeved, as there were way too many of them attending the events. Don't get me wrong, they were all very nice and genuinely enjoyed the events, but it was unnecessary for there to be so many of them.
I would not say the weekend was good value for the money, but reasonable minds may differ on that. The event suffered from poor organization and unreasonable waits between events, at times. It also packaged in things, and presumably, charged for them, that we didn't necessarily want to pay for and could have done better on our own. It was, however, a lot of fun and gave me a new appreciation for some of the D23 Cast Members as it appears most of them have a genuine love of Disney and enjoy their jobs. While the weekend was not perfect, it was pretty good and allowed us to experience things we otherwise couldn't. That said, it was, honestly, a letdown. Although we didn't attend last year's Magic & Merriment, every report I read from that gave it incredibly high marks. Based on the initial reports I've read from this the 2010 event, it seems much was lost from 2009. That is disappointing, and hopefully not indicative of all D23 events. Hopefully, as these events continue, D23 will fine tune and make them more enjoyable.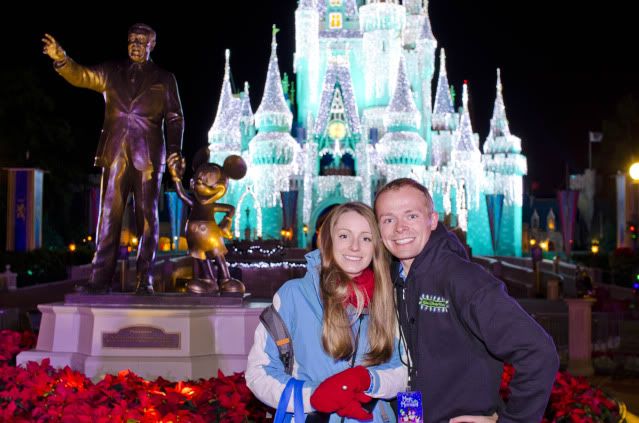 If you enjoyed this post, please help us out by clicking the +1 button above to increase DisneyTouristBlog.com's visibility on Google (no Google account necessary). If you have Facebook, click the "Like" button, too!