Part XVIII: Coast-to-Coast Disney Trip Report
After the success of the previous night, we had pretty high expectations for our last morning. Of course, before we could do anything, we had to pack up our luggage and deliver it to bell services. This is never an easy task. Sarah always has a lot of crazy women-stuff, like a blow dryer, hair straightner, and a bunch of other things that perform functions I don't really understand. I just know I'm usually the one packing them up, as it takes her longer to get ready than me.
In addition to her things, I have plenty of junk of my own, including a laptop, external harddrives, and oodles of photography accessories. Add to that all of our clothes, the unused FastPasses and other Disney "historical souvenir documents" (that's really just a fancy way of saying that I like to collect park maps, resort maps, and other free paper guides for future reference), and by the end of each trip, our room is quite a mess. In our defense, we typically crash as soon as we return home each night (well after midnight, mind you) and when I get up, I have far more pressing matters (transferring and backing up photos, going out and taking more photos, etc.) than making sure our room is spick and span each day. Not that I really need to defend our vacation slovenliness to a bunch of people on the internet, but…suffice to say, if you ever saw the condition of our room while we're on vacation, you might be a little alarmed!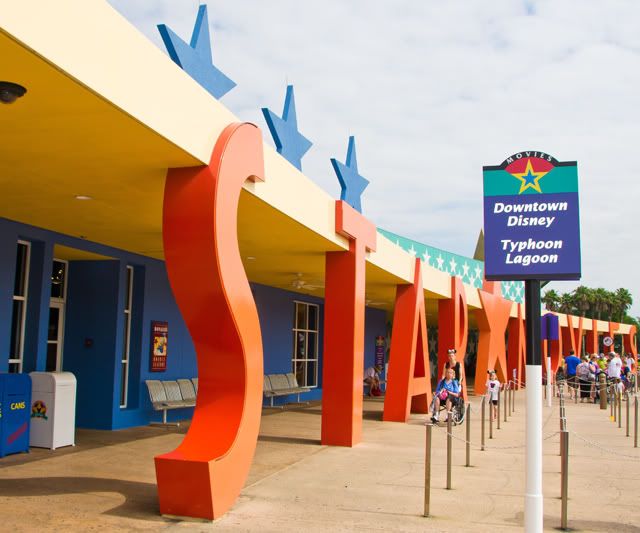 Luckily, I can pack all of this junk up quite efficiently, so in no time we were all ready to go. We took our bags to bell services so they could hold them for the day, and we then headed to the bus stop.
Right there, it was decision time. This was probably a decision we shouldn't have put off so long (normally we do not decide where we're going the morning of), but it was really a tough decision. There were strong arguments for us to visit each of the four parks. Yep, even Animal Kingdom.
The argument for Animal Kingdom basically was predicated the awesome details we saw during the Scavenger Hunt. That, and the "fact" that I was planning on selling my infrared camera after the trip, and Animal Kingdom offered the best infrared opportunities out of all of the parks, by far. Since we had done so few attractions, though, and neither of these justifications were attraction-related, Animal Kingdom lost. It always does.
EPCOT had a pretty compelling argument, given the Flower & Garden Festival, and how little of it we had photographed the other days. We also hadn't done the American Adventure (among other attractions), which seemed almost criminal. Again, though, the mostly photo-based justification wasn't all that compelling.
Magic Kingdom had its own selling point: it's the Magic Kingdom. We still hadn't done some of the big attractions there, including Pirates of the Carribean and Mickey's PhilharMagic. Plus, with its smaller size and short waits for some of our favorite attractions, Magic Kingdom seemed like a no-brainer pick.
So, we got in line for the Magic Kingdom. Right as we got in line, though, a bus for the Studios pulled up. I asked Sarah to check out her Star Tours 2 Live app to see if soft openings had been reported yet (the park had only been open for 15 minutes, so I wasn't too hopeful). They had been! And just like that, we were off to the Studios.
Despite only having the morning and early afternoon before our flight, we knew we wouldn't be spending too much time in the Studios. So little that it wasn't even worth messing with a Toy Story Mania FastPass. Instead, we headed straight to Star Tours: The Adventures Continue and got FastPasses.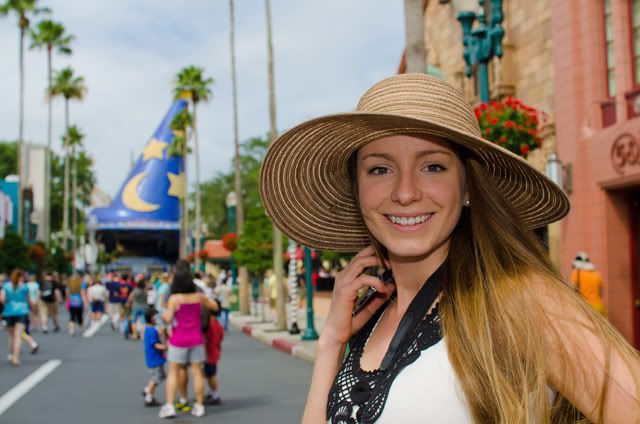 While we were there, we saw Henry and Scarlett standing outside (two of the brains behind the Star Tours 2 Live project), and briefly said hello. They were monitoring the 'situation', so they couldn't join us on our adventures. After seeing them, we headed on, taking photos as we headed to the Great Movie Ride.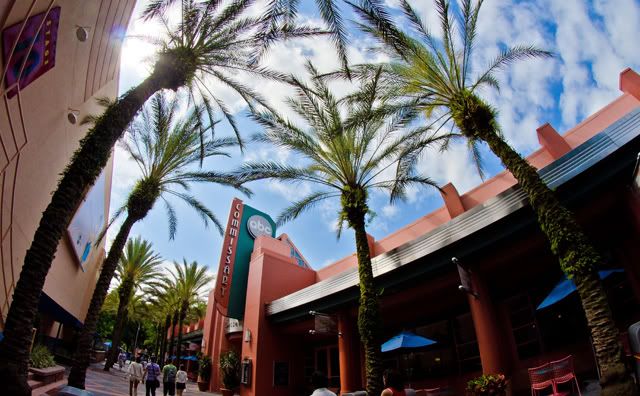 After taking some fun photos on the way to, and outside of, the Great Movie Ride, we queued up for the attraction. I decided to keep my fisheye lens on for the ride, just to see if I could capture anything decent (for those non-photography folks, due to the low light levels on the ride, this would normally be a poor lens choice). I was reasonably pleased with some of the results. Nothing amazing, but as you'll see, some shots of the ride you don't normally see (I think).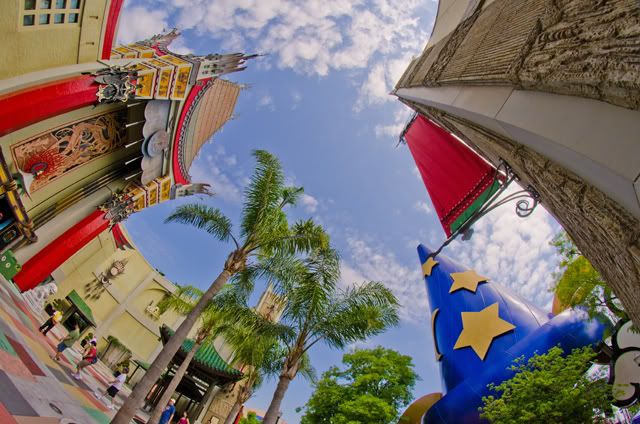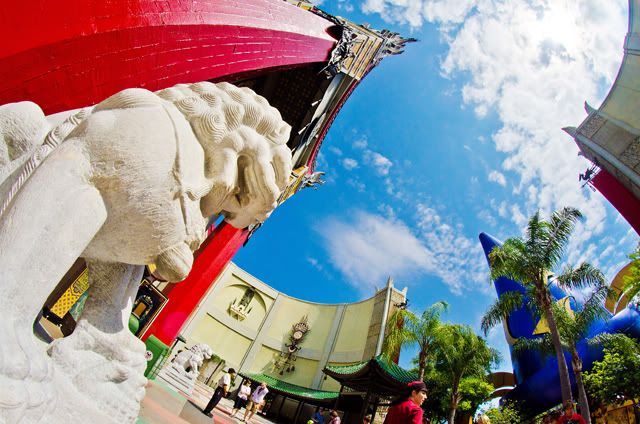 I love the Great Movie Ride. I have read countless discussions about how it should be updated to include crappy contemporary summer blockbusters, and this is one of the few times I'm actually glad TDO is so cheap, as I'm sure National Treasure: Book of Secrets would have made it into the Great Movie Ride long ago if TDO were willing to spend any money. I've stated this numerous times before, but it's the Great Movie Ride, not the "current flash-in-the-pan" summer blockbuster movie ride. I still cringe at seeing Pearl Harbor in the finale, and I think seeing a Michael Bay film in the ride itself would send me into hysterics.
I'm not saying that the public, or the average Disney fan, has bad taste in movies and shouldn't be the judge of what's great–okay, actually, yes I am. We all have our own personal taste and are entitled to our preferences. I enjoy watching popcorn flicks just as much as the next guy. But I'm certainly not going to contend that Transformers or Avatar belongs alongside Casablanca in an attraction featuring GREAT movies. Popularity does not equal greatness.
As long as I'm ranting about the Great Movie Ride, I might as well hit another sore point. Like I said above, I love the Great Movie Ride. What I don't love about it, though, is the disingenuous Cast Member tour guides. These Cast Members never (at least when we ride) deviate from the script, which is annoying for anyone who has experienced the attraction more than once. You're a 20-something kid working the college program and the films in the finale, especially those from the 40s through 70s are "just a few of your favorites"? REALLY?! And this is true for every single Cast Member working the attraction?! Somehow I highly doubt that. I know asking the Cast Member to ad lib a few things about their favorite classic films is a recipe for disaster, but lines like that, which are clearly false to many guests, have no place in the attraction, either. I know this is probably really nitpicky, but there are several lines like this in the Great Movie Ride, and for whatever reason, they really bug me.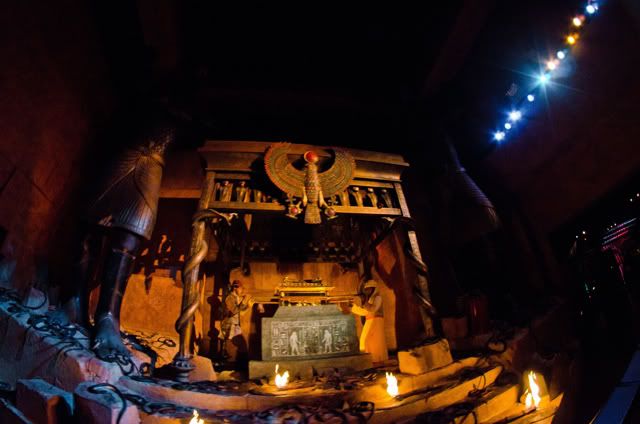 This is one of the reasons I really don't mind Living with the Land not having an in-boat guide anymore. Beyond that, I like the voice of the Living with the Land narrator, and the voice I can actually understand (something that couldn't be said for some of the narrators on there previously), plus, the voice is always consistent in its attitude. It never phones it in or sounds as if it's a chore to be narrating the attraction. Yes, I realize it's a result of Disney cutting corners to make the ride's operation cheaper, but I think it's an improvement to the overall experience, and it's certainly better than eliminating the attraction. I'm not saying eliminating the guides in favor of narrators on Great Movie Ride or Jungle Cruise would be a good idea, as the guides on these attractions have more guest interaction, but guide-based attractions are often hit-or-miss because they're so dependent upon the attitude of the guide. I know I've written something similar to this in past trip reports with regard to the Jungle Cruise, but I think it bears restating. Well, maybe it doesn't bear restating, but since these are my trip reports, I'll restate whatever I feel like restating!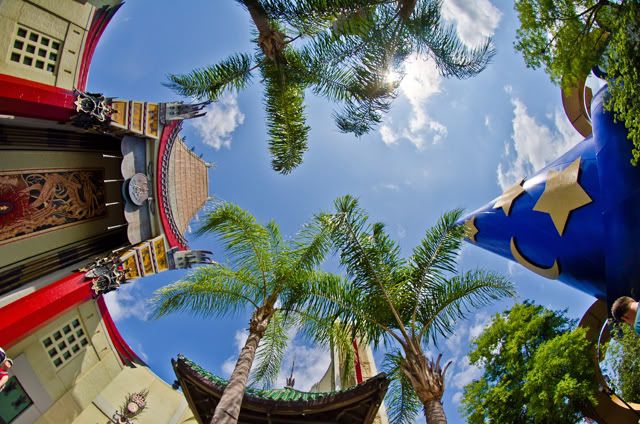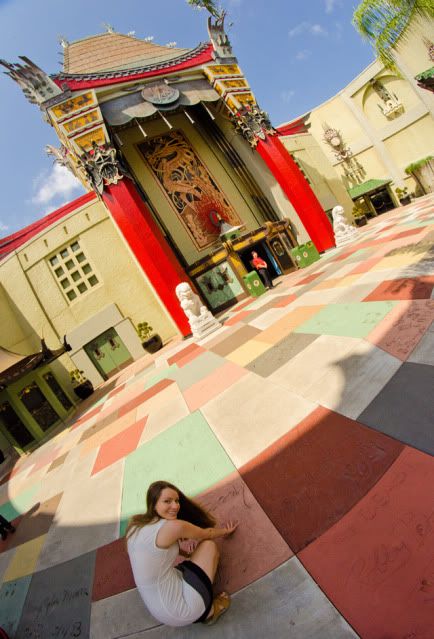 Neither of us had breakfast earlier that day, and our Star Tours FastPasses weren't quite ready, so we opted to grab lunch. I'm sure some of you cringed when you read that, thinking, "why wouldn't they just wait until they got to the Magic Kingdom, to avoid the travesties that are the Studios counter service restaurants?!" Well, I was cringing at first, too. This is before we tried the Studios Catering Company.
Well, to be fair, we had eaten at the Studios Catering Company before. We ate there last December, and we actually were fairly impressed by it then. I mean, it was nothing knock your socks off amazing, but compared to the other options at the Studios, it was a standout.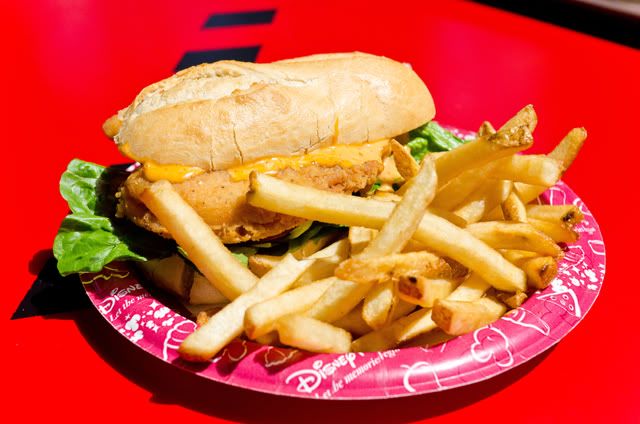 This time, I decided to try the Buffalo Chicken Sandwich. It was definitely a solid choice! The chicken was crisp and not at all greasy, it wasn't overly breaded, and the sauce was excellent. The sandwich had the perfect flavor and was nice and moist. The lettuce and other toppings really sealed the deal. Perhaps I was just really hungry that morning, but it really hit the spot. Sarah's panini (that's not what it was called on the menu, but I can't remember exactly what it was called) also looked great, and based on past experience with that same panini, I'm assuming it was pretty good.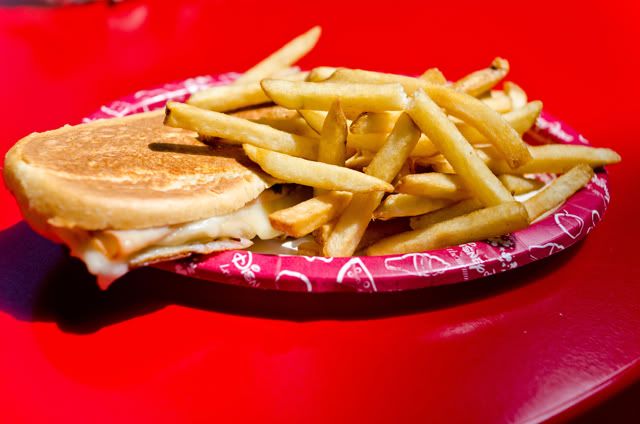 Sarah was taking her time eating, and I was already done, and she could tell I was chomping at the bit gazing over into the Honey, I Shrunk the Kids play area, so she let me go play! I didn't really do much playing, but rather, I took some photos of the area and quickly got out of there. I wanted to get photos of some of the cool themed environments, but I always feel awkward when I'm an adult with a camera, by myself, taking photos in a "kid's area." Given that, I basically kept my camera pointed up for all of the photos. Still, I think I got some neat shots.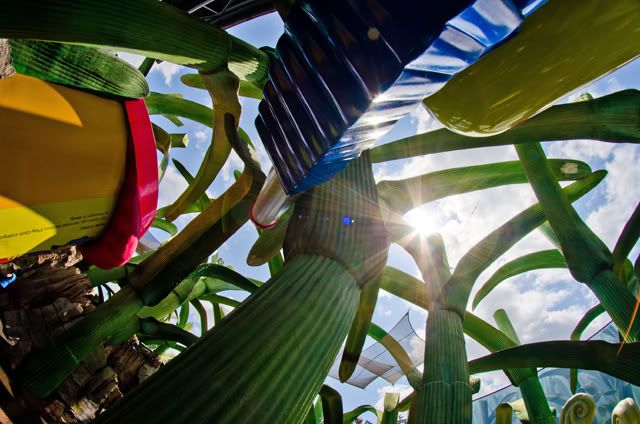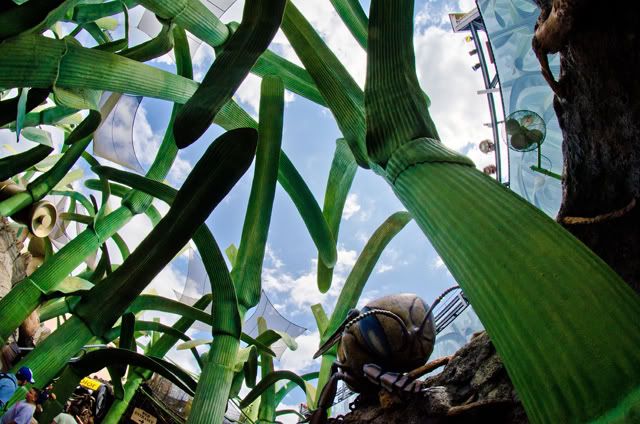 When I was done with my photos, I headed back to our table (it was right next to the entrance to the HISTKP, so it's not like I had gone far), and Sarah was ready to leave. As we were leaving the Studios Catering Company, someone yelled my name. It was Travis Munson and his mother. They were both incredibly nice, and very enthusiastic. For those who don't know him, Travis runs a website called DiscussionKingdom.com, which is an excellent and well-designed website. Travis is an all-around nice and knowledgeable guy, and definitely one of the "up and comers" in the Disney fan community. It was nice to finally meet him and put a face with a name!
After saying our hellos, it was finally time for Star Tours. I was definitely anticipating this more heavily than Sarah. Although I was far from a huge fan of the first, I had helped out with the Star Tours 2 Live project, so my anticipation for this version was pretty high.
I had my camera out and ready to document all of the new developments, but unfortunately, there were signs everywhere indicating that camera use was prohibited. So, all I got was a photo of the AT-AT outside the attraction. Oh well, as setting the camera down gave me the chance to really take in all of the details of the queue. And these details and little references were incredibly abundant. In a way, the attraction was very "self-aware." Almost all of these are not so visible as to mess with the continuity of the story; they're more like little easter eggs that only die-hard Disney or Star Wars fans will really get. While some think WDI and Lucas went overboard with these little nods, I love them. I think they give the queue depth and really make it interesting and worth revisiting.
As cool as the queue was, our FastPass wait was a bit long. In fact, we saw people who were at the end of the standby line when we entered the FastPass line pass us and experience the attraction before us. Other people in the FastPass line were audibly disappointed by how slow the FastPass line was moving. It wasn't a big deal, as this was still a soft opening and Disney was trying to get the kinks worked out, so we weren't really upset. It gave us more time to look at everything in the line.
Finally, we entered the cabin. It looked familiar, yet different, which is how a lot of the attraction up until that point had appeared.
Then, the attraction began. "Familiar yet different" is about the last way I'd describe the substance of the attraction. It was a totally new attraction. Visually, pace-wise, and in its epic-scale, Star Tours fired on all cylinders. Since it's still relatively new, and we did only have one chance to experience it, I'm going to hold out my full review until after our October trip. Suffice to say, it was awesome!
While some have billed this as a refresh to Star Tours, I think that's quite the understatement. Besides the basic simulator movements, it's an entirely new experience. It's not perfect, but all things considered, it's about as close to perfect as possible. Star Tours was never a must-do attraction for us in the past, but now it will be a must-do multiple times per trip attraction. With it, the Studios now has a great 1-2-3-4 punch–quite possibly the best at Walt Disney World, actually. (It's just unfortunate that the quality really drops off once you get beyond the top attractions there.) WDI really hit a home run with this one.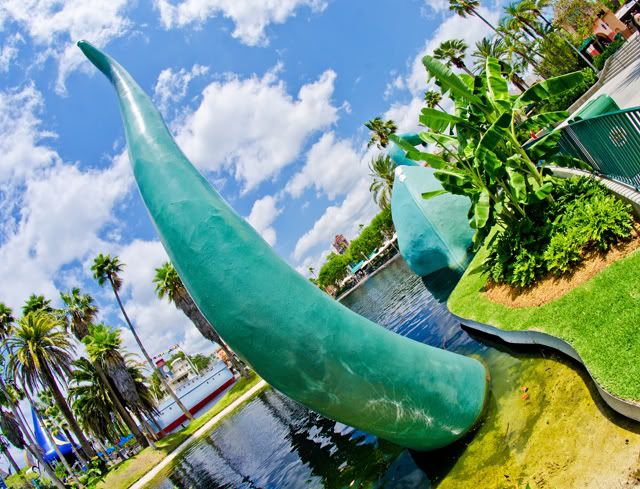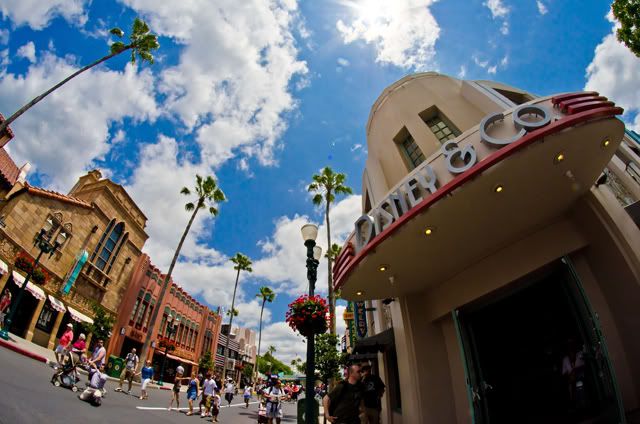 On the way out, I went crazy with my Rokinon 8mm Fisheye Lens
(as you might have gathered, I had gone crazy with it all day), snapping photos left and right. If you're a DSLR owner looking for awesome bang-for-your-buck, check out this lens. At less than $300, it's an amazing deal (especially compared to other fish eyes). It is manual focus, but manual focus is ridiculously easy with a fish eye. You just set it to 3 feet, and leave it there all the time. That's it. I love my other lenses, especially the new Sigma 8-16mm Ultra Wide Zoom Lens, but in terms of value, nothing comes close to that Rokinon fisheye. So sharp, so wide, it really can't be beat!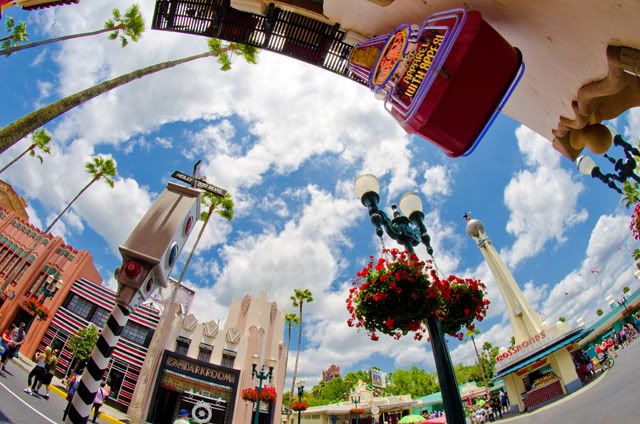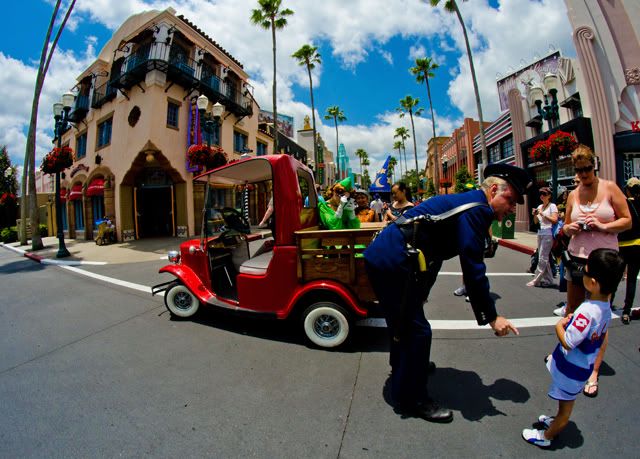 Anyway, as I gushed over the shots that lens was capturing, we slowly headed out. For "walk and click" shots, I think some of them turned out pretty well, and they definitely capture the feeling of being there. Whenever I see them, I think back to that sunny morning in the park. If a photo can accomplish that for me, it is a success.
When we arrived at the Magic Kingdom, we headed back to Fantasyland first to see what the Peter Pan's Flight FastPass times looked like. No dice there, as the return was after we had to leave.
Around that time, we received a call from Nick, who was arriving at the Magic Kingdom to meet us. Once he arrived, we headed to our favorite stomping grounds, Tomorrowland, to hit some of our favorites. We managed to knock out Space Mountain and Buzz Lightyear relatively quickly.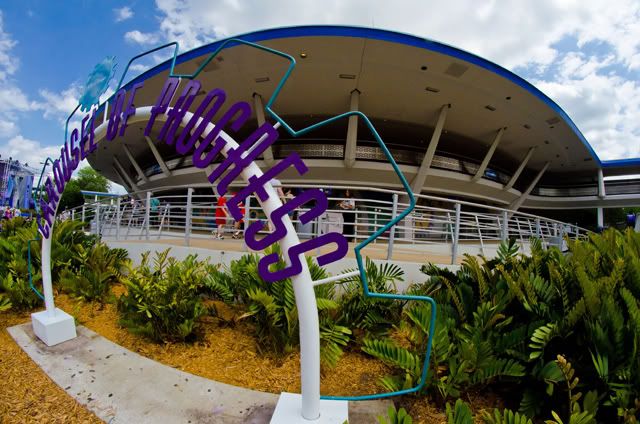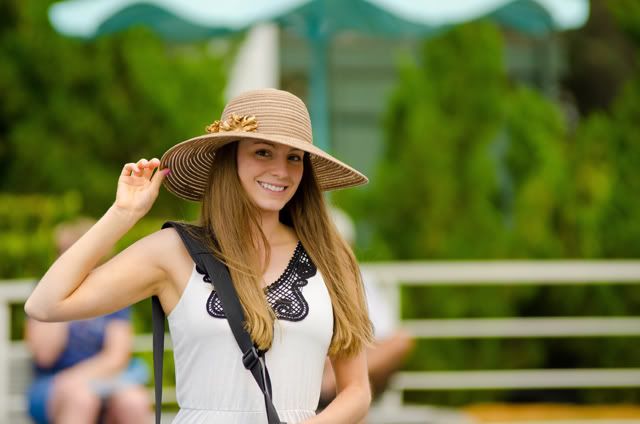 With our final hours ticking away, we quickly headed to the Haunted Mansion. Not much of a line there, which was great, given our time constraints.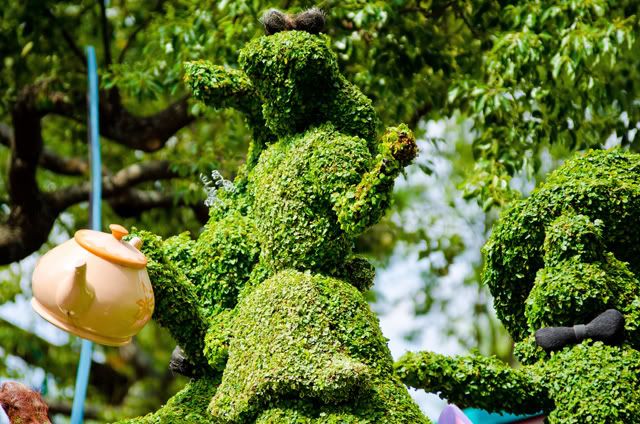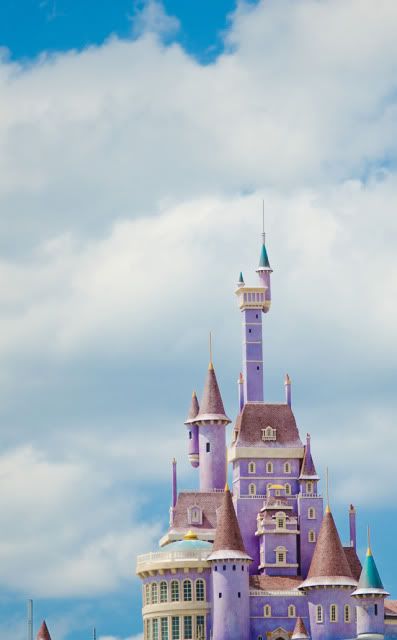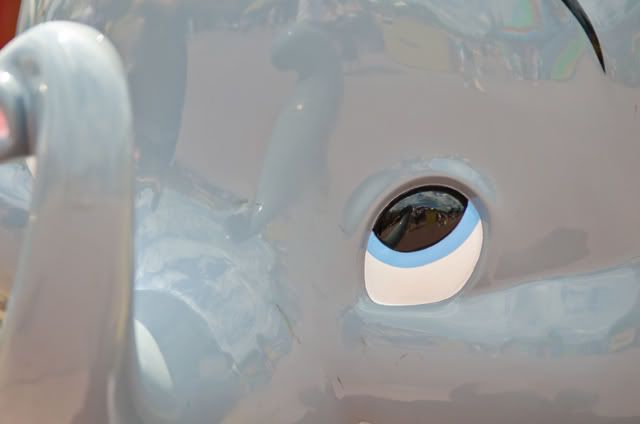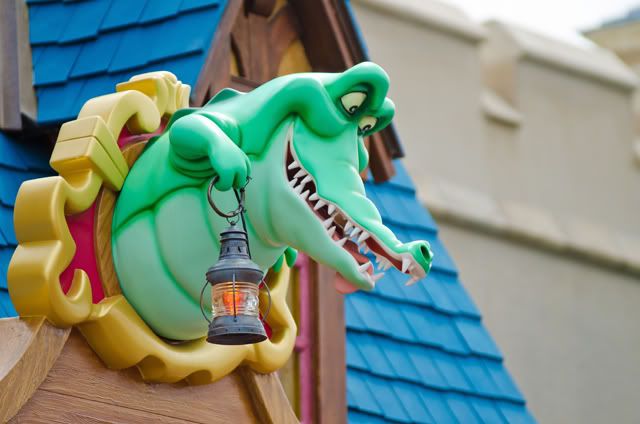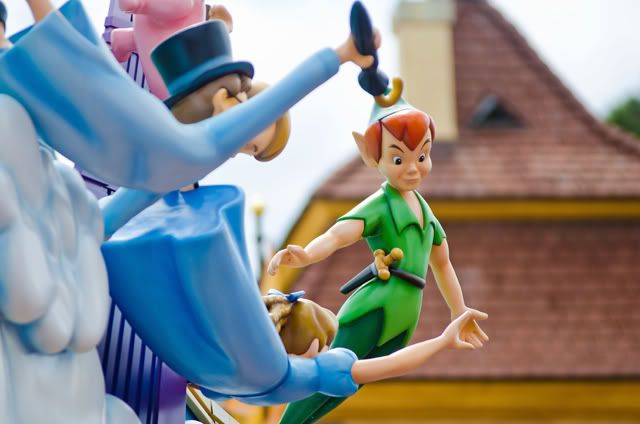 Next, we thought we'd give Splash or Big Thunder a try, hoping that just maybe one would have a short line. If not, we could always just head over to Pirates or Country Bear Jamboree.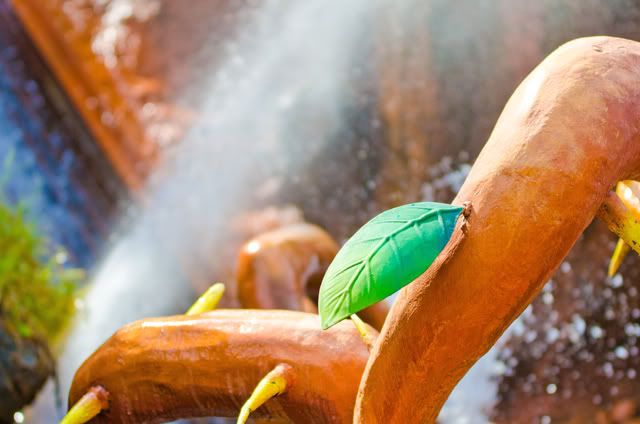 Surprisingly, Splash Mountain had a short wait time, so we did standby for that (I can't remember when we last did that!). Some people marvel at photos from Splash Mountain because it's a water ride and, "no one in their right mind would keep their camera out for it." A little water probably won't hurt most cameras, and mine is weather sealed, so I've never worried about this, period.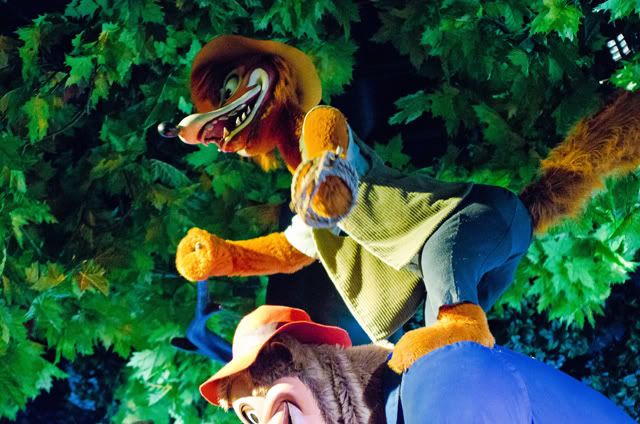 Yet, despite semi-reasonable light conditions and my lack of fear, there are a lot of scenes in Splash Mountain, and the most sought-after scene for me has been The Swamp Boys (that's the name of the hillybilly alligator band trio). For the life of me, I haven't been able to capture them.
I came as close as I ever have on this trip, but the shots are a little tighter than I would have liked. Still, I'm pretty pleased with them. Not pleased enough that I'm ready to check it off as having conquered it (there's ALWAYS room for improvement), but I'm reasonably happy with the shots.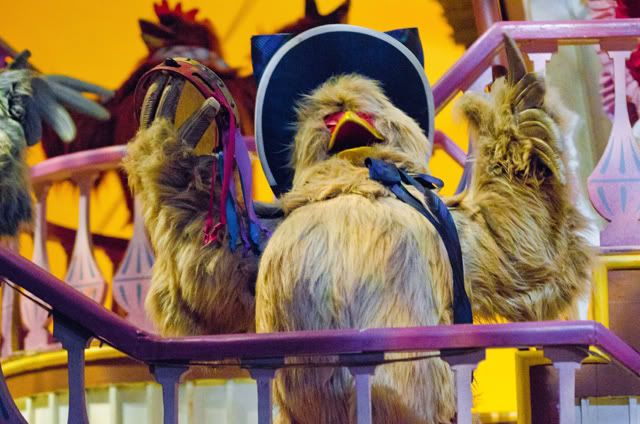 We debated waiting in line for Big Thunder Mountain Railroad next, but with the line approaching 40 minutes, it wasn't worth the time. Instead, we headed through Adventureland with Pirates on the mind. The wait there was a head-scratching 30 minutes! The problem was, if we didn't wait for it, we wouldn't experience Pirates of the Caribbean even once that trip. We had experienced it plenty of times in Disneyland only days before, but something just didn't sit right about skipping POTC at Walt Disney World. Sit poorly, it would have to do, as we elected to skip it.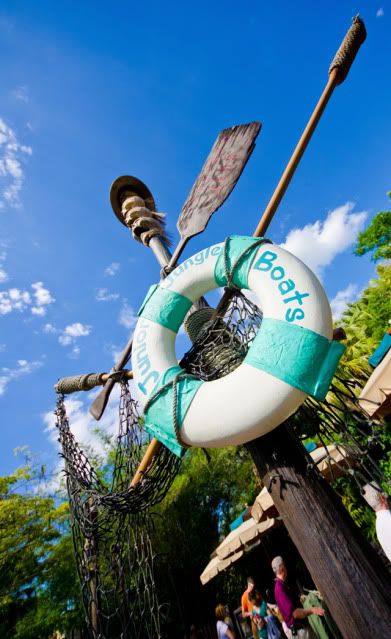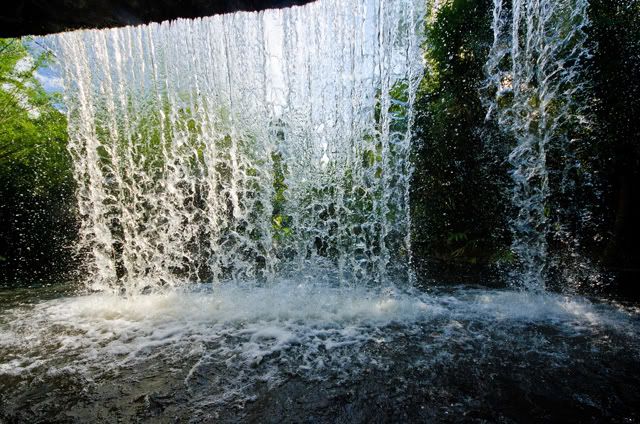 Jungle Cruise was the alternative, and surprisingly, it had a relatively short line. This leads me to believe, in retrospect, that the time for POTC was incorrect. It seems rare for Jungle Cruise to have a shorter line than Pirates, so I don't know how else to explain it. Our skipper on Jungle Cruise was actually pretty good, and with the gorgeous weather, this made for a really enjoyable experience.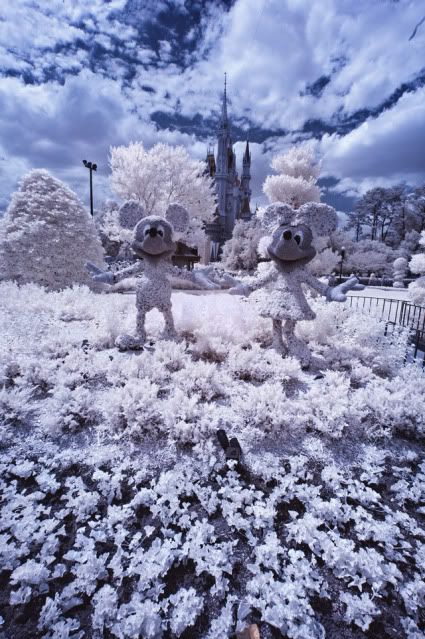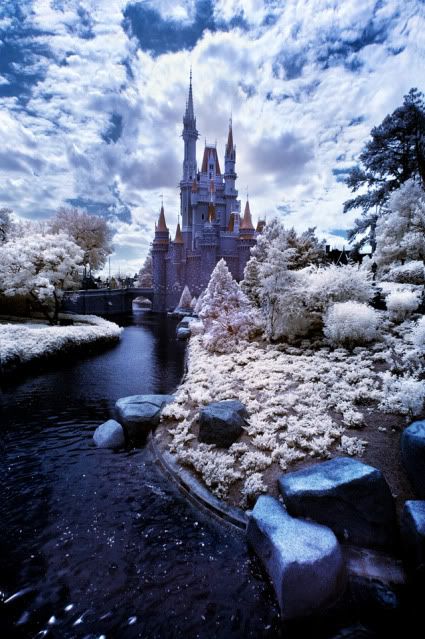 When we disembarked from our cruise, we only had a little time remaining. Our options were basically either TTA or Buzz Lightyear's Spaceranger Spin, and we decided on the latter. I'm not completely sure why, as the weather was so gorgeous that a spin on the TTA would have been really nice. Oh well, no sense Monday Morning Quarterbacking it!
Along the way to Spaceranger Spin, I continued to snap photos. That entire day, I was using two cameras: grabbing occasional shots with the infrared camera when something presented itself. As we crossed in front of the Castle, a few shots certainly presented themselves–probably some of the best infrared shots of the trip, actually!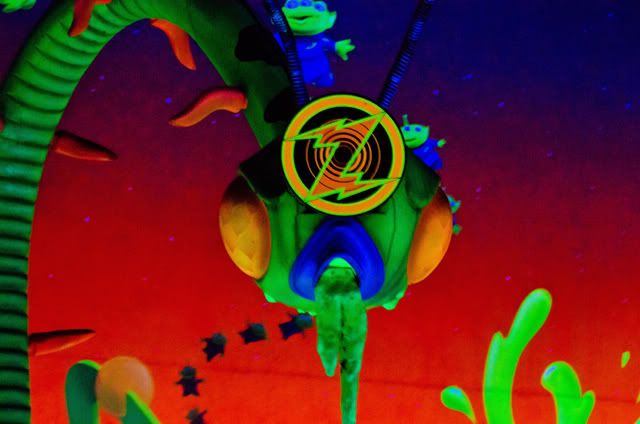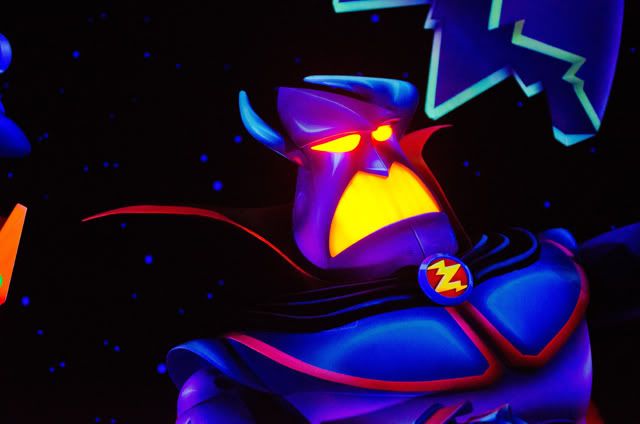 Spaceranger Spin was fun, as always, and although I didn't photograph our scores, I'm assuming I won.
I think at this point we actually did consider riding the TTA Peoplemover, but decided against it because that would really be cutting things close time-wise, and I wanted to get a 40th anniversary shirt from the Emporium.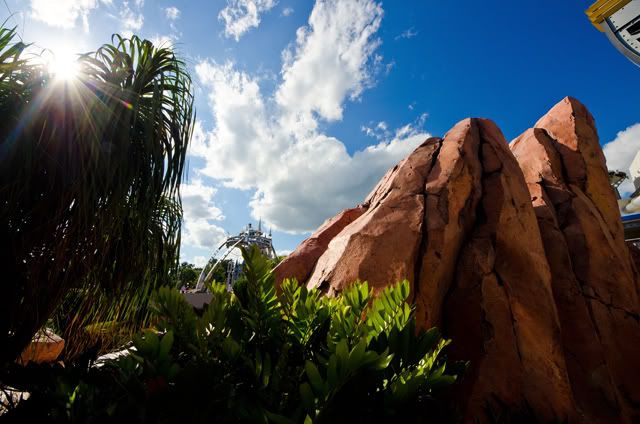 So, we made our way to Main Street, as I snapped a couple more photos along the way. Once we arrived in the Emporium, I headed straight for the shirts, and grabbed the one I wanted. Hopefully only the first in a collection of many, many Walt Disney World 40th shirts (actually, if you consider the Contemporary Resort shirt I purchased at Destination D a "40th" shirt, this one would be the second). I guess we'll find out soon what, if any, limited edition items are released on October 1st!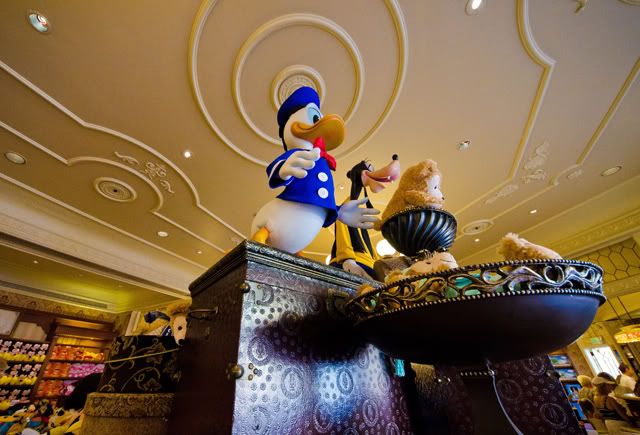 In somewhat unprecedented fashion, the All Star Movies bus arrived shortly after we got to the bus stop. We arrived back at the resort a few minutes before the Disey Magical Express bus was supposed to arrive (and in our experience, they're typically late), so I headed inside to grab some food. Of course, as soon as I went inside, I received a call from Sarah that the bus was there. The next Disney food would have to wait for a few months.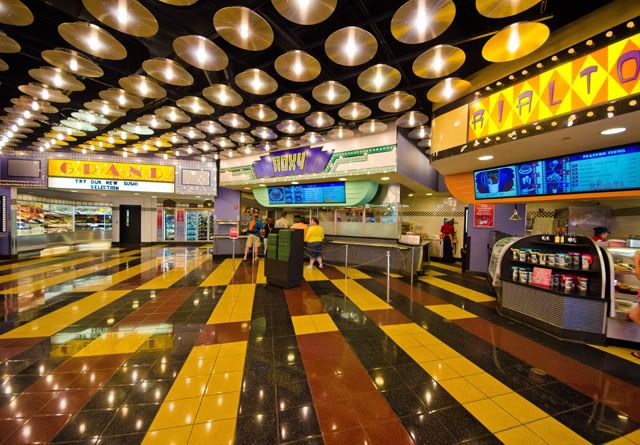 And with that, we boarded the bus and headed back to MCO, thus concluding a whirlwind few weeks!
Thank you all so much for reading our trip report! I hope it's been as much fun for you to read it as it has been for me to write it! Of course, it took long enough to write these trip reports that it's now almost time for our next trip, for Walt Disney World's 40th anniversary, which means my sign off here is really much closer to the truth than typically is the case–See Ya Real Soon!