Part VII: Coast-to-Coast Disney Trip Report
The next morning was Sunday, and I was ready to rock and roll early. I knew Disneyland opened at 8 am, so I decided to get up around 6:45 so I could be to the turnstiles by 7:30. Sarah had no interest in getting up this early, so I headed out on my own. I arrived to baggage check at around 7:50. The line was already huge, and I thought, "oh well, I guess I won't be one of the first people into Fantasyland."
Then, I realized something. The line wasn't moving. At all. Then I saw Cast Members coming around, handing out Times Guides and Park Maps. It's been a while since I've used a park map (except at Animal Kingdom, where I still get lost after all these years), as I don't want to look like a tourist. I picked one up, just the same, and come to find out, Disneyland didn't open until 9 am!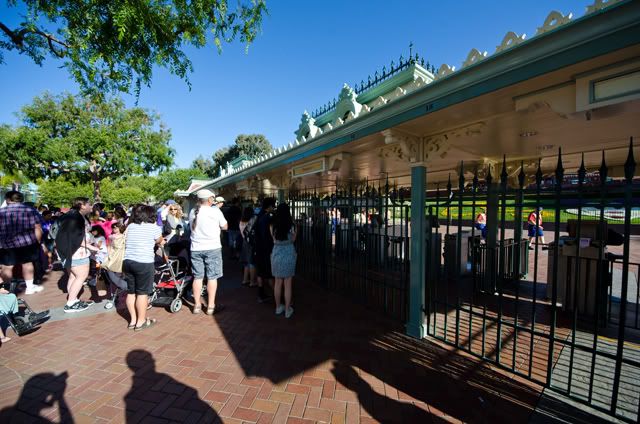 This was one part embarrassing, ten parts awesome! I was a bit back in the bag check line, but overall, I wasn't far back at all. When bag check finally started moving, our line proceeded quickly, and I quickly made my way to the far turnstiles, and was about the 20th person back. Then I realized there was a turnstile next to me that didn't have any one lined up at it. I moved over to that turnstile, but unfortunately, right before I moved over, a family noticed the same thing, and also moved over.
Fear not, as this family was soon chosen as the "Family of the Day" (or something of that sort), and was ushered inside the turnstiles. There was a short show with them (this is one thing Walt Disney World does MUCH better–the Welcome Show is awesome) involved, but more importantly (to me at least!), I was now the first person in line at one of the turnstiles.
As soon as the clock struck the magic time, I was allowed to enter through the turnstile, and found myself about the second or third person heading up Main Street. Thanks to my brisk walking abilities, I quickly overtook first place. As Seabiscuit–err, I mean Tom–rounded the corner out of the tunnel he came into the straight-away up Main Street still in first! This didn't make much of a difference, as there was enough space at the rope near the end of Main Street for about 20 people or so. I wanted to be in the center, though, and plus it was fun to be one of the very first people moving up Main Street (while pretending to be a racing-horse, apparently).
Once I was up at the rope, I had a field day. I changed lenses probably 7 times, trying to get the best shots I possibly could, and rethinking shots I had previously taken. Ironically-enough, one of the security guards came up to me and started talking about photography and even offered to take a photo of me with my camera. At first I think he was going to let me go on the other side of the rope, but right as I said yes, a couple other people said, "couple you take our photo after that," and I figured he wouldn't want to set a bad precedent by letting me go on the other side, so I just stood amongst the crowd while he took my photo. In retrospect, I wish I would have asked, the worst he could have said would have been no, and it would have been a cool photo. Oh well.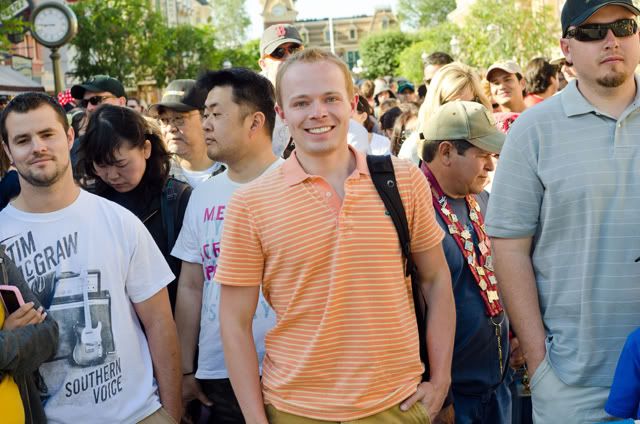 Time flew by, and it was soon time for rope-drop. The same "chosen ones" got to do a little performance here by counting down. It was neat.
Unsuprisingly, my ability to walk briskly is far superior to the families around me, and I was easily in first place again all the way to the hub. I had decided that I was going straight to Peter Pan's Flight and coming back to take photos later, but as soon as I saw Partners, I couldn't help myself–I just had to stop and take one shot.
I'm really glad I did, as the photo I took is one of my favorites from the trip. I quickly got back up, and resumed the "race." There were now a few people ahead of me, but as we passed through the compass in front of the Castle, I shot up a gap between them and resumed first place.
Again, though, I couldn't help myself. An empty Fantasyland was mine to photography and I couldn't pass up that opportunity. I quickly snapped a couple of shots, then headed right towards Peter Pan's Flight. I was the 3rd person to board (I walked right on just the same as I would if I were the 1st person to ride). It would have been awesome to have been the first person to ride, but the photos were definitely worth it, especially since all first place would have entailed would have been some nonsensical "bragging rights."
After Pan, it was off to Mr. Toad's Wild Ride. Yep, the second straight day I had gone on it by myself. I guess it really was growing on me. I think it's one of those attractions I just really want to like, and with such a crazy premise/plot, I'll come to like it more with each repeat riding. Knowing that, I've been trying to ride it as much as possible.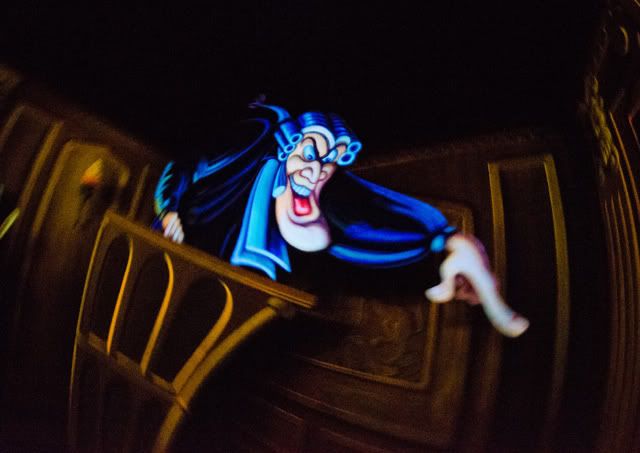 Following that, it was on to Alice in Wonderland. Like I've said in the past, I'm not a huge fan of the animated 'classic' (and certainly not the over-hyped Tim Burton version), but after loving the attraction so much, I think I want to give the movie a second chance. It just has so many rich characters that I feel it's a movie I really am "missing."
Thus far I had yet to wait a single minute in line, and that streak continued with Pinocchio's Daring Journey. The jury is still out on this one for me. There are some cool scenes and effects, and I really like Pinocchio, but it does feel dated. This is another one that could use a once-over by Baxter, to really return its luster to it.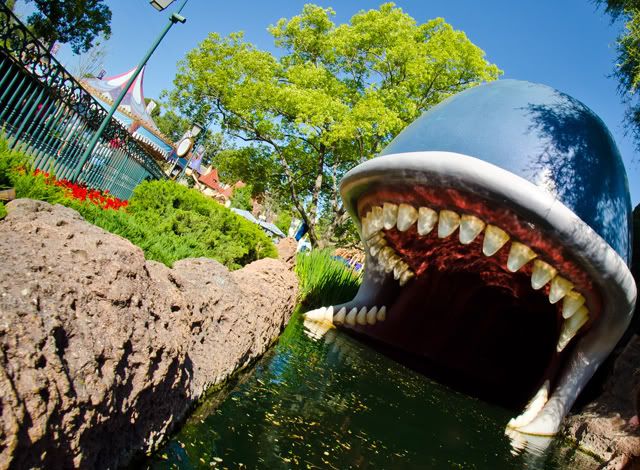 Based on my experience with TouringPlans.com (gotta plug the employer!), I knew that the Storybook Land Canal Boats tend to get a longer line as the day goes on, and due to its poor capacity, the line is somewhat confounded. I thus decided to do this next, even though I knew Sarah might want to experience it later as it's one of her favorite attractions in Fantasyland.
Our skipper (doubt that's the proper name, but oh well) for the ride was awesome. He really got into the part, over-exaggerating his lines for dramatic emphasis. It would have been a bit over the top for the adult humor of the Jungle Cruise, but I still think some of the Jungle Cruise skippers should take lessons from him. There's a fine line between "dry-monotone" and "dryly-phoning-it-in" and many of the Jungle Cruise skippers are on the wrong side of that line.
When we arrived at Cinderella's Village, we saw something hilarious. Catzilla! Apparently a stray cat had decided to take a nap in the village, and was lying amongst some of the cottages. For whatever reason, I found (and still find) this absolutely hilarious. It cracks me up just thinking about. I only wish the skipper would have played this up, ad libbing some way of explaining the cat's enormous size to the kids aboard our ship, but I'm sure Disney wouldn't appreciate said deviation.
This was the first time I'd experienced Storybook Land during the day, and while not as majestic as at night, it's no slouch during the day. I love that some newer movies have been incorporated into the attraction, and I hope it continues to be plussed as the years go on. Some purists will probably hang their heads in disbelief, but I think it'd be neat to see the house from Up floating magically somewhere in the Land. I'm probably alone in that sentiment, as I know Pixar, a wholly owned Disney entity, has no place in Disneyland. Ha.
When I departed Storybook Land, I got a message from Sarah that she was nearing the turnstiles. Not wanting to ride another attraction without her, I took a few infrared photos.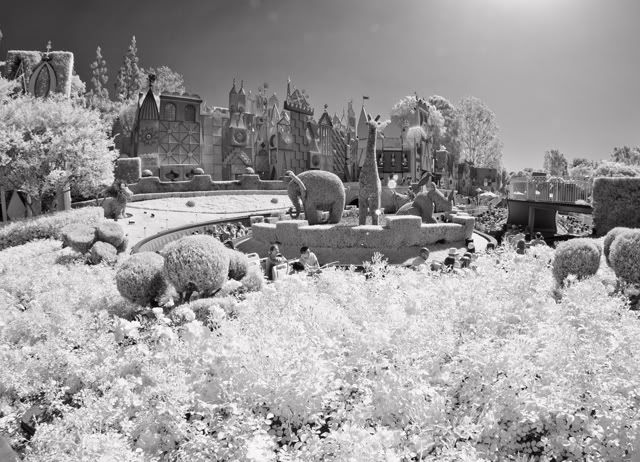 We then headed over to Casey Jr's. This would be our first spin aboard the hilarious looking train, and I had high expectations, even after the Chew Chew debacle.
My expectations were met, nay, were exceeded. Substantively, it's pretty comparable to Chew Chew. A kiddie train, albeit with much cooler cars. However, that's not the point. The way Casey Jr's interacts with Fantasyland and the other modes of transportation/attractions in Disneyland really makes it a gem. I can only imagine back when the Peoplemover was running. How cool would it have been to see so many different transportation systems entwined?! Plus, there's that catchy song for Casey Jr's. It was definitely a fun little attraction, and one on which we could see ourselves relaxing in the future.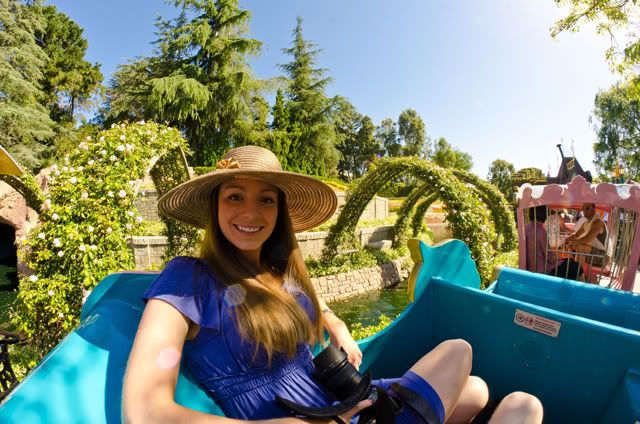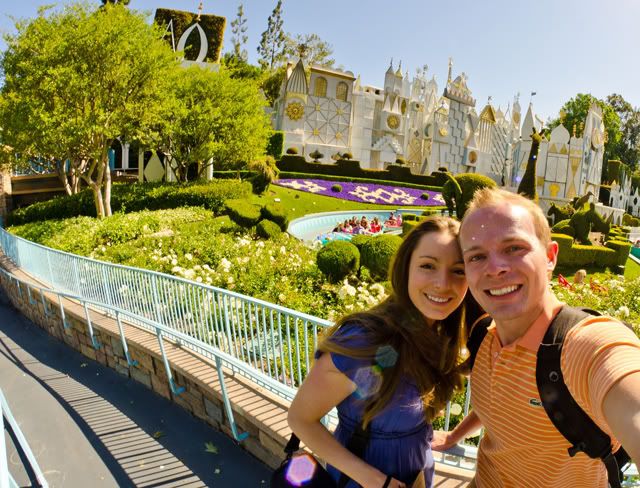 Next, it was time for it's a small world. I've already written about this attraction at length in this report (and my last report), and I wish I had more to say, but unfortunately I don't. Well, besides the fact that I cannot wait until we experience this at Christmas!!! I seriously think we're going to hit 10+ rides on this in November. I cannot wait.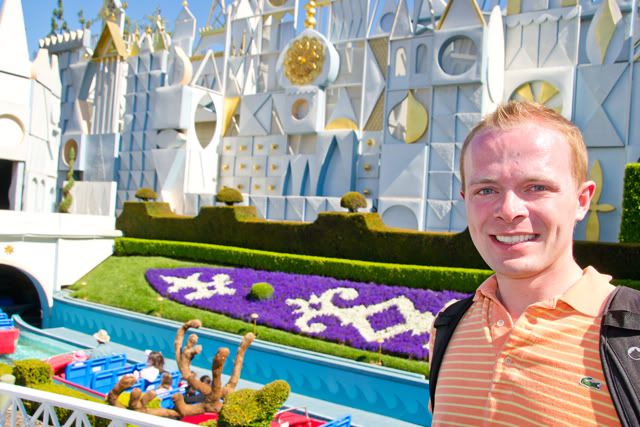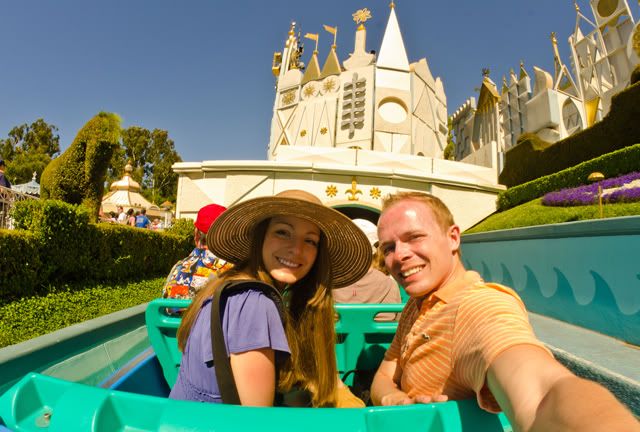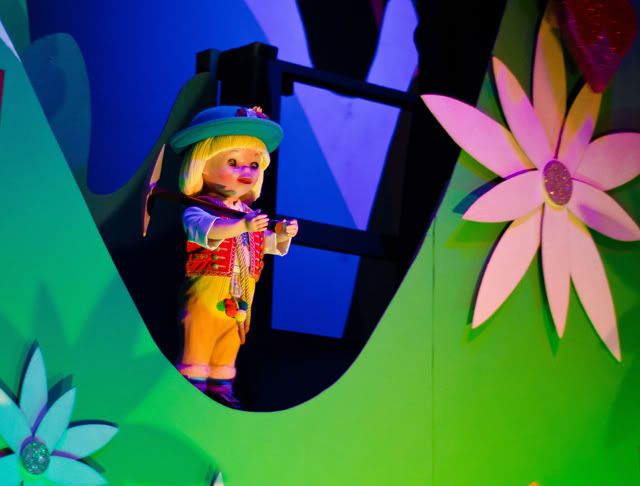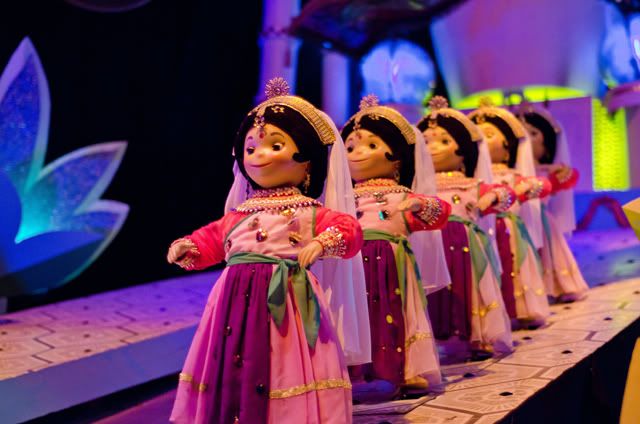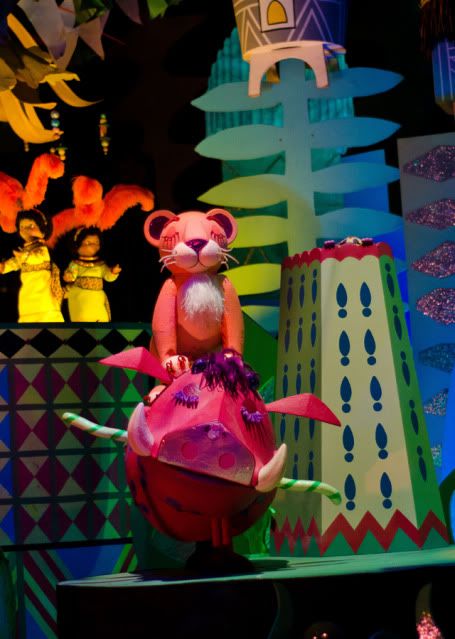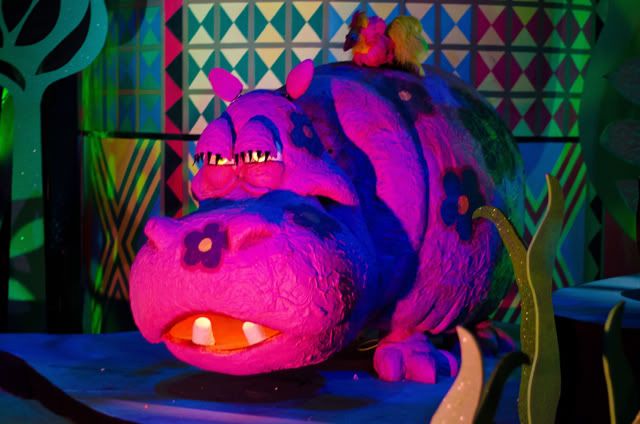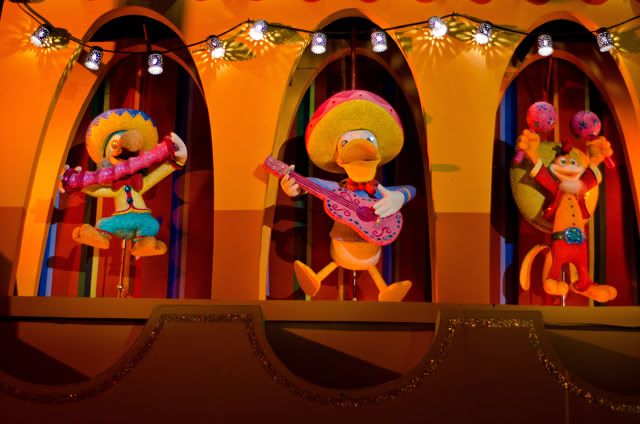 There are multiple pages in this Disneyland trip report installment. Navigate to the next page below!