Disney Visa Credit Card Review
Disney currently offers two credit cards through Chase: the Disney Rewards Visa and Disney's Premier Visa. Or, as we'll call them, the "Rewards" card and the "Premier" card. There are a few differences between the two, but the primary one is that the Rewards card has no annual fee and offers 1% rewards, whereas the Premier card has a $49 annual fee and offers 2% rewards at gas stations, grocery stores, restaurants, and most Disney locations, and 1% everywhere else.
Disney has had various credit cards associated with its name for years, dating all the way back to the 1990s when it American Express and its "White Glove Treatment" was the program of choice.  After that relationship ended, Disney partnered with Bank One to create the Disney Visa Credit Card, which transmogrified into the Disney Rewards Visa Credit Card from Chase that exists today. We've had this card since 2008, and have come to like it…for certain purposes. Read on to find out more about the perks offered by the card, and whether we think it's worthy of your wallet or purse (or wherever you store your credit cards!).
As mentioned above, in 2012, a second Disney Chase Visa Credit Card launched, dubbed the "Disney Premier Visa." It's more or less the same as the original Chase Disney Visa, except it offers 2% cash back on certain categories, has a $49/year annual fee, and allows redemption for airline tickets. Since the cards are some similar in terms of perks except for the rewards, we aren't going to bother reviewing them separately. Basically, you should get the "Rewards" card unless you will use it to charge over $4,900 worth of purchases per year in the 2% categories, in which case the extra 1% in rewards you'll receive will exceed the $49 annual fee.
Perks & Incentives
Most credit cards have a sign-up bonus, and the Disney Visa is no different. The amount varies based upon where and when you sign up. When we signed up, the bonus was $100, but I've seen it as low as $25 and as high as $150. Once a cardholder, the following are the benefits you can expect to receive (differences between the "Premier" and "Rewards" cards noted in parentheticals):
10% off merchandise purchases of $50 or more at certain Disneyland and Walt Disney World shop.
50% off stroller rentals at Disneyland Resort.
20% off tours at both Walt Disney World and Disneyland.
Exclusive character meet & greet locations inside Innoventions at Epcot and Disney California Adventure, both only available to Chase Disney Visa holders. The characters at these locations are "random," and you don't know who you'll get before entering the locations, but at both locations only a few characters appear (in Disney California Adventure, as of the date of this posting, you either got to see Pluto or Chip & Dale; at Walt Disney World things are less predictable, but you generally see 2-3 members of the Fab Five).
You receive a free PhotoPass 5 x 7 print voucher (up to one per day) when you visit the characters! Often, Cast Members at the Camera Center have allowed us to print a PhotoPass photo that wasn't from the Meet & Greet, but your mileage may vary on that.
Discounts to Disney Broadway musicals.
No interest for 6 months on theme park or cruise packages when charging the package to their Chase Disney Visa prior to arrival if booked through Disney or by a Disney-authorized travel agent.
No annual fee (obviously the Premier card differs in that it has a $49 annual fee).
As with most credit cards, the primary benefit of the card is its reward dollars. The Chase Disney Visa credit cards call these "Disney Dream Reward Dollars." With the Rewards card, they are equal to 1% of all purchases charged to your card (so $1 back for every $100 spent). With the Premier card, rewards are 2% at gas stations, grocery stores, restaurants, and most Disney locations, and 1% everywhere else (so $2 back on a $100 bill at Le Cellier, but only $1 back on $100 spent at Amazon.com).
With both the Rewards and Premier credit cards, you can redeem these Reward Dollars for most purchases you make at the theme parks and on the Disney Cruise Line, including on park tickets, merchandise, hotel. You can also use the Reward Dollars at the Disney Store or DisneyStore.com. With the Premier card only, you can redeem Reward Dollars for airline tickets in the form of a statement credit (in other words, use the credit card to pay for the flight, and Disney will refund the purchase and deduct the points from your account).
In addition to the official discounts and perks, there are some other, less-known perks that come with the Chase Disney credit cards. Card holders often are given a 2-3 day advance window to purchase certain discount packages offered at Walt Disney World. The biggest of these is the free Disney Dining Plan promotion, and that 2-3 day window can often be the difference between getting your resort of choice with very little time on the phone, and waiting hours on the phone and ultimately getting stuck at your 3rd or 4th choice. Of course, the easy work-around here is to book your vacation package in advance, in anticipation of free dining being offered (it's usually leaked a few days in advance of even the Visa window), and then calling back to have the promotion applied to your already-booked room. If you are a regular guest to Walt Disney World, the advantage this offers cannot be overstated. It's huge. 
For a while, three or four times a year we would receive notices via US mail or email that we could receive 3X or 5X rewards for certain purchase categories, such as gasoline, dining, or groceries if we spent over a certain amount of money per month. Sometimes, the thresholds were set sufficiently high that we would have had to spend more money than normal to reach them. Other times, the thresholds were quite low. We haven't received any of these reward multiplier promotions in the past 2 years, but readers have reported still receiving them. This can make both cards much more appealing.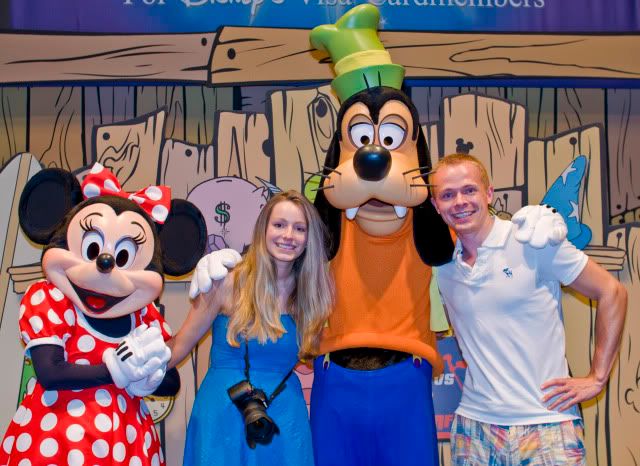 Review
The decision to open a new line of credit should not be taken lightly, and certainly shouldn't be made on the basis of whether you will receive a "cute piece of plastic with a castle on it." Opening a new credit card will have a negative short-term impact on your credit score, and poor credit card management can have disastrous results. Using credit cards to earn rewards is only a pragmatic strategy if you can and will pay the balance of the card off in full each month. Otherwise, interest rates fully negate any benefit you may accrue from the card. However, I'm not here to lecture the irresponsible (even if the lack of personal accountability and financial responsibility in our society does sicken me!), so I'll cut to the chase regarding whether I think the Disney Chase Visa credit cards are worth having.
When it comes to reward dollars, these aren't good credit cards. Almost anyone with a reasonable credit score is eligible for cards that offer better returns (2-3%), and are less restrictive on where you can spend the rewards. I know there may be some allure in having part of your Disney vacation "free," but really, what's the difference between reward dollars specifically reserved for Disney and reward dollars that are usable elsewhere? If I get another card that offers rewards at Lowe's (a store at which we all too frequently shop now that we have a house) at a rate of 2%, every $50 I could have earned in rewards by using the Disney Visa will be $100 at Lowe's. Since I shop at Lowe's anyway, I can set aside the $100 I would have paid in cash at Lowe's in a "Disney fund." $100 for your Disney trip certainly should sound more appealing than $50 for your Disney trip, even if the $50 is on a "special" Disney card. My point here is that you shouldn't let the psychology of the Disney Reward Dollars being "reserved" for Disney make the card overly-appealing.
State differently, the rewards on the Disney Visa credit cards stink compared to what you can get through other cards with no annual fee, and it should not be used as a primary credit card. There are much better primary cards out there (many of which have annual fees, but if you're spending enough, this won't matter).
However, this does not mean that you shouldn't get a Disney Visa card. The Disney Visa credit cards are great specialized use credit cards, namely for those who are serious Disney fans. After all, we have one, and it certainly wouldn't make sense for me to recommend not getting a credit card when we ourselves have it! The real benefit of the Disney Visa is the the multitude of other perks.  For those who find themselves frequently calling to book the Free Dining promotion the second Disney Reservations opens on the first day the promotion is offered, the 2-3 day head-start that Chase Disney Visa card holders frequently receive may be appealing.  The discounts at the parks, the non-interest for 6 months on Disney trips, and character meet & greets all have their allure, as well.
Since we only hold the Disney Visa credit card for its other benefits and not rewards, we don't have the Disney's Premier Visa. However, we also usually have 8 credit cards between us, and we charge very little to our Disney Visa since we do most of our spending with better performing cards. If you don't expect to have many credit cards and think you'll be able to hit the $4,900 threshold on the Disney Visa, we'd recommend getting that card.
Overall, I think the Chase Disney Visa presents sufficient benefits for most hardcore Disney fans to justify having one. It shouldn't be your primary credit card, though, but rather one you store away in your wallet to serve as an additional line of credit and an ancillary perk-monster!
Your Thoughts…
Do you have a Disney Visa credit card? Which one, the Disney Rewards Visa or the Disney's Premier Visa? Share your thoughts about these credit cards in the comments!