The idea of hopping on a private jet and flying to another country on a whim, just to have a dessert or cocktail from a favorite restaurant is something we've all probably dreamed about at one time or another (No? That's just us? Well, moving along, then…)
Since most of us probably won't be able to haphazardly spend thousands of dollars to fly to Paris at a moment's notice for some artisan cheeses anytime soon, Epcot's World Showcase offers us the next best option: sampling the many adult alcoholic beverages and decadent desserts of the world in a single afternoon!
The premise is simple: start out at one end of World Showcase, and continue through the countries, sampling a drink and/or dessert in each country. As there are 11 countries in the World Showcase, this is easier said than done. It's even more difficult (and fun!) during Food & Wine Festival, when Epcot adds lots of kiosks that serve additional drinks. The number of these kiosks continues to grow with more and more craft beer options being offered, so we expect Drinking Around the World during the 2013 Food & Wine Festival to be a lot of fun!
Here are our tips and strategies for Drinking Around the World:
Eat a Hearty Breakfast and Lunch – It doesn't take a rocket scientist (although I doubt this type of thing is encompassed by a rocket scientist's area of expertise, but I didn't make up the saying) to tell you that alcohol affects you more dramatically when you don't have food in your system. If you start out the day with some nourishing meals, you'll be much better prepared for the experience.
If you're on the Disney Dining Plan, you won't be able to use any credits for alcohol as you drink around the world, but it's a good idea to use some snack credits as you wander the World Showcase. Check out our article on Maximizing Snack Credit Value on the Dining Plan or, if you're traveling during Epcot's International Food & Wine Festival (in the fall), check out our article on the Best Food & Wine Festival Snacks (Epcot's Food & Wine Festival booths are a great way to maximize the value of snack credits, but I digress…).
Make it an All-Day Affair – Yes, a day in a Disney theme park does cost a lot of money, but if done correctly, Drinking Around the World can be some of the most fun you'll ever have (the last time we did it, on our honeymoon, we had a BLAST!). It will give you a chance to soak up all of the often-overlooked details of the World Showcase, and really enjoy the company of your party. Starting in World Showcase around 11 am still gives you time to hit the big Future World attractions, such as Soarin', Test Track, Spaceship Earth, and the Seas with Nemo, first thing in the morning. Plus, spreading the drinking out over the course of the day is always a good idea.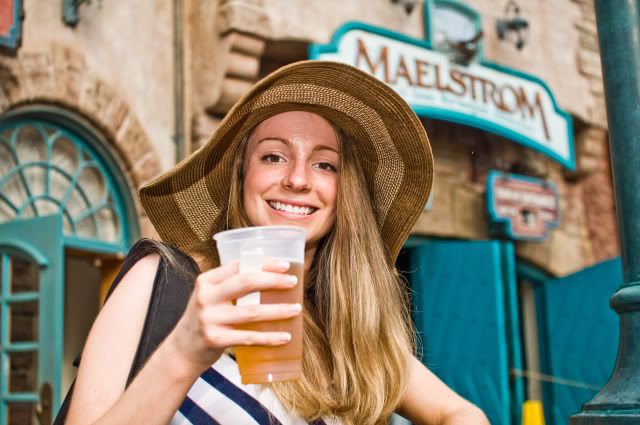 Share Drinks – Drinking in moderation is key to maximizing your fun while Drinking Around the 'World. Split drinks when necessary to avoid over-consumption, and sample one another's drinks to experience the different flavors of the 'World. Remember, Epcot is a family park–no one wants to see you stumbling around cussing at that light pole that just ran into you. Be responsible.
Explore the Pavilions – You're limited in what attractions you can visit with a drink in hand, so take some time to explore the wonderful details in the pavilions themselves. Morocco, Germany, Italy, and Canada, among others, all have great depth to explore. You'll be surprised how fun
Enjoy Attractions Between Drinks – World Showcase is not known for rides, but the Gran Fiesta Tour in Mexico and Maelstrom in Norway are enjoyable, as are the CircleVision 360 films in Canada and China. Other attractions, such as the laughably dated Norway film, become much more hilarious and enjoyable after a couple of drinks. Be sure to give these a chance and have some fun with them!
Start in Mexico – Outside the Mexico pavilion you can get Margaritas that are pre-mixed, extremely sugary and are sure to upset your stomach. Avoid these, instead go inside to La Cava Del Tequila, which serves some excellent drinks, notably the Blood Orange Margarita, Avocado Margarita, and Jalapeno Margarita, and tequila flights, and has decent (although not great) beer with options like Dos Equis and Tecate. The reason to start here is because, due to the set-up of the World Showcase, you'll either start or finish here, and you don't want to finish here as the strength of the drinks may push you from "slightly tipsy" to "where-am-I" drunk. On top of that, La Cava Del Tequila is far and away the best place for drinks (far superior to even the Rose & Crown Pub) in the World Showcase, with a friendly staff and great service on top of the spectacular drink list.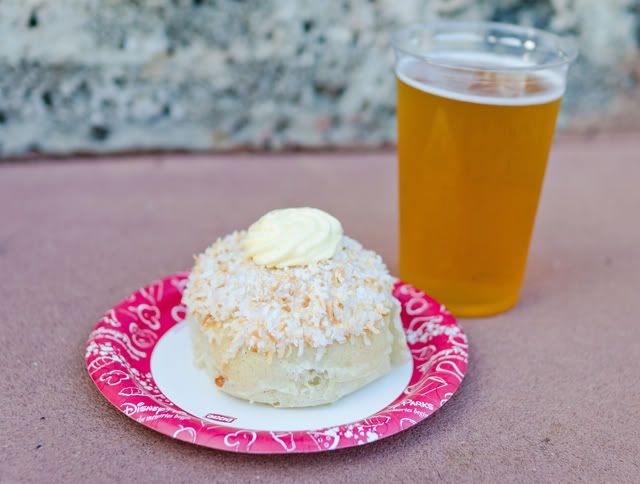 Get a Carlsberg in Norway – It's one of the few options, and is a pretty good beer, despite not actually being from Norway. In the last couple of years, some better beer options have popped up in World Showcase, but good beer options are still definitely under-represented. Our friends over at Beers and Ears have some great apps for finding beers at Walt Disney World that might further assist with finding good beers while drinking around the world!
The School Bread found in the Kringla og Bakeri Kafe in Norway makes a perfect snack to accompany a Carlsberg. This is one of the snacks we highly recommend in our companion "Snacking Around the World" article. If you're getting a drink at every country, getting a snack at every country to soak up the alcohol is a good idea, too!
Don't Miss the Tea Stand in China – Names can be deceiving! Featuring some of the most unique cocktails in World Showcase, the Mango Gingerita, Canto Loopy, Peach Snap! or Green Tea Plum Slush is the way to go here. Tsing Tao on draft is a rare sight, but it's not better than the cocktails.
Skip the "African" Outpost – Way back in the 1980s, this was where the African pavilion was to be. Now it's just a waste of space. It doesn't count as a country, and thus is not an official stop on a Drinking Around the World tour. It's fun for buzzed photos at the drums, but you do not need to stop for a drink here.
Avoid the Crowd in Germany – Due to the actual country's reputation, the beer kiosk in Germany typically has long lines. Avoid these by heading deeper into the pavilion. The beers offered here typically include Spaten, Becks, Lowenbrau. Go for something you've never tried.
Stop at Via Napoli in Italy – You're almost halfway through, so now is a good point for a relaxing air-conditioned break. Head inside Via Napoli and get a Moretti La Rossa, a malty beer with a big nutty flavor. No need to bother with the pizza.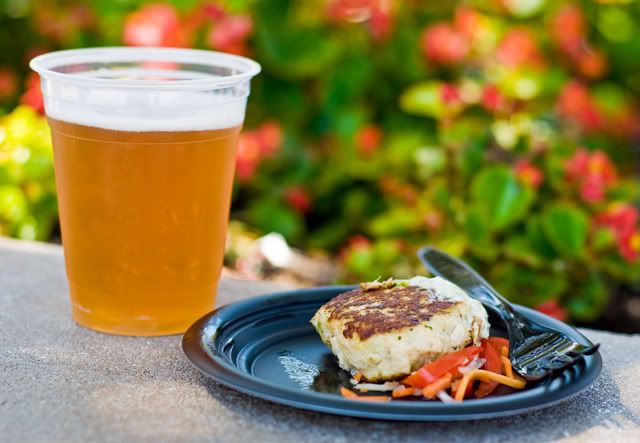 Look for Sam Adam's Seasonal/Limited Distribution Beers in America – America is by far the single greatest beer-making country on earth, and it's really a shame that more unique beers aren't represented in America. At the time of this writing, Sam Adams Boston Brick Red was available in America. Give that a try! If there isn't a Seasonal beer available in America, consider skipping America.
Experiment in Japan – Japan offers a couple good options: plum wine and hot or cold sake. The Kirin Ichiban beer is nice and smooth, too. These may not be things you'd normally drink, but give them a try anyway. If you want to hedge your bets, start by ordering one to split.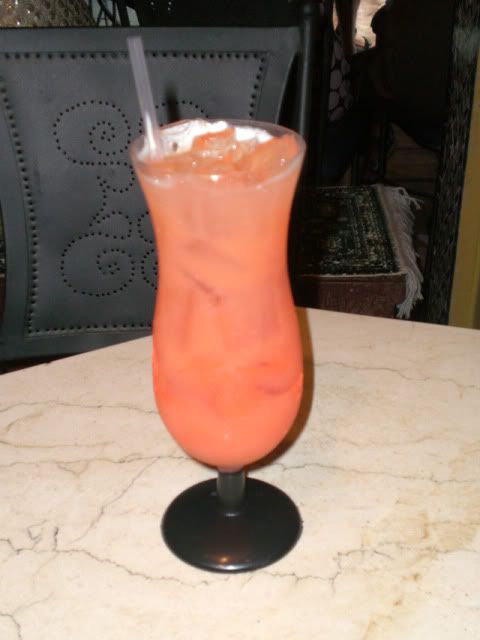 Try a Mixed Drink or Sangria in Morocco – Casa Beer is the only Moroccan-themed beer offered (something tells me this "Bud Light" drink isn't what they were pouring at Rick's Cafe Americain) and it's fairly good. The mixed drinks and sangria are also good options. Sarah's go-to drink here is the Sultan. There's also a bar in the Tangierine Café where you can get coffee infused with liquor. Perfect late afternoon pick-me-up if you need one!
Bite the Bullet in France – The Grand Marnier & Grey Goose Orange Slush, and the Grey Goose Citron Lemonade Slush are crazy expensive, but they're also crazy good. Just get one of them! Don't bother with the (one) lackluster beer here. The wines we've tried here are decent and cheap, but no match for the Grey Goose drinks.
Blend It Up in the United Kingdom! – There are quite a few beers on tap here, and they're all pretty good, but the best options are the pub blends such as the Bumblebee (Boddingtons and Guinness), Black and Tan (Bass and Guinness), or the Golden Fox (Boddingtons and Bass). Tastes Great, more fulfilling! Although this is one of the last stops on the list, we recommend trying to hit it earlier in the evening, as it gets really busy late at night. The restrooms here (picture above) are some of the busiest and loudest in Walt Disney World at night!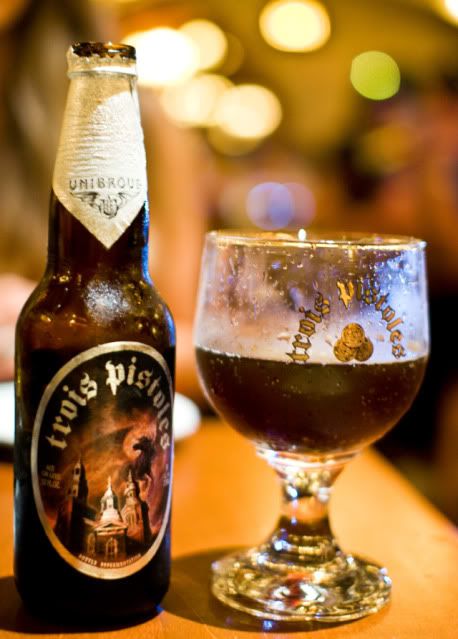 Finish the Trip with Dinner in Le Cellier (Canada) – Le Cellier is one of the most popular restaurants in all of Walt Disney World, so make sure to get reservations far in advance of your trip. If you can't, call an audible here, and start with an early lunch at Le Cellier. The reason this is so important is because Le Cellier serves Unibroue beers, which are some of the top beers in property. For whatever reason, these are not served outdoors at the beer kiosk. Plus, Le Cellier has some amazing food and desserts. What better way to reward yourself for a voyage around the world well done than by stopping at Le Cellier?!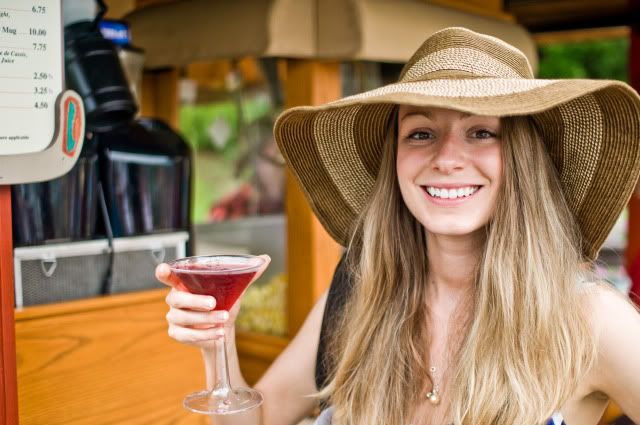 The other options at the outdoor kiosk in Canada leave a lot to be desired. Above is my wife, Sarah, with the overpriced Torontopolitan. If you like $8+ drinks that taste like alcohol-less fake fruit juice, this drink is for you! If not, AVOID!
Conclude the Night with Illuminations – Plan on being done with dinner before Illuminations: Reflections of Earth, Epcot's nighttime spectacular on World Showcase Lagoon. It's the perfect way to conclude and reflect upon your whirlwind tour of the 'World! Plus, the fireworks are even more impressive when you've had a little to drink…
By following the simple rules above, your day at Epcot Drinking Around the 'World should be an excellent time. Remember to drink in moderation and be courteous to fellow guests during your trip, as Walt Disney World is a family vacation destination, not your local college dive bar! If you plan on stopping for an actual meal in World Showcase while on your world tour (and you should, as there are some great choices), make sure to consult our Walt Disney World Restaurant Reviews to pick the one that's right for you!
Looking for Disney trip planning tips? Make sure to read our Walt Disney World Trip Planning Guide.
For updates on Walt Disney World, the latest news, discount information, and tips, sign up for our free monthly newsletter!
Your Thoughts…
Have you tried Drinking Around the World at Epcot? Which drinks do you recommend? If you have any other tips, please share them in the comments!