Mickey's Not So Scary Halloween Party 2016 Tips
The 2016 Mickey's Not So Scary Halloween Parties at Walt Disney World will occur September 2, 8, 11, 13, 16, 18, 20, 23, 25, 29, 30 and October 2, 4, 6, 7, 10, 11, 13, 14, 16, 18, 20, 21, 23, 25, 27, 28, 30, and 31. This post covers our tips and tricks for Mickey's Not So Scary Halloween Party, based on our experiences attending the party numerous times in past years. While dates for the Halloween Party have now been released, pricing still has not. We expect that to come sometime in April or May 2016.
Tickets should go on sale in the late spring (they were already on sale by this time last year–we're not sure why they haven't gone on sale yet), and when they do, expect them to cost around $60-80 for adults (depending upon the date–Halloween night is always the most expensive) and be available on Walt Disney World's event page. Some dates do sell out in advance, so you'll want to pay close attention when tickets go on sale. As soon as tickets go on sale, we will email our newsletter subscribers, so either bookmark this page or subscribe to the newsletter to stay posted on updates.
During this year's record number of Halloween Party nights, the Magic Kingdom closes at 7 p.m. to guests who haven't not purchased tickets for the Halloween Party. So you can prepare for the Halloween Party now, here is our analysis based upon the last several years (we go to it yearly) to help you determine whether this expensive hard ticket event is worth it to you, and if so, what your "Plan of Attack" should be to efficiently conquer the various offerings. Between this party and Epcot's International Food & Wine Festival, plus improving weather, the fall months at Walt Disney World are one of our favorite times of year to visit!
Note that this guide covers Mickey's Not So Scary Halloween Party at Walt Disney World's Magic Kingdom, not Mickey's Halloween Party at Disneyland. For info about the latter, read our comprehensive Guide to Halloween Time at Disneyland!
Should You Attend?
So at over $60 a pop for tickets to Mickey's Not So Scary Halloween Party, you might be trying to determine, "is Mickey's Not So Scary Halloween Party worth it?" Our opinion, as Disney-biased tourists, is that it most definitely is worth the price at least once. Once you've experienced the party once (it doesn't change much year-to-year), you might determine that it's simply too expensive to experience again. For a one time event, it's definitely worth it if your budget allows. While we prefer Mickey's Very Merry Christmas Party, we do attend both every year.
There's a lot of special entertainment including one of Disney's best parades and a great fireworks show, a great ambiance to the party including special decorations and lighting, lots of unique character meet & greets, and even seeing other guests in Halloween costumes makes for a fun experience.
If you do decide to do the Halloween Party, make sure to buy your tickets in advance, and use any available discounts (Disney Vacation Club member, Annual Passholder, etc.). Tickets are more expensive on the day of the party, and several nights each year sell out completely. It would stink to wait until the last minute and have your dates sell out!
If you're still not convinced one way or the other as to whether it's "worth it" for you, read our review at the end of the post…
What's New?
If you're a potentially returning guest to Mickey's Not So Scary Halloween Party, here's what to expect. Last year's big new thing was a HalloWishes dessert party that's comparable to the regular Wishes dessert party, except with Halloween-decorated desserts, and a reserved viewing area for the Boo to You Parade from Town Square. It cost $69 per adult ($39 for kids ages 3-11) on top of the ~$60 Mickey's Not So Scary Halloween Party ticket. So, if you've been thinking that the Halloween party is just too darn cheap, this option is for you!
It was too expensive for us, so we didn't do it. Plus, the reserved viewing area is not a good spot for viewing the fireworks (for the best spots, check out our Magic Kingdom Fireworks Viewing Locations Guide), and there are just too many other great things to do at Mickey's Not So Scary Halloween Party (it's unlikely you can do all of the regular entertainment in a single night) to justify attending a dessert party. It's just not worth taking the time from the regular awesome entertainment of the Halloween party to do this. Plus, the idea of another upcharge event within an upcharge event just makes us cringe.
Fortunately, the other "significant" new thing last year was the Hocus Pocus Villain Spelltacular stage show, and it was absolutely awesome. It's nice to see some new entertainment, as the Villains Mix & Mingle had been around for a while. We gushed about this in our Mickey's Not So Scary Halloween Party Recap, which detailed our experience at the party last year.
What's new for 2016 isn't yet known. After the success of Villain Spelltacular, we're hoping for an update to some of the other entertainment around the park!
As for what you should do during Mickey's Not So Scary Halloween Party, here's our guide to Mickey's Not So Scary Halloween Party!
General Tips
The first important tip is to pick the best day on your trip for Mickey's Not So Scary Halloween Party. Although Disney sells a "limited" number of tickets to the party, limited is mainly a marketing term. Some of the parties are as crowded as you might find the parks during an ordinary day. As a general rule, the closer you get to Halloween, the busier the parties become. School nights are less busy, with Tuesday night parties being the best options in our experience. Disney prices these parties based on historical demand, so going on the cheapest party night you can is generally the best idea from both the perspective of saving money and avoiding crowds. Win-win!
The second most important tip is to arrive early to Mickey's Not So Scary Halloween Party. The Party officially starts at 7 p.m., which is when all of the entertainment actually begins, but guests can enter with their Halloween Party tickets as early as 4 p.m. This is not something Walt Disney World advertises, but it absolutely is true, and you will see plenty of other guests arriving at 4 p.m., and Cast Members in their Halloween outfits at the turnstiles.
This earlier entry offers you potential savings to offset the cost of your tickets. Before we were Annual Passholders, we'd plan on doing Downtown Disney or a water park the morning we went to the Halloween Party, which allowed us to purchase 1-day less on our park tickets. We highly recommend that you do the same! In other words, if you normally would buy a 5-day ticket for your trip, buy a 4-day ticket and do something besides one of the 4 theme parks before 4 p.m.
The additional day you're not purchasing would have only added on $10-30 in cost to your total package, so we're not talking a substantial amount here, but it makes the Halloween Party more economical. To save even more money on multi-day Walt Disney World tickets, we highly recommend buying from an authorized ticket broker selling cheaper tickets than you can buy directly from Disney. Read our Tips for Buying Discount Walt Disney World Tickets Guide for more information about saving money on park tickets. You can't buy Halloween Party tickets from these authorized ticket sellers, but the amount you save on your regular park tickets plus the savings on that extra day you're not purchasing will help offset the added cost of the party tickets.
Early in the Halloween Party is also a great time to get photos, since the artificial lighting in the Magic Kingdom during the Halloween Party can be pretty harsh once in gets dark out.
The next biggest tip is to wear a costume! Well…hopefully. As of the date of the last update to this post (March 2016), costumes will be allowed for all guests despite Disney's latest security policy update. Here's Disney's official word on costumes as of right now: "while costumed attire may be worn, guests ages 14 and older are strongly discouraged from wearing layered costumes or costume props that surround the entire body as they may be subject to additional security screening. Additionally, costumes may not contain any weapons that resemble or could easily be mistaken for an actual weapon." Phew!
At least half of the Guests who attend the party wear costumes, and it's a lot more fun if you do. You're spending a fair chunk of change to attend one of these parties, make sure you get as much value for your money as possible by wearing a costume. You don't need to buy some expensive costume from the store–make one at home from items you buy at a thrift shop. Sarah and I attended Mickey's Not So Scary Halloween Party as the following: astronauts; an elf and princess; and "Cute Minnie" and a Toy Story Alien, among other things. Most of the time, our costumes are pretty lame as compared to other guests, but we still have a lot of fun!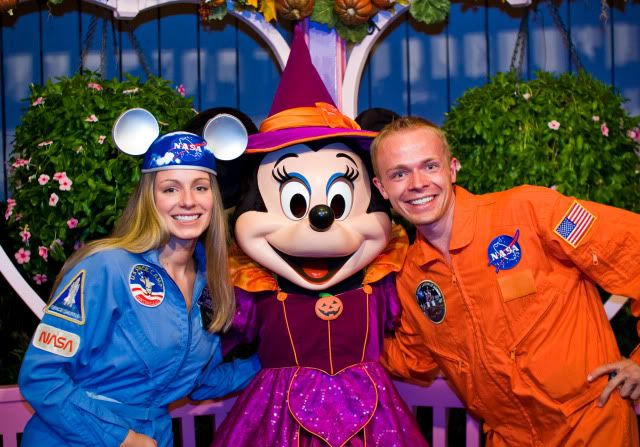 For costumes, go inexpensive, simple, and most importantly…LIGHTWEIGHT. We have a Guide to Halloween Costumes for the Disney Parks that covers the nuts and bolts. Suffice to say, we have worn heavier costumes, and let me tell you what a mistake that was. It may be cooler at nighttime in the fall, but it's still Florida, and it's still humid and hot. While you will see a lot of guests in complex and really creative costumes, unless you have a specific costume in mind that you really want to make, simpler and lighter is better as far as costumes go.
Sarah's popular "Cute Minnie" costume pictured below was inexpensive (here's more info about what she's wearing), and we try to go with inexpensive costumes as the Halloween Party already costs a lot, no sense in making it cost even more!
If at all possible, find a way to avoid trick or treating or save it until the end of the night. It is a major time drain, and you could buy a bag of candy yourself for like $3. It may be difficult to convince kids not to trick or treat, but if you can, find a way. There is so much entertainment during the Halloween Party that you won't get everything done even if you don't trick or treat and don't do any attractions.
Arrive at 4 p.m., eat and do an attraction or two before 6:00 pm. Once 6 pm hits, it's time to get ready to party, and time to initiate your Mickey's Not So Scary Halloween Party attack-plan to do and see as much as you can.
Let's start out by taking a quick look at the Mickey's Not So Scary Halloween Party Map, which gives you an idea of special foods available, as well as show times for the major entertainment (click to view full size):
Read it, study it, learn it. Knowing these times before you go is, in itself, a nice advantage. From there, we will start with our plan of attack to efficiently accomplish as much as possible during MNSSHP.
Continue reading on Page 2 for our step-by-step "Halloween Party Plan of Attack"…
Related