The 2014 Mickey's Not So Scary Halloween Parties at Walt Disney World will occur in September and October. This post covers our tips and tricks for Mickey's Not So Scary Halloween Party 2014, which is scheduled for the following dates: September 1, 9, 12, 14, 16, 19, 21, 23, 26, and 28; October 2, 3, 5, 9, 10, 13, 16, 17, 19, 21, 23, 24, 26, 28, 30, and 31. You can purchase tickets (ranging from $57-77 per person) on Walt Disney World's event page.
On these nights, the Magic Kingdom closes at 7 p.m. to guests who haven't not purchased tickets for the Halloween Party. So you can prepare for the Halloween Party now, here is our analysis based upon the last several years (we go to it yearly) to help you determine whether this expensive hard ticket event is worth it to you, and if so, what your "Plan of Attack" should be to efficiently conquer the various offerings.
Note that this guide covers Mickey's Not So Scary Halloween Party at Walt Disney World's Magic Kingdom, not Mickey's Halloween Party at Disneyland. For info about the latter, read our comprehensive Guide to Halloween Time at Disneyland!
Should You Attend?
So at over $60 a pop for tickets to the 2014 Mickey's Not So Scary Halloween Party, you might be trying to determine, "is Mickey's Not So Scary Halloween Party worth it?" If you're asking this, you've probably never been, otherwise you'd know the answer to this question. Our opinion, as Disney-biased tourists, is that it most definitely is worth the price: at least once. Once you've experienced the party once (it doesn't change much year-to-year), you might determine that it's simply too expensive to experience again. For a one time event, though, it's definitely worth it for everyone except those on traveling on thin budgets. Personally, we prefer Mickey's Very Merry Christmas Party, but I think it's fair to say that the two are about equally popular with guests (the guest costumes at Mickey's Not So Scary Halloween Party are pretty awesome to see).
As you read on, you'll see what's included in this price to make your own value-for-money determination, but that's our summation of whether you should attend. If your budget is limited, you may also want to consider allocating that budget toward Epcot's International Food & Wine Festival, which can also be another expensive event to experience during the fall months at Walt Disney World.
If you do decide to do the Halloween Party, make sure to buy your tickets in advance, and use any available discounts (Disney Vacation Club member, Annual Passholder, etc.). Tickets are more expensive on the day of the party, and several nights each year sell out completely. It would stink to wait until the last minute and have your dates sell out!
It's also important to pick the best day on your trip for the Halloween Party. Although Disney sells a "limited" number of tickets to the party, limited is mainly a marketing term. Some of the parties are as crowded as you might find the parks during an ordinary day. As a general rule, the closer you get to Halloween, the busier the parties become. School nights are less busy, with Tuesday night parties being the best options in our experience. Disney prices these parties based on historical demand, so going on the cheapest party night you can is generally the best idea from both the perspective of saving money and avoiding crowds. Win-win!
General Tips
The first important tip is to arrive early to Mickey's Not So Scary Halloween Party. The Party officially starts at 7 p.m., which is when all of the entertainment actually begins, but guests can enter with their Halloween Party tickets as early as 4 p.m. This is not something Walt Disney World advertises, but it absolutely is true, and you will see plenty of other guests arriving at 4 p.m., and Cast Members in their Halloween outfits at the turnstiles.
This earlier entry offers you potential savings to offset the cost of your tickets. Before we were Annual Passholders, we'd plan on doing Downtown Disney or a water park the morning we went to the Halloween Party, which allowed us to purchase 1-day less on our park tickets. We highly recommend that you do the same! In other words, if you normally would buy a 5-day ticket for your trip, buy a 4-day ticket and do something besides one of the 4 theme parks before 4 p.m.
To be fair, the additional day you're not purchasing would have only added on $10-30 in cost to your total package, so we're not talking a substantial amount here, but it might be enough to make the Halloween Party more economical. To save even more money on multi-day Walt Disney World tickets, we highly recommend Undercover Tourist, an authorized ticket broker selling cheaper tickets than you can buy directly from Disney. Read our Tips for Buying Discount Walt Disney World Tickets Guide for more information about saving money on park tickets. You can't buy Halloween Party tickets from Undercover Tourist, but the amount you save on your regular park tickets plus the savings on that extra day you're not purchasing should be enough to allow you to go to the Halloween Party for "free!"
Early in the Halloween Party is also a great time to get photos, since the artificial lighting in the Magic Kingdom during the Halloween Party can be pretty harsh once in gets dark out.
The next biggest tip is to wear a costume! At least half of the Guests who attend the party wear costumes, and it's a lot more fun if you do. You're spending a fair chunk of change to attend one of these parties, make sure you get as much value for your money as possible by wearing a costume. You don't need to buy some expensive costume from the store–make one at home from items you buy at a thrift shop. Sarah and I attended Mickey's Not So Scary Halloween Party as the following: astronauts; an elf and princess; and "Cute Minnie" and a Toy Story Alien, among other things. Most of the time, our costumes are pretty lame as compared to other guests, but we still have a lot of fun!
As far as costumes go, we recommend something inexpensive, simple, and most importantly…LIGHTWEIGHT. We have made the mistake of wearing heavier costumes, and let me tell you what a mistake that was. It may nighttime in the fall, but it's still Florida, and it's still humid and hot. While you will see a lot of guests in complex and really creative costumes, unless you have a specific costume in mind that you really want to make, simpler and lighter is better as far as costumes go. Ideally, the costumes will be something that you could throw away at the end of the night.
Even the "Cute Minnie Dress" (as she dubbed it) costume pictured below was inexpensive (here's more info about what she's wearing), and we try to go with inexpensive costumes as the Halloween Party already costs a lot, no sense in making it cost even more! Thrift shops and eBay are great places to find inexpensive costumes. If you do decide to go the other direction and get a nice costume, there are numerous online stores specializing in unique costumes. And again, eBay is also a great place to hunt down what you need for a more involved costume.
Finally, if at all possible, find a way to avoid trick or treating. It is a major time drain, and you could buy a bag of candy yourself for like $3. It may be difficult to convince kids not to trick or treat, but if you can, find a way. There is so much entertainment during the Halloween Party that you won't get everything done even if you don't trick or treat and don't do any attractions. If you do opt to trick or treat, locations for collecting candy are designated on park maps.
Arrive at 4 p.m., eat and do an attraction or two before 6:30 p.m. Once 6:30 p.m. hits, it's time to get ready to party!!!
Halloween Party Plan of Attack
Note that these suggestions are based upon our anecdotal observations and what we've done in the past that (seems) to have worked. This hasn't been extensively tested or anything of the sort. Just some "real world" tips from frequent visitors to Mickey's Not So Scary Halloween Party…
Jack Skellington and Sally (from the Nightmare Before Christmas) will be meeting in Town Square. These characters have been the most 'in demand' characters who haven't appeared at past parties (as in more guests have requested them at the Halloween Party more than any other characters), and this would make sense given the lines we've seen for them at Disneyland outside Haunted Mansion Holiday (that's where the photo below is from, if you're wondering).
During the 2013 Mickey's Not So Scary Halloween Party, waits for Jack Skellington and Sally reportedly exceeded 2 hours at times. We highly recommend picking either the Dwarfs or Jack & Sally and lining up for them before the party even starts. Guests lined before for Jack and Sally before 6 pm during the first party. We'd recommend getting in line right at 6 pm to maximize your time doing other things and minimizing your time in line. We anticipate this holding true in 2014.
It seems that Nightmare Before Christmas has gained a substantial cult following over the years, and that following coupled with their location at the front of the park leads us to believe that these are going to be really popular characters at this year's party. For now, we suggest penciling them into your schedule early in the evening to guarantee seeing them, or visiting them towards the end of the night before the end of the night rush, so around 11 pm for the shortest line. We obviously haven't tested this yet, but this is our plan when we do the party this year.
Line Up For the Dwarfs Before 7 pm – The party officially starts at 7 pm, and invariably, The Snow White and the Seven Dwarfs line is going to be long for the entire party. We have found it stretching fairly long at 6:45. (Snow White may appear separately from the Dwarfs this year.) Get in line for the Dwarfs prior to 7 pm. Unless the prospect of waiting in an hour plus long line during the height of the party doesn't scared you.
While in line for Snow White and/or the Dwarfs (the Dwarfs may be out without Ms. White), you may see other characters roaming the area. We have been able to meet Tweedle Dee & Tweedle Dum while waiting in line for the Dwarfs!
We anticipate that the Seven Dwarfs will meet outside the new Seven Dwarfs Mine Train (which opened earlier this year) in New Fantasyland during the 2014 Mickey's Not So Scary Halloween Party.
Pooh Characters After the Dwarfs – When done with Snow White and the Dwarfs , immediately head over to the Pooh line at the permanent Pooh Meet & Greet by the Many Adventures of Winnie the Pooh in Fantasyland. This is one of the most popular meet & greets at Mickey's Not So Scary Halloween Party. In 2012, all four met together, but in the past this has been a rotation of Eeyore & Pooh and Tigger & Piglet.
When we met these characters, we got Tigger and Piglet on our first trip to this line, and noticing that there was pretty long line behind us, opted to get Pooh & Eeyore later, or not at all. Since the Pooh characters primarily appeal to small children, you might have luck meeting these characters near the end of the party with minimal wait. Or, if the characters all meet together in 2014, you won't have to worry about lining up twice!
Boo To You Parade – There are two showings of this parade, and the second is always far less crowded. Get spots at least 30 minutes early for the first parade (earlier if it's a busy night). If you do elect to just go with the second parade, you may end up kicking yourself, because this is the best parade Disney does. We always watch the early parade AND the late parade.
You obviously can't do this if you skip the early parade, so plan wisely. If you're really into meeting characters, it's difficult to meet all of the characters, watch the fireworks, do Villians Mix & Mingle, AND watch both parades. If character meet and greets aren't that important to you, we recommend watching the early parade so you at least have the ability to watch it again if you really enjoy it.
Given the excellent lighting and ambiance on Main Street, USA, it's the best place to view the parade (which steps off in Frontierland). It's also the most crowded spot. The Headless Horseman comes first, followed by the rest of the Parade much later (especially to Main Street).
Following the horse, the parade takes a long time to come–almost twenty minutes later. The Boo To You Parade is awesome. The performers in this parade are amazing: the caretaker "shovel band," the Haunted Mansion dancers, the Headless Horseman, the Haunted Mansion caretaker—I'm probably forgetting someone—all were excellent. They absolutely made the parade. I now think the key to any successful parade is: headless people, scrapping shovels on the ground, proclamations of it being "good to be bad," chickens 'bawking' to the beat, and the Country Bears rocking out. Any parade organizers out there reading this, you can thank me later for my solid advice.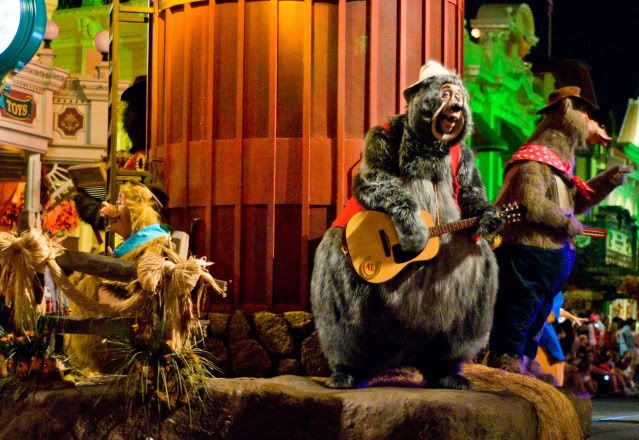 More information about, and photos of, the Boo To You Parade can be found on our Boo To You Parade page.
HalloWishes – HalloWishes is the fireworks spectacular shown only during Mickey's Not So Scary Halloween Parties (click here for photos of the fireworks). It runs only once per night, and is not to be missed. If you view the first Boo to You parade from Main Street, about the time it's over, it would be a good time for you to pick a viewing location for HalloWishes.
This show does have perimeter bursts, and Castle projections, so a location on Main Street USA or near Casey's and the Ice Cream parlor are good options. Don't get too close to the Castle, or you won't be able to see all of the bursts!
While the Boo to You parade exceeds the Christmas parade, HalloWishes does not trump Holiday Wishes! Not even close. Maybe from a pure pyrotechnics perspective, but the show elements of Holiday Wishes are far superior. Can't beat that "Oh Christmas Tree" portion, the wonderful score in general, and the neat juxtaposition of the bursts with various dialogue, sound effects, and the score.
Catch Villians Mix & Mingle After HalloWishes – There is a showing of this right after HalloWishes on the Castle forecourt stage. By hitting Boo to You-HalloWishes-Villians Mix & Mingle like this, you don't run all over the park wasting time. Villians Mix & Mingle is a fun show, and the chance to meet Villians afterward is a great opportunity, as many of these villians are rare. Line up for the villian you'd like to see most, first, as you may only have a chance to see one or two villians before the lines become prohibitively long.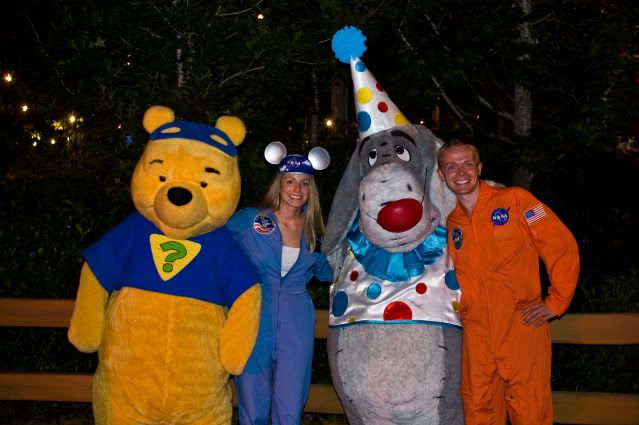 Check Back with Pooh & Friends – If you missed a set of the Pooh characters earlier, return to the line now. It should be after 10 pm, and by this time, this line should be starting to wane. If it doesn't look shorter, instead head to Adventureland and Frontierland and return here later.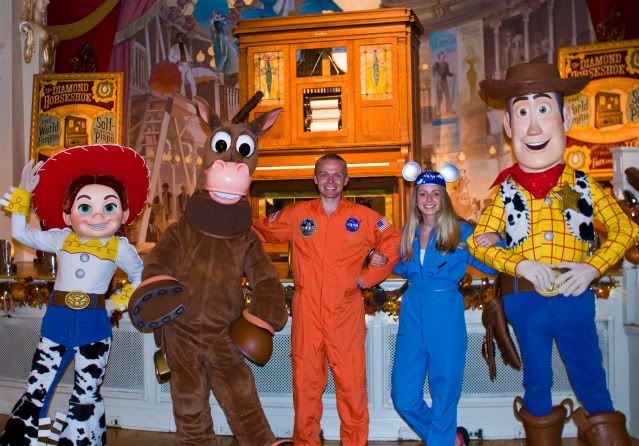 Less Popular Characters in Adventureland & Frontierland – These characters (mostly at the dance parties, but some free roaming ones) don't get very long waits no matter when you go, but we recommend them at this point because Mickey and Minnie's line will still be longer. If you can "wait out" the lines for Mickey & Minnie, do that. If you have youngsters who are tiring, now is not a bad time to visit Mickey & Minnie. New for this year is the Monstrous Scream-O-Ween Ball dance party on the Rockettower Plaza Stage in Tomorrowland; expect to be able to dance (and scream) with Monsters, Inc. characters there.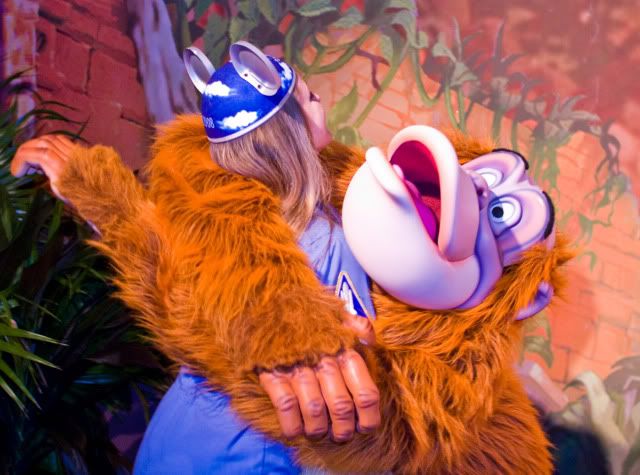 Same is true for the characters over in Adventureland. You should have plenty of time to play around with King Louie and Tarzan over here, as there shouldn't be any lines–this makes for great interactions.
On our recent visit, whomever was friends with King Louie that evening had some rhythm. I've never seen a primate moonwalk quite like that. I guess those big ape-feet are good for something! Tarzan and Terk are just as much fun and should have just as short of a wait. In our experiences, Tarzan is "unintentionally" hilarious. He's a lot of fun, so definitely take the time to interact with him, and not just pose with him for photos. If you need ideas for interacting, read our Disney Character Meet & Greet Tips.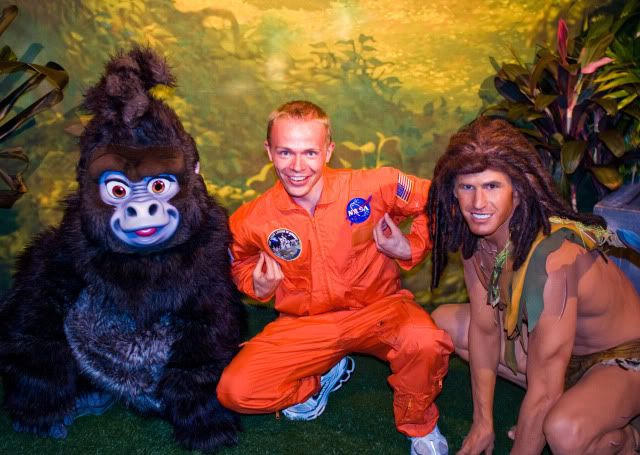 If meeting with characters and having some fun are more important than just getting cool pictures of them, then these locations in Adventureland and Frontierland are the hidden gems of the parties. At both Mickey's Very Merry Christmas Party and Mickey's Not So Scary Halloween Party, we've had a blast having extended interactions with the characters. This is the case because later in the evening, these characters typically have NO LINES. You won't get that kind of interaction from the "big" characters who have huge lines!
Jack Sparrow – Captain Jack Sparrow isn't lumped in with the above because he's not "less popular." He usually meets outside Pirates of the Caribbean, and his waits can be fairly long. At this point in the night, they shouldn't be too bad, though. If the wait is long, check back after the second Boo To You Parade.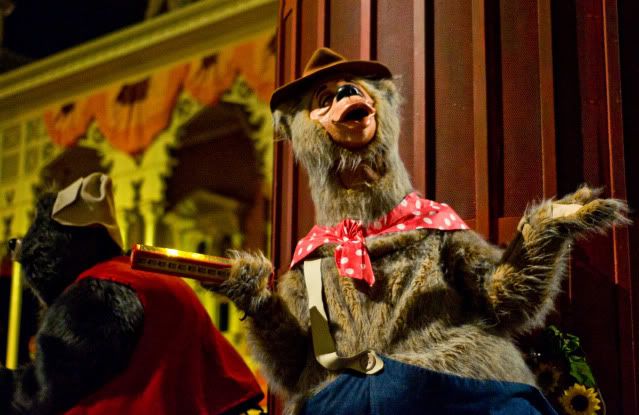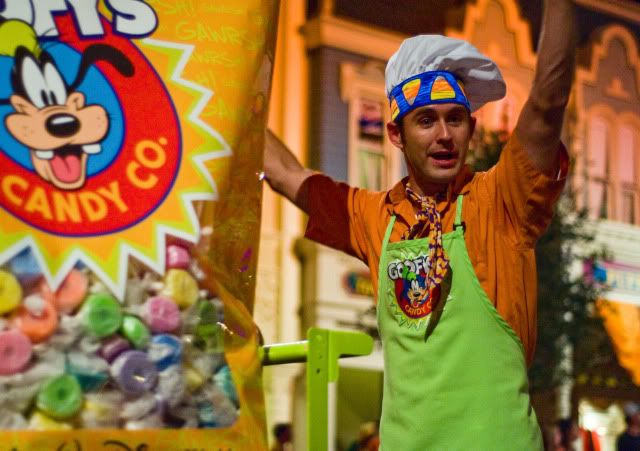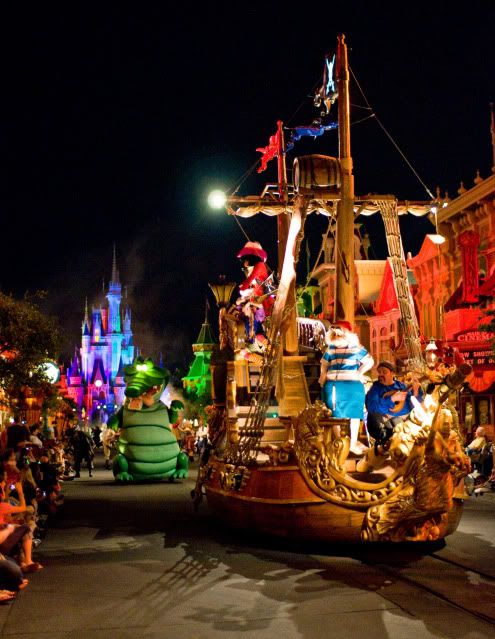 Second Boo To You Parade – If you've already seen the first parade from Main Street, watch the second parade from wherever. If you find yourself with free time 15 minutes before the parade steps off, head to Frontierland. Main Street is our favorite place for viewing the parade, but unless you didn't get all of the photos you wanted during the first parade, you definitely don't want to head to Main Street and wait for it to come all the way to you again.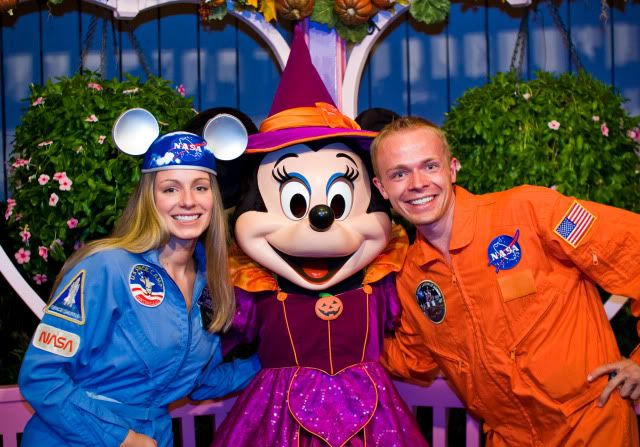 Main Street Theater Meet & Greets (Mickey & Minnie) – It seems that after 11 pm is the best time to visit the Princesses and Princes, and Mickey and Minnie. Unlike the line for the Dwarfs, which doesn't get much shorter before being cut off for the night, the lines for Main Street Theater do. The Princesses and Princes meet together at the party, which is rare. The wait should be incredibly short for Mickey & Minnie, and a bit longer for the royalty, as opposed to it being mobbed only a couple of hours earlier. If you can't do this at the very end of the party, do it as early or as late as possible, but not immediately after a parade.
Now that Mickey & Minnie are in the front of the park, their line doesn't seem to be so consistently bad throughout the Party. Your mileage may vary on this one, but we still recommend going towards the end of the Halloween Party.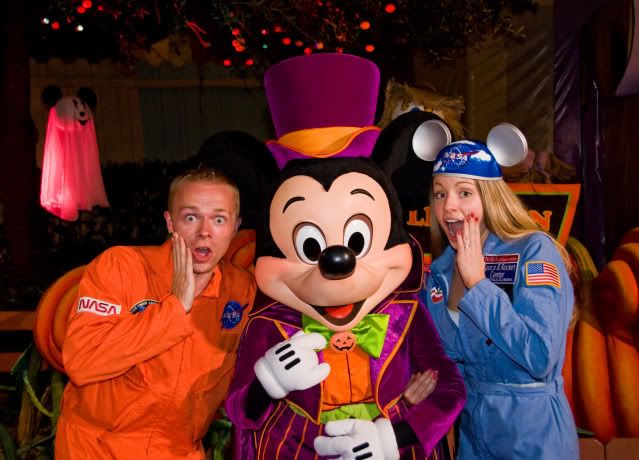 Princess Fairytale Hall - Princess Fairytale Hall opened halfway through the 2013 Mickey's Not So Scary Halloween Parties in the old location of Snow White's Scary Adventures. Although the location in Fantasyland is prime, since this spot is indoors and has (ahem) added capacity, we have not heard of lines being too bad. Since they are princesses (and princesses are popular) you might be in for a bit of a wait, but we don't expect one at this time of the night.
Sorcerers of the Magic Kingdom Card – This is not something about which we care, but if you want the exclusive Halloween Party Sorcerers of the Magic Kingdom card, go as late as possible to the Fire Station. The line was pretty long for this throughout the entire night, but seemed to die down as the evening wore on. Another alternative would be to go while one person holds spots for the parade if you view it from Main Street.
Haunted Mansion – The Haunted Mansion is usually busier than normal during the Halloween Party, and since it's the same attraction as normal, we don't recommend waiting in an above-average line. Instead, consider visiting just for photos, as the Haunted Mansion does have a unique lighting package for the Halloween Party, and there is usually a "special effects" PhotoPass photographer in the area, too.
While we also manage to spot an above-average number of "free roaming" characters during Mickey's Not So Scary Halloween Party, that number seems to be decreasing with each year. My biggest complaint, and this is entirely personal to me, is that the Country Bears are not out like they are for Mickey's Very Merry Christmas Party. Then again, I think the Country Bears should always be out. Those bears rock. I think they should actually make of subset of Frontierland and coin it "Bearland."
Review & Conclusion
Overall, Mickey's Not So Scary Halloween Party is a great event that every guest should experience at least once if money allows. It's especially great for character meetings, the Boo To You Parade, and the HalloWishes Fireworks.
There is enough on the schedule that you need to have a good strategy to accomplish everything, and there is plenty to do during the Halloween Party to keep you entertained–enough that you might want to forgo doing any attractions and finding another day in the Magic Kingdom for those.
When we do Mickey's Not So Scary Halloween Party, we always leave plenty of things undone. Entertainment is consistent from year to year, with some minor things added each year, it seems, making it difficult to accomplish everything on the map. This is especially true if you have youngsters who may want to trick or treat, which does take some time.
We skip trick or treating entirely–if we liked candy, we could buy it at home far cheaper than the $50+ our tickets cost. It's not just the unique parade, fireworks, and rare character meet and greets that make this party special. There is an excitement in the air (maybe it's all that sugar) and the guest costumes really liven things up. On top of that, the Magic Kingdom gets decked out for the party, with cool decorations, an excellent lighting package, and even different background music. It's these little details that make the party worth the money for us.
If these photos have whetted your appetite, visit our Mickey's Not So Scary Halloween Party Photo Page!
For Walt Disney World trip planning tips and comprehensive advice, make sure to read our Walt Disney World Trip Planning Guide and related articles.
For updates on Walt Disney World, the latest news, discount information, and tips, sign up for our free monthly newsletter!
Your Thoughts…
Have you attended Mickey's Not So Scary Halloween Party? Do you think it's worth the money? What's your own "can't miss" thing to do during Mickey's Not So Scary Halloween Party? Share your thoughts on these questions, or anything else, in the comments!