Mickey's Very Merry Christmas Party is a special hard ticket event held in the Magic Kingdom at Walt Disney World. For 2014, the party will be held on select nights in November and December on the following dates: November 7, 10, 13, 14, 16, 20, 21, 30; December 2, 4, 5, 7, 9, 11, 12, 14, 16, 18, and 19. After December 19, the party entertainment will be available to all day guests (and included in theme park admission), but waiting until Christmas week also means going during the busiest time of the year, and when rooms and dining are most expensive. We will have a full schedule of the exact 2014 Mickey's Very Merry Christmas Party dates once they are announced.
Here are our Christmas party tips for 2014, based upon our experiences attending the party for the last five years. The Mickey's Very Merry Christmas Party 2013 schedule is now set, with parties starting in early November and continuing through December! Ticket prices will vary for 2014 based upon whether you purchase in advance or on the day of, are a child or adult, and whether you have an Annual Pass, Disney Vacation Club membership, or some other affiliation that entitles you to a discount. In any case, the event is not cheap, starting at $62 for children with advance purchase on select nights and exceeding $70 for adults on the "Premium" night! To purchase tickets, visit Disney's Mickey's Very Merry Christmas Party page.
That said, if you're visiting Walt Disney World in November or December, Mickey's Very Merry Christmas Party is an absolute must-do! But more on that later. First, let's provide an overview of the events to those who haven't been.
Overview
Here are the things that Mickey's Very Merry Christmas Party includes, that are unique to the parties (at least for November 8th through December 20th):
Mickey's Once Upon A Christmastime Parade (VIEW OUR PHOTOS)
A Totally Tomorrowland Christmas Show
Celebrate The Season Stage Show
Character Dance Parties (usually in the Golden Horseshoe and Cosmic Ray's Starlight Cafe)
Holiday Wishes Fireworks
Disney character Meet and Greets with characters dressed in their holiday attire
Complimentary cookies and hot cocoa
Snow on Main Street
It's worth noting that after December 19, 2014 through the remainder of the holiday season, the standard daytime parade in the Magic Kingdom becomes Mickey's Once Upon a Christmastime Parade, and the Holiday Wishes fireworks are shown nightly. This entertainment is arguably 75% of the draw for Mickey's Very Merry Christmas Party, but in exchange for not having to pay extra to see these things, you will face some of the worst crowds of the year after December 18th. If you want the best of both worlds, there are some other tricks you can use. So obviously there's a trade-off! Now that we've set forth what entertainment you can expect at the parties, let's give you some more details, tips, and our review!
Tips
Mickey's Very Merry Christmas Party doesn't offer as much entertainment or as many unique character meet & greets as Mickey's Not So Scary Halloween Party, so utilizing some sort of advance plan to maximize your time isn't really necessary. You should be able to tour at a much more leisurely pace, and still experience everything.
Mickey's Once Upon A Christmastime Parade – Given the excellent lighting, ambiance, oh, and SNOW on Main Street, USA, it's one of the best places from which to view the parade (which steps off in Frontierland). We typically get a spot at the end of Main Street so the Castle is directly in front of us as we watch the parade. Most of the photos on this page were taken from that location, or near that location. You really must view this parade from Main Street. Nowhere else even begins to compare.
This is an absolutely awesome parade. Most people I know prefer the Boo to You parade over it, but I think I'm in the minority who prefers Mickey's Once Upon A Christmastime Parade. It has marching toy soldiers, dancing reindeer and gingerbread men, and ever the big man himself, Ole Saint Nick! The floats are cool, Chip & Dale are mischievous, and Mickey & Minnie are dressed in their holiday finery. I will admit that I have a soft spot for anything related to Christmas, but c'mon, how could you not love this parade?!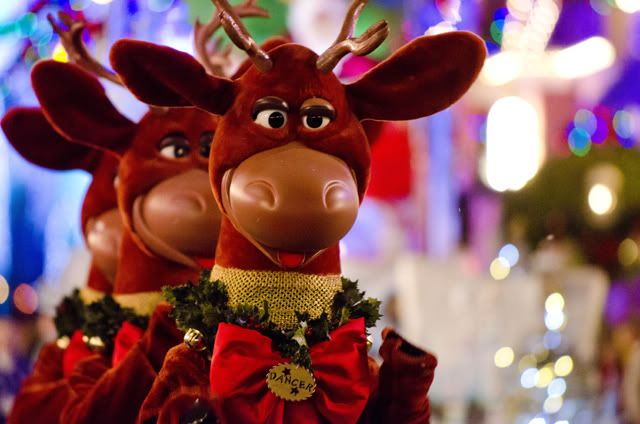 As far as touring goes, the second parade is usually less crowded, but we always like to watch both showings of the parade, as it's really that good. If you watch the second showing and really enjoy it, you can't go back in time and watch the first, so you may want to consider watching the first if you think you might want to see it twice. If you know seeing it once will be sufficient, definitely skip the first showing in favor of the second.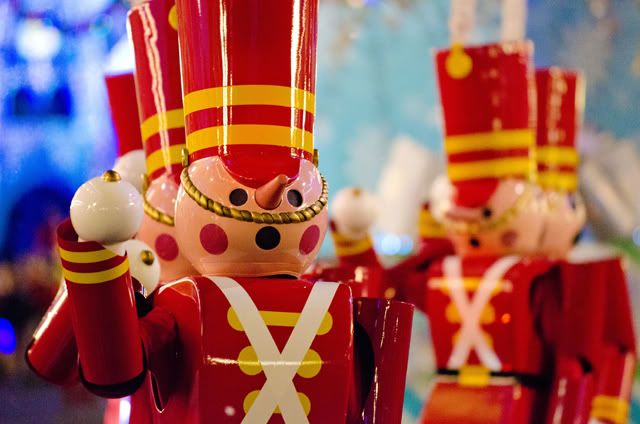 A Totally Tomorrowland Christmas Show – 2010 marked our first time attending Mickey's Very Merry Christmas Party since the Tomorrowland theatre had been razed, so it was our first party not seeing Mickey's Twas the Night Before Christmas. Well…I can't say I totally hated A Totally Tomorrowland Christmas. Actually, it wasn't as bad as I've heard some people say it is. It's cute, and Stitch is not super annoying in it (actually, he's cute and endearing), but it is no Twas. Not even close. Without regard to the 'Twas' show that no one can see now anyway, A Totally Tomorrowland Christmas is pretty fun. I had some of the songs stuck in my head afterwards, and the performers were fun. Make sure you at least give it a chance. We now make a point of watching A Totally Tomorrowland Christmas at least once per year.
Celebrate the Season Stage Show – Celebrate the Season is a really fun show, although the story is not the greatest. The main attraction here is seeing all of the characters, dressed up in interesting costumes, acting oddly, and dancing. I don't really think the story is even of paramount importance to enjoying the show, as it's really fun to just watch the characters play dress-up in the Christmas setting.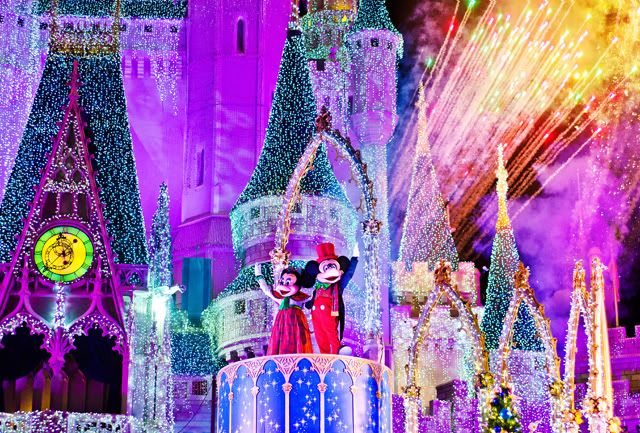 Character Dance Parties – There are typically two of these, the better of which (by far) is in the old Golden Horseshoe building, and is called Woody's Hootin' Holiday Round-Up. If it's a cold night, this is a great place to go inside and warm up for a bit, plus the lines for hot cocoa and cookies are usually fairly short here. The Golden Horseshoe looks great decked out for Christmas.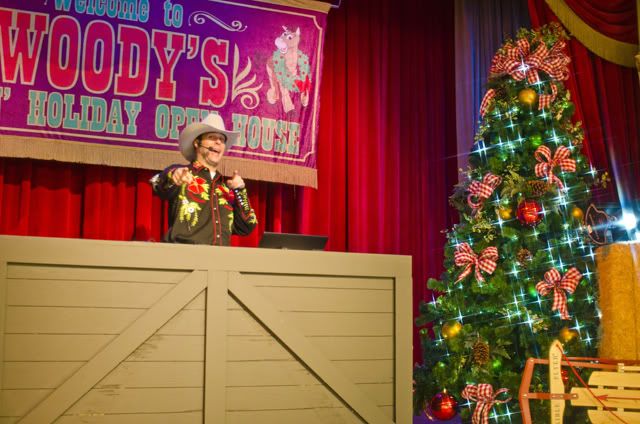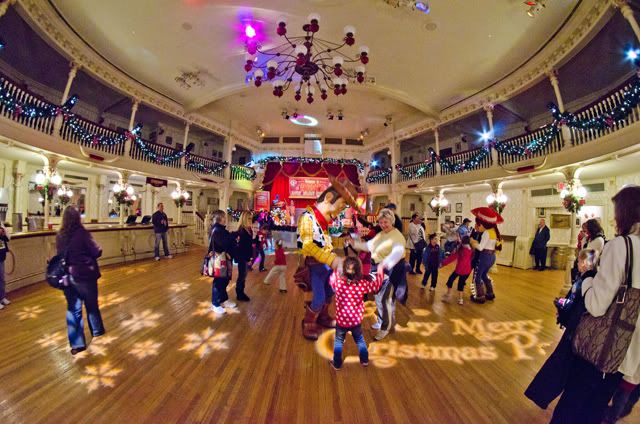 Holiday Wishes! – One of the highlights of the night is the fireworks show, Holiday Wishes. Holiday Wishes is amazing in its ability to thematically incorporate fireworks so they fit not only the name of the show, but more importantly, with the accompanying song lyrics. For those who have seen Holiday Wishes, who among you, when you first heard and saw the "O Christmas Tree" portion of the show didn't melt a little inside? While the fireworks play an important role, the lyrics truly deserve more than just a passing mention.
I've long thought that the standard Wishes! fireworks spectacular was a little on the soft side lyrically, but perhaps I have formed this opinion after hearing how well Holiday Wishes' soundtrack was assembled. I am not exactly musically-inclined, but I would like to think I know something well-done when I hear it. From its opening, with "Spirit of the Season" (which coincidentally is one my most played Christmas songs on iTunes; if you like Christmas music, you owe it to yourself to pick up the Walt Disney World Holiday Wishes CD
from Amazon.com!) to the conclusion, the soundtrack is perfect. Its transitions are wonderfully done, as it often goes from drastically different songs without seeming forced. Plus, there's the Christmas theme of the show that really makes it even more endearing for me. It's definitely one thing you must see if you're going to Mickey's Very Merry Christmas Party, and a highlight of the evening for many guests!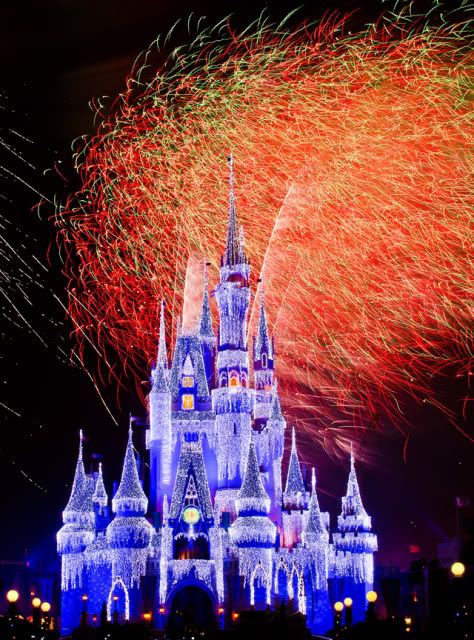 Character Meet & Greets – If you want to meet all of the characters at the Party, this is one area where you might want to employ a bit of strategy. First, get in line early (prior to 7 pm) for the Seven Dwarfs. It's unclear where they'll be appearing this year, but we expect them to be in New Fantasyland near the walls the Seven Dwarfs Mine Train (unless it soft opens early).
As long as you visit the Dwarfs early before a line accumulates, you should be fine. The stars of the party, the Country Bears, rarely attract crowds (more like, "who are you?" questions) as they wander the parks, and they are an incredible amount of fun if you stick around to 'play' with the bears. If you happen to find them inside the Adventureland Veranda (the hot cocoa spot in Adventureland) or the Golden Horseshoe, you can really have some fun with them. We spent nearly an hour at one party doing this.
Mickey & Minnie are most accessible near the very end of the party, however, there can be small "rushes" on them as guests decide to visit them on their way out of the park. Keep this in mind when contemplating when you should visit them and Santa Claus.
Complimentary Cookies & Hot Cocoa – There are stations to get these all over the park. Although reasonable mind can differ on this, I think these free refreshments are delicious. Just thinking about them as I write this makes me hungry, and transports me back to memories of many a cold night sipping on hot cocoa to keep warm (it doesn't work, but hey, why not try?!). Lines for refreshments can get bad near the front of the park (Crystal Palace especially) near the parade-time, but most of the time, you won't encounter too bad of crowds.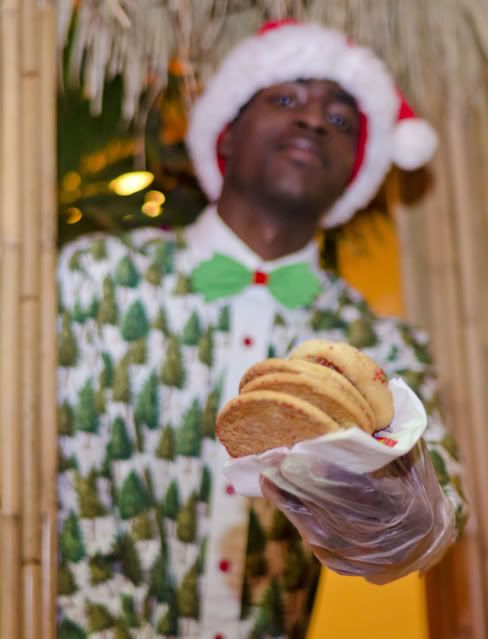 Snow on Main Street - From what I understand, this isn't "real" snow, but it sure does look like it! Children and adults alike watch in amazement as snow falls on dry pavement in Florida. This is really a special sight, and between this, the wonderful music, and the decorations, Mickey's Very Merry Christmas Party really does have that Christmas feeling!
Review
Like I said above, we're huge Christmas fans. We've been to the party around a dozen times since 2007, and plan on going back for the 2014 Mickey's Very Merry Christmas Party. In 2010, we went to three Mickey's Very Merry Christmas Parties! We went again a couple of times in 2011. In 2012, we only got one chance to go. Anyway, it should be clear that we absolutely love the Christmas Party. The Magic Kingdom gets decked out for the party, with cool decorations, snow, an excellent lighting package, and even different background music. It's these little details that make the party worth the money for us–even if it is around $60 each for us. While some contend that you're better off saving the money and seeing the fireworks and parade for free the week of Christmas, this is really just part of what the parties offer (not 75% of it as some many contend). The ambiance and other little details are what make these parties great. To be sure, if you're on a limited budget and your trip includes dates before and after the Party ends, you should consider skipping the party. It's also worth noting that these hard ticket parties used to be "known" for low crowds and, as a result, short waits. This is still true on certain nights, but it's no longer the rule. Many party nights are just as crowded (sometimes more crowded!) as a normal night in the Magic Kingdom. So if you haven't been to a Mickey's Very Merry Christmas Party in a few years, this is something that might have "changed" since your last Party.
However, if you've never been to  Mickey's Very Merry Christmas Party, love Christmas, and aren't fond of Christmas-week crowds, Mickey's Very Merry Christmas Party is definitely for you, and an event we'd recommend if your budget allows!
As far as value goes, if you're not an Annual Passholder, attending a Mickey's Very Merry Christmas Party actually becomes a more economical proposition. Simply purchase a Magic Your Way ticket for one fewer day than you otherwise would, and do  our FREE self-guided resort hotel tour the morning of Mickey's Very Merry Christmas Party, then head to the Magic Kingdom at 4pm. You'll want to visit the resort hotels to see their decorations, anyway, so in effect you save yourself from having to purchase one day on your Magic Your Way Tickets by doing this (in other words, if you normally would buy a 5-day ticket for your trip, buy a 4-day ticket and follow this plan instead).
Granted, that additional day to your ticket that you otherwise would have purchased would have only added on $10-30 in cost to your total package, but if money is the issue, this should help in making Mickey's Very Merry Christmas Party tickets more palatable, cost-wise. To save even more money on multi-day Walt Disney World tickets, we highly recommend Undercover Tourist, an authorized ticket broker selling CHEAPER tickets than you can buy directly from Disney. Between the day less on your tickets and the amount you'll save by purchasing through Undercover Tourist, your Christmas Party tickets are basically free!
Overall, I think Mickey's Very Merry Christmas Party is worth the money, but I understand that it is expensive, and its prices continue to rise, reaching an all-time high in 2013 (it will likely increase again for 2014). I don't see this trend reversing itself anytime in the near future. Like many things at Walt Disney World, it's worth trying at least once! There are a lot of great free offerings at Walt Disney World during the Christmas season, from the Osborne Lights to Candlelight Processional, but we still feel Mickey's Very Merry Christmas Party is worth the money to do once per year if your budget allows. If the special offerings listed here don't appeal to you, I would strongly advise you not to attend for the lighter crowds, because on some nights the lighter crowds turn out to be quite heavy. It's definitely not worth the money if all you'll do is attractions.
For comprehensive tips for planning your Christmas-time trip to Walt Disney World, check out our "Ultimate Guide to Christmas at Walt Disney World." For Walt Disney World trip planning tips and comprehensive advice, make sure to read our Walt Disney World Trip Planning Guide and related articles.
For updates on Walt Disney World, the latest news, discount information, and tips, sign up for our free newsletter!
Your Thoughts…
What do you think of Mickey's Very Merry Christmas Party? Which aspect of the Christmas Party is your favorite? Are you going in 2014? Please share your thoughts in the comments!