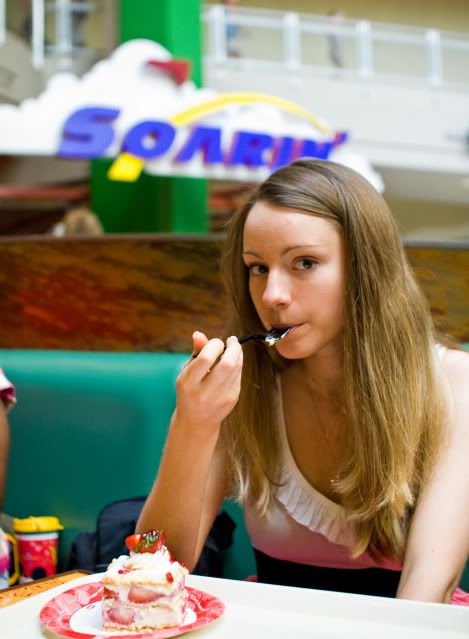 Epcot's Sunshine Seasons is the best counter service restaurant at Walt Disney World. It offers a wide variety of choices, including many healthier ones, with some of the best desserts at Walt Disney World. Along with Cosmic Ray's Starlight Cafe, it's the only restaurant we visit on each trip to Walt Disney World. Whereas Cosmic Ray's is mostly a sentimental and value for money favorite (thanks to the burger toppings bar—I pile about six times as many toppings on the burger as it can conceivably hold, then just dig in; many mushrooms become casualties during the meal), I have to say that I prefer Sunshine Seasons from the perspective of the food.
Sunshine Seasons participates in the Disney Dining Plan as a counter service meal. Like most in-park counter service restaurants, it does not accept the Tables in Wonderland card. If you are on the Disney Dining Plan and want to eat here, you're in luck, because as this restaurant is an exceptional value on the Disney Dining Plan (to read about the other best restaurants for getting the best bang for buck on the Dining Plan, click here).
Thanks to all of the great restaurants at Epcot, we had not discovered Sunshine Seasons until our Summer 2009 trip. On that trip we first shared the Rotisserie Half Chicken and mashed potatoes, and we were instantly hooked. The chicken was tender and moist (miracles at a quick service restaurant) with plenty of flavor. Similarly, the mashed potatoes were not the standard 'instant' type you find at many quick service restaurants, but were soft with a buttery and herb flavor. For only $9.99, we were shocked at the quality of the meal. Since that trip, I don't believe we've eaten a counter service meal at any other restaurant in Epcot.
Also on that trip, we discovered the Key Lime Pie. This was easily the best dessert we'd ever had at a counter service restaurant. Much to our surprise, though, it also surpassed most desserts we'd ever had at table service restaurants, too! Everything about it, from the rich tangy flavor to the lightly singed cream on top (a nice touch, we thought), to even the excellent graham cracker crust made it a dessert to be reckoned with.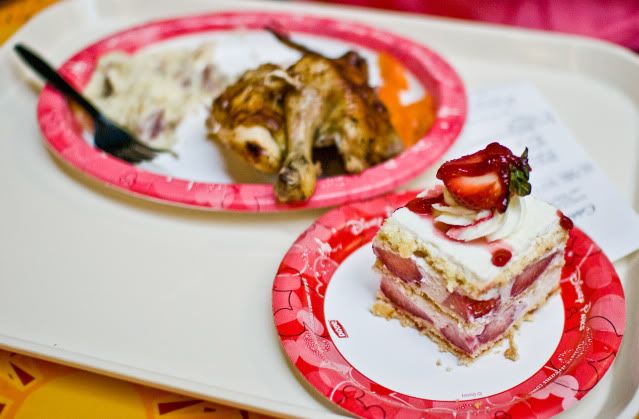 The Key Lime Pie is not the only dessert that's excellent at Sunshine Seasons. I would rate the Strawberry Shortcake and Chocolate Mousse Cake very highly, and the Asian Chocolate Cheesecake highly. And those are just of the desserts we've tried! Sunshine Seasons has a full section of desserts, most of which look just as delicious as these.
On our honeymoon in June 2010, I made it my goal to give some of the other options there a try besides the chicken and key lime pie, so I opted for the sandwich you see pictured, the Turkey and Monterrey Jack Cheese on Foccacia. The sandwich was great; nice and "fluffy" for lack of a better term (yet filling), and the dessert was rich yet good (not nearly as good as the key lime pie). Unfortunately, as of December 2010, that delicious sandwich is now on a dry bread and again the chicken is my dish of choice. While not listed, you can get the chicken with whatever sides are available at its station. Just because the excellent mashed potatoes are not the "customary" side does not mean that you can't elect to have them. Opting for a side other than the mashed potatoes would be ill-advised.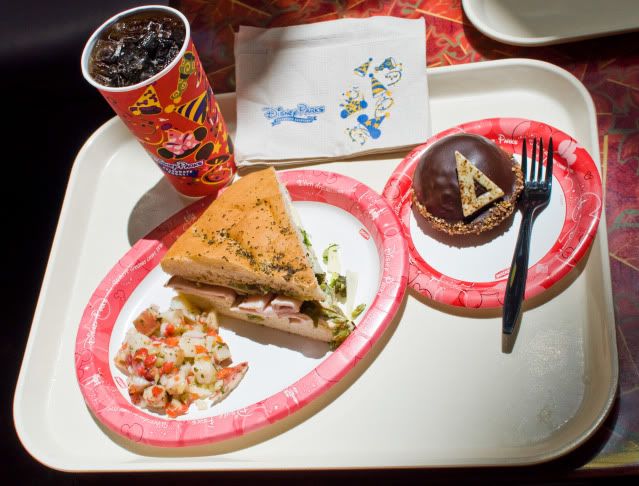 On top of the food quality, we've found the restaurant's location to be perfect for our touring style, as usually we can use our first FastPass for Soarin', eat lunch, then head for a relaxing voyage on Livin' with the Land after lunch. Of course, there have been a couple of times where we've been so hungry (or arrived to the park a little late), and Sunshine Seasons made a good stop right after picking up our Soarin' FastPasses.
Plus, while it doesn't have Sonny Eclipse, the atmosphere of Sunshine Seasons, even at its most hectic times, is never as bad as Cosmic Ray's. Sunshine Seasons always seems tranquil and like a healthy place to eat. For me, this is no doubt because of its location in The Land pavilion, a pavilion I associate with the earth and healthy living and eating. Even if the food isn't actually good for you, it sure seems like it is!
While the food obviously isn't on par with Kona Cafe, California Grill, or another great table service restaurant, it's also not comparable in price. In its category, Sunshine Seasons is the best-performing restaurant at Walt Disney World. It's right up there, I think, with a lower-tier table service favorite of mine, Beaches and Cream at Disney's Beach Club Resort. Heck, it can even go toe-to-toe with some table service restaurants that cost twice as much. It truly is that good. It has a varied selection of food, that, by theme park standards, doesn't taste overly fatty or unhealthy. Although the hustle and bustle of The Land pavilion is nearby, Sunshine Seasons does a reasonably good job of secluding guests from the Soarin' Stampede. I almost dinged Sunshine Seasons a point for tinkering with the bread on my favorite sandwich, but all things considered, that would be unfair, especially since I believe menu change and experimentation is a good thing.
Your Thoughts…
Do you agree that Sunshine Seasons is the best Counter Service restaurant at Walt Disney World? If so, which entree is your favorite? If you don't like Sunshine Seasons, why not? Share your thoughts in the comments!
To read other Walt Disney World restaurant reviews, check out our Disney Dining Reviews Index.
Overall Score: 10/10