Christmas 2008 Trip Report Pt II
The next day was the day of Mickey's Very Merry Christmas Party. We had told Nick the night before that we'd decide that morning whether we were going to Animal Kingdom that morning since the weather was predicted to be bad. Well, the weather was bad, so rather than waste a day of our tickets (no-expiration 10 day passes) for a morning at AK, we decided to do a tour of the resorts to see their decorations.
Even that may have been a poor idea. While it was only raining lightly when we left for the tour, by the time we met Nick for our first stop, at the BoardWalk Resort, it was beginning to sprinkle. Our decision to walk to the Yacht and Beach Clubs despite this sprinkling would ultimately be a bad one. Before continuing complaining about the weather, I should note that the Christmas decorations were absolutely beautiful, and were well worth getting wet to see. If I were to stay in one of these resorts at Christmas, I think I could never go to my room for the night–I'd just spend the entire time in the lobby starring at the decorations.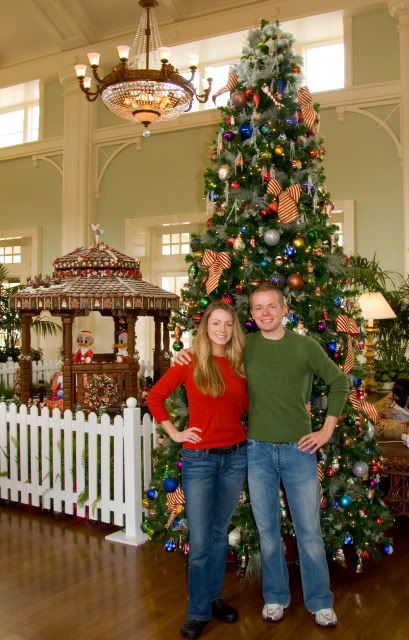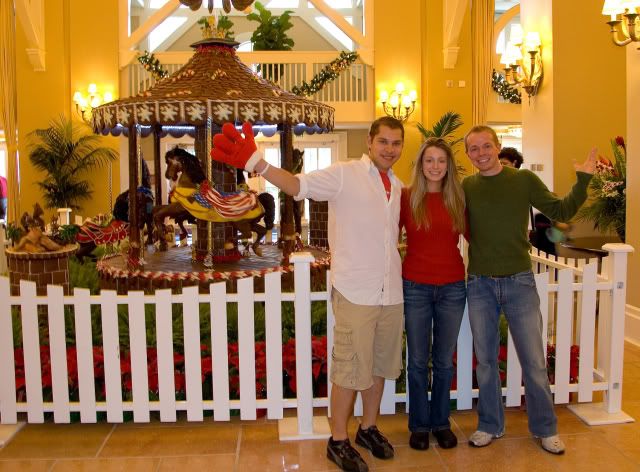 We decided to wait at Beach Club to see if the rain would subside before going back to BoardWalk. Naturally, we decided to get some ice cream since the weather was so bad. We headed down to Beaches & Cream, and got burgers as well as some delicious ice cream. In retrospect, we should have just split a Kitchen Sink, as what we ended up getting was only about $7 less, and the pictures and memories of getting a Kitchen Sink would have been well worth it! Oh well, next time, I suppose.
When we finished at Beaches & Cream, we found that the rain had escalated to a torrential downpour. We ran back to BroadWalk, getting soaked in the process. Graciously, Nick offered to get the car while we waited in the lobby, so we didn't get quite as soaked as we otherwise would have.
At this time, we had to make a stop back at our resort so that I could change clothes. My decision to wear a sweater that day was a bad one, and I did not want to risk it getting (any more) wet. Sarah and Nick waited in the car while I ran back and changed, which ended up being a bad decision on their parts, as the rain mostly stopped by the time I got done changing, meaning that I had dry clothes for the rest of the day, while they both waited hours for their soaked pants to dry.
After that quick stop, we headed to the Ticket and Transportation Center, where we caught the monorail to the Polynesian to see its decorations. The decorations there were beautiful, as were those at the Grand Floridian and the Contemporary. We still didn't get a chance to see the decorations at the Wilderness Lodge (which I've heard are great), but again, that's something we'll hopefully do on another trip.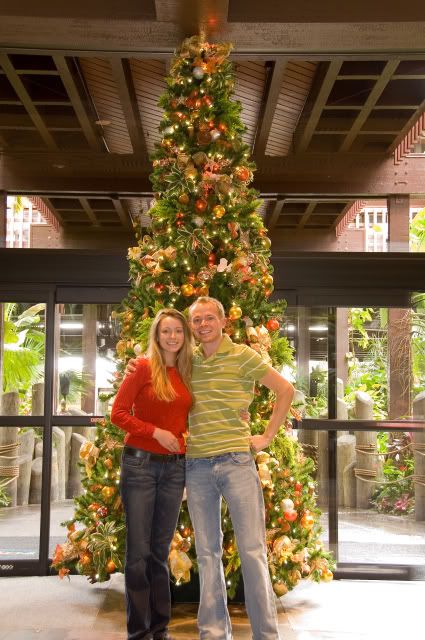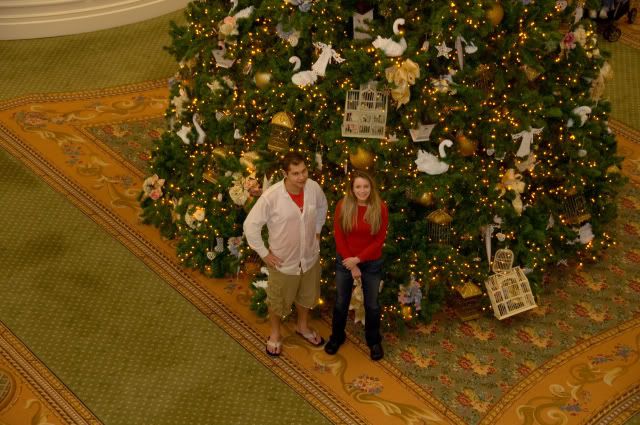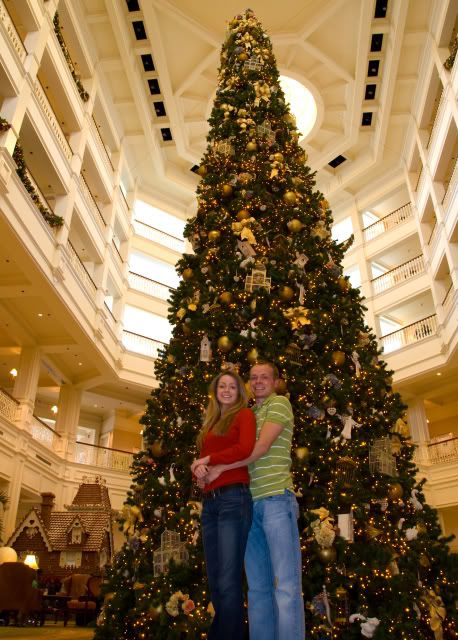 Following our loop around the monorail resorts, we headed to the MK. We arrived at around 3:50, and waited in line with the other MVMCP early-arrivers until 4 p.m., when we would be allowed inside. The line cheered once we got the okay to begin entering, and the part began!
Once inside, we started the party how you should start any good Christmas party–with a visit to the Haunted Mansion! We then hit some of our favorites, including the newly refurbished (and wonderful looking and sounding) Country Bear Jamboree. While I really wish the changes would have included the Country Bear Christmas overlay, I've come to accept that this is one battle the "fans" are not going to win–at least with WDW's current short-sighted management.
After we ate at…guess where…Cosmic Ray's, we headed to the hub to watch the Castle Lighting Show. This is one of three things involving the Castle that manages to choke me up a little. The others are Wishes and The Kiss Goodnight. That said, I think my opinion of this show is pretty clear–it's one of those things that really makes me feel that magical Disney feeling. There are few things like watching the Castle magically transformed from its normal look to its icy look.
We then headed over to the Galaxy Plaza Theatre to see Mickey's Twas the Night Before Christmas. As we approached, we were told that it was standing room only; luckily for us, we were selected for VIP seating in the second row! The show was wonderful, with great costumes, sets, music, and choreography.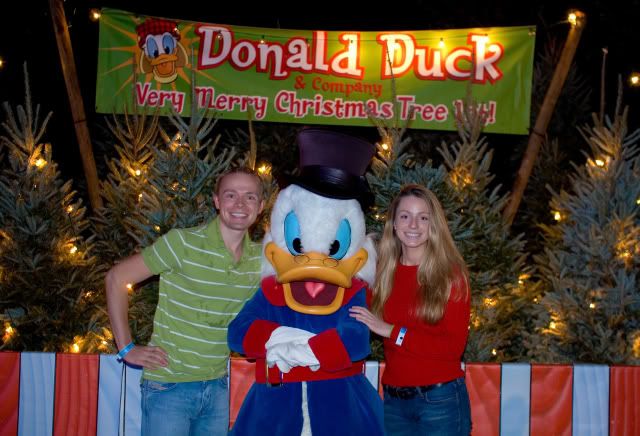 Following that, we decided to head to the hub to get spots for Mickey's Once Upon a Christmastime Parade which was due for its first showing 30 minutes from when we arrived. During our wait, it rained on and off, more on than off, though. Due to this raining, the parade was delayed twice. At some point while waiting, I finally realized that this parade does not travel in the same direction as SpectroMagic! Dangit! I specifically selected our spot as it would be a great location with the Castle providing additional light for photography, and would also provide a nice background element. However, since the parade traveled the opposite direction than what I thought it did, there was nothing but black sky in the background–we probably had one of the worst possible locations as far as photography goes. This didn't end up mattering too much, as by the time the parade arrived, we were overjoyed just to see it. Additionally, we ended up catching part of the second parade in Liberty Square, so I ended up getting some additional shots.
By the time the parade was over, it was time to get a spot for the fireworks. Based on advice I received from many posters here (thanks to everyone who offered their advice, especially PhotoDave), we got a great spot for the fireworks. However, based on my own foolishness, I had brought a new tripod that was 14" shorter than my previous tripod (I had to upgrade for stability purposes), and those 14 less inches made the difference between getting unobstructed shots, and getting a nice fat head at the bottom of all of the pictures. Also an issue was that I had not properly experimented with bulb mode, so many of the shots were blown out due to me not selecting a small enough aperture. To add some excitement to the evening, I decided to lose my memory card with the vast majority of our pictures from the trip during the course of the fireworks. When I realized that I lost it, my heart sunk. I thought it was gone forever, and thus 75% of our pictures from the past two days were gone. Luckily, Sarah spotted it on the wet ground near one of the tripod's legs. I dried it off, hoped with all of my heart that nothing happened to it, and stuck it in the camera. All was fine. Phew.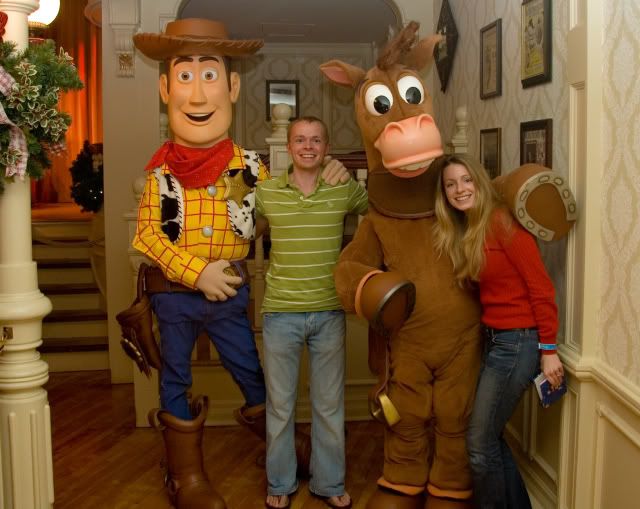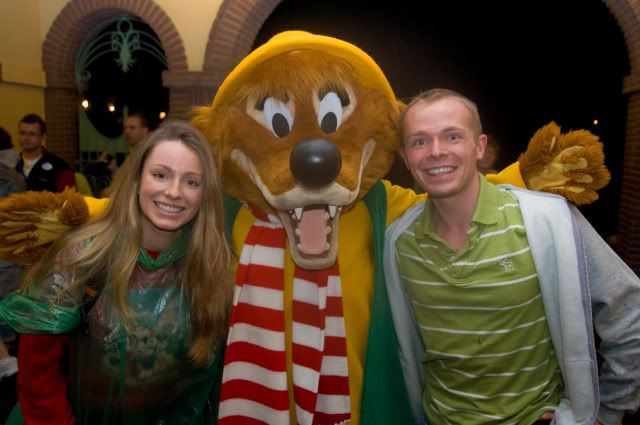 After this drama, we headed over to Adventureland, where we saw some of the Country Bears! Big Al is one of my favorite characters (second to only Figment), so interacting with him is always quite a treat. We played with the Bears for about 45 minutes, getting our picture with the four meet and greet Country Bears, as well as Brer Bear and Brer Fox. The best part was that we had them pretty much to ourselves, since few kids recognize any of the above characters (besides the "Splash Mountain Animals"). The interactions were great–the bears fought for Sarah, and one of them stole a bag of Nick's and attempted to eat its contents.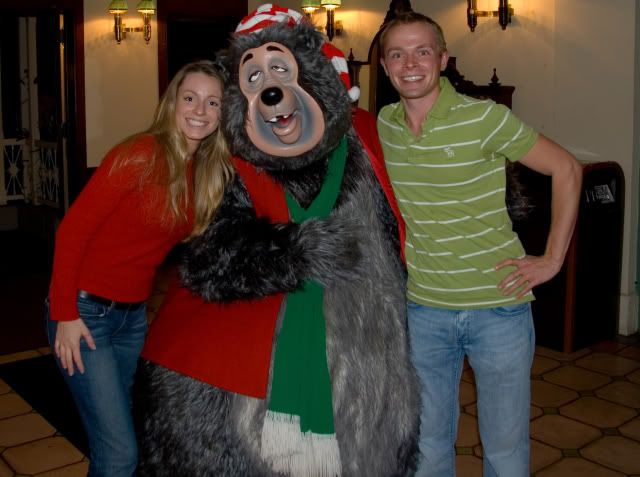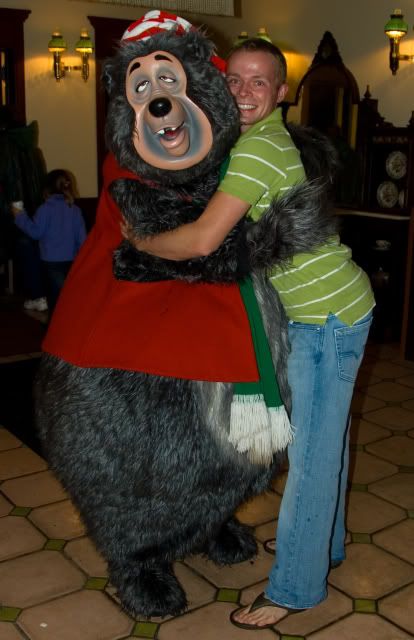 All of the Celebrate the Season shows for that evening were cancelled, so we were not able to see that show (which is another of our favorites), but we understand the need for ensuring the safety of the performers. I think Disney did as good of a job as it could that evening balancing offering the requisite levels of entertainment while ensuring the performers' safety in light of the weather.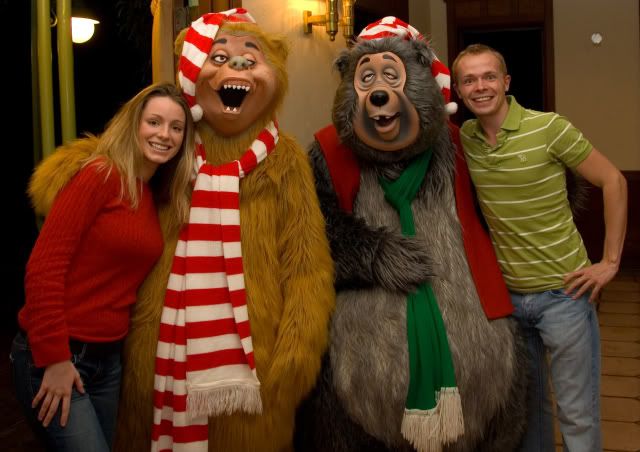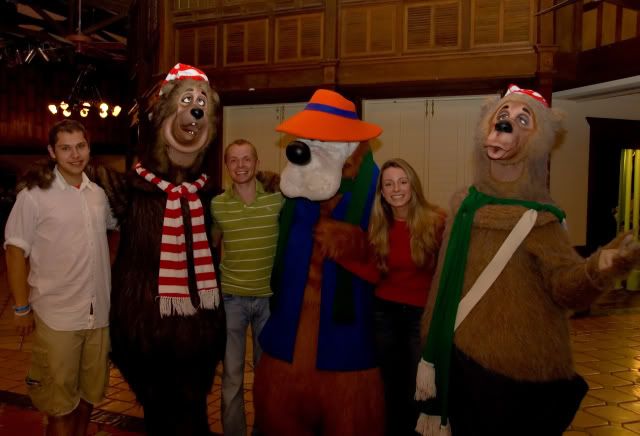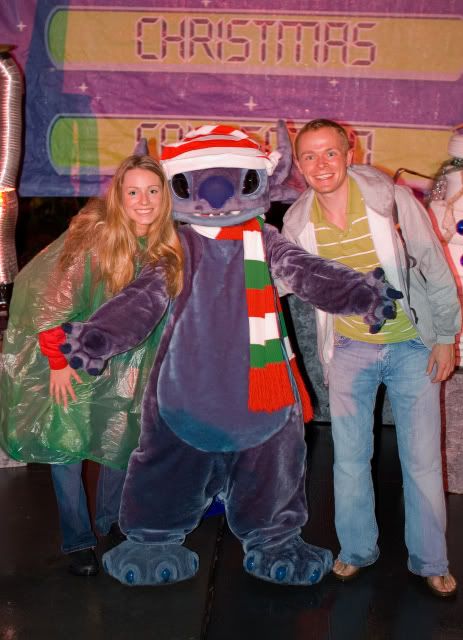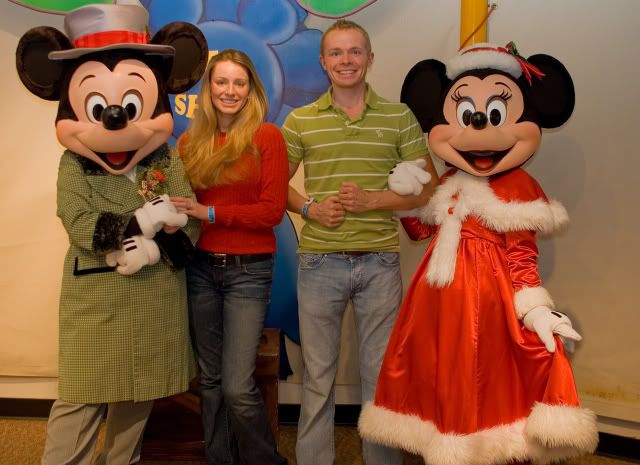 One of my favorite parts of the evening occurred after the park closed. For the first time ever (which is probably a good thing, given the implications that it would have), I got a chance to take After-Hours Pictures with, get this…WET GROUND! This was, quite honestly, a big deal for me, as the wet ground adds some beautiful reflections to many attractions. A couple of examples are below–watch Flickr in the coming weeks for some even better (in my opinion) shots.
In the process of setting up for the below picture, we ran into Gorjus again (we had seen her on our previous trip twice, and she and Sarah ran into one another once before on this trip, too) It's always fun to see people who we know from the forums (we saw one other individual on the trip, at the Osborne Lights); it shows that it's a small World!
Despite my getting more pictures than usual that evening (thanks to quickly scurrying around so that we didn't get barred from going backwards into the park), we headed home earlier–at only 1:15 a.m.! Thanks to the rain and the cold, we were again the last guests out of the park. Success!
When we got back to the resort, I decided to get some night shots of Pop Century. While I don't prefer the over-the-top look of the resort over many of the intricately themed resorts, I appreciate it for what it is, and it makes for some wonderful nighttime photography. After getting the shots I wanted, I headed to our room, and bed, shortly after 2 a.m.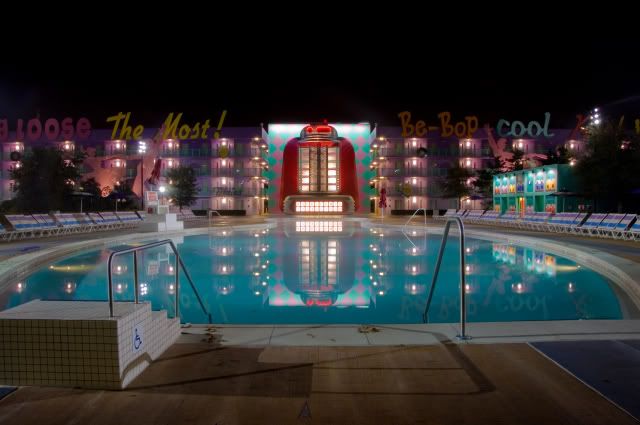 The following morning was our last day, and we made it a point to get to the Magic Kingdom prior to opening. Unfortunately, in our haste, I forgot our tickets! I realized this on the bus, and felt like an idiot (it was entirely my fault, as caring for these tickets is my responsibility). We briefly discussed whether we should go back to get them, or just buy one-day passes. In an uncharacteristic display, we decided to just get one-day passes, and not waste the time (which we calculated at around two hours). This was a very tough decision for us, since we are both extremely frugal, and the difference between a single day on our ten day pass and a single day ticket is about $52 per ticket.
After taking this $104 hit, we entered the parks, and promptly forgot about the wasted money as we entered a sea of unbridled excitement. We quickly made our way back to Frontierland, where we were all alone in the park (besides Cast Members). It was odd to experience that feeling during the daylight hours! We went on Big Thunder Mountain and Splash Mountain with no waits. After that, we wandered around for a bit, getting some pictures before crowds formed, and just generally playing.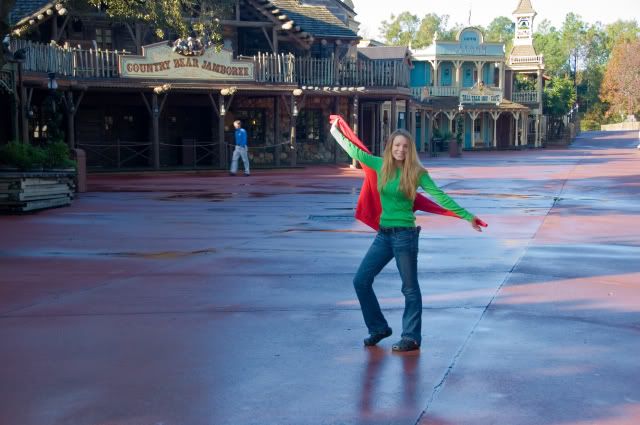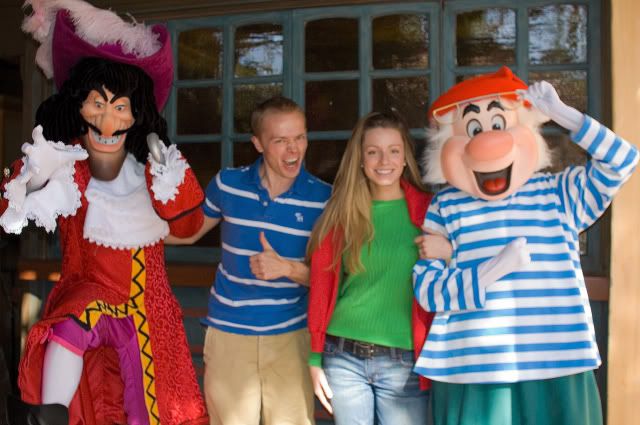 We decided that we would visit some attractions that we don't normally do, so we visited the Swiss Family Treehouse. Having never seen the movie, it wasn't the most entertaining attraction, but it did inspire us to see the movie to heighten any subsequent trips to the Treehouse. The Treehouse was a nice location for photography, though, and I got a couple good shots of Jungle Cruise and Splash Mountain.
Not being able to handle our breakneck pace with late nights and early mornings, Nick didn't meet up with us until around noon. When met us at Cosmic Ray's, he brought personalized Mickey Ears with him! This was incredibly thoughtful of him, and we all were quite excited to sport our ears around the park that day.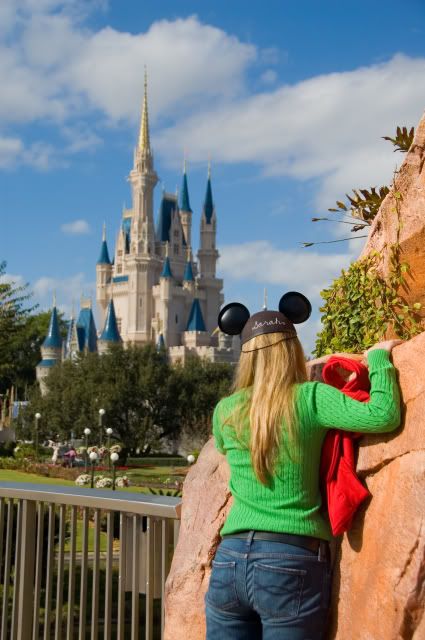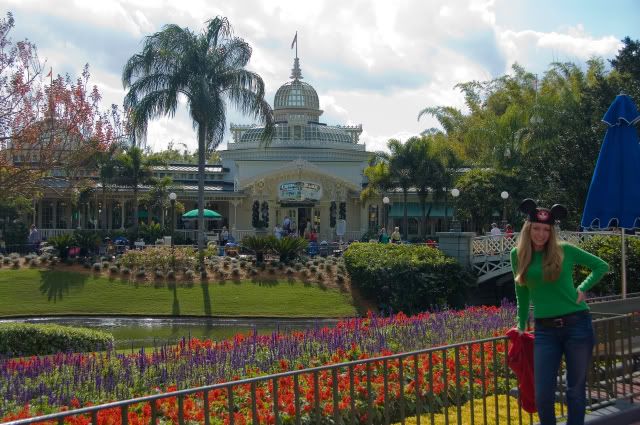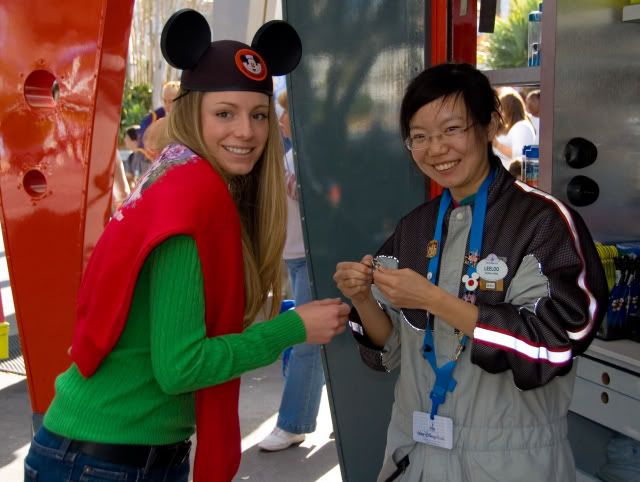 Another of the attractions we don't normally visit that we decided to do on this day was the Indy Speedway. I can see why we normally skip it, but it was mildly amusing. What was really fun was trying to navigate the vehicle while I turned to take pictures of Sarah in the car behind me. That really made for some jerky driving as the car hit back and forth on the little track between the wheels.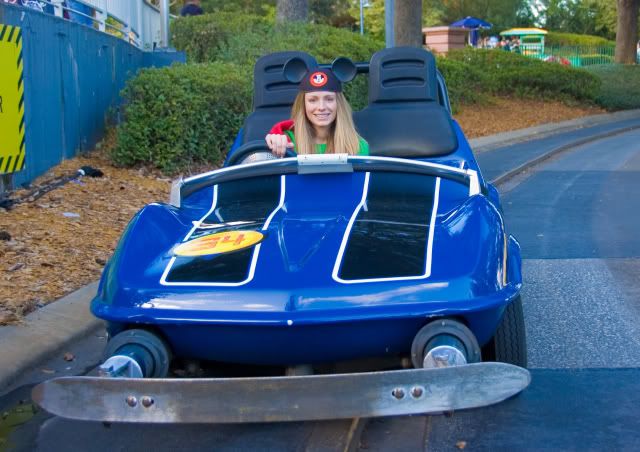 Aside from this, not really much worth noting from the day at the MK. We hit the typical attractions, and interacted with the typical characters. After eating dinner at Cosmic Ray's, we went to get spots to watch SpectroMagic! The bridge from Tomorrowlandhub area was absolutely packed when we got there! However, somehow, we found an excellent spot for Spectro behind some people seated on the curb. I was a little concerned that these people would stand during the parade, but none of them did! (Apparently they share my sentiment that people with front row seats should not stand during the parade). The shots turned out wonderfully. Even though none had the Castle in the frame, because of the angle, I think we had one of the best possible spots on the parade route.
Since the area was so congested before Spectro, after Spectro, we decided to just grab some nearby spots for Wishes! We knew these spots wouldn't be the best for viewing or photography, as they were fairly close to the castle, but we did quite anticipate how the fireworks would appear from such a close vantage. Not a big deal, as we could see most of the fireworks, and the show is special no matter what!
Following Wishes, we headed off to play in the park for Evening Extra Magic Hours. The EMH time flew by; we concluded the evening at Space Mountain, and again began taking After-Hours Pictures in Tomorrowland. Due to some issues with my external flash (specifically, the batteries being dead in it), it took some extra time to get good pictures of us.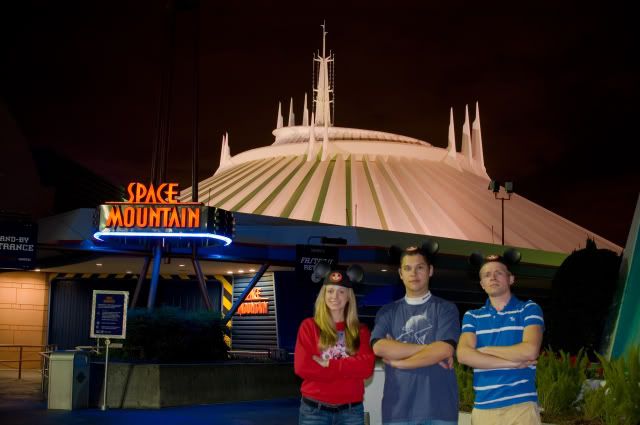 Again, it was a cold evening, so the park pretty well cleared out within an hour of closing. When we finally left at 12:15 a.m., we were the last guests in the park. I'd say three of four days being the last guests in the park isn't bad!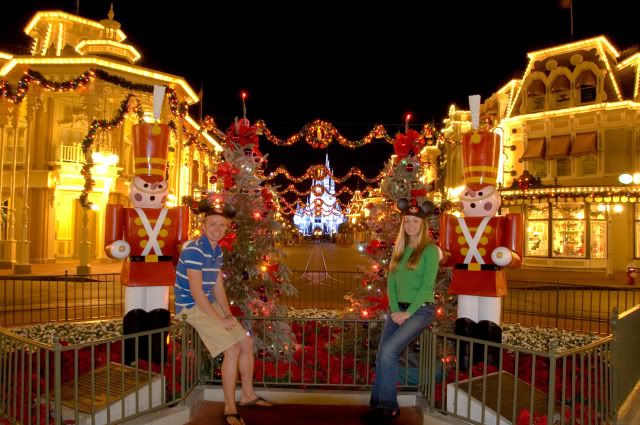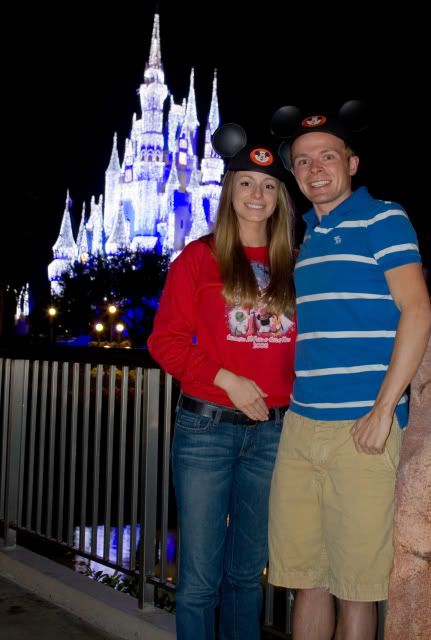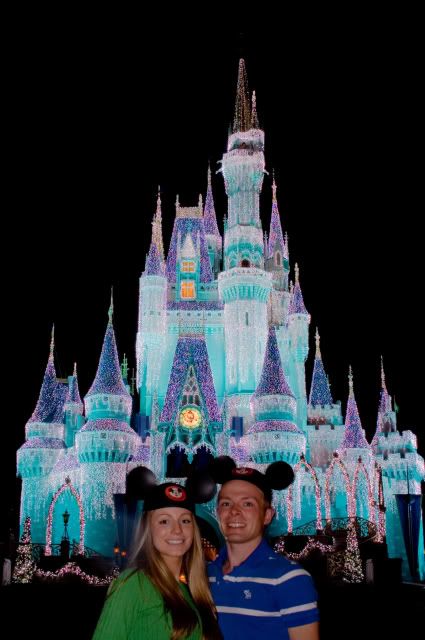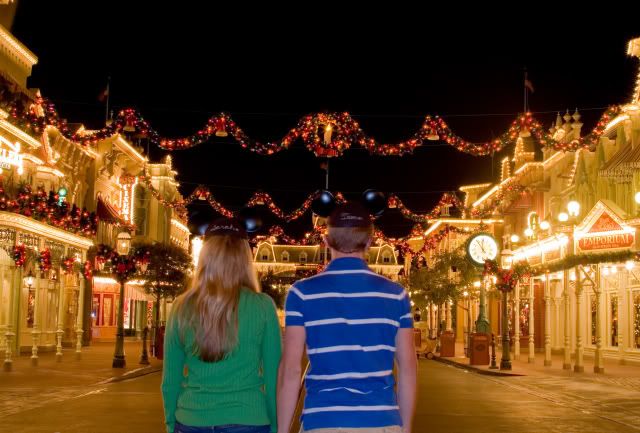 We then headed back to Pop, tired from the day and the trip generally, with the knowledge that we would have to get up at 4:45 a.m. to get ready for our DME return trip to the airport. The next morning came quickly, unfortunately. We left our resort, and made the long trip home, leaving the Magic behind, but taking a little with us in the memories from the trip.
For those interested in seeing more of the pictures I took during this trip, check out my Flickr page–I post pictures there daily (a link to my Flickr account can be found below, in my signature). Also, if you're in need for a 2009 wall calendar, and would like a WDW one, please check out the other link in my signature for the calendar I created that is on sale now at CafePress–each page of the calendar features a different photograph I took this year at Walt Disney World.
Hope you enjoyed my trip report–Thanks for reading.
See Ya Again Real Soon!