Christmas 2008 Trip Report (Pt I)
Part I of II
When we arrived home from our August 2008 trip, Sarah and I both suffered "Disney Withdrawal" pretty badly. Partly, we were upset because we knew it would be at least a year before we'd be going back. Well, suffice to say, that year delay between trips did not happen, as our cases of Disney Withdrawal got the best of us, and "forced" us to book another trip.
When to book was the question. With so many great things we haven't experienced at WDW (Food & Wine Festival, Mickey's Not So Scary Halloween Party, Flower & Garden Festival, etc.), we knew we had to plan the trip around a big seasonal event. We had gotten engaged on our previous Christmas trip, and additionally, the trip was in mid-November, so the focus wasn't entirely on Christmas–by either us or WDW. When we consulted our calendars for school, we found that we'd be able to make a short weekend Christmas trip over Thanksgiving break. Then, we thought more about it, and realized that we probably ought to skip a couple days of classes and "extend" the trip to five days.
Such was how the trip was birthed. We spent the short time before the trip preparing by daydreaming about WDW at inappropriate times, perusing Flickr and various other sites looking at Christmas pictures, and generally shirking our other duties in order to devote as much time as possible to pondering the trip.
All of this paid off, as it (possibly) helped us mentally prepare for the trip, but more importantly, helped us avoid being bored by other things. This mental preparing did not translate into any physical preparation, as we did not pack anything (with the exception of my photography gear) until Thanksgiving evening. We rushed around, throwing together whatever clothes we might possibly wear–December weather in Florida can be tricky, as it's nice during the day, but cold at night.
After packing, we headed to bed, catching a blink of sleep before awaking at 3:50 a.m. and getting ready. Sarah's mom took us to the new Indianapolis International Airport, where were relieved to find that McDonald's had set up shop. We were hardly shocked, but relieved, as McDonald's breakfast is one of our traditions for the morning we leave for WDW. Nothing energizes you for a long day quite like an Egg McMuffin!
With the exception of the wonderful McDonald's establishment, nothing really exciting to report about the new airport. It has all of the typical airport elements, although I didn't see any moving walkways (I might have just overlooked them). That's fine by me–it always irritates me when people get on the moving walkway and just stand there. As I envision them, the walkways are not laziness enablers, but rather, are instruments to facilitate speedier walking.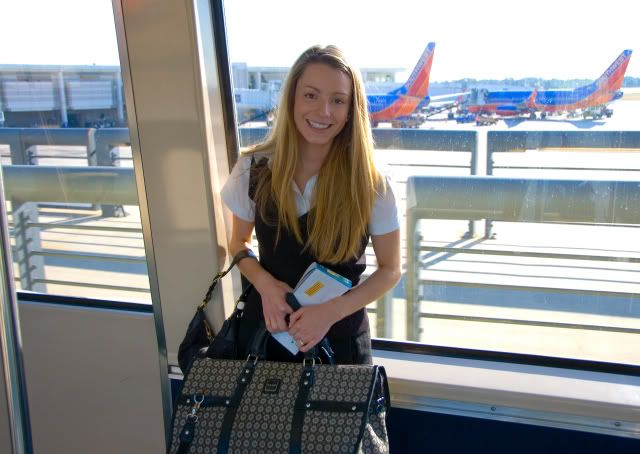 We flew Southwest (as usual), which is always a treat. The plane landed slightly earlier than expected, and we breezed through the Disney's Magical Express line–one of the benefits of staying at Pop Century–which caused us to arrive at Pop Century an hour before the time I had told Nick to meet us. After calling him to inform him of the predicament, he arrived quickly to check us in. Our room was ready at 10 a.m. (talk about service!), so we put our carry-on bags in our room, and changed our clothes.
After that, we were off to Disney's Hollywood Studios. It was by far the busiest I had ever seen the Studios. Absolutely insane. With the continuous talk of the state of our economy, you'd think the crowds would be lighter. Not that I'm 'hoping' for a poor economy to make my WDW trip better, but when I'm waiting in line for a seemingly indefinite amount of time, or even just trying to navigate past a stroller or ECV traveling as slowly as possible, I found myself wishing for the lighter crowds.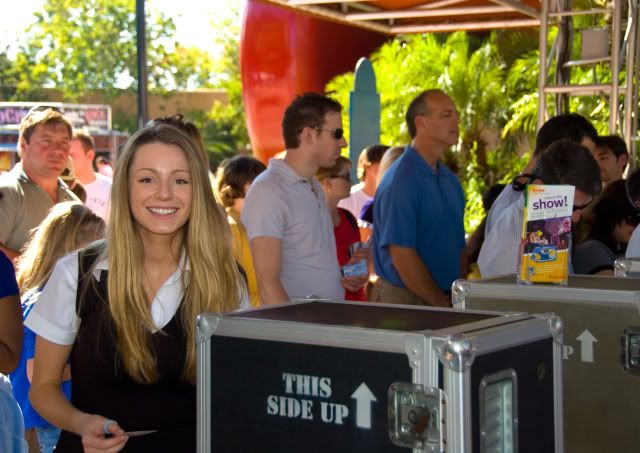 On the topic of ECVs–I think I see disproportionately more of these each time we go to Walt Disney World. Now, I don't want this trip report to be rife with controversy, but I certainly do not think that the number of disabled individuals is palpably increasing each year, so I question the rationales of some of those renting ECVs. To put it bluntly, it seems there are certain "types" of people who rent these devices an awful lot. I'm not suggesting that some of these individuals don't suffer from some sort of disability, but, certainly not to the extent that the ECVs are used. In my opinion, a lot of supposed disabilities are caused by using the ECVs and other similar behavior. But, I digress…
Luckily, we enjoy a number of high capacity and unpopular attractions, so the crowds didn't get to us too much (I've never quite understood the folks who go during the busy seasons and just go to the "thrill rides"–is it really worth it to spend all day waiting in line at RnRC and ToT [in between FastPasses]?).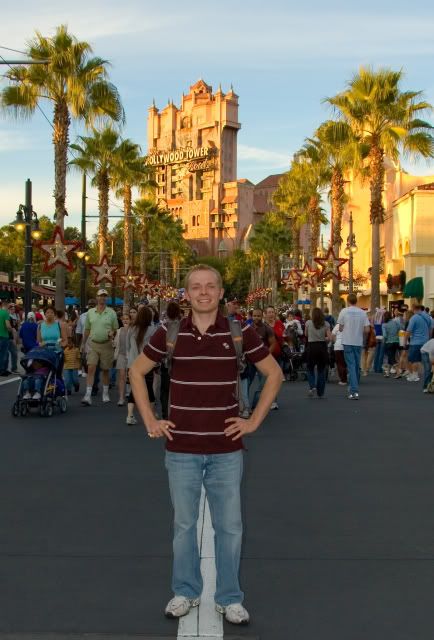 We thus visited The Great Movie Ride and MuppetVision, a few times in between our FastPasses for the popular attractions. My new Sigma 30mm f/1.4 really made a difference on GMR, as I feel I got many shots I otherwise could never have made with a slower lens. The lens was generally helpful on all dark rides and for parades, and it enabled me to get a number of shots otherwise impossible with my walkaround lens.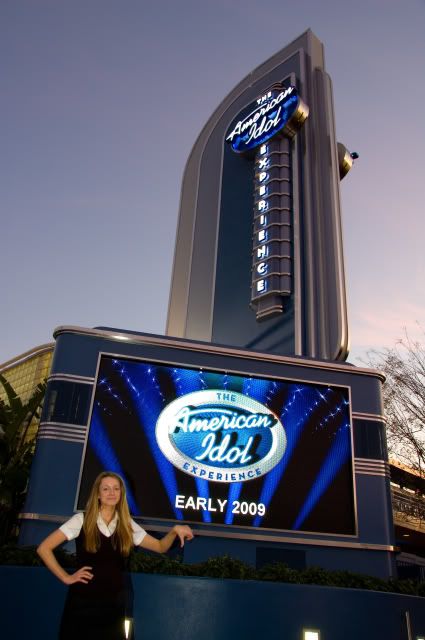 At around 6:30 p.m., we decided to head over the Osborne Lights. It took us about twenty minutes from the time we got into the Streets of America area until we actually entered the area with the lights. This was, in combination because of the aforementioned issues with people simply not navigating properly (perhaps I'm in the minority, but I think the middle of a walkway is a pretty poor place to stop and have a conservation with your party–MOVE TO THE SIDES!) and because the area with the lights was pretty packed. It was well worth the wait. We spent over two hours simply marveling at the lights as they danced, and taking pictures. As huge "Christmas people", it was really something that was really enjoyable for us. I've always had an affinity for Christmas lights–from Tim Taylor's incessant desire to beat Doc. Johnson in the annual neighborhood lighting contests on Home Improvement to videos on YouTube of people with their own lights dancing to Trans Siberian Orchestra–and I hope someday to put up a display my neighbors will find obnoxious.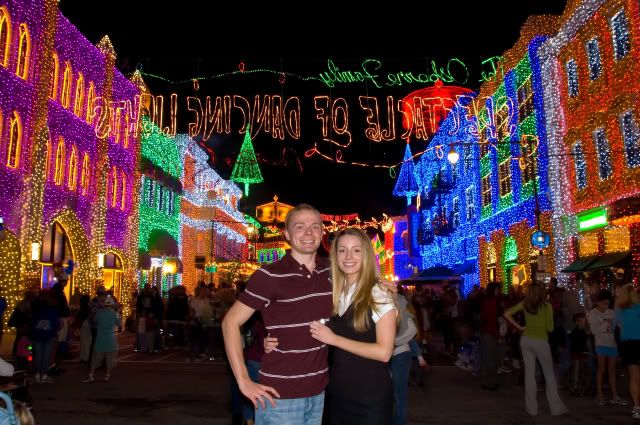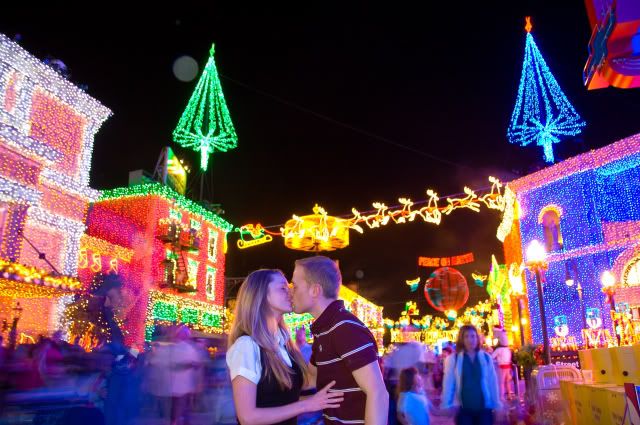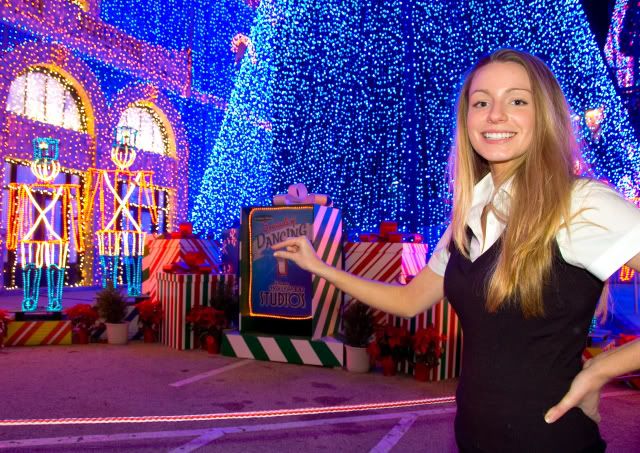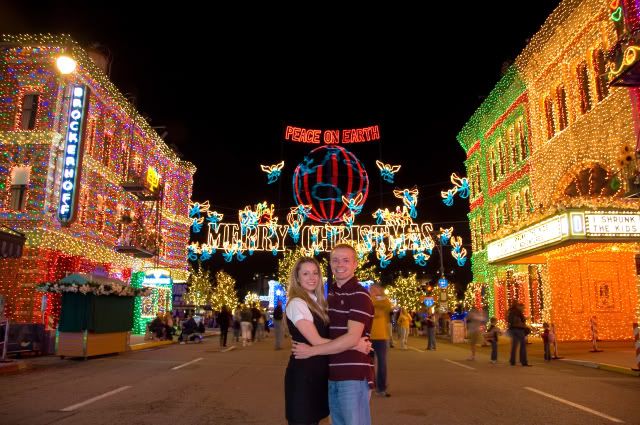 When we finally headed out of the Streets of America an hour after DHS had closed, we began taking our After-Hours Pictures (I've decided to capitalize th
is and treat it as a proper name as so many people have recognized me as the "After-Hours Picture Guy", the "Park Closed Picture Guy", etc., so I guess I've become typecast in such a manner). Despite us starting our After-Hours Pictures an hour after the park closed, it was more busy than most parks right after closing. I attribute this to the Osborne Lights, and I fully understand why so many people stayed late (if 9 p.m. can be called late). We quickly took some pictures, and headed off to Magic Kingdom, which was open until midnight.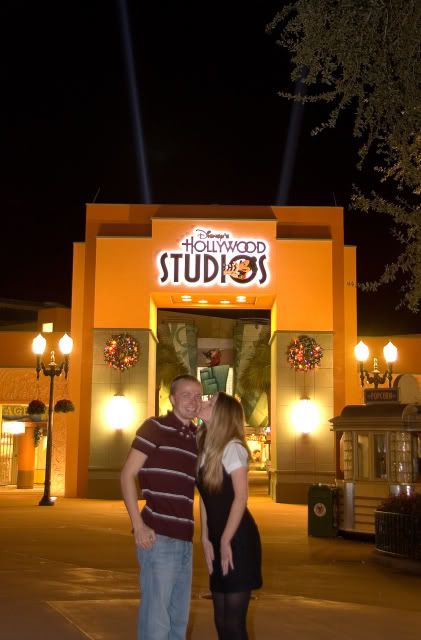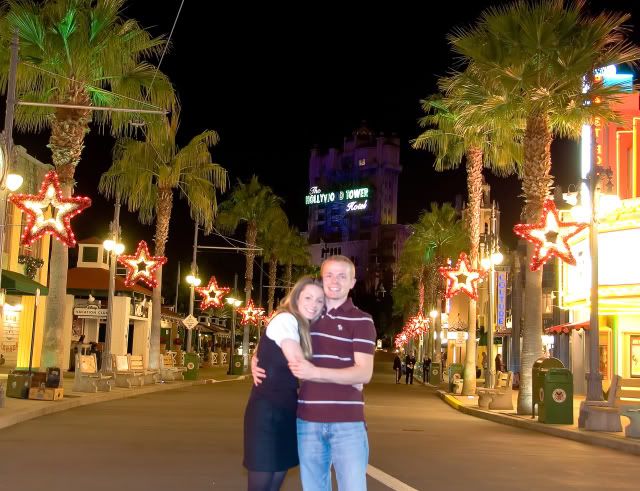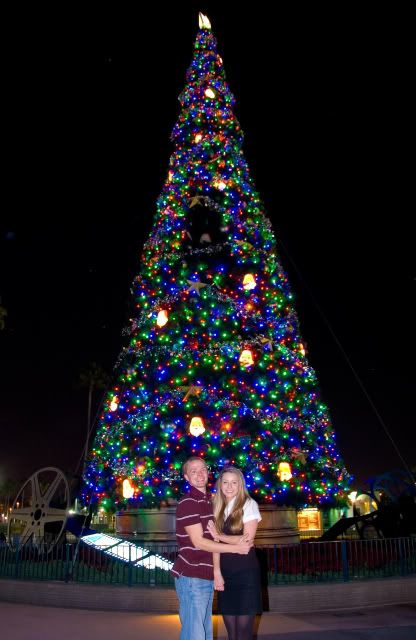 We caught the bus to Magic Kingdom right away, and to our surprise, we made it in the park right as the 10 p.m. showing of SpectroMagic headed up Main Street. I was absolutely shocked that we got there in time, and even more surprised that we got a good spot with the Castle in frame as we ran ahead of the parade so that we could watch it from the start.
After the parade, we headed over to my favorite restaurant in the world (real world and the World)–Cosmic Ray's. This may be saying a lot for a quick service restaurant, but with the amazing music of Sonny Eclipse, the delicious fixings on the topping bar, and the amazing memories, no matter what cuisine I taste elsewhere, I don't think anything will ever top Cosmic Ray's. After all, it isn't only the food that makes for a great dining experience–it is the total package. No restaurant in the "real world" can compete–mostly because of the above, and because of what's located outside the windows at Cosmic Rays: the Magic Kingdom.
After a delicious meal and hearing Sonny's entire set, we headed off to the Tomorrowland Transit Authority, where we usually start out any evening in the MK. While I always ponder the various little changes that could be made to improve the TTA (less blank space!), the more I ride it, the more I am endeared to it. It's classic Disney, and it offers a neat backstory to Tomorrowland.
After that, we headed over to our other Tomorrowland favorites: Space Mountain and Buzz Lightyear's Space Ranger Spin. Both were as enjoyable as always, and the latter brought up an interesting topic. I know my opinion isn't going to be the popular one, but I want to see if anyone else agrees with me; I stated to Sarah and Nick that I preferred Buzz over Toy Story Mania. They were shocked, and vehemently disagreed. Although I think the ride is generally dirty (mostly the queue), I prefer the immersive environments of Buzz over the video screens of Toy Story Mania. I also like being able to control the ride vehicle, so overall, I prefer Buzz. I understand the arguments for TSM, but I think these are important factors giving Buzz the edge.
We rounded out the evening with two more classics: Haunted Mansion and Pirates of the Caribbean. Before heading onto Pirates, we went to the nearby bathrooms. After exiting the bathrooms, we saw some very cool "mop art" of Goofy, Mickey, and Donald. It was our first time seeing the mop art in person after seeing so many pictures of it online. It just goes to show you how many extremely talented Cast Members Walt Disney World employs, and how important it is to many of them to brighten guests' days. It was just one of many examples of how Disney CMs made this trip, and every one of our trips, magical for us.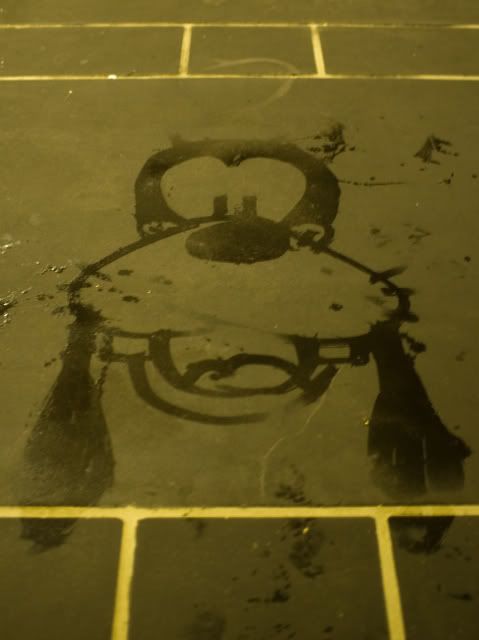 I successfully took pictures on PotC for the first time, thanks to the new lens. Although I got some keepers, the new lens partly reaffirmed my belief that I need to upgrade cameras to the Nikon D300, because of its high ISO capability. What I wouldn't give to have a crack at the helmsman scene on PotC or the caretaker (at the gate) scene on Haunted Mansion with this lens and the D300's ISO. It almost makes me salivate!
After PotC, the park was closed, and we began taking our After-Hours Pictures. We began in Adventureland, and quickly moved to Frontierland before heading to the coup-de-gras of Walt Disney World Christmas Pictures–Cinderella Castle and Main Street USA. We took many pictures there, before finally heading towards the exit at 1:20 a.m.. By this time (over an hour after park closing), we were about the only ones in the park besides Cast Members. It looked like we were the only guests left in the park (a goal of ours for each night of the trip), so we headed to the tunnel. However, right as we went under the tunnel, I noticed two other guests seated in front of City Hall. Only one night into the trip, and we had already failed our goal–rats!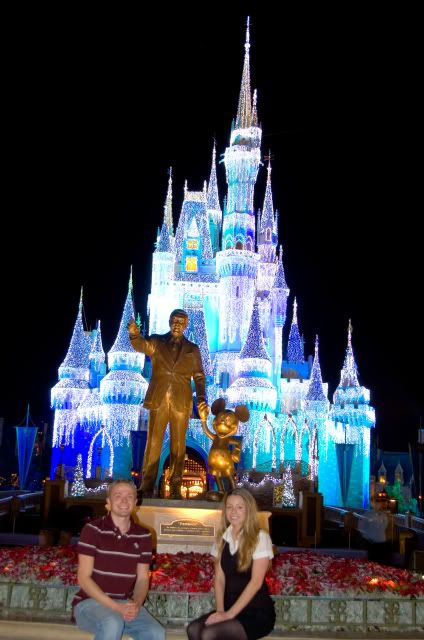 One benefit of staying so late is that you never have to wait for a bus–there are always about twenty empty buses from which we can choose. We asked one of the bus drivers about this, and he told us (I know, I know, but let's not go there) that they have buses waiting for people who may be out at the various restaurants or other resorts; since the buses from the resorts won't take them directly to another resort, they have to go to MK first. This makes sense, but it seems there would be a more economical system for doing this. The point is, there is no reason for Disney to have 20 buses idling at MK in the wee hours of the night when only a few people are likely to actually use them. I would much rather see WDW cut costs here than with many of the other cuts that we've seen recently. Why not take people back to their resorts when it's really late by using the vans that DVC uses?
Given that the previous day was quite long, we decided not to arrive at DHS at 8 a.m. the following morning to do an hour's worth of EMH before taking the Friendship boats over to EPCOT. Instead, we slept that extra hour, and went directly to EPCOT at 9 a.m. When we arrived, we made briskly headed over to the Land to get Soarin' FastPasses. After that, we made the typical Future World rounds, hitting our favorites as quickly as we could before World Showcase opened. As your typical smarta**, I made a face while SpaceShip Earth took my picture, which made for an interesting descent…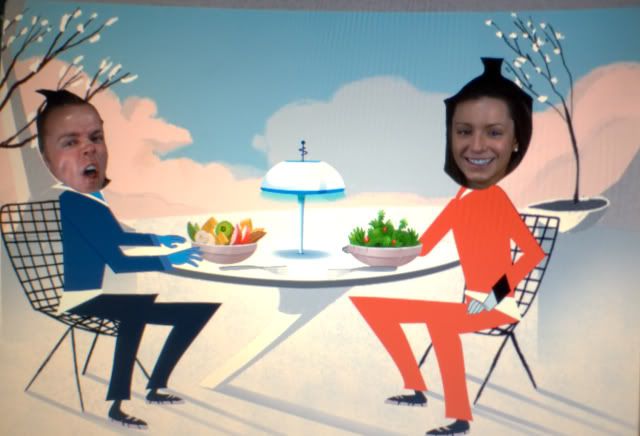 Once World Showcase opened, we headed over to see the Holiday Storytellers who give brief performances concerning the Holiday traditions of their respective countries. We first caught France's Pierre Noel. He told of a French brother and sister, one who believed in him, and one who didn't, which was fairly amusing.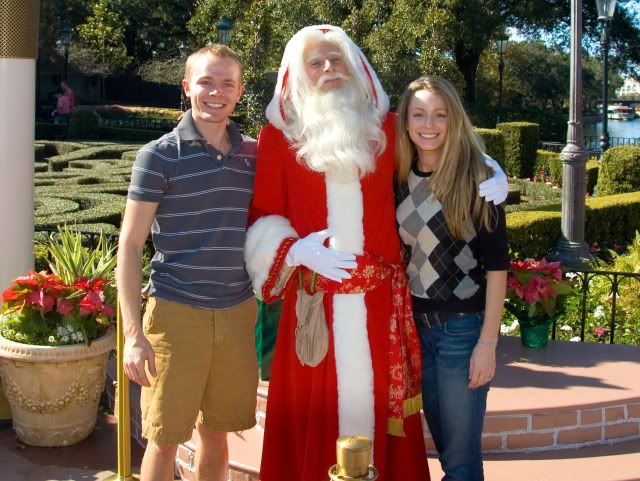 After that we headed all the way over to America, as none of the other countries in between had performers out yet. When we got to America, we decided to see the Hanukah storyteller. This was by far the worst of the storytellers. It was almost as if Disney did not plan on having a Hanukah storyteller, but decided to "throw one out there" at the last minute to accommodate the Jewish religion. While I see nothing wrong with that, I find it annoying that the storyteller was simply an ordinarily clothed Jewish woman. I know Judaism contains culturally rich holiday figures just as any other religion, and I found it irritating that Disney would not include one of those figures. The performance was completely sanitized of any culture, seemingly so Disney could pay face to the religion to appease people. Either do it right, and have the performance keep with the rest and be actual performances, or don't offer them at all. I was disappointed, to say the least.
Far from disappointing was the Voices of Liberty. Performing traditional Christmas Carols, the Voices of Liberty were absolutely amazing. If we had the time, I think we would've gone back to see additional performances. They are that good. Additionally, their attire at Christmas is stunning. We loved the Dickensian (and maybe Victorian?) look of their outfits.
No stop in America is complete without a viewing of the American Adventure. As I've made known before in my Flickr captions, I am unabashedly proud to be an American. I think America is the greatest country in the world, and while I understand that this type of attitude is why so many other countries hate us, I hold to my belief (although I do recognize that the country does have a great number of problems, I believe that what we have accomplished as a nation in such a short time is undeniably impressive). The American Adventure helps corroborate this belief, as it shows the great minds America has seen in her short existence. I don't know how anyone can walk out of there feeling anything but a great sense of patriotism and inspiration.
After the invigorating experience that is the American Adventure, we headed to Canada where we saw their storyteller. Like the French Santa, Canada offered an immersive experience with both an interesting story and character. Following that, we headed back over to Future World, where we had reservations for the Garden Grill.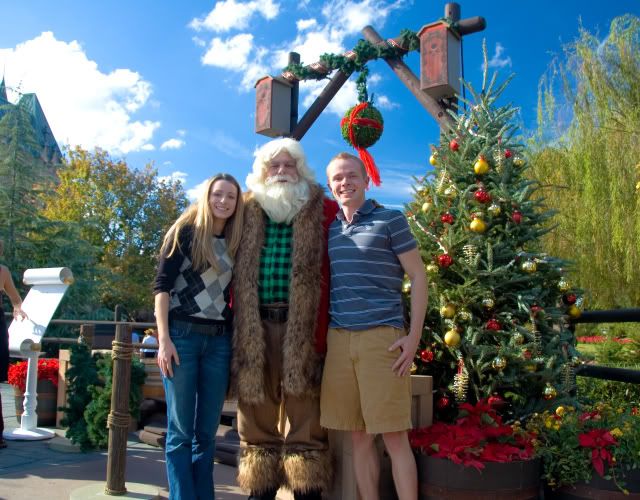 The Garden Grill proved to be a great (and cheap!) option for the Candlelight Processional dinner package. Until I noticed some of the windows during our turn on Living with the Land that day, I was unaware that Garden Grill overlooked the attraction. I was even more surprised to discover that the restaurant rotates! It's funny the things even us obsessed fans discover on each trip–I can't believe I didn't know that previously. Dinner was delicious, and we certainly got our money worth, given that we hadn't eaten eat at all that entire day. We were there right when the restaurant opened for dinner, so the restaurant wasn't yet (even close) to capacity, allowing us to get multiple "turns" with each character. This was new to us, as often we are waiting for over an hour to see all of the characters at the other restaurants.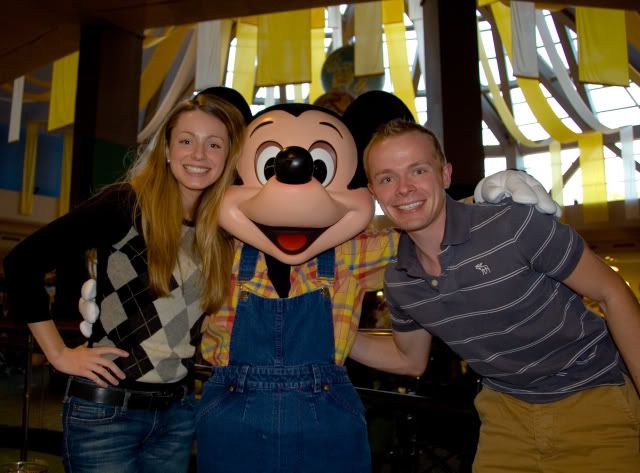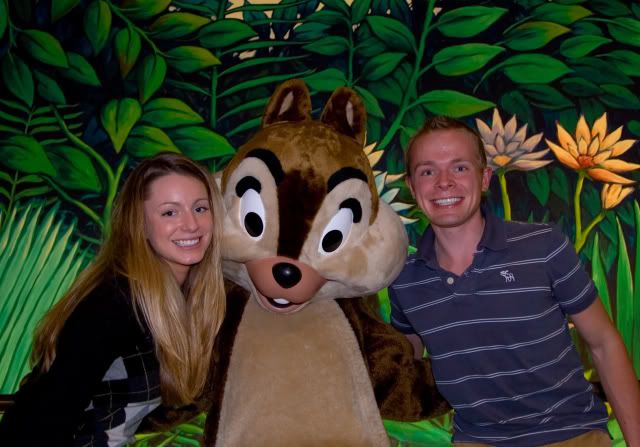 After we paid and got our Candlelight Processional tags, we headed to Mexico and Norway to catch their storyteller performances. Both were interesting, with Norway's Julenissen being the best of the day, hands down. Julenissen mischievously altered the story as told by a young Norwegian woman offering many laughs with his enthusiasm, especially that for porridge.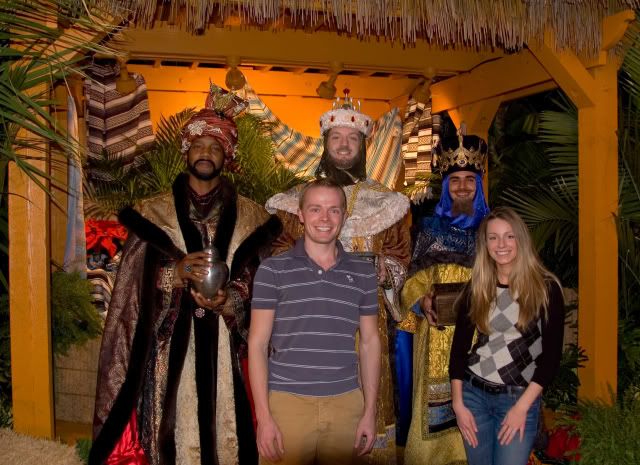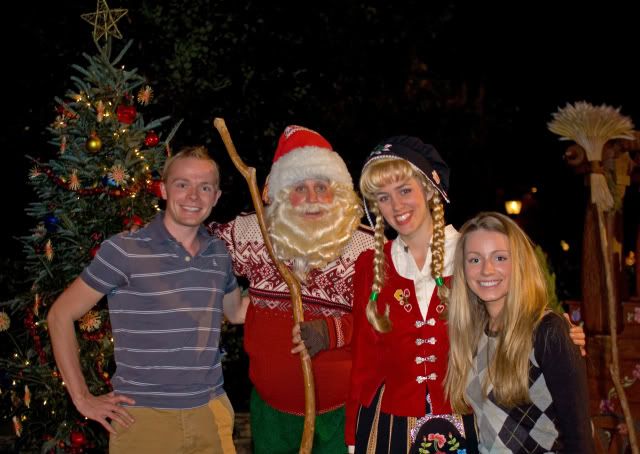 We then headed over to America to wait in line for the Candlelight Processional. We got there about 40 minutes early, and we were shocked to find two huge lines: one for those with the dinner package, and one for overflow. The dinner package line was so long that it prompted us to ask a CM whether we were guaranteed to get seats–we were. We were all a little surprised, given the insane length of our line, and the relatively small size of the theatre. I guess we aren't the best judges, though, as we were only seated about halfway back in the theatre. I do wonder if any of those individuals in the overflow line were admitted, though.
John O'Hurley was the guest narrated that evening, about which we were quite pleased. O'Hurley's character on Seinfeld, Jay Peterman, is a favorite of ours, so we were happy to learn that he would be the narrator while we were there. The entire show was absolutely wonderful–O'Hurley's narration, the choirs, and the orchestral all performed their respective roles very well. The only disappointing thing about the show was that it ended! For those who may have heard that you can save money by not getting a dining package and just waiting in line, or standing in the walkway in front of the American pavilion, don't listen to them. You can get a dining package for around $30 per person, and your time in WDW is worth so much more than that (considering you'll have to wait in the overflow line for a long time just to potentially get bad seats)–plus, I can imagine the show isn't quite the same from the back forty as it is from up close. In short, if you go at Christmas and are considering getting the dinner package, definitely do it.
After the showing of Candlelight Processional, we headed over to Mission: Space for a quick spin to Mars before Illuminations. Our quick spin was hardly quick–the 5 minute wait time turned out to be forty minutes–although the flight to Mars itself only lasted a few minutes, so I guess it wasn't too bad.
My strategy for getting a viewing spot for Illuminations was poor. I forgot where we stood last time (it was Germany!), so we ran around looking for the spot in the dark, not quite being able to figure out where it was. We ended up just settling on spot, which turned out to be not that great, as a tree obscured part of the fireworks. I also decided to use the bulb setting instead of a flat 25 second timer on all the shots, and I chose an aperture that was too large for many of the shots (leading to many blown out fireworks shots). I definitely need to do test shots on fireworks before our next trip; unfortunately, there aren't many Christmas-time fireworks shows around here.
Following Illuminations, we began to set up for some After-Hours Pictures. However, on this evening, neither the lights at the World Showcase countries nor SpaceShip Earth turned back on after Illuminations! Given this, there wasn't much point taking pictures in the World Showcase, so we headed to the tree and the Lights of Winter, to get pictures of those. Finally, after about 40 minutes after closing, the lights on SpaceShip Earth came back on (but not those on World Showcase). After we got done photographing it, we took the monorail to Magic Kingdom, which was open until 12 a.m. that evening.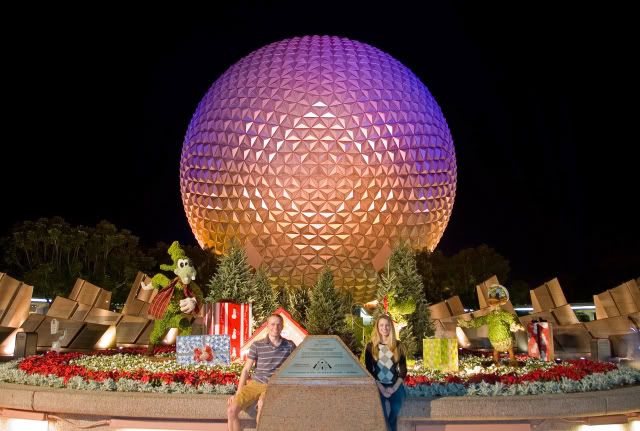 We got to Magic Kingdom at around 10:30 p.m., so we didn't have time for many rides. A quick trip on the TTA and one spin on Buzz (where I got a new personal high score of 439,200!) was really all that was in order. After that, we began taking pictures in Tomorowland, and then finished in Fantasyland, and again in the hub and on Main Street. As usual, CMs trailed closely behind us, ensuring that we didn't go "backwards" into the park. Since we typically get a picture with one of us by one of the clocks right before we exit, we decided to head up to the train station, where there is a clock set back above the stairs. However, the clock was covered up for some reason. Since there were CMs trailing us, we were unable to go back down Main Street to get a picture of us in front of the clock, so I set my walkaround lens to 200mm, and got a shot of the Main Street clock (by itself, unfortunately) before we left. This time we left at approximately 1:30 a.m., and we were the last guests out of the park! I think everyone else might have left sooner as it was colder on that evening, but whatever the reason, we were quite pleased with our accomplishment.