Walt Disney World Fall Photography Trip Report (Part 2)
Chapter 4: EPCOT Center's Food & Wine & Beer & Whiskey Festival: That morning, we had some slight setbacks that had me concerned that we wouldn't get to EPCOT by 8 a.m. For the start of morning extra magic hours. When we left our room at 7:25, I thought we had no shot. By complete luck, the bus to take us to the Outpost was waiting for us when we got to the bus stop, and the EPCOT bus was waiting for us at the Outpost bus stop. We were dropped off at EPCOT at 7:49. I was shocked.
Once inside, we got FastPasses for Soarin', then got a locker and headed to SpaceShip Earth, followed by Test Track. After that, we met up with the guys and did the Seas. While waiting out front of the Seas, Matt spotted a celebrity of the Disney Fan Community, Mike Scopa. After saying hello briefly, we headed inside and enjoyed the attraction. Following that, we wandered around the pavilion for a few minutes before heading over to favorite of ours, Universe of Energy.
Next up we boarded Bravo 229, were shrunk down to the size of a drop of water as we joined Dr. Lair on her quest to remove a splinter from the human body. Along the way, we battled past white blood cells, and I battled with my squeamishness of the sight of blood. Well, perhaps this is little more than a daydream, but it's what I was preparing for, and recalling, as we entered the old Wonders of Life pavilion for the first time in over ten years. The general look of the inside was just as I remembered it. Even though it's been so long, I vividly remember getting "Goofy About Health" down on the floor of the pavilion. Food and Wine Festival, and the festivities inside the pavilion were neat, but what has happened to that pavilion is really sad. Those events could've just as easily been held elsewhere, and we could just as easily still be celebrating the Wonders of Life.
Shifting our focus from what should be to what actually is, while approaching the restroom, we saw Paula "Add Three Sticks of Butter" Dean. I reluctantly admit that I watch the Food Network quite often–not because I enjoy cooking, my cooking skills start and stop at microwaveable goods, but because I really enjoy eating. Of the personalities on the Food Network, Paula Dean is one of my, and Sarah's, favorites. She is energetic, her food is delicious, and she doesn't take herself too seriously. About the only thing worse than a stuffy, holier than thou photographer, is a stuffy "foodie" chef who thinks cooking is some brilliant art form. I love food, but people just take some things too seriously. Seeing her was awesome, even if it was only through the gaps between the plants. Had we known in advance that she would be there, we might have inquired about tickets. However, I'm sure the price was well outside of our budget.
While we were in the Wonders pavilion, Nick picked up a ticket for a Jim Beam presentation. He asked us if we would be interested in attending, and we declined. After he picked up his ticket, we split up from the guys to head over to Innoventions to get our Kimmunicators for the Kim Possible World Showcase scavenger hunt. Rather than getting the Kimmunicators right there, as we had expected, we got times to go to the World Showcase to get them. With those in hand, we headed towards World Showcase to meet up with the guys.
Along the way, we saw Goofy's cousin, Max, preparing for a meet and greet. His line was only 1 person deep, and we are character fiends, so we queued up. If you asked me, "name three characters who embody Future World," my instant responses probably would not be "Max, Stitch, and Daisy Duck." However, I've heard of these characters appearing more and more often. I guess Figment, EPCOT's mascot, can't do meet and greets, but there's always room for Stitch. Makes sense.
Along our way to Canada, we caught up with the rest of the photography group. They wanted to do O Canada first, which presented a prime opportunity for me, as I can never convince Sarah to do it. After the success of the last CircleVision 360 attraction, I figured she'd be an easy sell. She wasn't a tough sell, but I could tell her heart was set on riding Gran Fiesta Tour sixteen times in a row. Sarah loves Mexico, and accordingly, that boat ride. Plus, I think she has a crush on José Carioca.
O Canada was great. I think it will probably be a must-visit attraction for us (or for me…and by extension, Sarah), and what I really like about the CircleVision films is the re-experience-ability. There is no way that you can see everything in those films in one viewing, or even in several viewings. Plus, the grandeur of the presentation is really great. Canada has always been one of my favorite countries in the World Showcase (I mean actual countries–and yes, I do 'rank' countries to an extent), and now its pavilion is near the top of my list, too. With O Canada, Le Cellier, and the cool totem poles, Canada is one rockin' pavilion.
After O Canada, the guys were planning on doing lunch at Rose & Crown, something that would prove slightly too costly for us. I was a bit hesitant to pass, as it was our one chance at a Table Service meal between our August and October trips, and dining at WDW is one of our favorite things to do, and a thing that really completes the experience, so I am almost ashamed to say that between two trips, we did not do any table service dining. Hopefully we will compensate for this with some really extravagent dining during our honeymoon.
Instead, we opted to sample the Food & Wine Festival offerings. I guess the one thing that consoles me for us not having eaten any Table Service meals is that we opted for F&WF, something we had never experienced, instead. I have to say, the fare we sampled for F&WF was just as good as many things we've had at Table Service restaurants. Unfortunately, it probably ended up costing us more for a full meal of F&WF 'samplers' than a meal at Rose & Crown would have cost.
Our first stop was at the New Orleans, Louisiana booth. Sarah got the Chicken and Andouille Gumbo and I got the Crawfish Étouffée. Both were fairly small in size, but that is what we were expecting. Both were also quite delicious. As we headed on, we met up with Nick who had stopped in France. He approached after stopping at the Hops & Barley stand, with a beer and crab cake in hand. The crab cake looked phenomenal, and the taste of the beer that he let me have was delicious. I knew that would be our next stop. While in line at Hops & Barley, I saw people with the New England Lobster Roll. It looked delicious. However, when I got to the podium to order, I noticed the $7.25 price tag. I also noticed that it was a Disney Dining Plan snack credit. Part of me wonders if the prices at F&WF are inflated because so many people are on free dining during the F&WF, and thus they perceive greater value with the prices being higher. Since a good portion (my guess would be slightly over 50%) are using the DDP during the F&WF, this perception makes people think they are getting more 'value for their money.' Well, whatever the case, I wasn't willing to spend $7.25 on a small lobster roll. Instead, Sarah and I both got the Crab Cake with Cabbage Slaw and Remoulade, which was delicious. If that lobster roll was even better than the crab cake, it might just be worth the $7.25!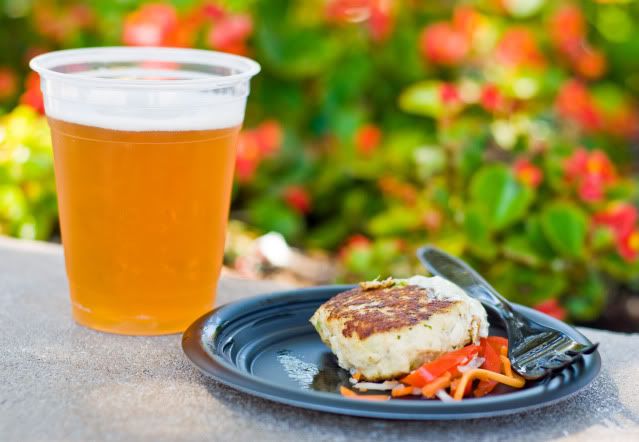 Also at Hops & Barley, I picked up a cup of the Samuel Adams 14th Anniversary Festival Beer. This beer was out of this world. It had a very subtle berry taste (we're talking subtle, not over the top and girly, like a Leinenkugel) with a taste somewhat similar Samuel Adams' Oktoberfest, but not especially similar. I'm not especially great at articulating the reasons why I like particular beers, but I know what I like. Granted, I have had my fair share of cheap and crappy beer (I did go to college), but I also enjoy good micro (and macros) brews. I have read online that the Festival Beer is usually just a relabeled Seasonal beer that Sam Adams puts out. If that's the case, I'd really like some feedback from the beer aficionados as to what Seasonal brew this was. It was excellent!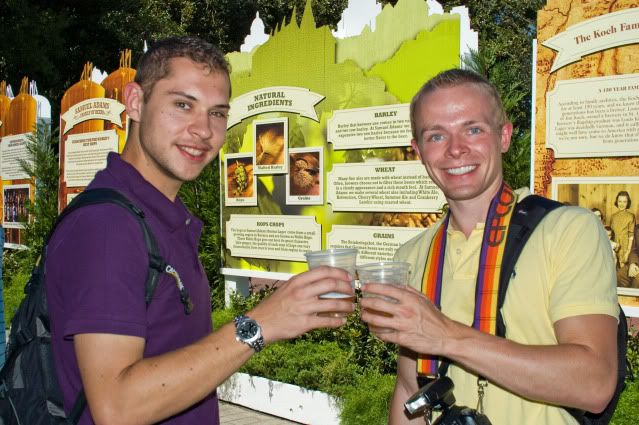 The Festival beer was so good that we decided to go to "The History of Beer in America" at the American Adventure Pavilion. I had previously read online that all of the seminars such as this one that involved sampling would cost $5-8 this year, and this was being done because of huge lines at the events in previous years, so I was a little concerned when I first heard about the seminar that it would either be lame, or that it would have a huge line. Well, neither were the case. The seminar was very interesting, albeit a blatant advertisement for Sam Adams beer. It might as well have been called, "The History of the Boston Beer Company and its Founders." The samples were good, too, although I think most people who have any interest in beer have probably already tried Sam Adams and Sam Adams Light. I realize the sponsor of the seminar wants to get 'bang for its buck' in giving out samples and in sponsoring the event to begin with, but I would have preferred a seminar without free samples that was a little more objective. Not that there was anything wrong with the seminar, I don't mean to sound down on it, as it was incredibly fun and interesting–but as with many things, there is room for improvement.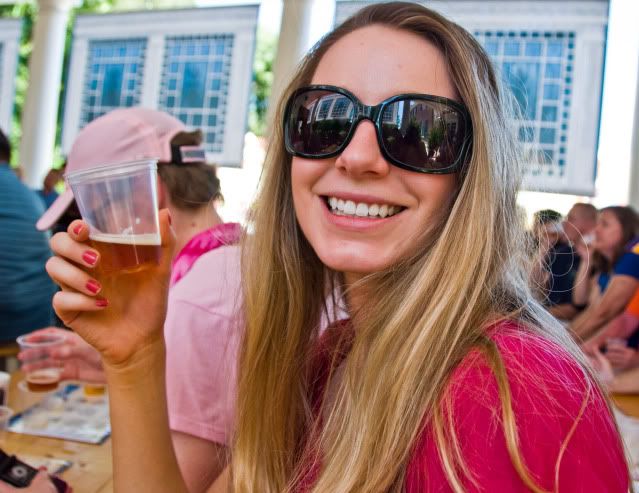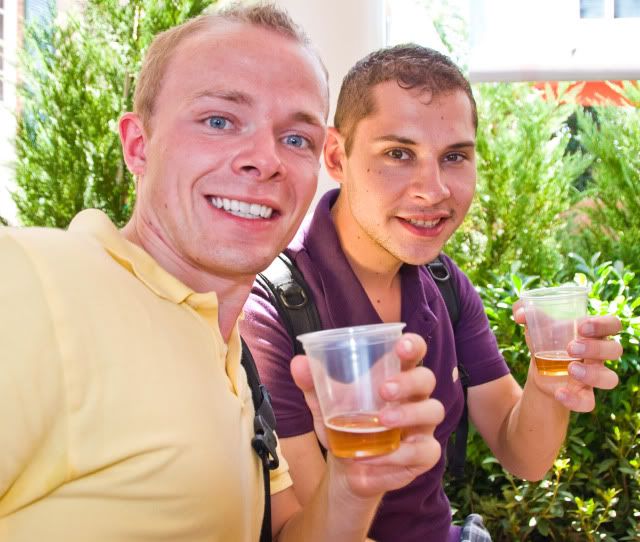 After the Sam Adams seminar, Sarah and I rethought our decision on the Jim Beam seminar. This was mostly because the crowds and the heat were both high, and we figured that at $8, there wasn't much of a risk. The real risk was in the hour or so that the seminar would take, and the value that an hour has at WDW. Skipping it also meant not getting to do the Kim Possible scavenger hunt for yet another trip. There was also a risk that the event would be sold out, and we'd make the voyage all the way around the World Showcase to Wonders of Life for nothing. Ultimately, we determined that walking around the World Showcase was hardly a risk given the beauty of the countries we'd see along the way, and we also determined that Kim Possible would be there for a while, but it would probably be a number of years before we'd be back during F&WF, so we decided to give it a shot.
We arrived at Wonders of Life to find that the event was not sold out! We arrived late enough that we wouldn't have to line up in advance (I didn't mention it previously, but we noticed previously when we were at the Wonders pavilion that many people were lining up far in advance for these ticketed events. For the best seats…I guess?), and we got decent seats. I didn't really care about where we sat–as long as we could hear the presenter, I was fine, not like he's some celebrity that I really care about "seeing". However, perhaps I should have rethought that, as he was quite the sight. Your typical tough guy, fairly buff and well groomed, but with a couple interesting twists. First being that he had several bourbon tattoos. Okay, that's not unexpected given his occupation. Second, and a little more odd, that he had some very eccentric True Religion jeans on (for those unfamiliar, it's a brand of "premium" denim that has some over-the-top features on some of their jeans–usually the most notable being large back pockets with flaps) and a thick white belt encrusted with jewels. Maybe style is different in Kentucky, but that is not what I would have ever imagined a tough 'bourbon-man' would be wearing. To each his own, I suppose.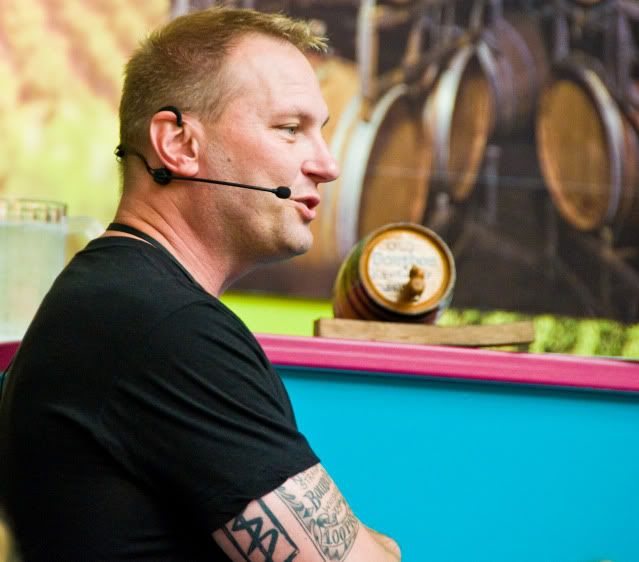 To the substance of the presentation, it was excellent. I have never been too big of a fan of bourbon, but his captivating presentation, laced with humorous digs at Kentucky's education system and statements of his 92 year old grandfather's love for bourbon (he drinks a quart per day!), made me excited to try the samples. Then, reality set in when that warm bourbon hit my tongue, and I realized how disgusting I found bourbon to be. I could taste all of the flavors he discussed in the presentation, but the two important flavors he omitted, those of "burning" and "stomach churning", were the most important. Still, all in all it was a very informative and interesting seminar. Although there were some plugs for Jim Beam, it was far less blatant, at least in my opinion, than the Sam Adams seminar. However, in Sam Adams favor, its beer actually tastes delicious.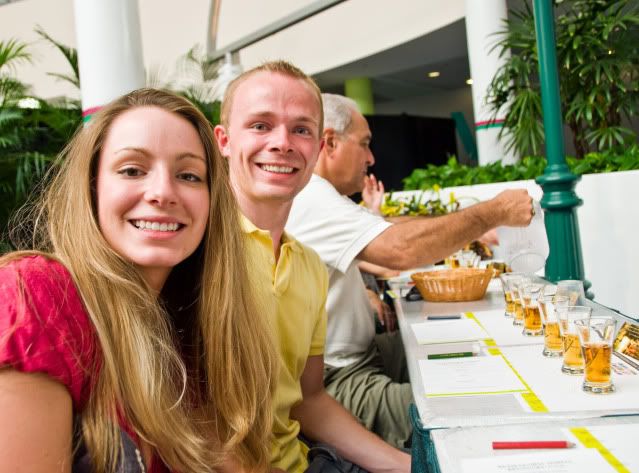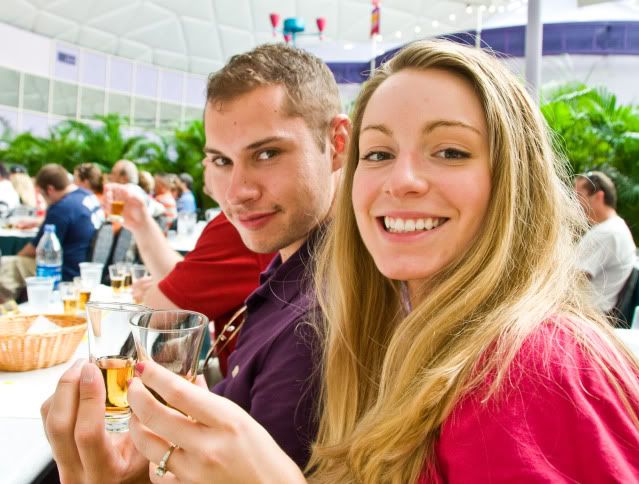 Following the Jim Beam presentation, we headed back out to the World Showcase to continue nibbling our way around the World Showcase. The first stop was in Cape Town, South Africa, where Sarah and Nick stopped to get the Seared Beef Tenderloin with Sweet Potato Purée. I considered getting it as well, but after seeing the price and portion size, I decided to hold out for something a bit more substantial. They both raved about the taste. In Italy, Sarah and I split the Cannelloni and Pizza. At that point, we just stopped there because it was hot out and we were really hungry. In retrospect, I would have rather stopped for something more exotic that we were unlikely to find at home. Don't get me wrong, the Italian fare was good, but Italian food (and I know true Italian food is drastically different from what we often get in America) isn't something you're unlikely to encounter Stateside.
After those samples (I believe the official Disney term is "appetizers", but the size certainly doesn't warrant calling them that), we headed off to the American Adventure to experience one of EPCOT's premier attractions. I have previously discussed Sarah's un-American contempt for the American Adventure show, but this time, not just she, but also Nick, demonstrated their distaste for America by falling asleep during the show. More likely, they both were already tired given the lack of sleep from the trip and the alcohol further depressed their bodies. Luckily, my rabid patriotism kept me awake for the show. Heck, I believe it even rejuvenated me.
Since I was the only one rejuvenated by the show, I suggested we stop by the American Adventure for some caffeine. I figured this would be my last caffeine for the day, so I got myself a 32 ounce Coke, as well. While I sat there drinking the Coca Cola, I thought how I've become a "Coke Man". I used to be an ardent supporter of Pepsi. I drank Mountain Dew and Cherry Pepsi more than I drank water as a child (thanks, mom!), mostly due to the marketing and my desire to collect Pepsi Points (and Pepsi POGS, back when those existed). Similarly, as colas seem to be more divisive than politics, I never drank Coke. I hated it. This loyalty was likely thanks to marketing, as over the years, I've come to tolerate both, but I am definitely a Coke person. This is likely because I only really drink soda at Walt Disney World, so I associate the taste of Coke with our trips to Disney. Thus, on the rare occasions when I drink soda outside of Disney, I get Coke, since it reminds me of Disney. Not that anyone actually cares about any of this, but hey, it's my trip report! Plus, I have a page quota to meet. 😉
While we were sitting down with the Cokes, Joe called to ask what we were doing. I noticed the time, and figured they'd probably long ago finished with lunch at the Rose & Crown. He jokingly said that they headed over to Universal. Not a joking matter, I thought to myself, but agreed to meet up with him anyways despite his transgressions. We headed over to Morocco, where we caught up on the day's events and took some pictures for a while. In reviewing my library of images from that afternoon, I again confirm that I do lousy work when given too much time and trying to force the shot. I felt like I should be snapping away because they were, and the results are definitely less than stellar. I think a big reason was because we had just been in August, so many I hadn't been away long enough to have "fresh eyes" towards some of the subjects. I think I need to get a book on seeing light and shadows, and maybe one on composition, because I am starting to feel that many of my shots are just a tad "tired".
After stopping in Italy and China to get more pictures, we headed to Mexico for the Gran Fiesta Tour. This was our first stop here of the trip, and when she heard that we'd be heading there, Sarah's eyes got as big as saucers. Her excitement was palpable. After Mexico, it was on to Norway to use FastPasses (yes, FastPasses…it was that busy!) for Maelstrom. I love Maelstrom for nostalgia's sake, but for what I rank as the #3 country in the World Showcase (#1 United States, #2 Canada), Norway sure could advertise some of its better features; rather than trolls, oil rigs, anorexic polar bears, and vikings. I mean, all those things are cool, and I think a viking thrill ride would be awesome, but the attraction seems (to me at least) to present itself as an examination of the life and culture of Norway. Norway seems to be a beautiful country, I don't know why a somewhat realistic portrayal of the country (minus the trolls) would focus on so much dreariness and darkness.
After our return to America, the guys had to head to their lockers to get their tripods, and Nick, Sarah, and I decided to hit SpaceShip Earth once more while they were getting the tripods. However, on the way, someone spotted what would make for a great photo op: the moon over World of Motio–err, Test Track and the Odysse–err, some event center/vacant building with the monorail track overhead. Of course this shot is always better with the monorail actually on the monorail track, so we waited. From my experience, and this would bear true later in the evening, there is always a monorail around when you are not prepared with your camera, but once you start waiting for a monorail, it will be at least 15 minutes until one shows up. Without fail. My concern here was that the longer we waited, the more difficult it would for me to get the shot, as I wanted to use my f/2.8 wide angle, and the sky was quickly being painted darker and darker shades of blue. The converse was that I knew as soon as I waved Sarah over for a lens change, the monorail would come, and we'd both miss the shot.
So we waited. And waited. And waited some more. Finally, one of the guys got a message (I have no idea how this happened–I guess he was on his "Bat Phone" to the Monorail Shop) that the monorail was stuck at the TTC. Part of me thinks that he wanted us all to leave so he could be the only one to get the shot, because right after it said this, we saw the monorail in the distance. That's when I panicked, and unfortunately, my shot didn't turn out all that great. My shot is posted below at the top, Sarah's is below it. When I showed Sarah my shot, she did a little victory dance.
After that ordeal was finally over, and I was a bit irked that I waited fifteen minutes for a less-than-stellar shot, we headed towards SpaceShip Earth. If you're keeping score at home, you might notice that this is the third time on the trip (assuming I've correctly documented each previous SSE ride) aboard our Spaceship, Earth. It's an attraction that Sarah and I both love, and one we like to experience multiple times per trip. I wish I could get a home fragrance of "Rome Burning". I think that smell has been unchanged since I've been going to WDW. As far as Park icons go, SpaceShip Earth is probably creeping ahead of Cinderella Castle for me. My Tokina 11-16mm f/2.8 has made photographing SSE a real treat, and I appreciate SSE's functionality over Cinderella Castle (although the Castle is functional if you're a family with little girls; don't worry, Castle, these 'rankings' are ever-evolving).
As we exited SpaceShip Earth and walked right past the Project Tomorrow post-show–someday I want to take some time to really enjoy these games; they look really fun–Sarah went to get her tripod and other items out of the locker. While she did this, I stayed behind and got some dusk shots of Spaceship Earth. My image catalog is now overflowing with wide angle SSE shots. I am a bit concerned about this, because I think these shots are stunning, but some have categorized them as abstract. Given that the subject is clearly identifiable in the shots, they are not abstract. Abstract SSE shots (with the exception of a handful), are one of my least favorite shots at WDW. By abstract, I mean just of the patterns (and maybe a leg or two). I don't know why some people think these are cool or creative. Point a camera up at Spaceship Earth, zoom until you can't see anything but the pattern, and take the picture. Presto. I don't see anything special about that type of shot.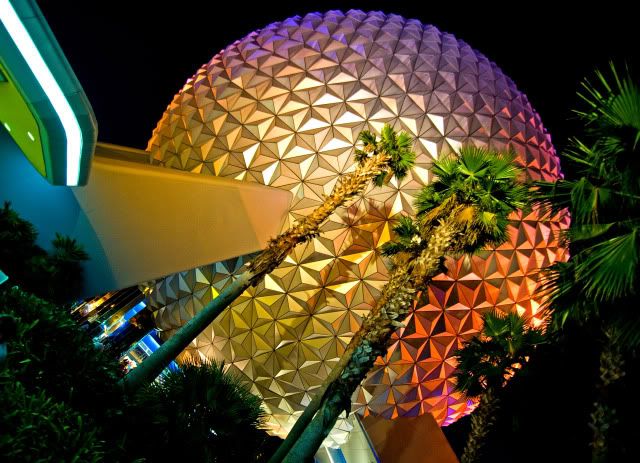 I met back up with Sarah and Nick as they exited the locker rental area, and we headed towards Test Track, which we hoped to be able to get in quickly via the single rider line while the other guys shot around Future World. Then, all hell broke loose. I turned around to talk to Sarah about 20 seconds after we started towards Test Track, and she had vanished. Gone without a trace. We began looking for her, and bumped into Don in the process (who probably was suspicious of our story that we had "lost" Sarah). Normally, this wouldn't be an issue, as I could just call Sarah. However she was wearing a pocket-less dress (funny how most dresses don't have pockets) and I was carrying her bag, where her Blackberry was located. After about ten minutes of looking in the area around SSE, we headed to Test Track, where I asked Nick to wait to see if Sarah showed up, while I ventured back towards Spaceship Earth, to look for her.
Finally, after another ten minutes of searching, I saw her wandering aimlessly. It turned out Sarah saw someone passed out (supposedly heat–not alcohol–induced) alongside SSE and her 'nursing instinct' rang loudly. Apparently her, 'tell Tom what I'm doing' instinct was on vibrate, because she didn't say a word to either Nick or me when she went to assist. Despite her worrying me sick, I was a little proud that she'd stop to help someone. About the extent of my stopping to help someone would be calling a Cast Member over and leaving. She actually stayed and did 'medical stuff' while waiting for the appropriate authorities to come to the scene.
With Sarah found, we headed to Test Track. The single rider wait was ten minutes. Illuminations was 40 minutes away. We were weary of the actual time of the single rider wait (the posted time and the actual time can vary widely with this one), but decided it was worth the risk. I already had plenty of unedited Illuminations shots sitting at home, so if I couldn't photograph it, no big deal. The wait for Test Track took almost exactly ten minutes, and we arrived in Mexico about twenty five minutes before the show.
The guys were already all set up, but had kindly left some open space for Sarah and I. Sarah opted not to shoot–perhaps embarrassed by her camera setup and tripod, perhaps just tired from the day. After setting up second from the end, I noticed a small boy rocking on the railing next to Don (who was on the end). As I looked down the line, and contemplated the physics of a falling line of cards, I realized just one move too far to the little boy's left, and all of our equipment was toast. That made me cringe a little. Part of me is surprised that Disney even allows tripods in the parks given the potential for tripping, breaking of equipment, and just general complaints or altercations that are possible. Maybe not enough complaints or problems have occurred. Hopefully there is no such 'ban' during our lifetimes!
Illuminations began, and I immediately realized this was probably one of the best locations to shoot it. Unlike during our August trip when smoke obscured most of my shots, they were all clear on this evening. If the images are subpar from that evening, I have nothing to blame but myself. The circumstances were perfect.
After Illuminations, we began our plan of attack for the nighttime shooting. Initially, Jeff was going to immediately go to SpaceShip Earth while the rest of us stayed in World Showcase. I tried to convince him to drop this plan, as the crowds would make shooting difficult, and he wouldn't be able to get pictures of the rest of the park. I could see why he wanted to go up front–especially with the 'cool shot potential' of that fisheye. Something must have persuaded him, because as we headed towards American Adventure, I noticed he has stuck with the group.
We slowly made our way around the left half (Mexico-AA) of the World Showcase. Much slower than I ever have done before, and much slower than I expected Cast Members would let us. The closing crews were really hit or miss this trip. Some were exceptionally polite (which we've found is the norm), some were rude to the point where you had to figure they were having exceedingly bad days. On this evening, in the World Showcase at least, I have to say that the Cast Members were neither. We never encountered any Cast Members, so it's tough to peg them as 'polite or rude'.
When we finally got to Future World, Sarah and I decided to slow down and watch the Fountain of Nations show. It's rare for us to watch this all the way through, and it's impossible to get a good night photo of the fountain without blowing the highlights anyway (although I think Jeff was photographing it, so he'll likely prove me wrong), so we just stood there. That is one cool show. My favorite part has to be when the water is shot up at a high velocity without any water after it, and it just comes crashing down in big blobs. That show is definitely best viewed at night.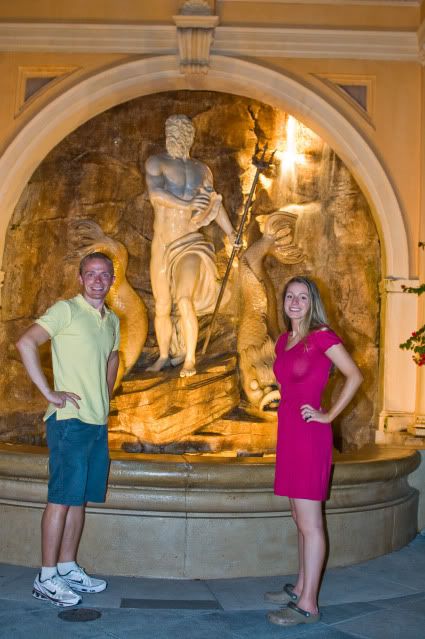 We then headed over to the Innoventions Plaza (I think that's what it's called) area where the light up sidewalk is located. I got some cool shots of this on the last trip, but the big purple gate-like structure had since been removed, and I wanted to try again. In retrospect, I should've tried shooting something I haven't done before (we didn't even try to head over to any of the pavilions–why Tom, why?!), but oh well. After that, it was on to get SSE shots. We had an interesting encounter with a security guard there before we got our group shot, and the guys headed out. Then, it was time for me to get the shot that had been on my mind.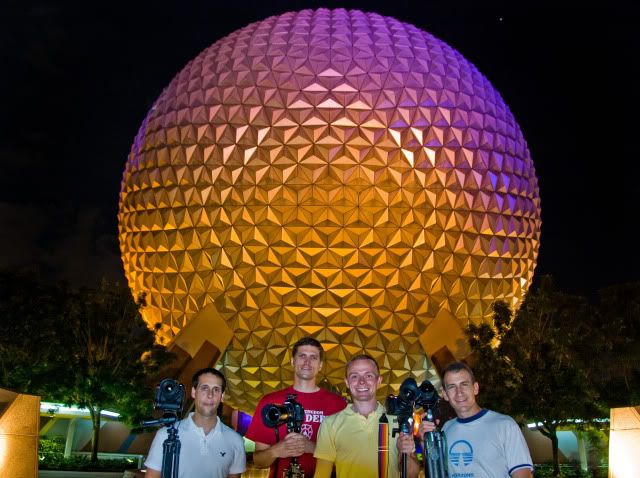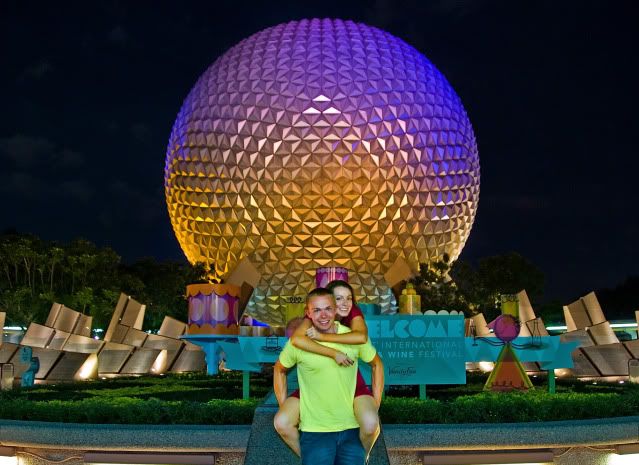 This shot would come to be my favorite from the trip. I actually had it on my "shot list" for our August trip after seeing a jaw-dropping image in a WDW souvenir book (click on my picture below to see that), but I quickly realized that I had a snowball's chance in hell of getting the shot given how the monorails actually operate. That shot is probably a dawn "Yellow Shoes Exclusive" of parked monorails. After seeing Cory's excellent shot, my mind started wondering if I could get it again. I knew it must be possible somehow.
Then, as they say in those lame commercials, came my "Ah ha" moment. Joe, master of all things creative, explained how it would be possible. I was shocked that I hadn't thought of it, because it's a technique I use in many of my shots. At that moment, I knew it would be obtainable. Also of luck, although not for him, was that Joe left his ultra wide angle lens at home. His idea for the shot is dramatically different than mine (and a lot cooler), and I'm sure he plans on getting it in the future, so I won't disclose it here. I decided to go for the more technically challenging shot, which resulted in a lot of editing for this shot. All in all, I am very pleased with the results.
Capturing the shot required the most patience I've ever had (besides waiting for SpectroMagic from the train station for almost two hours, but that doesn't count). The rest of the guys had already left that evening, and Sarah and I were the last ones in the park. On this particular evening we had already had, ahem, an odd conversation with a security guard, and Sarah and I were stationed about 10 feet from the same guard while waiting for this shot. We began waiting about 5 minutes before Matt and Jeff left the park, and waited until they caught the monorail (pictured). They may have a better idea for how long that took, but it seemed like an eternity to me. At one point, about 3 minutes before I got the shot, the security guard told us we needed to head out, as they were clearing the park. I told him that we just needed two more minutes, and he said something (I don't recall what), so I told him, "just about 30 more seconds." The longest three minutes of my life later (all the while I was fully expecting to get a tap on the shoulder), I got the shot. Phew.
Here's a photo Sarah took of me getting the shot:
We exited the park with the background music still playing and without another soul around. It's the moments like those, just us in the park, the lights all on, the music at its most crisp, that really make us love WDW. Imagine being a kid in a candy store–no better yet, the only kid in Willie Wonka's factory–no better yet, the only kid in Walt Disney World with all of the characters and rides to yourself–and you'll get the feeling of how special that is to us. It's pure magic. As we exited the park, I craned my head around and slowly watched the park behind us as Spaceship Earth gradually disappeared from view.
It is quite odd going from a location that is usually so busy, but is desolate, to a location that is usually somewhat desolate (at least at the early and late hours we'd actually been around), but is quite lively. However, that was our experience when we arrived at the Fort Wilderness internal bus stop. It was then that I realized that even with our 'late' departure from EPCOT, it was still only 11:30 p.m.! Hoop De Doo Review was just getting out, thus explaining the hoards of people exiting Fort Wilderness. I had always assumed that when Sarah and I returned from the parks, we were some of the last guests awake on property, besides those engaging in nefarious activities, but I guess that's only true during busier seasons why the parks are open later.
Despite being dog tired when we got back to our room, I had to do a preliminary edit on the monorail shot to see if it would come together how (I thought) it should. After determining that it did, we went to bed. It tore me up inside to not go out and get some night shots at Fort Wilderness, but I knew I needed the sleep more. I need to just get those resort night shots on the first night we're there from now on, because I've missed getting shots of Saratoga, All Star Sports, and now Fort Wilderness thanks to putting it off. Who knows when I'll get the chance again. But, with only six short hours until we'd have to get up for that last full day at the Magic Kingdom, it was important that we were well rested.
Chapter 5: The Magic Kingdom Finale
The next morning was another late start for us, and we figured we would not make it to Magic Kingdom until after park opening. However, by the grace of the Fort Wilderness transportation system, we made it on time. My fears were definitely unfounded with the Fort's transportation. Even without our excellent luck on catching buses at exactly the right minute, I would have scored the transportation system well. We caught a bus to the Settlement within 30 seconds of getting to the bus stop (Nick and Sarah hadn't even arrived at the stop yet!), and the boat for the Magic Kingdom was waiting for us as we got to the Marina.
We arrived at Magic Kingdom about 7 minutes before park opening. Invariably, whenever we have arrived in the past, we always get there right as the park opening performance starts. My lens is always fogged, my camera settings are inappropriate for morning shooting, and I can't get good shots. However, this time, we had about 2 minutes to spare after making it through security, so I tried to find a good spot. Then, all of the sudden, I saw it. There was no one near the front of the flower bed. No one! Crowds had formed all around (and the area was quite crowded), except for the absolute best spot in the house! I quickly mounted the UWA, and quickly prepared myself. I hope that spot wasn't being reserved for PhotoPass to have a 'clear shot', but no one said anything to me (and as tight as they normally go with those event shots, I doubt that was the case), so I assume I was alright.
After the show concluded, we headed through the tunnel, all of us brimming ear to ear at the prospect of a full day in the Magic Kingdom. Jeff and Matt had yet to arrive, so Sarah and Nick headed into the Emporium, while Don, Joe, and I shot Main Street. Then the trolley show started. One of my favorite things to see at WDW is this morning show. We've missed it the last couple of trips, so I was really glad to see it this particular morning. It's not so much the dancing, the horse, or the trolley itself that does it for me, it's the music. Sarah and I have particularly worn a hole in that .mp3 track, so suffice to say, it's something we love.
Still brimming ear to ear, and now in full "MK Morning Bliss", we headed off to Frontierland to hit the only two members of the Magic Kingdom Mountain Range that were open. After waiting a while for all of the party to catch up, Sarah and I decided to break off from the group for a bit to make sure we hit all of our favorites that morning.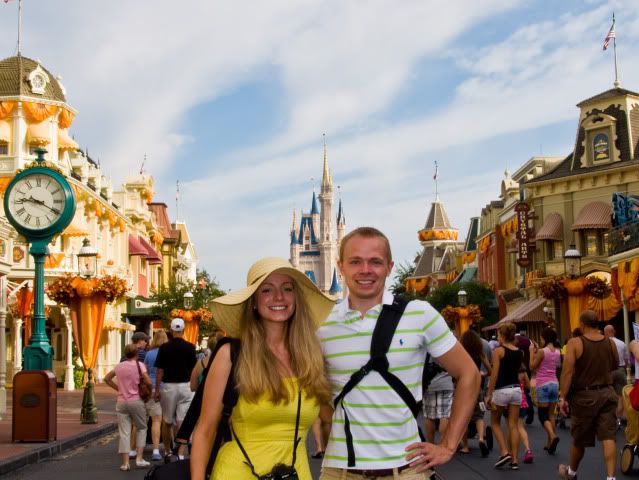 We hit Big Thunder, Splash, Jungle Cruise, and then met up with the other guys at Pirates. They informed us that they had gone to Tom Sawyer's Island. I asked them how it was, hoping to convince Sarah that we could head over there ourselves. Prior to the trip, I had shown her some souvenir guide images of TSI, but she hadn't seemed too enthused about going over there. I tried to convince her that even though it's just a walking tour, it would be neat to do once. She held strong that the time to get there and back, along with the time spent exploring the island, would be too great and too valuable to waste on TSI. She ultimately won out (again) this trip, as we did not visit TSI. Oh well, there is always next time. Although I will be pissed off if Disney does a Hannah Montana layover of the island between now and our next trip.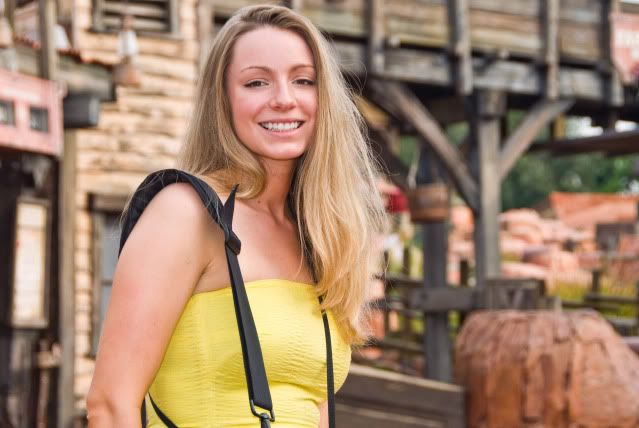 After Pirates, we went to Country Bear Jamboree, another group favorite. Although Sarah and I both love Country Bears, it amazes us both that the Animatronics are so loud, despite the recent refurbishment. There is one point that is especially puzzling where the heads mounted on the wall move their ears during the show while the spotlights are not on them. I would bet about 5% of the audience would notice this with silent AA figures, but probably more like 75% notice it with the current AA figures, since they make so much noise while moving. Why not cut that scene since it's the noise (which isn't 'part' of the show) that people notice more than the movement? After that, we went over to Columbia Harbor House to eat lunch.
This was Sarah's and my first time at Columbia Harbor House since 2006. Now I know why. Sarah and I are frugal, "value for money" type people. I am more than willing to spend the money for a nice meal at California Grill or Flying Fish (this is the critical distinction that separates us from being simply cheap), but when it comes to generic fast food, I am not willing to pay a premium. This is one of the reasons we like Cosmic Ray's (and Peco's Bills, for that matter). I can spend $9 on a double cheeseburger and fries, and thanks to the toppings bar, I can make the burger more substantial and thus, more filling. Since seafood costs a premium to begin, I get less at Columbia Harbor House, and then get hit with the double-whammy of there being no toppings bar. Don't get me wrong, the food was good, but from now on we will stick with the great entertainment and more substantial offerings of Cosmic Ray's.
With somewhat filled bellies, we headed off to Haunted Mansion and then to Tomorrowland. This was our first real chance to see the Magic Kingdom during the day. Unlike at night during the Halloween party (which had great if not sometimes misplaced theming), the Magic Kingdom was a cluster-youknowwhat. I say that in the most positive sense of the word. It's looking like even more of a work in progress than it was in August. Added to the scrims I previously noted were walls around the Castle, a lot more visible work outside of Space Mountain, and more work in Tomorrowland. The scrim around the Hall of Champions was down, however. The only one thing that was disappointing (and I didn't really notice this on our previous trip on the TTA, I must've been too disgusted by the narration at that time) is the way the TTA looks. It just came back from refurbishment, and it still looks like many places need paint. Additionally, the job they've done at hiding the Space Mountain construction is pathetic. Bad show, Disney.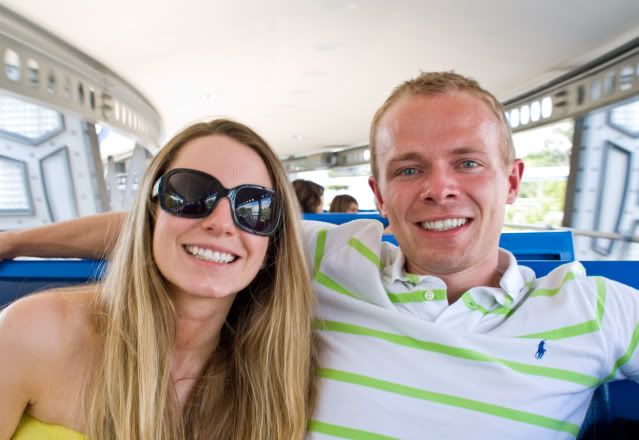 Personally, I view all of construction and scrims up as a positive thing (with the exception of the aforementioned TTA problems), but then again, I know I will be there again next year, the following year, the year after that, etc.. If I were a once every five years kind of guy, I would be disappointed that so much of the Magic Kingdom was under the knife during my trip. Even as a multiple times a year visitor, I find it disappointing that it's gotten to this point that so much has to be done at once. If routine maintenance were performed, I don't think all of this construction would be necessary right now. However, above all, I am excited about the future and glad to see things are being done. Now, if only they had started on the Fantasyland expansion prior to our arrival. Those are the walls I really look forward to seeing!
Despite the construction and the narration at TTA, it was clear that Tomorrowland is starting to turn the corner. The progress in the Space Mountain area is reassuring, and the new TTA lighting is cool, albeit only partially implemented. While in Tomorrowland, we visited another favorite, Carousel of Progress and took in the sights of Tomorrowland on the TTA.
At that point it was getting time for the guys to head home. At that point it was also time for me to thank my lucky stars for Sarah talking me into staying an extra day. We were not ready to go home yet. After we said our goodbyes (partially — as only Matt was leaving and we may or may not see Jeff, Joe, and Don again), we headed over to Hall of Presidents to take in the new, wonderful show.
While waiting for the show, Nick informed me that a mutual friend of ours had visited the week before and was not wild about the show (and really didn't care for American Adventure). He blathered something about historical accuracy (our friend was a history major in undergrad). I have heard similar complaints online, and I have to say, they irk me a little. Disney must tread a fine line between education and entertainment. In my opinion, whenever there is question, Disney should err on the side of entertainment. Disney does not have the time to offer a detailed distinction of how Lincoln was not an abolitionist. Even if time allowed, how widely accepted or even understood would that be? I hate the dumbing down of society more than anyone, but there is a time and a place for thorough education, and a time for emotionally compelling show that has educational components. The Hall of Presidents should not be the sole source of anyone's information about our nation's presidents. It should pique curiosity and provoke thought; it should be the gateway to further learning, not an end in itself. To fixate on these historical or educational deficiencies is foolish, in my opinion. I know a lot of my colleagues who don't watch Law & Order for this very reason. I think that's foolish; I've learned to suspend disbelief and not nitpick every little thing. There are times when I use my mind to fixate on every little detail and pick everything apart. There are other times when you just have to put your mind on autopilot and enjoy an experience for what it is. The most important thing is being able to differentiate what the time calls for, and to act accordingly.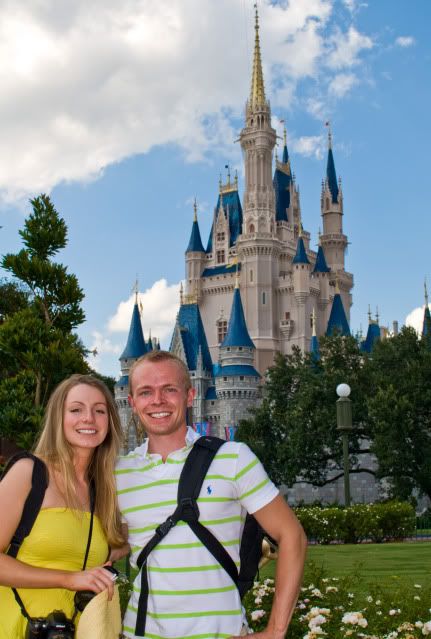 After Hall of Presidents, we experienced Peter Pan's Flight, before heading over to Tomorrowland for ice cream and to meet up with Jeff and Don to say goodbye. After that delicious ice cream, we headed through the hub towards Big Thunder and Splash. Along the way, we heard Joe yell our names. It turned out that he got stuck having to ride Haunted Mansion four more times before we "could" leave. Given that Joe is a huge Haunted Mansion fan, I'm betting that wasn't too rough on him. After Big Thunder and Splash, we hit Haunted Mansion once more, before heading to Cosmic Ray's for dinner. Our last dinner at Cosmic Ray's always hits me hard–it's one of those moments that tells us that our time in the parks is waning away, and that soon we'll be leaving.
As much as I like Cosmic Ray's, and I hate to admit this, but I was not looking forward to the burger that evening. Sarah and I usually eat healthy foods, and after several days of eating junk, it just isn't appealing. It's a great treat at first, but not something I could do all the time. That said, Disney fast food must have a special allure or some special characteristic, because as soon as I had that first bite, I could not stop. Like the great philosopher Will Ferrell once said, "once it hits your lips, it's so good!"
It was then time to head to get our spots for SpectroMagic. We were a little concerned that we wouldn't be able to get good spots only 30 minutes in advance, given that SpectroMagic hadn't been run much that week due to the Halloween parties. Not completely the case, but our spots were definitely not the best. I was glad, though, that everyone remained seated once the parade started. Although one thing that pissed me off (there's always something, isn't there?) was that a stroller parked in the 'front row' had two balloons flying above it. This wasn't directly in front of me, thankfully, but if I were directly behind those people, I would've said something to them about the balloons (they were definitely blocking the view of the people behind them, who were too nice to say anything). No fancy shots this time, just using the 50mm for the first time on SpectroMagic. I don't think I need to comment on our love for SpectroMagic. What a show!
While waiting for SpectroMagic, I had scoped out a spot for Wishes right near Partners. I did this scoping primarily because I wanted to make sure I would be able to use my UWA lens to get the shots I wanted. Somewhat to my surprise, the location worked. After SpectroMagic, we immediately headed over to the side of Partners to set up for the fireworks. Although this is a little close to the Castle, the show was great. If you're looking for the ideal spot to view the fireworks, this is not it. Go to the middle of the road near Casey's. Even after all the spots with which we've experimented, I still think that's the best. If you've seen the show a number of times, maybe it's worth experimenting with locations, but nothing beats Casey's for the view.
After Wishes!, Evening EMH (our only Evening EMH of the trip!) began and we met John and Colleen at TTA. I met John on the forums some time ago, and I always appreciated his sarcastic humor. Especially when things got a little too serious or stuffy. John and Colleen were taking a three week European Holiday, and had gotten engaged at Haunted Mansion earlier in their the trip. TTA was probably a bad first choice for attractions, as immediately after meeting, we boarded separate cars. After that, Sarah and Colleen were inseparable, with Nick, Colleen, and I being the "third wheels" to their fun. That's okay, though, as I had plenty of "guy time" prior to that.
The Monsters, Inc. Laugh Floor was our next stop. John had remarked that they saw a new skit on one of their trips to Laugh Floor, and it certainly sounded so based upon his description, but I didn't quite understand what he meant (not that anything was wrong with his description, I just think it's one of those things you have to experience to understand). Well, luckily for us, we saw this new show. I won't try to articulate its substance here, but it was fairly humorous. It's definitely nice to see that this show is still being tweaked. I would be very happy if they had 10 or so skits that they rotated between, making each show a little more unique. As of right now, I think it's difficult to enjoy the show more than twice per year (although since most people aren't there more than once a year, maybe WDI feels this is adequate).
After Monsters, it was one to Pirates and Splash. After Splash, we made a trip to First Aid, where Sarah got an ice pack for her ankle, which had been bothering her since some sort of bugs bit it up the previous day or night. With an ice pack affixed to her ankle, we headed off to Country Bears. Along the way, we stopped at Aladdin's Magic Carpets, seeing that it had no wait and we'd never done it. It offered an okay view of the park, but nothing like Astro Orbiter. I wouldn't be sad to see the Magic Carpets depart.
Hanging out with John (since Sarah and Colleen basically ditched us I can't say it was fun hanging out with her, as I don't really know) was fun. He has a colorful personality, and is not afraid to say exactly what he's thinking. Plus, many of the same things that irritate me about people and behaviors at WDW also annoy him. I often think that very few people share my beliefs (although the beliefs strike me as patently obvious and resoundingly true), so it's good to know that Sarah and I aren't the only ones who think this way. His odd analogies were pretty humorous, although I can't quite be too sympathetic to him for having to put up with low crowds (but higher than normal for this time of year), milder weather (but warmer than normal for this time of year), and free food. I can only imagine what he'd be saying if he visited in August when we normally go. I would offer a hypothetical quote, but I think it might be a bit too colorful for this family-friendly site.
We then headed to Big Thunder Mountain, where one side of the track was closed as some group just kept going around and around. I'm not sure if this was some sort of Magic Moment, a Guinness Record in progress, or what, but I know one thing: we wanted to be part of it! Big Thunder again proved why it was the premier nighttime coaster at WDW. The lighting and sound really makes the place come alive at night. On our next trip, Sarah and I are going to make a conscious effort to visit this more at night.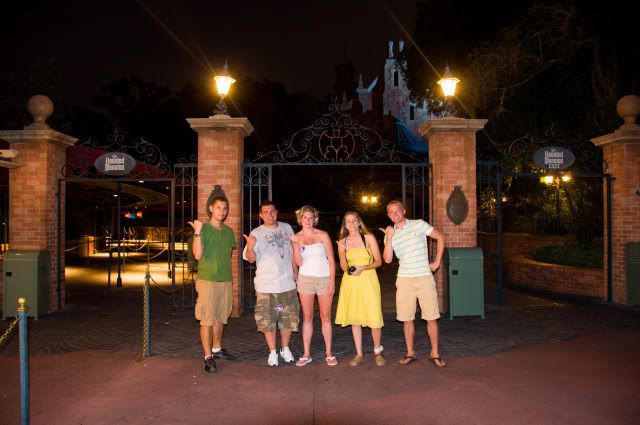 As EMH concluded, we headed to Haunted Mansion where we would conclude our night. The first time we got off of Haunted Mansion, it was still 4 minutes until park close, and being ones to want to get the most out of our time at WDW, we opted to go through again. Afterwards, we began taking pictures outside the Mansion. This has always been one location that is difficult to get (it was even difficult during the party–but for almost the opposite reason: the vivid colors in the lighting made it easier to blow highlights) because it's so dark. We spent probably 15 minutes there, before heading over to Pirates.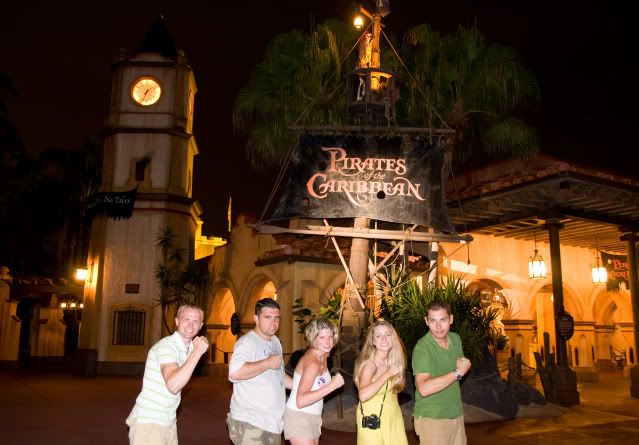 There, we encountered an area manager who, I sure hope, was having a really bad day. I'd rather not fixate on the negative of the trip (especially since I primarily write these so we can look back on our trips in the future…call it a slight wave of the magic wand), so suffice to say, we quickly departed the park after getting a few shots in front of Pirates of the Caribbean. We said our goodbyes to Colleen and John, and boarded the bus to Fort Wilderness–or so we thought. The bus driver informed us that she didn't have clearance to go to Fort Wilderness, so she took us to Wilderness Lodge, where we caught a bus to Fort Wilderness.
Having only stayed in the park for 40 minutes after closing, we got home relatively early. Still, we didn't get a full night of sleep, and the next morning was another early one, and the only day of our trip that would be "just us", so we wanted to get a good rest.
I started out that morning a bit earlier than Sarah, showering first this time and packing (read: throwing everything as quickly as I could into our suitcases) so that I could take our bags to Bell Services while Sarah got ready. One unanticipated problem that we encountered that I didn't expect was that the supplies Sarah would need to get ready I also needed to pack. There was no good solution to this problem (at least that we could find), so I waited until she was sufficiently ready and then took most of her toiletries, and left her with a few that she could just bring into the park with her that day.
Then I made another mistake: not thinking, I dragged our luggage to the internal bus stop and caught a bus to the Outpost, dragged our luggage off the bus, and towards the front desk. Sweaty and tired, I finally made it to the front. My disheveled appearance prompted the lady at Checkout to ask what I had been doing. When I informed her of my trek to checkout, she told me that I should have called, and a van would've picked me up. This did make sense, especially since a van took us to our room in the first place. Oh well, I got the job done.
I met up with Sarah at the Marina. This morning, there would be no miracle story of us arriving at Magic Kingdom for park opening despite leaving our room only 25 minutes in advance. The transportation was still quick, but our setbacks caused us to arrive a tad later, at around 9:20 a.m.. Upon entering the Magic Kingdom, we found ourselves hungry, so we stopped at Casey's for breakfast. While there, I noticed an awesome Haunted Mansion refillable mug for only about $2 above the cost of a beverage. A sucker for Disney cups, I bought one. Nothing like a Coke at 9:30 in the morning while listening to the sounds (and ducks) of Main Street. As much as we love touring at a fast pace, we are also wise enough to know when to slow down and just soak in the parks. This was one of those times.
Although we could have sat on Main Street for our entire last day, we decided it might be fun to experience some attractions, too. We headed off to Fantasyland, where we opted to hit Snow White's Scary Adventures and the Many Adventures of Winnie the Pooh. It had been a while since we did either of these, and my coaxed Sarah finally cracked her. I think I can speak for both of us when I say these are better than I remembered.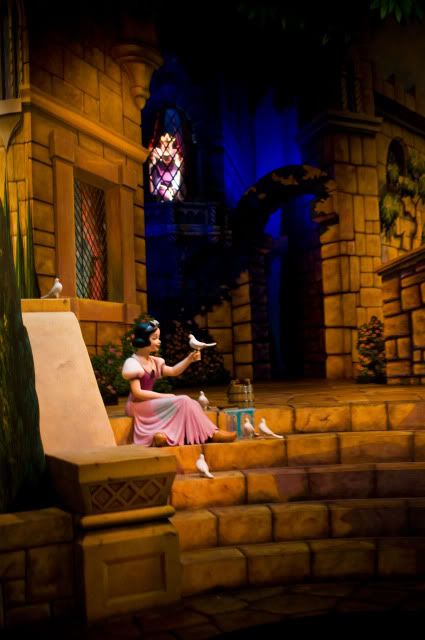 Of the two attractions, we thought Pooh was decidedly better, and much better than we had remembered. I blame myself–and the internet–for our unreasonably low opinion of Pooh. I think I had read so many derogatory comments about Pooh online that I got caught up in the group mentality of "Pooh=bad" rather than developing (or remembering) my own experience on Pooh. I don't remember Mr. Toad all that well, but it seems to me that Pooh is a high quality attraction in its own right. With as enjoying of an experience as we had on the attraction, I know I will be extra careful not to substitute others' judgment for my own. I think it's important to remember that, despite what the vocal minority may state about an attraction, there descriptions and YouTube videos are no replacement for actually experiencing an attraction. I encourage everyone to go out and experience an unpopular attraction that you have avoided due to unfavorable reviews. Who knows, you may actually end up finding that you like Stitch's Great Escape! There's nothing wrong with that.
Following the Fantasyland dark rides, we headed to Tomorrowland where we watched Push briefly. After that, it was time for a spin on the TTA. A lot of construction work was going on over by the Video Arcade, Space Mountain, and the old Skyway Station; hopefully this area ends up looking really nice when it emerges from its refurbishment this fall.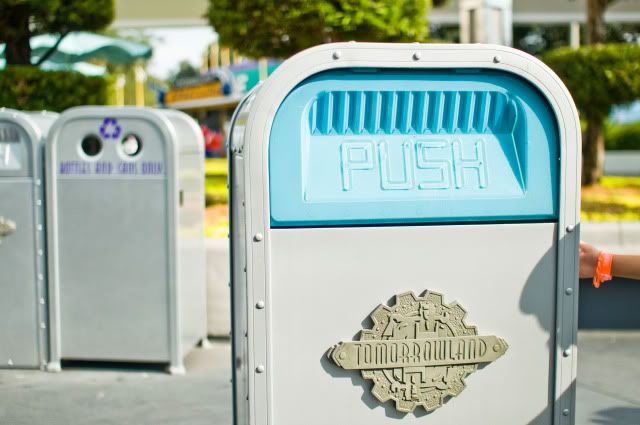 It was then time for our FastPasses at Peter Pan's Flight and after that, we headed to Haunted Mansion for the last time. No matter how many times we ride Haunted Mansion, we never get sick of it. There is always something new to see and the atmosphere is just perfect. It is one attraction that I don't think will ever need to be replaced. Updated, of course, but it has a timelessness that, unless future generations are dramatically different than us, will always appeal to guests. I really hope that Ariel's Adventure (the new Fantasyland dark ride) has this level of detail and is just as immersive. Dark rides offer a re-rideability factor that, with the exception of Splash Mountain, which is a hybrid, thrill rides cannot compete with.
Like our August trip, we concluded our trip in Tomorrowland. First, we hit Buzz, where I came oh-so close to maxing out my gun again. I think it goes without saying at this point that I should be adorned with the permanent title of "Galactic Hero." Despite all of our feelings towards the new narration on the TTA, it is still an attraction we really enjoy, and one we didn't get to experience at all in August. So we figured that should be where we concluded the trip. We boarded the TTA for one last time, took the leisurely stroll around Tomorrowland, and watched as construction progressed at Space Mountain and the old Skyway. The sights and sounds of the TTA are definitely some of the "slowed down" experiences that we love. It's as if time stands still (at least a little; it still feels like it went by incredibly quickly when it's time to exit) while aboard the TTA. You can just sit back, close your eyes, and enjoy being immersed in the experience. When we exited, it was clear we still had enough time for one more attraction. It was either Buzz or TTA. Buzz would be pushing it, so we boarded TTA again. It would be redundant to describe the same leisurely 'glide' around Tomorrowland, so I will leave it at this: it was just as relaxing, and we honestly did not feel the sense of urgency that usually comes with the end of a trip. When we exited, Sarah asked if we had time for one more ride. It was 12:45 and our DME bus was picking us up at 1:40. Sure, we had time.
When we exited the TTA, it was 1 p.m.. It took us 5 minutes to get to the front of the park. Even if all things went favorably (and that having happened the entire trip worried me that it wouldn't this time), we may not get back to Fort Wilderness by 1:40. The only thing that slightly reassured us is that normally the bus runs 5 minutes late.
When we arrived at the Boat Launch, we saw a boat taking off. Shoot, we though, at it was the same boat (or the same style of boat) that had dropped us off that morning. We'd have to catch a taxi. Luckily for us, however, was that a smaller boat runs from Fort Wilderness to Magic Kingdom after the initial morning rush. Our boat was sitting there waiting for us.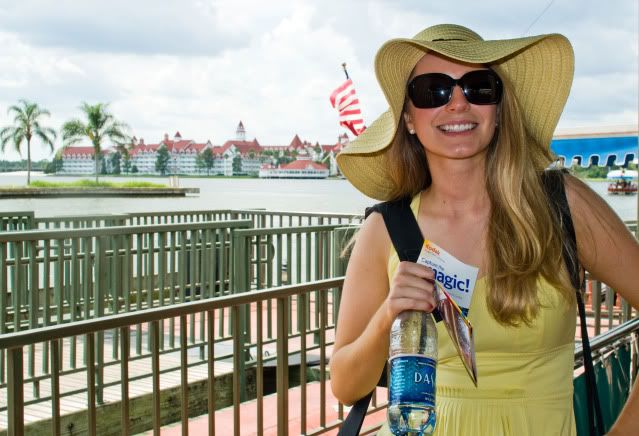 We boarded the boat and watched the hustle and bustle of the beautiful day behind us. Even as we left, the magic continued on. To think, at that very time, some child was stepping up next to the height checker at Splash Mountain with high hopes that, after several years, he'd finally be able to ride. Somewhere else, a couple was sharing their first Dole Whip. All of this fun being had, and we had to leave! It just isn't fair! I don't know where envy falls in the stages of grief, but Sarah and I had both hit that stage within a matter of minutes after walking through the exit.
As our boat left the dock, we saw countless people out on Bay Lake in watercraft, some para sailing, and the most lucky of all, headed in boats to the Magic Kingdom. It was also like a merger of worlds good and bad. While we saw all those happy folks nearer the Magic Kingdom, as we neared the final leg of our voyage, we saw the foreboding sight of River Country decaying before us. I was just pleased that when we arrived at the marina, we didn't see crows and vultures lining the walkway. That might have been a little too ominous.
We briskly walked from the Marina towards the Settlement bus stop, where a bus was waiting to take us to the Outpost. Fort Wilderness transportation definitely gets 5/5 stars from us. We got at the Outpost with plenty of time to spare. While waiting, I attempted to take some pictures, but I was so overwhelmed with grief that I didn't get anything worth while.
After a while, our DME bus came to get us. We stopped at OKW and SSR (at least) on the way back, which I found a little irritating. So they get dropped off first and picked up last? Not exactly fair! In my tired state slipping into and out of sleep, I couldn't really get too upset by it. I attempted to watch the DME video, but I probably caught only half of it. We were both in deep REM sleep by the time we passed through the front gates (or the exit gates, as they were) of Walt Disney World. The story of this particular trip only gets depressing from here, so I will leave it at this. We did have a wonderful time…except for leaving.
Chapter 6: Parting Thoughts
Having this many people in your party on a trip can be difficult to manage. It was a lot of fun touring with this many people, but at the same time, I think there were a lot of times when we needed more direction or someone to be assertive and state "let's do X, now, how does that sound?" There were times when it would've been beneficial for the group to breakdown into smaller groups to accomplish our objectives (I use objectives loosely here–if one part of the group wants to get a lot of pictures of a certain thing and another part doesn't, one half of the group has the objective of getting picture X. The other part has the objective of going on attraction X. As soon as both parts realize that, they should each develop a plan of attack). I know I have a new appreciation for the WDW Celebrations and other such organizations that plan large scale events like this. However, I think it might be easier for those groups because they are publishing an agenda and it's a scenario of either do this or don't, rather than attempting to determine what to do by consensus.
That said, touring with a group was a new and fun experience. It was nice trying things that we may not otherwise do, and it was also fun getting different perspectives on the parks. I think too often people get stuck in their style of touring (Sarah and I normally do things with an unabashed "commando" style), and they fail to see the parks in a different light. We definitely saw things a bit differently this trip, and the group dynamic was fun. It was also fun to 'talk shop' about photography while walking around–although I'm sure Sarah wouldn't share this sentiment.
I also don't know how soon we'll go back at this time of year. If a situation arises that makes free dining a good deal for us, and that deal is only possible during Halloween season, we may do it sooner rather than later. I doubt that will be the case, especially given that free dining is just the better marketed of the discounts Disney offers, not necessarily the most cost-effective (well, depending on where you stay). The controlling factor in our decision not to come back for Halloween for a while is its proximity to Christmas.
Earlier in the report I alluded to my concerns about taking a trip so close to our August trip. While this ended up not being a huge concern, I think that was mostly because we had so many new experiences during the October trip. If we did the same thing next year, I wouldn't be so keen on going in October. On that same note, after experiencing an entire trip during the off-season, I now realize how far from off-season the time we go in August is (it used to be). Given that Sarah and I will both be working next year, the school rationale for the August trip won't be available. Instead, we can vacation whenever we want (not that we don't now). When we really want to go is Christmas. It's our favorite time in Disney, and one I think we'll really regret missing this year.
Don't get me wrong, we love new experiences, and I'd love to experience Flower & Garden, Star Wars Weekend, etc., we really love Christmas. We are nuts about it. If this trip report is still 'kickin' when we put up our decorations in a couple of weeks (no joke), I will post pictures then so you get the idea. Since Halloween and Christmas are so close together on the calendar, I don't think it would make sense to go at Halloween, and then again at Christmas. Especially considering that we'll only have two trips per year. June and November sound pretty good to us for next year.
The next time we'll be back at this time of year will probably be in October 2011 (I guess that actually isn't that far away) for Walt Disney World's 40th Anniversary. Still, that is three trips away. Before then, a lot of "life" will be happening for us. I will have the bar exam, we will be starting our careers–oh, and of course that "little detail" of having our wedding and getting married. It should be a busy 8 months or so for our next trip.
All in all, we have to say that it was a really good trip. Full of new experiences for us, and with a good balance of group activity and on-our-own touring. The Halloween Party is a can't miss, and Food & Wine Festival is a great experience for those looking to sample some finer foods and good wines or beers. The Magic Kingdom looked great for Fall, although the rest of the parks didn't really look all that different (it's definitely no Christmas). Despite it only being one month after our last trip, the crowd levels and temperature in the parks were far more bearable. Although I can't say we've had a trip that I wouldn't rate "very satisfactorily", I would rate this trip highly.
So, until our next report, we hope you have enjoyed reading next another novel of a trip report (less than 5 days and I wrote this much?! I need to be a little more concise! Honestly, did anyone read it all?). Hopefully it didn't drag on too much! We will see you back here following our honeymoon, when we should have our most exciting and unique trip report to date! Thanks for reading!
Your Thoughts
Any comments or questions about the trip report thus far? Please share them below–we make an effort to respond to every comment!