Part XIII: Coast-to-Coast Disney Trip Report
I had taken mental note of several areas I wanted to photograph as we were doing the Hunt, but there was no way I'd have time to hit all of these, so I focused my attention on the Flame Tree BBQ area. I snapped about 20 frames in 5 minutes before receiving a call from Sarah informing me that they realized that they could not pull the car up to pick me up. I informed her that I was already heading towards the front of the park, a shock to her as I usually take way longer than I estimate for photo-time and practically be dragged kicking and screaming from the parks. By the time they were at the bus stop directional sign, I had caught up to them. The only downside was that I was still drenched in sweat when we arrived at Sanaa, whereas everyone else was dry and reasonably presentable. Such is the sacrifice I make for photos!
Sanaa always brings back one of my fondest memories of our honeymoon. Sitting across from the table from my new beautiful wife, sitting at the table grasping her hands, looking longingly…out the window…seeing two zebras going at it! Oh, that is one of the funniest things I've seen at Disney. I can only imagine the parents in the restaurant having to explain why one zebra was trying to ride another zebra! Whenever it's even remotely relevant, I like to share this story with people we see, theorizing as to humorous conversations that took place amongst other patrons watching the 'Wildest Ride in the Wilderness!', so I certainly took the opportunity to share the story with Nick and JL.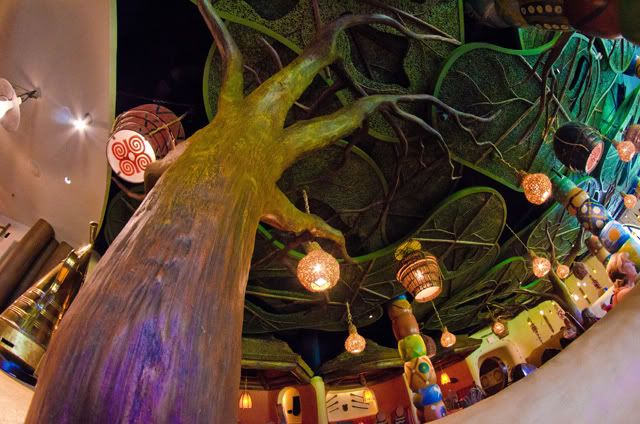 Sanaa was absolutely dead, which I've heard is pretty common. Even though it's way out in the middle of nowhere on the edge of property, and then far away within Animal Kingdom Lodge, it's really disappointing that this location isn't more popular given the delicious cuisine. This became a topic of conversation at lunch, as we discussed how it was disappointing that Disney pays such great lip service to healthy diet initiatives (among other progressive initiatives) yet the substance isn't really there to back it up. For example, the company has taken baby steps such as adding apples to kid's meals, but it won't actually add more than a few token healthy items to the menus.
My position was, and is, that Disney's clientele dictates that it does not make such changes. As is evidenced by the poor performance of a unique menu at Sanaa versus the "steak and potatoes" menu at a restaurant like Le Cellier (although in all fairness, one is in a heavily trafficked area of Epcot whereas the other is in the middle of nowhere, so this isn't an apples to apples comparison), Disney guests just do not demand healthy food in high enough numbers to to justify menus with more healthy items or organic items. Disney is a cheaper vacation destination than most other destinations (relatively speaking–I'm not saying it's cheap by any means!) so it tends to, generally, attract a lot of guests who, to put it bluntly, are less sophisticated in their dining choices. Obviously there are plenty of guests who would enjoy the more refined menus, but the demand probably isn't sufficient. Disney is a business, and if the demand isn't there, there is no reason to add the items to the menus.
In any case, our meal at Sanaa was excellent. I wanted to experiment a bit with what I ordered, so I decided to just order a random plate. It turns out that the random plate I ordered (I ordered first) was exactly the same as what Nick and Sarah ordered. Had I known Sarah was going to order the same plate, I would have ordered something different. After all, I can always eat what she doesn't finish!
Immediately after we ordered our meals, our server brought out the Indian Bread Service for us to share, compliments of the chef. This service included the followings breads: Naan, Onion Kulcha, Papadum, Paneer Paratha. It also included the following for the dressings: Red Chile Sambal, Cucumber Raita, Coriander Chutney, Mango Chutney, Garlic Pickle, Green Mango Pickle, Roasted Red Bell Pepper Hummus, Tamarind Chutney. If, right now, you're thinking, "wow, he must be one of those sophisticated foodies," stop. I'm just copying and pasting from AllEars.net. While I would like to think my palate has become refined since my college diet of Slim Jims and Busch Light, I still can't identify obscure foods without external reference.
I don't know why the chef gave us these breads to try, but it was a nice treat. I am continually impressed by the gracious service and seemingly egalitarian treatment of patrons at Walt Disney World. On more than a few occasions, Sarah and I have been snubbed by servers or chefs (as they visit every table *except* ours) when dining out in the "real" world. Granted, we are probably the youngest people in some of these restaurants by 20 years or so, but we are appropriately (or over) dressed for the restaurant, are behaving in a well-mannered respect, and aren't merely ordering side salads and waters. This has been really aggravating for us, and there are a few restaurants we won't visit again as a result. (If you're young and you have an Eddie Merlot's around you, avoid that place!) This has never been the case at WDW or DLR. We've always been treated as if our business were appreciated, and for the most part, our service has always been exceptional (and if it hasn't been, we've never felt it's because the server was snubbing us).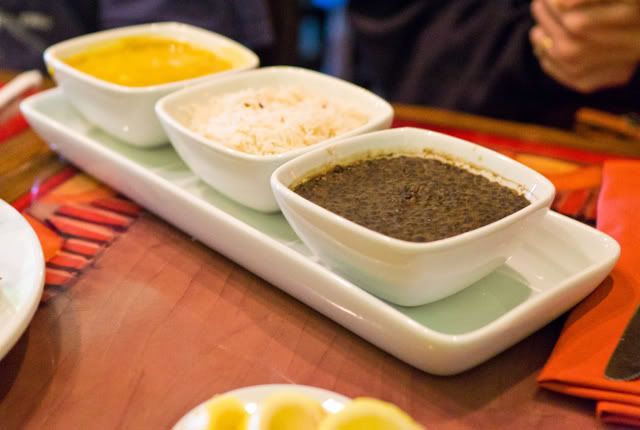 I had ordered the Lamb Kefta, which is lamb wrapped in Naan Bread with Tamarind Glaze, Minted Greens, Tomato, Onion, and Cucumber-Yogurt Raita. For the sake of comparison only, it's closest cousin to American fare (or Americanized fare) would be a gyro. I'm not sure whether the the Kefta was intended to be consumed like a gyro, but given the heaping pile of lamb, dressing, and greens, regardless of how it was intended to be consumed, I was going to have to fork 'n' knife it. I'm not complaining about being "forced" to eat it this way, though, as I always prefer to err on the side of dishes that are too large, rather than ones that are too small!
Lunch didn't last long, as we were already pushing it by doing a sit-down meal between hunts that day. (Since D23 Cast Members had to score the books prior to the Awards Ceremony that day, the deadline for returning books was, at the very latest, 5 pm, as contrasted with 8 or 9 pm, I can't remember which, the previous day.)
We arrived at the Studios and started the Hunt around 1:50, phew, just in time! We started by knocking out some low point-value questions on Hollywood Boulevard and Echo Lake, also beginning a few of the multi-point questions that started here. Along the way, we made a prolonged stop at Min and Bill's Dockside Diner. I have no clue what we were doing there, but I know it was hot as heck with no shade! From there, we meandered our way back to the Streets of America.
The Streets of America stuff kicked our butts. We fixated on questions there for far too long, and I think most of them were only one point questions. Time wasn't the only casualty. They might as well rename the Streets of America as the, "Streets of Death Valley," because the pavement coupled with the lack of shade make that place a hot-cooker when it's sunny. Focusing on this area for so long made us sluggish and crabby during the time that followed, I think.
From the Streets of America, we made our way over to the Animation Courtyard and Animation Building, where a lot of questions could be answered. This was a nice reprieve, as the Animation Building has wonderful, wonderful air conditioning! It certainly revitalized us, and got us primed for the rest of the Studios Hunt!
From the Animation area, we headed to Sunset Boulevard. We went on an absolute tear here, knocking 10 point questions out of the ballpark in no time. There were probably 40 points we got here within 10 minutes. That's excellent time, right there. I wasn't especially confident in my knowledge of the Studios, but somehow, certain things jumped out to me from the questions as things I had seen in photos of the Studios before. Likewise, my awesome teammates brought their A-game on Sunset. As we winded up our Sunset questions, we encountered a sight that we hadn't seen since EPCOT: our book was almost complete without us guessing at the end! What a shock, especially given that we should have been super-tired in the last park! We turned in our books, then contemplated what to do next, now that the Hunt was OVER!
Although all of the events for the weekend, including the Scavenger Hunt, were billed as being special events for Walt Disney World's 40th Anniversary, I will bet it becomes an annual event. That being the case, we learned some lessons and there are some things we would definitely do differently next time. I think the Studios was definitely our strongest park, and we would have improved in each park were Animal Kingdom not so difficult. I'd share some of these strategies here, but I don't want to enlighten the competition!
One thing worth mentioning to anyone who may not have participated because they couldn't find 4 people: I don't think any number above 2 gives a decided advantage. There were plenty of times when I didn't have any idea what we were doing because it's so difficult for four people to crowd around a question book. Except in circumstances where your team is so familiar with the parks that you have players who can answer large portions of the books without even stepping foot in the parks (in which case, more team-mates are better!), I don't think team size makes a huge difference. In some cases, it impeded us a bit, as we had to stop at drinking fountains or wait for the slowest moving teammate to catch up. (Not one of us, however, EVER used the restroom during the Hunts!) In this regard, you have to appeal to the lowest common denominator.
Another thing that I think bears mentioning if you're considering doing a Hunt in the future is thinking about how the likely weather int he parks might affect your team. The weather for this Hunt was brutally hot. That sucked. The only rationale I can see for NOT doing this event in October when the ACTUAL 40th Anniversary occurs is to draw out of town guests to Disney for the 40th on two separate occasions. In October, the weather would have been better, and even though there are a lot of events that weekend, there's no reason it couldn't have been the week before or week after (since this Hunt did fall during the week, anyway.) Like I said, the only justification I can see is Disney wanting to get people down twice for the 40th, so what better time than to schedule an event during the slow season?!
Like I said above, despite any complaints about the heat or the pace of the Hunt (the pace was unsurprising and was a necessary evil–if it were slow paced and everyone could finish every question, what would be the fun?!), the Hunt was amazing. If it's offered next year, we will probably do it. We learned so much about the parks and had a great time just running (sorry – briskly walking) around the parks just exploring. We were a little apprehensive at first that it would be a waste of two valuable touring days, but it most definitely was not. Plus, we had time in the evenings to do other things. I would give the Hunt a solid 8.5 out of 10, with it only losing points due to the time of year it was scheduled, and the difficulty of Animal Kingdom.