Part 17: The Richard Sherman and Dreamfinder & Figment Concert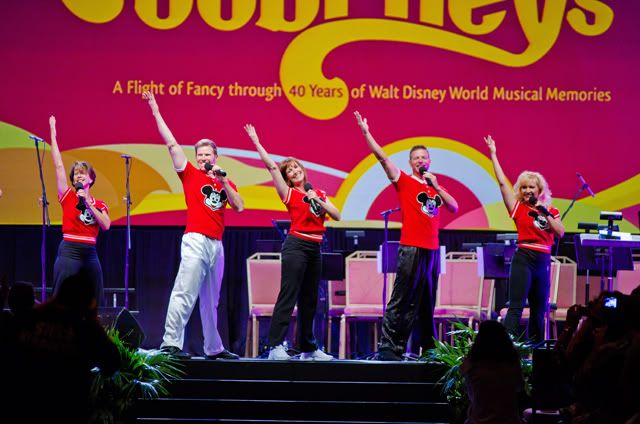 Almost as soon as we stepped foot on the resort loop ramp, the monorail started pulling away. I stopped in my tracks and called an audible, telling Sarah, "let's go to the Magic Kingdom." I think she was a little perplexed at first, but then realized the Magic Kingdom monorail was still at the station, and taking that loop would also entail fewer stops, so even though it did involve more walking, it might end up being shorter. Plus, we like to be in control of our own destiny, so to speak, and nothing would have been more agitating than waiting at the other stops for people to load and unload. At least this way if we were to be late, it would ultimately be "because" we didn't walk fast enough from the Magic Kingdom to the Contemporary.
The monorail ride was short, and we quickly disembarked at the Magic Kingdom monorail station, making it down the ramp before anyone else. This is always huge, as the herd of people moves so slowly down this ramp. And if you've been following along, you know I'm not exactly wild about being stuck behind slow people.
We started out briskly walking, but at some point, brisk walking turned into "dead sprinting" as Sarah and I ran from the Magic Kingdom to the Contemporary. We had only 4 minutes to make it from the monorail platform to the Destination D ballroom before the Magic Journeys pre-show began, and while I think we made it in about 6 minutes, we were right on time for the start of the pre-show.
As the pre-show started with song and dance by the Kids of the Kingdom, a group heavily lampooned during the earlier "Weird Disney" presentation, I struggled to catch my breath and wipe away sweat from my face. We are both in excellent physical shape, but I'm not fit-enough that I can take running in the sweltering humidity of May in Florida with over 20 pounds of camera gear on my bike. Luckily, I had a few minutes to catch my breath before the pre-show really got interesting. This happened when a riveting performance by the Main Street Philharmonic Band began, but nothing could properly set the stage for what was to come.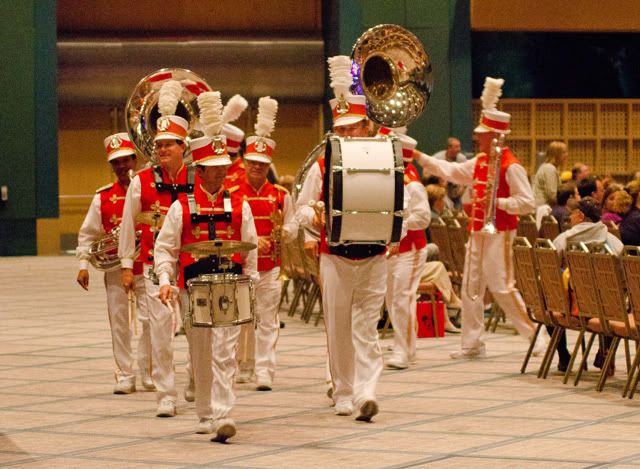 Disney Legend Richard Sherman. The set-up for his Magic Journeys concert resembled an intimate concert and biography hybrid, with Disney historian Tim O'Day shepherding the performances, asking Mr. Sherman questions, requesting that he play certain songs, and a bit shockingly to members of the audience, directing him not to go into certain stories as time didn't allow (no offense whatsoever to Mr. O'Day–he rocked all weekend long!). I think it's safe to say the 1,200 individuals in attendance would have all stayed through the night to listen to any and all of Richard Sherman's stories. However, to Mr. O'Day's credit, there were probably real world time constraints, and he handled the pacing of the show incredibly well and with great stage presence.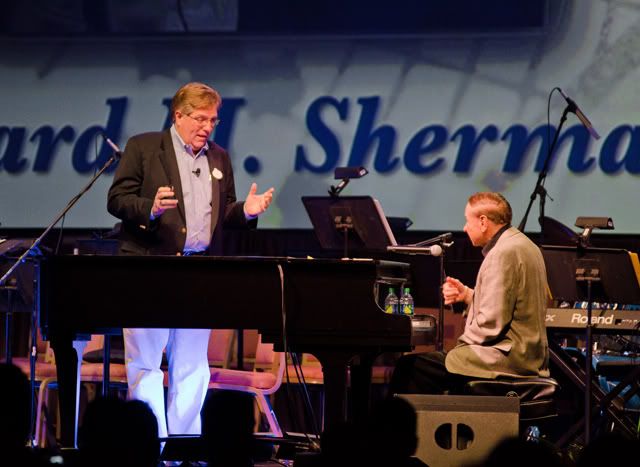 By and large, Mr. Sherman started by giving a bit of background information regarding the song, then signing and playing a couple of verses while slides appropriate to the songs and/or films were displayed behind him. He and Tim O'Day would chat afterwards briefly, and quickly move to the next song.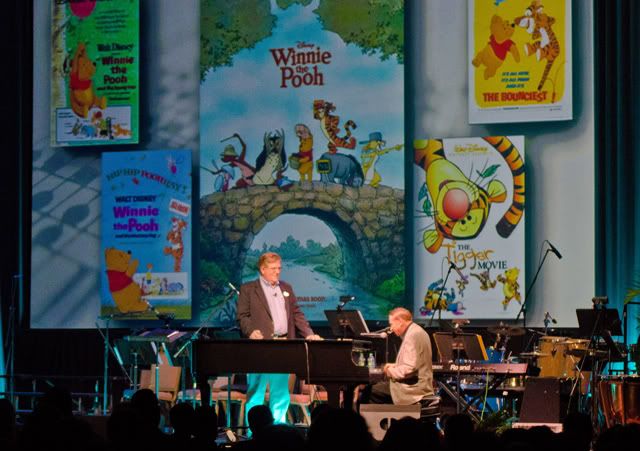 While I have heard Richard Sherman discuss some of these songs and his creative process before on the WDWRadio podcast, actually hearing him perform was what can only be described as a veritable "sea of chills," especially once he got to the theme park material. His performances were so touching that it was a struggle to hold back tears of joy much of the time. Given this emotional state of euphoria, I'm sure I've missed a couple songs from this list. I do know that he began with a few "rock and roll" songs from his early days, some of which went on to be performed in the mainstream. Following that, he performed a couple of classics from Winnie the Pooh, including Up Down (explaining it as Pooh's exercise song), Winnie the Pooh, and the Tigger song.
Next, he explained the origins of I Wanna Be Like You from The Jungle Book, saying that he and his brother were sitting around, trying to put the positive spin on the story that Walt wanted, and began thinking of how an ape would talk. During that, they decided that each line would begin with ape sounds. He also shared that they originally wanted Louis Armstrong to play King Louie, but then they realized having a black man sing a song about wanting to be human would probably get them into hot water with the NAACP. Mr. Sherman relayed this information in a completely innocuous way, but I think it was still a bit surprising to those in attendance.
Around this same time, there were a couple songs with which I'm unfamiliar, including one from Bedknobs and Broomsticks called Beautiful Briny Sea and one from the non-Disney film Chitty Chitty Bang Bang (the song with the same name).
Next, he tore right into his biggest work with quartet of songs from Mary Poppins: A Spoonful of Sugar, Supercalifragilisticexplalidocious, Chim Chim Cher-ee, and finally, Feed the Birds. The stories associated with A Spoonful of Sugar and Feed the Birds were undeniably the most interesting. For Spoonful of Sugar, Mr. Sherman said that his brother had come up with the line "a spoonful of sugar makes the medicine go down" after his son had told him of how they took medicine at school with sugar to make it more palatable. Richard told his brother that was a stupid line, but eventually came around, making the suggestions that they change it from "makes" to "helps" because Mary Poppins wouldn't say "makes," and further that they make the word "down" a high note instead of having it be a more predictable low note.
Mr. Sherman played the first three songs wonderfully, and it was easy to imagine him and Robert Sherman sitting around decades ago, playing these same songs for Walt Disney and Julie Andrews as they collaborated on the film.
The final song, Feed the Birds, seemed especially poignant for Mr. Sherman. He first expressed how it was an eloquent way of saying it doesn't take much to give love. He also told a touching story that when he dedicated the Partners statue at Disneyland, right as he delivered the final "feed the birds" line, a white dove darted down from the clear sky and landed on the piano. As it landed, there was a collective gasp from the audience. Mr. Sherman asked what had happened, and everyone said that was Walt who had come down. A chill inducing moment, to be sure, and one that may seem a little far-fetched when reading it in a trip report, but I assure you, that audience did not think the story was far-fetched while he told it to us.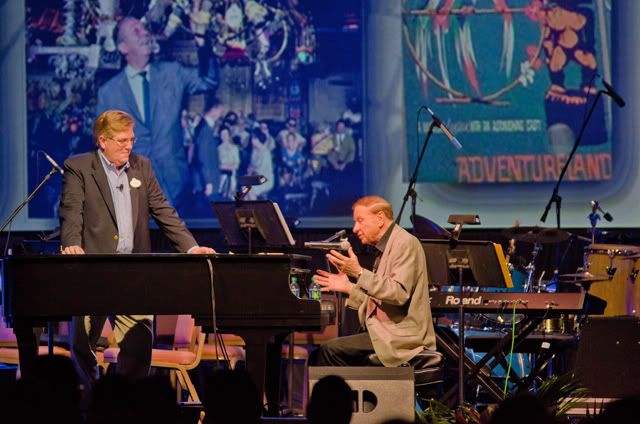 From here, he proceeded to the theme park music, which, based upon the audience reactions to each of these songs, was what the crowd truly loved. He started with The Enchanted Tiki Room, telling the story of how Walt approached them and "requested" that they write a song for the show: he showed them some of the elements of the show, and they, perplexed by it, asked, "what's this?" Walt responded that it was the show for which they were going to write a song.
I love hearing stories like this. The most famous of these is (in my opinion) the "lost weekend" sketch of Disneyland by Herb Ryman. For those unfamiliar with that story, the jist of it is that Walt phoned Herb Ryman, who didn't work for Disney at the time, one Saturday morning and told him about his plans for Disneyland. Ryman responded that he'd love to see a drawing of it, and Walt informed him that he would be creating the drawing. And that Walt needed it by Monday for an investor's meeting. If these stories involved anyone else besides Walt, I'd probably think the person in Walt's position were a little smug or assuming, but that's definitely not the case here. To the contrary, I think it further displays his genius of coming up with an idea, taking it as far as he could, then finding the right collaborators–and quickly–to bring his idea to fruition. In our era today filled with needless bureaucracy and feet-dragging, it's refreshing to hear of a bygone time when creative folks could just get things done.
After this story and performance, Mr. Sherman talked about a subject that has been making a strong resurgence in the fan community, and was one of the ambassadors of the weekend, so to speak. The Orange Bird. There wasn't much of a unique story to this song, besides the fact that he hadn't sung it in many years. (I'm not sure on the exact number, but it had been a while.)
Next up was it's a small world. The story for this was quite interesting. Much like the circumstances surrounding the Tiki Room, Walt told them they were going to write a song for the attraction. It was originally to be a slower, more melodic "prayer for peace," and that was the way Mr. Sherman sung the song to us. It was really quite beautiful that way, and although I couldn't imagine the attraction version any other way, I think it would be great to hear the slower version played somewhere.
He then sang a couple personal favorites of mine, the two songs from Carousel of Progress, Great Big Beautiful Tomorrow and Now Is The Time. It's always amazing to me that this one attraction has had the benefit of having two wonderful songs like this. I honestly can't pick which I like better, and that's definitely a good thing. I do find the reasoning for changing songs (the need for optimism towards the future) funny, but it does make sense!
A few videos were shown next, featuring, in order, the Bicentennial Parade Song from Magic Kingdom, the World Showcase March from Epcot, and previously "lost" footage of a different take of New Horizons. I have always had an odd curiosity about Disney and the Bicentennial (I love America on Parade), so the first song was great to see. World Showcase March was equal parts catchy and odd, but very fun to see.
New Horizons, well, anything Horizons-related the crowd absolutely ate up that weekend. I am not as enamored with Horizons (it is the only EPCOT Center attraction I don't remember experiencing it in the flesh) as some, but I do appreciate it for what it was.
When these videos ended, Tim O'Day and Mr. Sherman talked a little more, talking about Magic Journeys and its pre-show before playing these songs. I really enjoy both of these songs (although Sarah maintains that Magic Journeys itself seems like a "drugs song"), but the performances of them are now mostly a blur–and were probably a blur 2 minutes after they were sang, actually.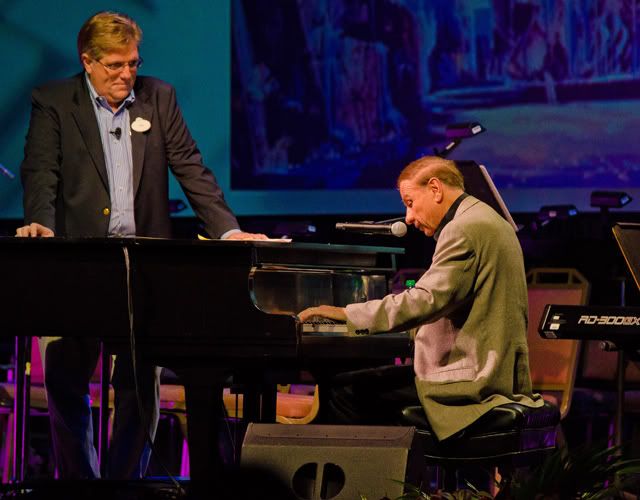 Despite the riveting nature of these performances, I periodically checked the time at this point, a little apprehensive that my personal favorite Sherman Brothers song would not be performed. At around 10:50, another video began. It was a man in a blue suit riding around in some sort of stage coach. I've endeavored to see all Journey into Imagination-related footage, yet I had never seen this. The possibility that Dreamfinder is aboard that stage coach was high, as the amount of rare footage previously shown during the weekend has been great.
There was really no time to wrestle with this in my head, as the first note of "One Little Spark" began playing almost immediately. I applauded in a manner that can best be described as "aggressively," perhaps also bellowing a couple of "woos," like a typical twenty-something after one too many shots when their favorite rap song comes on at the dance club. Except I was completely sober, my favorite song is a Disney one co-song by a dragon, and I was sitting in a conference hall. There is a fine line between crazy-awesome and crazy-geek, and I fear what side of that line I'm on. Actually, I didn't give a hoot.
The video proceeded for about another 45 seconds before the audio switched from the source video to a human, and the lights came on. Much like the collective gasp discussed above during his performance of "Feed the Birds" at Disneyland, there was a collective gasp from the audience as the lights came on at Destination D.
There they were, in the flesh, together again, Dreamfinder and Figment.
At this point, I'm not fully sure what happened. I was like a man possessed. The instant I saw Dreamfinder, I began moving to the front of the room, photographing away as I moved and watched THE reasons I'm a Disney fan in front of me, in person (and dragon) once again.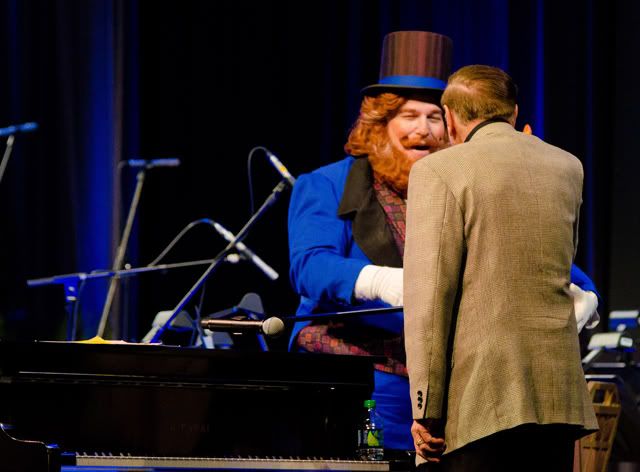 Sarah later said that, with the way I bolted towards the stage as soon as Dreamfinder and Figment appeared, that was was a little nervous that I might run up there. While I was definitely cognizant-enough of my surroundings not to do that, it was a decidedly visceral experience. It's a good thing I already had the camera set up for earlier shots, as I don't think I had the wherewithal to change any settings when photographing Dreamfinder and Figment. It was just a matter of holding the camera up every so often and firing off a series of frames as my tear ducts filled.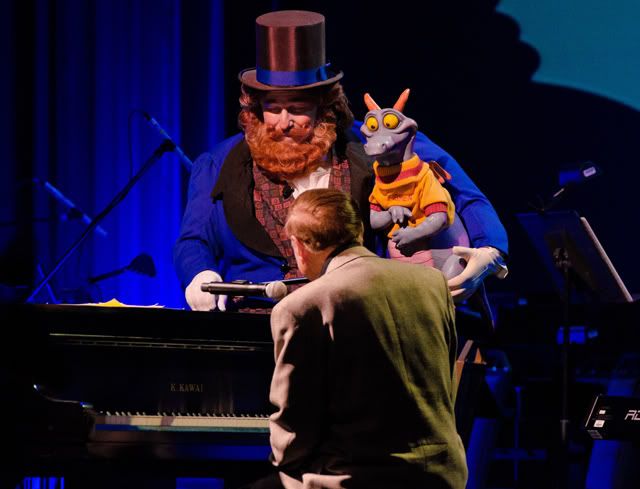 If this sounds a little melodramatic, it's not. The term "magic" gets bandied about quite frequently these days when discussing Disney, but mostly in marketing. When Dreamfinder and Figment came out, there was truly magic in the air. The crowd erupted so loudly that I'm sure some people didn't even hear part of his dialogue or song, and the magic was palpable. I think the moment probably set a Guinness Book of World Records record for "most people to simultaneously cry upon seeing a bearded man and purple dragon."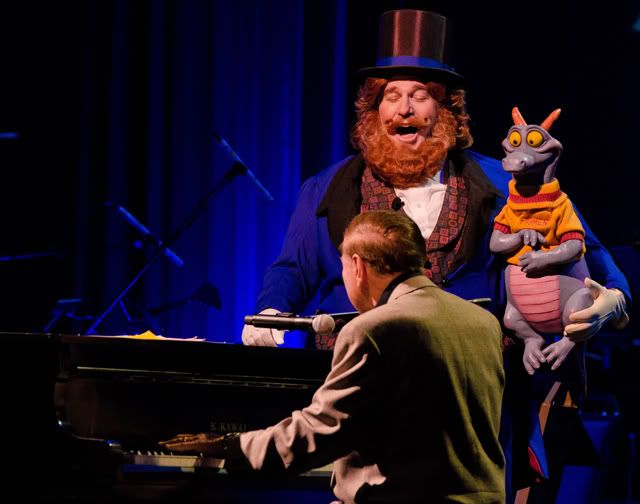 While the cheers continued to flow loudly, Dreamfinder asked Figment, "what are you wearing? We aren't going to see Captain EO" and, after Figment gazed around in confusion, Dreamfinder proceeded to tell Figment, "These are your fans. They're the people who buy all the Figment pins and Figment shirts! What? No, I'm not going to sell you on eBay." Figment, apparently unsatisfied with this reassurance, buried his head into Dreamfinder's tuxedo. Dreamfinder continued: "This is D23. These are all the official Disney Fans. Although I think a few of the younger ones are surprised you aren't 8 feet tall." (HA!) These tongue-in-cheek remarks reminded everyone there of the real characters we all missed in Dreamfinder and Figment. Although Figment still has a pavilion in Epcot, fans of the original pavilion miss the true character–the embodiment and personification of imagination–these characters represented. The stark contrast they represent to the lifeless plastic doll in the pavilion today.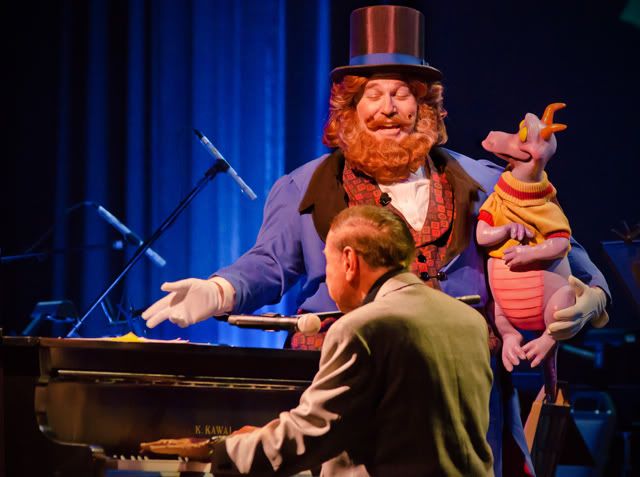 After making his remarks, Dreamfinder paused before saying, "oh, here's Richard Sherman, let's go say hello to him." The trio interacted briefly before beginning a performance of One Little Spark. Words cannot even begin to describe this performance, but suffice to say, it was an emotional one for everyone in the crowd. In lieu of my adequate words, any Dreamfinder fan owes it to themselves to watch this:
After the duet, Dreamfinder waited for the thunderous applause and roars from the crowd to quiet before leading the entire building in two more verses of One Little Spark. At the end, Mr. Sherman and Dreamfinder stood on the stage together, both receiving a deserved standing ovation as the roar of the crowd continued. For us Disney fans, especially those of us who were children of the 80s and early 90s, seeing Dreamfinder and Figment again was like being reunited with our father and best friend.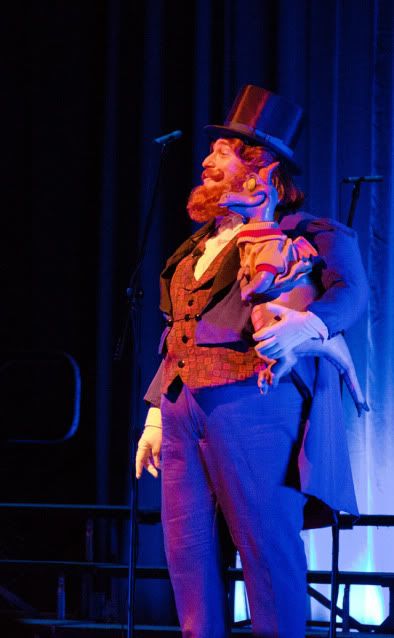 As I mentioned numerous times above, the reaction of all 1,200 guests present really made for a special experience. However, by far the man most excited to be there was up on stage. Reprising his role as Dreamfinder, Ron Schneider was grinning ear to ear for the duration of his time on stage, and was absolutely beaming. I do not doubt in the least that Dreamfinder is truly a part of him, and that Figment is like his son. The excitement didn't stop with us guests and Dreamfinder; in talking to Paul Anderson at the Mix and Mingle afterwards, he admitted to crying, and to seeing Marty Sklar, among others, cry.
While I am man-enough to be able to admit to when I tear up, it didn't happen while Dreamfinder and Figment were on stage. My eyes did well up plenty, but nothing. Then, all of the sudden, as I returned to my seat for the performance of "Golden Dreams," the waterworks started. I guess my tear ducts were in a state of paralysis while Dreamfinder and Figment were out there, but as soon as they left, it hit me. "I just saw Dreamfinder and Figment for the first time in roughly 15 years." It was a dream come true, and one of my top two moments at Disney all-time. (Sarah and I got engaged on the Polynesian…I'll refrain from ranking the moments here.) If one five minute appearance by Dreamfinder and Figment got me this worked up, there's cause for concern if Disney ever gets its sense together and restores Dreamfinder to the Journey into Imagination pavilion with an attraction worthy of the original. I think I might just spend an entire trip riding over and over again. Someone will have to drag me kicking and screaming from the place at closing each night!
Once Richard Sherman, Dreamfinder and Figment left the stage, and Becky Kline made her closing remarks, I figured the event was over. I was wrong.
Encore! Cast Choir and Orchestra (made up of Cast Members from all departments of Walt Disney World Resort) took the stage and began singing songs from EPCOT Center. It really was a shame that the Cast Choir named itself Encore!, as I think they might have been chosen as an Encore! because of their name. They really should have been featured before Mr. Sherman as an opening act, as I think everyone was a bit pre-occupied when they did take the stage, which is a shame. I know my mind wasn't focused on their performance.
What I do remember of their performance, was absolutely spectacular. Chill-inducing. They played and sang a stirring rendition of Golden Dream to start the performance, and played a good number of other songs throughout. My mind was still racing from the Dreamfinder and Figment appearance, so I don't exactly remember the order of the songs. I do remember that most EPCOT Center songs were played, and that the performance concluded with Celebrate the Future Hand in Hand, which was especially poignant.
As Celebrate the Future ended, the Disney Legends, presenters, performers, etc. of the weekend took the stage for one last bow. This was probably the greatest standing ovation I've experienced, as the crowd went nuts. It was great to finally be able to express our collective "thank yous" to the Cast Members, Imagineers, and other Disney greats who have made the thing over which so many of us obsess come run like a well-oiled machine over the last 40 years.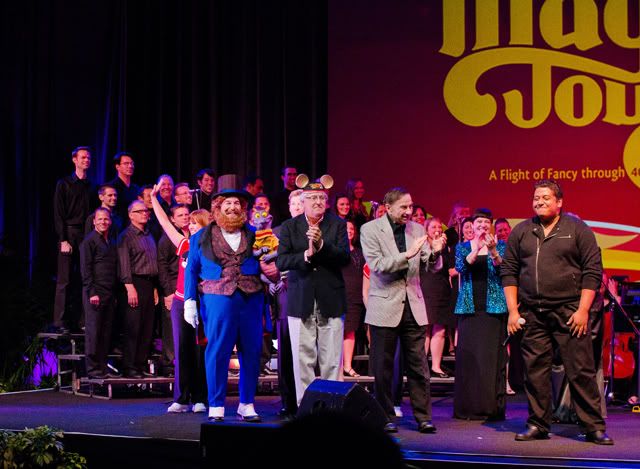 After everyone left the stage, we sort of just stood around for a few minutes, dumbfounded. We talked to Henry and Kate briefly, before finally wandering out in the hall. There, as I mentioned above, we talked to Paul Anderson and Tim O'Day at the Mix and Mingle (both of whom are incredibly nice and really cool–I wish I would have brought some books for Tim O'Day to sign!) before finally leaving the Contemporary.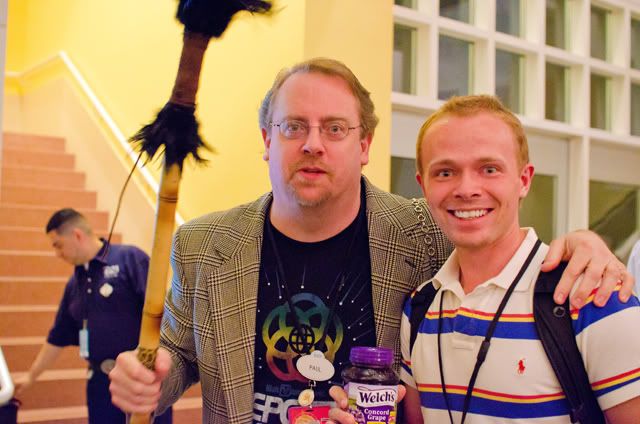 As we walked to the Magic Kingdom, we reflected on the sheer excellence of the weekend. D23 takes a lot of heat, sometimes rightfully so, but in my mind, there is little criticism that can be levied at this event. Those who weren't there complained that it was overpriced. I would have paid three times the cost of the weekend just for the Magic Journeys concert alone. The rest of the weekend was awesome, and definitely more than justified the cost of the weekend. I could go on and on about the great experiences of the weekend, and how D23 totally redeemed itself in my eyes after the disappointing Magic & Merriment event, but I think my detailed account of the weekend in this installment and the previous installments speaks for itself. Like I said earlier, to us, the weekend was perfect.
About the only complaints I've heard from anyone about the weekend were the lines and waits for merchandise on Friday. This doesn't really surprise me, as it doesn't seem like crowd management is D23's strong suit. At the same time, it didn't really impact us, as we opted to just buy merchandise on Saturday morning. We waited in line 5 minutes. While I didn't get everything I wanted, I've learned that when limited edition merchandise is available, be it at a Disney event or otherwise, you have to expect to wait in line if you want to ensure you get all of the items you want. We have more than enough Disney collectibles at this point, so I was willing to risk not getting some things if it meant saving a few hours standing in line. I guess my point is that I don't think this criticism is really all that valid. Thus, the weekend maintains its 1.000 batting average despite these complaints.
It was already pretty late at this point, but the great news was that the Magic Kingdom had evening Extra Magic Hours until 2 a.m.!
Although we had little sleep the night before, I was invigorated. Without a doubt this was because of the rousing performance that evening. My optimism towards Disney was at an all-time high right then, and I think it still remains really high. While I think I've always been fairly objective (calling things as I see them with regard to Disney, good or bad), I think now my outlook skews a little more positive. For us, Disney is a magical escape from reality, and there's little discernible benefit in being someone who is constantly nitpicking. I find myself getting much more excited when I think about the parks now, and everyday I think of something new I want to do next time we're there–and I get worked up about it. It's too bad we had to leave the next morning, because my excitement was at an all-time high, too. I guess it's a good thing that we end the year with three more trips!
As we walked up Main Street, the music seemed a little louder and the lights, a little brighter. It was thus fitting that we decided to start the night in Fantasyland, because my head was definitely in a fantasyland. (Actually, I think we might have started with a ride on the Tomorrowland Transit Authority, as that's usually how we start any night in the Magic Kingdom, but I don't have any photos from that area; I do have about an hour gap in photos, and I'm assuming we did something during that hour!)
First up was the Many Adventures of Winnie the Pooh, followed by Snow White's Scary Adventures. We love the former, but aren't big fans of the latter, we chose to do it, though, because we know its days are limited.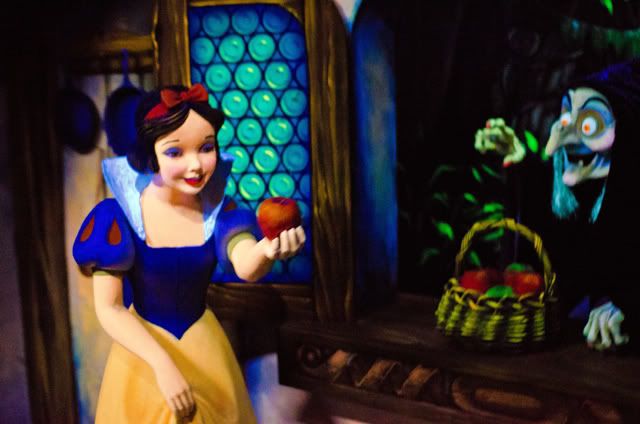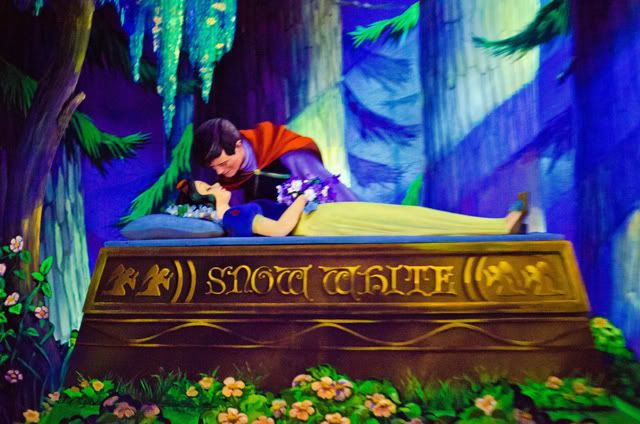 Next up was it's a small world, followed by about as stark of a contrast as you can have to that attraction: the Haunted Mansion.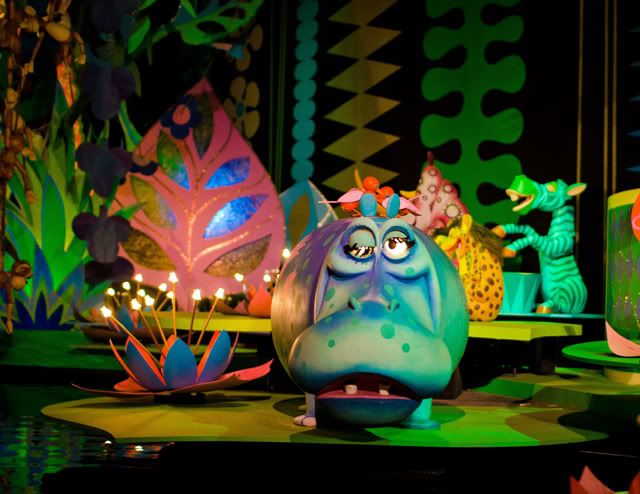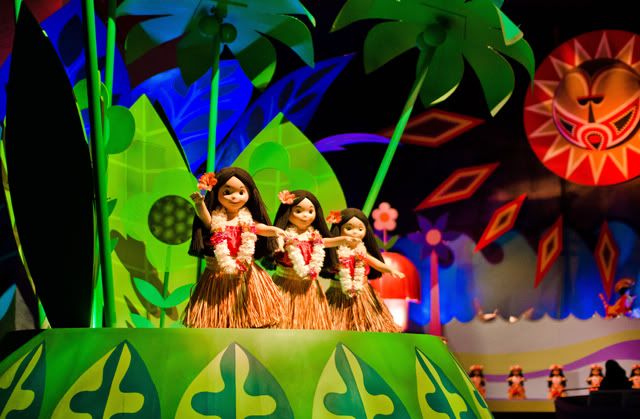 Since the trip was a bust up until that point for photos, and the sky was looking gorgeous that night, Sarah let me set up for a couple of photos outside the Haunted Mansion. I was appreciative, since the weekend had also been a bust with regard to attractions (although calling this weekend a bust in ANY regard is a huge disservice to it–the weekend was absolutely amazing, just different).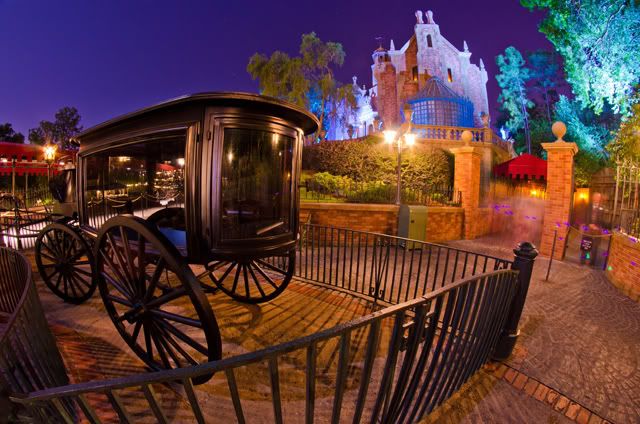 We then headed over to Splash Mountain and Big Thunder Mountain and experienced both of these attractions before stopping again to take some more photos. It still wasn't close to closing time, so we continued on, taking more photos in Frontierland and Liberty Square.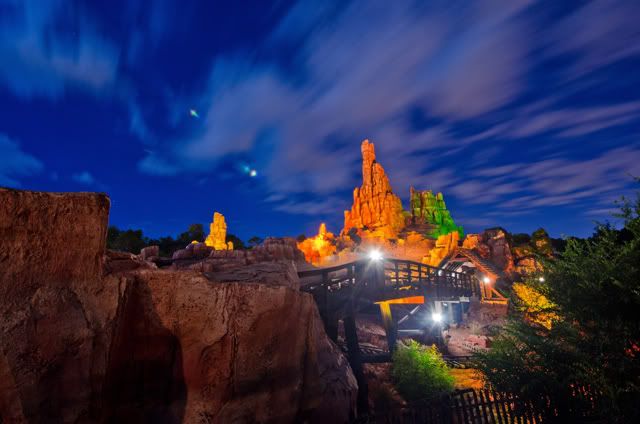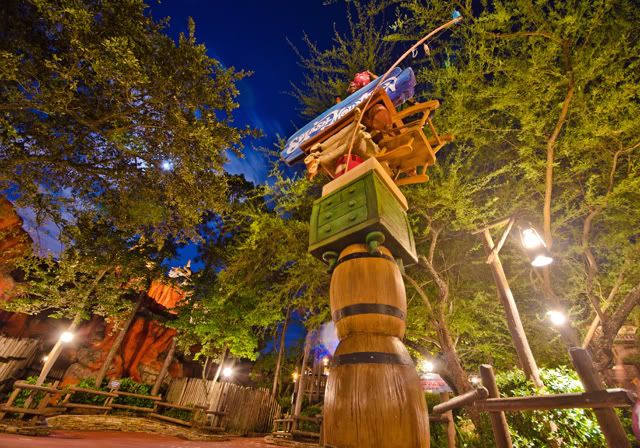 At one point, as I was taking photos of the Rivers of America. I noticed Sarah in a chair over near the Country Bear Jamboree. At first I thought it would be cool to snap a creative photo of her in the chair. Then I realized she was asleep (and my creative idea would have been more intrusive and would have definitely made her wake up), so I quietly set up and snapped a few shots. She must have been really tired, because a "few" shots in night shot terms takes a few minutes and makes some noise. Yet, she didn't wake until the end of the very last shot! (It would have been the best, too, but oh well!)
From there, we headed over to Fantasyland and captured a few photos there before heading up Main Street.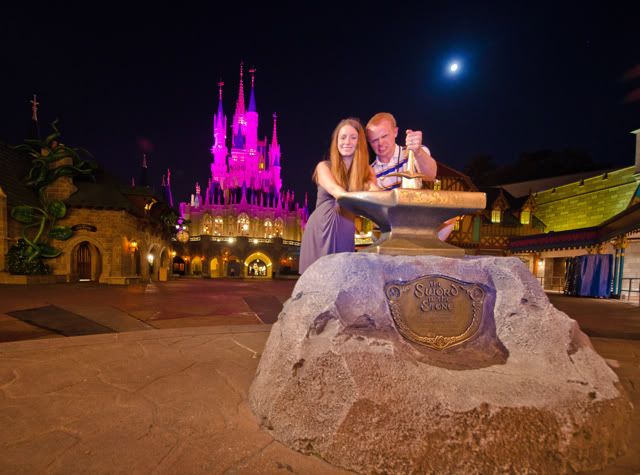 Despite Sarah's little nap, we were in no hurry to end one of our single greatest days in Walt Disney World ever, so we continued to take photos on our way out. I didn't really even have any good ideas, but we were just having so much fun that we kept going!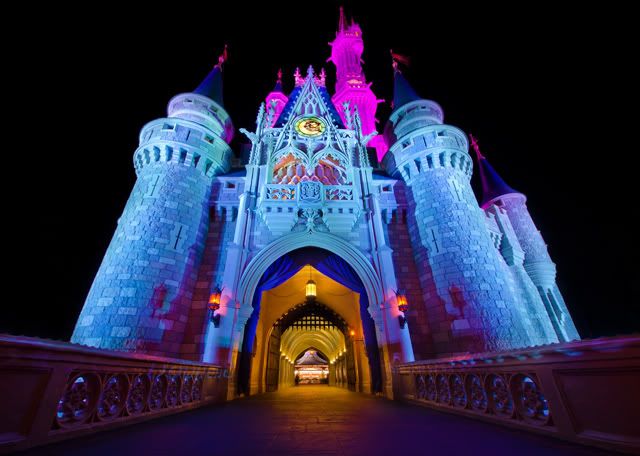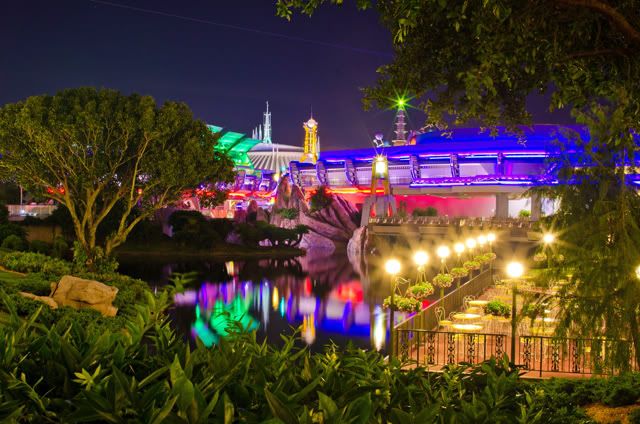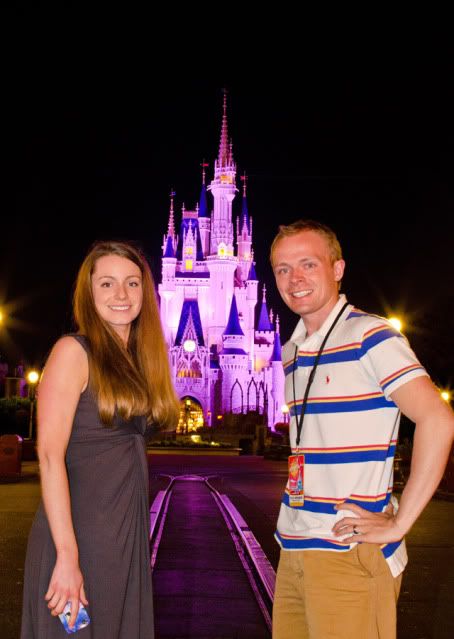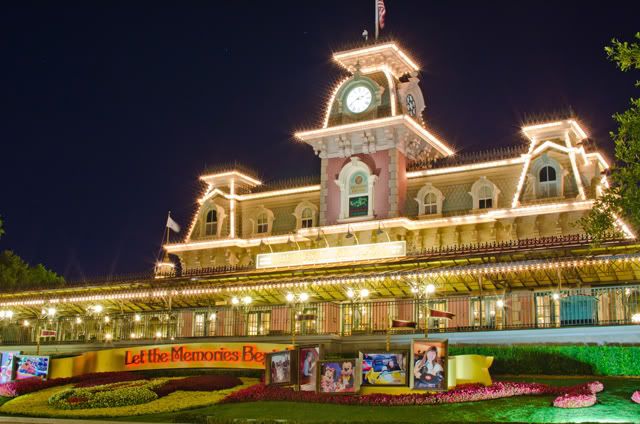 Finally, we left, and headed for the bus stop. As soon as we stepped foot on the bus, fatigue hit us like a freight-train. It was as if our bodies were running on fumes for as long as possible to keep up the fun times for as much as possible, and finally we ran out of gas.
I mentioned above that we had made the decision to rent a car for our next trip after seeing the long bus line that morning. Well, once we boarded our own personal bus to take us home, and collapsed on the bus, we revisited the idea. We realized that there was no way in heck either of us had the wherewithal to drive a vehicle at that hour of the night. Instead, we determined that we would take a taxi each morning if it looked like the buses would be an issue, which would still likely be cheaper than renting a car.
All in all, it was one amazing day. Looking back now, some of our fondest Disney memories every occurred that day, and it's one we will recall vividly for years to come. If there are two "days" of trip reports that we'll ever share with our kids, they will definitely be this one and the report from the day we got engaged. Being able to share (and remind our future-selves of) these amazing days is the reason I started writing these reports in the first place, so I really hope you enjoyed this account of our final evening at Destination D!