Big Thunder Ranch BBQ Review
Big Thunder Ranch BBQ is an all-you-can-eat family style table service restaurant in Disneyland's Frontierland. As you'll read in this review, the restaurant has some excellent barbecue meats, and is a great pick for hungry carnivores. We dined here during our May 2011 trip to Disneyland, on an impulse one day (reservations typically are not necessary here except during busier seasons). Somewhat secluded in Frontierland, in addition to the "all you care to enjoy" style table service menu, Big Thunder Ranch Barbecue offers live entertainment and open-air views of Frontierland.
We were seated in the back of the restaurant, so we had a poor view of the stage, which wasn't a big deal to us, as the entertainment wasn't even a factor that entered the equation in our decision to eat here. Our table provided us with a nice view out into Frontierland, which I infinitely preferred.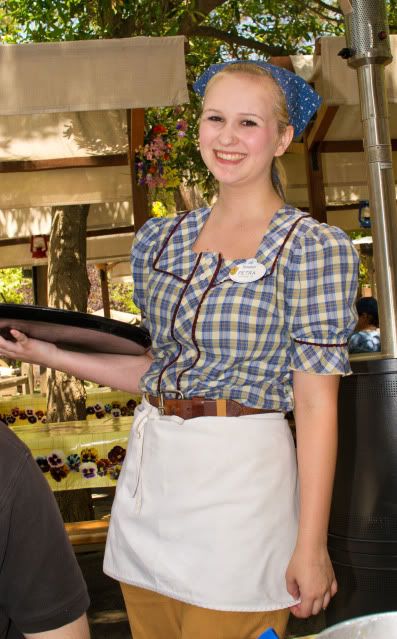 Shortly after we were seated, our server came out and explained the menu and dining system at Big Thunder Ranch BBQ. Nothing too complicated, as it was ordinary Disney family style eating (meaning that large bowls of food and buckets of meat were going to be brought out to be passed around the table).
Our server took our drink orders, and shortly thereafter returned with refreshing mugs of Coke. Serving the drinks in these "canning jars" (I don't know if there's a proper name for them, but they remind me of when my grandparents used to can their own vegetables for the winter–definitely country-inspired!) is a nice touch, I thought!
In the fast-paced world of competitive all you can eat (or as Disney marketing spins it so as to carefully avoid advocating glutiny, "all you care to enjoy") dining, I have learned one thing if I've learned anything: only eat the delicious meats. "Junk Filler," as I call it, such as breads, salads, potatoes, or even cola will be brought out first. Have as little of these items as possible. Stick to the one basic food group: meat. Within the meat food group, cow-based meats take precedence, pigs are second-priority, then fish, and finally poultry.
Given this, my review here is a little incomplete, as I did not personally sample the corn bread, cole slaw, corn, or beans served at Big Thunder Ranch. However, Sarah and Henry both sampled these options, and reported that the corn bread, corn, and cole slaw were each excellent.
The meat bucket included a couple pieces of sausage, but mostly chicken and ribs. Oddly enough, the chicken (the last meat in the aforementioned hierarchy!) here actually was better than the ribs! It was slightly more tender and moist, and the herb-based seasoning used was an excellent choice. Actually, the chicken was incredibly moist. Probably some of the best chicken I've had in a long while–definitely not what I was expecting from an all-you-can eat style restaurant! Due to this, I deviated from my own rules, consuming as much of it as I could, while still respecting the fact that Sarah and Henry wanted to eat meat, too. Our service was fairly prompt, with only one delay in bringing us a new bucket of meat.
As I mentioned above, we were seated near the back of the restaurant, and because of that, didn't pay too much attention to the performers near the front. From what I could surmise, their performances were more aimed at families and little kids, so I'm not too upset that we weren't seated closer to it. It was still nice "background music," for lack of a better term, while we conversed with one another. From our table, Henry pointed out some areas in Frontierland that were the remnants of Mine Train Through Nature's Wonderland. This extinct attraction really fascinates me, for some reason, so it was cool seeing aspects of it from our table.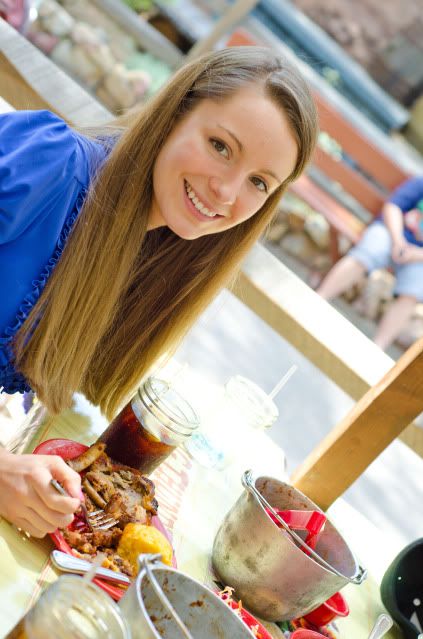 We stuck around here for a decent amount of time, but not to the point where we overstayed our welcome or tried to stretch two meals out of it. Since our view wasn't the greatest from our table, towards the end of the meal, I walked up to the stage to enjoy some of the entertainment. It was amusing, but as I mentioned above, it wasn't a big deal to us that we didn't see more of it. If you have children in your party, you might want to request seats closer to the stage.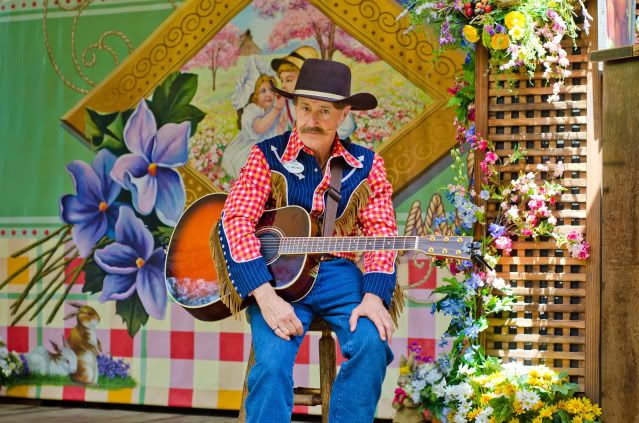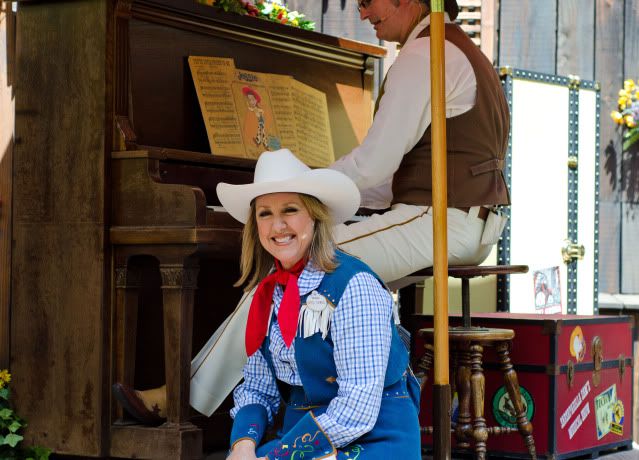 At the conclusion of our meal, our server asked if we were interested in dessert. We had already stuffed ourselves, but were still prepared to say yes, when we discovered the desserts cost extra. I find it difficult to pay extra for a dessert at an all you can eat restaurant, and although we'll definitely be back to Big Thunder Ranch BBQ, I doubt we'll ever sample the desserts. The menu did make them sound appetizing, and from what I've read elsewhere, they are pretty good, for what it's worth!
Overall, Big Thunder Ranch BBQ was a wonderful surprise. I am always weary of all-you-can-eat or buffet style restaurants, as I think they often appeal to those with "quantity over quality" in mind. However, the meats at Big Thunder Ranch BBQ were exceptional! As long as you don't go in expecting something on par with the filet at Napa Rose, you will be pleased by your meal. On top of the food, the live entertainment is amusing, and the secluded location offers excellent ambiance. The only downside is the up-charge for dessert, but if it's as good as it's purported to be, that might be justified!
Overall Score: 9/10
To read other Disneyland restaurant reviews, check out our Disney Dining Reviews Index.
Your Thoughts…
If you've been to Big Thunder BBQ, what do you think of the restaurant? Do you agree that it's an excellent all-you-can-eat BBQ? If you haven't been, are you planning on trying it? Share your thoughts in the comments!