Disneyland First Trip Report
Today we present Part 1 of 3 of our first Disneyland Trip Report, from August 2010!
Welcome to our first Disneyland Report! For those of you who have been following our Saga in our other reports, thank you for joining us once again! For those first time readers, thanks for reading–we hope it doesn't disappoint!
This summer has been especially busy for us. As some of you may know, we got married, honeymooned at Walt Disney World, moved to Indianapolis, and I studied for and took the Bar Exam (suffice to say, even though we had concluded our honeymoon roughly two months earlier, we were ready for another vacation). The days leading up to this trip were no different. My parents had come to visit us that weekend, precluding us from doing any packing, so we were left to pack the Monday night before the trip. I had not used by camera once since our Disneymoon, so I figured I could just grab the bag containing it and take it. However, for good measure, I decided to open it up and take inventory, as you never know, maybe in an elaborate plot, our pets had schemed against me and opened it one day, taking everything out. Well, not so shockingly, that turned out not to be the case. However, a different saboteur had attempted to undermine my photography efforts for the upcoming trip: me. It turns out, so I thought, I had left my camera's battery charger at Old Key West. Luckily, I had roughly 1.5 batteries worth of "charge," and access to Sarah's D40, but this would be an issue on the trip.
I couldn't wallow in the pain of my missing battery charger for long, as I had a great deal of packing to complete before bed. This took far too long, and by the time we had completed packing, it looked like Hurricane Tom had touched down several times in our apartment. Two other things I had to do were book our hotel room at Disneyland and our SuperShuttle from the airport. As you may have guessed, I procrastinate a bit. Although in my defense, the Anaheim HoJo had been adding days to its discounted rate, and I had been hoping to book it. No luck on that.
To make matters worse, Sarah had a death in the family shortly before we left and this would prove to put a substantial damper on the first day of the trip. We considered postponing the trip for a few days as the primary purpose was a wedding that wasn't until the weekend, but that ultimately wasn't our best option, so we proceeded with the trip as planned.
Up after only around four hours of sleep, and all things considered, we could already tell the first day would be a long day. However, we're troopers, so we were ready for the day ahead. We space our trips far enough apart that when we book, we always seem to forget about the misery of getting up at 3 a.m. just so we can arrive at the Resort on the earliest possible flight. Right now, we're contemplating what flights to book for our Christmas trip, and sure enough, that early flight is once again the flight of choice. Perhaps this time we can at least pack our bags earlier than the night before? Easier said than done.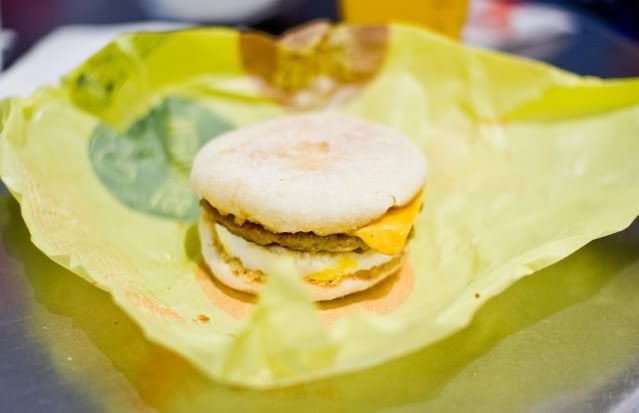 We arrived at the airport and immediately made a b-line for McDonald's. Well, that is after going through the slow-moving security line. Even at 5:30 a.m., TSA still is inefficient like clockwork. At least they are consistent. Perhaps it's just based on my experience going to WDW, but I think that if a line is going to move that slowly, it should at least be well-themed! McDonald's was next on our plate, and I don't think I need to reiterate to you all how delicious it was. I really don't get all of the people who complain about McDonald's. Like Sam the Eagle would say, disliking McDonald's is distinctly unpatriotic.
After a while of waiting, we finally boarded the plane, where we had a really great flight crew. One of the guys made up various songs about Southwest to the tune of well known songs at the end of the flight, which were incredibly funny. It might have been annoying had he done this for the duration of the flight while I was attempting to sleep, but constrained only to the end, it was very enjoyable. These manners in which Southwest clearly doesn't take itself too seriously make it our preferred airline; I know many people look down their noses at "Air Moo," but we think it's great fun.
On the ground in John Wayne Airport, we briskly headed towards baggage claim. I fancy myself a badass in the vain of John Wayne (although I am a bit more rugged and suave), so of course I had to stop and pose like my elder counterpart. After screwing around doing that for a bit, and an eternity of waiting on our bags (sadly, without the "magic" of DME to send the bags to your room, you actually have to wait on them; at the start of a vacation, this makes minutes melt into hours), we boarded the SuperShuttle for the Anaheim Plaza Hotel & Suites.
When the bus approached, we realized just what $50/night had bought us. It's difficult to contend that $50/night is overpriced for a hotel, especially one with this kind of proximity to Disneyland (we could see Tower of Terror as soon as we opened the door to our room), but $50/night was overpriced for that hotel. To make matters worse, when we attempted to check-in, we were told that none of the Queen-bed rooms were available yet, but that "the next level up" were available, if we wanted to pay $20/night more. I wanted to call shenanigans on this one. I had called to book our room at around 10:30 EST the previous night. I highly doubted that they had booked up in the interim, but of course, I couldn't prove this, plus we were there prior to check-in, so there was no point in arguing. The manager informed me that if we came back the next day she could try to get us in one of the cheaper rooms if it were available. I knew this was just B.S. to try to sell us on the "one time" $20 upcharge–since we would be leaving for the parks each day at around 9 a.m., I knew her answer would be the same each day. She also gave us the option of keeping our bags in an unlocked, completely open area and coming back at check-in. Yeah, given the cost of our luggage and everything therein, and especially after seeing the "quality" of the hotel, I think I'd rather pay the extortion fee.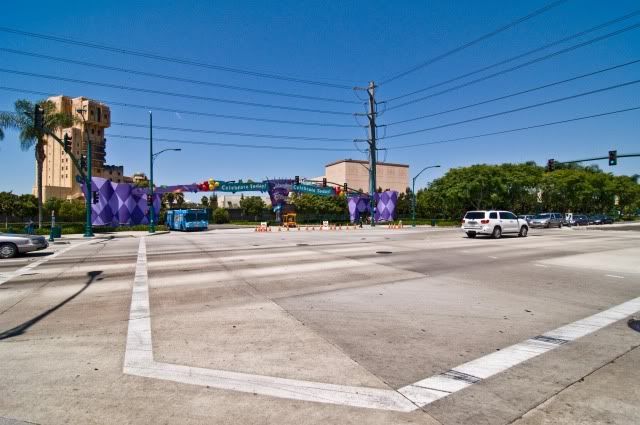 As far as Disney trips go, at this point, this one was easily off to the worst start. However, we decided to try to put all of that behind us and head to the parks with positive attitudes. Admittedly, this was easier for me than it was for Sarah, as she was still visibly grief-stricken.
We have been WDW Annual Passholders for the last couple of years now, but we still had three days remaining on an old no-expiration 10 day ticket (which is how we used to buy them to save money when an AP wasn't yet cost-effective for us), so we decided to convert them to DLR tickets since we will be WDW AP-holders for the foreseeable future. This was a pain, especially when you can hear the background music, see the train station, and are ready to go play!
When we finally got inside the turnstiles, and headed down Main Street. I had seen pictures of Sleeping Beauty Castle, so I knew of its diminutive stature, but I was still somewhat shell-shocked when I actually saw it. When looking down Main Street, I had no awe for what I saw at the end. It was not a grand Castle, wasn't really much of anything. I'll concede that it's quaint (as I've heard others since call it), but I don't think quaint is really a compliment when referring to a castle. I realize it'll never be touched because the Disneyland purists would soil themselves if the idea were presented, but I think that's just nostalgia for nostalgia's sake. Objectively, I don't think this castle stacks up to any of its world-wide counterparts. I'm not suggesting making it something identical to Florida's, but something reminiscent in scale. I hate when people raise the question "Would Walt Do?" when confronted with something they don't like about the contemporary parks, but I have to wonder whether he would have had this castle razed for something more 'epic' upon the completion of WDW, were he alive.
I initially expressed these sentiments when posting a shot of Sleeping Beauty Castle on Flickr, and the Disneyland faithful ripped into me, some invoking Walt's legacy as justification for keeping the Castle at its present height, others just generally expressing the sentiment that the Castle was 'sacred', and something that should never change. Multiple (contradictory) stories were offered as to why it was that height. I knew I had read otherwise, so I did some digging, and low and behold, I found a remark from one of great Imagineers, Eddie Sotto. Mr. Sotto said this, "Herb Ryman once told me that Walt wanted a big Castle [for Disneyland] but could not afford it. His first rendering that Walt directed showed something much grander. I wonder what the bankers thought when they showed up and saw the final." (Source: http://forums.wdwmagic.com/showthread.php?t=440383&page=79). I guess to each his own on the Castle topic; many Disneyland devotees claim to love its quaintness. I can understand that. However, after growing up frequenting the park with a grandiose Castle, seeing Sleeping Beauty Castle was an underwhelming let-down. Whenever I photographed it on the trip, I attempted to choose angles and lenses that made it appear larger than life to compensate.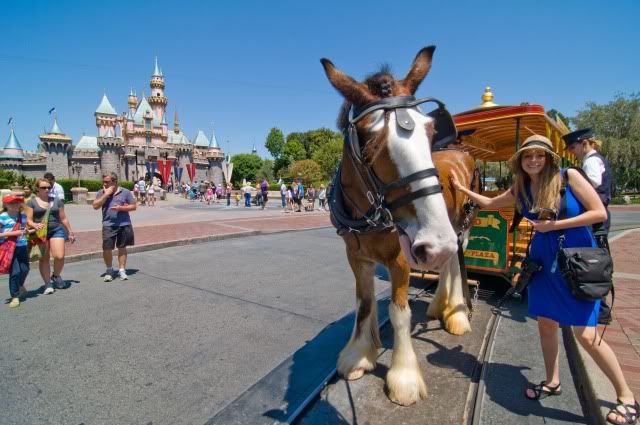 I told myself before the trip that I wasn't going to compare anything between the parks, and that I was just going to appreciate each of them for what they are. As you'll see with my constant comparisons, this notion went out the window as soon as I saw that Castle and started comparing the two Main Streets. I've since decided that people inherently compare everything, and that there's not necessarily anything wrong with this. Throughout this report, I'll express a preference for one thing or another (usually as between WDW and DLR). That doesn't mean I don't like its counterpart, it's just my 'take,' as it is. I may come across as a tad negative overall (hopefully not), but believe me, I loved Disneyland, and love WDW. I think my initial desire to compare was a bit misguided. In reality, I was concerned that I'd be one of those individuals who is a loyalist to only one park, and attempts to find reason to bash anything in the park that isn't their "home park." While WDW is, and probably will always be, our home park, this trip showed us the greatness of Disneyland, and will make us pencil into our schedules trips out West!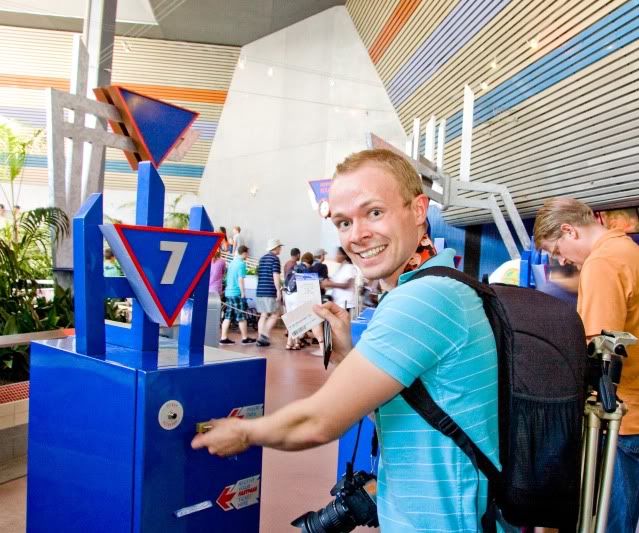 Following the initial shock of Sleeping Beauty Castle, we began following a truncated TouringPlan by heading for Space Mountain, where we picked up FastPasses. Starving, we also decided to stop here at Pizza Port to split a piece of pizza. After not having had caffeine since our honeymoon, the Coke I had there really hit the spot; not to mention it got me moving again like a Mexican Jumping Bean, as my body wasn't used to so much caffeine and reacted "strongly" to it. When we finished eating, we headed towards New Orleans Square; we knew the park would have some midday crowds, so we thought it would be a good time to take in the fast-moving air-conditioned dark ride classics.
We passed through Adventureland to get to New Orleans Square, and as we approached Indiana Jones I slowed. I would have slowed regardless, seeing the queue of what has been hailed by many as Disneyland's biggest 'trump card' over Walt Disney World, but I slowed moreso than I otherwise would have as something odd was happening with the queue. I had heard that Indiana Jones was down while we were eating at Pizza Port, so when I saw what appeared to be Cast Members starting to allow FastPass holders to enter the queue, I had Sarah stop. (Why you would use a FastPass when the regular line is about to open–and be empty–is beyond me.) Two minutes later, the Cast Members opened the Standby queue and we were among the first 50 people to enter. Our first attraction of the day was going to be the one for which I was probably most excited. As we winded through the very long, and very empty, queue, we both marveled at the level of detail. One of the most compelling aspects of the queue was its lack of redundancy–it wasn't just one unique theme, it was several motifs encompassing the greater theme of the attraction.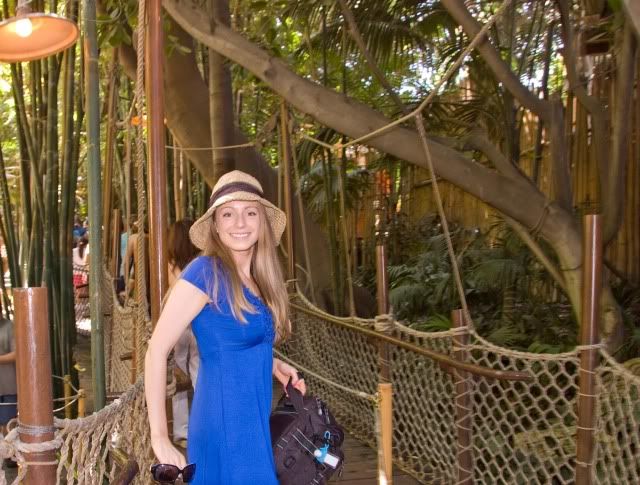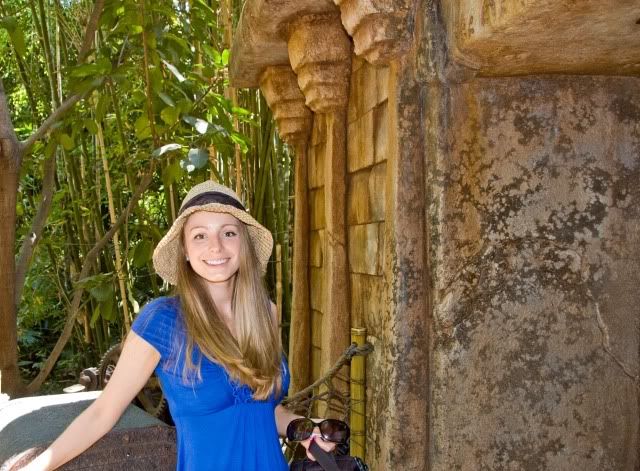 After a good five minutes of walking through the empty queue, we finally arrived at the pre-show. This is easily one of the greatest pre-show videos in the history of Walt Disney World. Loaded with sight gags and wry humor, I found myself quoting the show for the duration of our visit ("It is unlike anything you've ever experienced, I assure you!"). Not only was the pre-show clever and amusing, but it also was a well-used plot vehicle for the attraction itself. We both really appreciated this; it was what we considered to be great 'layering' of the attraction's storytelling. The pre-show ended and we headed deeper into the queue, shortly thereafter boarding our ride vehicles.
I cannot put the experience of this attraction into words. Unfortunately, I can't put it into photos, either, as I didn't take pictures the first time we rode (which is my general rule for any first time experience of an attraction), and even images I took on subsequent ride-throughs were less-than-stellar. The attraction did an amazing job of storytelling, utilizing multiple technologies (and not just for the sake of using them, either), and also using other ride vehicles (there is nothing quite like seeing another ride vehicle pass over the bridge with lava under it!) to create a fully immersive experience. I have read a lot of people write that Walt Disney World should get this attraction because it already has Dinosaur. Now I realize these people have never actually experienced Indiana Jones Adventure, as that statement is laughable. Comparing the two is like comparing Space Mountain to Big Thunder Mountain, as both are coasters. Actually, that comparison isn't quite apt, as those two attractions are fairly comparable quality-wise. Nothing against Dinosaur, but it pales in comparison to Indiana Jones Adventure. While we both loved it, I still wouldn't want to see it at WDW; it's nice to have attractions unique to certain parks. While I know we'll visit Disneyland less than WDW, it gives us incentive to return and something to look forward to when we do return.
Exiting the ride, we were still awestruck. Due to this, we wandered around indecisively for a few minutes before finally heading to Haunted Mansion. Here, it is probably worth noting that this trip report will proceed much more like a conventional "we did this, then we did this" trip report with my commentary thrown in rather than my typical style of mostly my commentary with only passing mentioning of what attractions we rode. Since it was our first trip to Disneyland, my primary reflections are upon the experience of each attraction.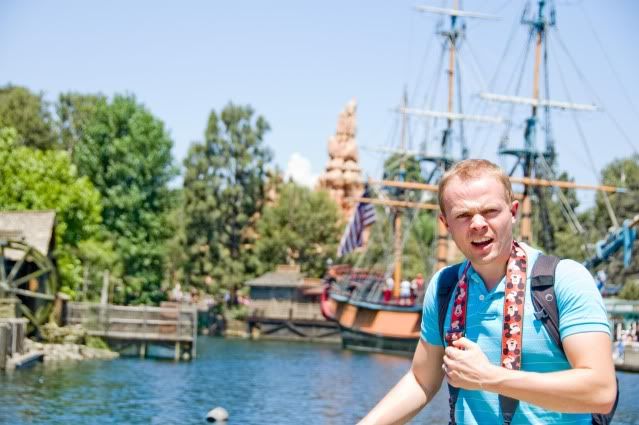 I had tried to avoid reading anything about the attraction experiences or viewing any pictures of Disneyland prior to the trip. I wanted to experience everything for the first time in person and have that initial excitement then. Despite the occasional pictures from my friends on Flickr, I think I did a pretty good job with this. I do think that more research would have prepared us better, but that's the trade-off we made. There are always future trips for which I can fully research the parks, and get a really good idea of all the nuances to experience.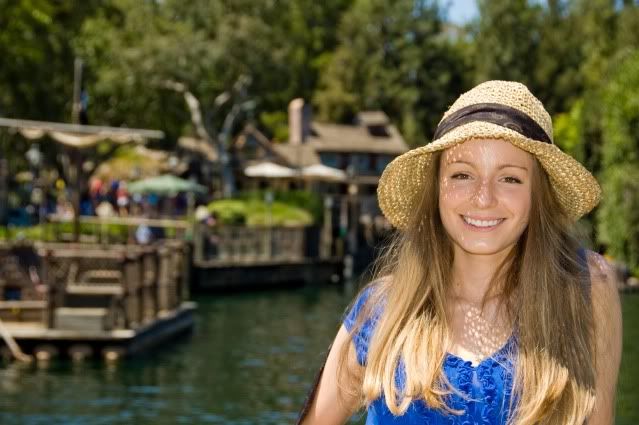 Haunted Mansion's exterior was one of those things that wasn't a surprise. I knew, more or less, what it looked like thanks to seeing a few pictures of it on Flickr. Despite that, seeing it in person was a wholly different experience. It was really a gorgeous facade, and one that fit well in the area. I guess the great thing about the Haunted Mansion is that mansions exist all over the place. There were mansions in Colonial Williamsburg, there are mansions in the American West; heck, there could even be a mansion in the future or tropics! My one qualm with the Haunted Mansion is that its always so exquisitely appointed and well kept on the exterior. In my experience in watching such scientific ghost documentaries such as Ghostbusters and Casper, ghosts are slobs and destroy most anything with which they come in contact. To that end, I think Disney really missed the mark with the theming of these Haunted Mansions.
Welcome to the Haunted Mansion! by Tom Bricker (WDWFigment), on Flickr
The Haunted Mansion is Sarah's favorite attraction and one of my favorites, but it was somewhat anti-climactic. It wasn't all that much different than the Florida version, except at the beginning where Disneyland's post pre-show queue is somewhat-mirrors the beginning of the Florida ride. Even though it is one of our favorite attractions, it wouldn't be added to the "re-ride" list due to the similarities it shares with Florida's version.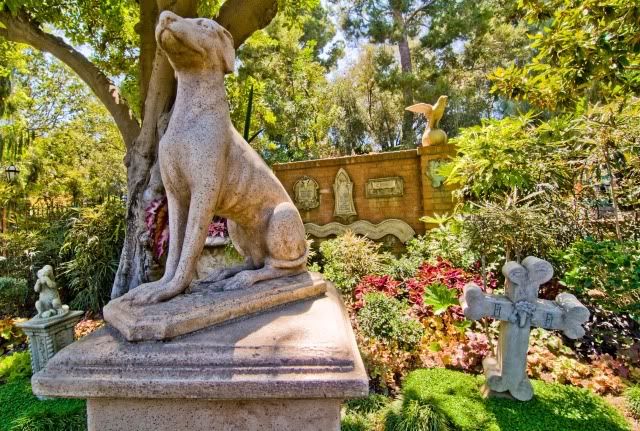 Next up was an attraction we knew was substantially different than the WDW version, thanks to images I had seen, Pirates of the Caribbean. The queue here was exceptionally long, and winding outside in the hot (although not humid!) California sun was not my ideal way to spend 15 minutes. Perhaps it's this way because of the Blue Bayou, but the queue seemed really awkward, and one way WDW's Pirates beat this version. That is where the WDW's superiority started and ended. At the beginning of the Disneyland version, there is what I would describe as embodiment of the "Dead Men Tell No Tales" line. They are montages of the real pirate lifestyle: portrayals of greed, excess, and death. A similar room used to exist in the last scene of WDW's Pirates before Jack Sparrow took up residence there, and I always thought that scene made more sense, especially from a storytelling perspective (I really don't care about it from a "moral" perspective–I think few children are going to experience the attraction and actually turn towards a life of piracy on the high seas). The idea, at least as I understand it, is that the pirate lifestyle may seem glamorous, but that overlooks the substantial pitfalls. In the new WDW version, those pitfalls are ignored, and the fruits of the pirate lifestyle are embraced. Given the beginning of the attraction, that doesn't seem to jive too well. The final scene works for Disneyland because all of its montages of the pitfalls are at the beginning, and the rest of the ride, to me at least, is in the form of flashback. Perhaps this is over-analyzing a simple montage attraction, but that's how I perceive it.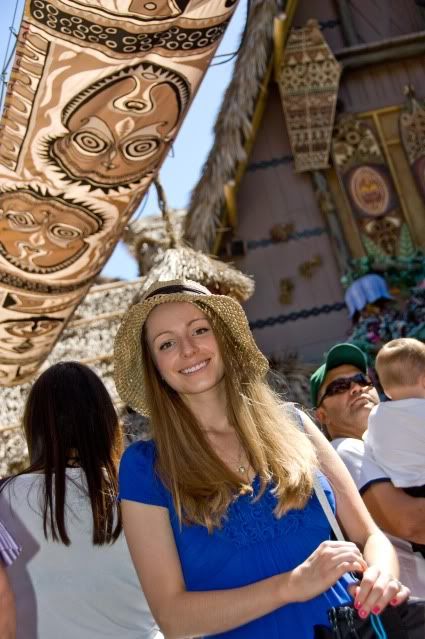 Next on the agenda was Walt Disney's Enchanted Tiki Room. It had been a long time since either of us had seen this, and truth be told, I didn't really remember the original that well. I will admit that in the past, I have defended the Florida "Under New Management" incarnation of this attraction when others had disparaged it. While I still understand why the change was made, I won't be defending it any longer. The original blows the new version out of the water. The flow was much better, the music wonderful, and the whole sensory experience was just extremely compelling. Since I don't really recall the original show at WDW, I don't think my opinion of it is prejudiced by nostalgia, and I think this is clearly a case of a new show being a step back rather than a step forward. I still don't dislike the current WDW show, but it just doesn't stack up to Disneyland's. It is my firm belief that changes should occur to the parks, but only those changes that bring improvements. After seeing this show, it's clear to me that Under New Management brought no such improvement. It did, however, bring Phil Hartman, and everyone loves him.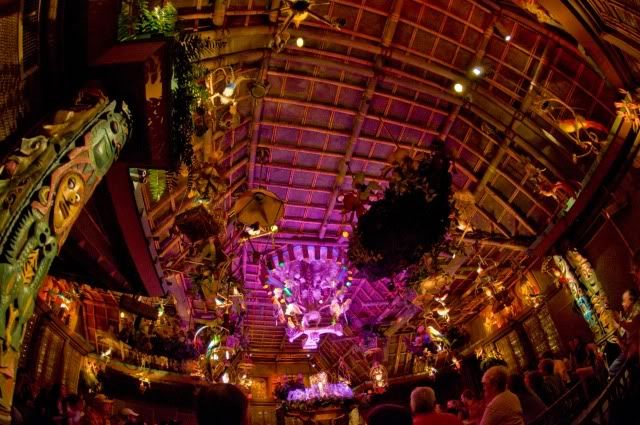 Sarah and I are fairly indecisive when touring the parks, which probably isn't the most efficient strategy. We'll often survey wait times of attraction in an area, darting here, then there, then back again before finally making a decision. About the only positive that can be said about it is that it helps burn off the calories of the fried crap we ingest on the trips as I know it doesn't actually save us any time. After some darting of this nature through Tomorrowland, we finally settled on riding the Finding Nemo Subs. Adhering to the advice offered in the Unofficial Guide, we queued up around 15 minutes before the parade started.
The Cast Members at the entrance to the queue might as well have handed out tubs of butter, because I think Disneyland's intent with that queue is to bake its guests to a golden brown. It was interesting to watch the queue move sporadically, as guests tried to huddle under the scattered umbrellas whenever possible. It's almost laughable that such an advanced and immersive attraction has a queue that is composed only of umbrellas and a few rock formations. Maybe Disneyland should import the "futuristic" tarps from behind SpaceShip Earth!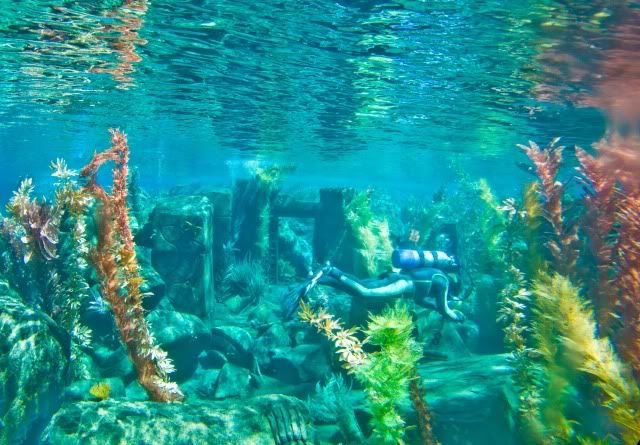 It was a little disappointing that more wasn't done with the queue, but clearly space constraints prevented expanding outward for a fully elaborate queue. Still, expansion could have occurred upward, so at least we wouldn't have cooked. I have to admit that I don't really remember the original incarnation of the attraction. I do recall not going on it when younger because the line was really long, and my mom said it was "just a bunch of cut-out figures" or something to that affect. Given how many people, even today, adore 20K Leagues, I figure she is probably downplaying it. Still, the concern lingered in the back of my mind that people had let nostalgia for nostalgia's sake get the best of them, and 20K Leagues wasn't actually that good, and by extension, the Finding Nemo Subs wouldn't be that good.
That concern couldn't be more misplaced. If there were a way to square epicness without a meltdown or overload of some sort, this attraction had managed to do it. The attraction started out a little scenic, with stationary figures scattered throughout as the subs pass through the tranquil blue water. However, as soon as your sub passes under the waterfall, the attraction really hits its stride. Awesome effects, an interesting storyline, it really has everything. Nothing in Florida's version can compare with the active deep-sea volcano scene, which is really unique and visually stunning, as is the humpback whale scene. By the attraction's conclusion, I was really scratching my head questioning whether it had the same bloodlines as The Seas at EPCOT. About the only thing the Seas version has going for it over this one is the KUKA Arm fish, and that is routinely broken.
Following this, we headed to it's a small world. The best I could tell, it's a small world was a land unto itself. I know it was categorized as being in Fantasyland, but much like the Nemo subs, it just didn't quite fit into the borders of Fantasyland. A lot of Disneyland seemed to be structured like this; a bit awkwardly and not quite radiating from the central hub. I suppose this is the result of cramming so much substance into such a small area. At times it was pretty clear the park was hemorrhaging at the seams. While this could be aesthetically jarring and annoying for traffic-flow purposes, it was great to see so much to do around every corner. Quite the contrast from Walt Disney World, where the layout is much more open, and many locations sit dormant.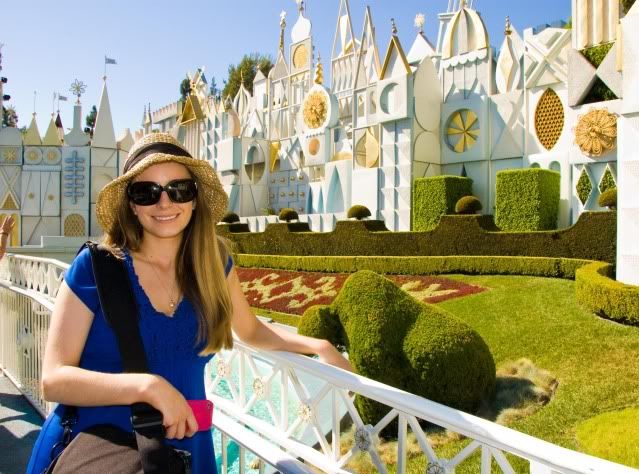 The aforementioned hemorrhaging was not an issue back by it's a small world, where the attraction had much more 'space' than its WDW counterpart. Enough space to have a beautiful outdoor area filled with topiaries and gorgeous facade. This all easily trumped WDW's building; I can only imagine how gorgeous it is when lit up during the Christmas season.
Due to the great Battle of Blair Forge, thankfully fought without muskets (by most, at least), pretty much everyone in the world knows about the Disney characters being added to the attraction. While I like it's a small world, I hardly had a horse in the race on this issue when the 'debate' first raged. That being said, once I finally saw these characters, I was convinced. They are absolutely, positively, a good addition.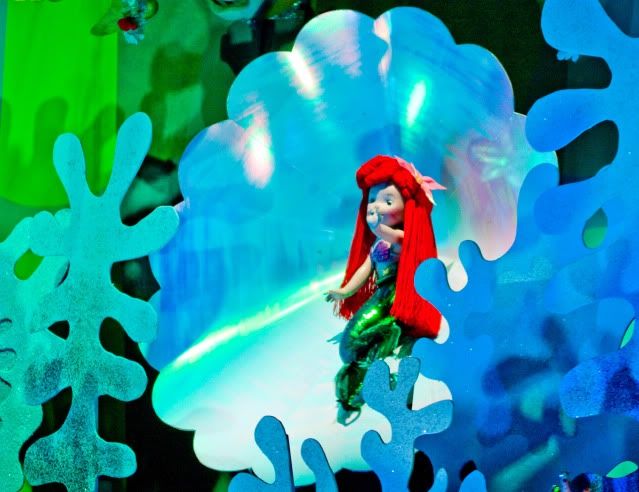 I have heard the argument from the other side: the additions are like adding a mustache to the Mona Lisa. They desecrate Blair's "art," with the purported "synergy-monster" that Disney critic-extraordinares so often seek to vilify. My response to this is that while the dolls are Blair creations, the entire attraction is not. Moreover, Blair was an employee/independent contractor of TWDC hired to create these dolls to be placed within an attraction. The dolls that Blair created don't stand alone as anything significant. The entire attraction does. Moreover, given the very nature of attractions (fluid) versus single paintings (non-fluid), the analogy to the Mona Lisa is faulty.
The dolls fit and work well and breathe some new life into the attraction. Not that it was stale before, but they ensure it won't be anytime soon. They are discrete and blend into the attraction seamlessly. For the most part, you really have to search to find them (although there are some that are fairly obvious). I don't view them so much as advertising Disney products as being more akin to Hidden Mickeys–both a sort of "easter egg" in the attraction that it's fun to search for and find. I often think that the "hardcore" internet crowd is arbitrarily skeptical of anything that brings a change to the status quo, and is especially skeptical when that change might somehow involve the dreaded "synergy." While synergy was undoubtedly a consideration Disney made when adding the characters to the attraction, that's no grounds to dislike it. Dislike it if you think it's substantively shallow or poor, but don't just hate it because of the "idea of the thing." That's entirely baseless, in my opinion. Unfortunately, this seems to be the modus operandi for the hardcore crowd. Criticize anything that changes an "original" aspect of the park and invoke the catch-phrase "Walt wouldn't have wanted this," as if anyone truly knows what Walt would've wanted.
Apart from the Disney characters and facade of the building, I thought the rest of the attraction was also superior to WDW's version. I can't really put my finger on why I think this, but it just seemed better. Sarah and I were both very impressed, and I believe, along with Indy, this became the attraction that we experienced the most while there.
We followed a TouringPlan from the Unofficial Guide to Disneyland pretty closely, but the one area I think the good book plays a little conservatively is FastPasses. We always seem to be able to accrue double the amount for which the book provides. This day was no different. We had in our possession FastPasses for Indy, Space Mountain, and Big Thunder Mountain. The Indy and Space ones were ripe for using, so we headed over to Indy for our second voyage.
In my discussion of Indy's awesome queue, I don't think I fully emphasized just how long the queue is. Seriously, I think the show building is somewhere in Long Beach. I mean, I'm sure it's necessary given the epic-ness of the attraction and the lines it probably generates in busier seasons. I can't imagine waiting in that long of a line, though. I tried to capture some images this time, although didn't put too much effort into it, as I still wanted to savor the experience. I might as well have drunkenly spun around in the dark and tried to throw a dart at a board 50 feet away. I am convinced that photography on that attraction is next to impossible. Just when you're lined up for a shot, the vehicle darts another direction, your camera slamming up against your jaw. Despite the photography fail, the attraction still is a perfect ten.
Up next was Mr. Toad's Wild Ride, a childhood favorite of Sarah's. Even though I am a couple years older than Sarah, I didn't remember this attraction from Walt Disney World. I think it's likely another case of my mom thinking it sucked, and us thus never doing it. After our ride aboard it, I am thankful that she spared me from having to experience it as a child.
The ride was pathetic. In my opinion, it compares favorably with Snow White's Scary Adventure. Why this attraction has developed such a cult following is totally beyond me. I have seen better things at the State Fair. Don't get me wrong, the facade of the building was beautiful, the ride vehicles really cool, and the story of the attraction cool, but the execution is sub-par, and that's putting it lightly. The substance of the attraction is moving cut outs. That's it. I am not one who demands cutting edge technology in every new attraction, in fact, sometimes I think the tech-first, story later approach actually works to the detriment of attractions, but it works in the other direction, too. Toad is dated to the point that it detracts from the story. In my mind, it's the antithesis of "Disney Details" we all foam over.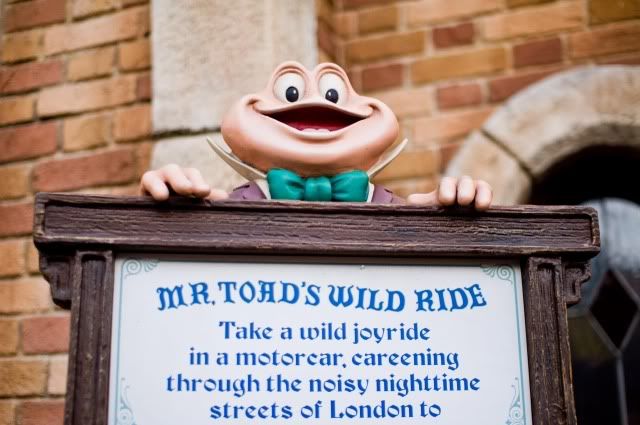 Climbing back up onto my soapbox regarding overly hardcore online Disney fans, it's the fights over things like this that, to me, really invalidate the collective voice (if there is such a thing) of the Disney fan community. Are people really raising such a fuss because they truly believe the change Disney is about to make or has made is a bad decision, or are they complaining because their own nostalgia doesn't want to see something on which they've made great memories, go away? If the latter is the case, Disney rightfully should ignore the fans, as these sentiments won't be shared by the majority of guests (who are infrequent visitors or first-timers), who will instead view the attraction as dated or of poor quality. It's gotten to the point where people online complain about pretty much anything, even things they haven't seen in person, or things that are yet to occur. With the frequency of such complaints, how does park management distinguish between legitimate complaints and "whiny" ones? At some point if you cry "wolf" (or "you're destroying the parks!" as the case may be) too many times, you get ignored. In my eyes, the case of the uproar over the departure of Mr. Toad's Wild Ride from Walt Disney World falls squarely into complaints mostly from the perspective of nostalgia. Maybe some thought it was truly a wonderful attraction and I'm just "missing it" with the quality of the attraction, I don't know.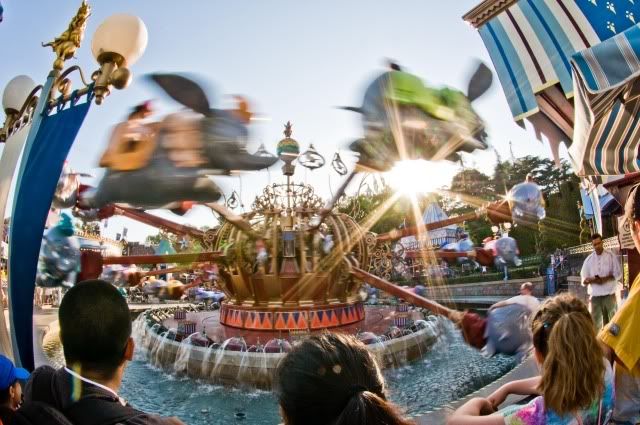 We decided to keep up the string of sub-par Disney attractions by heading to Dumbo next, after we noticed its ridiculously short wait time. I won't pontificate over Dumbo's county fair qualities here. I know it's become the "face" attraction of all of the Disney resorts worldwide, and I know it's never going anywhere. For kids, I'm sure it's an awesome experience getting to ride it after seeing it in all the ads. We promised Sarah's deceased loved one that we'd ride it for her, so we happily queued up for it for the first time as adults.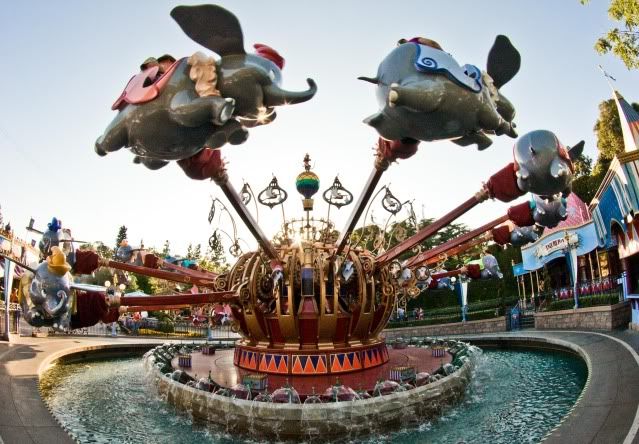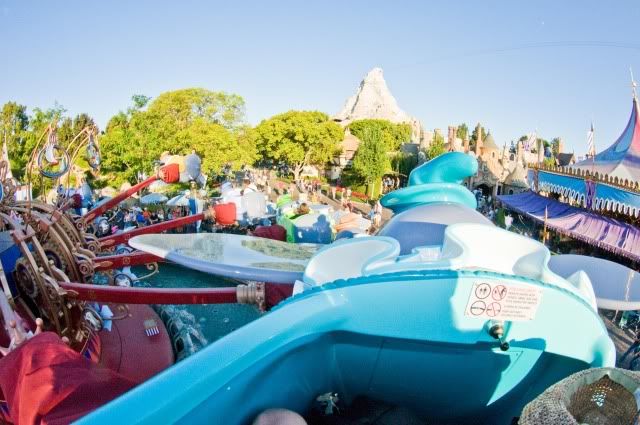 I am actually pretty glad we opted to ride it. I got some pretty good photos (and plenty of ideas for the future), and we had a great view of the park. Among the spinner rides like this, I still prefer WDW's Astro Orbiter (especially at night) with it's even more elevated view, but Dumbo wasn't too shabby. I can definitely see the allure for kids who want to pilot their favorite flying elephant.
After Dumbo, we made our trek into the Matterhorn, in search of elves and/or jewels (at least I think the storyline to the attraction went like that). When the Cast Member at the boarding station (seemingly) innocuously asked "how many?" we casually responded "two." Huge mistake. Neither of us were paying much attention to the loading process, so we didn't see that responding two meant that we'd be cramped up in the vehicle one behind another. This made for an "interesting" experience for two reasons: Sarah has really long hair, and the ride tosses you around a bit, so a human positioned between a man's legs has a "jarring" effect on the 'zone between the legs' for lack of a more family-friendly term. Due to the hair in my eyes and the discomfort in my groan, I didn't really take in a whole lot of the attraction. I didn't see any elves, but interestingly enough, I did see a yeti. Even more surprisingly, in the brief glimpse I saw of him, he seemed to be in working condition! I know my eyes deceived me, as WDI has a distinct animosity towards working yetis. The hair in my eyes must've caused me to see things.
Although we wanted to keep playing, our stomaches protested. We obliged them, heading over to the Hungry Bear to eat. It was really cool seeing a restaurant themed to everyone's favorite irreverent bears, the Country Bears, and the views from the restaurant were wonderful. Disneyland's Rivers of America is so cool. I could have sat there for hours, just soaking in the park. Sarah, however, could not, as we had an uninvited dinner guest. A big, presumably killer (for the sake of drama of the story), spider. Frankly, I'm not quite sure why she was so scared, as the spider was aways from us, but scared she was, nonetheless. I was really quite amused. Not of her fear or the spider itself, but this dude roughly our age at a table near us, who was absolutely enthralled with the spider. On multiple occasions, he went over with his camera to take pictures of it, and was constantly checking it out (although I'm one to talk, since I also took pictures of it, and was actively watching him to see his reactions to the spider). Finally, after much discussion with his significant other, he went over to the spider with a jar, closing the spider in the jar. We subsequently overheard him saying to his spouse that he was going to take it home. That really cracked me up for some reason. In parting, he mentioned that his last name was "Tamburriello." Then it all made sense.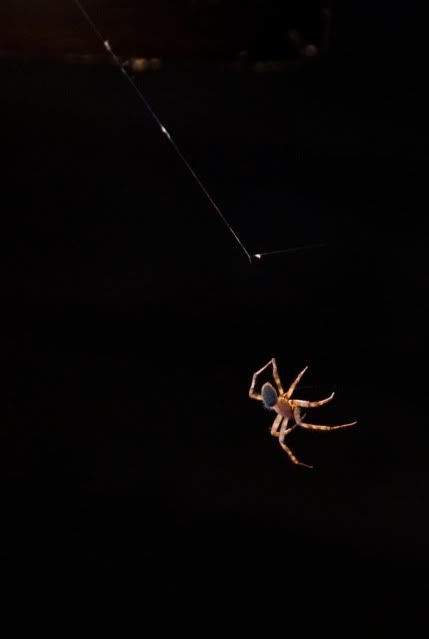 The dinner show over, we headed over to Big Thunder Mountain to use our FastPasses. I can't say I noticed any huge differences between WDW's Big Thunder and Disneyland's. There were little touches throughout the ride, and we both thought those who pretty cool, but nothing huge. Overall, I think I liked it roughly the same as I like WDW's. I do wish we would've gone just a tad later, as Big Thunder is always most awesome at night. Still, it was pretty stellar at dusk, and is one of my favorite Disney attractions.