Summer 2009 WDW Trip Report
Part 1
CHAPTER I: The Calm Before the Storm
The trip to Walt Disney World started out as all of our trips (well, most, as we do fly out of Chicago-Midway sometimes) do, with an early morning trip to the Indianapolis International Airport. Once we arrive and check our bags with Southwest, we make the pilgrimage to McDonald's for some delicious breakfast. McDonald's is actually one of my favorite places to eat, but due to highly persuasive reports, I have learned that I will suffer a quick and painful death if I eat there more than twice per year. Accordingly, we generally only eat at McDonald's at the airport prior to our WDW trips. I figure the 10 or so years each visit takes off our lives is well worth it.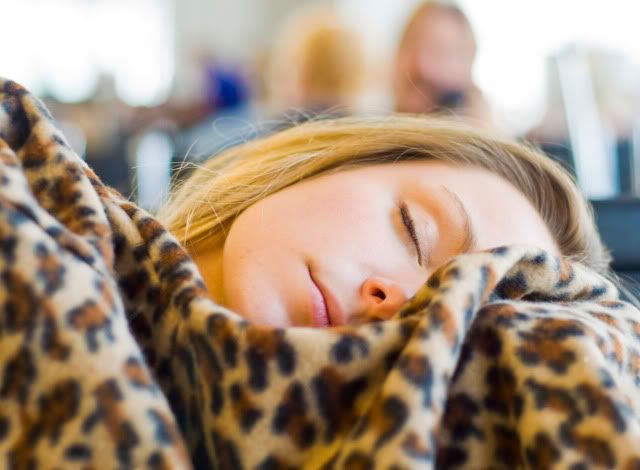 After the delicious breakfast, we were posed to take on the world (yes, surprisingly, we were not on our deathbeds). We headed over to the Southwest gate and awaited our flight. Always the fashionista, Sarah took a nap in her leopard-print Snuggie. She had come down with a fever the day before the trip, and was on antibiotics at the time, so the rest was necessary so that we would be able to conquer the parks each day. I sat 24 chairs apart from her, weary of what onlookers might think of the highly fashionable Snuggie.
Our strategy to scare away other travelers to Orlando worked, as we were able to secure the front seats in the plane. As usual, we snapped some ridiculous pictures of ourselves on-board. However, after the second picture, a flight attendant spoiled our fun, informing us that several passengers complained about the flash. I'm not really quite sure how this was possible, as she had been in the front of the plane for both pictures (where no passengers were located) and I was bouncing the flash, so there should have been minimal affect on anyone behind us. Still, I understand the desire of not having flash photography on a plane, I just wish the attendants wouldn't BS me about it. They may take me for a fool, what with my Figment plush and mouse ears, but looks can be deceiving. Well, somewhat deceiving…
When we arrived in MCO a little early at around 1 p.m., we rushed off the plane, and headed in some random direction we presumed to be that of the Disney's Magical Express counter. For young people, we must have terrible memories, because this invariably happens every time, and every time, we end up backtracking, and asking for directions. Upon hearing the directions, we have an "ahh, yes" moment where we recall where the DME counter is located. Perhaps next time we'll either remember its location or take the time to figure it out, before rushing around like chickens with our heads cut off.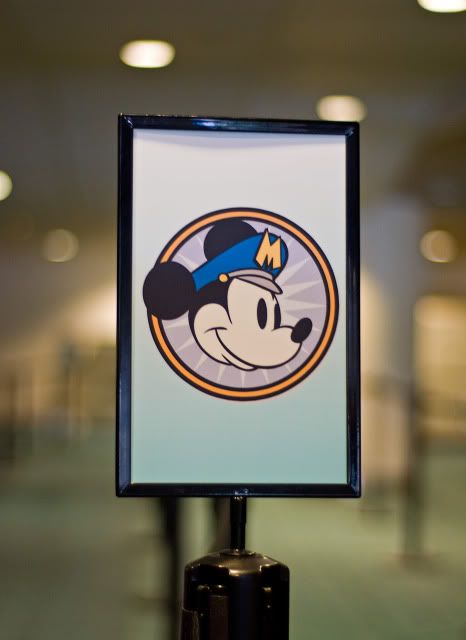 After finally getting our bearing about us and making our way to the DME line, we boarded the bus for All Star Sports (hereinafter A.S.S. From the same great Disney marketing acronym team that brought you Monsters, Inc. Laugh Floor!). A.S.S. was actually not my first choice for a resort (is it anyone's?), but I accidentally booked there when making reservations, rather than at All Star Movies. Not a huge deal as they are both fairly similar, but I wanted to get some nighttime shots at All Star Movies, at which we have never previously stayed. The lesson to be learned is do not book your room reservations with multiple browser tabs open. Focus on the goal.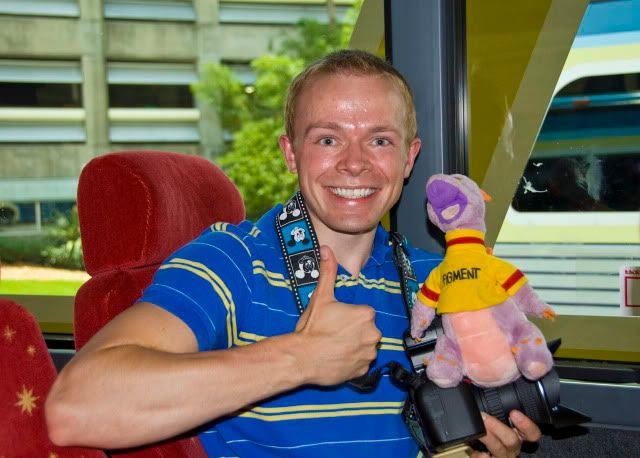 After a stop at Coronado Springs Resort, which looks nice from the outside, we arrived at A.S.S. (okay, I will drop the acronym now) at around 2 p.m.. We checked in, went to our room, and reorganized our carry-on bags and removed some items so that we had only our camera gear and other necessary park accessories that we would need for the Studios. However, before we would head to the Studios, we had a bit of a trek….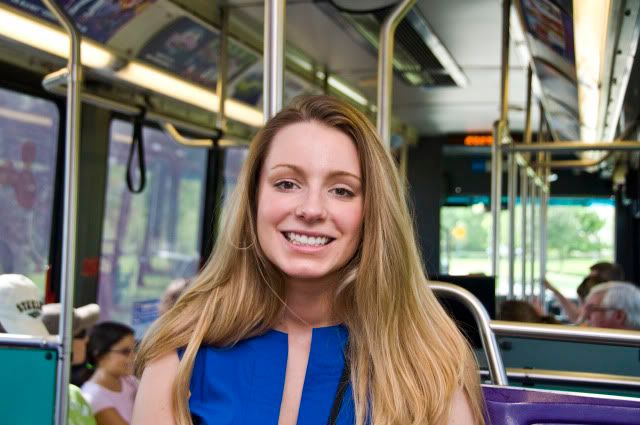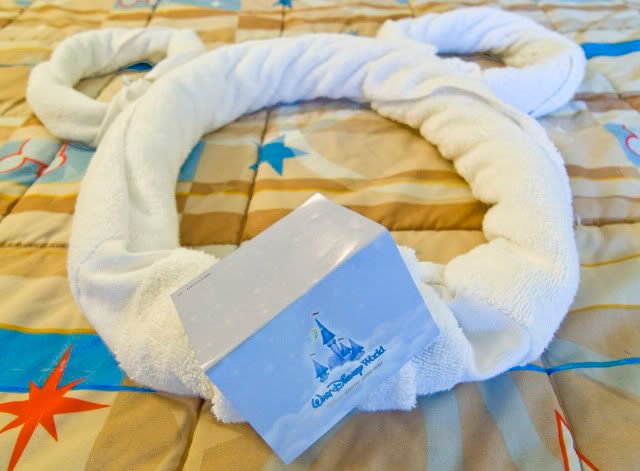 The trek occurred because we planned on buying Annual Passes, but in order to get the DVC discount, we needed DVC Member IDs, which we did not have. The trek began by heading to Downtown Disney, where we stopped at Earl of Sandwich for some delicious Italian subs. Sarah always raves about this sandwich, and I was too lazy to properly peruse the menu, so I just ordered the same thing as her. Big mistake. While I normally like Italian subs, this one did not compare to whatever sandwich I normally order. I attribute the lacking taste to the fact that the sandwich did not have an opaque dressing (I realize Italian sandwiches often don't). Any experienced sandwich eater will tell you that mayonnaise, or a mayonnaise-like product, is a necessary component of any delicious sandwich. After we consumed our mediocre sandwiches, we began walking in the 128 degree heat (at least it felt like that, I believe the actual temperature was 94 degrees) to Saratoga Springs Resort, where we needed to pick up our new Disney Vacation Club membership cards that conveniently had not yet arrived in the mail.
We have stayed at Saratoga on our past two summer trips, so we are familiar with the walk. However, in the past we would make it at night, when it was cooler, and often after trips to Pleasure Island, the experience of which inexplicably made the walk seem more bearable. In the middle of the day on a hot and humid day, with Sarah being a bit under the weather, the walk was far from pleasant (unless you enjoy soaking your shirt with sweat!). While taking the reliable and convenient bus service from Downtown Disney to SSR would have been an alternate option, we weren't in the mood for an hour wait for something that we could accomplish ourselves in about 20 minutes.
We arrived at the DVC preview center at Saratoga to the shocked gazes of Cast Members who were surprised that we made the journey by foot. After a short wait during which I snapped some pictures of the beautiful murals in the atrium (I'm not sure if this is what DVC actually calls the room, but I need to call it something) and we drank several cups of water to rehydrate after sweating out several gallons of water, we received our Member cards. We were now one step away from becoming Annual Passholders! However, the voyage was not over.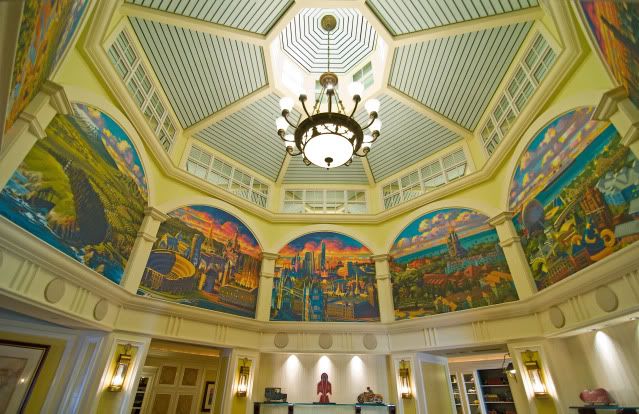 We then headed to guest relations to buy our first Annual Passes. I was not thrilled about the price, and not because I didn't think we would get enough value out of the AP, I was disappointed because, had we gone on the trip 12 days earlier, they would have been somewhat cheaper. Oh well. As far as ticket prices in general go, we belief as a result of this trip became that ticket prices should be increased even more. The parks were busier than they have been at this time of year despite the economy, and I think I would be willing to pay 20% more if that would mean 30% less crowds (although the economics of this don't result in an equilibrium for Disney that would make it prudent for Disney to raise the prices, I'm looking out for me…). Being but meager college students who are financially emancipated from mommy and daddy, we are hardly made of money, but I really think it would be worth it.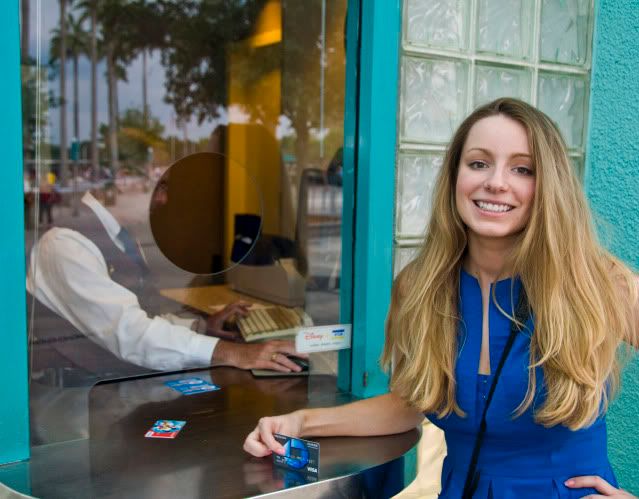 With our crisp new Annual Passes in hand, we felt as if we could do anything. We essentially owned a piece of Disney, and as such, were entitled to go wherever we wanted, act any way we felt like acting, obey only those rules we saw fit to obey, and demand whatever we fancied. In light of this, I promptly removed my pants and enjoyed the park in my underwear. Okay, so maybe we didn't have quite this sense of entitlement, but it sure was nifty have those Annual Passes. We no longer had to carefully use 10 day no-expiration park hopper tickets over the course of three trips. We could now go to the parks every day of our trips! What a feeling!
We finally stepped inside the park just after 5 p.m., roughly four hours after arriving in Orlando. Suffice to say, in the interim, my skin was itching and my legs twitching, as, like any good Disney geek, I was going through Disney withdrawal from not being in the parks. As soon as we made our way onto Sunset Blvd., we met our friend Nick, who is a Cast Member at Coral Reef and Sunshine Season, and encountered the heavy crowds we were expecting given that Evening Extra Magic Hours were taking place at the Studios that evening. We quickly made our way to Rock 'N' Rollercoaster to get FastPasses, then headed back to Great Movie Ride, where we anticipated little wait.
As usual, GMR was spectacular. This is one ride that, aside from periodic maintenance, I would be happy with if Disney left untouched for the foreseeable future. While it might be nice to have a few updates, I would be too concerned that Disney would swap out a classic that isn't currently popular for whatever is their marketing flavor of the month. Made I've seen too many forum threads suggesting National Treasure be inserted into the attraction so I am overly worried about this. In any case, I'd rather the Great Movie Ride not become the Hit Disney Movie Ride Starring the Cast from High School Musical 7! If people don't recognize some of the films in the attraction, perhaps they should check out TCM (which I have heard is doing quite well now as younger generations actually are becoming curious about classic cinema—whoddathunkit!) or Netflix.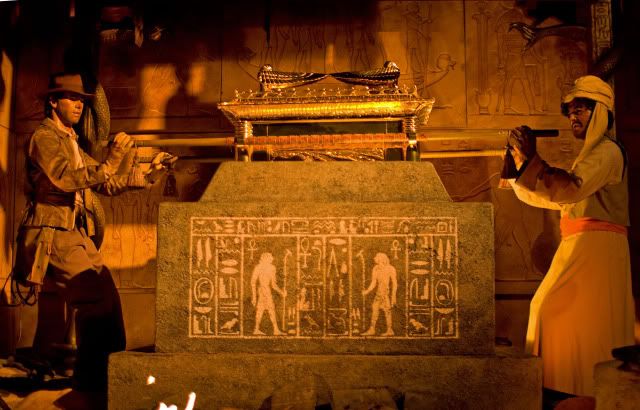 Following GMR, we headed to the American Idol Experience. I will admit that I was pretty hard on this show when it was first announced. That said, I will admit that it exceeded my expectations. The hosts were energetic, albeit visibly 'trying too hard', the stage and production values seemed reminiscent of American Idol (at least what I've seen from commercials—I've never watched the show), and the performances were entertaining. I wish we would have seen the end-of-the-day show, as I've heard those are even better, but we didn't want to wait for that. All of that said, I still don't think it was a good move for Disney to get this show at this point in its run. It's already been on for what, like 7 years? Americans will eventually tire of it, and I predict this will happen sooner rather than later. Then what? It becomes another Who Wants to be a Millionaire, and stagnates for a while. Why couldn't we get a wholly original Disney show without latching onto a popular entity that will sour? I would've loved to see something in the vein of Superstar TV return.
After that, we headed to MuppetVision 3D. MuppetVision is, without a doubt, one of my favorite attractions. Incredibly nuanced and rife with those Disney Details, I think I could spend an entire day just exploring the pre-show room. Following another excellent show of MuppetVision, I called up Cory Disbrow (who, I believe, posts here), and we met up with him. We chatted for a while, hitting Rock 'N' Rollercoaster, GMR again, before queue'ng up for Tower of Terror.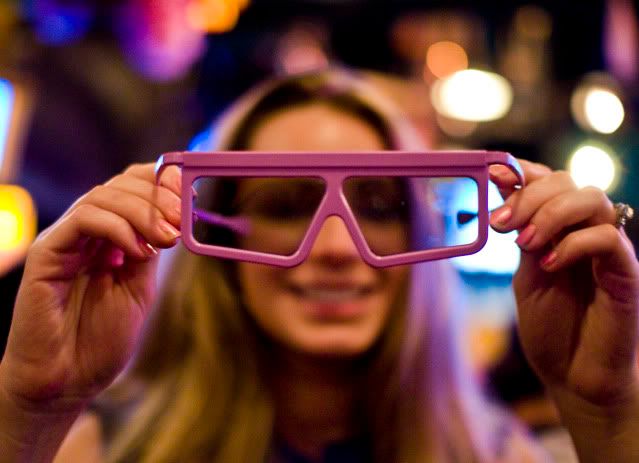 CHAPTER II: Storm Clouds are Raging
After about 10 minutes of standing in what promised to be a 40 minute line, the rain began coming down. And it came down! We wisely packed ponchos with us, but me being the tough guy (read: idiot) that I am, I thought the rain would quickly pass, and I might end up only slightly damp, so I didn't get mine out of my bag. Within 2 minutes, I was completely soaked, at which time there was no point in donning the poncho. Sarah was infinitely smarter than me, as she immediately put on her poncho. After standing in the rain for 20 more minutes or so, we entered the attraction, rode, and enjoyed. As usual, it did not disappoint. I only wish we had more chances to ride so I could have looked for little Twilight Zone (one of my favorite TV shows) details that are littered throughout the queue and attraction itself.
Upon exiting, we found that, in typical Florida fashion, the storm had subsided. We took in some more attractions, including Star Tours and the Magic of Disney Animation (we drew Pluto—quite fun, much to my surprise!) before heading over to Rosie's All American Café to grab some burgers. At dinner, we broke the horrible news to Cory—that we would likely not be staying through Evening Extra Magic Hours to do After Hours photography (for those unfamiliar, my favorite type of photography at the parks occurs after the parks close) as Sarah was still feeling sick, and it was important that she got some sleep so that she didn't remain sick throughout the trip. Although he was clearly devastated, he took the news like a trooper. We decided to start shooting right then, and we headed over to Echo Lake.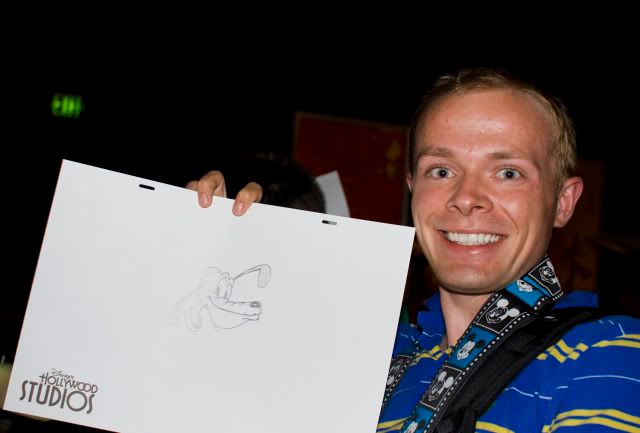 Then, I suffered a personal trauma that I almost cannot repeat here without becoming ill. I discovered that my the handles that control the pan and tilt head (on the Velbon Luxi F) had fallen off during the day somewhere, rendering my tripod useless. I was at a loss. Luckily, Sarah had brought a tripod of her own, which she offered to let me use, sensing my disappoint and not being quite so entrenched in photography as myself. The problem with this was that the tripod she had (which was the same tripod I purchased to use with my point and shoot camera three years ago) could not support the weight of the D90 adequately. Thanks to that problem, I only managed one decent shot of the Studios that evening, and even that is not as sharp as I would like thanks to that wobbly tripod.
In light of that, I would really appreciate it if anyone could recommend a reasonably priced ball head to replace the current head of the tripod. I would like something compact, and possibly a joystick head, but I am open to just about anything. Price is most certainly an issue, so I would like to go with something as cheap as possible (although I understand you get what you pay for–so I'm really looking for value).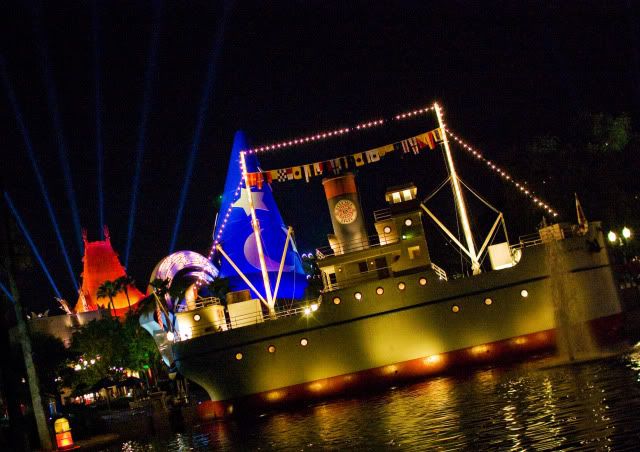 Sarah took the above shot–for not having a tripod, I thought it was fairly good.
Following some shooting, we said our goodbyes to Cory, then headed towards the buses. When we arrived at the bus stop, we realized why we usually stay after the parks close. It was near the end of Evening EMH, but holy cow, was there ever a line! When we first saw the line, we considered heading back into the park to do more shooting, as it would easily take 30 minutes for us to get a bus, and that time would be better-spent shooting. Ultimately, we decided against this. It took us three bus loads before we were finally loaded. Yet another reason why I cannot wait until we put the Value Resorts behind us.
The entire bus ride back, I thought of what I could do about the tripod. I hoped I left the handles back in our room, but knew that I didn't. I considered called B&H photo, and having them overnight me a new ballhead. Ultimately, I decided the best course of action would be removing the Luxi F head, and attaching the cheap-o tripod head to it. At least this would let me use the stable Luxi tripod.
However, that was easier said than done. The method by which you are supposed to remove the head from the Luxi is by tightening the handles of the pan and tilt head, and using those for leverage to unscrew it. I tried everything, doing my best 2001 monkey impression as I squirmed on the floor trying to brace the tripod with my feet as I turned it. Nothing. I determined that I would need a wrench or a screwdriver. No problem, I'd get one in the morning.
The next morning, we awoke at a later-than-normal time to allow Sarah adequate recovery time. Given how late we were out, and how late we expected to be out the coming days, it was still relatively early. As soon as I got up, I quickly readied myself and headed to the concierge to see about getting a wrench or screwdriver. I discovered that they would have to send maintenance to my room, and that they would be there in a half hour. No problem, I thought, as Sarah is like most women, and it takes her roughly 6 hours to get ready in the morning (kidding dear). Sarah was ready relatively quickly that morning, so 45 minutes after speaking with Guest Services in the main lobby, we left our room. I felt bad about leaving with maintenance still on their way, but they didn't arrive within the time frame promised, so I guess they only have themselves to blame for finding an empty room when (or rather, if) they arrived.
That morning we headed off to the Magic Kingdom. Normally, the Magic Kingdom is a nighttime park for us–not just "a" nighttime park, but the nighttime park. It's the park at which we try to start our trips, and until we've experienced an evening in the MK, the trip hasn't really started. More to the point, until we've had a leisurely nighttime ride around Tomorrowland on the Tomorrowland Transit Authority, the trip hasn't started. However, since the latter wouldn't be possible this trip, and since EPCOT was having Evening Extra Magic Hours that night, we decided we would finish the night there.
Upon arriving at the Magic Kingdom, we made our way up Main Street and gazed at that gorgeous Castle. I remember once reading that some French explorer thought the fountain of youth was located in (the state presently known as) Florida. Well, I think he was both ahead of his time, and right, as nothing raises one's spirits like staring down that street at Cinderella Castle. I have no doubts that it houses the key to longevity in life, and thanks to the time we've sat in front of it and gawked, I think Sarah and I will live until we're 173.
As soon as we passed the Castle, we made a b-line for Frontierland, thinking we would get FastPasses for either Splash or Big Thunder Mountain, depending upon what had a longer line. About halfway through Frontierland, we stopped dead in our tracks, as we saw Pioneer Donald (that may not be his "official" title) for the first time. Donald had a decent sized line, but it was not yet overwhelmingly. We decided that Sarah should stand in line for Donald, while I raced off to get FastPasses. Upon returning with Splash Mountain FastPasses, I quickly changed my camera settings and passed it off to the character attendant. Sarah had let a couple families pass us in line (I swear I was quick about getting back to the line–I didn't get side tracked by any photo ops), so I didn't have the time to take any test shots of the exposure.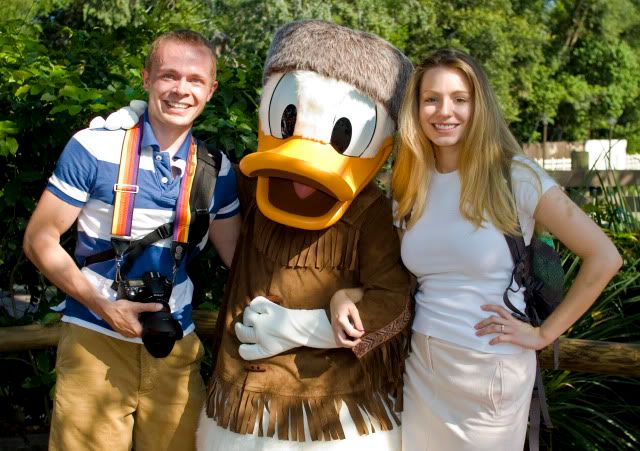 Character shots would prove to be my most difficult shots of the trip. Whenever I had the chance, I would take practice shots, altering the flash compensation, exposure compensation, and the metering mode to get a proper exposure. I have never tinkered with settings so much as I did for these character shots, and often, they still did not come out how I expected (I guess me not actually taking the picture greatly comes into play as far as that is concerned). Luckily, most of them were 'close enough' to turn out decent after some post processing (although I think my portrait shot processing method is a bit off–do these pictures look odd?) However, I would like a little better than 'close enough.' I guess I need to practice taking portrait shots between now and October and see how I can improve them, and more importantly, see how I can quickly achieve a proper exposure. I certainly expect to see a lot more characters during the Halloween party, so we had better be ready!
We then headed to Big Thunder Mountain Railroad, as there was still a relatively short wait. When Sarah and I first started going on trips together, BTMRR was not a ride either of us thought too highly of. In the interim, it has become a favorite of ours, and I think that has been a result of paying attention to the little details in the attraction, which add to its re-rideability (especially since you're racing past them!)
Following BTMRR, we got in the standby queue for Splash. It's one of our favorite attractions, so we figured twice in one day would not be too much. Plus, the wait was short and the standby line was going through the lower areas with all of the little bird houses, which are really neat to examine, and something we don't normally see close-up, due to FastPass. If there is one reason I don't like FastPass, it's because I know we are missing so many great details in the queues. Prior to Space Mountain going down, I was thinking about those cool 3D space effects out the windows in the queue there. There last time I remember really looking at those was shortly after I was tall enough to ride the attraction, as it's been a FastPass-must for us ever since!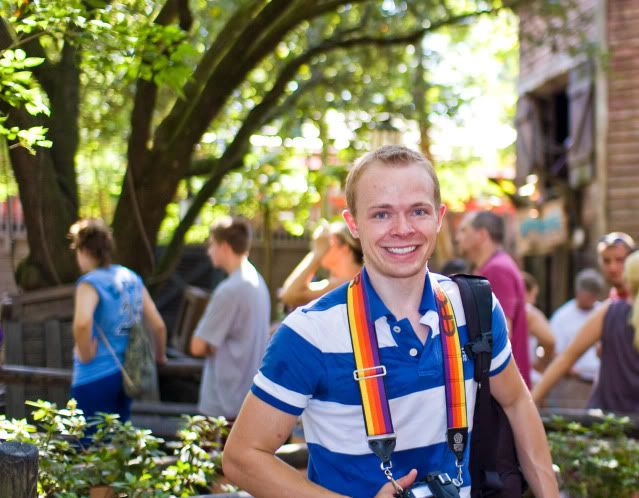 After years of me capturing 'candid' shots of Sarah in which she has odd facial expressions, this trip was her chance to enact her revenge!
I suppose this is as good of a segueway as any to provide the countering reasons as to why I love FastPass. I have read 20 page threads before debating the merits of FastPass, and I can honestly say I come down squarely in the "Pro-FastPass" camp. This is for one simple reason: it rewards research. I cannot count the number of times I have overhead people talking about FastPass–wondering how it works, how much it costs, and generally grumbling at the "elite" who use it (I believe many people conflate it with Universal's for-pay system). I heard similar sentiments many times this trip, and experienced it first hand when Sarah attempted to give FastPasses that we wouldn't be using to another couple. Taken aback, they thought we were perpetrating some sort of scam, and asked what the charge would be and how the system worked. After taking the time to explain the system to them, Sarah finally convinced them that we were not conning them.
Regardless of what FastPass does for lines (I know the argument goes that it merely makes lines longer and displaces crowds into shops), given the number of people who do not understand it, and thus do not use it, I have little doubt that it makes my wait times shorter. You know what? I have absolutely no problem with my wait time being shorter and someone else's being longer if they don't do their due diligence and research their vacation destination prior to attending. In the same vein as those vacationers who complain about finding no available ADRs on the same day, these people are bringing these longer lines upon themselves. I know I would never take a several-thousand dollar vacation without fully researching the destination, and if someone else chooses to do so, and has a poor time as a result (or minimally, doesn't maximize their time/fun) that is their own fault. All too often today, people expect to be rewarded for laziness. I'm not down with that.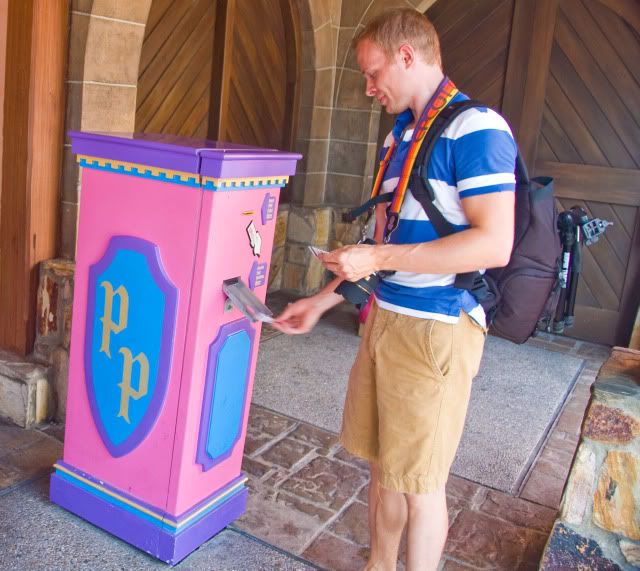 Ending that tangent, the rest of the morning in the Magic Kingdom is fabulous. We hit some of our favorites, including Sarah's #1 attraction, the Haunted Mansion, as well as it's a small world and Mickey's PhilharMagic before heading over to my favorite restaurant in the world, Cosmic Ray's Starlight Cafe, for lunch.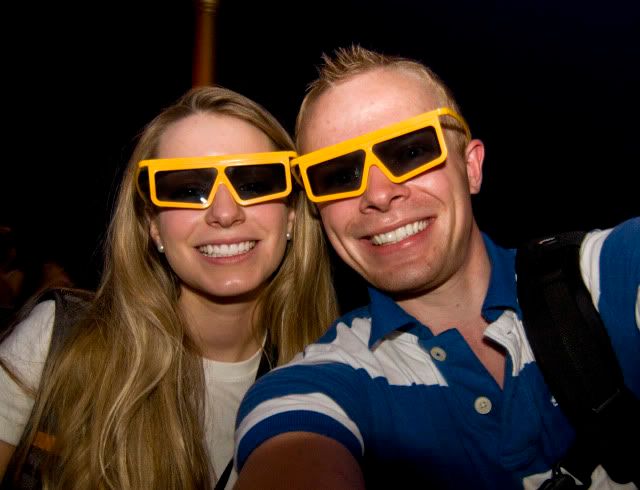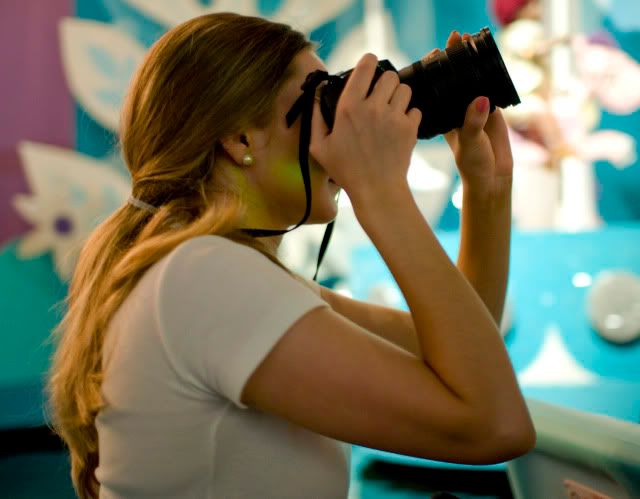 I thoroughly delved into the reasons why Cosmic Ray's is the best, and my favorite, restaurant in the world in our Top 30 countdown, so for a detail articulation, I refer you to that. To paraphrase, there are three reasons: 1) Sonny Eclipse, the singing AA; 2) the toppings bar, and; 3) being located in the Magic Kingdom's Tomorrowland. On this occasion, Sarah and I were lucky enough to get the table closest to Sonny Eclipse. Does it get any better for that? Some people may pay thousands for front row seats at Clapton, but we got our seats for free!
The meal was delicious, and of course, I pigged out at the topping bar, overloading my double-bacon cheeseburger with mushrooms and melted cheese to the point that they enveloped the burger itself. That food, with that entertainment, in that location is a dose of perfection. I honestly don't think it gets any better than that.
Following lunch, we hit several other attractions, including Country Bear Jamboree (another favorite of ours), Splash Mountain, Pirates of the Caribbean, and Peter Pan's Flight before heading towards the park's exit. Pan was a ride I had greatly been anticipating, and one of the main reason I worked on honing my manual focus skills over the summer. It's hard to tell whether the practice paid off–I had a handful of in-focus shots, but an overwhelming number of out-of-focus shots, as well. Still, it's better than the back-and-forth hunting the lens' autofocus system would've done, so I guess I should be satisfied. As we left Peter Pan's Flight, it began to rain. We suited up in our ponchos, hoping the monorail trip would cure the rain.
Much to our chagrin, EPCOT is not located in a different climate than the Magic Kingdom. We expected the magic of Disney to take us from the overcast and rainy Magic Kingdom to a puffy-cloud and sunny EPCOT, but such was not the case. The weather was actually almost exactly the same at EPCOT!
As soon as we arrived at EPCOT, we hit one of our favorite attractions, SpaceShip Earth. While there has been much online criticism regarding the descent, I think this minor issue has unfairly overshadowed how great the rest of the ride looks. Certainly I am not excusing the dumbed-down video screen conclusion, but I think many people are so quick to complain (myself included sometimes) that they fail to recognize the good–and there is a lot of good in SpaceShip Earth. I think the ascent and all of its scenes are excellent, and I don't even mind the new narration. Those who complain that the new narration is dumbed-down in parts (I disagree, I think it's merely a tad tongue-in-cheek) might want to look around while they're in the parks. Disney might have ample reason to dumb down attractions based upon its market.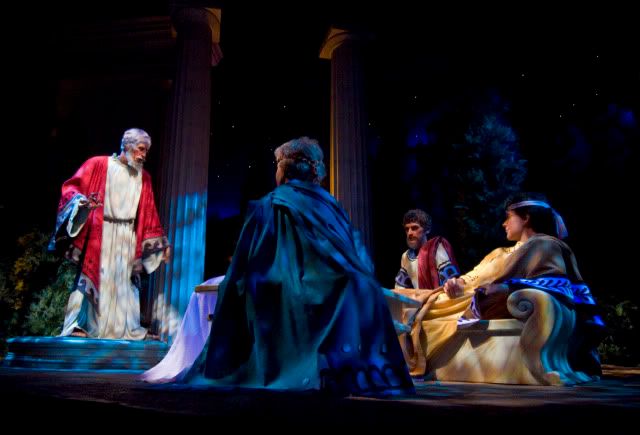 After that, we made an obligatory stop at Club Cool for some free caffeine. Flexing my masculinity, I downed some Beverly, and laughed like a pirate as I quickly refilled my cup, eager to have another aperitif. This is another thing I don't think is as bad as many people make it out to be. Even if it is so bad, kudos to Coke for including it in Club Cool. It may not taste great, but it certainly is memorable!
Rejuvenated after drinking approximately 48 cups of cola each (Veggie Beta is my favorite, for those curious), we headed on to explore the rest of the park. We first headed to Mexico, thinking we might eat there, but ultimately concluded we had best save our money (this marks this first trip during which we ate at no table service restaurants). In retrospect, it we probably should have done one table service meal, and the blame lies squarely on my shoulders for us not doing one. Sarah tried to persuade me on several occasions, but each time I balked at the proposition.
While in Mexico, we took in the Rio Del Tempio boat ride, which was fun as always. I think WDI hit a home run with the redo of this one. I don't even mind the character infusion, especially since it took a stale attraction and breathed some life into it, and the characters were from a movie that is several decades old and they fit the attraction well. Much better than cramming the latest Pixar film awkwardly (and inappropriately) into Tomorrowland.
We ultimately decided to dine at Sunshine Seasons, which we have previously somehow overlooked. I was very impressed with the food, some of the best we've had at a counter service restaurant (besides the Cosmic Ray's burgers, with which nothing can compare). The mashed potatoes were absolutely delicious. Really, they were excellent. Some of the best I have ever had. The layout of the whole place, from the check-out lines to the seating area was all fantastic. We also really enjoyed being right in the heart of the Land, which is one of our favorite pavilions. I think the only way it could be better is by having an AA from Kitchen Kabaret out performing or having the seating area overlooking a portion of the Living with the Land boat ride (one reason Garden Grill is a favorite of ours!)
On the subject of Living with the Land, we were a bit disappointed that it was down for refurbishment while we were there as it's one of our EPCOT favorites. Not a huge deal, and it will make experiencing the attraction all the more exciting on our next trip!
Following dinner, we headed over the the Imagination pavilion area, where Sarah called her family and I took some pictures. It was fairly dark out, but I didn't anticipate hanging around much, so all of the shots were handheld. I experimented with some bracketed shots for HDR, but I have not quite gotten the hang of merging multiple shots yet for tone mapping. Hopefully I can master the art soon.
With Illuminations quickly approaching and the crowds fairly heavy, we decided to go stake out a spot. We normally aren't the type to get to a spot more than 20 minutes prior to the show, so we anticipated all of the good spots being taken. Further, given my tripod difficulties, I doubted I would be photographing them anyway. Okay, that's a stretch–when I am near fireworks I have a hard time not busting out the tripod. After setting up, I took some practice shots, and I discovered that none of them were sharp. I discovered (or assumed, rather–but my assumption proved correct) that the D90 with 18-200 lens was too heavy for Sarah's tripod. The quick solution to this was using her D40 for the fireworks, which worked without a problem. The only problem was that I did a poor job capturing the bursts. I think I was still photographically shaken regarding the whole tripod problem, and thus not on top of my game. I started out 0 for 1 on fireworks.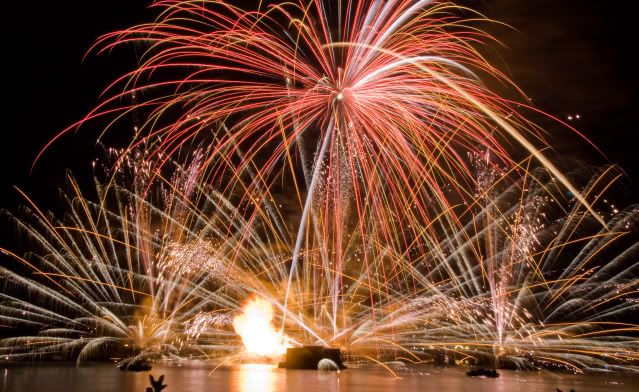 Illuminations was spectacular as always. This show is unquestionably one of Disney's "home runs" and while I wouldn't mind if Disney did minor tweaks to the show, this is one of those "if it ain't broke, don't fix it" things for me. I don't know how any replacement could possibly compare to the current show (although Disney has improved the seemingly perfect before!)
After Illuminations, it was Evening EMH time! We hit Test Track's single riders line, Journey into Imagination, and Nemo all within a short span. Then, we went to see Turtle Talk with Crush for the first time upon convincing from our friend, Nick. Sarah and I had previously passed on this after hearing that it was largely aimed at kids. However, we must be kids, because the show was a big hit with both of us. Crush was hilarious and the interaction was great. The whole Living Character Initiative amazes me, and I constantly am perplexed at how these attractions work. The experience definitely receives an "A" from us, and is now something we will do with each visit to the Living Seas pavilion.
Sarah and Nick decided to peruse MouseGears following Turtle Talk as Sarah wanted some new Mickey Crocs (I know, I know), so I kindly volunteered to "guard" SpaceShip Earth while they bought the bazaar footwear. Normally when I do my guarding (which seems to happen rarely), they return in no time, and I only manage to get a picture or two taken. This time, either I was working in a frenzy, or they took extra long, because I got several pictures. My wide angle lens and I did an excellent job guarding SSE, if I do say so myself. It didn't go anywhere while they were gone.
With SpaceShip Earth secure in its original location thanks to me, we all reconvened, and headed aboard. Since the wide angle had done such a good job guarding SSE with me, I rewarded it by giving it a chance to shot inside the attraction. It was a risky proposition, especially considering that I expected the scenes to be too dark for an aperture of f/2.8 to be effective. However, the camera and the lens persevered, giving me some fairly decent results. Our trip aboard our time rover brought us into a future world in which Extra Magic Hours were almost over. Sarah was beginning to feel sick again, so rather than queue up for Soarin' or some other attraction that would put us back into the park a half hour or more after close, we opted to head to Norway for Maelstrom.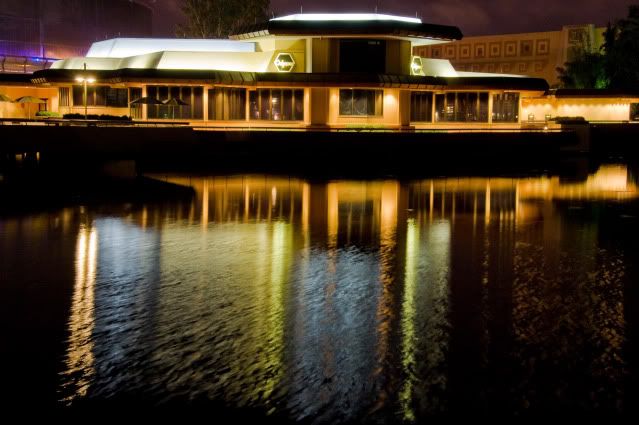 Surprisingly, Maelstrom was not the number one choice for the end of Evening EMH. After a spin around Norway, we began our picture-taking. I decided the most pragmatic approach would be to head to American Adventure, and work our way towards the front of the park from there. I knew we wouldn't be able to go all the way around the World Showcase and still hit some of the Future World pavilions (which generally do phased clearings and then rope off the areas) so we had to make a sacrifice. Which side of World Showcase would we do? After seeing many shots of Mexico that illustrated what a challenge it was to shoot that pavilion, we decided to head to that side. However, I got over-zealous, and decided I would grab some quick shots of Japan first.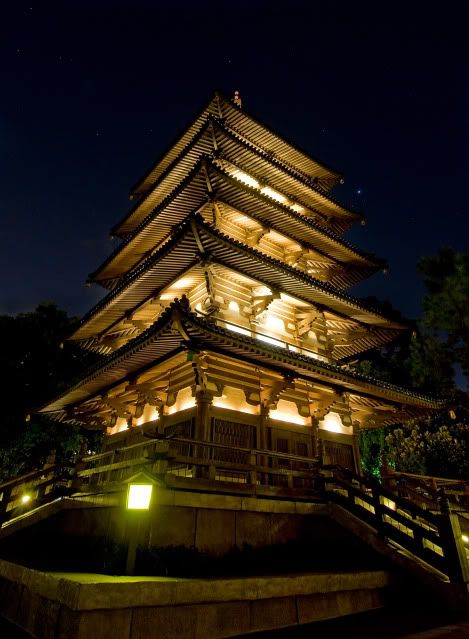 Unfortunately, after Japan, a Cast Member would not let us return to the American Adventure. When asked where we were heading, I stumbled, saying the front of the park, at which time we were informed the quicker route would be heading back towards Japan. If only I thought on my feet, and said "Mexico, to meet a friend."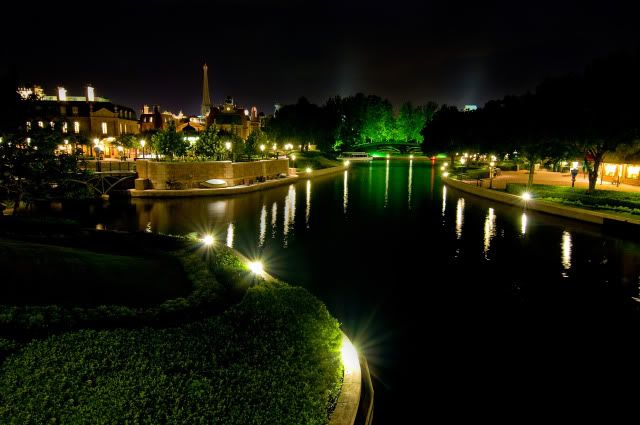 It turned out just as well that we went the other direction, as we got some fairly interesting shots of the pavilions with the wide angle lens. Unfortunately, due to the weight of the D90 on the tripod, some shots had to be taken multiple times before getting a sharp copy (I didn't raise the tripod all the way, thinking that would correct the problem experienced during Illuminations, and it did, most of the time).
Once we got to Future World, we headed over to Test Track. This did not prove easy, as two areas were roped off. We finally got in through MouseGear, and headed over to Test Track. We passed several Cast Members on the way there, but none said anything to us. Finally, after we took the picture, one informed us that the area had been cleared, and that we would have to leave. Anticipating similar obstacles elsewhere, we decided to just head towards SpaceShip Earth for some shots.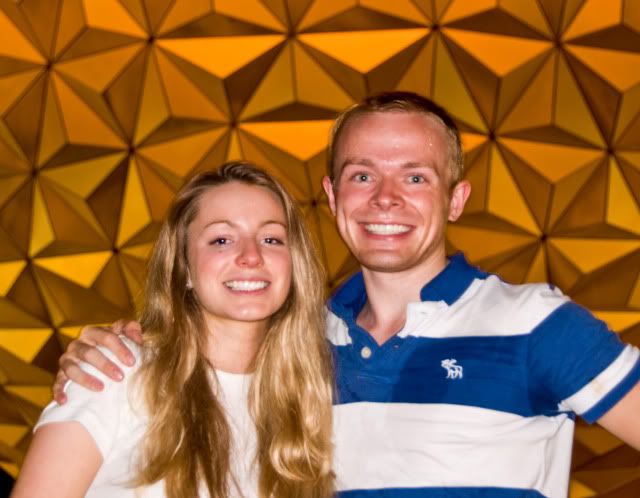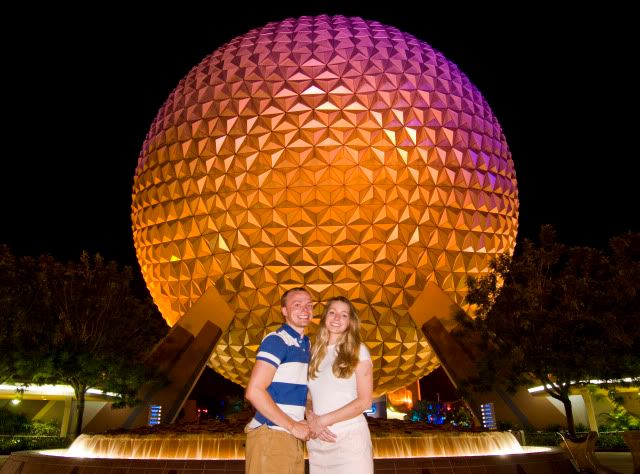 Following those shots, and once we saw that we were the last guests in the park, we headed for the exit. Oddly, when we arrived at the All Star bus stop, we found a full bus! Literally, full. We were the last ones on, and we had to stand. I have no idea whether the bus had been waiting for a while, or what, but it was quite odd, especially given that we usually have many empty buses to choose from when we leave the parks. Sarah and I speculated that maybe the more conservative use of the buses was a cost-cutting step (and a smart one, at that).
The next morning we were supposed to head to DHS for Morning EMH, but we instead started a bit later to give Sarah a chance to recuperate. During that time, I again headed down to the main lobby of the resort to see if I could get a wrench or a screwdriver. Sarah was still sleeping, so rather than having an engineer sent to our room, I had them meet me in the lobby. The Cast Member at concierge said someone should be there within 10 minutes. After 50 minutes of waiting, I finally told him nevermind. I have never had such a hard time finding a simple tool. I was to the point where I almost asked some handy looking individuals if they had one in their car, but decided against it.
Stay tuned for Part II, coming soon…