Disneyland Trip Report Part II
Part II of III
Our Space Mountain FastPass was finally available for use, so we headed over to ride our third consecutive Disneyland Mountain Range attraction. We considered going for the clean sweep by hitting up Splash after this, but it was fairly dark after we exited Space, and we had no interest in being soaked and cold for the remainder of the night if we happened to get wet on Splash. As you'll read (unless you get bored and skip over that portion of the report–a somewhat likely occurrence) later, we made the right call. Back to Space Mountain; it's sort of tucked away as compared to WDW's version. Now I realize that it's hard to 'tuck away' a huge futuristically styled building, but the queue is within a sort of 'pavilion' containing Captain EO and Pizza Port, and the famous white building is somewhat hidden behind the 'pavilion'. Once you finally get through the beginning of the queue and on top of the pavilion building, you get a much better view of the "real" Space Mountain building.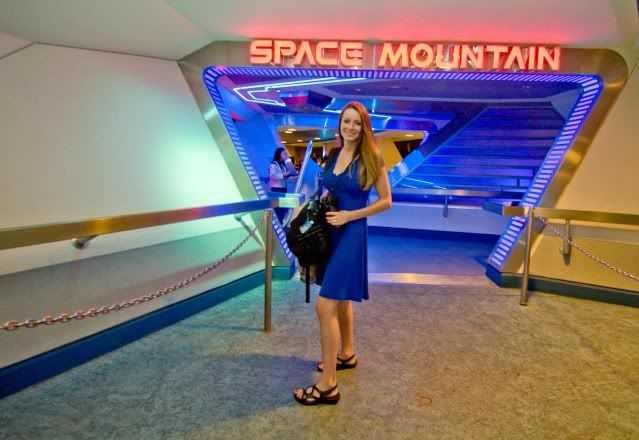 The general consensus seems to be that Space Mountain in Disneyland is better than Walt Disney World's. No doubt, Disneyland's was awesome. However, I find myself still preferring WDW's. A big part of this is that personal nostalgia I complained of above (for what it's worth, if WDW's Space Mountain had been transformed into something similar to Disneyland's during it's recent refurbishment, I wouldn't have complained) as I have a lot of memories aboard WDW's Space, but I also think the story is better on WDW's, especially after the recent refurbishment. From the beginning of the (awesome) queue until the end of the (equally awesome) postshow, WDW's has a cool story and neat montages. It also seems a bit more "wild" than Disneyland's.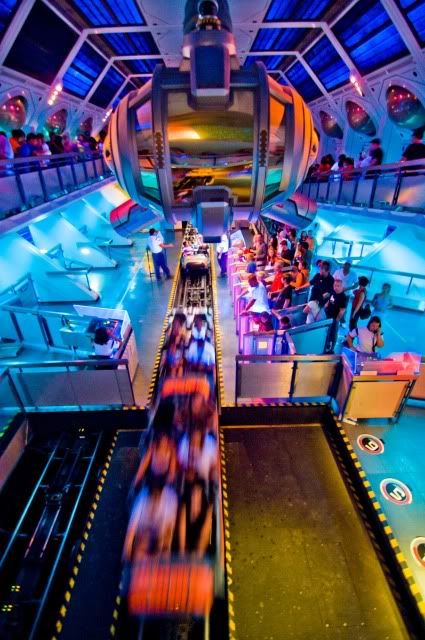 In any case, Disneyland's Space Mountain did not disappoint. The 'blast off' sequence was awesome, the boarding area (and area above the boarding area) was really well themed, and having music in the attraction was pretty cool (I am hopeful that WDW executes the music equally well). Definitely a top-notch attraction, and I can absolutely understand why so many prefer it to WDW's incarnation. I really wish we could've seen the Ghost Galaxy version, but there's always the future for that.
Space Mountain Starport by Tom Bricker (WDWFigment), on Flickr
Magical, the Summer Nightastic! fireworks show was set to start in roughly forty minutes, so most attractions were time-prohibitive after factoring in the wait and the attraction duration. It's a small world was walk on, so we boarded that. It was, once again, awesome, and it was cool spotting little details missed on the previous voyage.
When we exited the attraction, we had roughly 15 minutes until the fireworks started. We arrived on Main Street, and it was as if 5,000 additional people had entered the park just for the fireworks! The park was fairly busy throughout the day, but this was insane! There was absolutely nowhere to stand! Then, I saw it. It was a location that few others wanted because part of the show would be blocked by the Partners statue, but for me, it was perfect. Sarah was indifferent to the location, so I set up. I was faced with a dilemma: my normal choice for fireworks, recently, has been the ultra wide angle. With perimeter bursts in the Magic Kingdom's Summer Nightastic! Show, it was the logical choice. However, my decision not to research the park so as to not spoil the surprise meant that I didn't know whether Magical had perimeter bursts. The ultra-wide also de-emphasized Partners, so I decided not to use it. I was thus left with a choice: Sarah's 18-200mm or my Sigma 30mm. The 18-200, when combined with the ND filter, would produce somewhat soft images, yet it would allow me to zoom around once I figured out the best way to frame the fireworks. Conversely, the Sigma 30mm would be sharper, and it would allow me to just frame the shot ahead of time and pay attention to the show rather than fiddling with the lens and missing portions. The risk with this would be that I'd seriously misjudge the burst location, and would miss most of the fireworks (in the frame of the image). Photography always comes second to the experience for me, so I went with the Sigma. Plus, I'm a pretty big risk taker.
Disneyland's Summer Nightastic Fireworks – "Magical" (78 second exposure) by Tom Bricker (WDWFigment), on Flickr
I switched from my ultra-wide to the Sigma 30mm and almost immediately, the show started. My decision to go with the Sigma 30mm was definitely the right call. Partners, the Castle, and the fireworks filled the frame (a 25mm lens probably would've been ideal, but I've got no complaints). The show was so awesome, I barely paid any attention to the camera. I enjoy Wishes!, but Magical is what a Magic Kingdom fireworks show should be. It had wonderful music, great spectacle with Dumbo and Tinkerbell flying around the Castle, and real charm. The scariest part is that I've since heard plenty of reports calling Magical pedestrian as compared to Remember, Dreams Come True. I imagine if I saw that, Wishes! would become the Mr. Toad's Wild Ride of Disney fireworks shows to me.
Disneyland "Magical" Fireworks – 189 Second Exposure by Tom Bricker (WDWFigment), on Flickr
After the show, we began heading towards Fantasyland and I began reviewing the images I took during the show. In my haste to get the lens changed before the show, I forgot to do something that, in my mind, ruined the shots. I immediately told Sarah we'd have to see the show again (something I wanted to do anyway), to try it again. We never did end up being able to see it again, but I decided to post one of the images on Flickr, anyway, hoping no one would catch my mistake. It's been one of my most popular images to date, so I guess I was overly critical. I figure if no one can spot the issue, I'm not going to point it out to draw attention to it!
One way or another, we were going to experience four Disneyland Mountains that day. Since Splash was out of the question, another trek to the Matterhorn was in order. This time I was a man on a mission. I would catch those dang elves. To accomplish this, I knew Sarah and I would have to be two parties of one. We practiced telling the Cast Member this, but yet, when we got to the Cast Member, and she asked "how many?" I again responded, "two." Nice work, dummy. The experience was much the same this time, with much pain, discomfort, hair in my eyes, and no sign of elves. I have determined that if, in 10 years, I'm unable to have children, I'm suing Disney over this one. Hey, if that 80-some year old sues after riding Tower of Terror months before a seemingly natural medical event, I think I'll have plenty of basis for the suit.
Keeping up the trend of awesome things, we decided to board the Nemo subs again. Apparently, everyone leaving the fireworks area had this same idea, as the reported wait time was substantially lower than our actual wait. At least this time we didn't slow-cook in the queue. Even at night, though, the queue was boring. I was half-hoping for some killer lighting effects on the umbrellas scattered throughout the queue, but unfortunately, there was none. The queue remained as uninteresting as conceivably possible. I think the only thing that potentially could make it more lame would be random cut-outs of Urkel. The ride, contrasted with that, was once again amazing. I noticed a lot of additional details the second go-round.
The post-fireworks crowd was still pretty high, so we decided we'd hit some less popular attractions. The Storybook Land Canal boats seemed to fit that bill, so we decided to give it a whirl. I was fully expecting this to be lame, but much to my surprise, it was really quite cool! Perhaps it's my life long dream to be a giant terrorizing a small village while battling a giant mole, but something about it really appealed to me.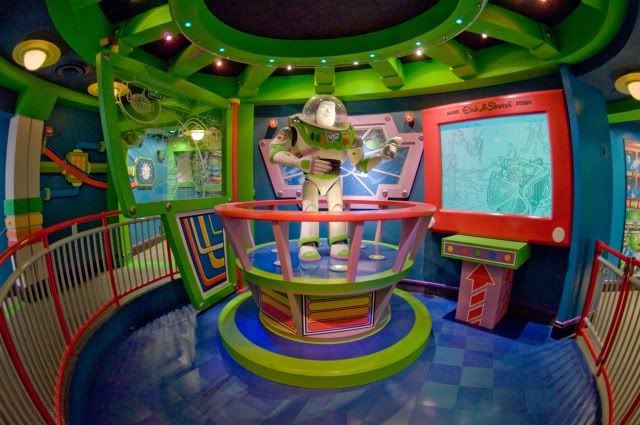 Next it was time to use our FastPasses for Buzz Lightyear's Astro Blasters. By this point in the night, we didn't really need them, so we just cruised through standby. I don't know why, but the lines for this (in Florida at least) always seem to disintegrate later in the evening. Perhaps it's mostly popular with families who have since exited the park? I don't know why. In any case, and despite all of the criticism levied at it by WDW fans, we really enjoy it. I think it's just because we're highly competitive.
Well, if we "enjoy" the WDW version, we absolutely, positively are enthralled with the Disneyland version. It's crazy to think how an attraction can be so starkly different on one coast than it is on the other, but such was the case. Everything, from the set pieces, to the cleanliness of the ride, to even the accuracy of the laser-guns (having fully-moveable guns was very nice) surpassed WDW's incarnation of the attraction. I only wish we could have ridden for a few more spins.
It was still around twenty minutes until closing at this time, but since we only had two nights to capture photographs of the entire park, we decided to start taking pictures, beginning in Tomorrowland. I was about as rusty as Tow-mater. I just sort of wandered around Tomorrowland, taking pictures of 'stuff', then cursing the LCD screen when I saw the results. The poor results only made the rust worse, and threw off my game even more. Most of these lame shots were taken in Tomorrowland, which might explain my dislike for the aesthetics of Disneyland's Tomorrowland as compared to WDW's.
The Star Trader by Tom Bricker (WDWFigment), on Flickr
Admittedly, Magic Kingdom's Tomorrowland is my favorite land in any of the parks. While the current incarnation of Florida's Tomorrowland is far from stellar, I still love it. Not that my dislike for the aesthetic of the Tomorrowland in Disneyland is unfounded. Objectively, I found the most disappointing land in Disneyland to be Tomorrowland. I knew almost from the beginning that it would disappoint, when I saw this small sign and some little rock formations rather than the long walkway leading through the futuristic archway and Avenue of the Planets. The architecture was not as good, the lines not as fluid, and the key attractions inferior to those of Magic Kingdom. Everything just felt really cramped, which seemed entirely unnecessary given some of the dead space. To be fair, Space Mountain was very cool, and very different, from Florida's, but to me, the land left something to be desired. I don't expect the same attractions between the coasts (quite the contrary, actually), but there were no big "time killers" that really made me want to soak in the ambiance of Tomorrowland like Florida's TTA or even the Carousel of Progress, which we find pulling us to Tomorrowland frequently to avoid the crowds.
Disneyland's Tomorrowland by Tom Bricker (WDWFigment), on Flickr
It didn't help that Star Tours was closed and a few areas that appear that they used to house attractions now sit dormant. On top of that, given its location and theme, I can't quite bring myself to consider the Nemo subs a Tomorrowland attraction. They are, seemingly, a stop-gap or transition between Tomorrowland and Fantasyland. WDW fans may complain about Monsters, Inc. Laugh Floor not fitting the Tomorrowland theme, but in my eyes, the Nemo Subs are far worse (albeit a killer attraction when judged by itself). Don't even get me started on the deficiencies of Innoventions. Okay, so perhaps I'm taking out a little of my frustrations for a poor photography outing on Disneyland's Tomorrowland. At this point, I basically threw my arms up in the air, wondering what to do next.
Suffice to say, our first park closing in Disneyland didn't go how I would have liked. Sarah was clearly still grief-striken, so we spent some time talking on a bench near the entrance before deciding to call it a night. Both of us were tired anyway, as the time change and our inability to plan ahead and make sure we got to bed early the night before our trip led to us being awake for over 24 consecutive hours, minus the "eye half open" sleep we got on the plane. Perhaps I had delusions of grandeur (that happens often, so it wouldn't surprise me), but I was fully expecting to be the last people in the park, soaking up the new park by taking picture after picture of fresh subjects. Instead, I left with my ego a bit hobbled, never having gotten into the photographic groove I wanted, and only coming away with a handful of images I liked. It was really great experiencing a totally new park, but I guess it wasn't the best day for us. We headed home like stray dogs being told to get out of the dumpster (except we probably didn't smell quite so badly) with our tails between our legs.
We returned to our "resort" (I'm shocked it didn't charge by the hour), prepared for, and went to bed. When I awoke, I checked myself for cockroach and/or rat bites, and surprisingly, found none. We did not arise early the next morning for rope drop, but were up and heading to the park by 10 a.m.. No small feat given the amount of sleep we got the previous day.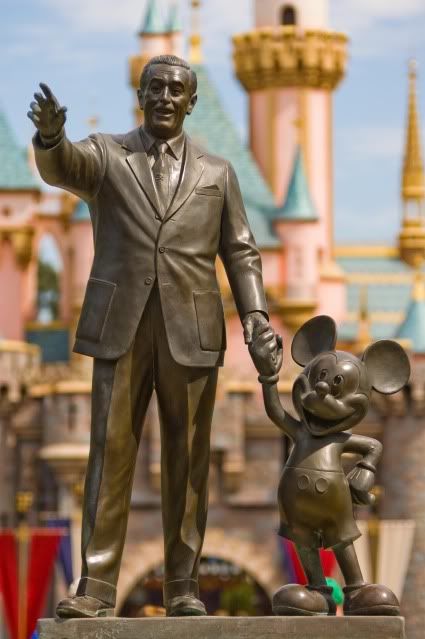 The Domineering Castle? by Tom Bricker (WDWFigment), on Flickr
Owlie the Owl by Tom Bricker (WDWFigment), on Flickr
The outlook was much better today. Not just figuratively, but we actually had a bright blue sky to accompany the much-improved tone! Hearing stores of SoCal's constantly overcast sky, I availed myself of this while Sarah scurried off to Tomorrowland to grab FastPasses for Space Mountain, immediately snapping some pictures of Sleeping Beauty Castle before we headed off to ToonTown. Sarah has quite a knack for capturing images of me in odd positions as I try to get "the shot" and this morning was no different. Honestly, sometimes I think the only reason she takes an interest in photography is to get pictures of me looking like an idiot. The photos really don't have much blackmail value, though, as I freely post all of them in these trip reports. Readers probably mutter, "idiot" towards me when they read some of the opinions I express here, so their sentiments might as well be reinforced with images!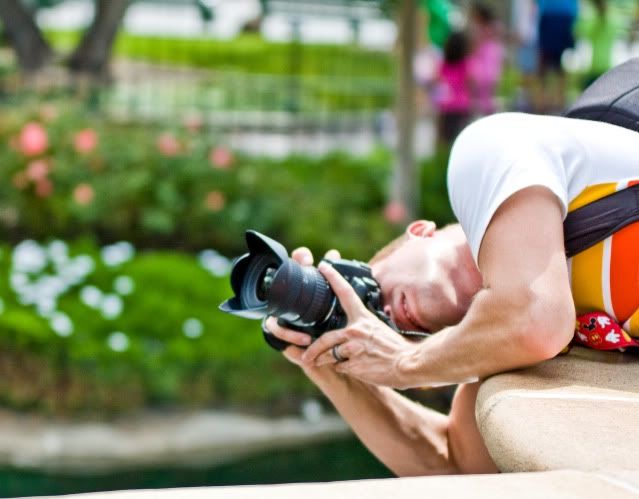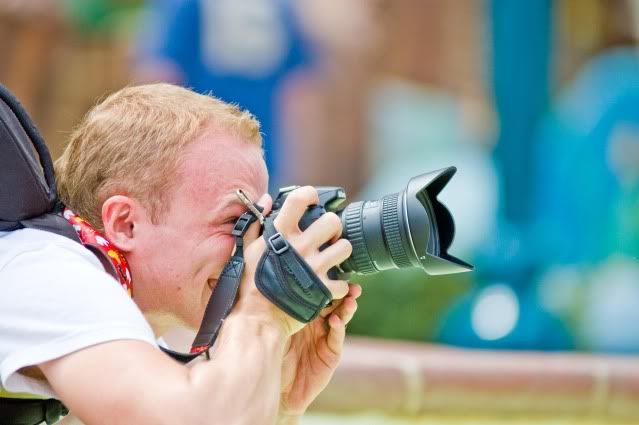 The previous day we neglected to pay mind to the fact that ToonTown closed earlier than the rest of the park, and when we arrived (late) to use our FastPasses for Roger Rabbit's Cartoon Spin, the gate to the land was closed. Although Sarah isn't a big fan of Roger Rabbit, we were both resolved to experience the attraction on our second day. The line for the attraction was relatively short when we arrived, and after ten minutes in the queue, it was almost time for us to board our taxi. Then, the queue began to empty. It had broken down!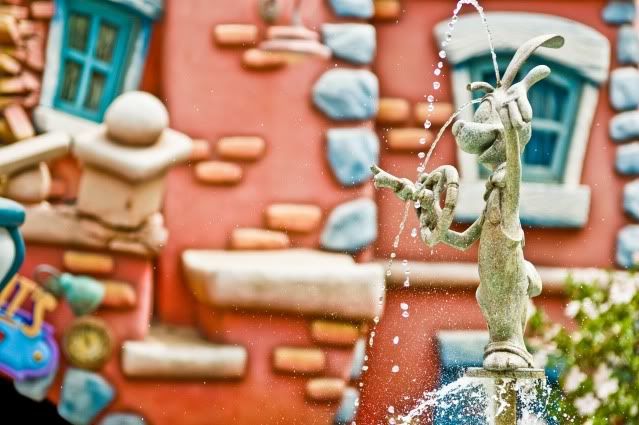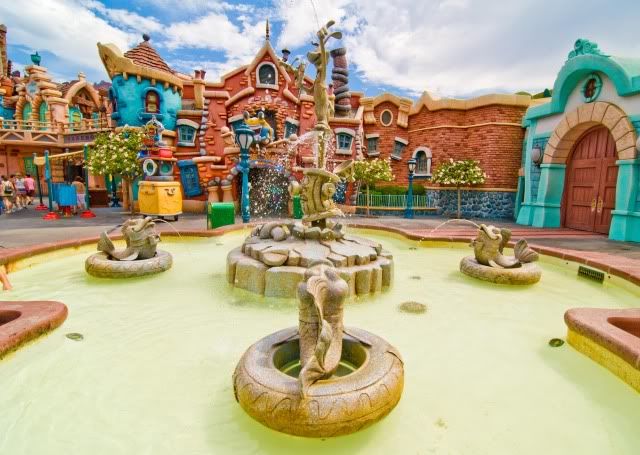 We had experienced nearly everything that was high-priority the previous day, so we decided to take things at a leisurely pace on this day. In retrospect, this was a mistake. The leisurely pace itself wasn't a bad idea, but our analysis of how much time we'd spend doing particular attractions would be (and always is–we typically conclude the day saying "dang, we didn't get a chance to hit ____ attraction this time!") so we missed some things I really wanted to see. I guess that gives us something to look forward to for the next trip!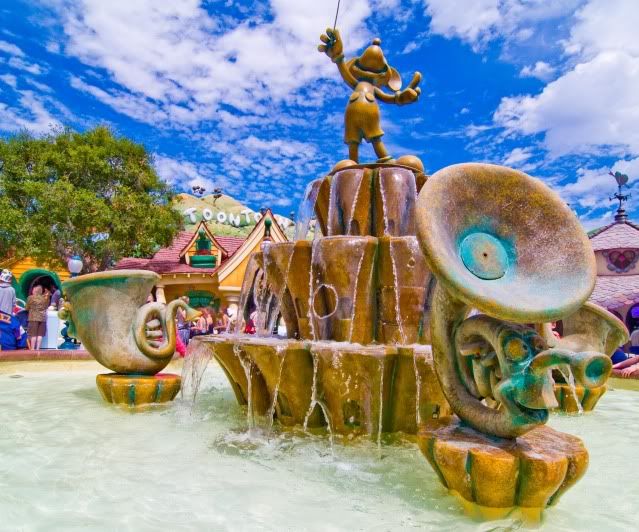 With this attitude in mind, we decided to board the Happiest Boat that ever Sailed! I've gushed over it enough already, so I don't think any further commentary is necessary. It's awesome. Usually we do it once or twice on a seven day trip to WDW, but we exceeded that number of voyages on a three day trip to Disneyland. We liked it that much. I don't know how we'll be able to look at WDW's the same again.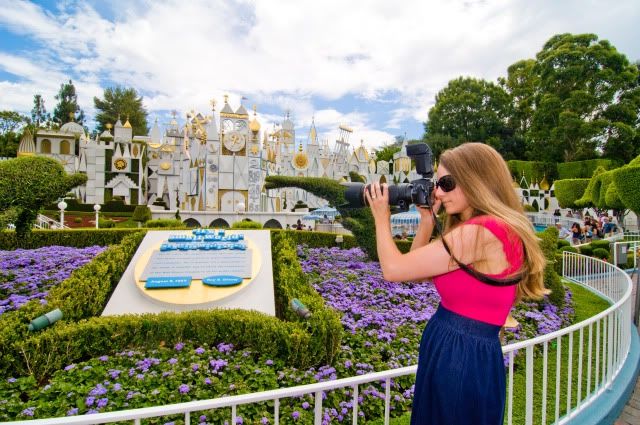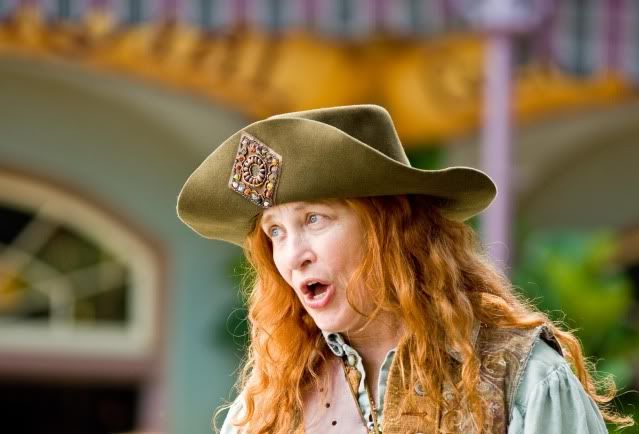 Our FastPass for Space Mountain was going to be ready relatively soon, but we had a late lunch scheduled for Blue Bayou, and we were both really hungry, so we decided to head for the Hungry Bear to grab a snack. On the way there, we saw the Bilge Rats and Bootstrappers performing. the band put on a fun little show. Our stomachs dictated that we didn't stay to watch for long, so we headed on to Critter Country.
Once we got to Critter Country, we were again alarmed by the prices. In retrospect, we should have just not even paid the prices any mind, but having just been to Walt Disney World, we noticed some higher prices throughout Disneyland. We are generally frugal, and vacation is typically one of the areas where we splurge a bit, so I really wish we would have just bought what we wanted, not considering the prices. At most, it would've caused us to spend an additional $50. Not really that big of a deal in the grand scheme of things. However, we were price conscious, and so we decided to split a kid's meal of chicken strips prior to our Blue Bayou lunch. It was the most cost-effective snack that actually had substance, so we went with it. They were pretty delicious and the box was cool, too!
After finishing the kid's meal-snack, we grabbed FastPasses for Splash Mountain and then, noticing a short queue for Pooh, lined up for it. It wasn't all that dissimilar from the WDW version, although the outdoor load was cooler (at least for the time being–the refurbishment work going on at WDW's Pooh looks pretty cool). I probably missed a decent amount of the ride, though, as I constantly had my neck craned backward, looking for Melvin, Buff, and Max from the Country Bear Jamboree. Once I finally found them, I was a little surprised that they weren't more hidden. I guess most guests don't look backwards during the ride, so few people probably see them, but still. Not that I'm complaining, I think the Country Bears should be featured more prominently in every attraction. Imagine the Country Bears working as AA astronauts inside Space Mountain? It's entirely likely that bears will serve as astronauts in the future, so I think that would be pretty progressive.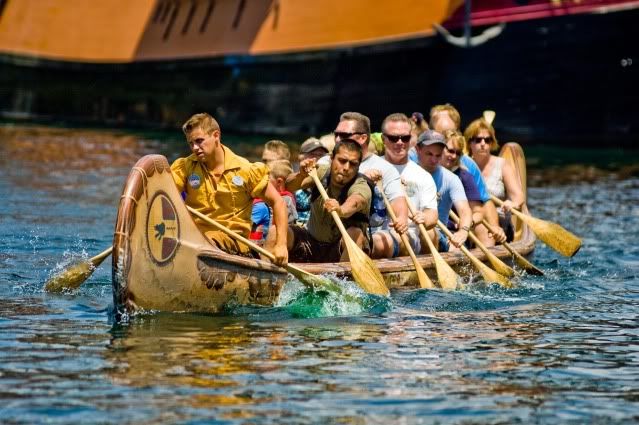 After Pooh, we jettisoned off to Tomorrowland, working off those deep-fried calories along the way to Space Mountain. This time, there was a large tour group of local school-kids in front of us, so when we lined up, we let a couple of parties pass us before boarding our rocket. While I hate waiting in line, I hate the experiences of the attraction being ruined by talking and various other noise. In space, you can hear pre-pubescent girls shrill screams.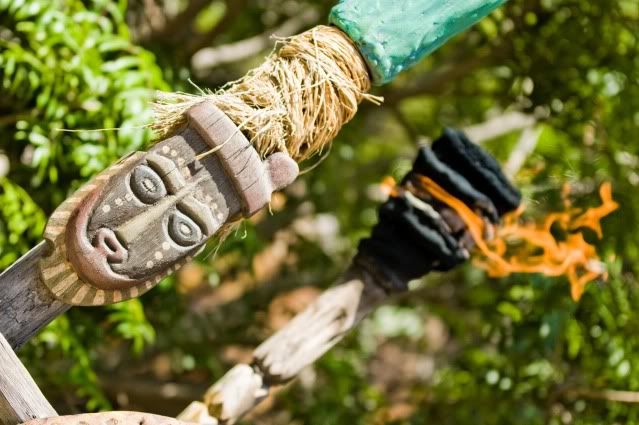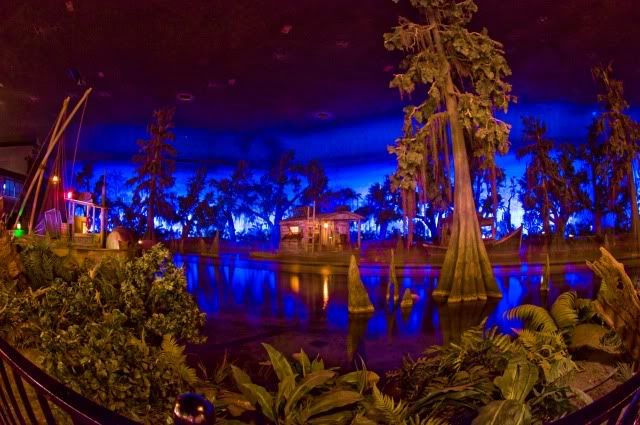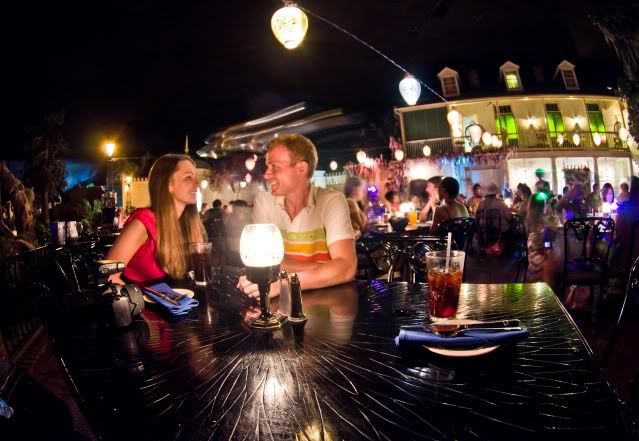 It was then finally time to head to the Blue Bayou. We had heard and read a number of positive things about this restaurant, and the view looked awesome when we saw it while floating past on Pirates of the Caribbean. I'm a sucker for restaurants that overlook attractions (Garden Grill, I'm looking at you!) and this one was no different. We indicated that we'd be willing to wait to get a seat right by the Bayou, and wait we did, for around 20 minutes after the time of our ADRs. However, it was totally worth the wait.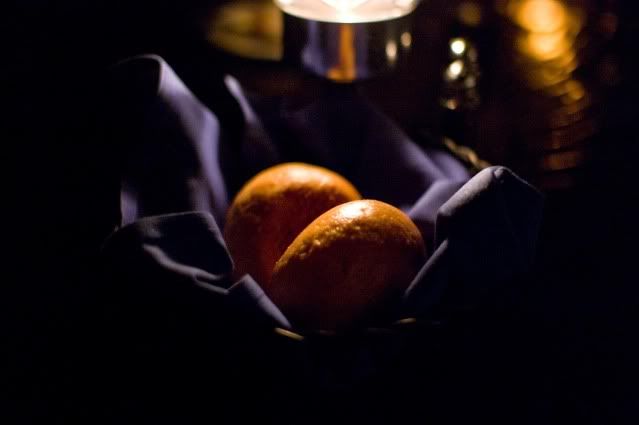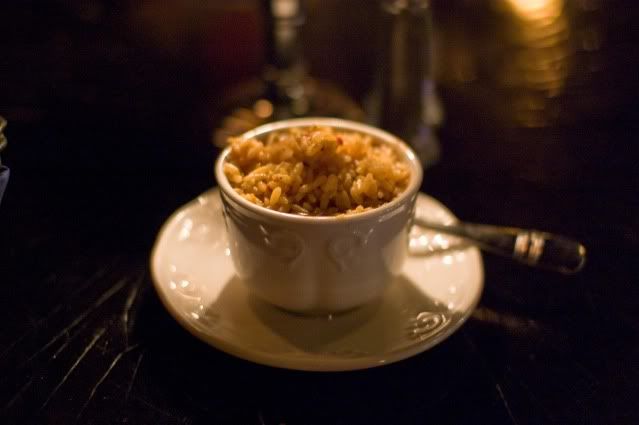 The view was excellent, and I screwed around with my camera and tripod taking pictures of the passing boats. Nothing really turned out all that well, but I had fun, nonetheless. Although my dream was to somehow get into Club 33 for a meal, it might have been better that we didn't. I felt uncomfortable-enough using my camera at Victoria & Albert's, I can only imagine it would been a bit more awkward at Club 33.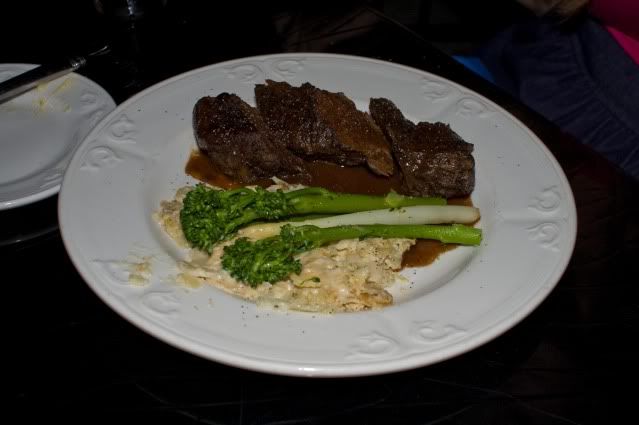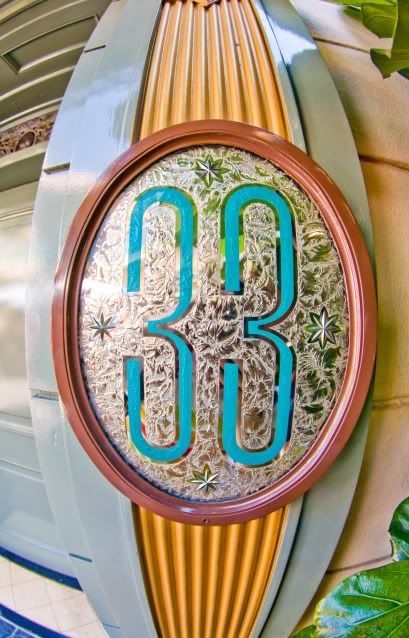 Upon numerous recommendations from friends, I ordered the Monte Cristo. I didn't know anything about it, except that it was a sandwich, probably French, and presumably is named after the Dumas novel. When the server brought it out, I was a bit shocked. It consisted of, what appeared to be, deep fried lumps of stuff with ham and cheese in the center. I typically eat very little in the way of deep fried foods, and although I find them okay in moderation, this was too much for me. I realize that the fact I didn't like it was entirely my fault, since I didn't read anything about the sandwich, or look at its description on the menu, or possess the relatively common knowledge as to what a Monte Cristo consists of (admittedly, I had it confused for a Reuben), so I can't really fault the Blue Bayou for that. Plus, the Gumbo soup was delicious, as were the Beef Short Ribs that Sarah ordered. I know I'll probably be ostracized by the "Disneyland Cool Kids" for not liking the Monte Cristo, but I'm not saying it was an ill-tasting sandwich; just that the type of sandwich was not for me.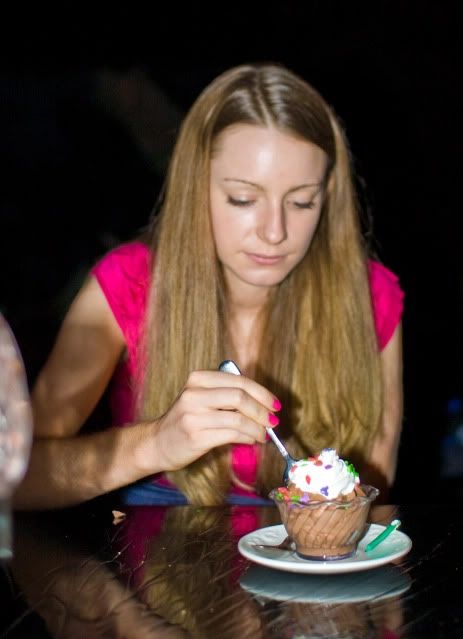 Stuffed, we picked up FastPasses for Indy. The Jungle Cruise was right next door, had a short wait, and we, bloated from a large lunch, didn't want to move much, so we gave it a try. If you read our honeymoon report, you might've seen my rambling explanation of how the Jungle Cruise has fallen out of favor with us and is highly overrated. If you didn't read it, here's the Cliffnotes version: the attraction is highly dependent on the skipper and the skippers are very hit-or-miss. Additionally, the attraction is dated/cheesy to the point where good jokes about the ride are necessary to 'explain away' its datedness. The attraction should be captivating on its own, with good skippers thrown in for another layer of entertainment.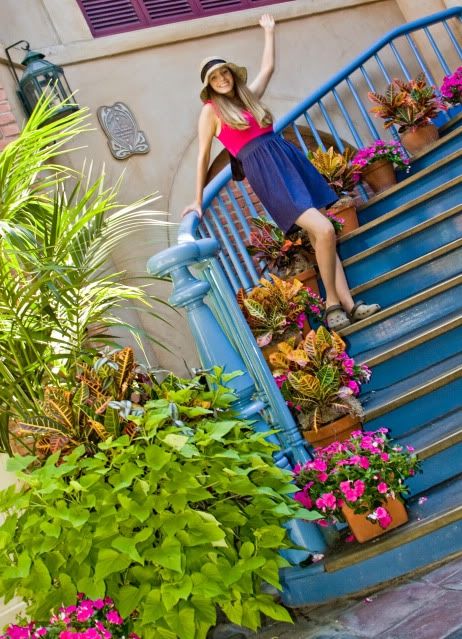 I can't say that we had any more success with the Disneyland version than WDW's. The skipper lacked any bravado when delivering her lines, but rather sort of phoned in the standard script. Don't get me wrong, this script is funny, but only when delivered well. Reading it off in a near-monotone voice isn't all that humorous. It would be akin to me taking Tracy Morgan's stand-up lines and just reading them in my normal, boring voice. Probably wouldn't be quite as funny as Mr. Jordan. I think we just have had bad luck with skippers recently as others have reported some excellent skippers. We're not going to give up on it yet. The effects (such as the piranhas) were really cool at times, but overall the ride seemed a little shorter. Maybe that was just my impression. I think overall I'd give it the slight edge over the WDW version.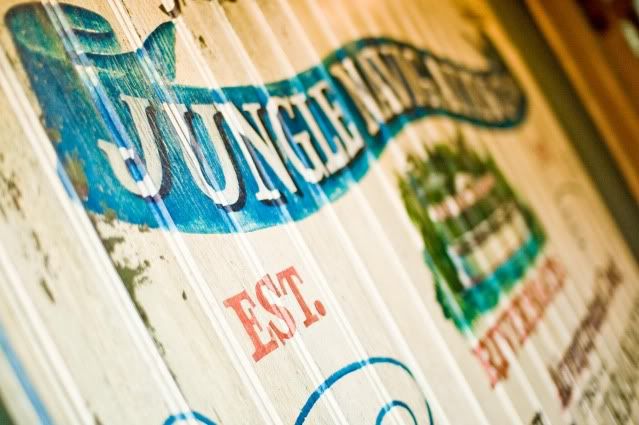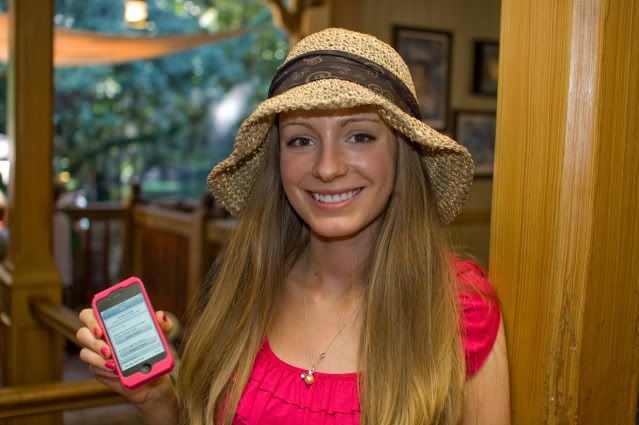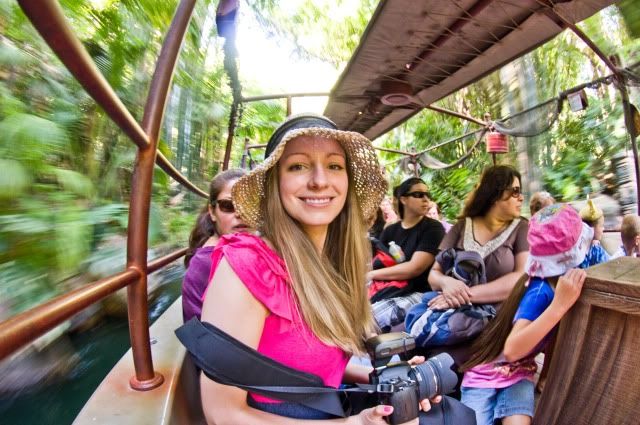 After Jungle Cruise, our FastPasses for Splash Mountain were ready, so we waddled our way over to Critter Country. Up until this point, everything about Splash Mountain seemed different than its Florida counterpart, something I wasn't expecting. From its aesthetically awkward proximity to Haunted Mansion to the single-row logs, things were a bit off, it seemed. From reading Wikipedia, I knew the attraction had a few different AAs, and Splash at WDW is one of our favorite attractions, so we figured it would be worth experiencing. We planned on doing it the previous day when we noticed a relatively short line later in the day, but we thought we might want to poncho up, so we opted to come back the second day, ponchos in hand.
Am I ever glad that Sarah convinced me to wear a poncho (usually I pretend I'm too tough for that sort of thing). As soon as we descended the first minor drop, half of my body was soaked. I missed half of the first scene because I was busy checking to make sure my camera bag didn't get wet. Second drop, soaked even more. Third and Fourth drops, more of the same. The attraction itself was dramatically different (although it seemed somewhat less story-driven; but that might have been my impression given that I was preoccupied for chunks of the attraction), and I really would've liked to experience it again, but I didn't want to get soaked like that. Even with the poncho, I probably got more wet than I've gotten on Kali River Rapids, and than I would get the next day on Grizzly River Run. I really don't see the point in making attractions with a strong story element "soakers" as it really distracts from the show, I think. I guess maybe others prefer the thrill of getting wet? I don't know. It seemed neat, but the soaking was annoying. After we exited, we found a restroom, and worked on drying our socks.
Next, we headed over to Tomorrowland, thinking we might give the Monorail a ride. Right as we approached, it departed the station, so we scrapped that idea. Disneyland apparently adheres strictly to the EPCOT philosophy (usually applicable for photography purposes, only) that whenever you want a monorail, you will be forced to wait forever for one.
Instead, we headed over to Innoventions. We've found that EPCOT's Innoventions has made substantial positive strides in the last couple of years, so we decide to give Disneyland's a whirl. Definitely not the case. Although therw was a cool AA that reminded us of Timekeeper, the rest of the house/attraction seemed like a blatant advertising for Microsoft. The technologies in the house were somewhat cool, although they didn't really seem that forward-thinking to me. We should have just waited in the heat for the next monorail.
To wash out the sour taste of Innoventions, we decided to give the Matterhorn another try. This time we were resolved to nail the question, "how many?" Guess what? We did! Our ability to answer this question "correctly" was pretty indicative of how the entire day had been much better than the first. It was a small victory, but a victory nonetheless. Now the only thing that remained was spotting one of those elusive elves. While I didn't see any of them, I did enjoy the ride much more, and I even took a few pictures of Sarah (probably not the safest idea, I know, but trust me, I'm an expert on this sort of thing). Perhaps the elves were removed in the last refurbishment, or maybe they were asleep.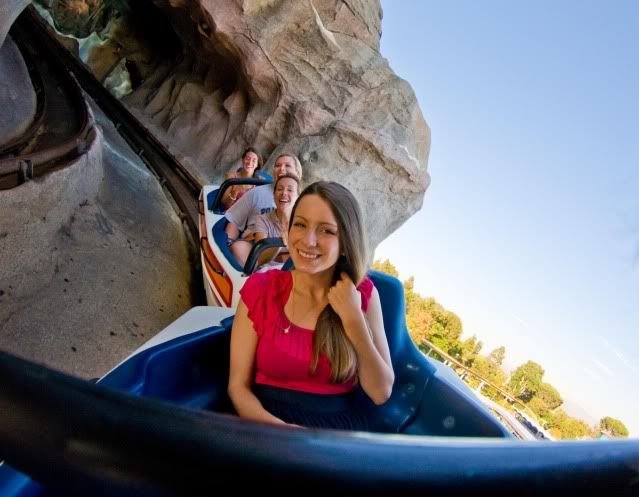 As much as I hate to say it, notwithstanding queues, I think I might prefer Matterhorn over Everest. It has a certain charm, even if it doesn't have as many effects as Everest, at least the ones it has work, and it generally seemed more exciting. Everest is cool, with its ability to go in reverse and all, but it has never totally lived up to the hype for me (even with the Yeti in A mode). It's a close call, but I think Matterhorn wins. Perhaps I just am a poor judge of attractions (recall, I am in the small minority who prefers WDW's Space Mountain).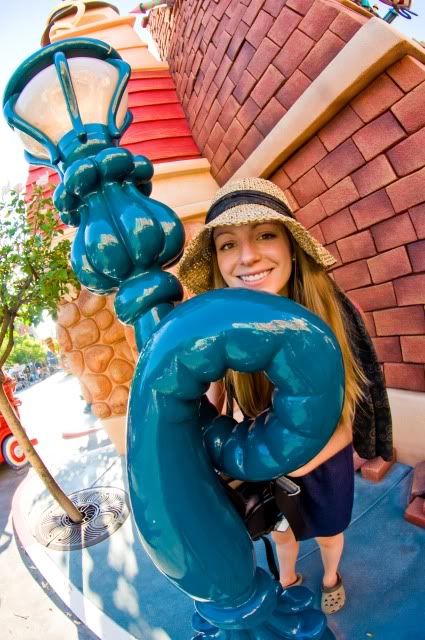 Knowing we'd want to hit Roger Rabbit's ToonTown Spin, and seeing the lines it got the previous day, we picked up FastPasses for it. We then wandered back to Fantasyland, where Sarah wanted to experience Mr. Toad's Wild Ride again. I should have noted above that she enjoyed it more than I did on the initial ride-through. It was a childhood favorite of hers, and she and her mother still have a running joke that her mom drives like Mr. Toad. The same could honestly be said about Mr. Toad. Well, perhaps if Mr. Toad were a grandmother who typically drives below the speed limit (except in the morning on the way to work!). Just kidding, dear; you're an excellent driver!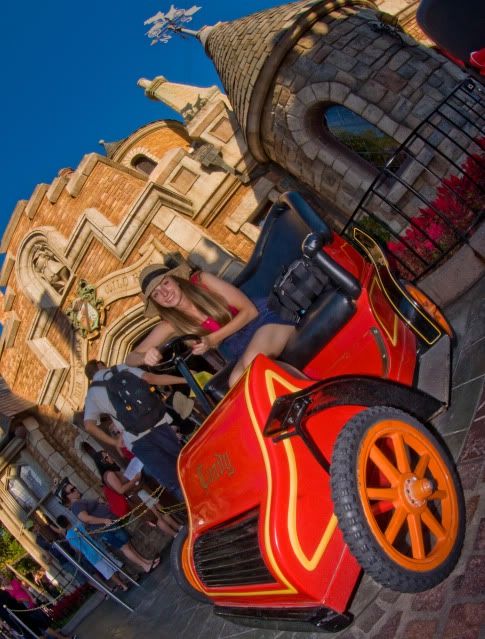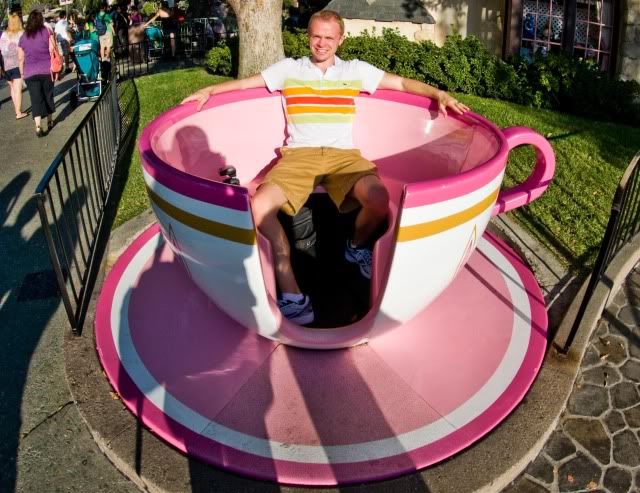 Alice in Wonderland was next on the list. I was looking forward to this one; mostly because I am a fan of dark rides. I don't really like the movie Alice in Wonderland, (I think it has been subverted by hippies and I hate hippies), but I really like a lot of the characters from the movie. I think the movie's fatal flaw is that it's too dependent upon sensory 'captivation' and uses that as a crutch for a weak story (which may explain why the hippies like it, so they can smoke their reefer cigarettes and stare at the cool color swirls!). The White Rabbit, Mad Hatter, Alice, Cheshire Cat, Tweedles, and Queen of Hearts are all great characters. Too bad there isn't a better storytelling vehicle to really allow these characters to shine. Then the movie would be a true classic. The attraction had all of the best parts of the movie: these great characters, without the worst parts: a rambling nonsensical story. I give it a solid B+. Not too shabby for a relatively simple Fantasyland attraction.
Bunny with Large Pocket Watch by Tom Bricker (WDWFigment), on Flickr
We had queued up for Alice in Wonderland following the Unofficial Guide's advice regarding parade start times. However, we had zipped through the queue so quickly and the parade was a little slowly getting to that point of the park that it was just about to arrive when we exited the attraction. We thought we'd give it a shot.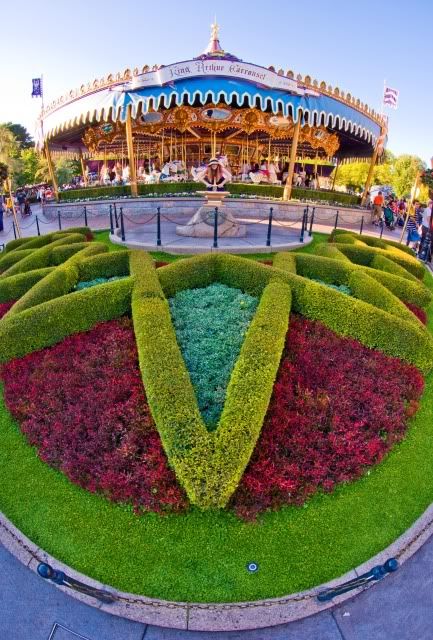 This turned out to be probably the biggest mistake anyone has ever made. Actually, the biggest mistake that anyone has ever made would be the mistake made by whomever greenlit this monstrosity of a parade. It was like a combination of the worst elements of the Celebrate a Dream Come True parade at Magic Kingdom and Block Party Bash, with none of the good parts of either. We watched for about 5 minutes before vacating the area. There is so much 'suck' in that parade that I'm surprised they don't have to quarantine the area after it runs. It's easily the worst Disney parade I've ever seen.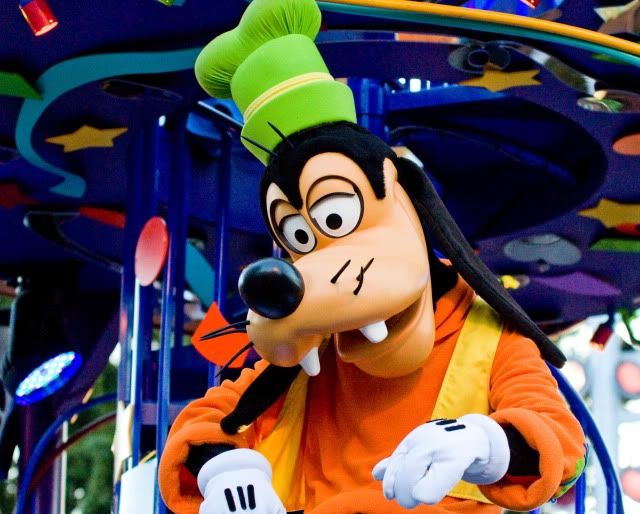 What next? Why Indy, of course. Awesome, as always. Following that we rode Pirates again, noticing more details we previously missed. This attraction is really rife with details. I would love to see the Magic Kingdom's version similarly expanded. Not necessarily with the same show scenes, but to make it this long. I know that would likely not be feasible, but I can dream.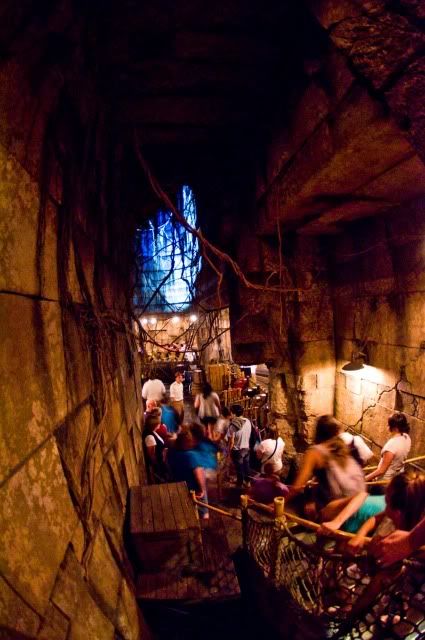 At this time, our Toontown Spin FastPasses were ripe for using, so we headed off to Toontown. I was shocked at how awesome this attraction was. Obviously we had already seen the queue, which was very cool, but the attraction itself was easily one of the best Disney dark rides I've experienced (if it can be properly classified as such). We were thoroughly impressed. I only wish we would have ridden it earlier on so we could have planned to ride it again. Like I've said elsewhere, I guess that's why we're going back. It gives us something to anticipate!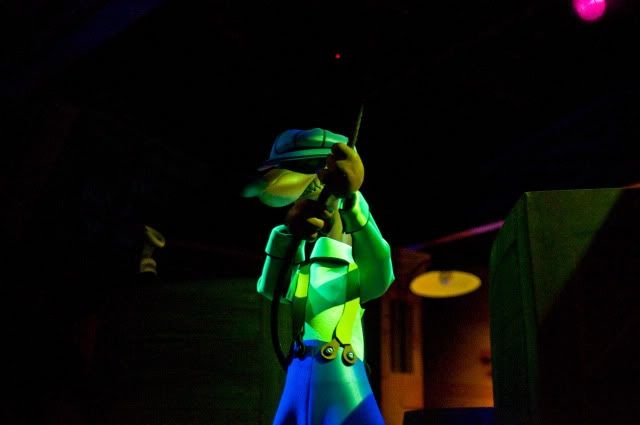 Sunset was approaching, and while I wanted to get some cool shots, it appeared there wasn't going to be much color in the sky, so we opted to hit a couple more Fantasyland attractions before heading back to Toontown. First up was Pinocchio's Daring Journey. We had recently watched this movie for the first time since being children, and I have to say that I was surprised by how much I liked it. The attraction was no different. Fun scenes, reasonably well done. Another solid attraction. Not something I'd do over and over again on the same trip, but I could see doing it once or twice.
Following that, we decided to torture ourselves with Snow Whites Scary Adventures. Actually, we thought maybe it would be better than WDW's, otherwise we wouldn't have considered it. So many other things surpassed their WDW counterparts, so why not give it a shot? By some miraculous act, I think Disney actually managed to make the Disneyland version of this attraction worse than its Florida counterpart. I was shocked by this! It started out largely similar, but as the end approached, the attraction just sort of abruptly ended! It was comparable to part of the film Elf where Walter decides to ship books missing several pages because kids won't know any better! On second thought, perhaps this was intentional. Maybe Disney saw the poor direction the ride was heading, and decided to do guests a favor by making it shorter. In any case, I really hope the rumors are true that this ride will soon by history in WDW. It is an abomination. Worse than Stitch's Great Escape, in my opinion.
Clang Clang Clang Goes the Trolley! by Tom Bricker (WDWFigment), on Flickr
Since the previous night had been such a poor outing for photos, we decided to strategize this evening to buy a little time to get more photos. We had experienced almost everything we wanted to experience, and like I've written here previously, we didn't mind leaving some things on the table as things to look forward to for our next trip. With that in mind, we headed back to Toontown and started taking photos minutes before it was set to close.
Maestro Mickey Mouse! by Tom Bricker (WDWFigment), on Flickr
Often, in situations like this, we encounter some resistance from Disney security. Even though other people are still around, climbing all over things, they seem to want to herd the photographers away. However, this evening was different. A security guard approached while I was taking a shot and I ended up showing him the LCD display of the camera; he was impressed by the shot, and gave us some strategy to avoid having other Cast Members sweep us out. He told us where to go, and just slowly make our way toward the exit (something we typically do anyway, but didn't plan on doing this early–but after seeing the aggressiveness of the non-security CMs, I'm glad we followed his advice). We took a good number of photos, before a CM finally informed us that we had to leave. On our way out, he said something encouraging, and along with some body language that suggested he tried to fend off the CMs. He was, without a doubt, one of the coolest security CMs we have ever encountered.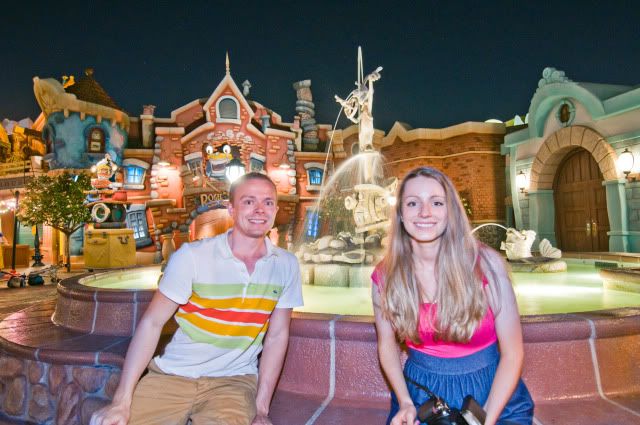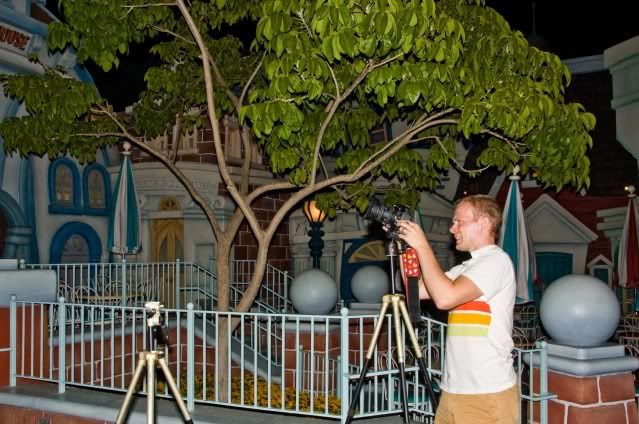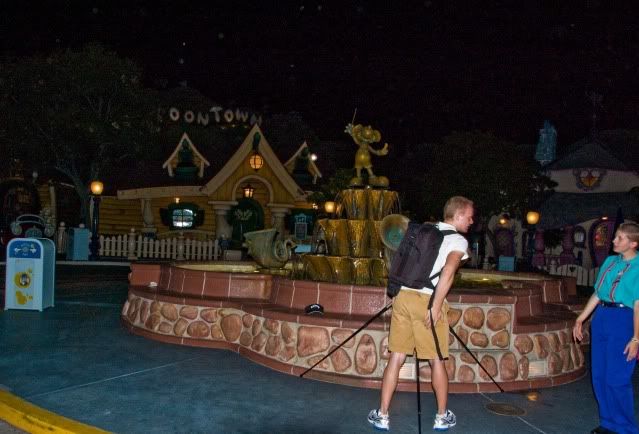 It was probably a good thing we left there, as Fantasmic! was set to start soon. Earlier in the day, we noticed that people were camping out along the Rivers of America. We assumed this was for Fantasmic, but were somewhat shocked given that it was three hours before the show. We discussed it a bit, and I guess it shouldn't be too surprising; if we had APs and lived in SoCal, what better way to spend our time after work than by relaxing in our favorite place before watching a show? None of the same desire to hustle and bustle to see everything would be there, as you could always head back the next day. Geez, that would be the life!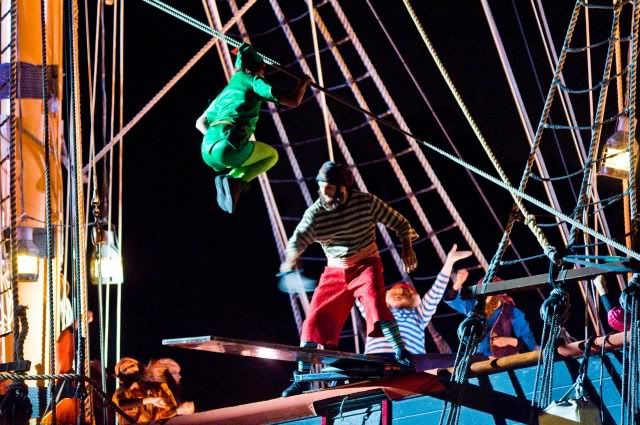 When we arrived at the Rivers of America, the area was packed. Pretty much standing room only. Mind you, it was only 10 minutes before the show, so we weren't expecting much in the way of seating. A Cast Member found us a seat right up against some building, with no possible seating behind us right before the show began. As our view was slightly obstructed, we stood up to watch–again, no one was, or possibly could be, behind us–and a Cast Member immediately came over and instructed us that we had to sit down. My only guess is that it's considered a safety hazard? I understand companies feel the need to err on the side of over-safety for liability concerns–but standing? I stand and, gasp, even walk all the time in the dark at various Disney parks. Someone might want to get the in-house counsel on the line; they might have to restrict that type of activity, too!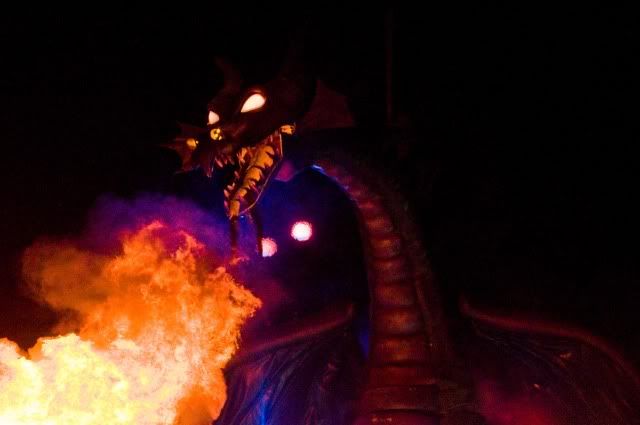 Complaining aside, the show was good. Sarah, who normally is not a fan of Fantasmic at all, thoroughly enjoyed the show. Her normal sticking point with it is too much Pocahontas. I definitely agree with her on that point; WDW needs to tone down the Pocahontas scenes. Since it's not that much of a classic in the Disney Canon, it's clear that Fantasmic at WDW was a product of the time period when Pocahontas was popular, and has since not been updated. That, or whomever wrote the show script was way too obsessed with Pocahontas! The sailing ship Columbia scenes with Peter Pan easily surpass the Pocahontas scenes at WDW, and Peter Pan actually is a Disney classic. We were also lucky enough to see Murphy the Dragon before his little accident, and wow, was he ever spectacular. It was crazy how much of a difference little tweaks to the show made in terms of our enjoyment. One thing that is universal: the finale and exit music for both incarnations is awesome!
At this point, I was hoping that we'd be able to make it up front to catch Magical again, and we beat the rush of the crowd exiting Fantasmic, so we could have if we made the proper effort, but I could tell Sarah was getting tired, and didn't want to be crammed in the crowd, so we opted for Tomorrowland instead, agreeing that we'd head over to Disneyland the following night prior to Wonderful World of Color to see Magical once more.
We thus headed over to take a Spaceranger Spin with Buzz Lightyear. It was awesome as before, although I believe Sarah somehow cheated, jumping out to an insanely large early lead, which put a damper on the ride for me. Actually, on second thought, I let her win to make her feel better. Yeah, that's it! Wow, that really was super-nice of me!
We then darted over to Adventureland as our FastPasses for Indy were ready. You may notice that the order of attractions we experience is in a seemingly random order. Neither of us have any issue walking great distances. I was curious to see how many miles we walked each day, so prior to the trip, I bought a pedometer. Come to find out (at least I think this is the case), it only reports acccurately if you wear it on your belt. I thought I could just throw the thing in my camera bag. I might be a huge dork, but I'm not going to wear some pedometer on my belt.
While I'm on the subject, I also ordered some different shoes. I had long been interested in buying a nice pair of running shoes, and Brooks and Saucony were the names that I kept seeing as the best. I couldn't find any deals on Brooks shoes, so I ordered three pairs of Saucony's I found on sale, with the intent of returning two pairs. I ordered three because I had read that not every shoe is for every foot, so I wanted the pair that fit me the best.
When the shoes arrived, I was shocked to find that all three pairs were amazing. I have never really been "into" shoes, but they all were so comfortable, and I got such a good deal on them all, that I kept all three pairs. The pair I used at Disney worked out so well that I have resolved myself to never buy another pair of Nike shoes again. I did this because I got the sense that Nike was mostly marketing and not focused that much on real shoe technology, anyway. Perhaps all the money spent marketing is compensated for by the greater economies of scale Nike has, but I doubt it. In any case, this trip report is not a dissertation on the shoe industry. Simply put, I give Saucony shoes two gold stars.
After the brisk walk to Adventureland, we arrived for another Adventure into the Temple of the Forbidden Eye. Each time we rode this, we saw details we hadn't noticed the previous times. Although it caused us to miss other attractions, experiencing it was many times was pretty cool. Even if it did make me feel like the guests who go to the Studios in WDW and spend all day bouncing back and forth between the Tower of Terror and Rock 'N' Rollercoaster. We did experience more than two attractions, at least!
With such a full sensory experience and new details to take in on subsequent ride-throughs, it's no surprise so many people want to see this attraction cloned at WDW. I don't oppose cloning completely as I realize it lowers R&D costs, and in some cases, may be the only way to get a project greenlit. However, here, I oppose cloning. This is not because I think it's too similar to Dinosaur; as mentioned above, I don't. It's because the R&D justification is obviously not apt, since this attraction has been in DLR since 1995, and I think there should be a few E Ticket attractions unique to each park that makes fans say, "I really must visit ___ park, if only so I can experience ____." Once those attractions provide the motivation for people to visit the parks 'foreign' to them, they will take in and appreciate all of the subtle differences of which they never otherwise knew. I know it's unfortunate for those who don't have the means to make such a trip, but I don't think this allure should be compromised for their benefit. I also know I'll likely never visit Tokyo DisneySea, but I still don't want to see it built adjacent to Animal Kingdom for this same reason.
Sarah had to use the restroom or something like that, so I had a couple free minutes to take pictures. Normally I don't set up the tripod so early in the evening, especially when the parks still have light crowds, but we were going to head towards Main Street shortly thereafter for a photo opp that would require crowds, so I figured, "when in Rome…" and busted out the tripod to take a couple pictures of the Carrousel.
King Arthur Carrousel by Tom Bricker (WDWFigment), on Flickr
Like a phoenix rising from the ashes, I burst forth. Wait, more like a Kodiak Bear waking from a long winter's hibernation. Or perhaps like the feel good story of the homeless dad making his big break and becoming a successful investor. Whatever it's comparable to, one thing is for sure, and it's that I found my A game and was in the zone. I'm not satiating my own ego or saying the pictures were awesome, I was just had that indescribable feeling where photo idea upon photo idea came to me right away. The resulting pictures may not have even been that good, but getting the ideas is half the battle.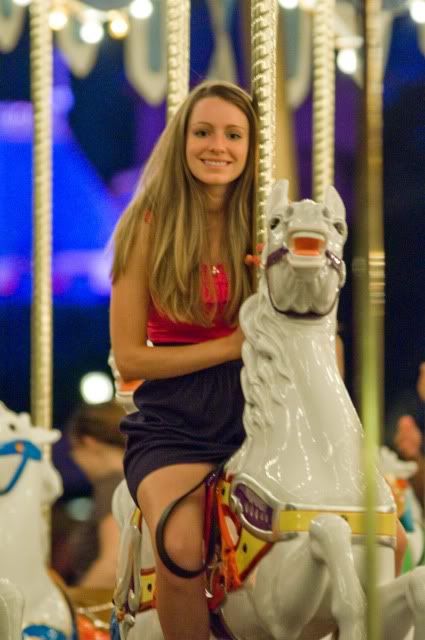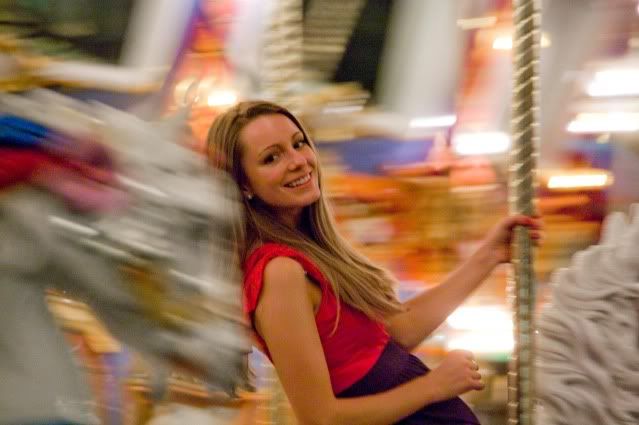 Since I was already set up near the Carrousel, Sarah rode it once and I snapped a few pictures of her on it. With a good amount of photography done in Fantasyland, we decided to head over to Adventureland for some more. However, it was still an hour or so before the park closed, and although I wanted to conquer all of the lands photographically, we felt it more important to actually enjoy the park. There would be future trips on which I could photograph the other lands. This occurred to us while nearby Indy, so naturally, we headed towards it, yet again. I really think they embedded some sort of magnet in us after the first ride. That, or maybe we really were hypnotized by the eye! Although I imagine if Disney had the technology to hypnotize us, it would use that power to achieve more souvenir and food & beverage sales out of us, not get us to ride headliner attractions numerous times. Who knows, maybe it's benevolent hypnotism. In any case, the attraction was down when we approached its entrance.
Sleeping Beauty Castle by Tom Bricker (WDWFigment), on Flickr
We realized we hadn't yet done Peter Pan's Flight, so we headed back towards Fantasyland. At this point in the night, nothing else we had seen had more than a 20 minute wait. This includes Indy, Matterhorn, and Nemo. Yet we arrived in Fantasyland and, much to our chagrin, the posted wait time for PPF was 40 minutes! We enjoy this attraction, but the waits for it always dumbfound us. I swear the Cast Members at the entrance must entice kids by telling them there is a magical unicorn inside with a pot of gold who will grant them three wishes. I don't know what other reason there could be for such long lines. Well, other than perhaps it being a slow-loading attraction with poor FastPass implementation–but I think the unicorn explanation makes more sense.
Not wanting to wait in a line that long for PPF, we headed to Frontierland, a land we had largely ignored with the exception of one previous ride on the Runaway Mine Train. We figured this would be our last attraction we experienced in Disneyland, so we savored it. It's always one of our favorites at night, so this wasn't too difficult. I was surprised at how dark this area of Frontierland was at night. Although, that corner of WDW is similarly pitch black at night. Odd.
As we emerged from the exit, we saw that it was 11:56 p.m.. Frontierland isn't too far from Adventureland, so I told Sarah that we should go for it. We both thought it was likely Indy would still be down, as it was so late when it previously went down that the park would have no interest in reopening it so late. However, when we arrived at its entrance, at around 12:01, it was open! We rushed through the queue, for one glimpse into the Forbidden Eye. I had lost count of how many times we rode this attraction by this point, but I knew it was far too many. Despite all of those rides, I still look forward to my next ride on it, knowing I'll see something new. It's a home-run along the lines of Tower of Terror.
Tree of Epic-ness by Tom Bricker (WDWFigment), on Flickr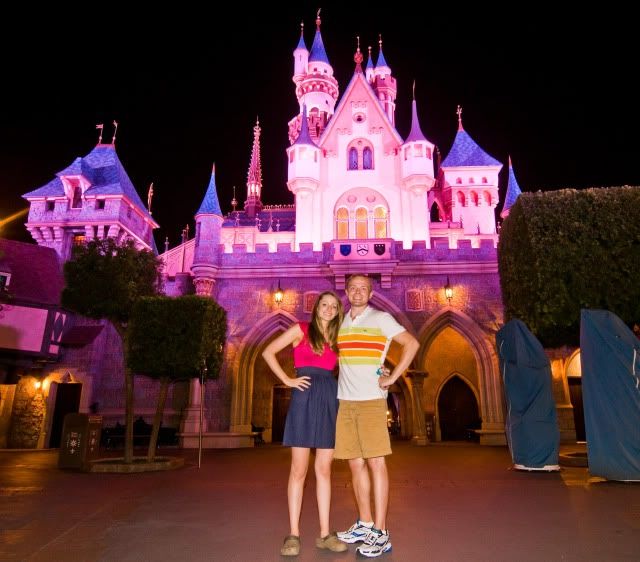 Back of the Front of Sleeping Beauty Castle by Tom Bricker (WDWFigment), on Flickr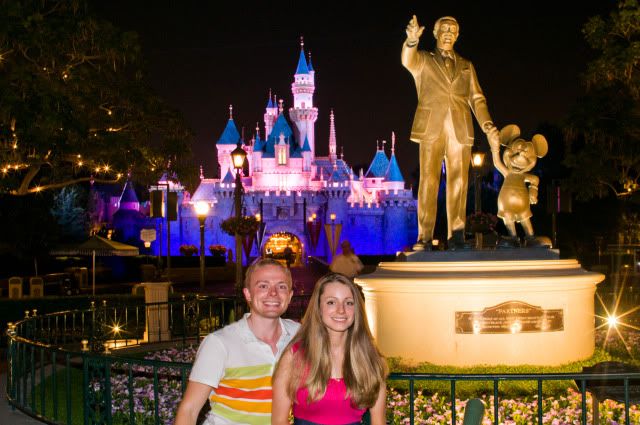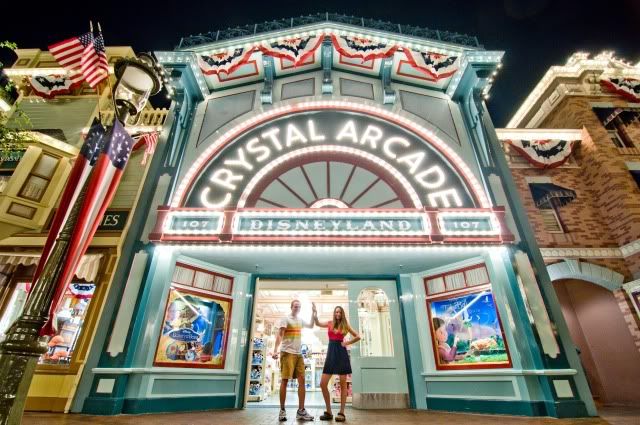 Disneyland 55th Window by Tom Bricker (WDWFigment), on Flickr
Opening Day at Disneyland by Tom Bricker (WDWFigment), on Flickr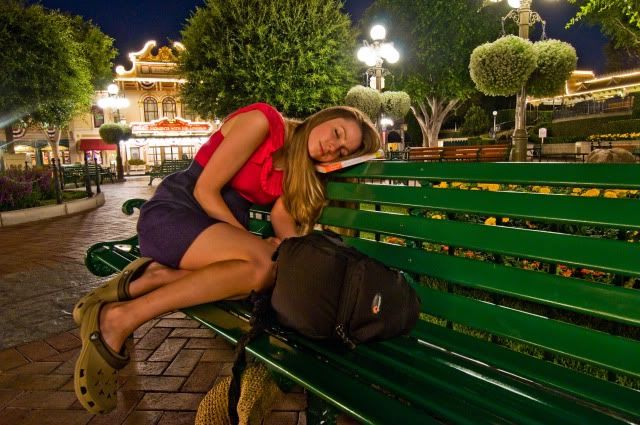 After we exited, the park was obviously closed. We quickly took a few pictures in Adventureland before moving on to the Castle and Fantasyland. We encountered another great security guard there, who encouraged us to take some photos. With those completed, we headed towards Main Street and to the front exit. Defintiely a successful day in the park. Outside the gates, we noticed that we still had alertness, so we decided to take some pictures in the Esplanade, and in front of the CALIFORNIA letters. I had a 'great' idea that I ended up executing poorly–we would take pictures of us in each of the letters, then merge the photos in PS so it appeared there were multiples of us. Not thinking, I used my ultra-wide angle lens for this from a substantial distance. When I reviewed the images, we were like specks in each. Later, I realized the way to go would've been to use the 30mm lens at a close distance, and do a pano-merge in PS. Then, we would've been discernible. I thought, oh well, there's always next time…before I realized the letters were being torn down.
Due South on the Esplanade (HDR) by Tom Bricker (WDWFigment), on Flickr
"C" is for… by Tom Bricker (WDWFigment), on Flickr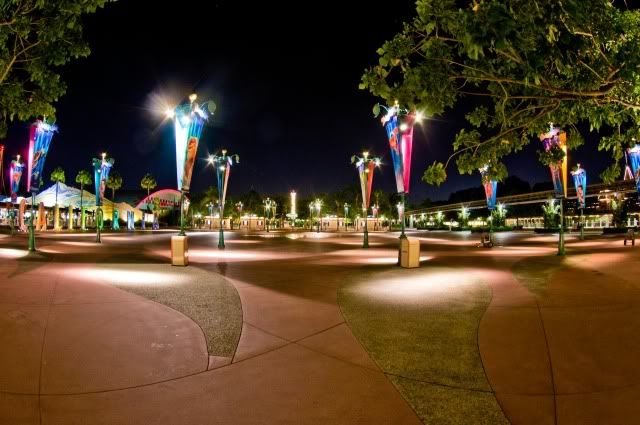 Now fully exhausted, and the clock approaching 1:45 a.m., we headed back to our motel. Along the way home, we experienced a feeling I've had on the way home from a Disney park: a little bit of fear. It was late, there were some sketchy folks wandering the sidewalks, and there was generally nothing "Disney" about this walk. At that moment I think we both realized we'll never stay at a non-Disney hotel. That feeling would add considerable expense to subsequent trips, but we'd rather pay the extra and have a totally immersive Disney experience, than be jolted back to reality like this. One of the most important aspects of a Disney trip for us is escaping from reality. When we cross through those gates in Florida, it's like entering a totally different world. We don't drive, we don't read or watch the news, we don't participate in society, for the most part. It really is as if we're off in Fantasyland. For us, this is a large aspect of the appeal of Disney. Although the distance was nominal, the walk seemed to last forever. When we finally made it back, we promptly went to sleep.