Summer 2009 WDW Trip Report Part II
CHAPTER III: Our Kingdom Awaits
Given the late start, there was little point to head to the Studios, especially since the attractions we most wanted to experience would likely have long waits and far-away FastPass windows, and we were only planning on staying in the Studios until noon. Instead, we headed off to the Magic Kingdom.
When we first arrived on Main Street, we went to City Hall to pick up Celebrating buttons. Having just become Members of DVC two weeks prior, we decided to celebrate that. I was a bit weary at first to celebrate having purchased something appear too much like flaunting, but it's the season of Celebration at WDW right now, so I figured what the heck. We ended up receiving many comments from the DVC kiosk attendants with whom we traded pins, and it provoked some interesting conversation, so in the end it was definitely a good move.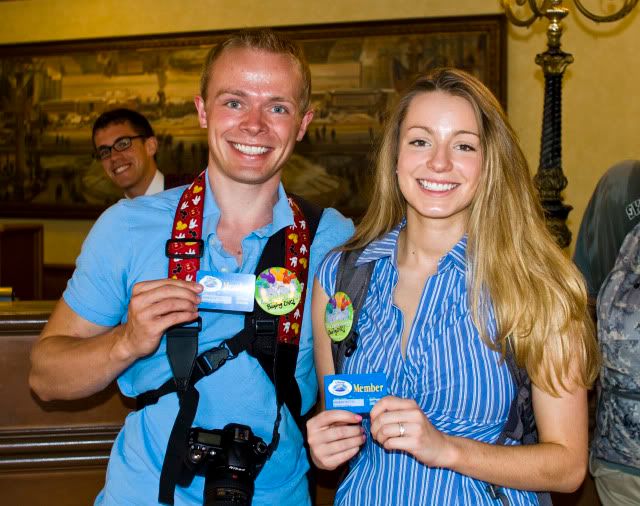 Having forgotten to go to the Hall of Presidents on our first day in the MK, we got FastPasses for Big Thunder Mountain RR, then headed to the HoP. All I have to say about it is "wow". It went from being an attraction we occasionally experience to a new Must See for us. As a decidedly patriotic and unabashedly proud American, I was always disappointed that I didn't find the show more compelling. The new narration and video were extremely well done, and were both riveting and emotive. It certainly got both of us choked up in parts. It was so good that we proceeded to see it three more times over the course of the trip. It seriously is that good. I was also happy to hear no booing for our previous President during the show (nor booing for anyone), and much to my surprise, there was widespread applause for Bush during the 9/11 portion of the video during the show on two different occasions. Regardless of what people think of any President, the Office deserves a certain level of respect, so it has always troubled me to hear of the level of decorum some people display in the Hall of Presidents. In short, the attraction is now one of the best in the Magic Kingdom. The Imagineers sure have done a great job in Liberty Square in recent years. First Haunted Mansion, now Hall of Presidents. Here's hoping the same teams that worked on those projects are overseeing the current Tomorrowland projects!
At about this time in the trip, I was really getting comfortable with all of my lenses and camera. Despite my initial shock after losing the tripod head handles, I think I was finally hitting the zone and getting some unique shots. While on the subject of gear, and since this is a "photo trip report" I figured I am finally qualified to give a review of the D90 and my equipment. I had a pretty good understanding of the camera prior to the trip, or so I think. However, that understanding definitely increased, as I took over 4,500 shots (although many were bracketed or on burst mode so I didn't take nearly that many unique shots), and I had only previously taken about 3,000 shots with the camera. Funny to think that you have a toy for 5 months, but you use it more in a week than in those 5 months (and I think I use it fairly regularly at home).
Anyway, the camera is nice. What an insightful review, right? Since you can read a garden variety review just about anywhere, I'll tailor this to Disney. It's nice, but there's also a lot to it. On our previous trips, I used the D40, which I really liked. It was a nice size, but it lacked some features and high ISO quality I wanted. When I got the D90, I had to upgrade to a "real" camera bag, which I did not enjoy using on this trip. I did, however, like the larger viewfinder (big enough to successfully manually focus on dark rides!) and also the LCD screen on top of the camera. Did I really need this much camera? Probably not, but now that I have it, I wouldn't do it any differently.
In addition to the top LCD screen, the larger viewfinder, and the better high ISO capabilities, I also liked that the camera auto-bracketed for me. I'm not sure that I will take the time to process many of the shots as multi-exposure HDRs (at least, not until I get board with processing some of the other shots), but it's at least nice to have the option.
The size of the camera really wasn't a huge deal, but that Lowepro slingshot bag sure was uncomfortable compared to my old North Face hydra pack (that I 'converted' into a camera bag). Plus, I lost a piece of the tripod (although due to my own stupidity) as a result of that bag. Since the D90 was the reason for using that bag, it deserves a share of the blame. The trip probably has me convinced (at least for now) that I won't be going full frame anytime in the near future (money already precludes this, though). While I'd love the great high ISO shots some people get, I think more of the truly creative stuff, and that doesn't matter much what camera you use. I think I probably could've gotten 96% of the shots I got this trip with the D40. New toys are always fun, but as with everything, there comes a trade-off. I'm sure I wouldn't pass up a D700 if I had the chance to take it, so maybe this is just me rationalizing it since I can't buy it anyhow. Please don't confuse me for Ken Rockwell—I'm not saying I'd rather have a D40 than a D700. Still, I think it's important to remember that the photographer matters so much more than the gear.
Back on the topic of the positives, the built in focus motor (not really specific to the D90, but my D40 didn't have it). Without that, I wouldn't have been able to use (at least in AF mode) my Nikon 50mm or my Tokina 11-16. There were other positives about the D90, but this is a trip report, not a camera review.
That said, anyone who suggests buying a crop ultra-wide angle lens for Disney that is not the Tokina 11-16mm f/2.8 is flat out wrong (unless they have the money for the Nikon 14-24). Unquestionably, unequivocally wrong. I've heard that you won't need the f/2.8 when you're using a UWA lens. That's wrong. I've heard that you're better off having the 16-24mm than the 11-12mm. That's wrong. Heck, I've heard all sorts of things. All wrong (well, besides the things saying to get this lens). The Tokina 11-16 is the perfect UWA lens. At f/2.8 it's a viable lens to use for some cool shots on dark rides. Try those with a f/4 UWA. I think this will be especially true as cameras continue to advance high-ISO-wise, making those f/1.4-8 lenses less necessary. Similar to John, the father from the Carousel of Progress, I predict a day when wide angle lenses are used just as frequently as primes on dark rides, and a day when floating cameras that you telecommunicate settings to is possible—okay, maybe not the latter, but definitely the former, so why not get that type of UWA lens today?
As for the second aspect, whenever I used my UWA, I seemed to be using it on 11mm. If it had a 10mm, I probably would've used it on that. It could've been a prime for all I cared. I will gladly take that extra 1mm on the wide end and sacrifice the 8mm on the other end. I have other lenses that are duplicative of the longer end, I don't have any others that can do the 11mm. Plus, although I don't pretend to understand optical science, I'm sure the image quality is better as a result of the smaller focal range. Below are some images taken with the 11-16 that wouldn't have been possible with, say, the Nikon 12-24 f/4 (which I am now very glad that I sold). As with most opinions, your mileage may vary. However, if it varies too far from my conclusions, it probably is wrong.
Alright, now that yet another tangent is over, let's get back to the report. Well, maybe the photography tangent isn't quite over. I was a bit dismayed to hear more announcements than normal that flat-out 'banned' photography from attractions. On our first day at the Magic Kingdom, while waiting for our FastPasses for BTMRR, we decided to head to Stitch's Great Escape. I know it was probably ill-advised, but I wanted to see the pre-show, which is still home to one of my favorite Disney characters, Skippy. While I was snapping pictures of Skippy, I got a tap on my shoulder, and was told that photography was not permitted. I didn't hear this in the announcement, but that doesn't mean it wasn't stated. I was probably attempting to tone-out as much of the show as I could, for fear of it affecting my mental well-being. I have no idea why photography would be banned in that attraction, but my best guess is that they don't want the outside world seeing how bad the attraction is until it's too late. Photography doesn't convey the suck-tacularness all too well, so I don't see how this would be an issue. You can see my ultra-secret "evil rule breaker" image of SGE below. There were a few other attractions that made the announcement (and unfortunately, the typically hit or miss cast members on Carousel of Progress made the announcement each time). I hope this is not indicative of any general trends.
Despite my feelings about the placement of some of its attractions, Tomorrowland is my favorite place in Walt Disney World. Being there this trip was somewhat bittersweet. I was disappointed that we were unable to ride TTA and Space Mountain, but I was very pleased to see so many refurbishment walls up around the land. I will gladly take a few months, or even a year, or downtime if that means re-imagining the attraction into something spectacular. I just hope that is the case, rather than a half-done or incomplete (or open-early) refurbishment. I also hope that TTA is getting more than just some new lights.
Speaking of refurbishment walls, there were quite a few around the Magic Kingdom. While it made for some difficult photography, they were definitely a welcome sight. I am now very excited for the future of the park, and I can not wait for potential announcements at D23. Let's just hope they come.
Following our escape from Stitch's Great Escape, we dined again at the glorious Cosmic Ray's, and then hit Jungle Cruise and Pirates of the Caribbean. The afternoon was somewhat slow after that, with some light drizzle and crowds everywhere. However, by evening, things were looking better, with a gorgeous sunset (the only one we experienced on the trip), Sarah and I decided to stop and take some pictures. In my opinion, WDW looks the best right after sunset. You typically get a deep blue sky that looks beautiful both in person and in photographs, almost to the point that it's unrealistic. I don't know how the Imagineers accomplished this dream-like look to the sky, but they did great work with it.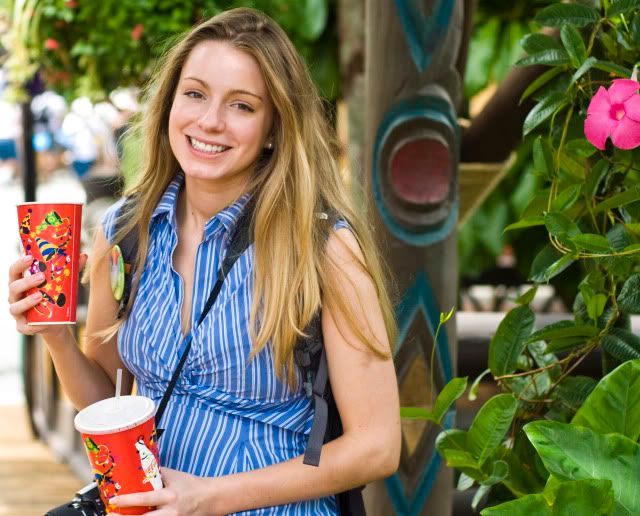 With so many long lines, we focused more on pin trading than in the prior days. Luckily, Sarah and I had purchased 100 pins prior to our trip for the purpose of trading, so we had quite the inventory to trade. We love trading not just for the thrill of finding something neat or because we are die-hard collectors (we aren't), but because of the interactions we have with Cast Members that we otherwise probably wouldn't have. Sure, we could approach Cast Members and strike up a conversation independent of trading, but honestly, that wouldn't often happen. Pin trading is a vehicle that facilitates guest and Cast interaction, and one that makes the park experience better for both parties. Critics of pin trading seem to easily overlook this, and they should not. If you've never tried pin trading before, pick up a lot of 10 pins on eBay before your next trip. It'll only set you back $15 or so, so what's the harm in giving it a shot? I will bet that you will enjoy it!
That evening marked our first time getting Dole Whips on the trip! When we're on the dining plan, we normally make a point to use all of our snack credits on Dole Whips, but when we actually have to purchase them ourselves, we don't seem to buy them as often (even though we actually are paying for the dining plan, too, but I suppose that's the psychology behind the plan). They were delicious as always, and they even made for some nice photography props!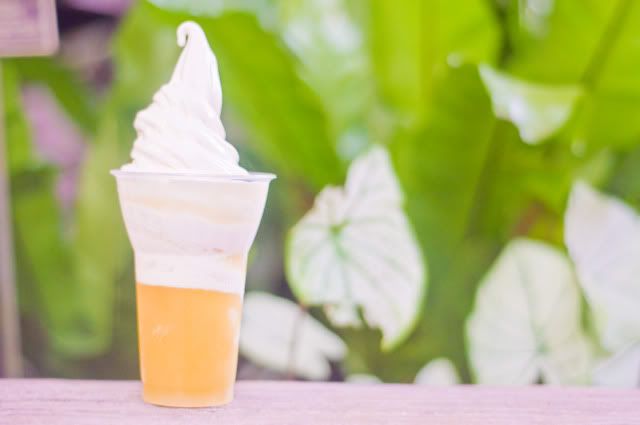 By the time we finished the Dole Whips and photography fun, SpectroMagic was about to start. We had planned on getting seats at the train station one night so that I could get "the shot" I had been envisioning since my finals in May (more on that later), but the crowds were so bad that evening that we decided we would hold out for another night. We got a decent spot for the show on Main Street only 5 minutes before it started, but we were behind a couple of 'rows' of people. Given our location, I had resolved that I wouldn't be able to get any good shots, so I left the camera in the bag. It was actually really nice to focus solely on watching my favorite parade. This is another thing I hope never changes. New floats and LED lights would be nice, but the soul of the parade should never change. In my opinion, it is the ultimate nighttime entertainment at Walt Disney World. Better than Illuminations, Wishes!, and Fantasmic. Nothing beats that SpectroMickey float and the classic WDW logo on the 'intro' float.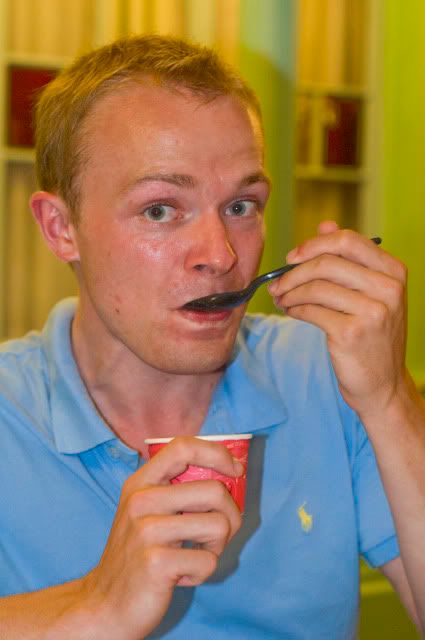 I suppose it's fitting that I look like a drug addict while getting my Dole Whip 'fix'. I guess the lighting in this location was far from flattering.
Sarah, however, did get some shots of the parade, and some good ones at that. I think I had better stop teaching her the 'tricks of the trade' or she might soon surpass me photographically!
After SpectroMagic, we made our way up Main Street to get a location for Wishes! Little did I know that you couldn't stake out a spot on Main Street in advance. Usually we get last minute spots (and they typically are good locations), so this has never been an issue before. When we finally got a spot, the street was so crowded and a tall individual stood in front of my relatively short replacement tripod, so I didn't really get any good shots. Poor fireworks shots would become a theme of this trip. Fireworks have really become frustrating for me. I think they are very easy to shot (ISO 100, high f-stop, bulb mode) yet so many people seem to have trouble with them. I have become one of those people not because of a lack of an understanding, but because of bad circumstances (we chose a poor location last summer for Wishes, it was raining last winter and we were behind tall people, and now all of these troubles). In any case, Wishes was as great as always, and left us blissfully excited as we went on our way. To paraphrase Jiminy Cricket, home is where the heart is, and that's where the magic lives. For us, home is the Magic Kingdom, and magic undoubtedly does live there.
The conclusion of Wishes! marked the commencement of Evening EMH. We enjoyed several trips on Buzz Lightyear's Space Ranger Spin, Country Bear Jamboree, and the Tiki Room during the course of EMH. Despite the park being open until 2 a.m. (which has always been 3 a.m. On the same night in previous years–in fact, all closings were about 1-2 hours earlier than they are when we normally vacation at this time) the park was packed. I understand Disney may be having problems with guests not buying as much merchandise or spending as much on food, but the buy 4 get 3 promotion (and other assorted promotions) have packed the parks. It is absolutely unacceptable to close earlier when the parks are busier. I understand that Disney is a business and cannot hemorrhage money, but when its own business decisions have caused its attendance to rise, the answer to financial shortfalls is not to cut hours. That is simply contrary to logic.
At the conclusion of EMH, we began taking pictures. Starting in Frontierland, we worked our way forward. Somehow, during the time when we were taking pictures, the land got cleared with us still in it. I am a bit surprised that this could happen, as we weren't really hiding anywhere, and my flash was constantly firing, which I would have expected Cast Members to see. When a Cast Member finally did see us, he asked where we had been, as if we were hiding or something.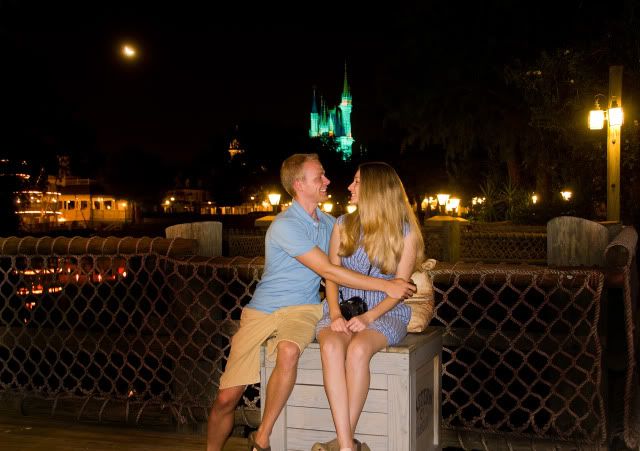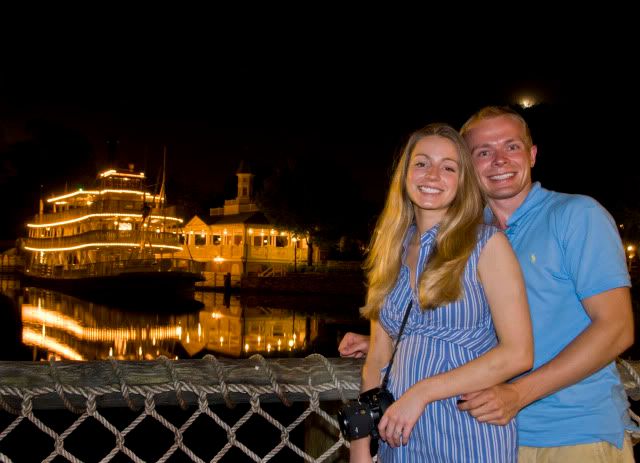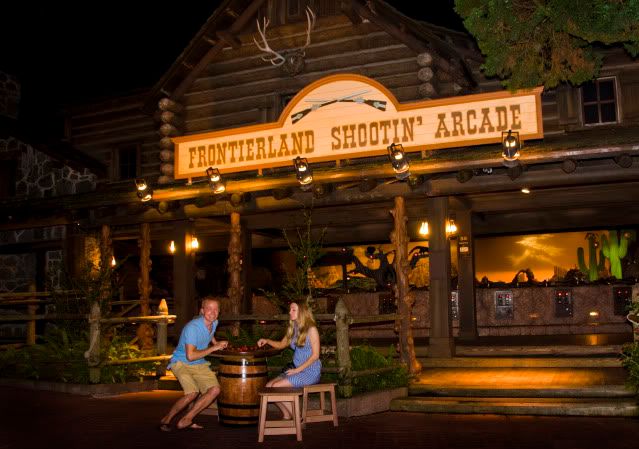 Following our departure from Frontierland, we headed to the front of the Castle, and got the classic Castle shots. We then slowly made our way down Main Street, and while doing so, it became apparent that we were the last guests in the park. Usually we try to have other people in the park until we at least make it to the train station, so we don't feel obligated to leave. However, it was clear that we wouldn't be getting any shots there that evening.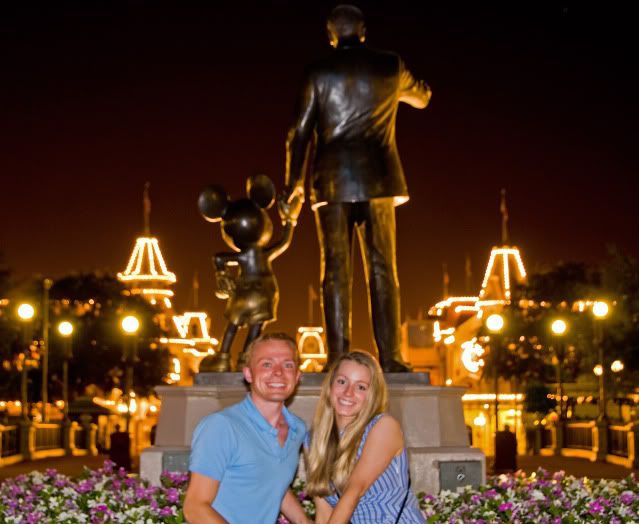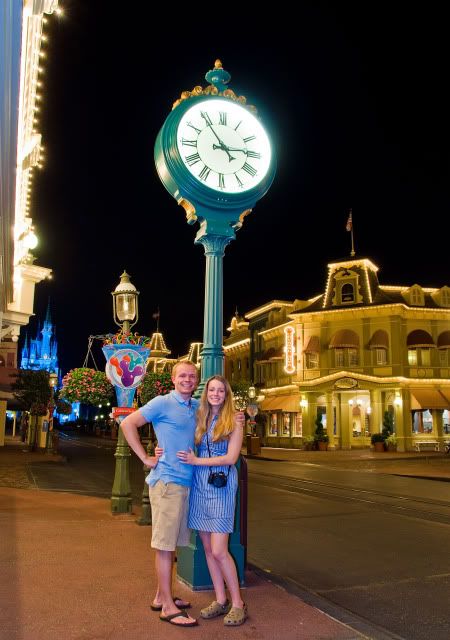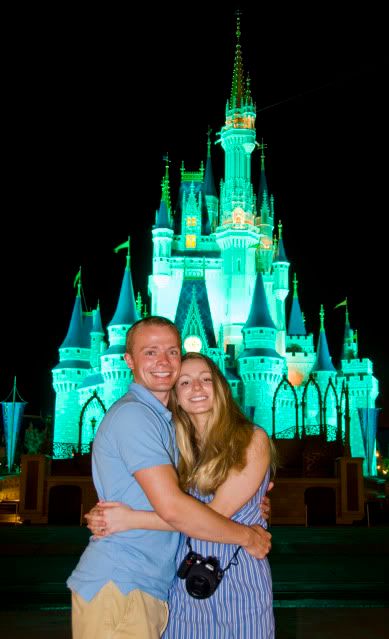 On our way towards the exit, Sarah approached a group of managers to see their pins. One of them, Katie, said that she recognized us. It turns out that Katie had talked with us on both our August and November/December trips last year (Sarah remembered talking to her, I didn't). I was surprised that a Cast Member would remember us after such long absences and given the number of guests they see daily, but it was nice. While talking with her, she suggested that Sarah and I become seasonal Cast Members, a role that could take as little as 40 hours per year. Definitely an intriguing idea, but not a 'seed' I wanted to have planted with Sarah, especially after she finally recovered from the dreams I dashed of her becoming friends with a princess. Katie was very friendly–if anyone here knows or sees her, tell her Tom and Sarah from Indianapolis (the late night people) say hello!
We then exited the park and headed for our bus stop. Guess what, there were people in line waiting for the bus! This was somewhat odd, given that there were some buses idling there. It seems any bus could have taken us, but I guess there is some protocol that must be followed. This soldified our hypothesis that less buses were being used at night.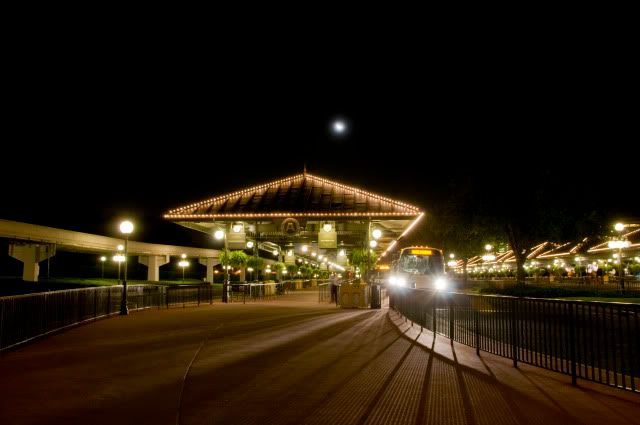 When we arrived back at the resort, it was around 3:30 a.m. Much to our surprise, there were still people out in the pool! We thought we were night owls at Disney! We had an early morning the next day, so we didn't take an evening dip.
CHAPTER IV: The Return of the Luxi F or, How I Learned My Fiancee is a Terrorist
The next morning, I awoke and immediately proceeded to use a screwdriver acquired from our friend Nick to switch out the tripod heads, thus enabling me to use my more stable, and taller, Luxi F tripod. Now, nothing could get in the way of sharp night shots, besides possibly human error!
We then go ready, and headed to EPCOT. We started by getting FastPasses for Soarin, then headed off to Test Track and Mission: Space, followed by The Living Seas and Maelstrom. I was surprised to find very short waits at all attractions. Following that, we found Stitch and Daisy near the park entrance. Following the duck and alien photo shoot, we headed to The Land to experience Soarin'.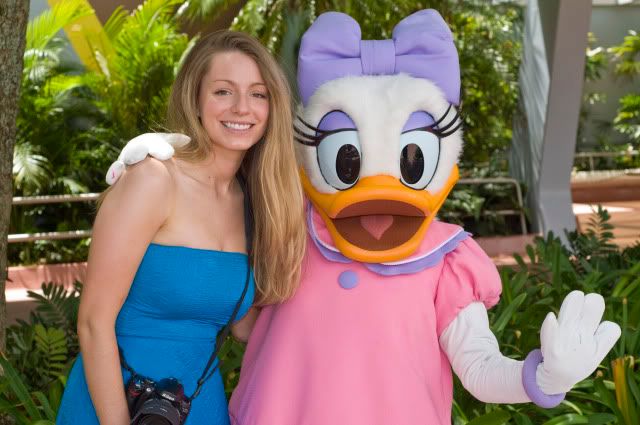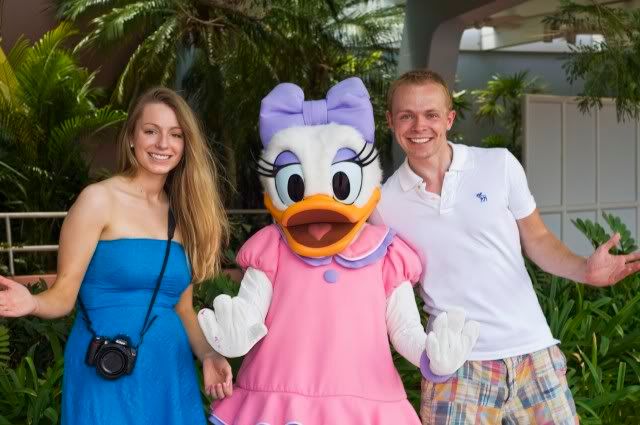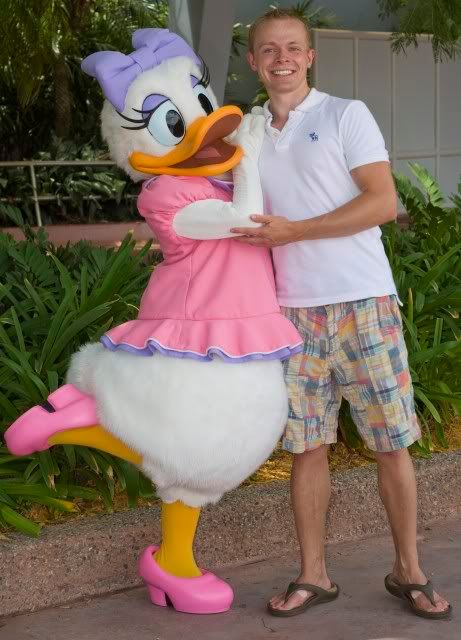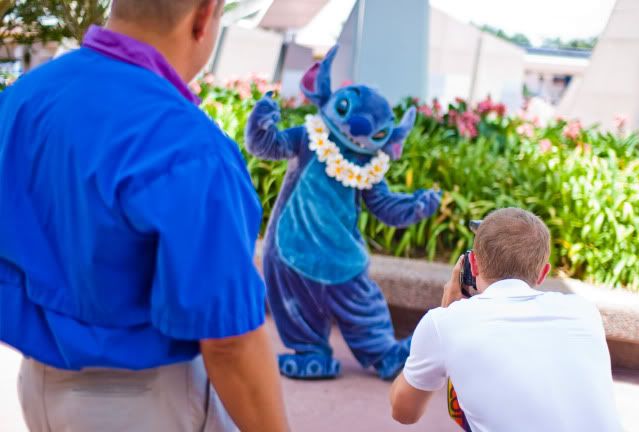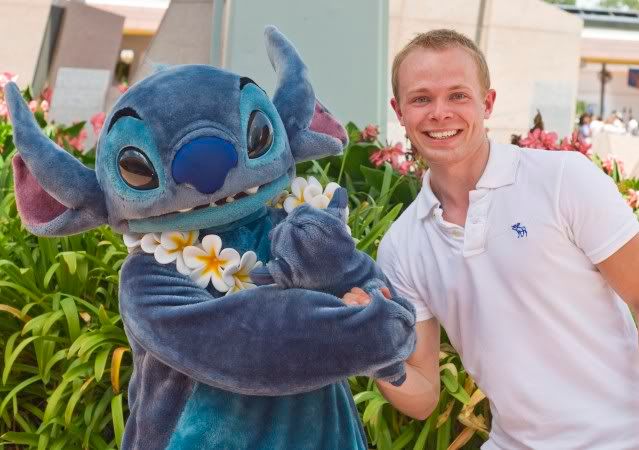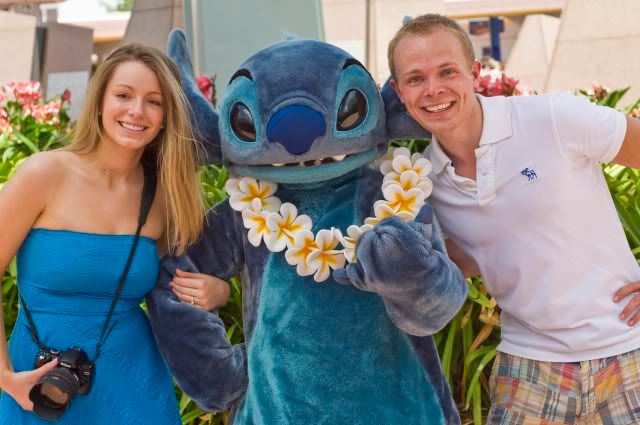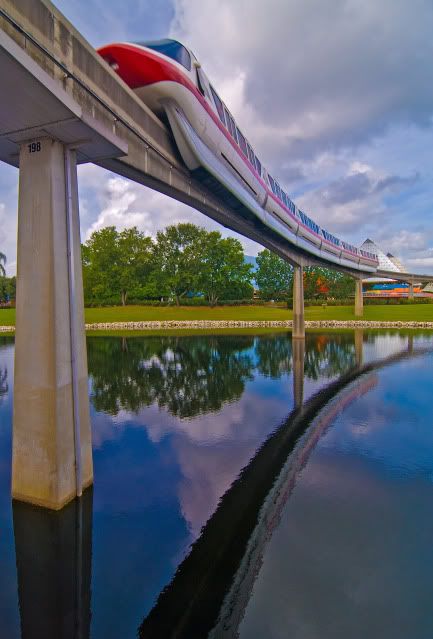 Soarin' once again did not disappoint. A beautiful score, stunning visuals and an experience that can't be beat. You know Disney hit a home run when the guests applaud a ride after its conclusion, and Soarin' has received applause everytime we have ridden it. My only complaint is the specs on the projection. It sure would be nice to get a digital projection for the attraction.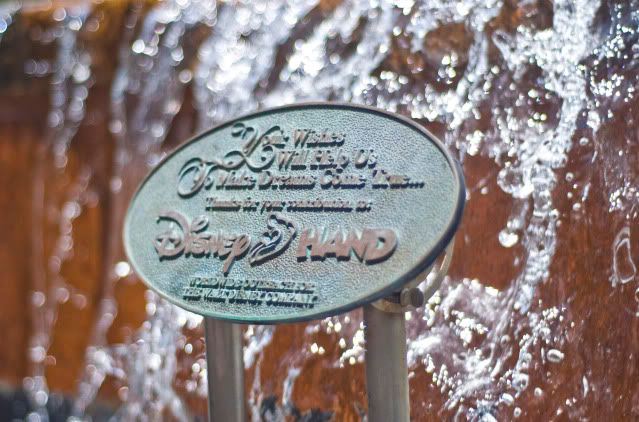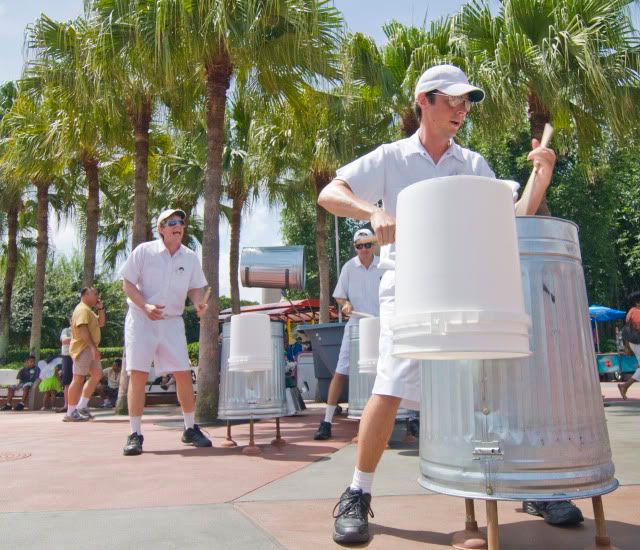 After Soarin' we decided to share the chicken breast and potato meal at Soarin', which turned out to be a mistake (we should've each ordered our own). Then we headed onward to Test Track again, the Disney Visa Character Greeting, the Electric Umbrella for a second lunch, and Universe of Energy. Universe of Energy is another attraction that seems to take a lot of heat. We like it. Not only is it one of the few attractions to still have the spirit of EPCOT Center in it, but it also has dinosaurs, and a good sense of humor. I suppose it could have a bit more 'teeth' to it as it pertains to energy, but I can't imagine Disney taking on any controversial topic with the attraction.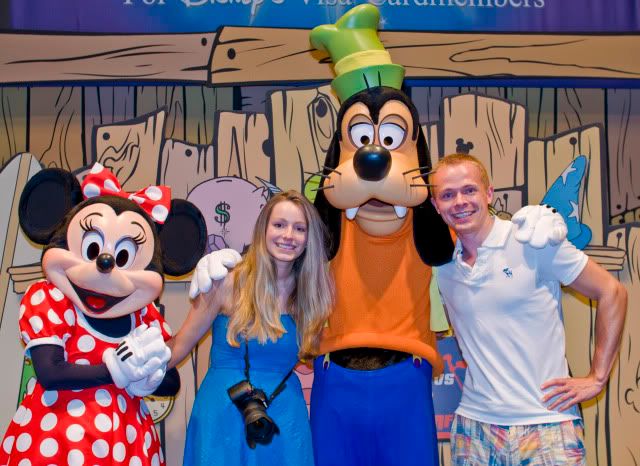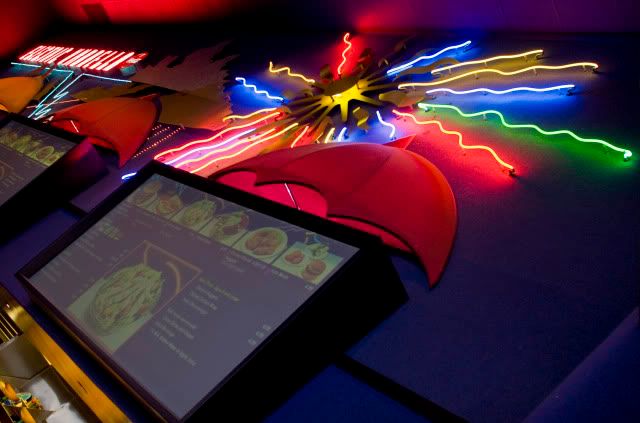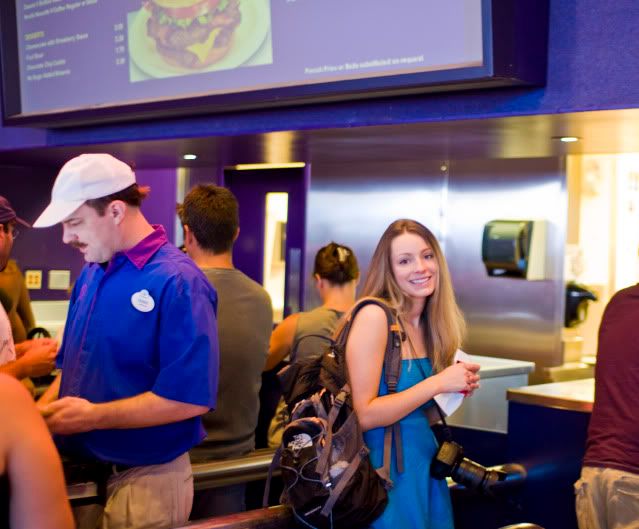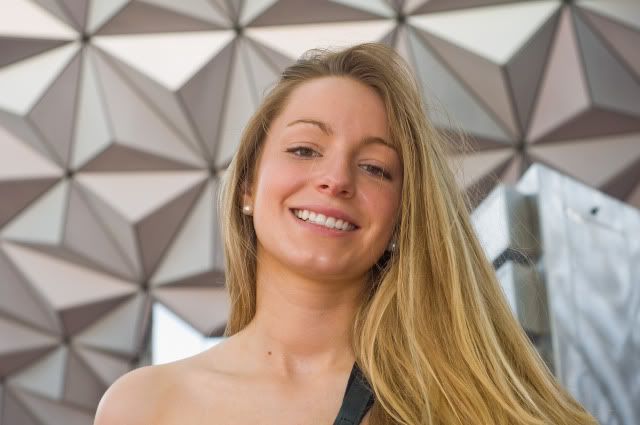 It was then time to head back into the World Showcase. We made our way slowly around the lagoon, stopping multiple times to take pictures, making our way towards the American Adventure. It's always nice to take a leisurely stroll around World Showcase, and that day was no different. When we arrived at the American Adventure, there was roughly a 20 minute wait until the next show, so we wandered around for a little while. Then, there was a startling revelation…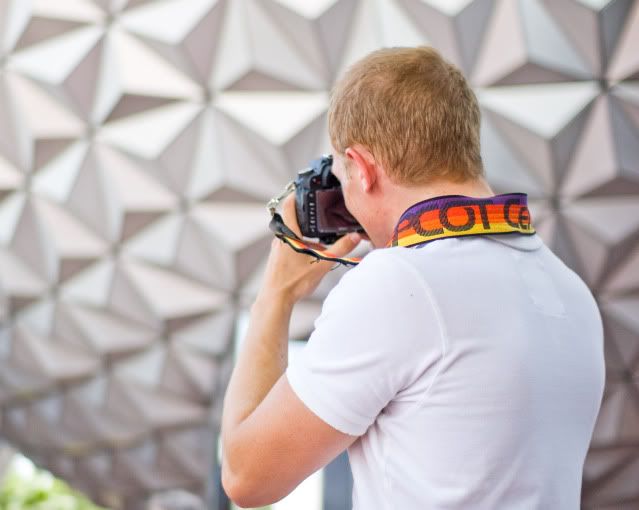 Sarah revealed to me that she is not that wild about the American Adventure. The American Adventure! The best attraction at EPCOT!! The most patriotic, emotionally stirring attraction in all of Walt Disney World!!! My instinctive reaction was to accuse her of being a terrorist. How can she not love the American Adventure? I just don't get it. I long have suspected that she harbors a dirty secret about being a Canuck, and I believe her statement confirmed these fears. At least she likes the Hall of Presidents. Or so she claims…
I don't need to tell you good Americans how great the American Adventure was, as usual. After American Adventure, we headed to Soarin' again for another excellent flight to California (although we exited the attraction into Florida–odd) and then headed to the Camera Center for our "free" Disney Visa print. That was a mistake. It took 30-45 minutes in line just to get the thing. Next time, we'll just pay the $1-2 for a print at Walgreen's. 30-45 minutes of my time at Disney is worth a heck of a lot more than $1-2. However, and the reason why I don't know exactly how long it took, was because Sarah let me go play while she stood in line. I got some more snaps of SpaceShip Earth, as well as some more signage shots to add to my already large collection.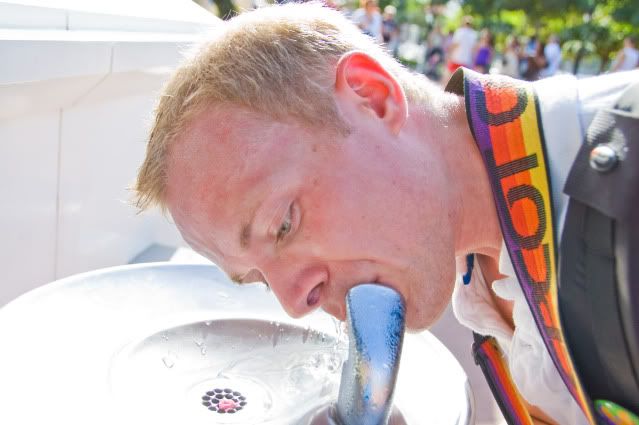 Sarah claimed her retribution for my 'terrorist' accusation by capturing this gem.
We then boarded the monorail for the Magic Kingdom. During our trip, there was a jarring sound and the monorail stopped. I immediately heard people discussing the monorail crash (complete with their own fabrications as to what happened) and how scared they were that we were in danger. Drama queens. After about a 30 second stop, the monorail pilot came over the speakers, apologized, and we resumed, albeit at a slower speed.
We arrived on Main Street 5 minutes before SpectroMagic began. It was clearly crowded, so I didn't expect to get my shot of SpectroMagic, but I at least wanted to scope out the location and see the logistics of the shot. I got surprisingly lucky, as I was able to snap a few decent practice shots. I also learned that these shots would not have the 'wow' factor I anticipated when I envisioned the shot, so I began thinking of how to alter the shot to make it more spectacular.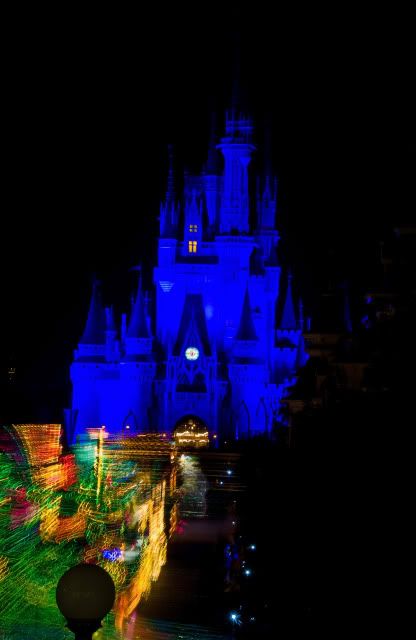 With my mind racing as to how to 'fix' the shot, we met up with our friend Nick and we headed to Cosmic Ray's for another delicious meal. During dinner, it began pouring. When we exited Cosmic Ray's, it had stopped, but an announcement that Wishes! would be delayed was still given. We decided to head into the Laugh Floor, when we heard that Wishes! Would be starting in 5 minutes. We immediately turned around to stake out a spot. Although we have seen the show many times, and experienced our fair share of bad angles (we need to be scolded–Tom and Sarah, frame it with the Castle!) we still thought the rocks over by the gates of Tomorrowland would provide a neat angle. They absolutely do not. You can't see most of the pyro. About 2 minutes into the show, we moved to the Tomorrowland bridge, which provided a marginally better angle. It was still nice to watch the show, but another evening of shooting Wishes was out the window. So far, I was 0 for 2 on it, and 0 for 3 overall, if you include Illuminations.
After Wishes, the park closed. 11 p.m. Is far too early for us to retire, so we began the photo shoot. I'll be honest, I did make a slight blunder here. On our schedule, I plan the times when we will likely be out of the park. That morning, when I consulted the schedule, I looked at that time, and confused it for the time that the park would be closing. So when 11 p.m. Hit and we weren't allowed on an attraction, I was taken aback. Then it dawned on me what I had done. Although it wasn't a huge deal, we weren't in the land we wanted to be in for pictures. Thus, our first few pictures in Tomorrowland were not so great. We were struggling to think of good locations. We finally did get in a grove, and got some better shots. Although these are mostly pictures of us, there are similar shots without us for each location. Those images are decidedly better and will be posted, eventually, on Flickr.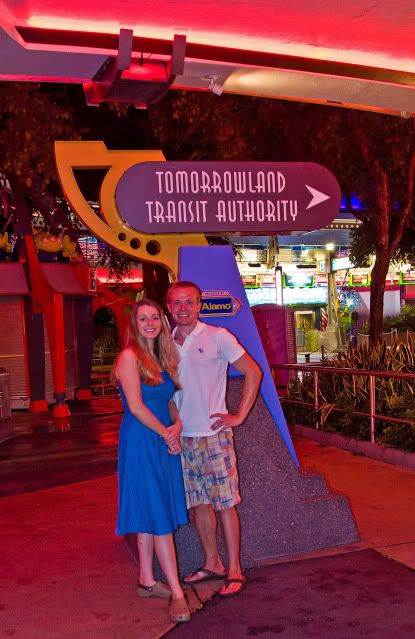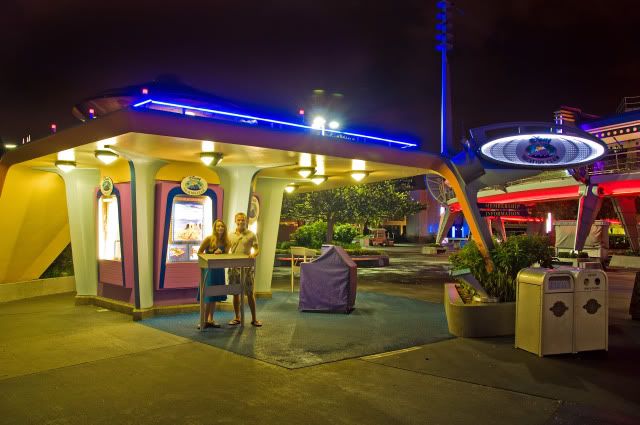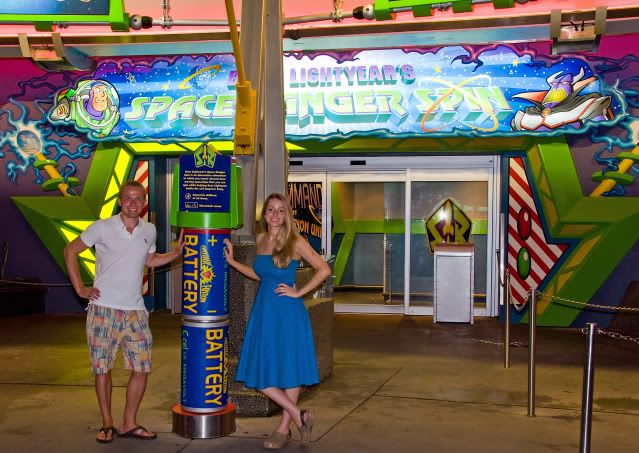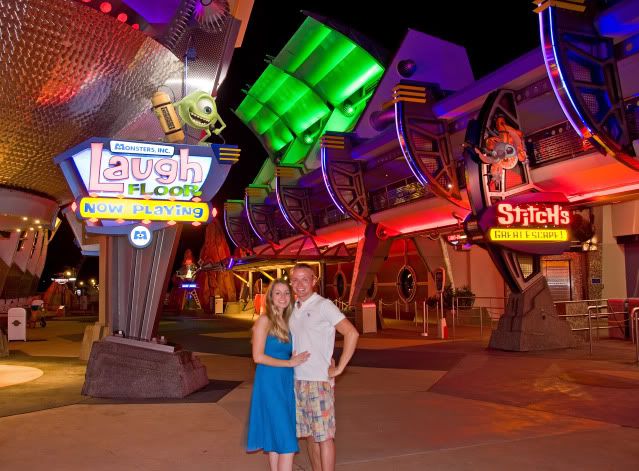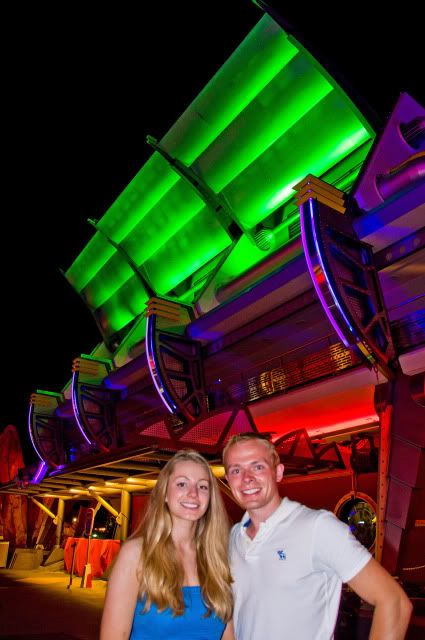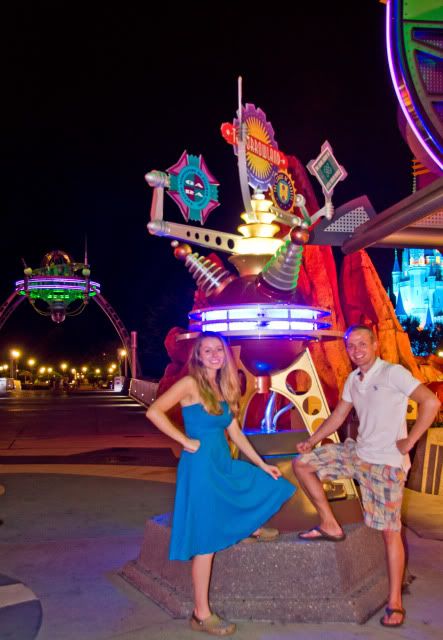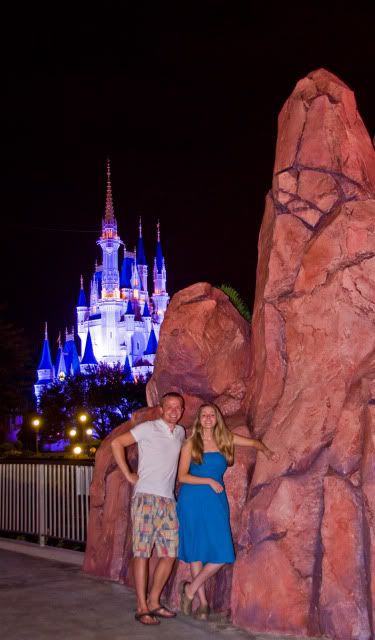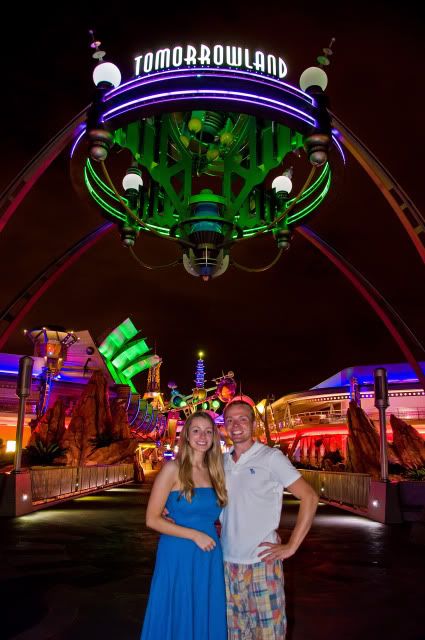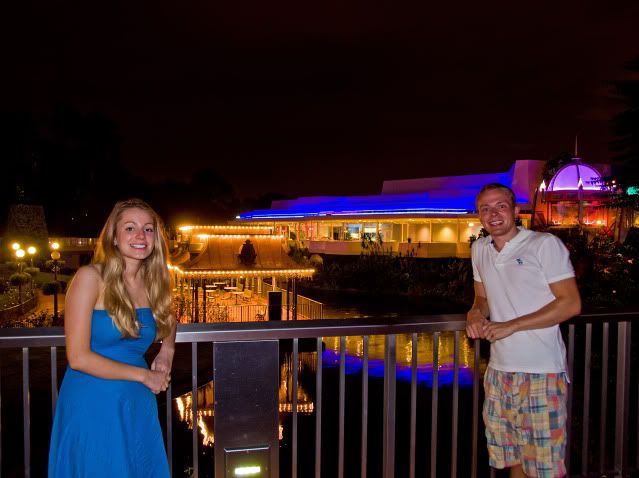 We finally made our way to Main Street, and were the last guests in the park again already at that point. That meant no Train Station pictures. Dangit. We did see Katie again, and talked with her briefly before heading for the exit. Our bus experience this time flew in the face of established precedent. Many buses were waiting for us, and none had passengers. We found a bus, and boarded for All Star Sports.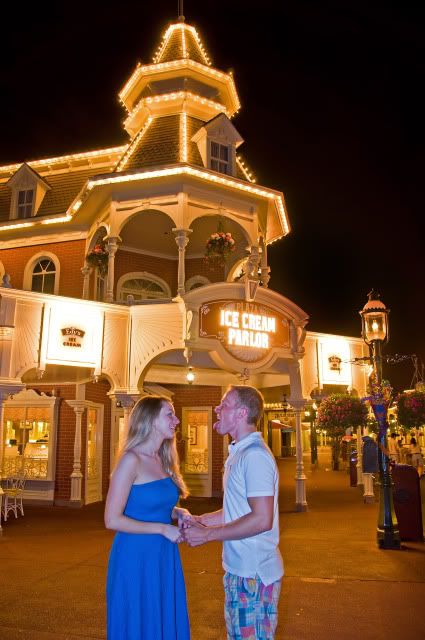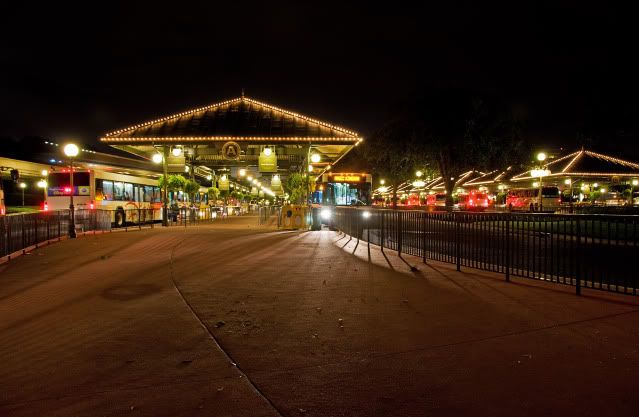 CHAPTER V: Characters on Parade
The next morning began for me as any morning does: by rocking out in an extreme manner.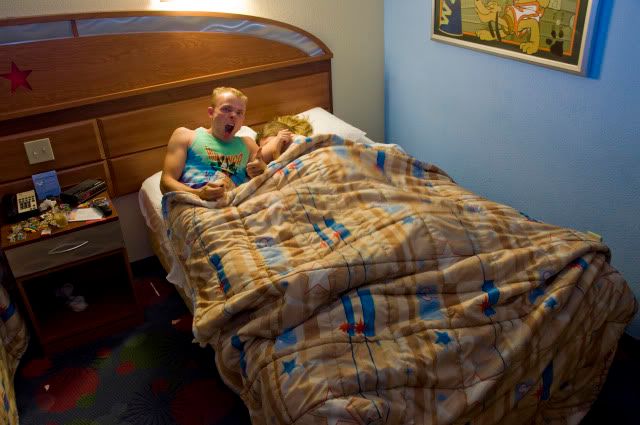 With that accomplished, we headed off to Animal Kingdom. This would prove to be a very good day for character pictures. Going into the third day, Sarah and I were concerned about our character picture count. Sure, we had found Pioneer Donald, but other than that, it seemed that not many characters had been out. We are big character hunters, so we were a bit disappointed in not having seen many unique ones. We wondered if the weather was to blame, as the temperatures had crossed 90 several times the first couple of days. However, that day alleviated our fears as we saw Brer Rabbit and Meeko at the park entrance, and Pooh and company with no wait inside.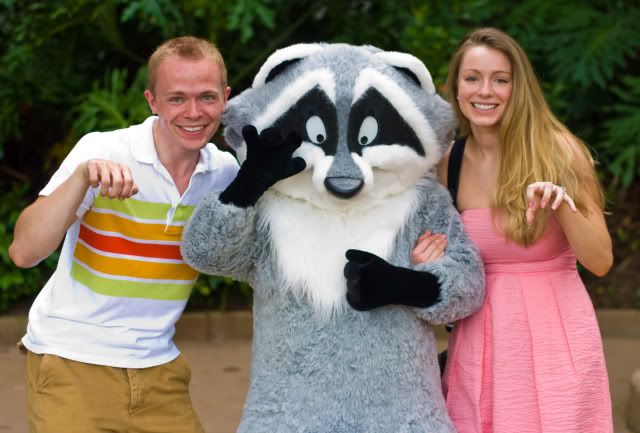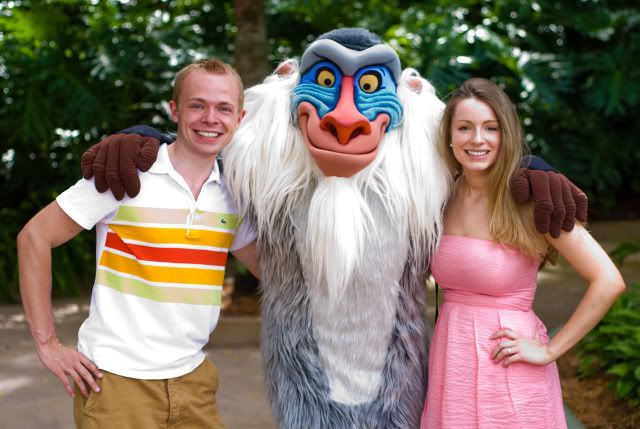 Although we wouldn't normally stop for character pictures so early in the morning, we had a luxury that day. The consolidated FastPass area at It's Tough to be a Bug gave us FastPasses for ALL of the attractions. Although the tickets said you could not get your next FastPass until XX time, each of the machines gave us a FastPass. My guess is that the system uses some sort of central computer to prevent distribution of FastPasses prior to that time, and the time it takes to update that system is longer than the time it takes to move to a nearby machine and get another FastPass. This normally wouldn't be an issue because the machines are spaced throughout the park and the time it takes to walk to another machine precludes exploiting this loophole, but when the machines are right next to one another, it's possible. That's just my hypothesis, it could be entirely wrong. Anyone know for sure?
Anyway, with FastPasses for Everest, Kilimanjaro, and Dinosaur in hand, we headed off to enjoy the sweltering weather. Prior to the trip, I had resolved myself to getting a decent photo on Dinosaur. Easier said than done. We rode the attraction twice that day, and this is the closest I came to getting anything worthwhile and this picture is hardly impressive. It really stinks when even your best isn't good enough (although the shortfall here lies squarely with the D90, and not the photographer). Looks like I will have to get a D700 after all!
We also had the best ride on Kilimanjaro (or one of the best) that we have experienced to date. We saw lions, which rarely happens, among other cool animals. Photography-wise, Kilimanjaro doesn't do much for me. Maybe that's because I only have the 18-200 for this ride (hmmm, maybe a 70-200 f/2.8 is in order…) or maybe it's because it's moving around so quickly, but I've never had much luck with it. The most compelling shots I've ever previously gotten have all been of the ride vehicles.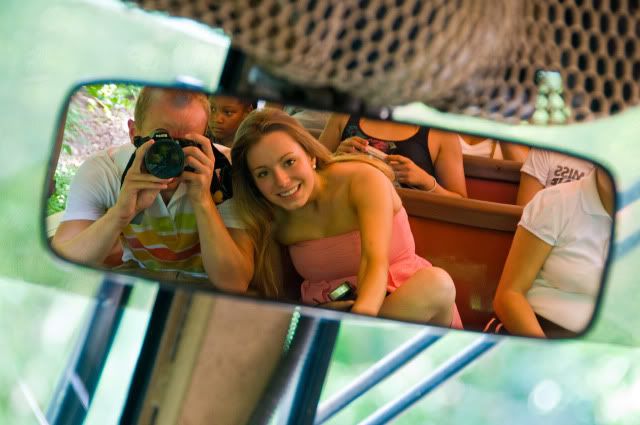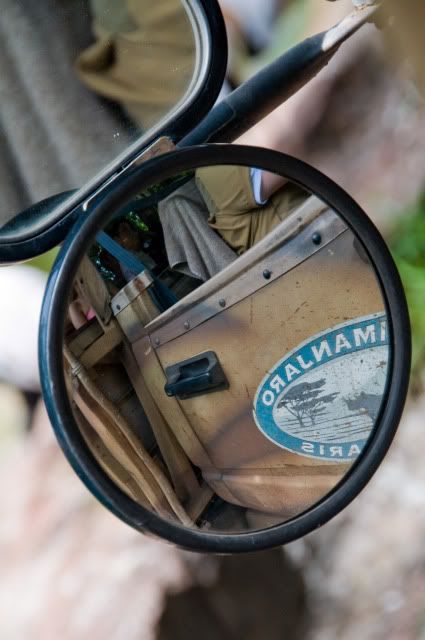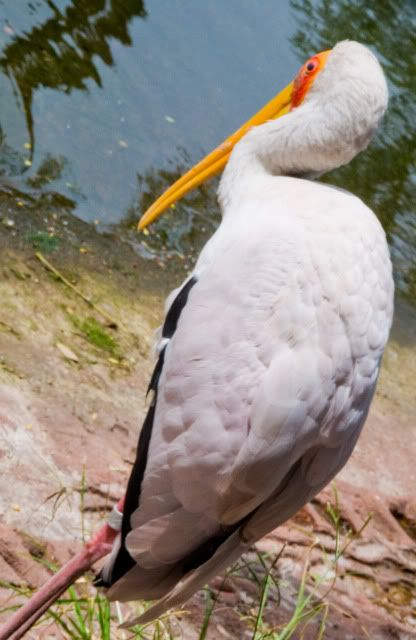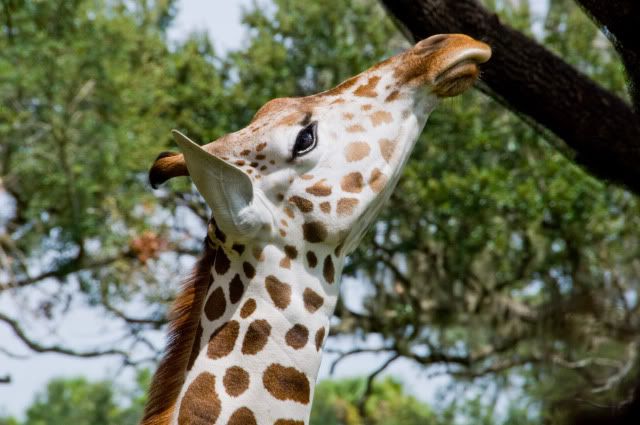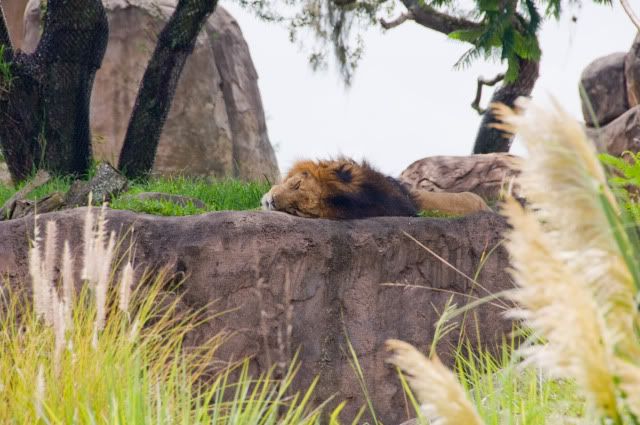 In fact, I have to say Animal Kingdom in its entirety doesn't do much for my photographically. I know this might sound like heresy for some, especially given the myriad of details present in the Park, but I have never had much success at all in the park. I think this can be attributed to three reasons: 1) it's the park I've spent the least amount of time in, and I don't know the setup well at all, so I can't envision my shots ahead of time (for the most part) so they are almost all spontaneous, and I guess my eye for photography isn't so hot; 2) all of my shooting has been day time shooting since we've sadly never done evening EMH there, and my day time shooting generally isn't that good, plus the Tree of Life is not that compelling of a subject matter in my opinion, and without fail, the skies are overcast when we're there, and; 3) I'm more of a big picture person. I'm the guy shooting 50 shots of the Castle. I all too often overlook the little things, although I did work on that this trip. Plus, Susan (Kiki, KeeKee, KikiFL, etc.) already has the market cornered on this type of shot, so I figure "why bother?" I know I can't compete with her. That said, here are some AK shots that I think I got right. Maybe.
While waiting for our FastPasses to Everest, we caught Finding Nemo: the Musical. Perfect as always. We were quite lucky, as we got in line for the show 5 minutes prior to it starting, and as we entered, we thought we would be in the metal seats in the very back, where they were seating us late-arrivers. However, about 5 people before us, a Cast Member started redirecting parties of 2-4 to the front aisles where 'room had been made' by having the audience scoot towards the center of their rows. Thanks to that, we got the best seats we had ever had for the show!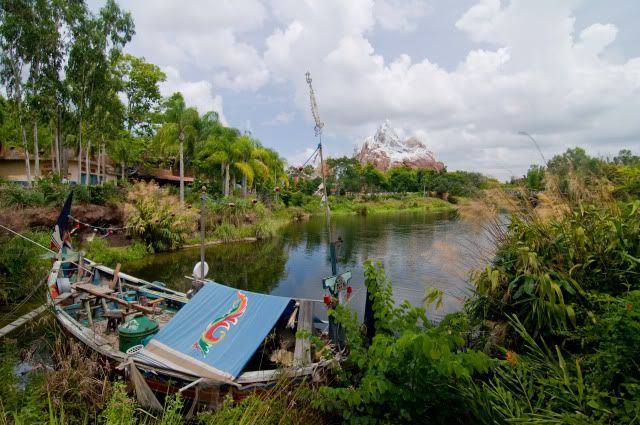 Sarah discovered her niche for photography while we were eating at Flame Tree BBQ: Disney Duck shots. Later, she even expanded her horizons by getting some shots of the Egrets in the Magic Kingdom. I think she will quickly corner this market.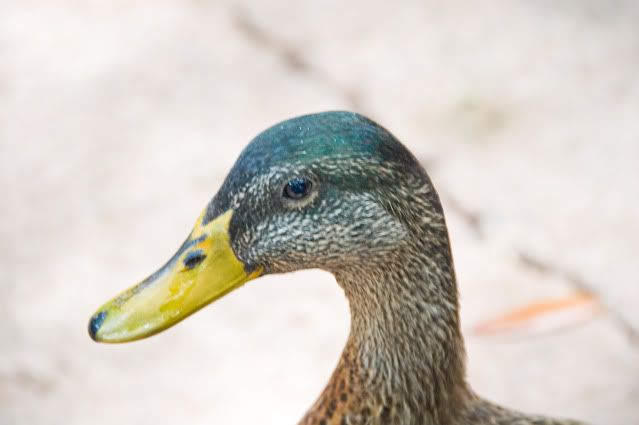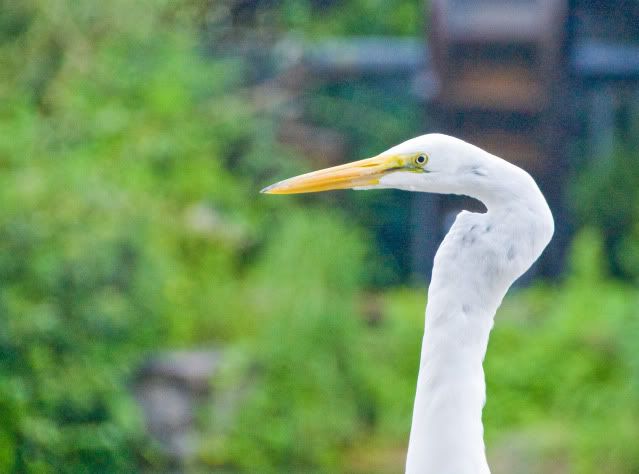 Both shots by Sarah
After Everest, we hopped the bus to the Ticket and Transportation Center, then boarded the monorail for the Magic Kingdom. Our first stop there was the First Aid Center, as I needed some band aids for my feet. Ahh, the joy of wearing sandals each day and the blisters therefrom. In my defense, I had only worn sandals each day because the first day I had worn shoes and was incredibly uncomfortable when they got wet following the rain.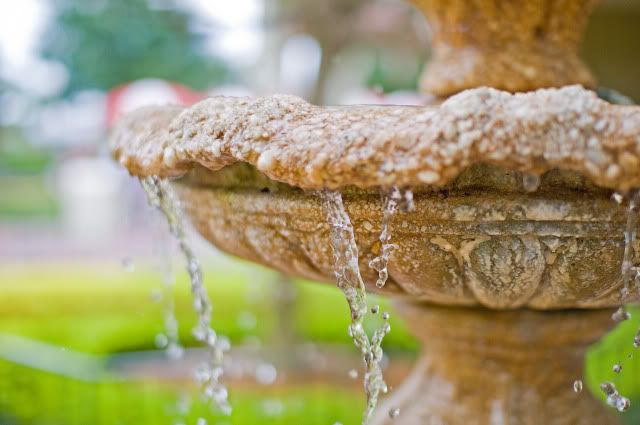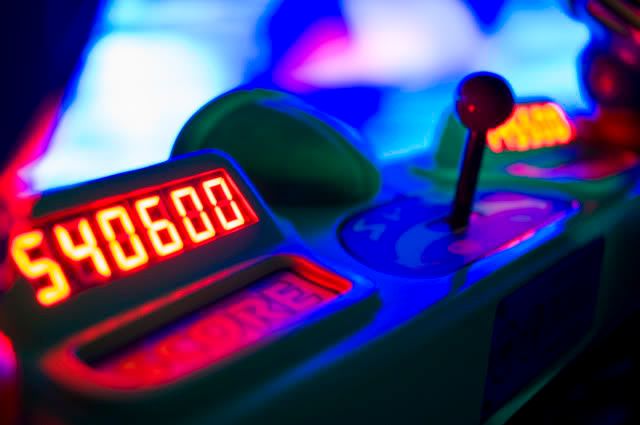 The park was packed just like the previous days, so we headed for one place that we expected wouldn't be too busy, the Country Bear Jamboree. However, even it was stuffed to the gills! The crowds were too much to bear, so we figured we'd head over to Bay Lake Tower to scope out our (hopeful) honeymoon location, and then head over to the Polynesian for dinner. When we arrived at the Contemporary, we discovered that we wouldn't be able to check out BLT, so we quickly left. The only truly important thing about it for us is its location, so unless they move it between now and our honeymoon, we will likely still want to stay there even though we haven't been inside (although we did tour the model rooms at Doorway to Dreams in Chicago–so that counts for something).
When we arrived at the Poly, we debated between dinner at Kona and Captain Cook's. We balked at Kona after considering our dire straits financially, and opted for the cheaper counter service option. Probably a mistake in retrospect. Much to my surprise, I only took one picture in the Contemporary, and one in the Polynesian (you may notice that I changed lenses between the two–I don't change lenses for one shot, so I guess I expected more use out of the UWA at the Poly?) They aren't that good, but I guess I will post them to 'prove' we were there.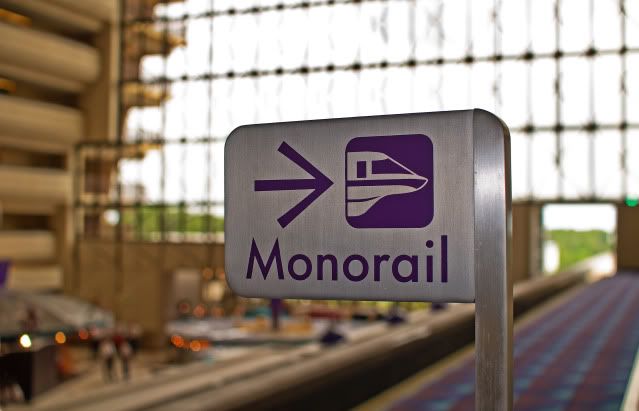 After diner, we headed back to the Magic Kingdom for the conclusion of the evening. As we entered, the afternoon Main Street parade was being performed, so we stopped to watch it. Definitely a neat little piece of entertainment, and a lot better in our opinion than the Family Fun Day (or whatever it was called) parade. As one of the floats passed, we saw our nighttime Cast Member-friend, Katie pass, who waved to us.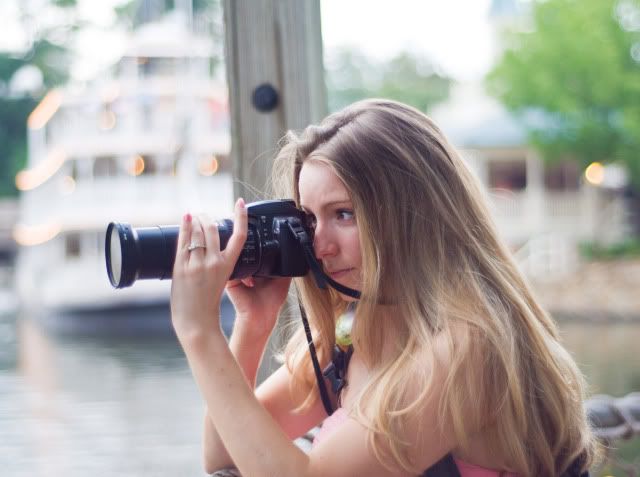 We then headed over to Space Ranger Spin, which became a favorite of the trip for its quick FastPass use (we could typically get one per hour), before heading to Splash Mountain. Then, it happened. That's right, I scored 961,400 points on Space Ranger Spin, my highest score ever. It was a personal coup for me, and vindication for the previous trip when Sarah beat me. I know some folks have no problem maxing out their guns each time they play, but I don't care. I was proud.
We hit Wishes, this time from Main Street, and I decided the UWA would be a good lens choice, as I could catch some of the lights from Main Street, too. Somehow, I had not noticed (or thought about it, rather), that the lights on Main Street are not on during Wishes. Instead of cool shots, I got shots with darkness in about 2/3 of the frame, and a very distant Castle. After cropping, some of them are passable, but the quality is nowhere near what I wanted or expected. So far, 0 for 4 on fireworks.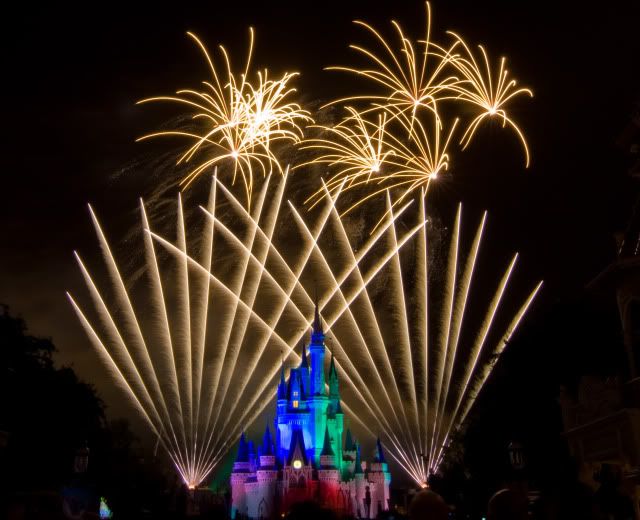 After Wishes we headed back into the lands, hitting some of our favorites again, and even stopping for a tripod shot (before the park had closed!) It was a must-get shot for me, and one I had inexplicably botched with the previous night. This time, I nailed it. It probably isn't all that impressive to anyone else, but I love the shot. Probably one of my favorites from the trip. It's actually my desktop background right now (the version without us, that is). It was tough to set up without us, as even at 11mm, there is very little room to maneuver (or else you risk not getting the entire palm leaves) and the angle of the camera prevents you from seeing into the view finder. Live view doesn't help much more, but it's definitely the only option without guessing. The shot was even tougher to get with us in it, as I could line Sarah up in advance, but I could only guess as to where I should stand. To add to the difficulty, you have to stand in just the right manner, otherwise the UWA distortion makes you look like a heifer.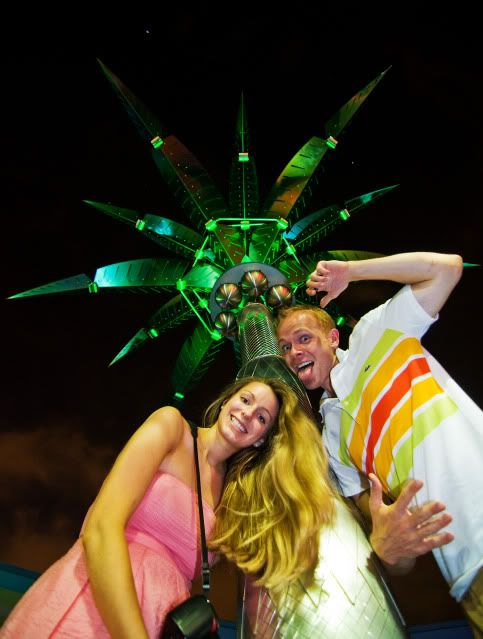 When the Evening EMH started, I was in the zone, if I do say so myself. It was the UWA's turn to come out and play, and Sarah, feeling somewhat ill, had asked if we could not take any pictures of ourselves that evening. Without having to change lenses or settings between shots, I quickly rolled through my shots, capturing some areas I otherwise have overlooked. We also managed to again unintentionally be overlooked when Fantasyland and Tomorrowland were cleared. This time, no one told us to leave, but I saw the ropes up. In light of this, we cautiously moved around while getting the pictures (as a bit of an aside, Sarah and/or myself have been asked by Cast Members several times during these shoots if we're photographers for Disney and/or Cast Members. Most of the time, I avoid any problems by briskly walking past Cast Members and pleasantly saying hello when I sense that someone might tell us we cannot be in a given location. Surprisingly, that works almost every time.) During the following low angle shot of Tomorrowland, I actually stayed low behind the globe for the entire shot, weary that a manager from a previous night who had 'pushed' us to exit Tomorrowland was standing nearby. Probably my most clandestine act in a Disney park.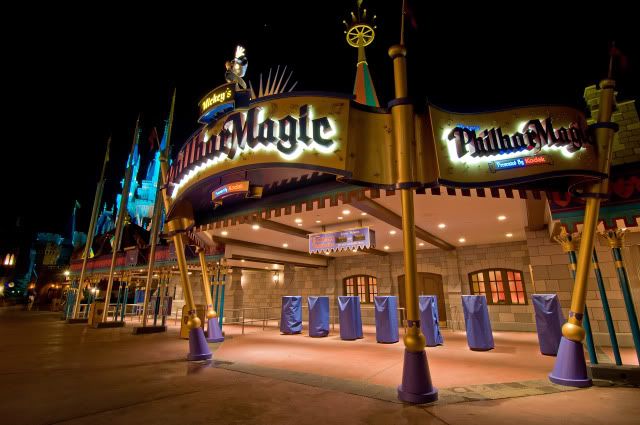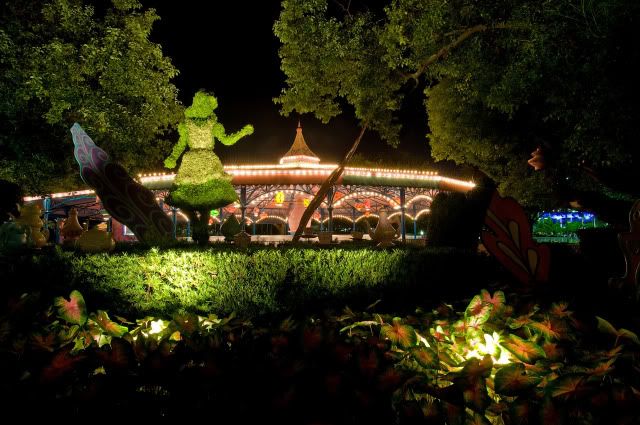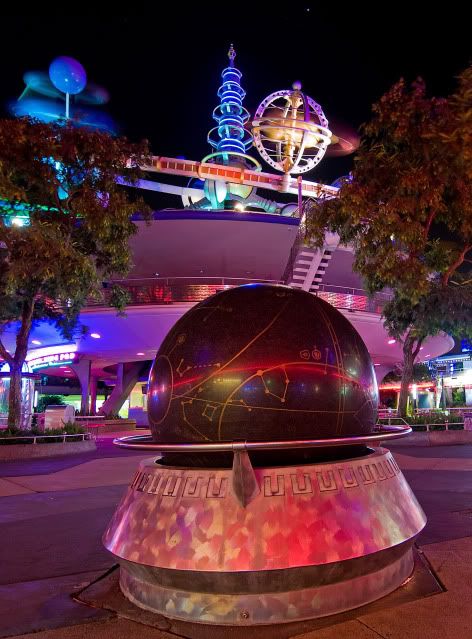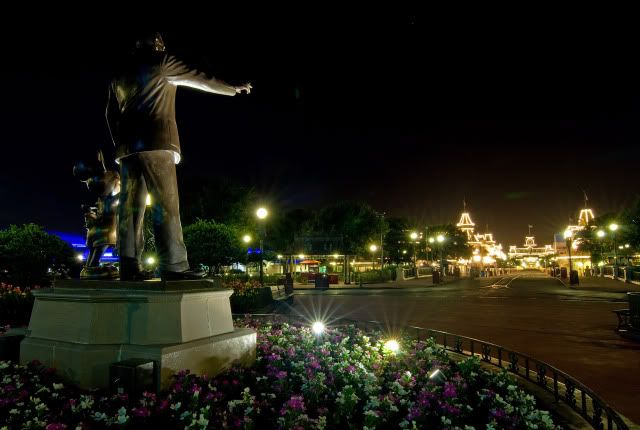 It was again obvious that we were the last guests in the park by the time we hit Main Street, so we again couldn't stop by the Train Station for any shots (or rather, didn't stop–I'm sure we could have stopped). When we approached our bus stop, we again found we had our choice of buses. So much for our hypothesis that costs were being cut with the buses. I still standby my assertion that they should be cut, but for our own sake, I am glad they haven't been!
CHAPTER VI: Magic Kingdom, Magic Kingdom, & Magic Kingdom
The next day, our last full day, was all MK. It may be apparent at this point in the trip that we did a lot of Magic Kingdom and not a lot of Studios or Animal Kingdom. I do not think this was a wise idea in retrospect. While the MK is our favorite park, and the embodiment of WDW, in our opinion, given the crowds and the lack of Space Mountain and TTA, we were there too much. If we did the trip as planned, we would not have been there as much, but we changed our plans because there are more unpopular attractions that we like in the MK than in any other park and because the MK was typically open the latest (if you'll notice, if another park was open later, we concluded the night there instead). It simply wouldn't have made since to go to the Studios on these days if the only attractions we really like there are Tower of Terror, Toy Story Mania, Rock 'N' Rollercoaster given that the wait times would have been ridiculous for those attractions, and FastPasses would have been gone (or at a far-away time that would force us to stay in the park longer than we wanted). One of the benefits of staying in Bay Lake Tower for our honeymoon is that we will be able to adopt the best touring strategy of all: rise early, stay late, nap in the middle. We were effectively precluded from that this trip by the 1.5-2 hours of commuting that would entail.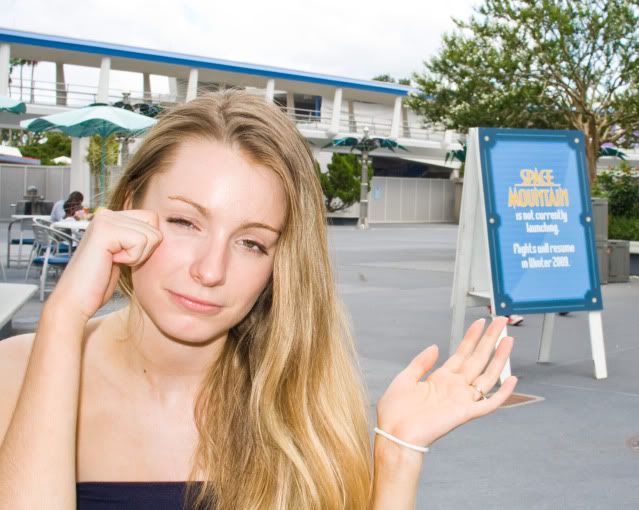 Anyway, with that in mind (and so you don't think we're "MK only" people), we proceed with the report. MK was fun as usual, but still crowded. Really crowded. I figured the crowds would subside by that point, given that it was a Monday and I figured the previous week was busy because people were getting in last minute vacations before school started. I must have been wrong. The place was packed! I guess maybe more people are unemployed now, and they have nothing better to do than visit WDW? I have no idea how to explain the attendance in light of the economy. I guess the best way to explain it is the economy itself–a big part of the reason the economy is so bad is because our society has accumulated more debt than the wealth we have can bear by irresponsible spending. Despite their possible troubles, people are still engaging in that reckless spending.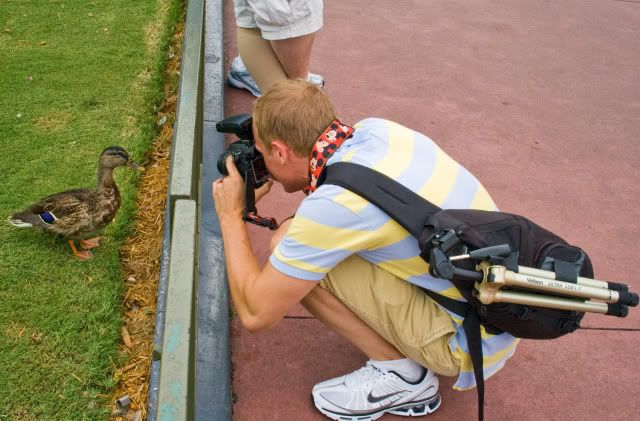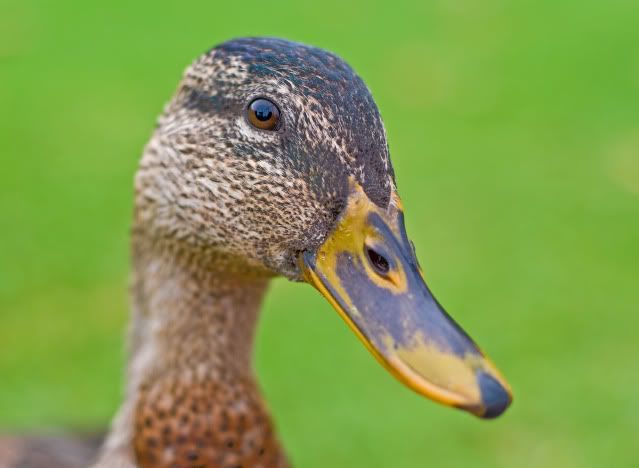 I have covered most of the highlights of the MK, so I will forgo a blow-by-blow account of what we did and focus on the highlights. One big highlight occurred after lunch, when we saw the White Rabbit from Alice in Wonderland. Sarah isn't a huge fan of the film, but her love for cute animals is undeniable, so she was thrilled at the meeting. I was pretty happy too. Besides Cheshire Cat, White Rabbit is my favorite Alice in Wonderland character. The best part was that we were the last 'family' allowed in line. Many disappointed families were turned away (that must be a tough task for the character attendant) and were told that he would be in SpectroMagic later that evening. Somehow, I don't think that's quite the same for most families looking to meet a character. A short time later, while entering Pirates, we saw Smee out of the corner of our eyes. Much to our surprise, he had no line (he must've just come out, as all of the other characters had huge lines that day). Meeting them was a great success!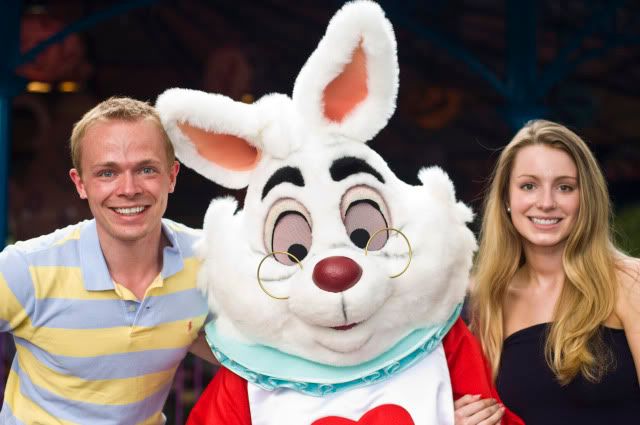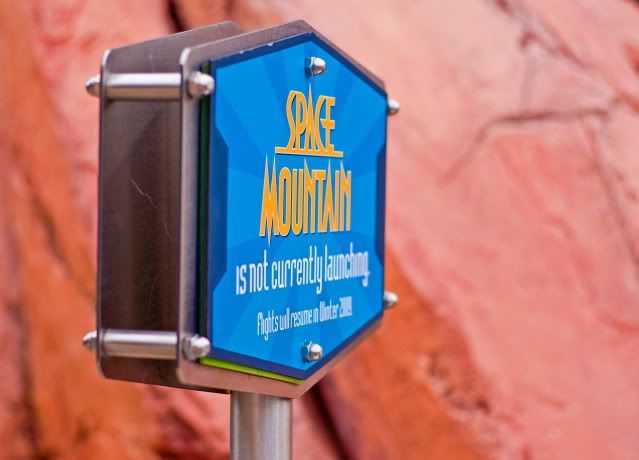 We rounded out the day with the typical favorites: Teacups, Buzz, Pirates, Haunted Mansion, Country Bears, and Carousel of Progress. Over near Carousel of Progress is the seemingly abandoned Stitch's Supersonic Celebration stage. Although I heard terrible reports about it, I can't help but hope something takes it's place soon. Whether it be another Stitch show or something different, that building should be used for more than a glorified (albeit one with neat content) Tomorrowland billboard. While I was in the area, I snapped a shot of what, based on all reports, I can only presume was the most compelling aspect of Stitch's Supersonic Celebration: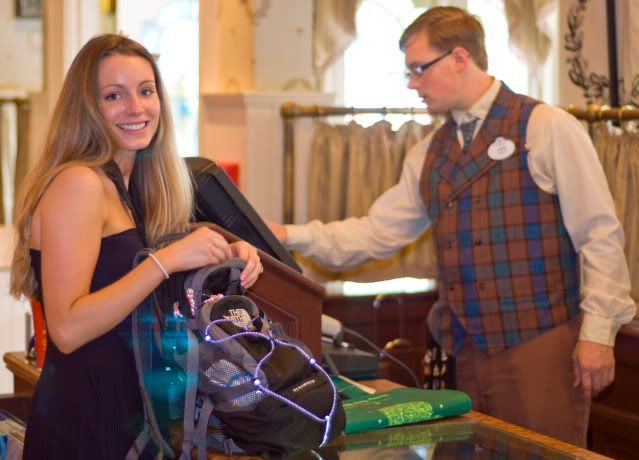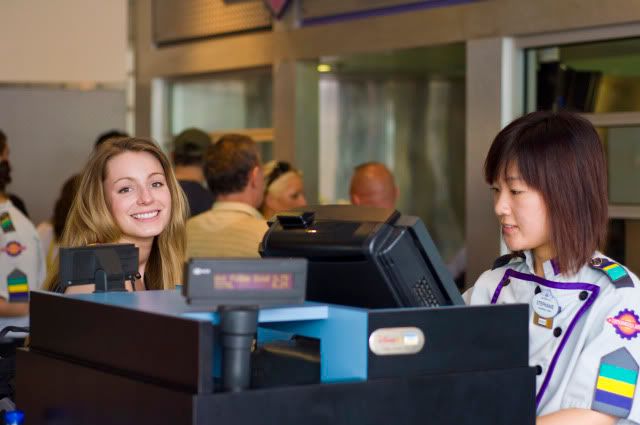 Given it was our last full evening in the MK, and since I still hadn't gotten "the shot" that I had envisioned in advance, we decided we would stake out spots at the Main Street Train Station an hour in advance. Unsure if this would be enough time, we decided to scope out the train station an hour and forty five minutes in advance and found that there were already people camped out. When I asked a couple people if they had done this before, someone indicated that on Friday, there were no 'front row' spots for the 9 p.m. Showing as of 6:30 p.m. Wow. We thought about it for a second, and ultimately decided the wait wouldn't be so bad, and that one of us could go to Casey's to grab dinner.
Being the coordinated one, I was nominated to get the dinner. After finding that Casey's didn't have enough options, I headed to Cosmic Ray's. Unfortunately, Sonny Eclipse was a bit disappointed when he heard my dinner was to go, but I think he understood. Let me tell you, though, carrying a full tray of food across the Magic Kingdom was not one of my favorite experiences. Never have darting children loomed so heavily on my mind.
Getting food and the eating thereof consumed (HA!) a good deal of time, and after that, I fiddled around with some shots.
Then I heard the Spectro pre-parade announcements, and it was go time. I put the Tokina on the camera, and readied the settings, double-checking everything as I knew I would only get a couple cracks at 'the shot'. As a little background, this is a shot that I first envisioned while studying for finals in May (I think of any reason I can to daydream while studying). At the time, I was absolutely ecstatic about the shot. I thought it had never been tried before, as I had never seen a shot like it. That did, however, get me a little worried, as usually when I think of a shot that I have never seen, it: a) can't be done, or b) has been done, and I just haven't seen it, or forgot I have seen it. Although I later saw discussion about this type of shot (which was a little deflating since I thought my idea was unique!), I still have yet to see a Spectro long exposure.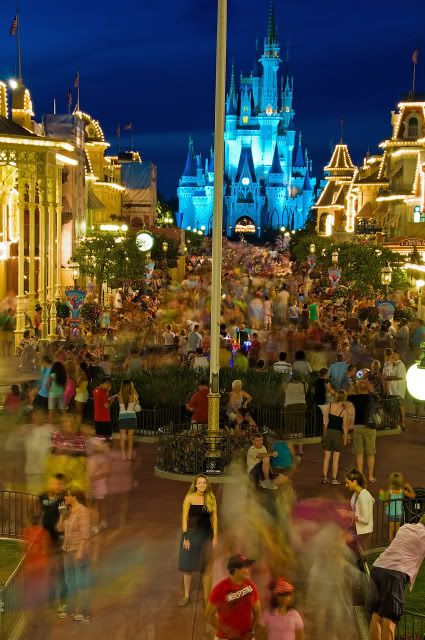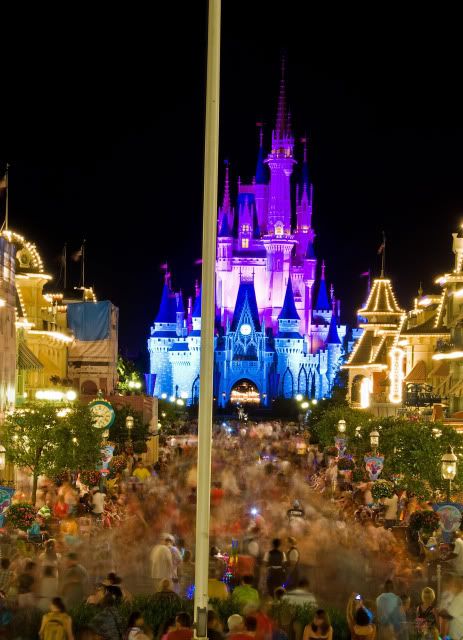 Given that I had been waiting so long to get this shot (and since it was at the "top" of my list), I wanted to get it as quickly as possible. However tripod issues and large crowds postponed it until the last night, when I expected crowds to be lighter. Of course it was just as packed the last night as the night's prior, with the only difference being that the last night only had 1 showing of Spectro, versus the previous night's 2 showings. It didn't end up working out the way I expected, but I was pleased with the results nonetheless.
Since we had waited so long for the spots, we decided to stay for Wishes! That meant I would be precluded from any truly good shots, as the flagpole would fall squarely in the middle of the frame. I'm hoping some of these shots can be salvaged with more thorough post processing. That left me at 0 for 5 on fireworks shows for the trip! I guess there is always next time.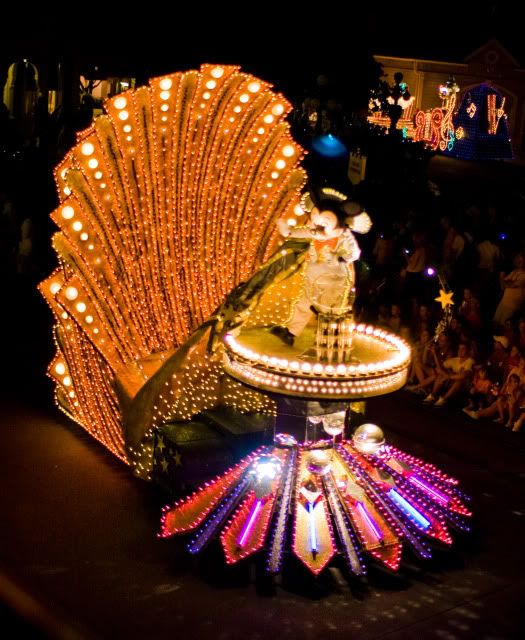 Taken by Sarah
After Wishes, the park closed. Given the crowds, a 10 p.m. closing seemed highly inappropriate (I learned that the next day, park hours were extended with a PA announcement during the day). If one thing is for sure, it's that I don't think we'll ever set up camp at the Main Street Train Station when the park is closing right after Wishes! Fighting the crowd to get back to Liberty Square was extremely difficult. Before heading to Liberty Square, we decided we'd hit Adventureland (for the first time) as we anticipated heavy crowds at least for an hour and a half after closing given the time. However, Adventureland was already cleared! I guess we'll have to wait until next time for any shots there.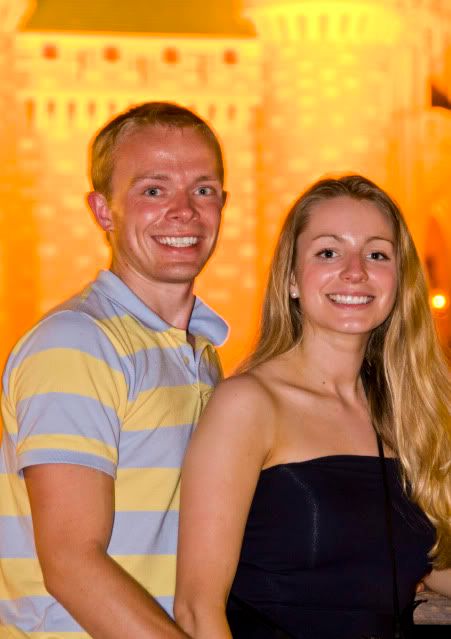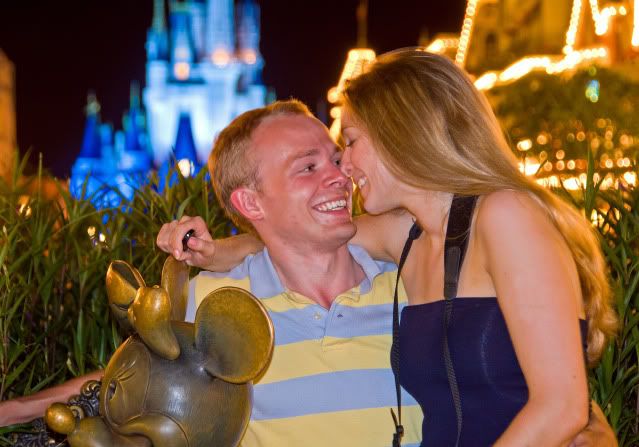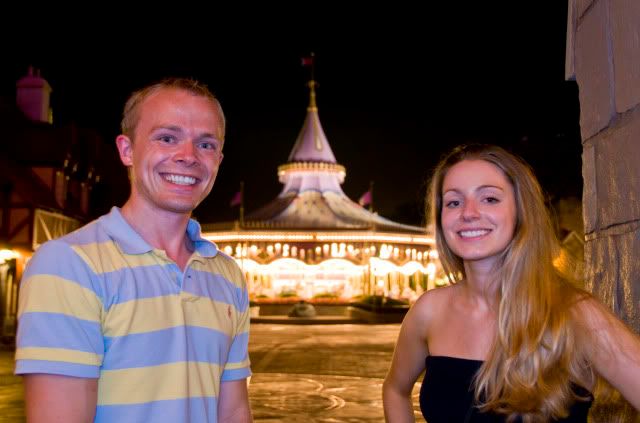 The following shots were taken by Sarah: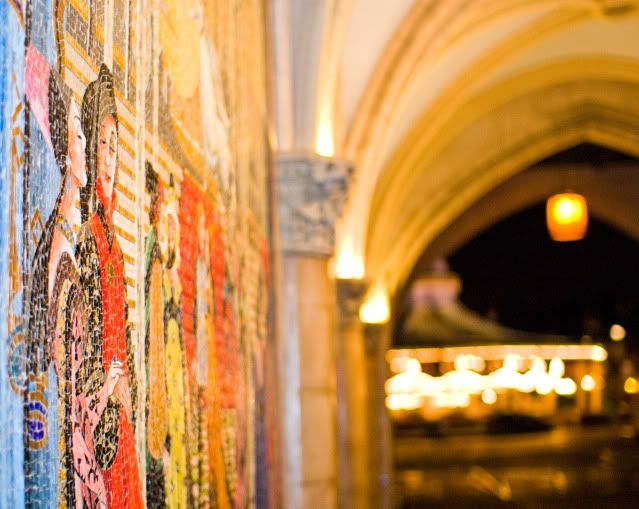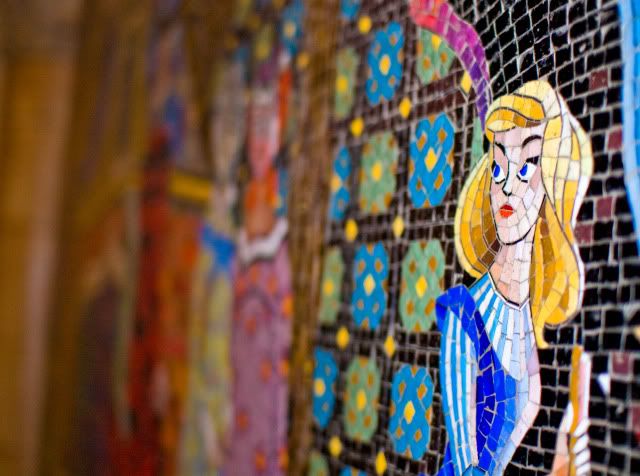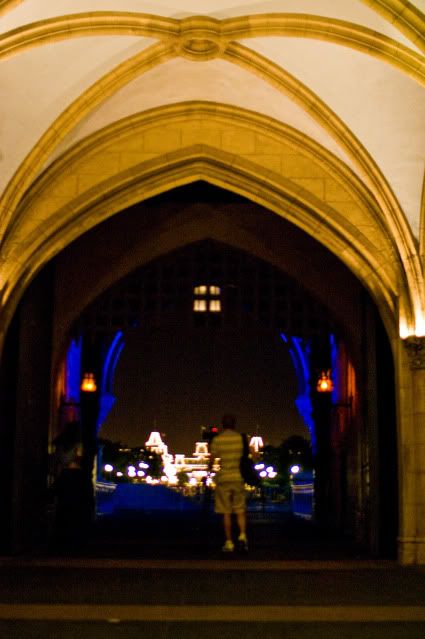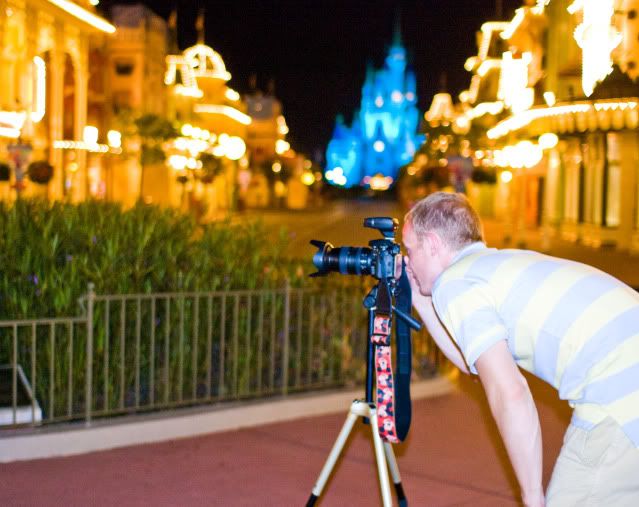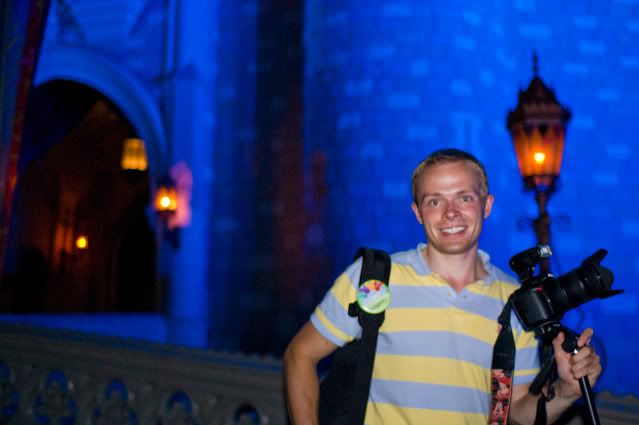 We immediately headed to Liberty Square to get some shots in front of the Haunted Mansion and the Liberty Belle. After that, we noticed the park quickly clearing, so we headed towards the Castle. With those shots accomplished, we proceeded on to the Train Station area (the Roy and Minnie statue, specifically) to get some shots there. That done, and with us the last guests in the park, we headed towards the exit. Before we left I turned to snap one last shot of the time just for "proof" an hour and thirty five minutes after closing. Not bad. We again had a bus to ourselves.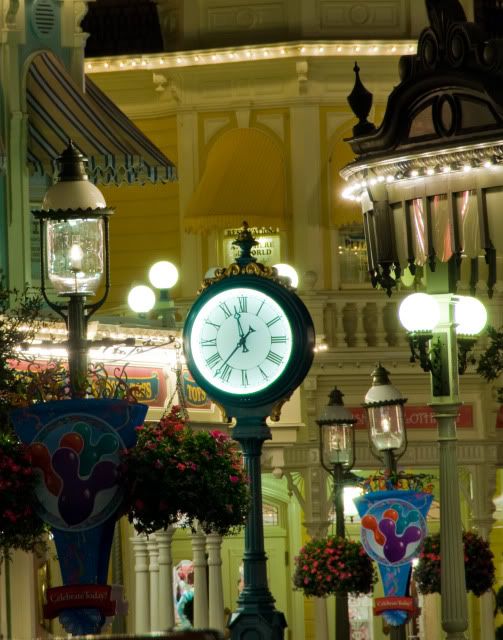 CHAPTER VII: The Final Act
The next morning was morning EMH at the Magic Kingdom, and our last day. We decided to sleep 20 minutes after our alarm went off, which meant getting to the Magic Kingdom by 8 a.m. would be a race against the clock. When we got up at 6:25, I began racing, packing our bags to take them down to Bell Services, and getting on the bus. When we got in line for the bus at 7:35 a.m., we thought we had no chance of getting onto the bus that was already there. We made it, along with about 5 guests behind us. Phew. From there, it was a race against the clock. The bus finally arrived at the MK at 7:54 a.m., giving us 6 minutes to race to the turnstiles for the opening ceremony. We made it! 7 days, and only one park opening, but at least we accomplished that one!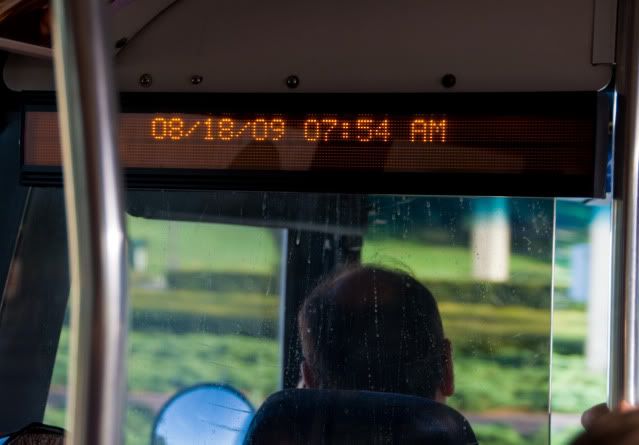 We raced to Frontierland to get FastPasses for Splash Mountain. Unfortunately, Splash was not running (technical difficulties), so the line for Big Thunder was already 20 minutes. The wait was worth it, as the ride was fun as always.
At this point in the trip, the reality that it was almost over set in. Barring the advent of a time machine or money tree (either of which could allow us to stay perpetually), it seemed our vacation was about to end. When such a realization sets in, what do you do? What last minute attractions do you visit? For us, the answer was clear: Pooh's Playful Spot!!!!
Okay, maybe not. We then actually headed for two trips around the Haunted Mansion, where I had my best morning of shooting. I successfully captured the caretaker (albeit not with full frame ISO quality) and several of the graveyard scenes. Following Haunted Mansion, we checked on the status of the money tree and time machine, and still found nothing. Come on, Disney, if you can build a walking dinosaur, you can sure build a time machine.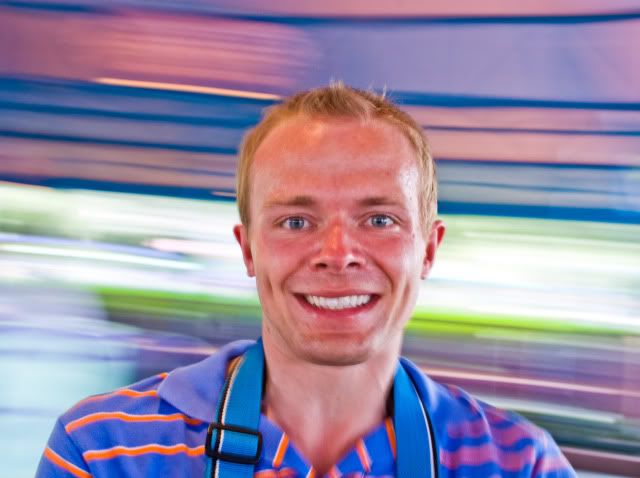 We then headed over to Tomorrowland to experience our favorites, Carousel of Progress and Buzz, and there we saw Buzz, and he had a short wait. After meeting our hero and informing him of our prowess at defeating his enemy Zurg, we headed to Frontierland to use our Splash FastPasses.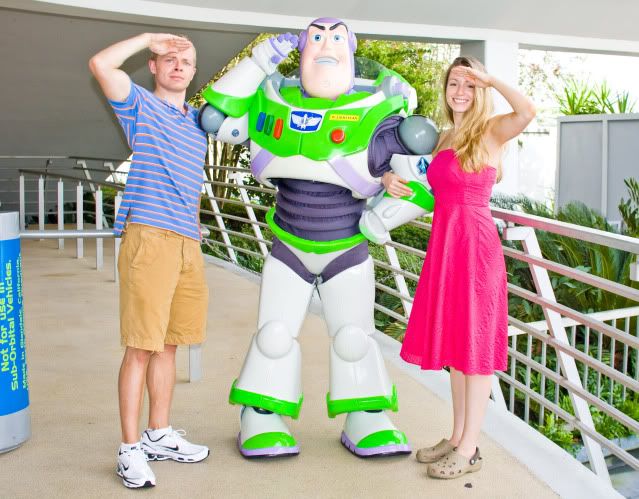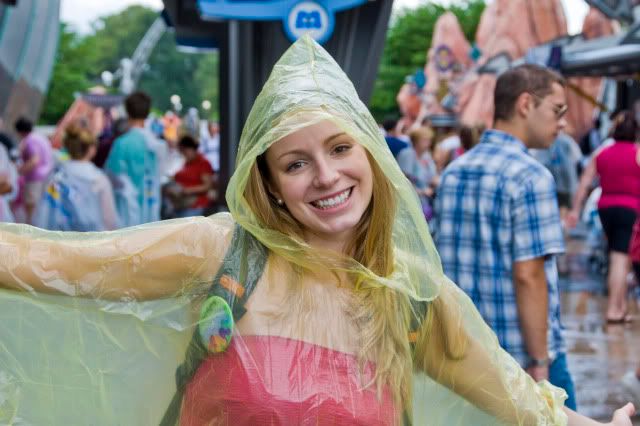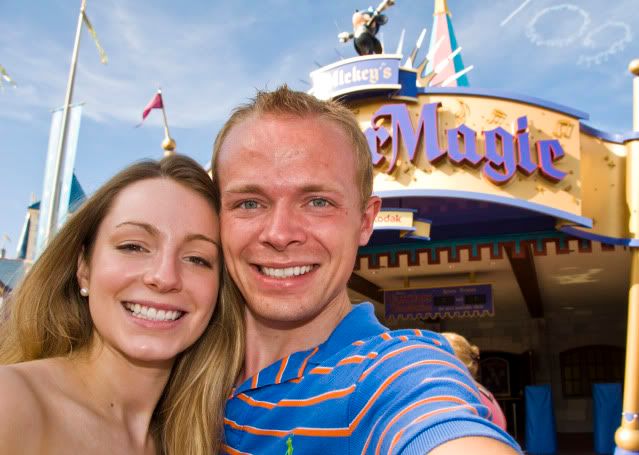 On the way, we saw Cowboy Goofy, who also had a short wait! In fact, the park in general was less crowded than the previous day, although it was still busy. Somehow, though, the park hours were extended that evening. If only the same would have happened the previous day.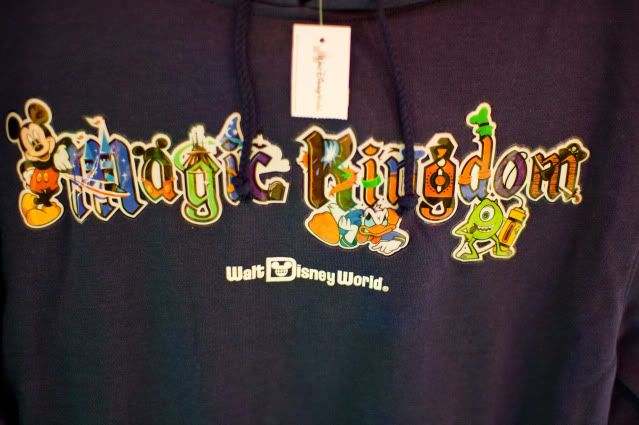 Seeing the old logo being used again on a lot of merchandise was really, really cool. I hope Disney continues with this trend!
We then committed a Disney Sin. We ate at Peco's Bills. I felt, and still feel, like we betrayed our good friend Sonny Eclipse, but hopefully I will someday move on. After lunch, the day was almost over for us. We took in a few more attractions, then bid our Magic Kingdom goodbye.
The trip back to the Magic Kingdom was sobering. We were slowly coming back to reality, thinking about terrible topics such as "work", "school", and "gas prices". I suggested we run out to purchase some lottery tickets to solve all of our problems, but Sarah cautioned that perhaps the lottery would not solve our problems, but only make them worse.
At this point, the trip was effectively over. We took the DME bus back to the airport, and ate at McDonald's one last time. We then screwed around on the internet thanks to the free wi-fi, and almost missed our flight because we didn't go through security until 45 minutes before our flight (I've never seen a line that long for domestic security!) Unfortunately, we would not be staying in Florida, no matter how hard we tried.
The trip now only lives on in our memories, and through our scheming to take another trip. Hopefully you have enjoyed this exceedingly long trip report. I am sure most people haven't read it all the way through, and I certainly don't blame you!
Check back here as I add pictures that I post on Flickr. Any image that has the "Bricker" watermark links directly to Flickr. If you want more information about the image (such as EXIF data, commentary, etc.) or you want to navigate to previous trip's images, head there. Most of the decent ones have now been purged thanks to my 200 image limit, but some are still there.
Again, thanks for reading the report. We hope to See Ya Real Soon!