Disneyland Trip Report Part III
Part III of III: Disney California Adventure Day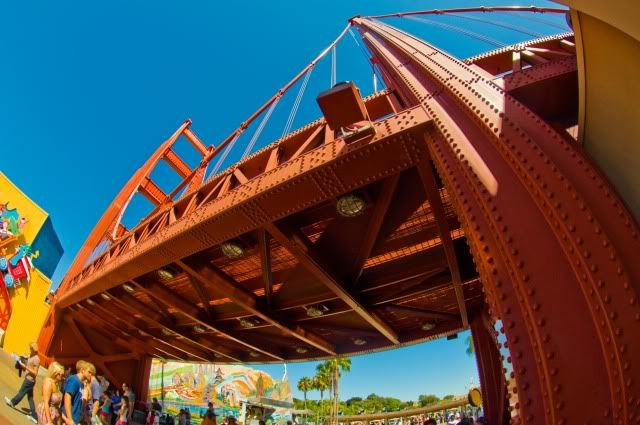 The next morning was another late start. We arrived at California Adventure around 10 a.m., and immediately headed over to the Grizzly River Run FastPasses to get our World of Color tickets. Quite the line, but we were fully expecting this. With tickets for the second showing in hand, we decided to get some breakfast. We opted for pizza, the cornerstone of any nutritious breakfast. It was absolutely delicious. Pizza Oom Mow Mow was themed interestingly, with almost a 90s-ish neon surf vibe. For some reason, it reminded me of those "LA Lights" shoes that everyone wore (you weren't cool unless you had them!) in the 1st grade.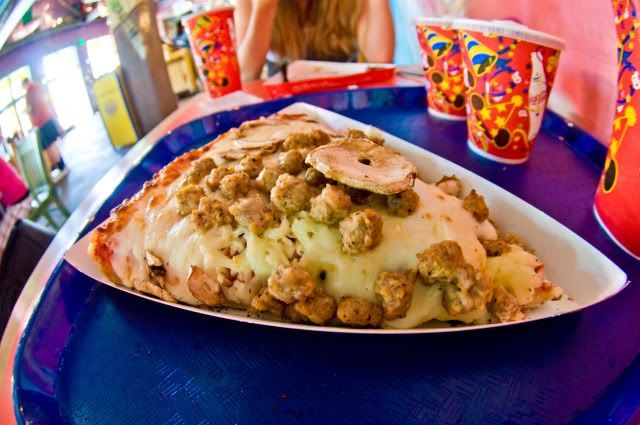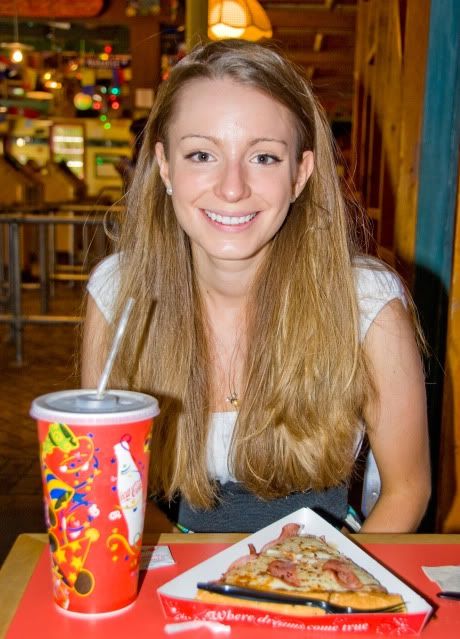 After that, we sort of just wandered around Paradise Pier for a few minutes, looking at all of the sights. For this being our first trip to Disneyland, and for us typically being somewhat commando tourers, this was decidedly slow-paced. It was nice to just take in the parks our first time, though. I realize that a lot of Paradise Pier has already changed, but I found it to be nice, for the most part. Certainly, any comparisons to Dinoland at Animal Kingdom are misplaced. Dinoland is story to explain away poor substance, Paradise Pier is a pretty detailed, almost Victorian, boardwalk with some enjoyable attractions. Plus, it's absolutely gorgeous at night. It's definitely not my favorite land, but I was expecting some cheap carnival, and that it definitely is not. My biggest complaint about the Pier would actually be that the water looks bad during the day with all of the little "lily pads" for World of Color sticking up. I really wish those were retractable. Still, just a minor qualm.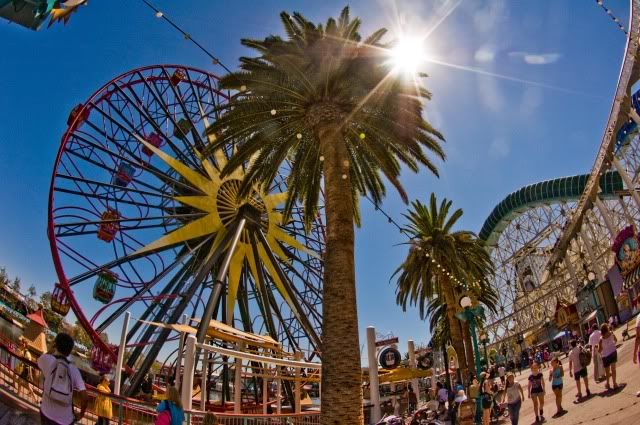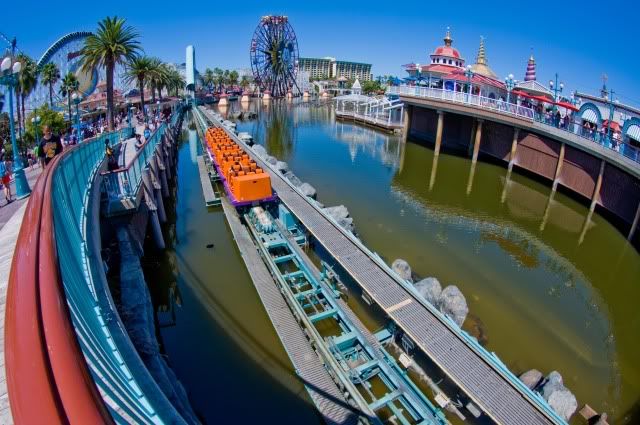 We then strolled our way over to the Hollywood Backlot, ready to experience the dark ride of one of our Pixar favorites, Monsters, Inc. Unfortunately, it was down. At this point, we realized we had been in the park for an hour and hadn't experienced any attractions. Wasting valuable morning time is not something for which I'm too keen. We resolved ourselves to heading for the nearest attraction, and experiencing it. Tower of Terror was that attraction, so we went for it. The 30 minute wait was more than we had in mind, but we realized walking to another attraction would've taken at least 10 minutes, and we were unlikely to find a 20 minute wait at anything else, so we went for it. Luckily, just as we entered the line, a CM pulled us aside, handed us FastPasses, and sent us through the FastPass line with the red 'time' cards.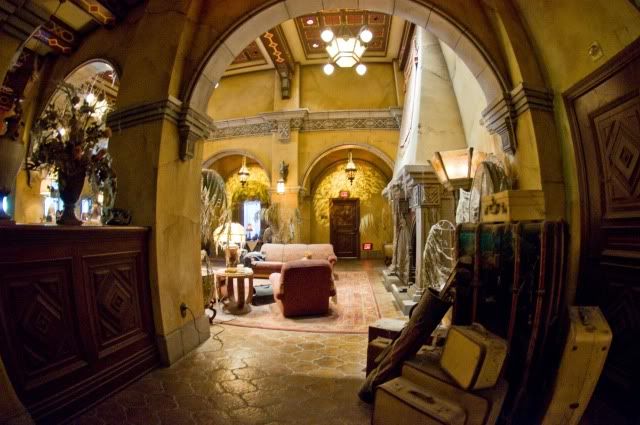 No more than ten minutes later, we were ready to board our elevator! Prior to that, however, we carefully hunted for references to the Twilight Zone, which are scattered throughout the library. There are a few different ones than in WDW, which was cool to see. As a huge Twilight Zone fan, the detail of that attraction, and the little references, never ceases to amaze me. I was also surprised to see the attraction itself is dramatically different, as the elevator doesn't navigate through a hallway; rather, you see of the show scenes as the elevator ascends up the elevator shaft. Overall, I like the WDW system better, although I wish the transition to the hallway were smoother.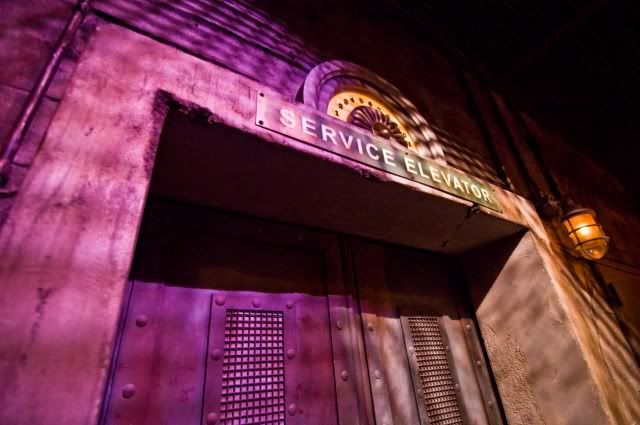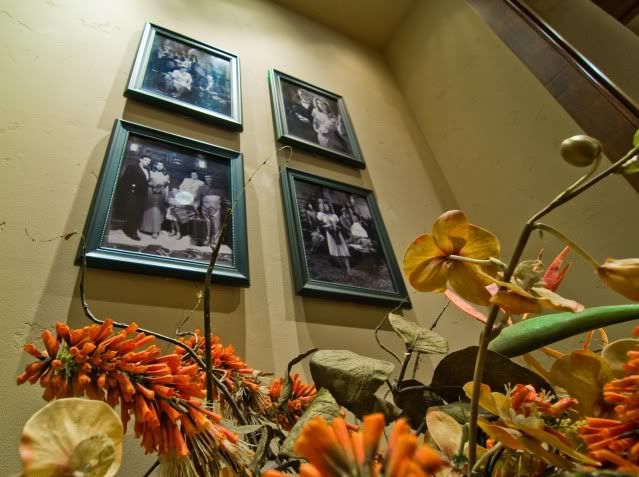 I took some photos for my own personal files as we exited the attraction, and then, outside we saw Pluto, all by his lonesome! As big character photo people (I know, we're dorks), we were shocked that he had no line. I guess the California crowd is too cool for character photos. As corn-fed Midwesterners, we're not too cool for anything! We got a few shots with him, and then collected FastPasses for a future stay at the Hollywood Tower Hotel.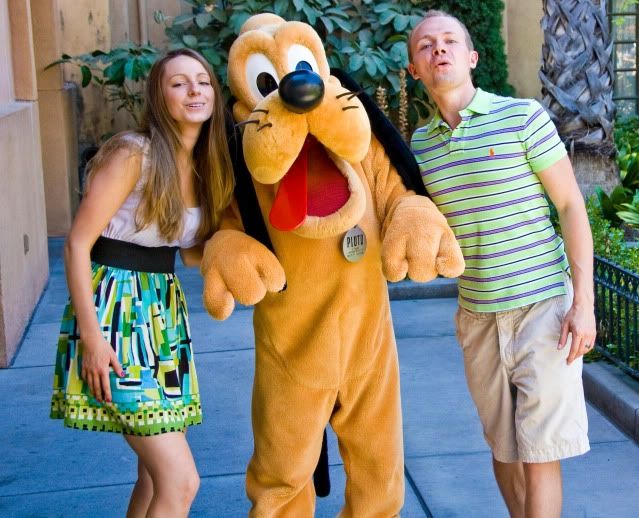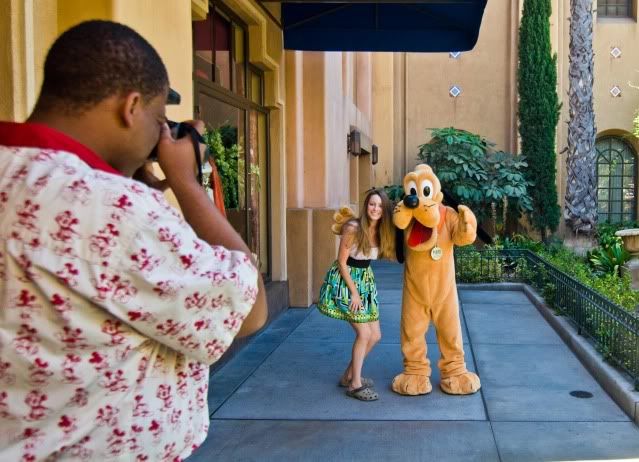 After that we noticed that Aladdin the musical was about to start one of its shows in about 15 minutes. The Unofficial Guide had great things to say about this show, and we did not want to miss it, so we got in the line. Much like the Nemo subs, the Cast Members at the queue entrance should slather butter on guests lining up, because they bake you in that queue. There was little shade and the high sun was beating down on us. I can't imagine waiting in line for 30 minutes like some of the folks there had done. Even though we were near the end of the line, somehow, we got great front row balcony seats! With my 70-200mm f/2.8 lens mounted, I was prepared to do some photographing of this show!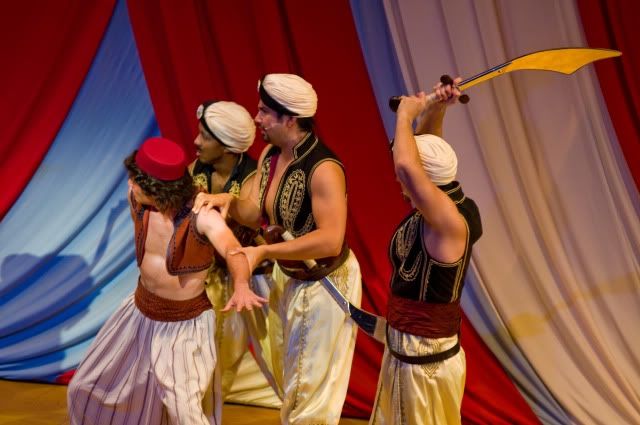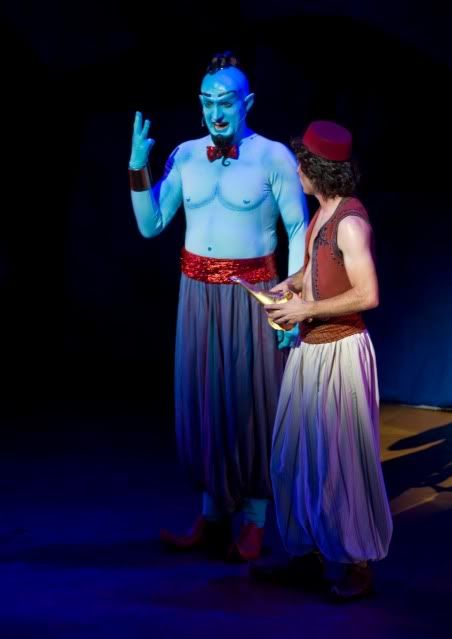 Once it started, I found myself barely picking up the camera. From the very beginning, it was captivating. When the Genie made his first appearance, it became captivating, irreverent, snarky, hugely theatrical, and rife with pop culture references. As Barney Stinson would say, it was legen-dary! It combined the perfect amounts of grandiose, humor, song & dance, and drama. It is without question the best stage show we have ever seen, and it easily beats Finding Nemo: the Musical, which I previously thought was un-toppable. It's really that good. I actually prefer it to the the animated version of Aladdin. Although it's like comparing apples to hand grenades, it and Indy were probably tied for my top two attractions at DLR.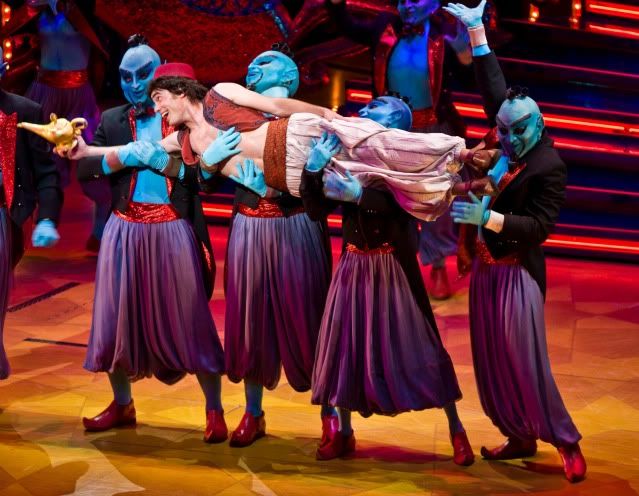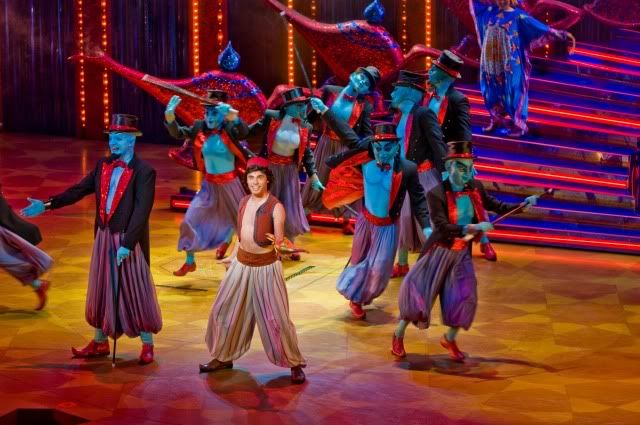 Following this, Monsters, Inc. was finally back up and running. The queue for this attraction was pretty cool, and it moved quickly. Two pluses, in my book. I wasn't expecting too much, as I recalled reading an old Jim Hill Media article about how it was merely a reskinning of an atrocious attraction called "Superstar Limo." Well, my expectations were exceeded, and then some. This is a new classic dark ride in my book, with some great scenes. A couple of my favorites include the "door storage" area, disappearing Randall, and the Chinese restaurant. The attraction in no way, seemed like it was just a retro-fit. Nothing stuck out as being reskinned. It was, without a doubt, one of the best dark rides we've experienced. Something we'd definitely do over and over.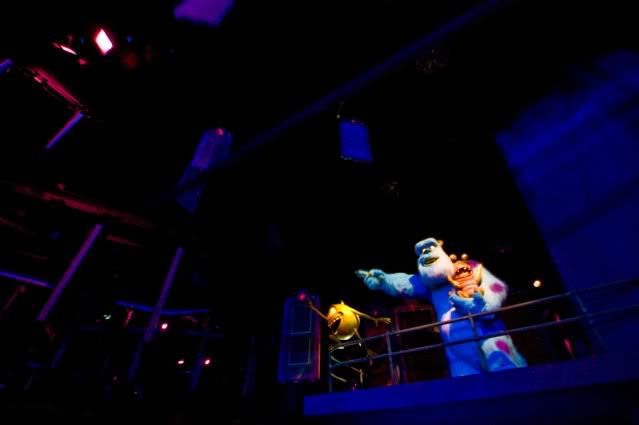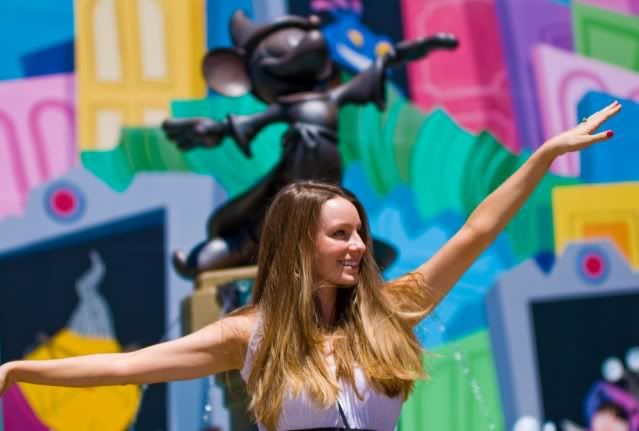 When we exited, we noticed Mr. Incredible in the courtyard outside the attraction. Again, no line! The Incredible is probably our least favorite Pixar film, but if a character has no wait, we're definitely going to get our picture with him–he could be a Teletubby for all we care (well, maybe not a Teletubby, but you get the idea).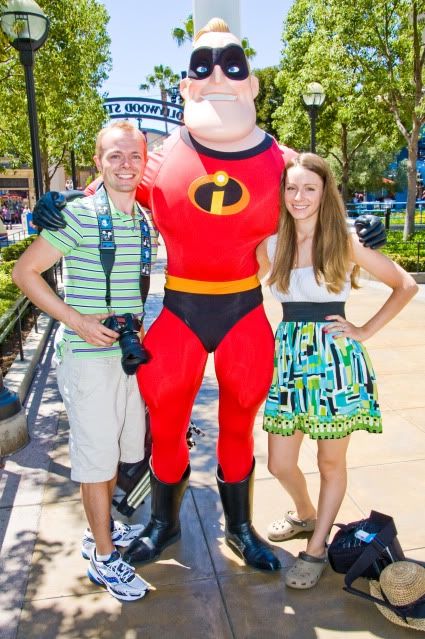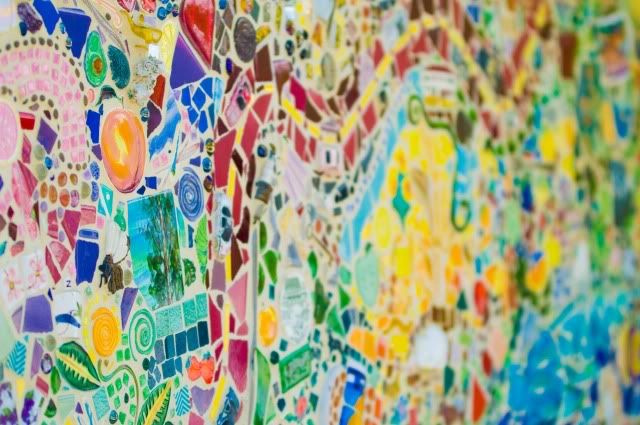 We thought Ice Cream might be a good idea, so we wandered over to Condor Flats. Sarah had her eye on something at a stand, while I headed into Taste Pilot's. Pretty cool building, especially adjacent to Soarin'. I only ended up getting a large Coke (after going to bed at 2 a.m. and getting up at 8, I was a little tired) to give me a jolt of caffeine. While there, I noticed some ridiculously delicious looking food, and made a mental note that I wanted to eat there later. I took a seat outside and waited for Sarah, just soaking up the Condor Flats background music.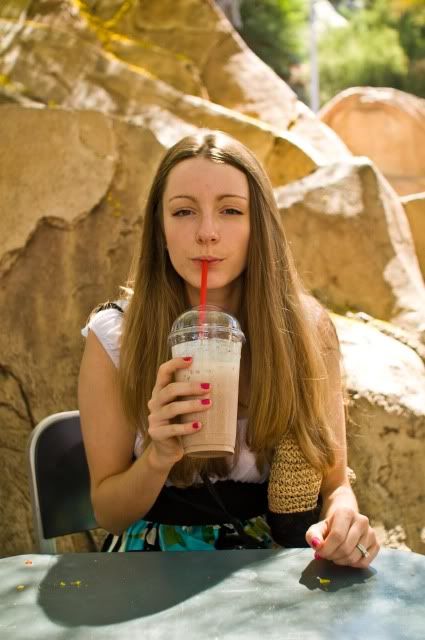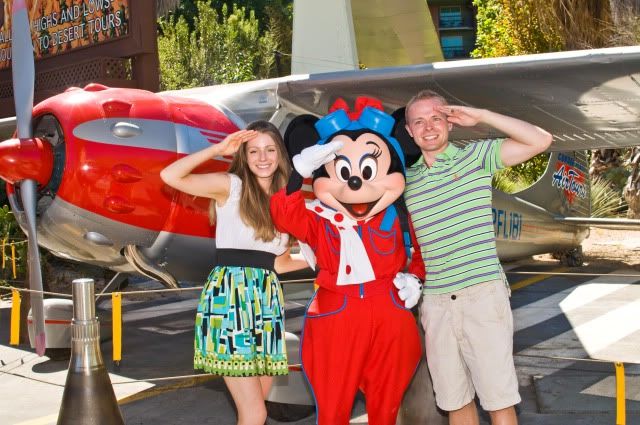 She returned with some sort of frozen mocha drink, and we chatted for a bit before heading towards Grizzly Recreation area to get Grizzly River Run FastPasses. Along the way, we saw Minnie Mouse dressed as an Aviator in front of a plane at the edge of Condor Flats. With only a short line and a character we'd never seen (unique to DCA is my guess), we knew we had to stop. After getting our FastPasses, I said to Sarah that we should pass through Condor Flats again, just to see if any different characters were out this time. Sure enough, Aviator Goofy was there. We got some neat (read: dorky) poses with him, and headed on our way to Paradise Pier.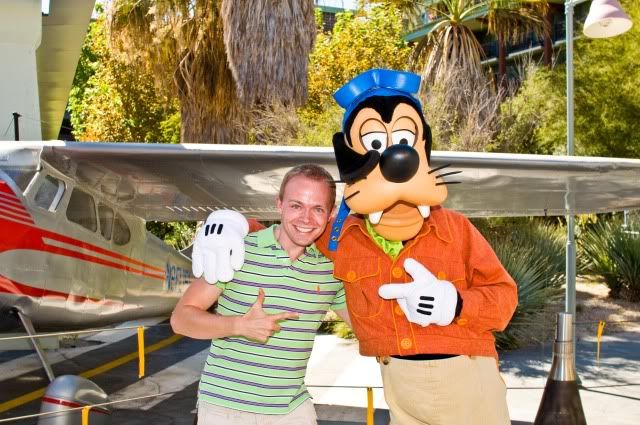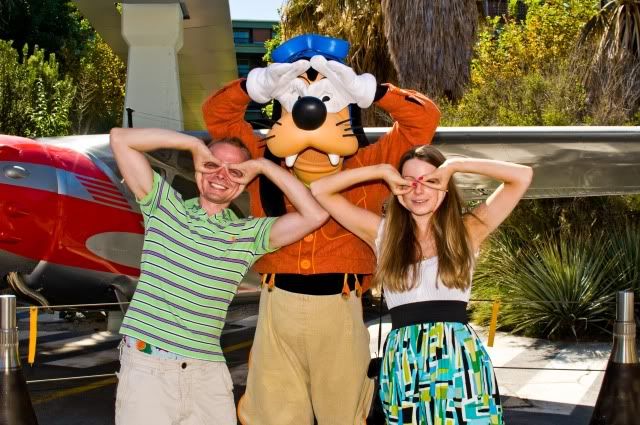 There, due to the extremely short wait, Sarah allowed me to do California Screamin' by myself. Even though I only waited about 5 minutes in line, I realized afterward that there was a single rider line that was walk-on. Oh well, can't win them all. The ride was awesome. I realize it's not the most exquisitely themed Disney thrill ride, but there is something to be said for seeing so much of the park. Plus, I just loved the crisp whites of the structure, harking back, like I previously wrote, to an old wooden coaster on a boardwalk. For what it is, it's done incredibly well, in my eyes.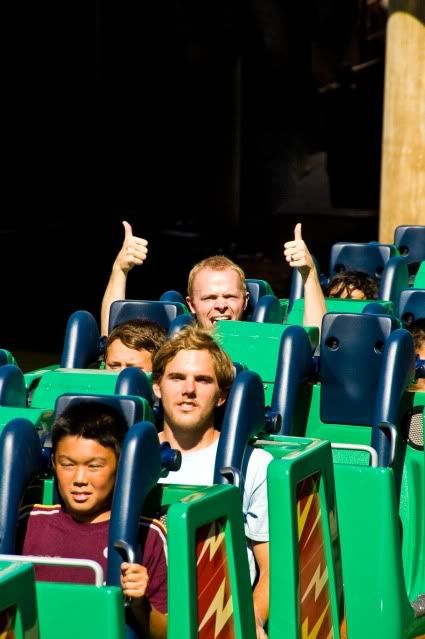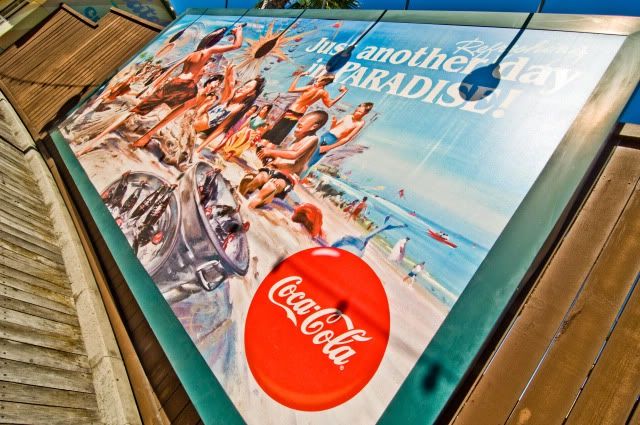 From there, it was on to another Pier attraction, Toy Story Midway Mania. While we were skipping some attractions with WDW counterparts (MuppetVision, Soarin'), we so seldom have experienced Toy Story (Midway) Mania at WDW that the thirty minute wait for this version really enticed us. Either FastPass really slows things down at WDW or its less popular at DCA, or both. My bet would be both. Based on the waits for Soarin, it similarly seems less popular out West. Although it has an added word in the name, TSMM is pretty much the same as TSM.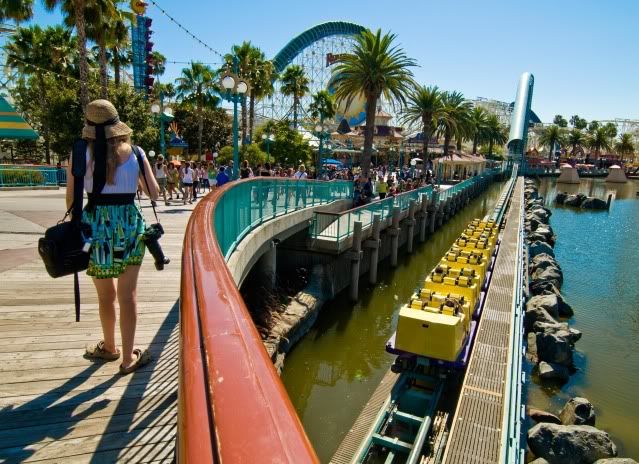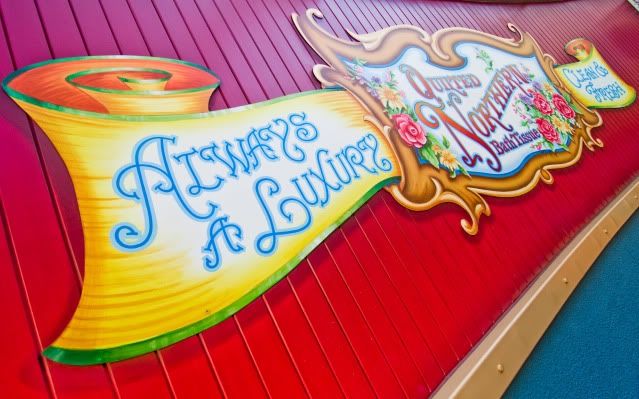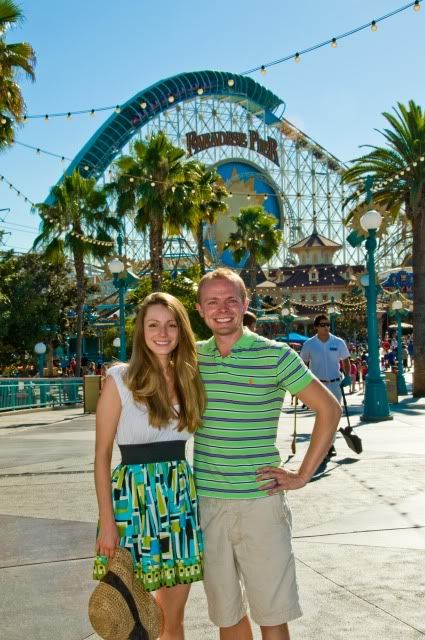 We now headed back towards Grizzly River Run for the moment that Sarah was dreading. We had ridden Kali River Rapids, once, on our first trip together in 2006. I barely got wet, and Sarah got drenched. Since, we have avoided it like the plague. The Unofficial Guide gave GRR high marks, so we decided to give it a try–poncho'd up, of course. While waiting in line, with our ponchos on, I got the bright idea that I would keep my camera out for the beginning of the ride. Well, I shouldn't say "my" camera, as my camera's battery had been quickly approaching nil earlier in the day, so I had put it in the bag for the rest of the daytime hours, only to use it again in the evening, where its settings and superior sensor would be more valuable.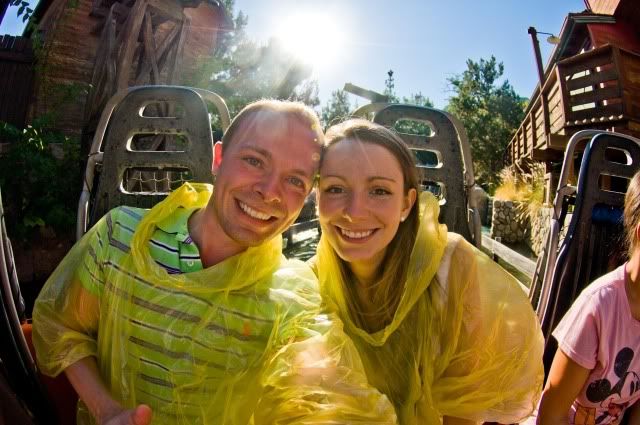 Keeping the camera out worked out fine. I put it under my poncho once we got to the top of the big drop, and it never got so much as a drop on it. Why people are so sensitive to their cameras getting wet is beyond me. The attraction was definitely better than Kali, as there were more details and it was longer, but overall it still wasn't quite as good as the build-up. As an (the?) icon of the park, I was sort of expecting more. In any case, it certainly looked cool!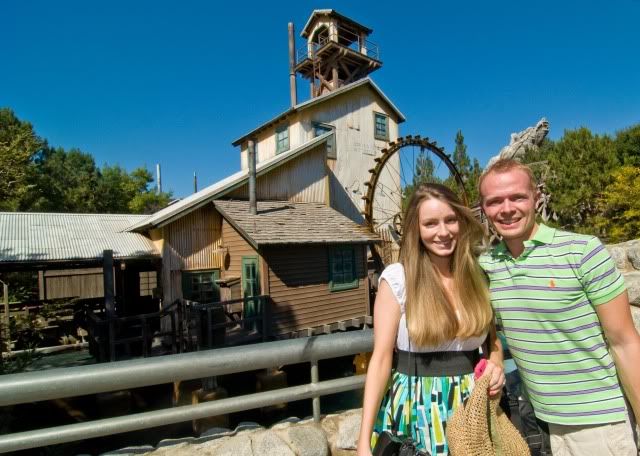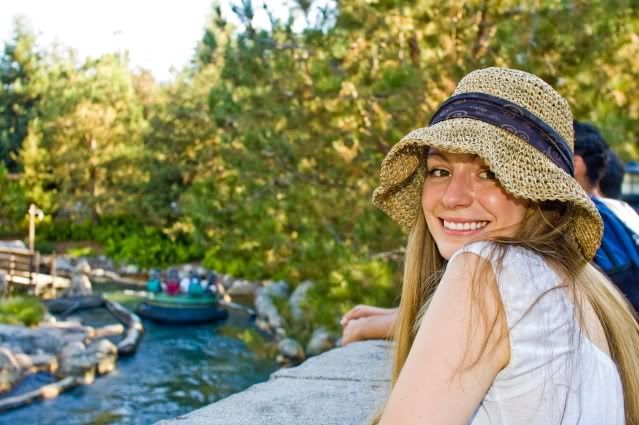 Grizzly River Run (6 Stop ND Filter) by Tom Bricker (WDWFigment), on Flickr
We still had our ponchos out, so we decided now might be a good time to walk across the Esplanade to Disneyland to give Splash Mountain another try. Plus, we thought it would be cool to say we walked from one park to another. However, as we approached the front entrance, logic got the better of us, and we realized that it'd be a long walk to the back of the park, and then we'd have to wait in the line, however long it may be, then walk back. All of this was a lot of time for only one attraction. Instead, we headed inside the Blue Sky Cellar, to see what might be open on our next trip to DLR.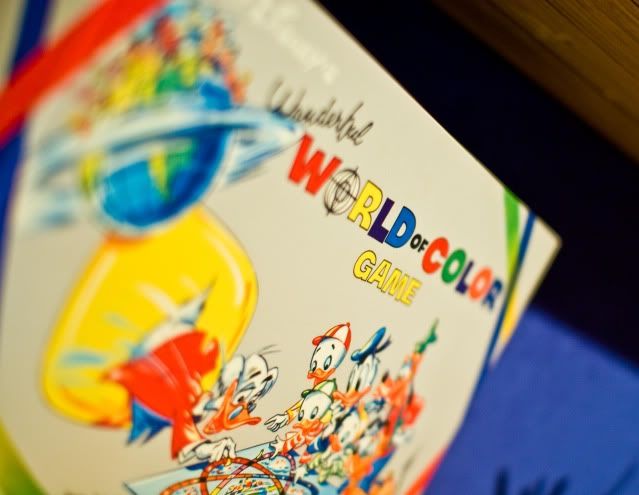 The Blue Sky Cellar was really cool. I've always said that Journey Into Imagination's post-show should be redone so that WDI sponsors it, and it features new technologies and highlights some coming attractions. After seeing this, my though on that was reinforced (although the techie in my still wants to see it mostly highlight tech, not whole attractions). At least maybe One Man's Dream will become somewhat of a Preview Center when it reopens.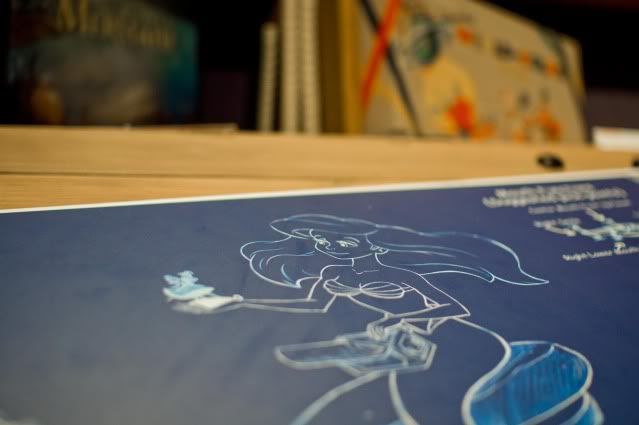 Looking through the Blue Sky Cellar, and the park itself, I thought to myself how enjoyable the park really is. California Adventure was easily my second favorite Western Disneyland Resort park. We were both pleasantly surprised by it, especially after all I've read about DCA. We both found it more enjoyable for us than AK, and very close to DHS. After all is done, I think it'll be better than DHS. Granted, it's difficult for us to compare the park we experienced to the one there on opening day, but it didn't seem as bad as it's been billed. Some areas had definite room for improvement, but some were solid. Once the Extreme Makeover is complete, I think DCA will be a force to be reckoned with, as one of the premier second gates right up there with EPCOT and DisneySea. We really can't wait to experience all of that, but even now, we found ourselves wishing we had more time to explore all of DCA, and really impressed with what we did see.
In my mind, this shows the power of a park being located out West. If WDW had the kind of AP pull as DLR, I don't think there's a chance any of the WDW parks would be in their present conditions. Likewise, if DCA were located out East, I don't think it'd be getting an extreme makeover.
Following the Blue Sky Cellar, we headed back over to Monsters, Inc. again. It was awesome, once again. I got the impression that Roz might have been part of the Living Character Initiative given the things she was saying at the end, but perhaps it was just luck/chance. Next time I'll have to pay better attention for accuracy and specifics. Cool AA either way.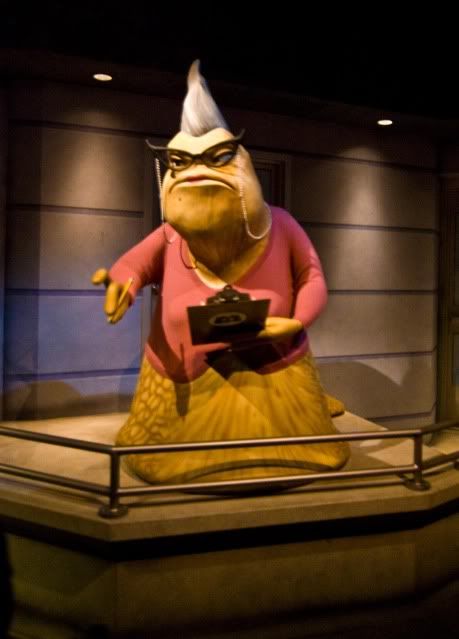 Our Tower of Terror FastPasses had long been ready, so we decided to use them. Nothing more needs to be said about this attraction. Its WDW counterpart is probably my favorite attraction on property, or close to it, and this one is nearly as good. If only all of the attractions conceptualized in the "Disney Decade" could have come to fruition.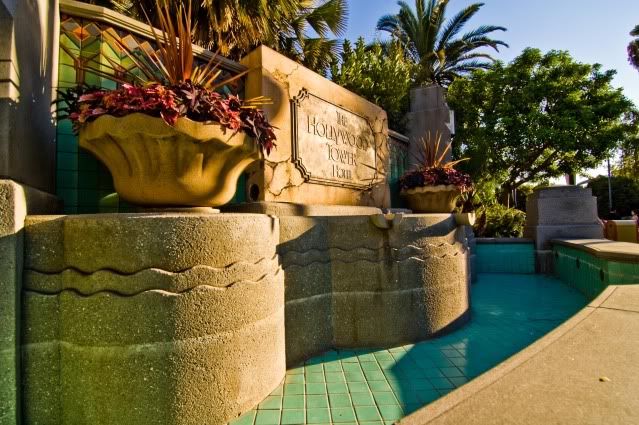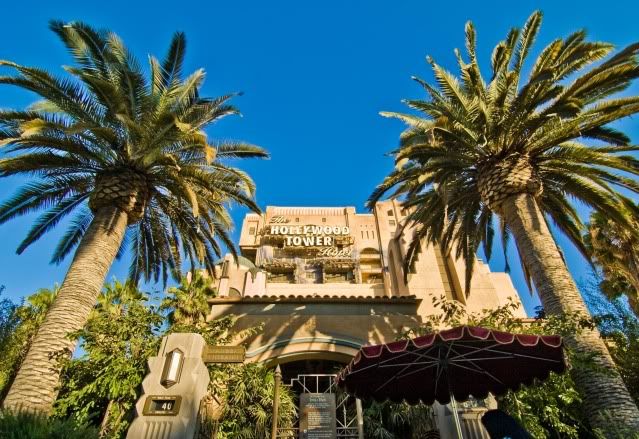 As we left Tower of Terror, we noticed that Aladdin was about to start, and the theatre was "loading." Having loved it so much the first time, we went to see another show. Although seeing it twice took a significant chunk of our day, it was definitely worth it. Genie's ad libs were different from show to show, so it was almost like seeing a different show. It alone would be worth the price of admission for DCA. I am honestly surprised there isn't more fanfare surrounding this show.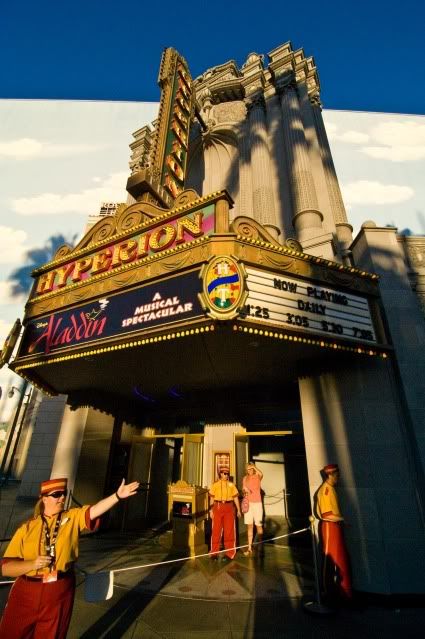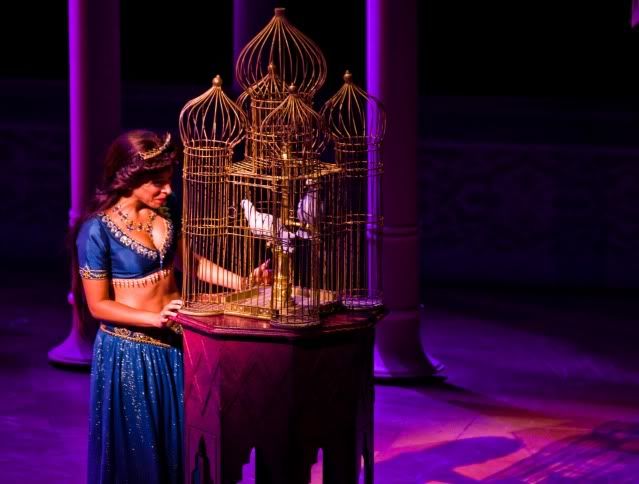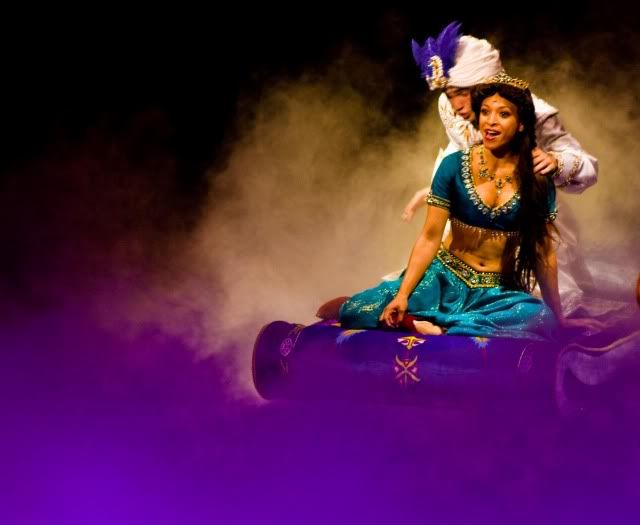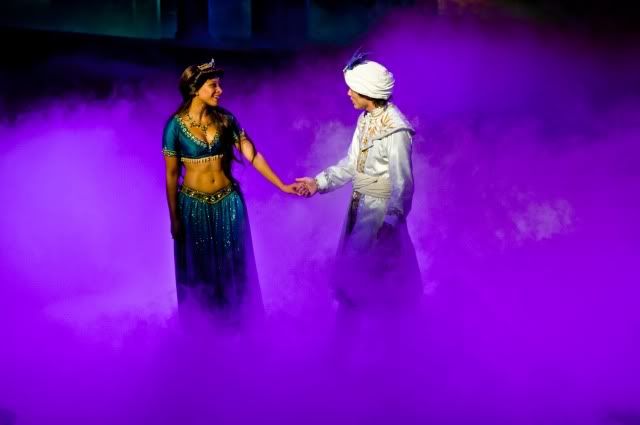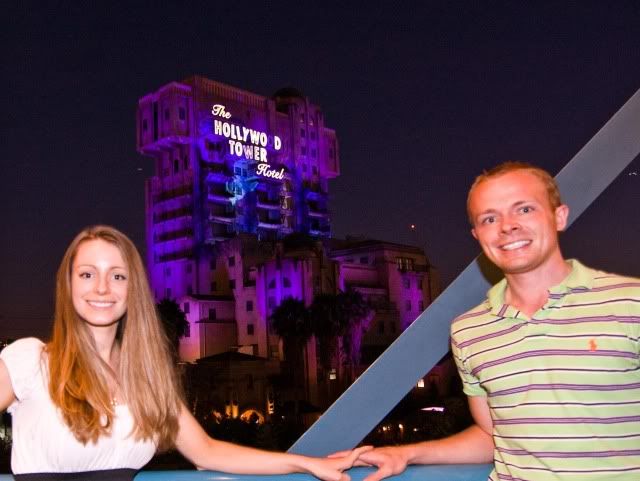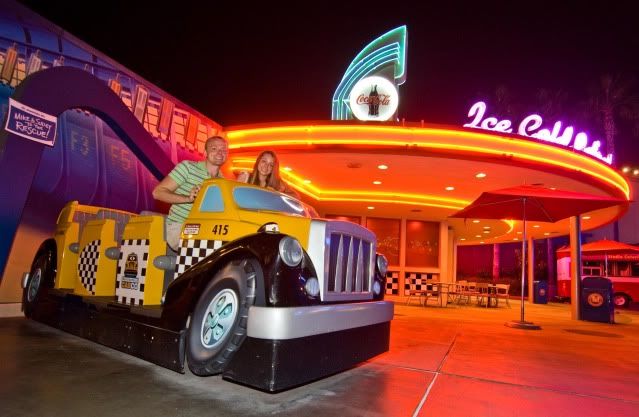 When we emerged from the theatre, night had descended upon the park. We were hungry when we entered the attraction, but by this time, we were starving. Sarah wanted some food from Cucamonga Mexican Grill, but nothing there looked all that appetizing to me. I had my eyes on the prize: the Aviator's Chicken Sandwich with the Full Throttle Fries and a large Coke. I am salivating right now just thinking about it (seriously, it's 10 a.m. here, but I think I might have to take an early lunch). I think if I were to have a "last meal," this honestly might be the meal I would pick. As always, I loaded the up with toppings from the Fixins' Bar, and headed out towards the Pacific Wharf (which seemed much farther away when carrying a tray of food) where Sarah was sitting. I make a point to get photos of all my food on our trips, but after such a long walk, I wasn't going to bother with any 'good' shots. I just set the camera to auto (a crime in the photography world) and left the camera fire a shot for future illustrative purposes. I now wish I would've taken the time to get a good shot, as I would set it as my desktop wallpaper!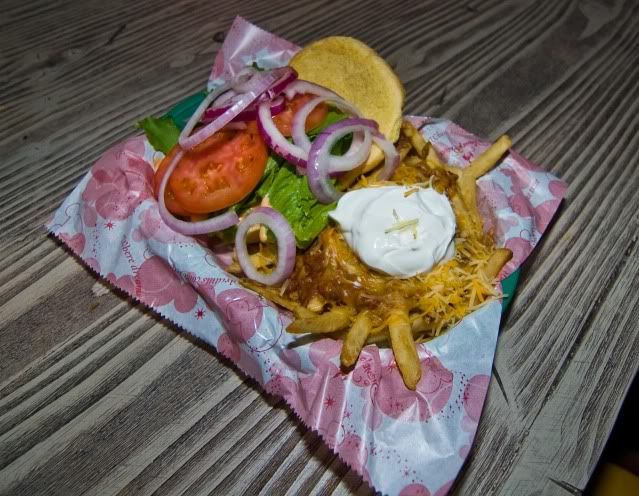 Throughout dinner, we heard the sounds of World of Color–but avoided looking over as that would ruin the surprise. As soon as we were done, we quickly left, not wanting to spoil any more of the show. It sounded really cool. After wandering through the Hollywood Backlot, and the Glowfest party, which Sarah loved, it was time to queue up for World of Color. As we entered the queue, I noticed a beautiful view of Grizzly River Run, and I gave Sarah that look that says, "May I go play? Please, please, please???" She obliged, and I ran off.
Fast forward to our viewing of World of Color…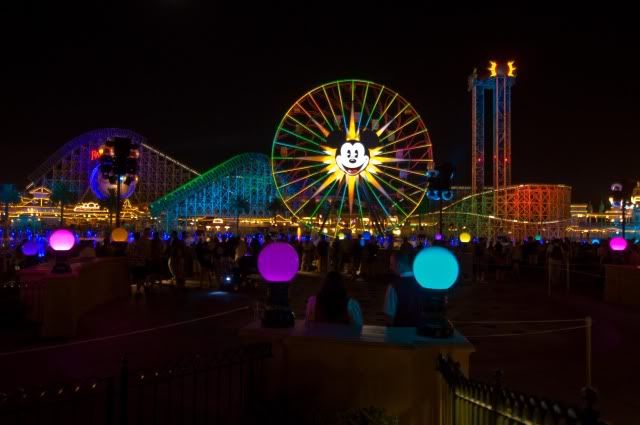 We sat down, waiting for the show to start. I played with my tripod, debating whether it would even be worth shooting the show from so far away. Ultimately, I decided to use it, but after only a few minutes of the show, I realized it was a lost cause, and packed it up.
Overall, I have really mixed feelings about World of Color. It was an awe-inspiring show, no doubt. The visuals were absolutely spectacular. However, part of me just couldn't get past the feeling that I was just watching a montage of Disney movie clips. I loved the water effects, don't get me wrong, and I got chills when the music first started playing and the water first started jumping, but I just don't think it was as 'layered' or unique as something like Illuminations. I'm not asking for something deep, it would've just been nice to see some more new content rather than snippets of movies. Like I said above, the effects and tech was incredible, and I could watch it over and over for that alone. Overall, it was pretty good, it just didn't quite live up to my expectations, admittedly, which were probably set too high.
When the show was over, the park was closed. I didn't think about this too rationally. I figured since the park was closed, no attractions would be open, and we might as well sit around for the next showing of World of Color. While we waited for this show, we headed over to the Pier, taking pictures along the way. We decided we'd enjoy it from one of the benches on the Pier, away from the crowd, and then take pictures afterwards. There were two problems with this: first, you can't see the show from the Pier, only hear it (I guess you can see it, in that you can see the water); and, second, that by the end of the third show, the park has been closed for 45 minutes, and security is ready to get everyone out. This meant that all of our pictures were incredibly rushed, and we didn't even end up getting any of us. Seriously, picture taking was a matter of Sarah walking slowly to set the pace for the security "sweepers" behind her, while I walked briskly ahead to snap a picture or two, pick up, and repeat. To call it slightly awkward would be an understatement. The first group of 5 or so security guards stopped sweeping us at the turn to the Grand California when I loudly said to Sarah, "I think it's this way to our hotel." I wish. This allowed us to wander through Grizzly Recreation area and Condor Flats (again, very briskly, as another security guard had started to "sweep" us). As we finally approached the front exit, I stopped for one more photo before we left. So long, Disneyland Resort parks!
Paradise Pier: Fun in the Sun for Everyone! by Tom Bricker (WDWFigment), on Flickr
Ice Cream by Tom Bricker (WDWFigment), on Flickr
As we exited, we noticed that Downtown Disney was still fairly busy. I asked Sarah if I could grab one quick picture over there, and she obliged. As soon as I set up my tripod, a security guard came over, and told me no tripods. This, literally, was the only shot I was going to take, and it was ruined because he stood in front of the camera. If he had come just 10 seconds later, I would've been fine. I completely understand the tripping concern, and he was really nice about it, I just wish he wouldn't have been so quick to see me.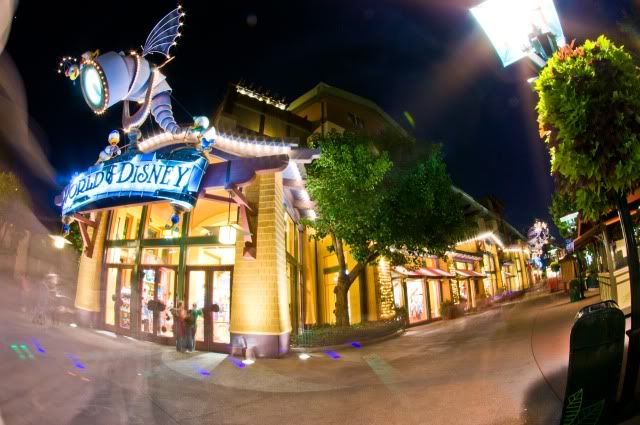 At that point, we left the Esplanade and headed back for our motel. The next morning, we'd have to get up bright and early to head to Huntington Beach for our friend's wedding, so our Disneyland adventure was over.
We approached this trip possibly as a once in a lifetime type thing. Not because we were anti-Disneyland, but because we seldom get out West, and any non-WDW vacation is likely to be non-Disney in general. However, this trip convinced us otherwise. I really can't compare Walt Disney World and Disneyland Resort, because they are so different. Both should be viewed as a whole, rather than as a sum of its parts. Each has its strengths and weaknesses, and we really enjoy both. Like I mentioned above, although I know there isn't such a value to staying on property at Disneyland (no transportation, no huge proximity advantages, no Extra Magic Hours), I think we'll be staying in the Grand Californian on our next trip–depending on price. One of our favorite aspects of WDW is that it is so self-contained, so apart from the real world, and this is what we missed most at DLR. I think if we can 'change' that, our next trip will be all that much better!
Disneyland regulars, I'm curious to hear your responses to some of what I've said. I know some of these statements have been pretty bold, or don't jive with fan sentiment, so I would like to see how my thoughts compare. I know we went into this trip a little (intentionally) blind, but I think we did a decent job. Now, it's time to learn the history of the park, the nuances, and the ins/outs so we can really enjoy Disneyland to its fullest.
We hope that you all enjoyed the trip report! (Although I don't think you would have read this far if you didn't.) With one more trips to Walt Disney World on the agenda for this year, rest assured that it won't be along before we have another one of these written. I also have a lot more pictures that I'll be adding to Flickr (and possibly here) to this trip, so check out my photostream if you want to see more shots of DLR.
See ya real soon!