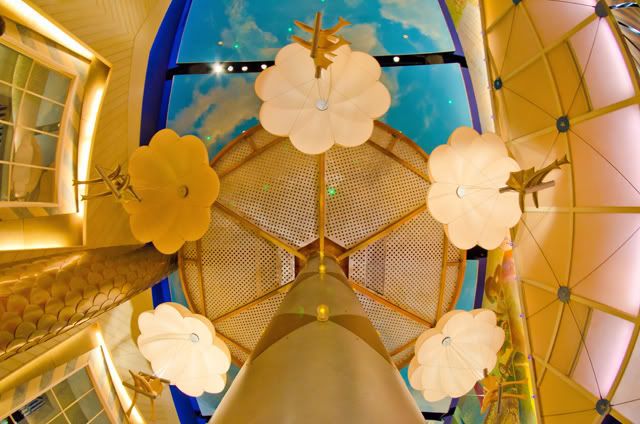 Flying Fish Cafe is a high-end seafood restaurant on the Boardwalk in Walt Disney World. Flying Fish Cafe recently had a top-to-bottom refurbishment that re-imagined the restaurant thematically. We have more details below about this re-imaging that will introduce a (partially) new menu, and an airier design, with more room for the popular Chef's Counter and wine dinners.
Once Flying Fish Cafe reopens, most of the main details are expected to remain the same. It participates in the Disney Dining Plan and also accepts the Tables in Wonderland card for a 20% discount. It's one of Disney's "Signature Restaurants" meaning it's a bit pricier than a normal table service restaurant and also requires 2 table service credits if using the Disney Dining Plan. None of that will change.
The cuisine is also of a higher caliber, as is the decor, which Disney describes as "Coney Island inspired." While the influence is visible, Coney Island is definitely not the first thing that comes to mind when dining at Flying Fish Cafe. In fact, it's beauty is a stark contrast to Coney Island. This is expected to change. What else will change? Let's take a look (including some concept art!)…
The entire interior, including the on-stage kitchen, has been redesigned with a sophisticated style paying homage to the golden era of seaside boardwalks. The new-look interior will include aquatic motifs, whimsical architectural accents, and a lavish chandelier (that reminds me of jellyfish!).
Along with this, there's an all-new menu by Chef Tim Majoras, a veteran of the Flying Fish kitchen. The new menu remains seafood-centric, and features sustainable fish and shellfish. This includes Chef Majoras' creations, such as corn-crusted shrimp, Alaskan king salmon, and Hokkaido scallops–all wild caught. Sommelier Stig Jacobsen has crafted a new wine list with nearly 80 selections by the glass.
We'll be revisiting Flying Fish soon to refresh this review based on the menu and ambiance changes, so stay tuned! In the meantime, here's our review based on prior experiences–much of which should still hold true post-refresh…
Some Disney restaurants offer exceptional ambiance. Some Disney restaurants offer delicious and beautifully presented cuisine. Some Disney restaurants offer wonderful entertainment. Some Disney restaurants offer exquisite service. Very few Disney restaurants excel in ambiance, cuisine, entertainment, and service. It seems like there's usually a trade-off. If you want great ambiance and entertainment, such as that offered at the Sci-Fi Dine-In Theater, you sacrifice high-quality cuisine.
Flying Fish Cafe is a rare breed of Disney restaurant. It's a Signature Restaurant that offers some of the best food on property, but it also excels in ambiance and entertainment. Plus, the location, right in the heart of Disney's BoardWalk, is second-to-none.
As soon as you're handed a Flying Fish menu, you know you're probably going to be in for a treat. The options are mouthwatering and varied, and you'll probably find yourself asking your waiter or waitress for "just a few more minutes" as you deliberate between the menu choices. Or, you'll do what we often do, and turn the table on the waiter/waitress, and ask what they recommend! The servers there are all knowledgeable about the menu, polite, and have made great recommendations based upon our "variables," in our experience.
The questions are plentiful when determining what to order. Should you start with the Crispy Maine Lobster Eggroll or the Floribbean Wild Gulf Shrimp Cocktail? Oak-grilled Loch Duart Scottis Salmon or Char-crusted Certified Black Angus New York Strip Steak for your entree? Just what exactly type of fish flies and why don't they serve those "fish of the air"?! Okay, maybe instead of the last question, it's more practical to ask something about dessert, but you get the idea.
Once you finally decide what to order, and await the arrival of your royal feast, you are free to soak in the wonderful details of the restaurant while you converse with your party in the perfectly lit restaurant. The ambiance is much better if you eat late–make a 9:45 Advance Dining Reservation and watch Illuminations before your meal! There's a beautiful mural above the open-air grill and bar area. Little "flying fish" circle overhead on parachutes.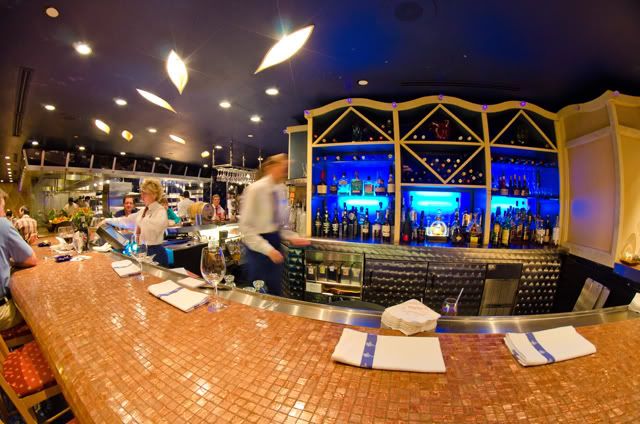 Similarly, you can get up and head over to the open-air kitchen, where you can watch the preparation of dishes (maybe it's just me, but I think it's reassuring when a kitchen is open air; I'm less concerned about the kitchen's cleanliness, as I can see it myself), which I think is entertainment unto itself! Or, if you're me, you can had to deserted areas of the restaurant and take photos of the interior's brilliant design!
When you return from the open-air kitchen viewing area, stop by the bar! It's one of a handful of signature bars at Walt Disney World where there are unique drinks rather than the standard Disney-Parks menu, and these drinks don't disappoint. Plus, they have Unibroue beer, which is a favorite amongst authors of this post named Tom.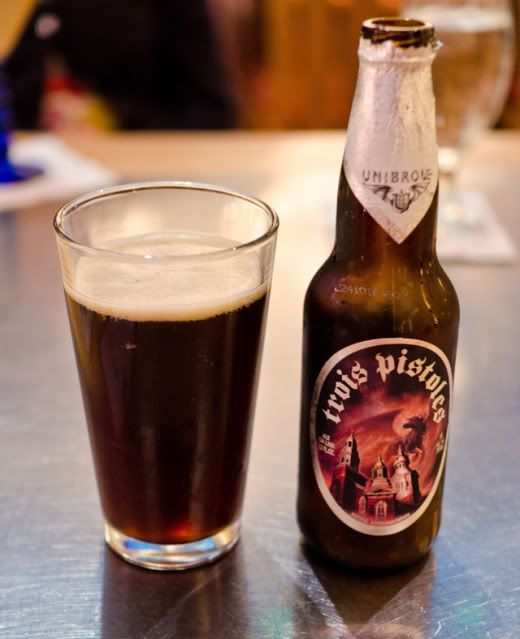 Flying Fish is one of those restaurants in which the time flies from the time you order your food until it arrives. We've never sat there tapping our feet, counting the minutes, there because the restaurant itself holds our interest.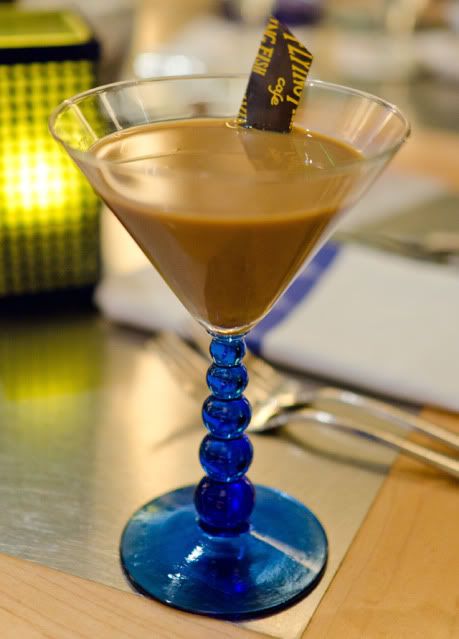 When our food does arrive, it's definitely the star of the night, no matter how great the ambiance and service may be. I love seafood, and at seafood restaurants, that's always what I order. The appetizers here are wonderful, although in typical seafood restaurant fashion, they're on the small side and somewhat pricey.
They are, however, delicious. This is especially true of the crab cakes and the sushi rolls. We haven't tried the calamari yet, but after hearing many positive things about it, and a few of the other appetizers, it's definitely on our list for next time!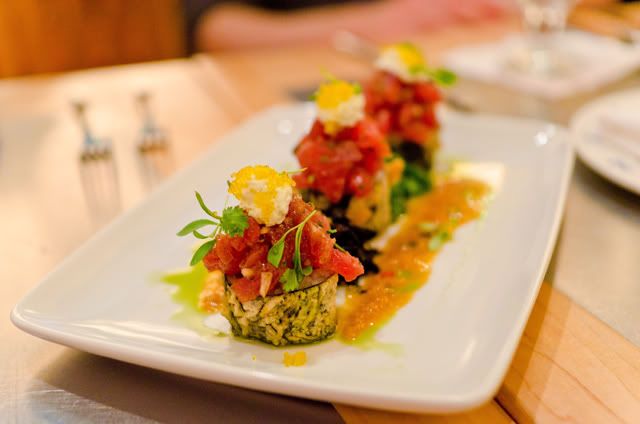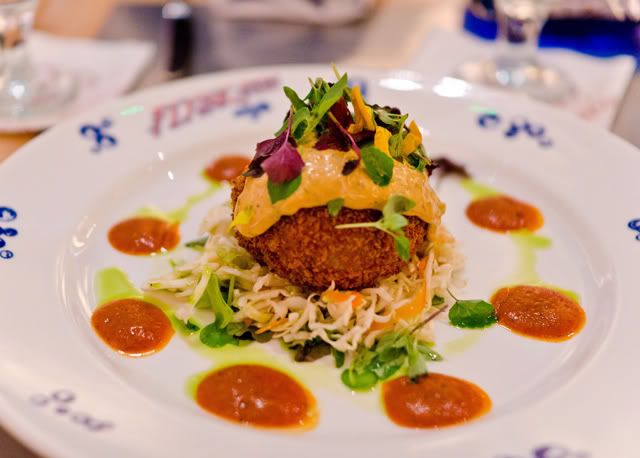 I've never eaten anything but a wonderfully prepared entree here. While the fish usually tastes great, and is never too dry or lacking in flavor, I think what truly makes these dishes unique is the sauces used to accompany the entrees. A good dill or cream sauce can make a good entree great, as can the fish's crusting or its accompanying sides and garnishes, and this is something that I think many seafood restaurants overlook.
Not Flying Fish Cafe. Here, the sauces, crustings, and sides are not merely an afterthought. Rather, they accompany the fish perfectly. My favorite entrees here have been the salmon and the bass, although just about everything I've sampled has been good, and the menu regularly changes, so don't go in with your heart set on any one item you might have seen online.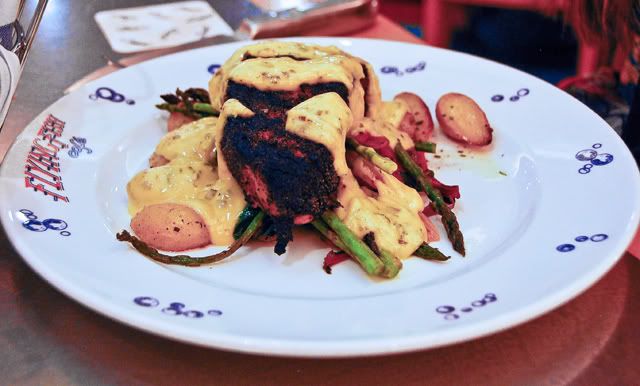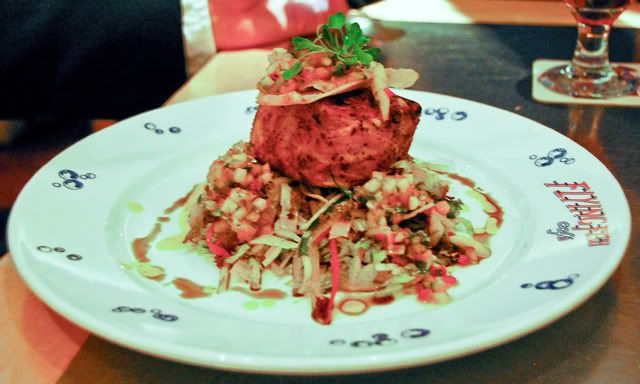 Flying Fish Cafe has some of the best desserts at Walt Disney World, and the accompanying presentation is equally amazing. I don't even know where to begin with these. If you look at the dessert list and find yourself salivating over each and every choice, know that you're in good company and that those that came before you were in a similar situation.
Just make sure of one thing: that you do save room for dessert. In our opinion, although the appetizers are good, the desserts are better. If you really want a suggestion, you can't go wrong with the "A Trio Sinful Chocolate Indulgences," but honestly, you could close your eyes and randomly point to a spot on the dessert menu and you will, without question, strike a good choice.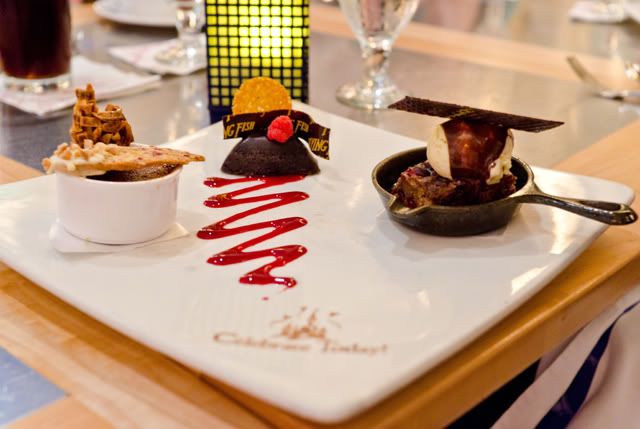 Overall, Flying Fish Cafe is right up there with Jiko in the Signature Dining category. It's not as good as good as Victoria & Albert's, but it's not as expensive, either. Our next meal there will probably be at the Chef's Table, which overlooks the open-air kitchen. If you're childless, we'd highly recommend visiting Flying Fish late at night. We've never gone early (for the exact reason of avoiding children), but given its location on the BoardWalk, this is something to keep in mind. Flying Fish Cafe is the perfect date night restaurant: delicious, romantic, and an ambiance that is second-to-none at Walt Disney World. Plus, afterward you can stroll the BoardWalk or head to Jellyrolls. Flying Fish is an easy top pick for us!
Your Thoughts…
If you've been to Flying Fish Cafe, what did you think of it? Do you think it's the one of the best Walt Disney World restaurants? Planning on going? Share your thoughts in the comments!