Kona Cafe is a table service restaurant in Walt Disney World's Polynesian Village Resort. This review features food photos plus our take on the cuisine, value for money, and ambiance of Kona Cafe. In terms of general overview, Kona Cafe's menu adds some Asian twists into traditional American breakfast, lunch and dinner.
The restaurant participates in the Disney Dining Plan and also accepts the Tables in Wonderland card for a 20% discount. Kona Cafe is a reasonably good value on the Disney Dining Plan for lunch and dinner. This review focuses on those meals at Kona Cafe–we cover breakfast in a separate review.
Being right next to the phenomenally popular 'Ohana, Kona Cafe is a hidden gem that is sort of hiding in plain sight. It's only a "hidden" gem to the extent that many guests overlook it in favor of 'Ohana. I guess the more apt descriptor would be that Kona Cafe is the "ugly duckling." Whatever you want to call it, the good news is that Kona delivers fairly well in terms of cuisine.
This is despite ambiance that, admittedly, is nothing special. Essentially, it's an open-air restaurant that exposes restaurant patrons to the open-air atrium of the Great Ceremonial House. As the Great Ceremonial House is well-themed and relaxing, you might think this is no big deal. Unfortunately, as noted, Kona Cafe is adjacent to the incredibly popular 'Ohana.
Even during slower times of the year, guests waiting for 'Ohana are often loitering about right outside Kona Cafe, which is what makes it not-so-hidden of a gem. If you're seated as far away from the outer edge of the restaurant as possible, you may not notice this, but we've never been so lucky. If you're seated at one of the tables by the outer edge of the restaurant, it feels almost like eating in a mall food court. To us, this really takes the ambiance down a peg.
Ambiance is important at Walt Disney World restaurants, so that's no minor issue, but at least the food is generally pretty good at Kona…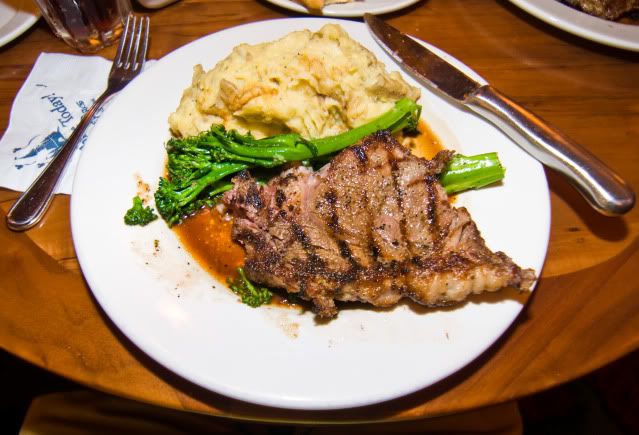 We first reviewed Kona Cafe after a meal there on our Walt Disney World Honeymoon when we were on the Disney Dining Plan. We had dined at Kona Cafe previously, but those were before we documented our every meal meticulously, so our "story" begins there. On that trip, we both ended up ordering the New York Strip Steak. I don't know if that's what influenced me to order the New York strip–what island makes a good steak!?!–but whatever influenced me, I thank.
Condensing my meal to a word, the steak was amazing. Everything a steak should be: lean yet flavorful, hearty, and with the perfect amount of fat to give the steak a little flavor without being "fatty." A pineapple teriyaki sauce also gave the steak a different flavor than you'd find elsewhere, which was the perfect Polynesian touch. Honestly, I can't go on for fear I will head to the airport today for Walt Disney World. The steak was perfect. In addition to the steak, I had mashed Yukon potatoes, which were also amazing. Some 6 years later, this steak is still on the menu (with minor tweaks), and I can still remember it vividly. Enough said.
On a recent follow-up visit, Sarah had the Togarashi-spiced Ahi Tuna with tempura fried vegetable and red wine reduction. While the tuna–and entire dish–was perfectly prepared, this seemed like a very small dish given the price. The presentation was beautiful, and almost as if the restaurant were striving for fine dining…but Kona Cafe is far from fine dining, so a larger portion would've been preferred.
I had the Pan-seared Duck Breast served with Mung, Adzuki, and Cranberry Beans plus Chorizo Sausage and spinach in a Tamarind Gastrique. In terms of taste, Kona Cafe once again hit a home run for me. However, much like my complaint about Sarah's Ahi Tuna dish, size was an issue here. In fairness, duck entrees tend to be on the small side everywhere, but this seemed like it was on the smallish end of the small spectrum.
Friends joined us for the meal, one of whom ordered the Kona Coffee-rubbed Pork Chop and the other ordered the Grilled Curry-crusted Lamb Chops. The size on both dishes was more in line with what we expect from a restaurant like Kona Cafe, but I could swear that same pork chop was a good 30% larger when I ordered it many moons ago.
The coffee rub made for a unique dish…although I'm not so sure she thought it was unique in must-do way. Both liked their dishes, but I wouldn't say any of us were dying to get back to Kona Cafe after this meal. Had the portions been in line with our past experiences, we would have felt differently,
During our honeymoon, our waitress brought us a celebratory treat for our honeymoon. It was a nice touch and something we appreciated, but it doesn't affect my review of the restaurant either way, as this is probably not something most guests will receive. Still, if you're celebrating something on your trip, it would be wise to note this when you make your advance dining reservations.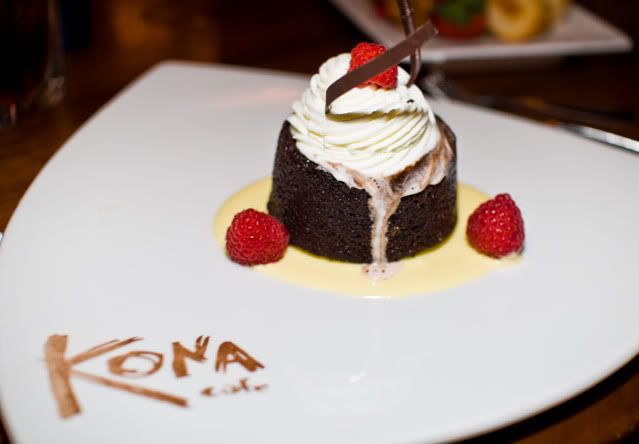 Dessert at Kona Cafe was also excellent and offered a bit of Island flair. The Kilauea Torte and Chocolate Fondue are both excellent choices, and are very appropriate choices for the restaurant. They're all also reasonably priced, so even if you can't do an entire meal at Kona Cafe, it may be worthwhile to stop over to enjoy dessert before relaxing on the beach to enjoy the sunset.
Overall, Kona Cafe falls a rung or 3 with this update to our original review. In our original review, I wrote that, "I strongly believe that anyone taking a trip to Walt Disney World, even if not staying at the Polynesian, should head over once for a meal and to soak up the ambiance." I still agree with the Ghost of Tom's Past that every guest to Walt Disney World should visit Disney's Polynesian Village Resort, but our recent experience has significantly tempered my enthusiasm for Kona Cafe. If you're on the Disney Dining Plan and will use those credits for the New York Strip Steak, go for it. Otherwise, you might want to stick with 'Ohana or even Captain Cook's during your visit to the Poly. The rest of the menu and the atmosphere of the restaurant simply leave too much to be desired.
Planning a Walt Disney World trip? Learn about hotels on our Walt Disney World Hotels Reviews page. For where to eat, read our Walt Disney World Restaurant Reviews. To save money on tickets or determine which type to buy, read our Tips for Saving Money on Walt Disney World Tickets post. Our What to Pack for Disney Trips post takes a unique look at clever items to take. For what to do and when to do it, our Walt Disney World Ride Guides will help.
For comprehensive advice, the best place to start is our Walt Disney World Trip Planning Guide for everything you need to know!
For Walt Disney World news, tips, discount info, and free eBook downloads sign up for our free monthly newsletter.
If you enjoyed this post, we'd really appreciate it if you'd share it via social media to spread the word! We put a lot of work into making this site a helpful planning resource, and hope it's useful to you. 🙂
Your Thoughts…
Are you a fan of Kona Cafe? If so, is it for the food, for the Polynesian ambiance, or for some other reason? Have a favorite dish here? Share your thoughts in the comments.