Part I: Coast-to-Coast Disney Trip Report
Spending the day working is never a good thing to do while on vacation. Unfortunately, the Disneyland "leg" of our Coast to Coast vacation began with a day at the office. It really was unavoidable, given our goal of taking as many trips as possible this year, and apparently, sine vacation days are finite. News to me, and quite the contrast to being a student, when we had all summer off, and could elect to take time off from school without any serious repercussions.
Normally, our Disney vacations start off early in the morning as we try to maximize our time in the parks without the extra expense of added nights at a resort. This trip similarly started early, but only because we typically get to work at 7 a.m. For me, the work day was fairly mild; it was administrative assistant's day (or something with a similar politically correct name), which meant that our office was going out to lunch! Because of this, I had only a few hours of productivity before heading off to Fogo de Chao, where we spent a couple hours. Upon returning to the office, it was almost immediately time to leave for the airport. Not too rigorous of a day at the office!
Arriving at the airport, we checked our bags and headed towards the food court. There, I sadly did not participate in my storied tradition of enjoying two Sausage McMuffins with Egg at McDonald's. For some reason, McDonald's wasn't serving them at 4 p.m. in the afternoon. I pleaded and stomped my feet in outrage, demanding satisfaction from the clerk at McDonald's over this egregious menu change, but she was unreceptive. Well, not really, but I imagine this is how the exchange might have gone if I weren't still absolutely stuffed from lunch. Being a bit superstitous about my McDonald's habits, I was a bit concerned that not having my traditional Disney meal before our trip would put an ancient Mayan curse over the trip.
This potential curse looming heavy on my mind, I wandered the airport taking photos while Sarah ordered some odd burrito or something. While taking a photo with my fisheye of the flight tip board, I felt a tap on my shoulder. Crap, I thought, my odd photography had raised a red flag with TSA. To the contrary, and to my relief, it was actually a travel blogger who wanted to know whether I was also a blogger. She said she figured I was, given all of the odd angles from which she saw me taking photos. Realizing that I dodged a bullet by this being another passenger rather than TSA, I decided to stop taking photos at the airport, at that point. It wasn't as if any of the photos were any good, anyway, so the risk far outweighed any reward.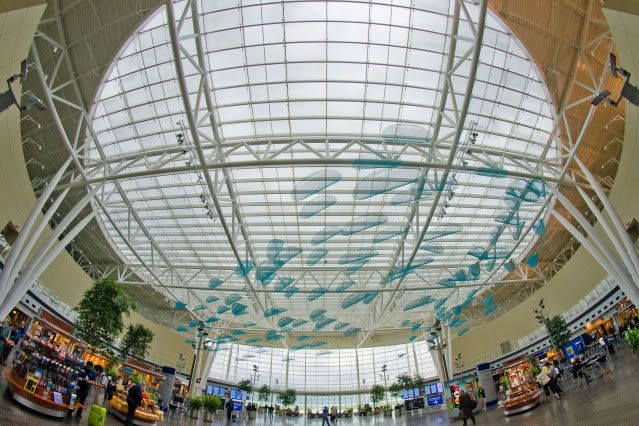 I noticed Sarah's food was ready, so I got a table, and began one of my favorite Disney trip traditions: taking awkward photos of Sarah while she eats. This may seem cruel, but Sarah certainly reciprocates. Taking any awkward photo she can of me. Far too many of the photos we take each trip make us appear like goons. Maybe someday we'll post all of these "outtakes." For now, we'll stick with the normal stuff.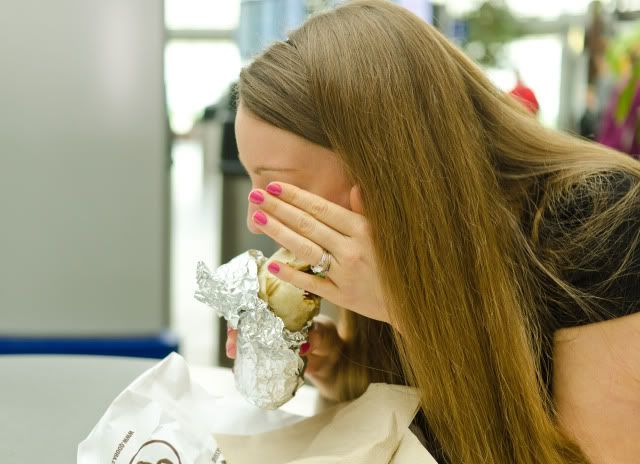 Once Sarah was done eating, we heading towards the TSA screening area. Sarah had a wonderful streak going here of being selected for advanced TSA screening every time we had flown for (at least) the past 6 flights prior to this. During this same period, I hadn't been selected at all. Obviously Sarah more closely resembles a terrorist than me. Perhaps it's the "Viva Bin Laden" shirt she wears to the airport–who knows? We had made much ado about this to our family members, wondering if the streak would continue. Sure enough, we jinxed it, and she wasn't selected. ***SPOILER ALERT*** She wasn't selected for additional screening on any of our flights during the coast-to-coast trip.
From here, we went through our typical airport traditions of taking odd photos of one another, drawing questioning looks from other travelers. It's often said that Indiana is the place fun goes to die (well, I think I'm the only one to say this), and it's definitely true. You think people would be elated to fly as far as possible from this state, but that doesn't seem to be the case. Maybe it's just the photos people don't like, because otherwise people seem pretty happy at the airport.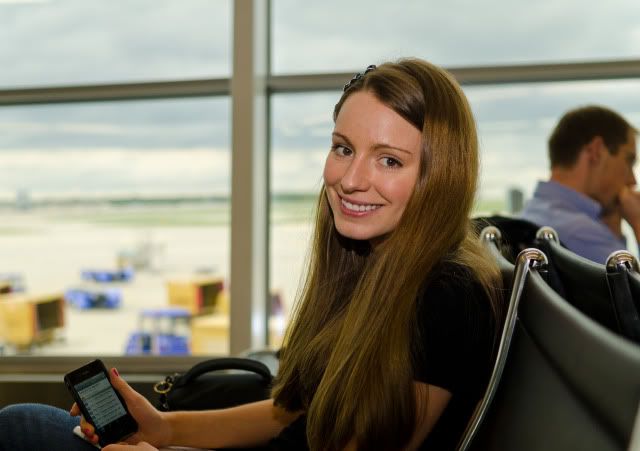 As usual, we were flying Southwest. Southwest is my favorite airline, not because I particularly like lining up for my seat or their planes, but because I love their wry advertising and brilliant business model. Plus, we've been flying Southwest for so long that it's become inextricably Disney despite not actually being Disney-owned. It's just something that we associate with Disney trips due to past practice and tradition.
When we boarded the plane, we had one of our most fundamental debates: aisle or window. Sarah wanted to go with the aisle in case she needed to get up during the flight. I wanted a window seat so I could look out the window, but more importantly, so I didn't nod off and accidentally rest my head on a stranger. Sarah won out, we ended up going with the aisle seat, and I did, in fact, end up resting my head on some random dude a couple of times. In my defense, he had it coming.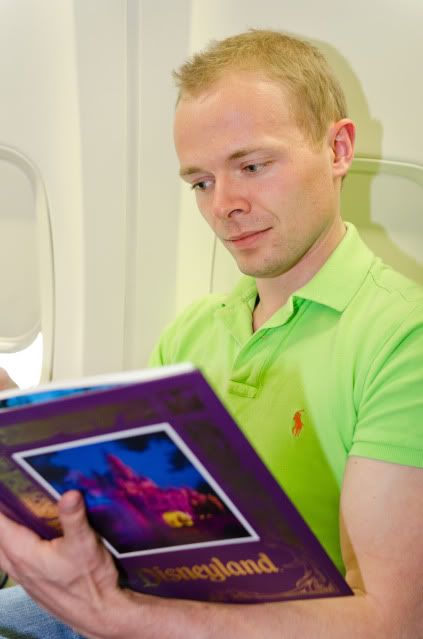 The plane departed on time, which was the first of what needed to be a few small victories in order for us to get to the parks that evening. Our flight from Phoenix to John Wayne Airport was set to arrive at 8:20 pm, and Disneyland closed at midnight. While this seems like plenty of time, we had to take get our bags from baggage claim (which took 45 minutes last time), check-in to our hotel, and purchase our APs all before entering the park. Plus, I'm betting they don't allow guests to enter at 11:50 pm, so we wanted to get there as early as possible.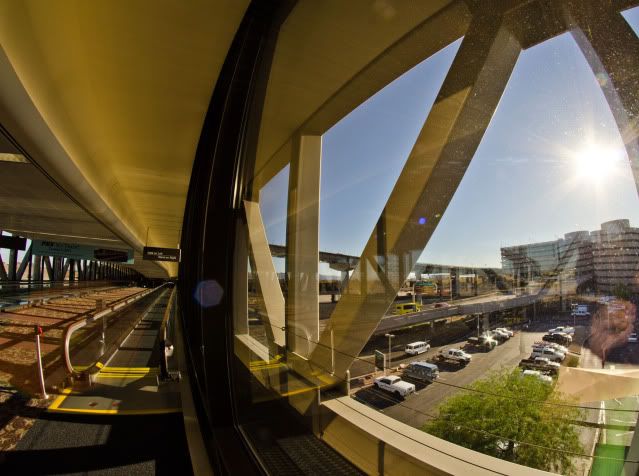 The trip out to John Wayne Airport was a glorious voyage fraught with adventure and peril. Actually, it was more like a long and boring flight with a layover in Phoenix. It would have been nice if they spiced things up with some adventure and peril.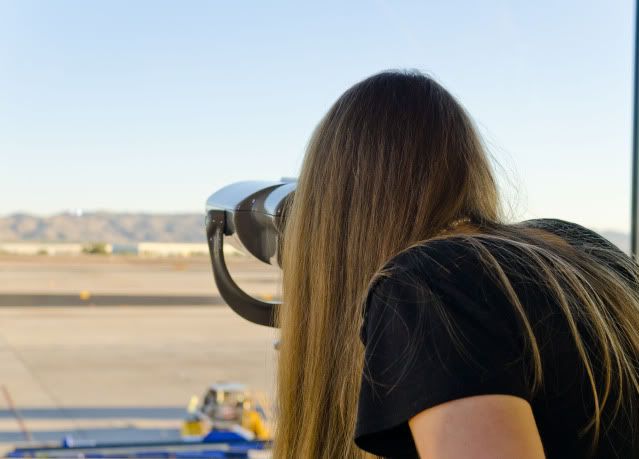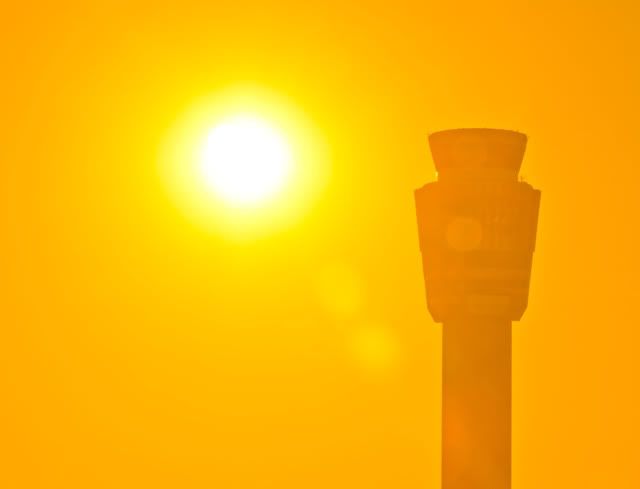 The Phoenix airport is much nicer than the Indianapolis airport, if only for one reason: it's in Phoenix. The airport is situated amongst the mountains, which make for a beautiful backdrop. It didn't hurt that we were there right around sunset. Again, our flight took off on time, which was victory #2 on the "Small Victories" list.
The flight from Phoenix to John Wayne Airport was fairly short. It seemed like an eternity given our desire to get to Disneyland; I felt like a child going to bed on Christmas Eve, waking up every couple of hours to see if Santa had arrived yet, only to find out I had just closed my eyes a couple minutes earlier. This excitement pretty well undermined my goal of getting some rest on the flight (I probably had my eyes closed for a total of 10 minutes, and slept for a whopping 0 minutes).
We arrived on time and our flight promptly taxied and left us de-board immediately. Victory #3 on the "Small Victories" list. Now began the more concerning of the small victories. What if our luggage got lost and we had to file some paperwork? That alone could eat up an hour! My thought on this was that we just say "luggage be damned, we're going to Disneyland!" at that point, but in fairness, I packed everything I needed except a tripod head cover and some toiletries in my carry-on bag. This was a non-issue, though, as our luggage arrived 8 minutes after we got to baggage claim.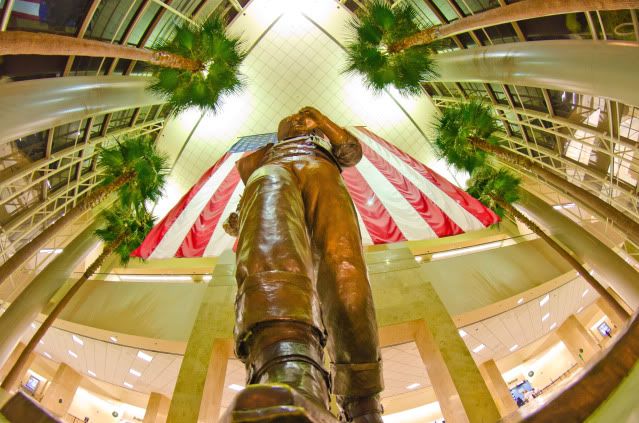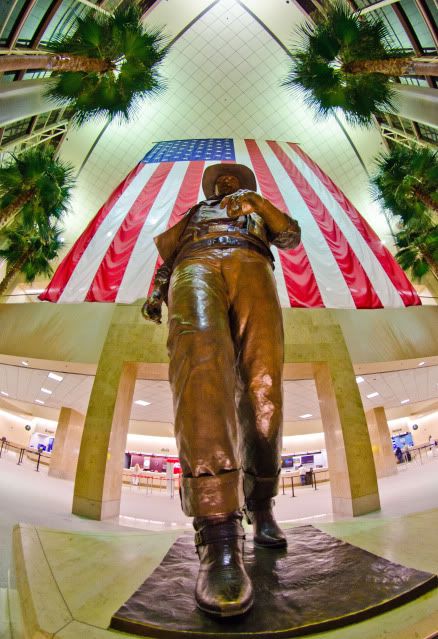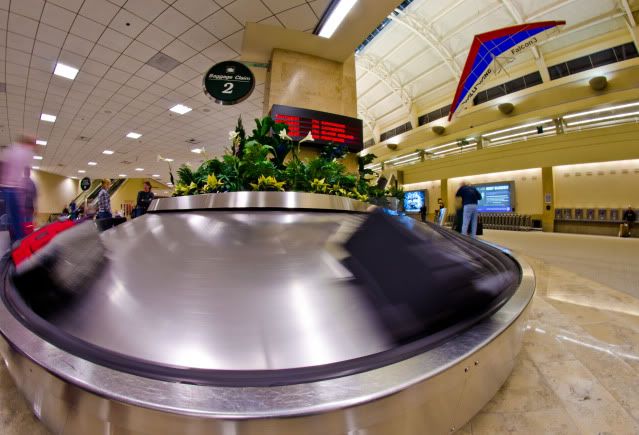 Next was the shuttle. We have heard a lot of positive things about SuperShuttle, but we've also heard some stories of long delays. This worried me. Within 10 minutes of getting to the shuttle, we were on our way to our hotel, the Desert Inn & Suites. It was around 9 pm and at this point, I was thinking there was no way that we wouldn't get to Disneyland before it closed. Right? RIGHT?!
Then things began to go downhill. There were 4 other parties in the SuperShuttle van with us and we weren't told a drop-off order. We knew we certainly wouldn't be first; our luck just isn't that good. Then, we weren't second. After 35 minutes, we found out we weren't third, either. As we approached the fourth stop, we saw the Remember…Dreams Come True fireworks going off. Then we pulled into our hotel, which was, in fact, the fourth stop.
Check-in was another concern. What if we weren't on file? What if they over-booked? However, at this point, I figured we'd just take out luggage with us to Disneyland if there were a problem. (That probably wasn't a viable strategy, but I was so hungry for Disneyland at this point that I was thinking straight. I'm surprised I didn't bite anyone along the way!) Luckily enough, our reservation was on file, and within a matter of minutes, we were in our room. Sarah freshened up, and I made sure my gear was ready.
By now, it was around 10, and we were already heading to the parks. We were making excellent time (at least compared to Walt Disney World, where Disney's Magical Express makes it take a bare minimum of 2 hours from airplane touch-down to first step in the parks), even despite the long shuttle ride. It seemed nothing could go wrong to foil our plan of seeing Disneyland that evening at this point…
When we arrived at Disneyland, we had a problem. The ticket kiosks…were…all…closed.
There are multiple pages in this Disneyland trip report installment. Navigate to the next page below!