Part IX: Coast-to-Coast Disney Trip Report
Our last day at Disneyland was a short one and not all that exciting from a trip report perspective (seriously, if you're starting to get tired of reading what I write, skip this installment and resume reading at the Walt Disney World portion of the Coast-to-Coast trip; I promise a 347% increase in awesome over this installment!). We started out the morning pretty early, as we wanted to get to the park right for rope drop. While Sarah was getting ready, I headed out around the Desert Inn to get some photos and video for TouringPlans.com.
Unlike a Disney hotel, Desert Inn is more "utilitarian" and not really that aesthetically impressive. This became abundantly clear as I photographed it. It's one of those places you stay at not because you want a pretty hotel, but because you want a hotel with a nice location and…beds. That's about it. Why Disney hasn't purchased it and other properties on Harbor is beyond me, as I would think these properties would have much more value to Disney than any other entity. I suppose they have to be willing to sell, but why wouldn't they be?
Once Sarah was ready and I was done with my photo-tour, we were off to the races! We didn't arrive quite as early as I had the previous day (because we actually knew what time the park opened on this particular day), but we were still there about 20 minutes before park opening, and were pretty far forward in the rope drop holding area.
As soon as the rope "dropped" we were off for Peter Pan's Flight! If you're keeping score at home, you might notice this was like the 3rd morning in a row that I had headed for Peter Pan's Flight. It was, however, the first morning for Sarah.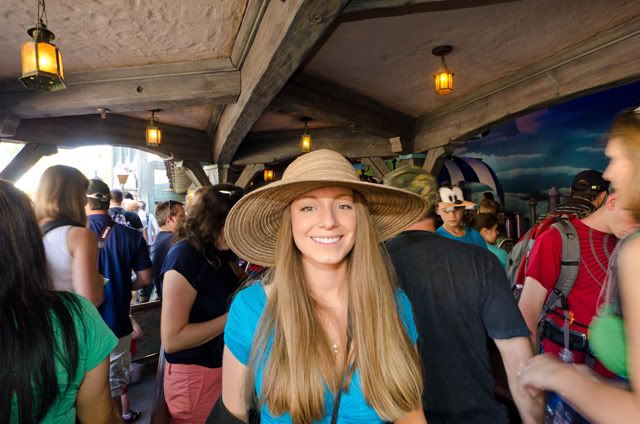 Either people had managed to elude the security guards en masse and arrive in Fantasyland well before rope drop, or it was a Magical Morning, as Peter Pan's Flight already had a 10 minute wait when we arrived. Not too bad, and our only shot (err…Sarah's only shot) at experiencing it, so we waited in the line.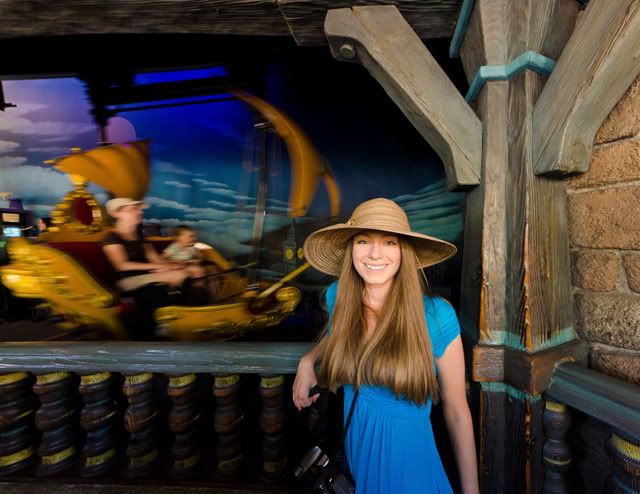 Sarah didn't seem to be as impressed by Disneyland's Peter Pan's Flight as me, and I was beginning to think less of it, too. I guess the novelty of it being so different from Walt Disney World's had worn off. At this point, I still thought it was better, but nothing earth-shattering.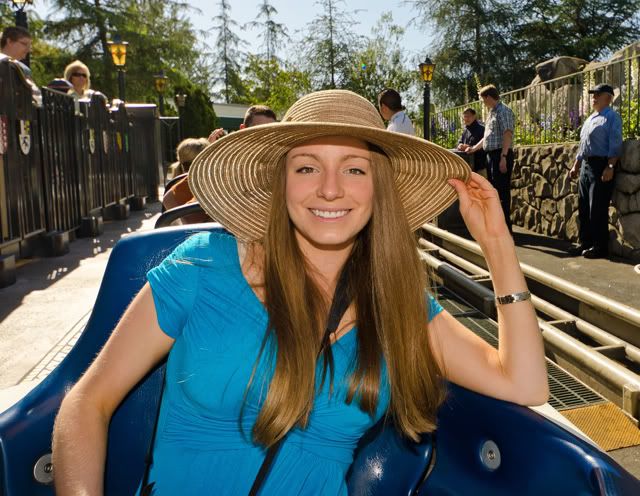 Next, it was on to Matterhorn where we would experience our last ride on one of our favorite coasters before Tony Baxter is set to step in and say, "enough is enough, I won't have the family jewels smashed in Fantasyland, anymore!" and demanded that some sort of restraints be put in the attraction. Okay, maybe that's not Tony Baxter's area of expertise, but I really look forward to riding the Matterhorn without worrying about accidentally saying Sarah and I are together.
We continued on, noticing that the crowds were pretty light compared to our previous days. We referenced the Crowd Calendar, and come to find out, the crowds were by far the lowest they'd be on our trip! Too bad we had only a few hours in the park.
Although it's not Sarah's favorite attraction due to the space constraints, she humored me and we rode the Finding Nemo Submarine Voyage again. This is something I could ride multiple times per day. I love really long attractions, and the fact that it has a nice tranquil score and involves water gives it great appeal for me. I still haven't had much success photographing the attraction–hopefully this changes next trip when my 30mm is actually working on one of our daytime voyages.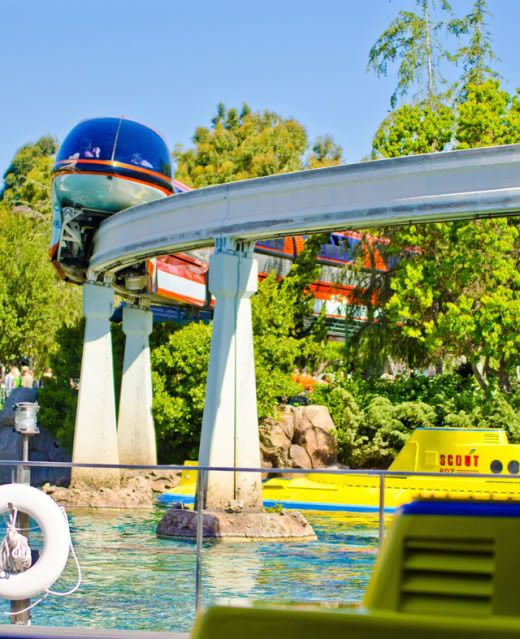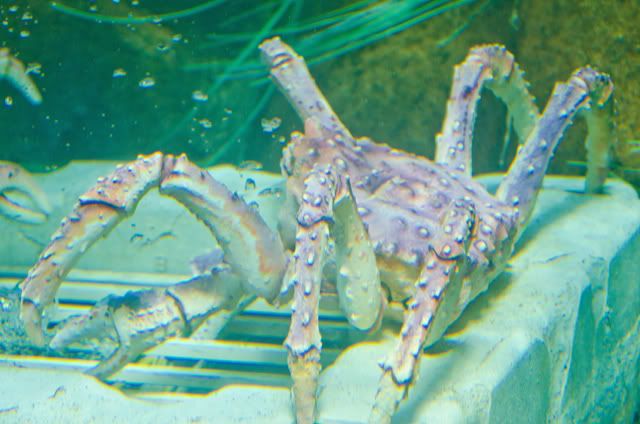 We were both getting pretty hungry by this point, and we didn't want to wait for Hungry Bear (our inevitable lunch choice) to open, so we decided to stop at Tomorrowland Terrace for a quick snack.
Quick snack turned into 'largest breakfast of the trip' as we both were, apparently, really hungry. For some reason, I ordered the breakfast burrito, despite it looking overpriced and not all that great when I had seen Henry get it earlier in the trip. My assumptions about it were correct, as it was mediocre at best.
While the breakfast burrito was not that great, I was shocked at how good the "cooler case" Chocolate Parfait tasted! I normally avoid ordering these pre-made cooler case items, but I couldn't resist. Plus, what's better for breakfast than a delicious parfait?!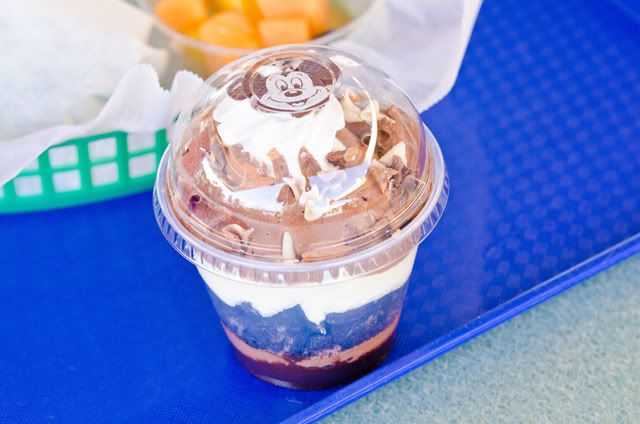 After that, we headed for Alice in Wonderland. Not really much new to report here, except that it was enjoyable as always. More wandering around Fantasyland after Alice, trying to strike the balance between soaking in as much of Disneyland as possible and running around like crazy lunatics from attraction to attraction, trying to (again) experience as much as possible. We're pretty good with this balance, I think.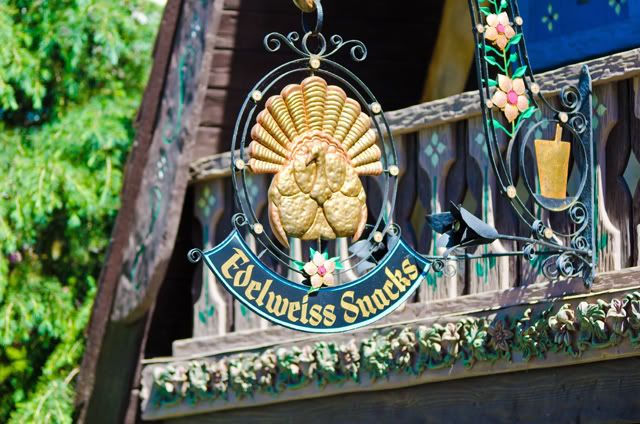 We then headed through the hub and towards Adventureland, finally having an opportunity to wander the place a little more freely without being hit in the ankles by strollers or being run into by sweaty older gentlemen in tank-tops (Disney, I applaud your efforts to 'ban' obscene clothing from the parks, but I wouldn't mind if you took it a step further) as a 30 foot wide walkway narrowed to 10 feet in the Pirates of the Caribbean area.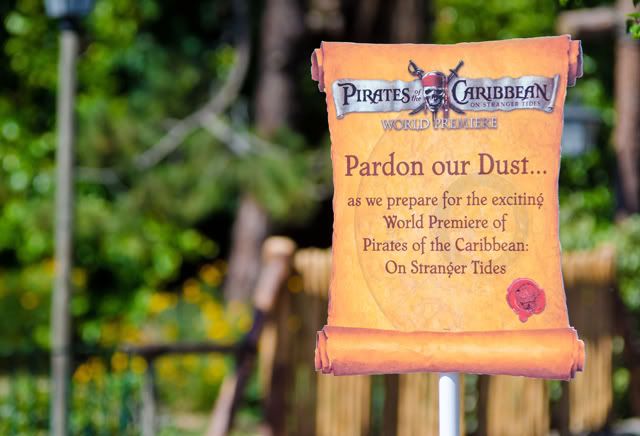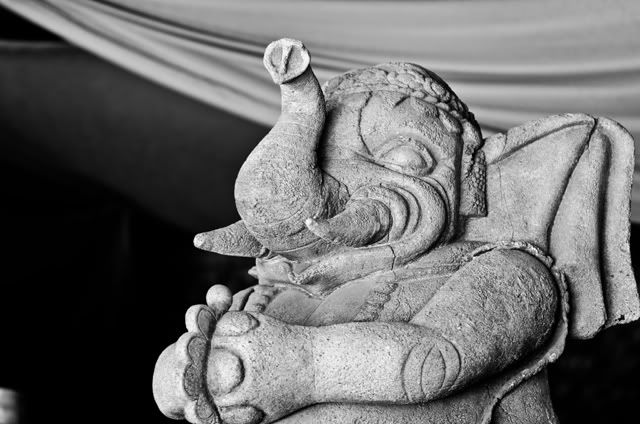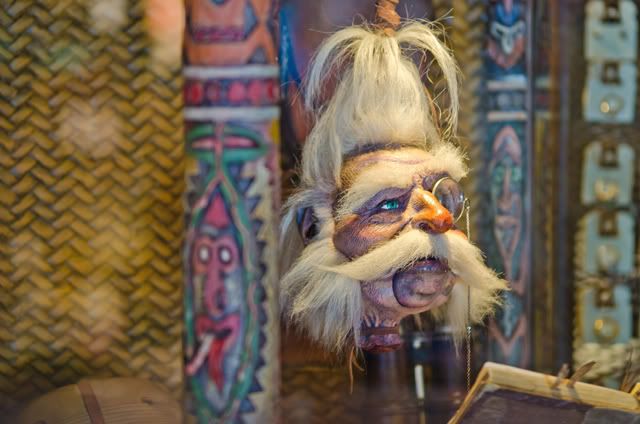 In Adventureland, the waits were surprisingly short. Indiana Jones Adventure only had a 10 minute wait, so we did standby, but still didn't get to see the full queue during the day! After Indy, we headed over to Pirates of the Caribbeam, where the wait was slightly longer. You know we've been on both of these attractions too many times in one trip if the best I can muster is a description of the lines.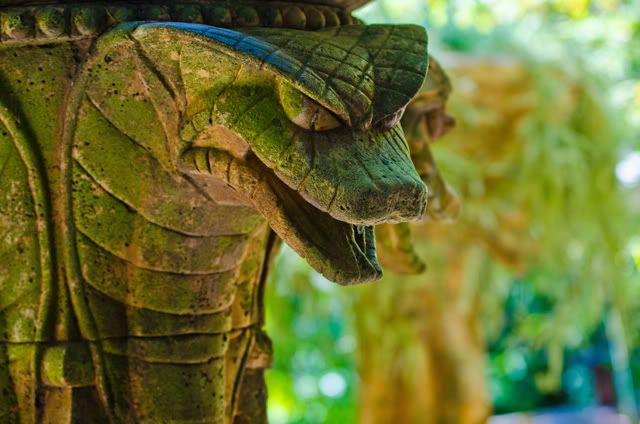 There are multiple pages in this Disneyland trip report installment. Navigate to the next page below!