Part V: Coast-to-Coast Disney Trip Report
The next morning was an 8 am park opening, and Sarah and Henry weren't down for rope drop. I wasn't going to miss it, though, so I got up bright and early. I was also a bit nervous about our Club 33 reservations having gotten "lost" or something, so the sooner I could verify them, the sooner I could rest easier.
Finding these reservations was easier said than done.
I knew I had to pick up tickets (and we absolutely needed these as our Deluxe APs were blocked out on this day and we did not want to spend $30 to purchase tickets), and figured this wasn't at a ticketing window, so I started on the right side of Disneyland's entrance, at what I thought was
Guest Relations. It turned out it either wasn't, or it was, and still wasn't the correct location. The Cast Member on that side directed me to the left side of the entrance, so I went over there. I noticed a sign said something about Club 33, so I figured I was in the right location.
When it was finally my turn, I informed the Cast Member that I had Club 33 reservations (or at least I hoped that I did!) and she told me that I needed to go over to California Adventure. At this point, I looked at the sign by the window, and it said the same thing about Club 33. I really wish I would have read that sign, as doing so would have saved me 10 minutes in line.
I went over to California Adventure's Guest Services window, and fortunately, there was no line. I inquired about our reservations, and my heart sank.
I immediately sent messages to Sarah and Henry via Beluga, telling them news that we didn't have Club 33 restaurants. Henry, almost instantaneously responded expressing his disappointment. A couple of minutes later, Sarah sent a message, that was nothing short of "freaking out." I responded with a photo of the back of our complimentary Club 33 tickets. They were relived, to say the least.
Obviously we did have reservations. Perhaps I should have clarified above why my heart sank (it was a sinking of relief! 😉 ) and that the news I told Henry and Sarah wasn't true. But hey, I've got to keep the suspense and entertainment value high in this thing somehow or another. If I don't, I'm sure a lot of you will just scroll down to the Club 33 details! (Sorry, not in today's update!)
Despite my aimless wandering from Guest Services location to Guests Services location, I still made it into the park prior to rope drop. We still had yet to do Peter Pan's Flight at Disneyland, and I had a pretty good rope drop spot (plus there were no Magic Mornings!), so I figured I'd make that my first stop.
Of course, once I finally did start briskly walking up Main Street, I could help but stop at Partners for a couple of quick photos. That set me back at least 2 minutes, which in rope drop time, is an eternity. By the time I got to Peter Pan's Flight, I had to wait 10 minutes. I probably should have taken the photos after PPF. Oh well.
Peter Pan's Flight was interesting, but not altogether that much better than WDW's. At first, I was blown away by it, and even when we left Disneyland I was still touting it as the superior of the two Peter Pan's Flights. However, after riding WDW's the next week, I realized that Disneyland's was missing certain effects (the moving cars in London) and some scenes were different, so ultimately I deemed it a bit of a wash, with Disneyland perhaps having the slight edge. With how popular this attraction is, I am shocked that Disney doesn't do a little to plus it on each coast. I think it could be substantially better with some minor changes. These changes might help justify the crazy wait a bit, too. Of course, there's the mantra, if it isn't broke, don't fix it, to counter that.
Ironically, given all of my belly-aching about it, I rode Mr. Toad's Wild Ride next. Like I said above, it is definitely growing on me. Maybe by next trip, I'll be making shirts that read, "Toad 4 Prez." I guess anything is possible.
After this was a pretty weird experience, to be perfectly frank. I queued up for the Teacups when I saw the sun peaking over the trees and lighting up the attraction. I knew it would give me the perfect opportunity to capture a photo I had envisioned prior to the trip, so I got in line. Once I got the photo, I figured what the heck, and decided to ride.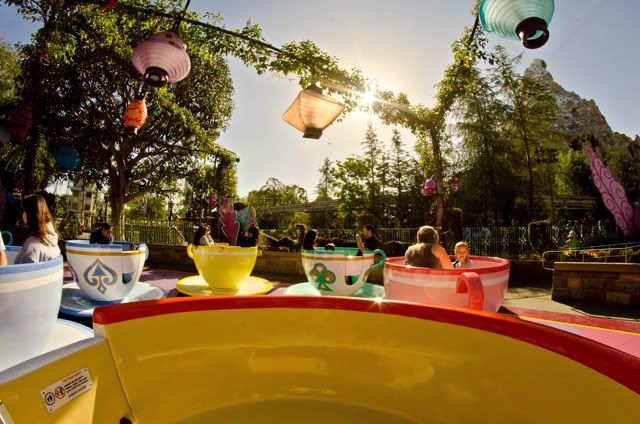 As a male by myself with a camera in Fantasyland, I was already a little concerned about how I might "appear." That was magnified exponentially when I spontaneously decided to start taking photos of myself as I spun the teacup around. Can you imagine being in line for the attraction and seeing some guy spinning a teacup with one hand and holding a DSLR as far away from his body as possible as he tried to take a picture of just himself? It feels a bit odd when I try to do self-portraits of Sarah and me with the unwieldy DSLR, now imagine adding a spinning teacup and being by myself to the equation. It was extremely awkward, to say the least.
Luckily, I survived. And, the memory the experience, as well as (what I think are) some cool photos will endure. So overall, it was well worth the embarrassment. I've seen other people do far odder things at Disney, so I'm not too concerned.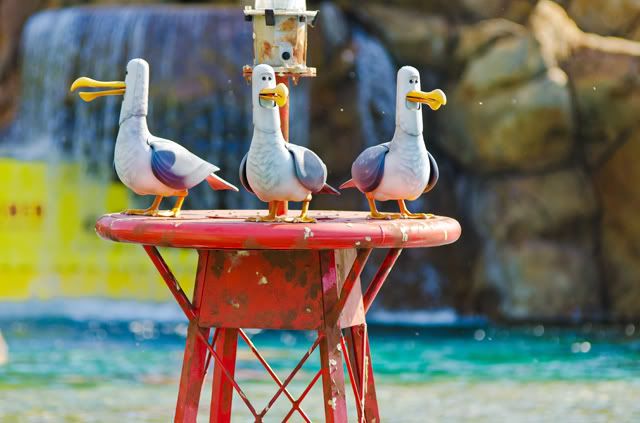 Since no one else had arrived yet, I decided to head over to Mermaid Lagoon (I don't know if it was ever actually known as this, but it used to have mermaids in it, and I like the name, so…) and take some photos of the Finding Nemo subs and "Mine!" seagulls. I lucked out and managed to capture the monorail while I was in the area. Not bad given that I wasn't really expecting it!
Right about this time, Henry arrived and we got breakfast at the Tomorrowland Terrace. He got a breakfast burrito, but I thought it was a little pricey for what it was, so I just opted for some liquid breakfast in the form of a nice 32 ounce Coke!
Tomorrowland Terrace is certainly a neat open air location that, for whatever reason, resonates as being "old Tomorrowland" for me. Since I never visited DLR's old Tomorrowland, I have no idea if this is accurate. It seems right; the architecture looks somewhat of the era of when Space Mountain would have been built (and some of the lines, especially on the rising light platform behind the Jedi Training Academy area, are clearly inspired by the Space Mountain spires).
We then decided to make our way to Toontown, where Henry was telling me about all of the little easter eggs hidden in Tomorrowland. I was so amused by these (which are largely just sound effects and little sight gags), that we went all around Toontown trying to spot them all. This made me appreciate the land all the more, and made me question WDW's now-defunct Toontown even more.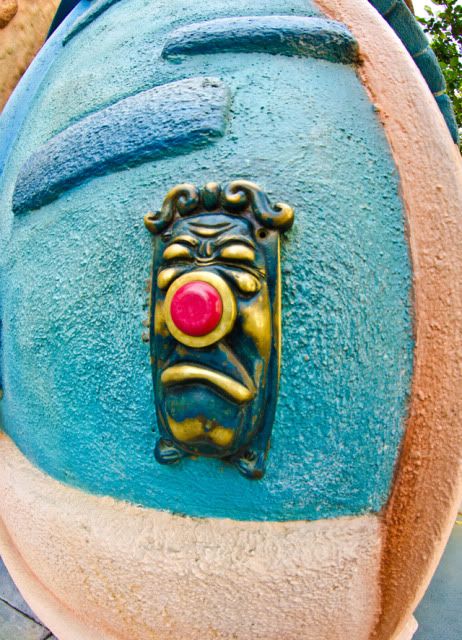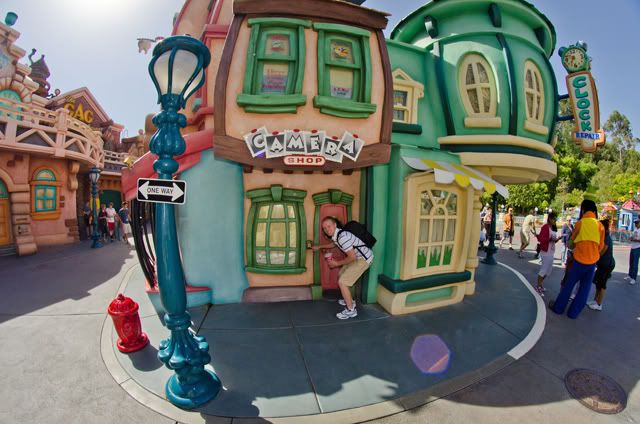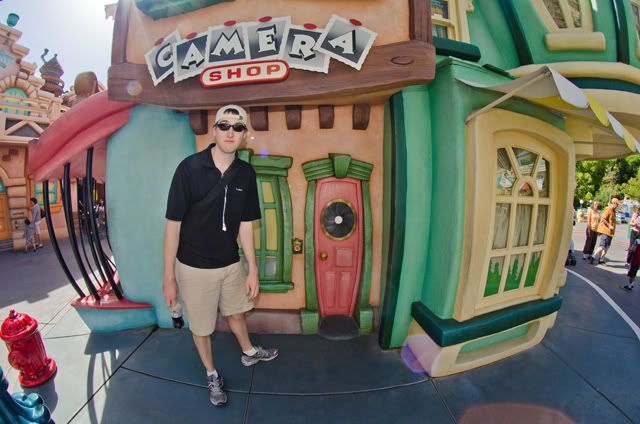 We only did one attraction while in the neighborhood, and that was Gadget's Go Coaster. It was very underwhelming for us as twenty-something men, but when we got off, we saw the pure elation of a small boy who was told by a Cast Member that he could ride again without having to go back through the queue. This clearly made his day. It's moments like these, seeing the parks through the eyes of children rather than the surly and jaded eyes some of us tend to develop by fixating on often insignificant problems that are magnified by their over-discussion online, that help to reinforce one's appreciation for the parks. Society today is so egocentric that it's easy to forget that not everything in the parks is made to appeal to our demographic.
I started taking photos by it's a small world on our way out when I got a Beluga message from Sarah that she was on her way. Since I had her Club 33 ticket, Henry and I headed to Main Street and waited for her.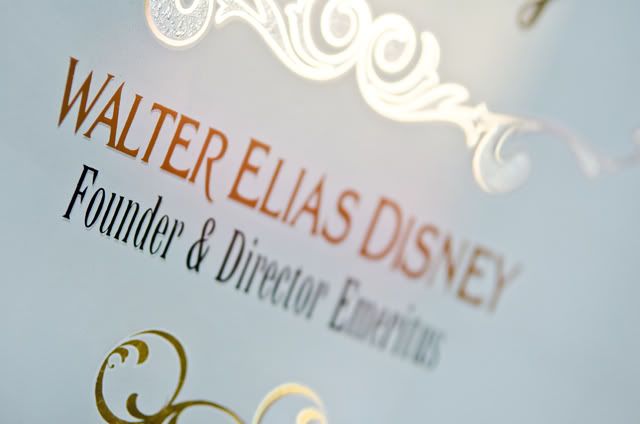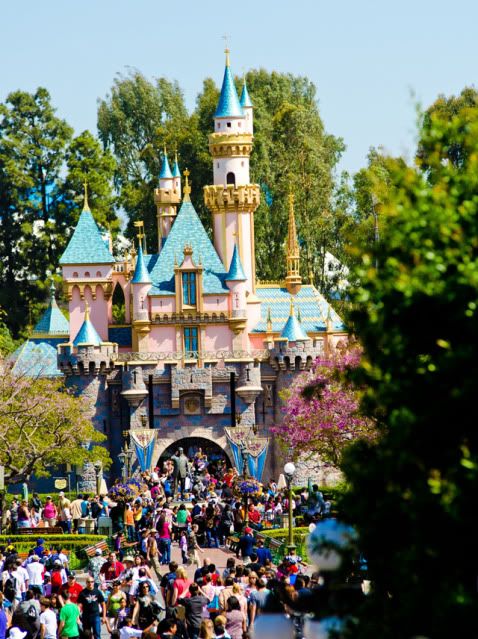 When we met up with her, we decided to go seek adventure. California Adventure! We grabbed some FastPasses at Soarin', then met up with a couple of Henry's friends who host the Mousetalgia podcast. Their names elude me right now, but they were nice folks.
We chatted with them for a bit, then headed over the the Redwood Trails. A few days before our trip, it had been rumored that the Brother Bear theming here was getting nixed in favor of Up over the weekend prior to our visit. Unfortunately, that was not the case (although it has since been officially announced and should happen soon). For what it is, I was fairly impressed by the trails.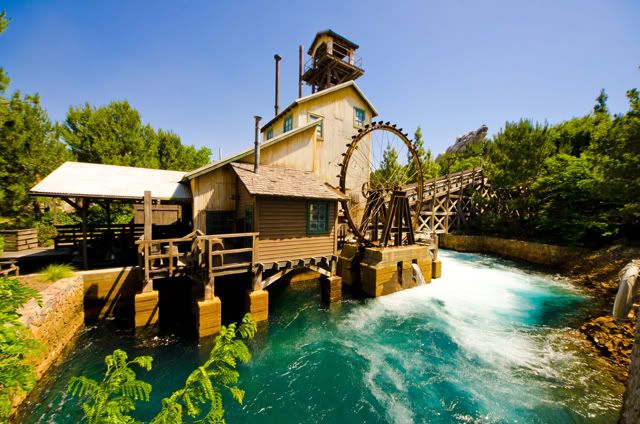 They're pretty and offer great vistas of the park. I think it would be nice if it were simply themed like Redwood National Park rather than with characters, but I guess the ability to play outside and explore isn't enticing-enough to today's lazy and obese children. Maybe soon Disney will incorporate Mountain Dew and Pixie Stick stops every so often in the area so kids don't have too much uninterrupted healthy physical activity.
I may be a bit old for it, but I had a blast in the Redwood Trails! No one else wanted to go up in the elevated rope areas, and I ended up getting lost from the group for a bit when I did, but I had a great time! The only thing I hope they don't remove of the Brother Bear-inspired theming is the little palm-spirit-thing that tells you what animal's spirit you embody. That thing is awesome.
When I finally found everyone else, Henry's parents and fiancee, Kate, had arrived.
First item on the agenda when they arrived was another stop at the ice cream stand! Well, for me at least. I think the rest of the group stopped to get coffee or something, citing the pre-noon time as some sort of argument against getting ice cream. Foolishness!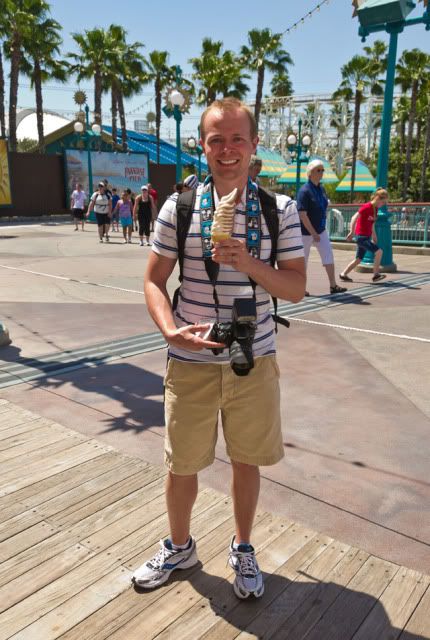 After that we went on King Triton's Carousel, where I was surprisingly allowed to take my ice cream. For a carousel, it's pretty neat, I guess, but it's not high on my list of things to do in a Disney theme park. Even with the unique theming of the carousel I can't get past the feeling that I've seen a similar carousel in my local mall in the mid-1990s. To be fair, I'm hardly a carousel expert, so the quality and detail could be far superior in this one, but it still seems a little cheesy.
After the carousel, we wandered the Pier for a bit, and ultimately split off because the rest of the group wanted to see Blue Sky Cellar, and Sarah and I aren't too keen on seeing so much detail on upcoming attractions. Instead, we headed to the Hollywood Pictures Backlot, where we saw California Goofy with no one around him! We were elated to see Goofy in new (to us) attire, so we said hello!
Next up was MuppetVision 3D. We love this attraction as its humor is right up my alley (the number of times I find myself quoting it is absurd; my favorite line is, "a salute to all nations, but mostly America." Rizzo the Rat as Mickey Mouse is another highlight.), and although it's not really different substantively between the coasts, the queues are different, so we spent some time exploring the queue before heading inside. Such great wry humor.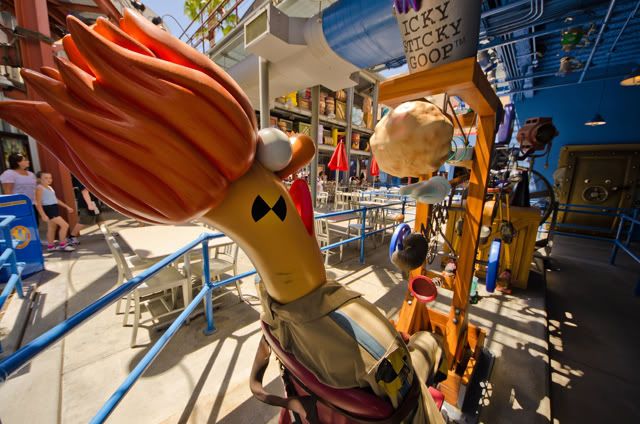 After MuppetVision, it was time to meet back up with the rest of the group, so we headed over to Disneyland, all the way to the back of the park to Hungry Bear. In retrospect I wish we would have eaten at Village Haus, as we had heard it also recently got a new menu, but for whatever reason, it totally slipped our minds every day of the trip. The one bite of the chicken sandwich I had the previous time was pretty good, so I decided to give it a go this time. It was a solid chicken sandwich, especially for counter service. Something I'd definitely order again.
Overall, I think counter service seems to be improving (and I've only taken two trips) at Disneyland. The new Hungry Bear menu is excellent, as are the menus are Trader Sam's (or whatever the place next to it is called) and Village Haus, supposedly, yet people still constantly knock Disneyland Counter Service food.
People just like to complain about things, and Disneyland CS food has a bad stigma based upon the last however many years. With regard to most CS restaurants, that stigma is simply untrue. I think part of the problem is that people want something to turn their noses up at: "Fast Food? I only eat at Napa Rose and Steakhouse 55." Certainly the latter restaurants are better, but I don't see why people can't appreciate things for what they are. Disneyland's "fast food" is very good, and there's no reason to knock it. To compare it to more expensive fare is ludicrous, and is along the same lines as comparing the Storybook Land Canal Boats to Pirates of the Caribbean. They're a different experience: enjoy each of them on their own terms. Not every attraction is going to be an E-Ticket; likewise, not every restaurant is going to taste like a $50/plate steakhouse. I know there are those out there who would rather eat at some chain on Harbor to save $4, but I'd much rather spend the extra $4 and remain in the "Disney bubble," and enjoy the themed Disney ambiance. I'm sure it's not the same for day-trip AP holders, but that's my philosophy.
The same goes for people who complain that Disney food is overpriced. Most people who complain about this are, naturally, AP holders. Most of these people are Californians. You know what? Compared to the rest of the United States, with the exception of Hawaii and Alaska, Southern California is overpriced. I don't complain about this. I understand that location plays a key in what things cost. It costs more to eat at any sporting event, in many major cities, etc., yet it's somehow egregious if Disney charges higher prices for food than the restaurants across the street on Harbor. You pay for the convenience–and clearly the prices are justified based upon the crowds these restaurants draw.
After Hungry Bear, it was Pooh-time! (That joke never gets old!) Not much more to say here, except that Sarah's enthusiasm for this ride was continuing to grow at this point in the trip. I still didn't get her infatuation with it, and I probably never will. It's okay, and that's about it.
We decided to make our way to the front of the park to see Great Moments with Mr. Lincoln and go to City Hall to see if we could get a spot on the Lilly Belle car of the Disneyland Railroad. On our way, we stopped for a showing of Walt Disney's Enchanted Tiki Room.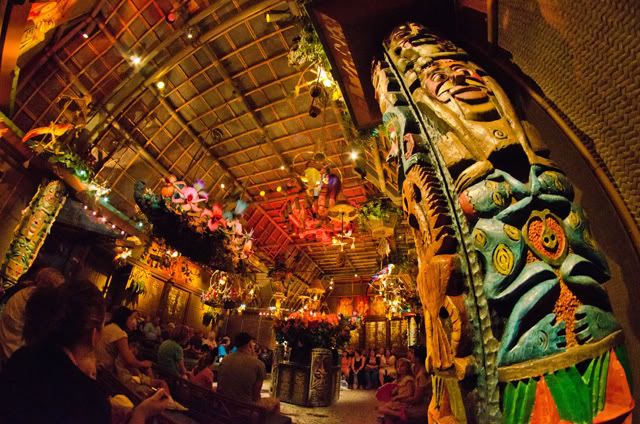 As usual, it was awesome. Seeing it got me really excited for the (at the time–since announced) possibility that this far superior version of the show (I shouldn't even call them "versions" of the same "show," that's an insult to the California show) would be coming to Walt Disney World. It's crazy to see how popular it is at Disneyland; hopefully it will be equally well received at Disneyland. There's no reason it shouldn't. Despite being much older than "Under New Management," the Enchanted Tiki Room is much less dated, thanks to its songs being timeless and memorable, and not reminiscent of a particular period of time.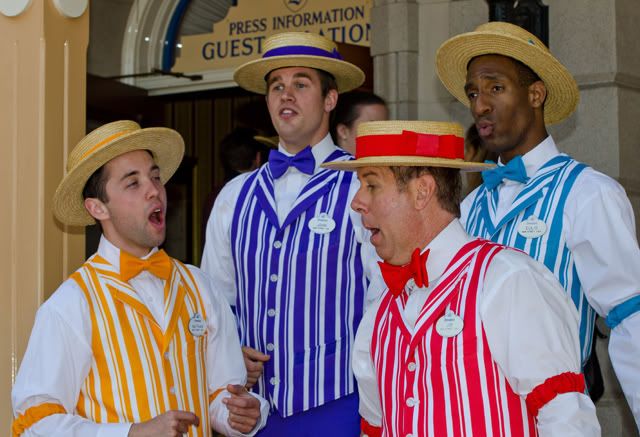 We headed to Main Street after this, to make arrangements for the Lilly Belle car. While Henry was in City Hall doing this, the rest of us headed to the street to listen to the barbershop quartet and just generally hang out on Main Street. After a while, Henry emerged, and told us that our train would be about another half hour. Perfect! We had time for Great Moments with Mr. Lincoln.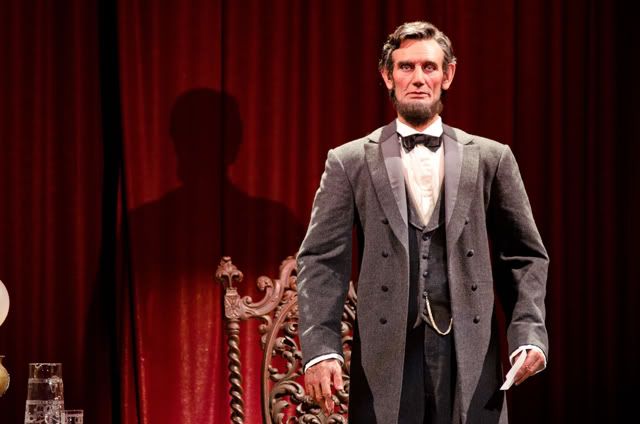 I was really excited, as we had not done this last time despite it being high on my list. You see, my wife is a communist, and hates patriotic American experiences. She falls asleep during the American Adventure at Epcot, snores during the Hall of Presidents, and spits on the Liberty Bell as she passes it in Liberty Square. Okay, maybe that last one isn't true. She actually likes the Hall of Presidents, too, but she does unintentionally fall asleep during it. For whatever reason, she doesn't like the American Adventure, though. In my opinion, that should be a treasonous offense.
In any case, I finally got to see Great Moments with Mr. Lincoln, and I was stoked. The show was awesome. While it wasn't as large in scale or scope as either the Hall of Presidents or American Adventure, it was really cool, nonetheless, and incorporated some cool aspects of both attractions into it, including the song Golden Dream! This is one of my favorite "Disney songs," so it was great to hear it. I knew we wouldn't have enough time in Epcot on the second half of our trip to see American Adventure, so it was nice to at least get that mini dose of it via Great Moments with Mr. Lincoln.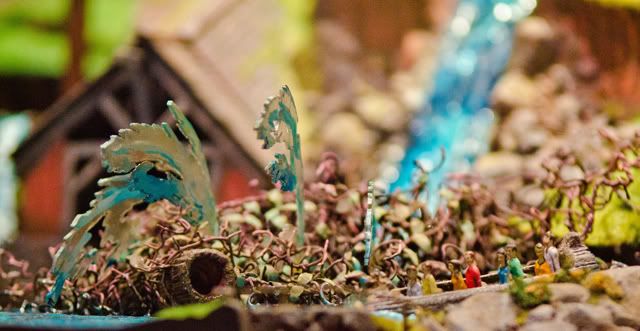 Following Mr. Lincoln, we browsed the rest of the Disneyland Story area, including a gift shop with some amazing art in it. Overall, this area was really cool, almost like a miniature One Man's Dream. It even had some displays (like the model of Disneyland hung on the wall) that were much cooler than most of those in One Man's Dream. All in all, a nice diversion and definitely a great way to kill some time. If you wanted to thoroughly explore the displays, I could see spending an upwards of a couple hours in there. There was a surprising amount to see.
Our time for the Lilly Belle was fast approaching, so we headed to the second floor of the train station and waited. After about 10 minutes, the train with our car arrived.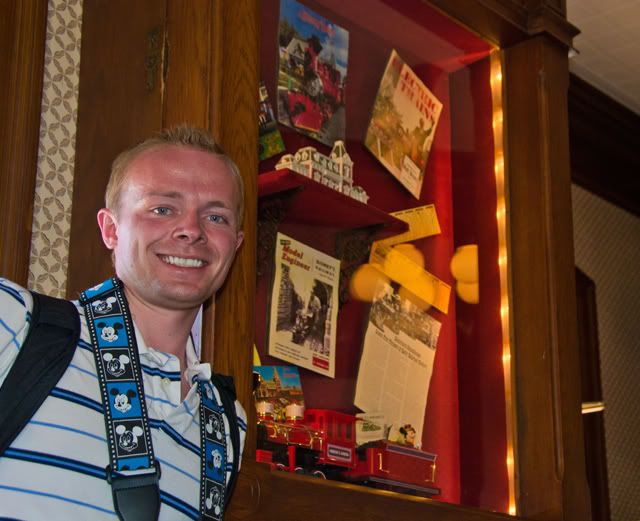 It was a great experience, albeit a really hot one. The car was beautifully appointed, with rich shades of burgundy throughout. It was patently obvious why this car wasn't open to the general public. After only a few days of rowdy tourist children riding in it, I can't imagine it would look nearly as pristine as it did. I know it was recently restored, but still, it looked like it had been in perfect condition since the 1950s or 60s.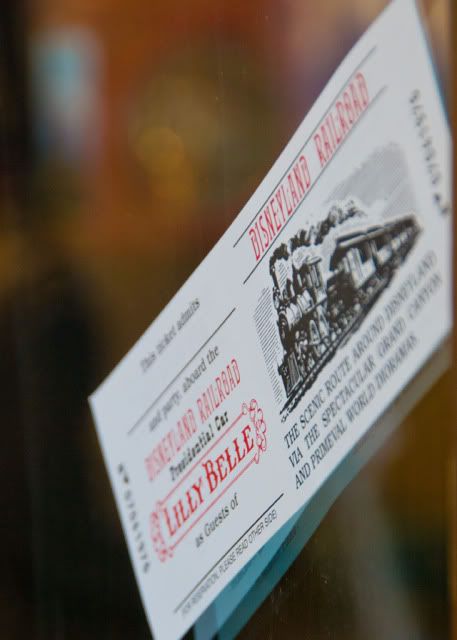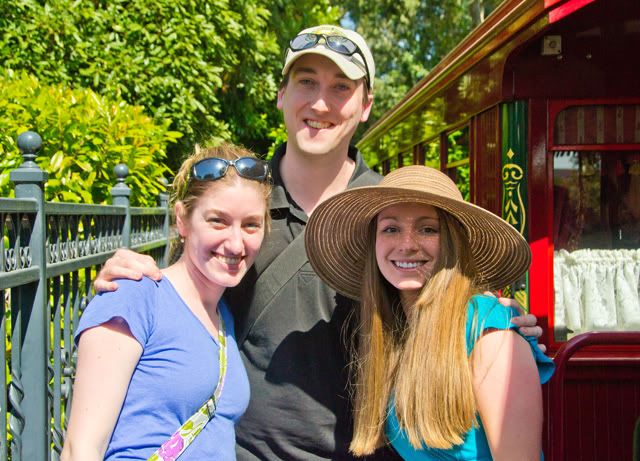 Everything from the patterns on the carpet to the victorian tables to the ornate wood panels of the car were impressive. Books and photos sat on the train to add to really personalize the car, and there was even a guest book to round out the experience. All of these little touches really made the car something special.
The was one other party aboard the train with us, and they were "actual" Club 33 members. We talked to them a bit, and it seemed they genuinely cared about Disney, but when the topic of California Adventure came up (as they mentioned a survey they had received about a private dining club there), they turned their noses up at the park, with one of them saying, "Of course we don't want to join a club there. We don't care about that park, it's the park Walt would have never buil," and, "it wouldn't surprise me if they did build a club over there if they can find enough suckers to join." These people were otherwise nice, albeit a little snooty, but these comments really rubbed me the wrong way. For one thing, invoking the name of Walt ("Walt wouldn't do this") is a huge pet peeve of mine. Walt Disney is dead. It would have been difficult to predict his actions decades ago when he was alive. Now, in a totally different era in a totally different world, you really have the gumption to state what he would and wouldn't do? Really?! Even if you don't like California Adventure, I think it's really presumptuous to say, "Walt wouldn't have built it." I see comments like these all over the internet, and always shake my head at them.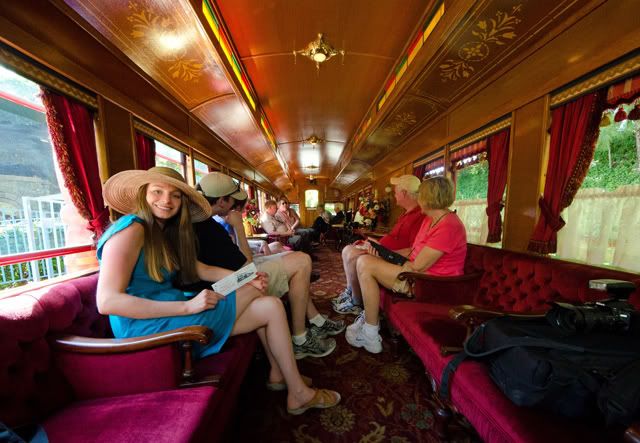 Aside from those comments that rubbed me the wrong way, the people were interesting. They told us a story (I don't know if it's accurate, I can't find anything online besides some vague references on forums to it) about Matt Ouimet seeing the Lilly Belle deteriorating backstage. According to their story, he asked why it wasn't in use, and he was told that Michael Eisner only wanted it used if a corporate sponsor for it could be obtained. Ouimet apparently said that was ridiculous, and ordered it restored. Like I said, I don't know the veracity of this, but it's interesting, nonetheless. They also gave us some advice on menu options, as well as some history about the club, which was all very fascinating.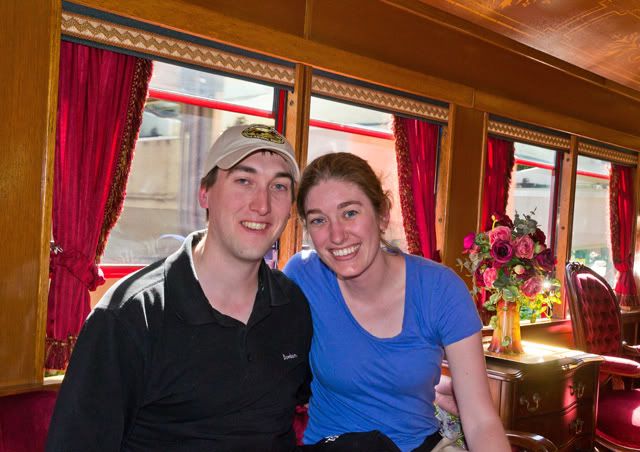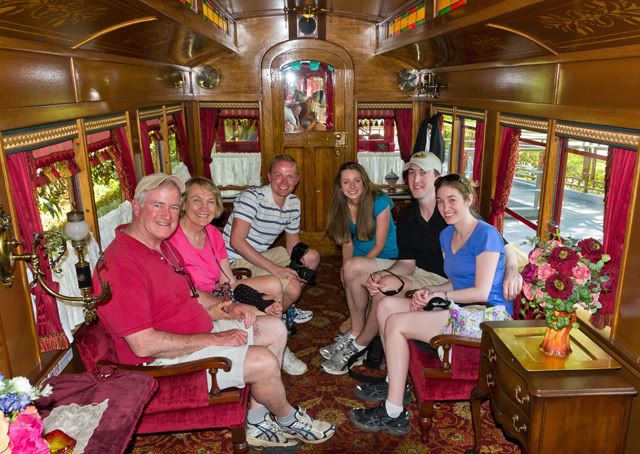 All in all, it was a very cool experience about the Lilly Belle car. It was something we really savored, as I'm not sure that we'll ever have the opportunity to ride aboard that car again.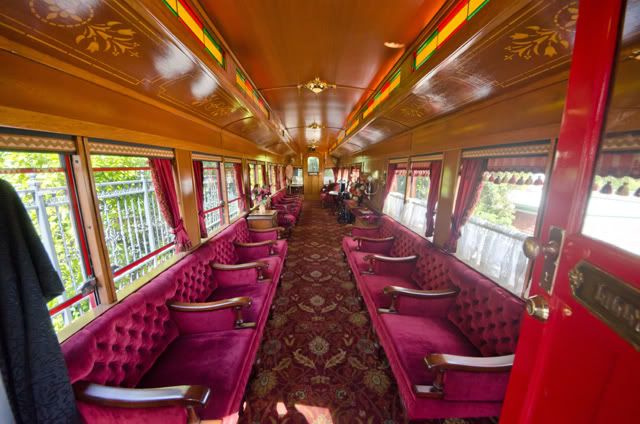 After our loop was complete, we exited the car, and again headed over to the "park Walt would have never built." We first headed to the Pacific Wharf area and hit up the Karl Strauss Handcrafted Beer Cart. I don't even remember what I had, but I'm pretty sure it was an IPA. Karl Strauss isn't really my favorite beer, but I know others like it. I thought it was nothing memorable, but I will give Disney props for including a craft beer here rather than the standard Coors/Miller/Bud.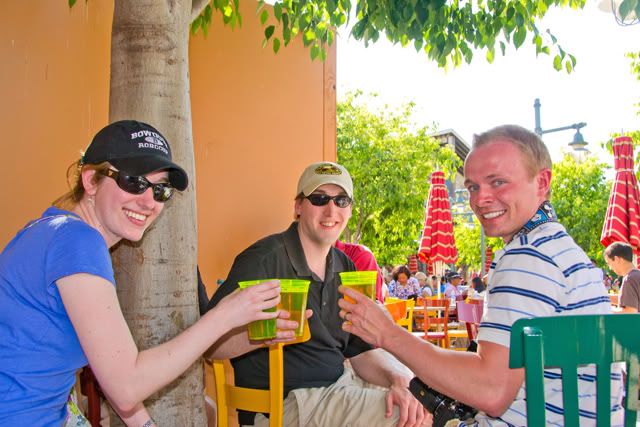 We sat around here for a decent amount of time just enjoying our beer and chatting before heading over to, what else, but the MONSTERS, INC DARK RIDE!!! I didn't keep track, but I wouldn't be surprised if this was the attraction we experienced the most on this trip. I don't know what else would be up there. Silly Symphony Swings? Indiana Jones Adventure? Mr. Toad's Wild Ride? It's definitely right up there if not number one.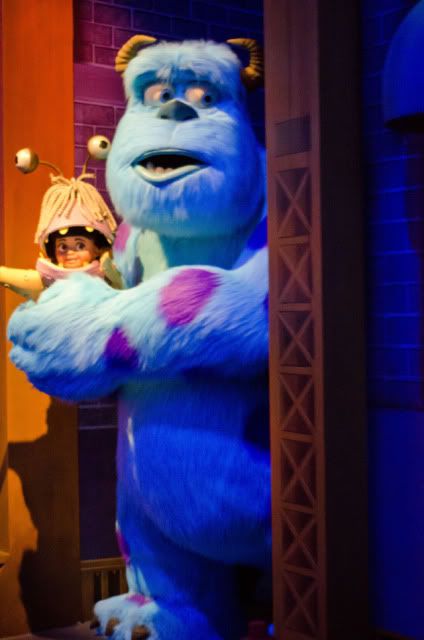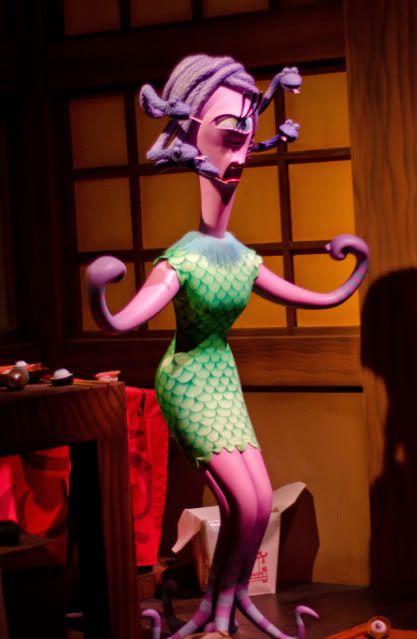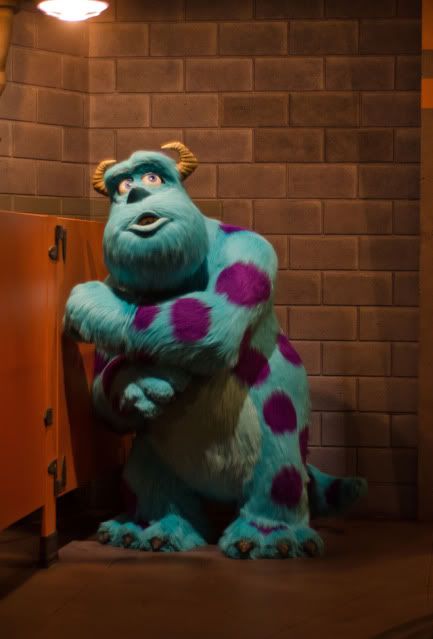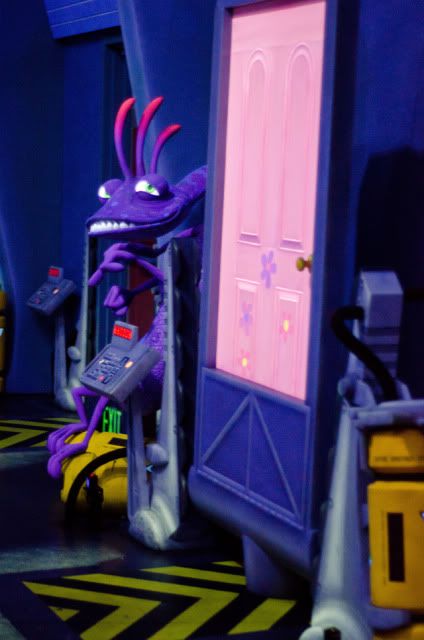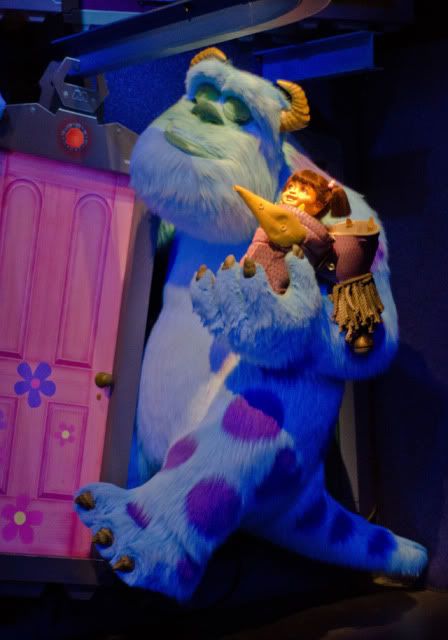 At this point Team Henry headed back to their hotel to get ready for the dinner. Sarah and I didn't plan on doing quite as much readying, so we decided to stay and do more playing. Our first stop, at Sarah's behest, was the Silly Symphony Swings. Despite a 20 minute wait, she really wanted to ride the Swings, so we queued up. Unfortunately, that 20 minute wait time sign was accurate, and we waited for 20 minutes. It may be a fun little attraction, but not something I'd really like to wait more than 10 minutes to experience.
After this, we contemplated using FastPasses we acquired earlier to the Tower of Terror. If it took longer than expected, we'd really have to get ready in a hurry. That obviously didn't weigh too heavily, as we decided to ride without much hesitation. Thanks to a back-up in the boiler room, we did have a bit of a long wait, but it was well worth it. Such a great attraction. As I said earlier in the report, it's probably my favorite attraction at Walt Disney World. It's not quite as high on the list as Disneyland, but it's still incredible. It doesn't hurt that the Twilight Zone is one of my favorite TV shows.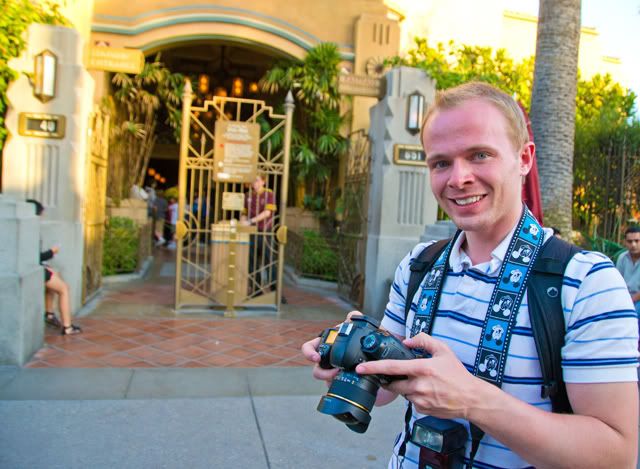 Following Tower of Terror, we rushed back to our room, and got ready and changed for Club 33. Our time in the room was only about 5 minutes, which was incredibly impressive, we thought. This would have never been possible in Florida, where the humidity would have forced us each to shower. Once changed, we headed back to the park for our Club 33 reservations.
…and that's where we'll pick up next time.