Part IV: Coast-to-Coast Disney Trip Report
The next morning, we called Henry and told him of our intention of doing an Ultimate Touring Plan (or at least a half day of one). We really didn't want to adhere to the breakneck pace of one of the plans the entire day, so we figured doing it until we had a late-lunch would be a good option.
Well, apparently when you do an Ultimate Touring Plan, you need to be at the rope, waiting for it to drop before anyone else. We didn't mosey our way onto Main Street until 10 minutes before rope drop, and as such, we were pretty far back in the crowd.
On top of that, as we did rush our way to Fantasyland, I decided to make a couple of "quick" stops for photos. I don't think Henry and Sarah were amused by this, as it pretty much crippled our changes of doing Peter Pan's Flight while it was still a walk-on. Instead of building a second Dumbo, maybe they need to build a second Flight for Pan!
In lieu of PPF, we hit Mr. Toad's Wild Ride. In our last trip report, I really lambasted this attraction, but I think it's slowly growing on me. I'm sort of torn, actually. the facade of the building is beautiful, the ride vehicles are really cool, and the story of the attraction is unique, but the execution is sub-par, and that's putting it lightly. The substance of the attraction is moving cut outs. That's it. I am not one who demands cutting edge technology in every new attraction. In fact, I think the tech-first, story later approach often actually works to the detriment of attractions. However, that works in the other direction, too. Toad is dated to the point that it detracts from the story. In my mind, it's the antithesis of "Disney Details" we all foam over.
Although the ride has grown on me since the first time we rode it together last August (after exiting, I asked: "That's the attraction so many Walt Disney World fans mourn so loudly? That sucked!" (I do realize the WDW version was quite different, but certainly not different-enough to be so highly regarded in retrospect)), I still think it's an example of an attraction that is overrated because of the nostalgia people hold for the attraction. Nostalgia for treasured and departed high quality attractions, like Journey into Imagination and the other rich and lengthy EPCOT Center omnimovers, is one thing. Nostalgia for cheaply constructed or state fair caliber productions is another. At least to the extent that we expect said nostalgia to be enough to keep the attraction in the ever-changing and progressing theme parks.
Still, Toad is an undeniable classic, and a ride that would never be built today. I love a good irreverent attraction, and what's more irreverent than a bartender and hell in Fantasyland?! Isn't that worth something? I think so, and maybe the compromise here is taking Toad under the knife and giving it the kind of plussing Disneyland's Snow White recently received: some new effects, new details, and some TLC. I'm not talking about totally re-imagineering the attraction, or adding ridiculous touch-screens, but just doing a few little things. I really think they might go a long way.
After Toad, we quickly rolled on to Alice in Wonderland. It may utilize little technical advances over Toad, but for whatever reason, I think Alice in Wonderland is far superior. It seems most of the scenes have more depth, and this makes a huge difference to me. It could all be in my head, but I definitely prefer it, and I'm far from a fan of Alice in Wonderland. One thing I didn't even realize about this attraction until Henry pointed it out was the concrete added to the outside area recently due to safety issues. I found some photos online upon returning, and I must say, this area of the attraction definitely looked far better before the concrete!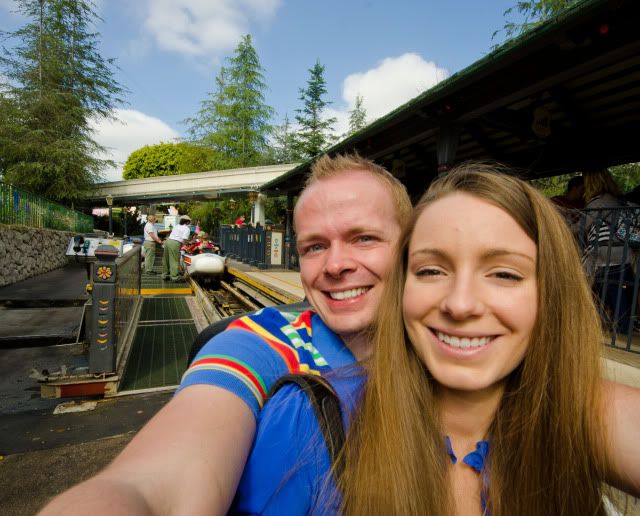 Next up was the Matterhorn. This attraction is just plain good fun. When thinking about it, then thinking about Expedition Everest, I often wonder why Disney didn't just bring the Matterhorn to Animal Kingdom, add a highly themed queue, and area where the ride slows down, and a couple of projections and used the rest of the money to fix other problems in AK. That park is in desperate need of additional attractions, and yet WDI spent tens of millions of dollars on an AA yeti figure that, even if it worked, would only be seen for a few seconds. That money would have been better spent elsewhere. Maybe I'm just saying this because I find the Matterhorn extremely enjoyable, but it's one instance where I think low-tech works just fine (and would have worked at Animal Kingdom with a few modernizations to differentiate the attractions).
Setting up for the shot, taking the shot, and the shot itself. The photo capturing the ball spinning was too blown to use, unfortunately.
It was fast approaching 10 am, so we grabbed some Space Mountain FastPasses for later so we could get over to DCA in time for its opening. Disneyland was already getting crowded, so we decided to just cut our losses there.
Even though we got there right at opening, we decided to get some food before doing anything else. Probably not the most logical use of touring time, but we (and by we I mean Sarah and Henry) were hungry. I was fine with this decision, because I had discovered that I was "in the zone" with my photography earlier that morning, so I was looking forward to the opportunity to grabbing some shots before I left the zone and started taking a bunch of crappy photos.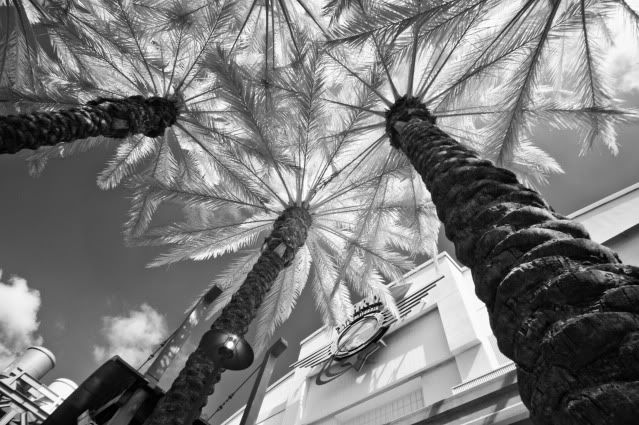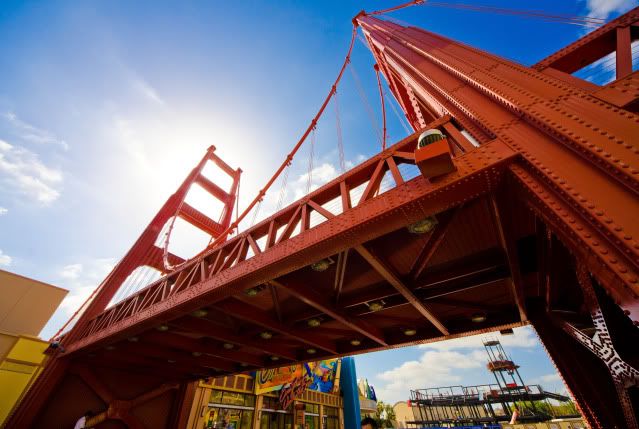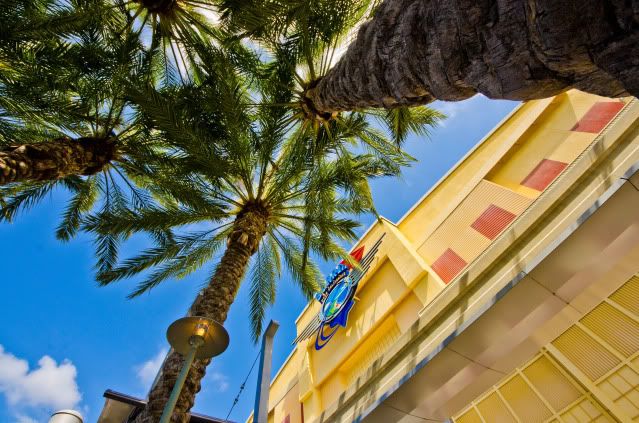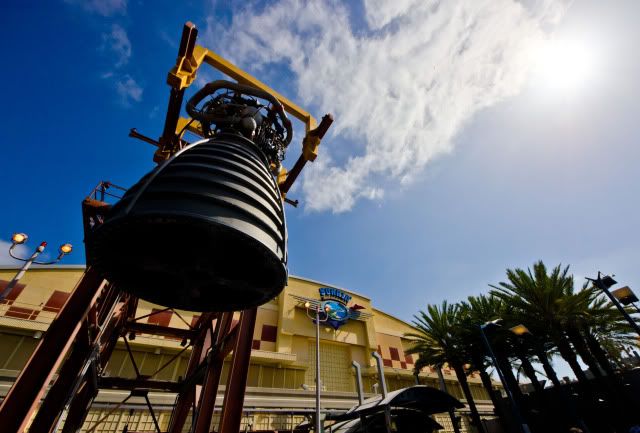 Since I knew I had some time before we'd be riding any attractions, I got out my infrared camera and carried it in my other hand. With a camera in each hand, I could feel some stares from people who wondered what I was doing. Usually I only get these looks with one of my larger lenses mounted, but I guess using two DSLRs raises the question, "is he photographing someone famous?!" too. How sad they would be if they realized I was just photographing palm trees and stuff!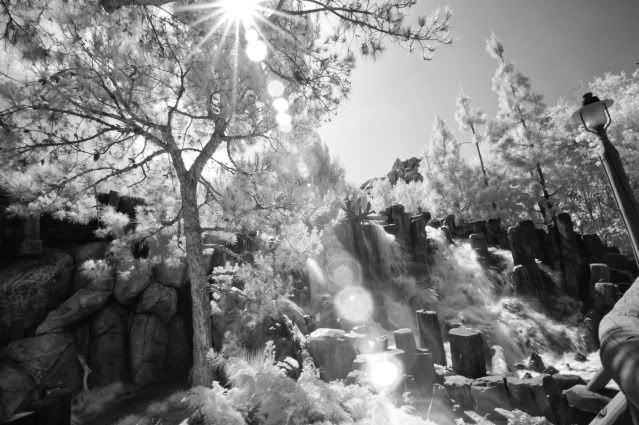 Obviously, since I had a camera in each hand, I took a lot of similar shots with each of the cameras. Each, however, do have subtle differences that you can spot.
There are multiple pages in this Disneyland trip report installment. Navigate to the next page below!