Part III: Coast-to-Coast Disney Trip Report
Disney California Adventure just sounds odd after hearing it as Disney's California Adventure for so long, and given that it's inconsistent with the other properties (Disney's Animal Kingdom, Disney's Polynesian Resort, etc.) in Florida. When the name first changed, I recall reading a multi-page thread on WDWMagic concerning the grammar of the new name. Most posters contended that the new name was grammatically incorrect, as "California Adventure" belongs to Disney, in which case the possessive, "Disney's" would be necessary. However, this assumes that Disney's intent is for California Adventure to belong to Disney. If the entire proper name is now meant to be Disney California Adventure, that is no different than my name being Thomas Brandon Bricker. It's confusing, because the previous intent was to establish Disney's ownership of California Adventure by attaching the "Disney" name to the park's title, but just because that was the previous intent doesn't mean it's the present intent. As a stylistic matter, the new name sounds awkward, and as a practical matter it certainly seems like a waste of money to change over signage and promotional materials to the new name for no cognizable financial benefit, but perhaps there is some justifiable rationale for the change.
In any case, I'll bet you didn't expect grammar lessons in a trip report. Hopefully this one isn't a snooze-fest already! Once made our way through the labyrinth of construction walls around DCA's main entrance, we jumped through what was left of the California post-card in the entrance-way plaza. As I begin my reminiscing about California Adventure and the good ole days (go ahead and laugh out loud as I "reminisce" about my one trip to the garish California Adventure), the first thing that comes to mind is this entrance.
I liked the CALIFORNIA letters on the promenade. I thought the mountain mosaic was gorgeous, I think the Golden Gate monorail track is a neat touch, and I really like the neon signs above the gift shops in this atmosphere. Most of all, I love the atmosphere here at night, when the neon comes alive with color, the monorail passes, and you can hear the mellow tunes of the Beach Boys. Don't get me wrong, I think the new theming will be much more befitting of a Disney theme park, and will look much better (I've already seen a lot of it at the Disney-MGM Studios (or Disney's Hollywood Studios for the youngsters reading), and it does look better!), but I will always think back to the current/slightly past entrance-way with fond memories.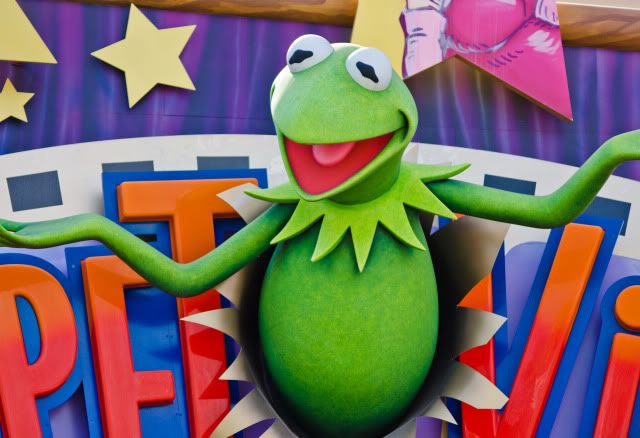 My reminiscing over, we then headed towards two of the top attractions in DCA: Monsters, Inc Mike & Sulley to the Rescue! and the Twilight Zone Tower of Terror.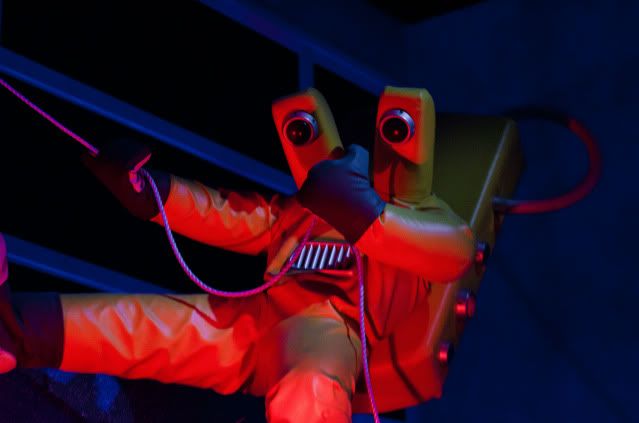 For the life of me, I cannot understand why the Monsters, Inc. dark ride is not more popular. Seriously, especially with the lack of attractions in DCA, the attraction, even with its greater capacity, should have Peter Pan's Flight-like lines.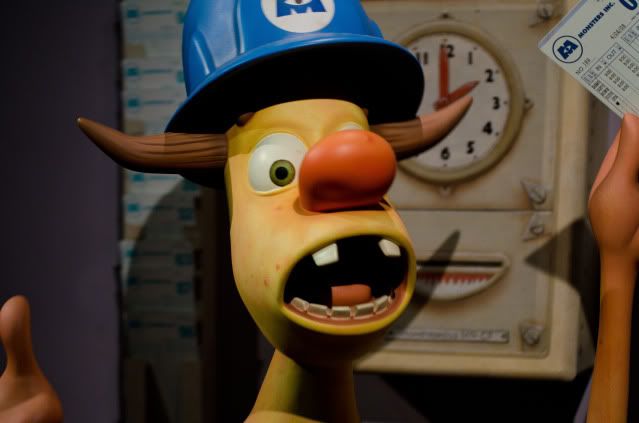 Yeah, a lot of it has been repurposed from Superstar Taxi. Yeah, it's no Monsters Inc. Ride and Go Seek. So what? It's a really fun family style dark ride, and it's pretty well executed. Perhaps we're just partial to the movie Monsters, Inc., but Sarah and I think this is a dark ride stand-out.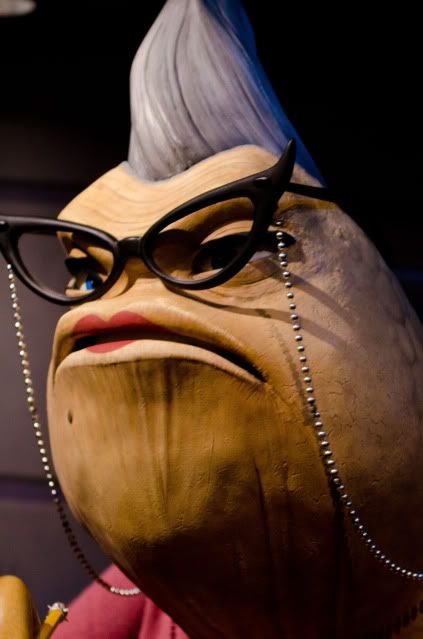 From there, we wandered a little further to the Hollywood Tower Hotel. This is an attraction I love, but far prefer at Walt Disney World. It's not even that the attraction is that much better there (although it is), there's just something about it. I actually couldn't quite put my finger on it until Destination D, when Imagineer Jason Surrell described the storytelling process for the Tower of Terror beginning as you first step foot on Sunset Boulevard and see the HTH in the distance. There, it fits the theming perfectly. Sunset Blvd is, by and large, Old Hollywood.
By contrast, the Hollywood Pictures Backlot is a hodge podge. It features Aladdin the Musical alongside Monsters, Inc., with the beats elecTRONica bouncing throughout at night. Nothing about it is cohesive, and while most of the attractions are wonderful individually, they aren't tied together especially well into the land. This seems like it has started to improve with some of the facades (I think so, at least), but the elecTRONica infrastructure all over the place is a step in the wrong direction, even if elecTRONica is wildly fun and successful. Hopefully all of this is rectified when the land becomes Hollywood Land.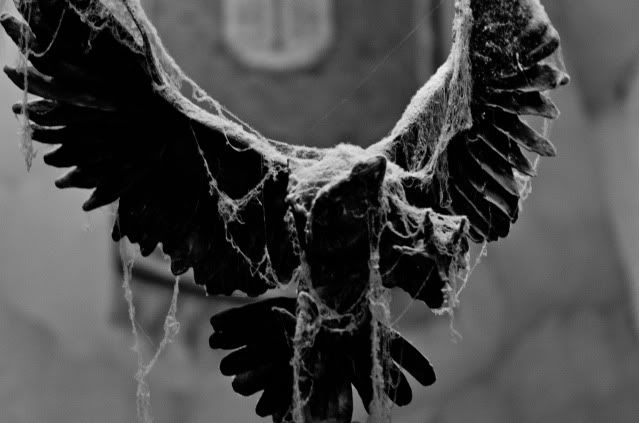 The ride itself was enjoyable, and I find myself still spotting little details (unique to the DCA version) in the queue and gift shop each time we ride. Overall, I'm not as wild about the substance of the attraction itself at DCA, nor do I like the look of the Tower as well, but it's quite possibly my favorite attraction at Walt Disney World, and it easily ranks up there at DCA, too.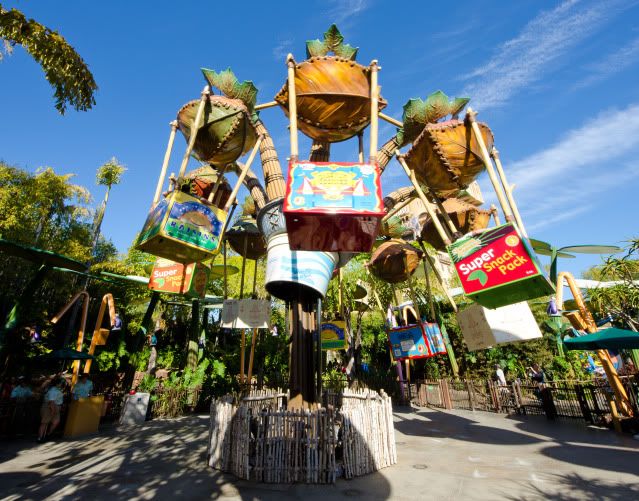 Next we wandered through a bug's land. After our last trip, we realized the one attraction that we had done here was…the restroom. We figured we should probably give something else a chance, and noted the short line for Flik's Flyers. These were fairly entertaining, relaxing, and gave a nice view of the park. They were definitely not something for which I'd wait in line 60 minutes, but for a 5 minute wait, they were worth it.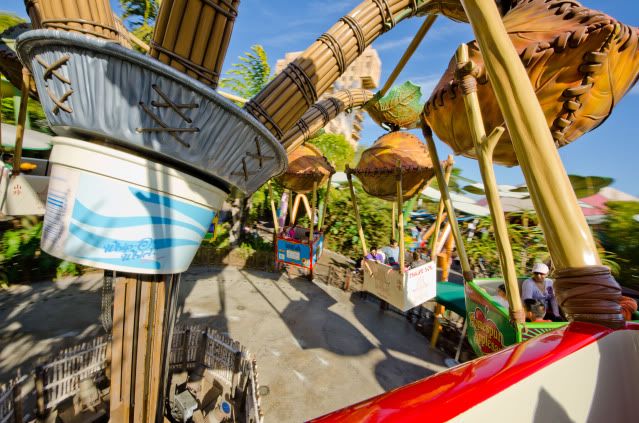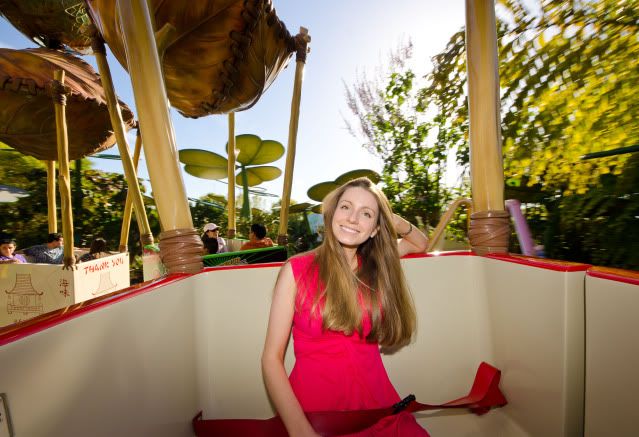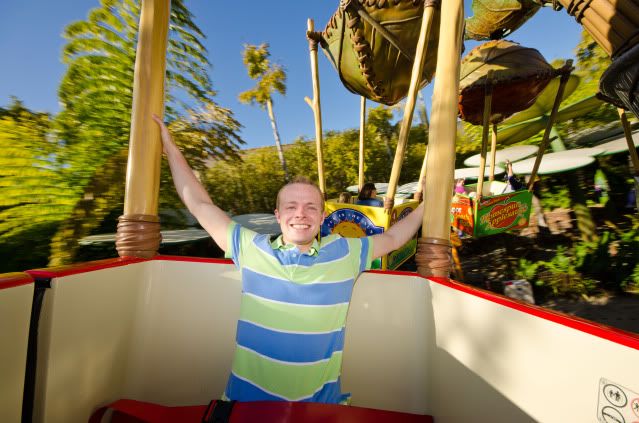 As we meandered our way to the back of the Pier, we noticed everything that had changed since our last trip. Maliboomer was no more. Pizza Om Mow Mow and Burger Invasion were under the knife. The Little Mermaid ~ Ariel's Undersea Adventure's show building was pretty much complete, and was looking great. Mulholland Madness was gone and Goofy's Sky School was making tremendous strides.
During our last visit, all of the aforementioned that are either now gone or are under the knife (and thus will be gone or known by different names) were still operational. As a bit of a theme park historian, I regret that we experienced only Pizza Om Mow Mow of that lot. The rest didn't seem like anything special, so perhaps that's why we passed on them, but had we known they'd be gone, we would have experienced them just for the sake of having experienced them. I really wish I would have followed Disneyland news prior to our last trip like I follow it now. However, I didn't want to see or read too much, thus ruining the surprise of actually being surprised by the attractions the first time I experienced them. You can't have your cake and eat it too, and in the regard that Disneyland was a wholly new experience to me when we visited, I know I made the right decision not reading more about the parks then. Had I read and seen more, the first visit wouldn't have been the same.
Because I didn't read more, though, I think I overly cherish Pizza Om Mow Mow, which I now jokingly describe as the "heart" of Disney California Adventure and the "greatest restaurant in California ever!" While these are obviously nothing more than sarcastic remarks, I did think Pizza Om Mow Mow's theme was fairly neat, and its food okay, it just didn't belong in the Victorian-themed Paradise Pier.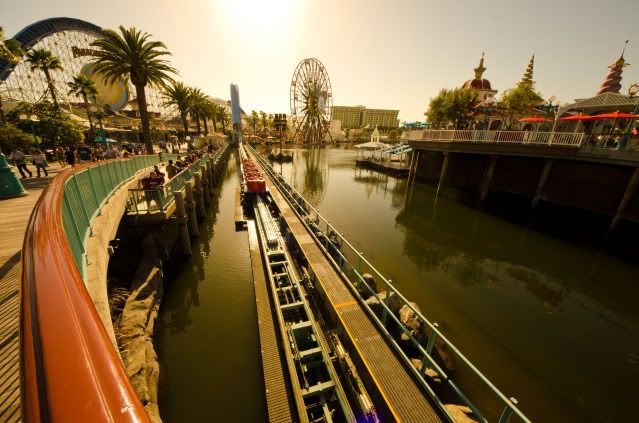 Also due to the historian in me, you might read comments in which I express surprisingly positive sentiment towards things a lot of Disneyland fans might think are garish. For example, the neon signs in Sunshine Plaza. There are a few possible reasons for this: A) I am a tacky and eclectic person without much eye for style, B) I value the idea of the thing more than the thing, and since it is disappearing soon/has disappeared, I place too high of a premium on it, or C) as a photographer, I partially gauge things based on their photogenic qualities, and neon and vibrant colors are decidedly photogenic–at least for my style of photography.
That said, I really wish we could have seen circa 2001 (or even circa 2006) DCA. Personally, I think the Sun Wheel looked cooler than the Fun Wheel, I think the CALIFORNIA letters were cool, I liked the entrance plaza mural, and the Orange Stinger looked pretty cool, although I think overall the Silly Symphony Swings are probably a big improvement there. Come 2013 when the dust finally settles, I have no doubt that the park will be far superior to the park as it existed in 2007, but it still would be cool to have visited back then. Plus, it's only human nature to long for that which no longer exists. Anyway, as we passed the former home of Pizza Om Mow Mow on the way to Toy Story Mania, I poured some Coke on the curb, in honor of my fallen homie.
There are multiple pages in this Disneyland trip report installment. Navigate to the next page below!