Part III: Coast-to-Coast Disney Trip Report
We arrived at Toy Story Mania with approximately 30 minutes until Henry would be arriving at the Grand Californian, and Toy Story Mania had a 30 minute wait. What the heck, we figured, and queued up. "Thirty Minute Wait" wasn't even something in the vernacular for Toy Story Mania in our usual stomping grounds, so we had to avail ourselves of the opportunity!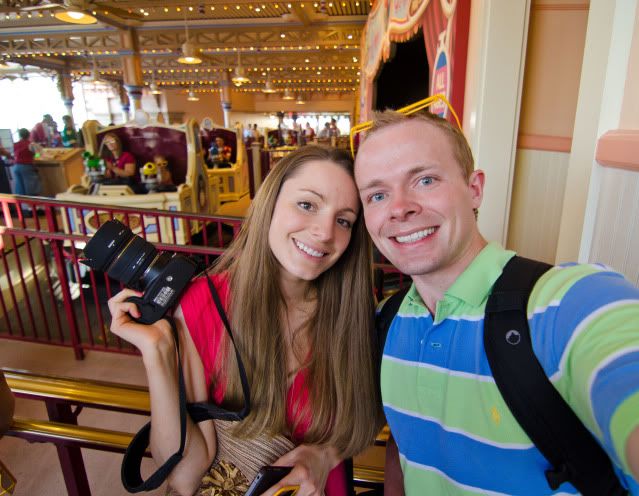 After we had been in line for 5 minutes, Henry messaged us indicating that he'd be leaving for the Grand Californian, a 10 minute walk from his hotel, in a couple of minutes. We debated just heading over there right then, as both of us were starving, but we resisted. The prospect of beating the other at anything was just too much.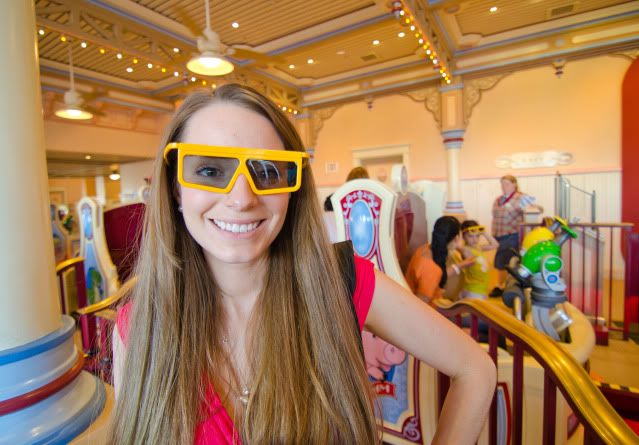 I am pleased to say that I won, thus making standing in line for the attraction while we were so hungry well worth it! After the ride, we headed directly to the Grand Californian, where Napa Rose was calling our name.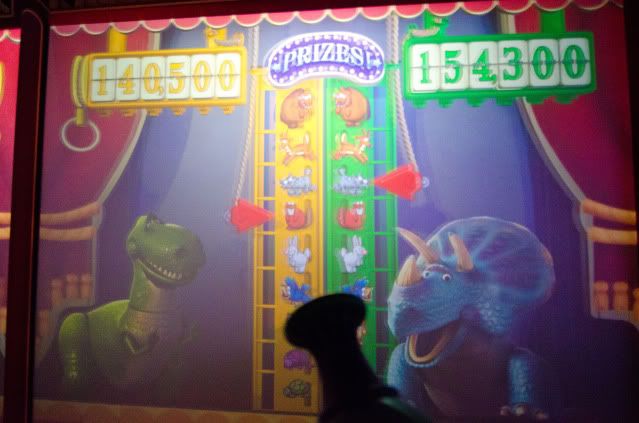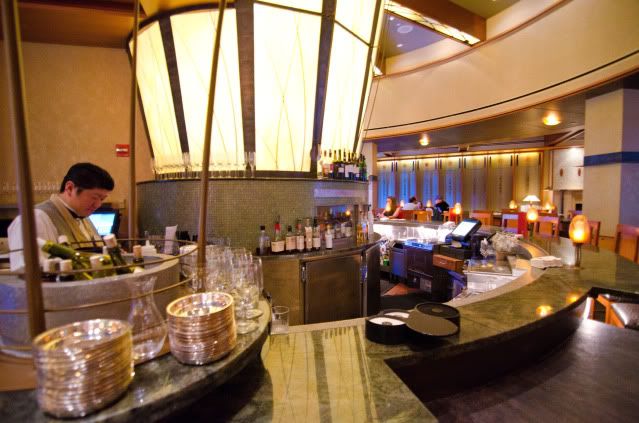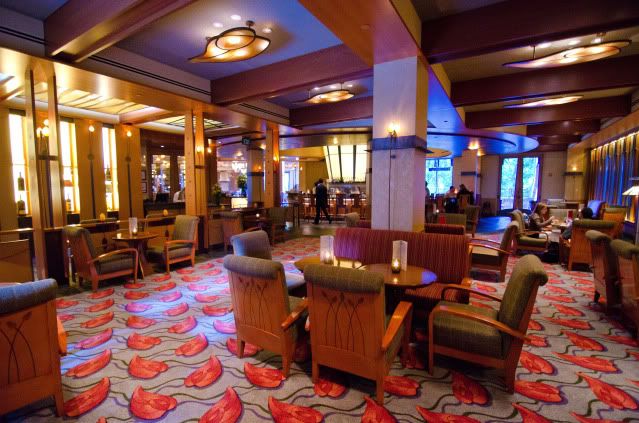 There, we met up with Henry. I keep mentioning him offhand, assuming his celebrity has permeated the Disney landscape in such a manner that everyone knows who he is. For those who don't, he is the developer for TouringPlans.com (If you've never heard of it, definitely click the link; it's the online home to the Unofficial Guide travel guide series), where he and I both work, and the host of BetaMouse podcast. I started out by exploring the bar, taking some photos. The coolest thing, by far, in the room was a series of Pixar wine bottles that some dude had scribbled on. I'm hardly a handwriting expert, but I suspect those scribblings were the signatures of John Lassetter. Some people view hollywood bimbos and drunken country music singers like celebrities, I view Imagineers and animators as celebrities. To each his own.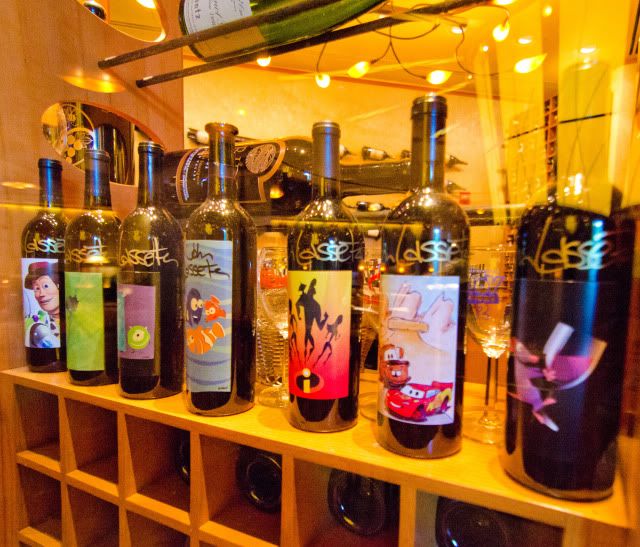 For its impressive wine collection (every server is a sommelier), Napa Rose has a disappointing beer selection. Incredibly disappointing. There are a few decent beers on tap, but overall, nothing special. I wouldn't have been disappointed if this were your garden variety Disney restaurant, but as one of the top restaurants in Anaheim, this beer list was unacceptable. It's annoying that restaurants fail to realize that there are beer snobs out there just like there are wine snobs. Sorry, but Corona is not even comparable to a craft beer.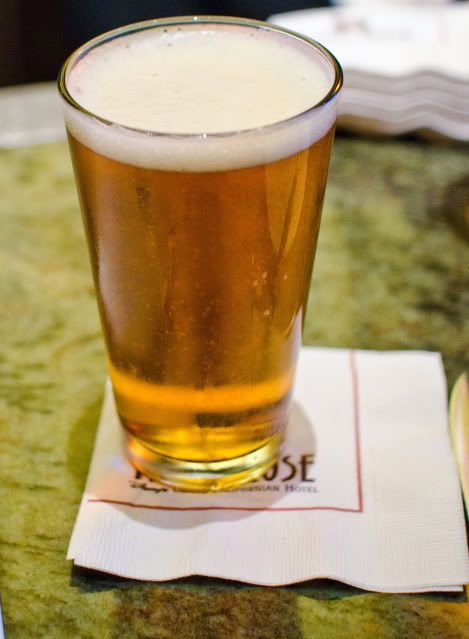 "Reluctantly" I ordered a Franziskaner Hefe-Weisses, a beer I had never tried. It was pretty good. Creamy and moderately thick, it had a nutty flavor, but more surprisingly, a pretty strong banana undertone to it. After a long day in the sun, one of these really hit the spot, and definitely "relaxed me" a little more than it typically might have.
The truncated beer list is about the only negative thing that could conceivably be said about the dinner.
The positives, and there are many positives, I could extol for quite some time. This restaurant was a last minute addition to our plans (3 days before the trip we decided to go) and even then, we only did our meal at the bar. We could have easily sat anywhere in the restaurant, because at this early hour (it was around 5 pm), the place was still pretty dead.
The I saw it on the menu, I instantly knew what I must order: the Grilled Filet of Angus Beef. Other things may have looked good, but it was like a spotlight from on high shined down on the menu when I first opened it, illuminating that item. Duck, salmon, sea bass–forget about it. I was ordering the Filet. Wait was the hardest part.
The dinner started out with our server bringing out a basket of breads, which included ciabatta, sourdough, olive, and cracker bread covered with parmesan cheese. While I fiddled with the camera trying to properly capture a photo of the bread, the wolves–I mean Sarah and Henry–menacingly growled in my ear as if to signify that they wouldn't have much more patience, and would be gnawing on my shoulder or the bread in the immediate future. I cut the photo-session short, and let them begin devouring the breads. We were all fairly hungry at this point.
The bread was delicious, and that and conversing helped us pass the time until our food arrived. And arrived it did, quite quickly.
The light that shined on the Filet before became a beacon now. I don't know how I mustered the ability to take photos of the steak rather than stab my steak into it and tear it apart like a madman, but I did. Bathed in Fire Roasted Chestnut Puree, Parsnip, Brussel Sprouts, and Cabernet Essence, I could tell by the presentation and aroma alone that I was in for a real treat.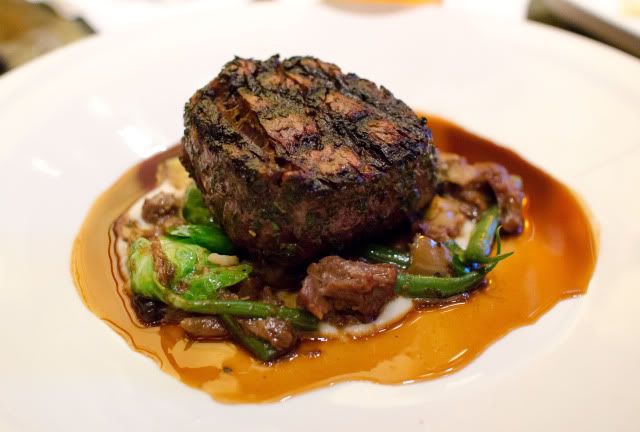 Then I took my knife to it, and it glide through like it was cutting through butter. Cooked to perfection, it was thinly seared on the outside and gradually turned more and more pink towards the center. Thick cut, flavorful, and juicy, the Filet was pure perfection. The puree and cabernet essence were the perfect compliments to the steak, and even the sprouts, something I probably wouldn't give much thought to eating, were excellent. It was the best Filet I've had at any Disney restaurant, and probably one of the very best I've had in my life.
Sarah had the Salmon, which was pretty good, at least from the taste I got. While I love fish, salmon is one of those things that can be colossally screwed up, but is difficult to truly prepare as a "wow" dish. It's like a baseball player who bats second in the lineup and consistently hits singles and doubles, and has a .335 batting average. He may be more valuable to the team than the home run hitter batting clean-up who only sports a .225 average, but when that home run hitter smacks a 450 foot bomb, jaws drop throughout the stadium. The filet hit that home run (oh, and the bases were loaded), whereas the salmon "merely" stretched a double into a triple. Triples are great and all, but just aren't the same. Perhaps all of the salmon aficionados out there will lambaste my unrefined "salmon-palate," but that's my take on it. I think Henry enjoyed whatever he had, too. It looked good, and I'm sure I asked him whether he liked it at one point (you know, to be polite), but I have no clue what he said now. Unquestionably, the star of the dinner was the Filet.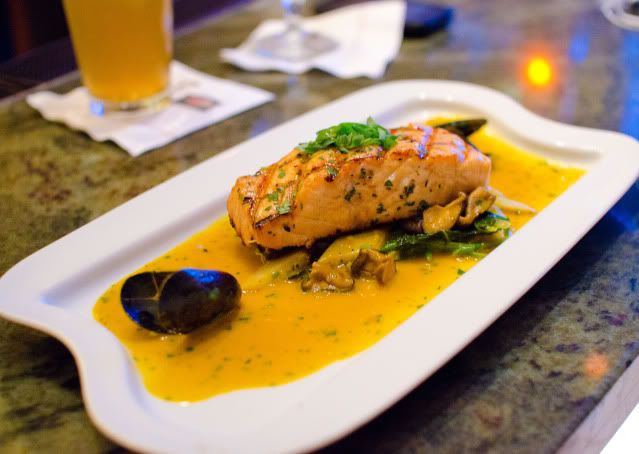 We elected to skip dessert (Totally my fault–I am STILL kicking myself over this terrible decision, but I guess it gives us a reason to go back!), and took our drinks to the outdoor area to sit around a fire pit before finishing them.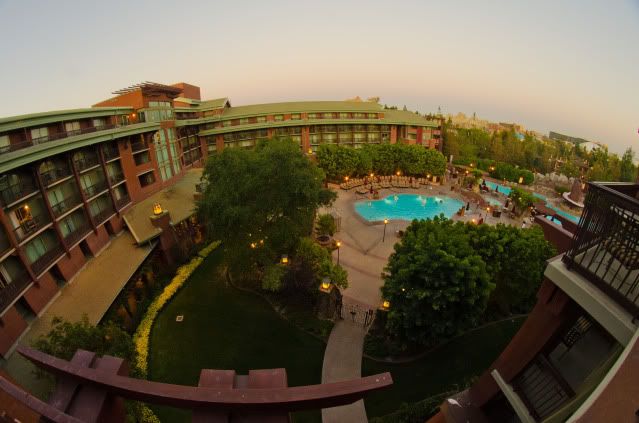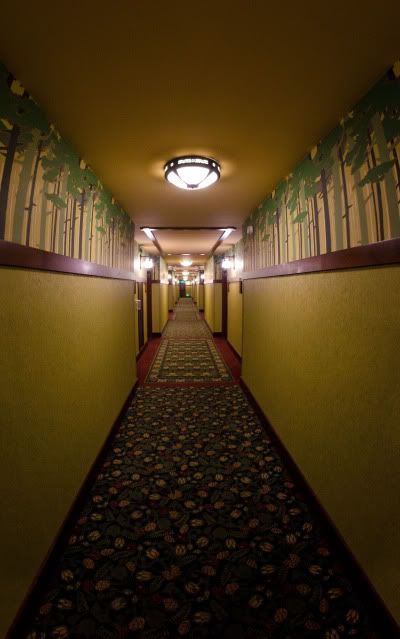 Once done, we decided to head up to the Disney Vacation Club observation deck to take a look at Paradise Pier. Sarah and I are DVC members, and we brought our DVC membership cards with us specifically with the goal of getting up there in mind. After flashing our cards and some sweet-talking, we accomplished our goal.
There are multiple pages in this Disneyland trip report installment. Navigate to the next page below!