October 2011 Disney World Trip Report, Pt I
Even though we take multiple trips per year, this trip was a long time coming. The anticipation it it actually began 4 years ago, way back in 2007, when Epcot (or EPCOT Center, more appropriately) celebrated its 25th anniversary.
In retrospect, I'd like to say we were on the fence about attending that event. However, that's probably more wishful thinking than anything else. We had just visited Walt Disney World for the second time together that August, and we were just starting to really sink our teeth into the Disney community. I had been reading WDWMagic.com daily, had just started listening to WDW Today and WDW Radio, and my Figment collection was just starting to get out of hand. Neither of us had ever taken more than one trip in a year (that streak would soon end, when we took our November 2007 "Engagement" trip). Heck, the only camera I even owned at that time was a $100 point and shoot. Ahh, the good ole days. Still, even though it was an unlikely proposition, I remember desperately wanting to go, to be part of something special in the fan community, even if Disney wouldn't be doing much.
The event occurred without us, and the sun rose on October 2nd. So it seemed as if all was well. Then, reports started trickling in of what an amazing time it was, how there was a sense of excitement and true camaraderie in the air. We listened to podcast recaps, and we were really disappointed that we weren't there. Really disappointed.
Then, shortly after that date, I read of other fans discussing Walt Disney World's 40th anniversary, and what might happen for it. I instantly latched onto that, as something to anticipate, rather than be disappointed by our absence from Epcot's 25th. Here and there, I would engage in other discussions of what "might happen" for the 40th, always excited to read these discussions, even if they were vague potentialities that really had no chance of ever happening. Honestly, I didn't expect a whole lot, it was more the idea of being there for the day, rather than the substance of the day itself.
In a flash, October 1, 2011 was quickly approaching. This became very apparent in May 2011 when we attended Destination D at Walt Disney World, which arguably was the event for the most fervent Walt Disney World fans to celebrate 40 years of the Vacation Kingdom of the World. Once that passed, and the rest of the summer went with it, and we began counting down the days in September, the exciting anniversary was even more prominent in our minds.
Finally, on September 28th, we left for Walt Disney World. As the trend has been since entering the "real world" workforce, we left after work one afternoon.
Arriving at the airport is always a fun experience, but this one promised to be slightly more drama-filled than normal, as I had left my wallet in Chicago at a friend's house the previous weekend, and was using a temporary (piece of paper) version the BMV had issued me the day prior. The TSA's website indicated that this would suffice, but the TSA isn't exactly a pillar of consistency.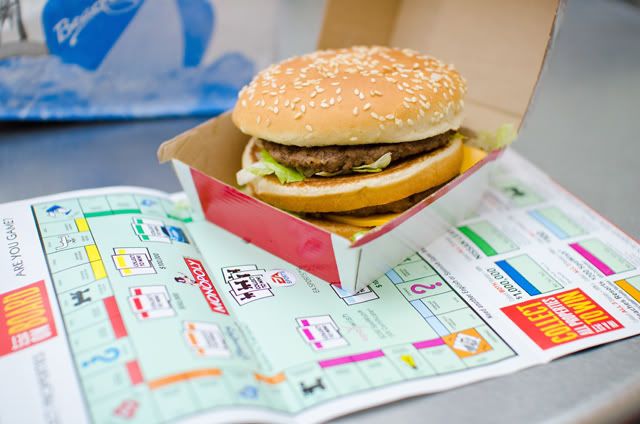 Before we got through security, though, we had the obligatory stop at McDonald's. As I had learned a couple of days before, McDonald's would be starting its Monopoly promotion the day we flew out. Talk about great timing!
This promotion was especially exciting for me, as I always win at Monopoly. Unfortunately for me, the McDonald's version of Monopoly has little to do with skill, so my exceptional board game prowess paid off in no way. Luckily, for me, though, the Monopoly pieces I received also came with two Big Macs, and those were tasty as always. Rather than once again going to great lengths to defend my love for McDonald's, I will just say this: you're either pro-McDonald's, or you're terrorist. There is no middle ground. Worth mentioning here is that rather than getting McDonald's, Sarah ordered a taco or something. I'll let you draw your own conclusions.
Next up was security. Dun dun dun. Luckily, the temporary piece of paper-thing that the BMV issued to me did, in fact, work just fine. With that, we were through security and off to our gate.
As usual, and entirely not be my choosing, we were at our gate over an hour before our flight. Some ridiculous TSA bulletin says you should arrive at the airport at least 2 hours before a domestic flight. Someone in our party likes to play it safe and arrive around two and a half hours before our flights. If it were up to me, we'd arrive 35 minutes before our flights. The airport is a cool place, but sitting around for hours watching people walk around with luggage doesn't do a whole lot for me.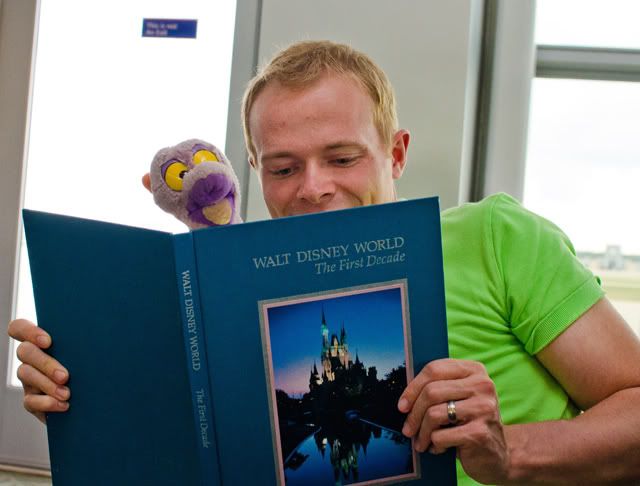 Once again, in a move that's becoming increasingly more common, we were flying AirTran instead of Southwest. Even with the bag fees, AirTran's prices recently have consistently been better than Southwest's, plus the flight we need is always direct on AirTran and never direct on Southwest. I am a huge proponent of direct flights.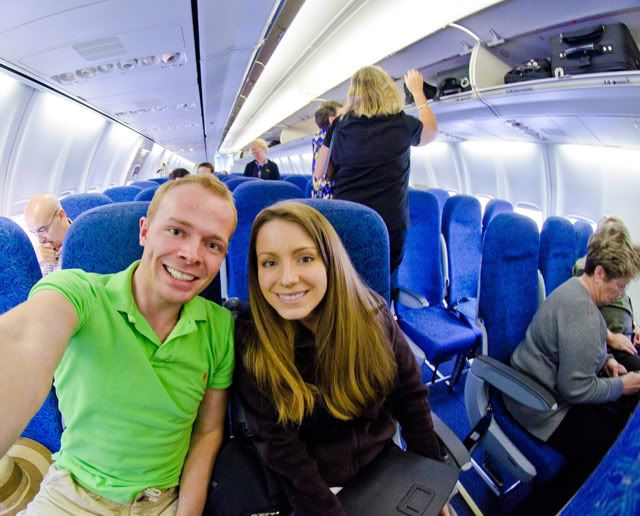 Luckily, the time passed quickly, and we were soon boarding our plan. Unfortunately, there was no window where there should have been a window, so I couldn't see outside, or more importantly, take pictures of the gorgeous sunset as we flew. I apologize on behalf of AirTran Airways for this oversight.
Even without the window, the flight passed quickly, possibly in large part because I slept during most of it. We arrived in Orlando 10 minutes ahead of schedule, which was fairly exciting…for all of about 30 seconds, at which point we were informed that we couldn't taxi to our gate because of lightning. It was supposed to be clear and sunny every day of our trip. So much for that!
After about 30 minutes of sitting around, we finally started moving. The worst part of all this was that I had nothing better to do than watch my Twitter feed while we were sitting there, and I kept seeing photos from other Disney fan-photographers who were using the lightning to their advantage. Dangit, no one should "encourage" the lightning–it was preventing us from having fun!
After an eternity (or 30 minutes), we finally exited the plane. We quickly headed down to Disney's Magical Express, where we immediately boarded the bus. We were really excited. Until we noticed that all of the buses were idling with people on them and there were no lines inside. Normally once the buses started loading (in our experience, at least), they depart right away. We figured we were in for a long wait.
Luckily, that was not the case. Our bus departed only a few minutes after we boarded, and we were off to Caribbean Beach Resort!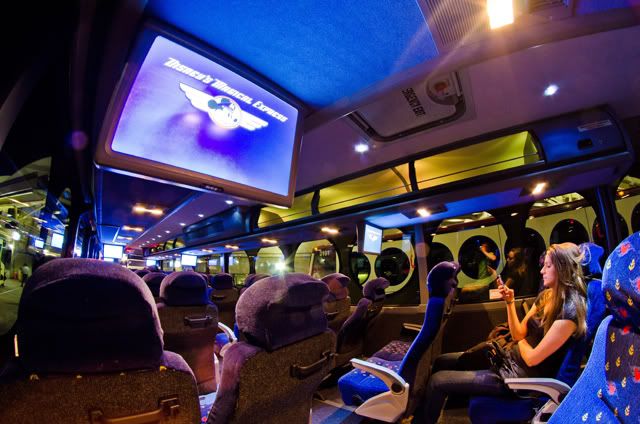 If you've read our other trip reports, you've probably read numerous times that I love Disney's Magical Express. Not because I think it's more convenient than a rental car or other shuttle service (it's not), but because it's the perfect preface to a Disney vacation. One of my favorite aspects of the ride is the video they play.
Oddly, about 5 minutes into the ride, the video had yet to start. I wasn't too worried, as sometimes it doesn't start right away. I'm still not completely sure if it starts automatically when the vehicle hits a certain point, or if the driver initiates it. I'm leaning towards the latter, as we've had our return-to-the-airport video not play once. Given that experience, I was worried that the same would happen here. Luckily, disaster was averted when the video started! It's these small victories that I really savor!
The video was great (Goofy voice: "I'll say it was!"), as always, and we were to Walt Disney World in no time. In a shocking change, we were the first stop the bus made. When the driver announced this when we departed the airport, I pinched Sarah, saying we must be dreaming. We're almost always the very last stop. I guess the law of probability dictated that this had to happen eventually!
We exited the bus at Caribbean Beach Resort and headed for the Custom House to check-in. Along the way we met up with our friend, Nick. When we got to check-in we experienced another victory: no line! It was shaping up to be a great night. I requested a room in Jamaica, which was full, but luckily, Aruba was open. Based upon my research, this was the optimum location without paying an additional preferred room fee. We're both awesome at walking, but more importantly, cheap, so we weren't about to pay this nightly fee for a room a little closer to Old Port Royale.
As we were leaving the Custom House, as some of you may have read on my Twitter account, I noticed one of my photos of Spaceship Earth being displayed on the video "tip board" that provides operational hours and other information….
There are multiple pages in this Walt Disney World trip report installment. Navigate to the next page below!