Disney World "Year of a Million Dreams" Trip Report
7 Days. 2,962 Pictures Taken. 3 "Dreams" Received. 1 Bedroom Villa at Saratoga Springs Resort. 2 Dole Whips. 1 Looming Hurricane. 19 Consecutive Hours in Magic Kingdom. 3 Hours of Sleep Thereafter. 5 Rides on Toy Story Mania in One Day. 1 Great Time.
I'm sure I could come up with more numbers to illustrate the theme, but I think those embody the poignant portions of the trip well.
We began our first day a little later than past trips–this year we were in Indianapolis staying with Sarah's parents, who were able to get us to the airport in about a half hour, compared with the three hour transit time of past trips in order to get to Chicago Midway Airport via an assortment of trains. So the extra sleep that came with getting up at 6 a.m. versus the normal 3:30 a.m. was nice.
Prior to catching the flight, we played around in the airport taking pictures of ourselves and my Figment plush in various poses. We were quite thrilled by this, although it seemed some other patrons of the airport might've thought we were a little odd. Scrooges.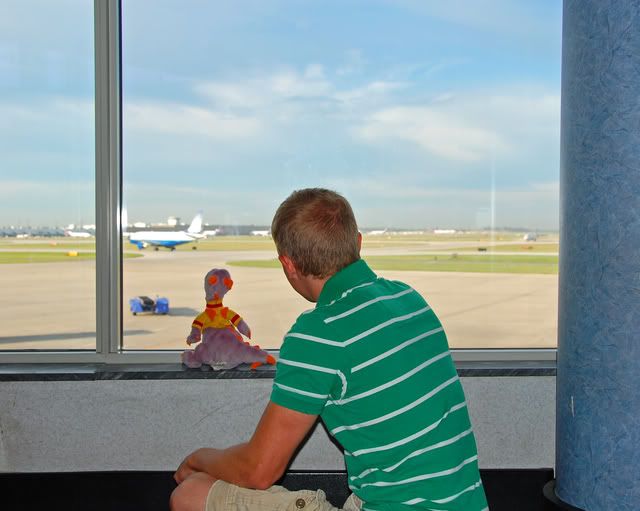 Once we got in the air we made use of the free drink coupons that came with our frequent flier flight from Southwest. This coupled with looking through my old WDW books made for a really quick flight. Before we knew it, we had landed in MCO.
The line for Disney's Magical Express was longer than I'd ever seen. Luckily for me, Sarah waited in the line while I played around, taking more pictures. All told, it took about an hour from the time we got in the DME check in line until we got on the bus.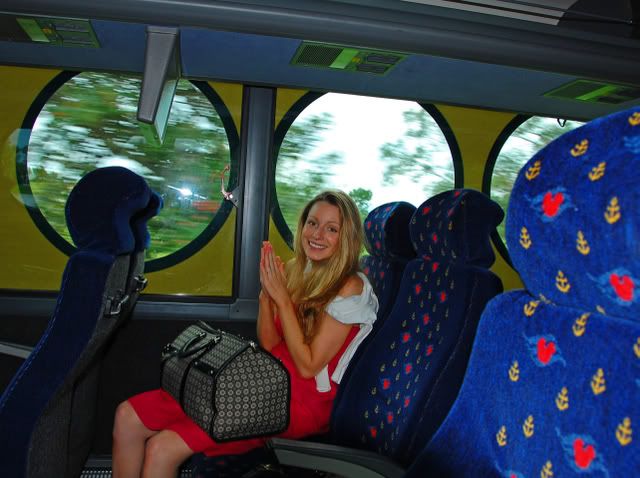 We arrived at Saratoga Springs Resort about three hours prior to check-in where we met our friend, Nick, who is a cast member at Space Mountain. There was no issue with the early arrival–we even received a free upgrade to a one bedroom villa. I'm not sure if this is a "standard" upgrade during slow times, but it's the second year in a row that we've received the free upgrade at SSR. If they give the free upgrade as a tactic to get people to invest in DVC, it certainly is working, because we're sold.
After getting settled into the room and watching the Top 7 a few times (more like having the Top 7 play as background music), we got ready and headed to Downtown Disney, where we would catch a bus for Animal Kingdom Lodge where we would be having dinner at Boma.
We arrived a bit early, so we had some time to peruse the lobby prior to dinner. Like most of the Disney Resorts, AKL's theming is wholly immersive. I'm not sure that we'd ever stay there given its proximity to the Magic Kingdom, Epcot, and the Studios, but it certainly is impressive.
Boma lived up to its reputation. For a buffet, the food was quite unique, and good. It's conservative enough to appeal to a wide range of palates, yet there is a bit of edge to the menu. All told, not something you'd expect from a buffet. The restaurant itself has somewhat low lighting, giving the restaurant a somewhat romantic ambience. Again, definitely not what you'd typically expect from a buffet. I was thoroughly impressed with the place.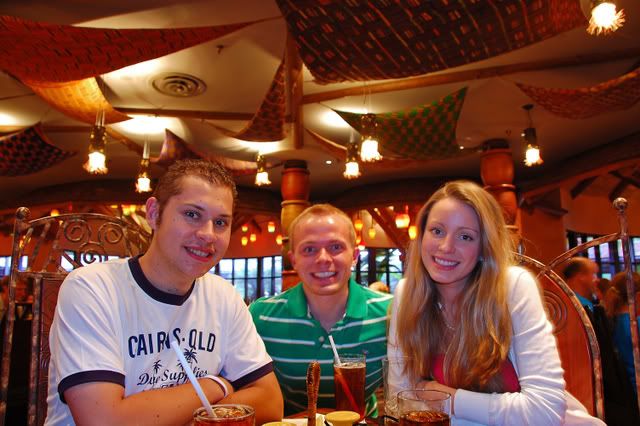 After Boma, we headed back to the resort and made a couple drinks before heading out to Pleasure Island. Truth be told, our only previous time at PI was only mediocre, but this time we decided to forgo the sparsely populated dance clubs (I hate the whole club scene anyway, and about the only way I can tolerate it is if they are sparsely populated, but I was still quite pleased not to be "clubbing") and spend the night at Adventurer's Club.
The decision turned out to be a great one. Sarah, Nick, and I all thoroughly enjoyed ourselves. Spending the entire night there definitely improved the experience, as there were plenty of running jokes that you would've missed if not there the entire evening. My only complaint is the number of people who were obviously regulars. I'm not saying I have a problem with people who regularly attend the AC, it was the way they carried on. I'm glad you all attend the show regularly and know all of the gags and have your own themed attire, but I paid to see and hear the performers, not hear and see you try to upstage them. This didn't affect the experience much, but was just a bit aggravating. We had such a good time that we decided to alter our plans a bit to go back later in the week. My only regret was not taking my D40 to get some good pictures of PI and the AC. But I figured it was a safer bet to take a cheap P&S just in case anything were to happen. We got back to our room around 1:30 a.m., and went to bed immediately.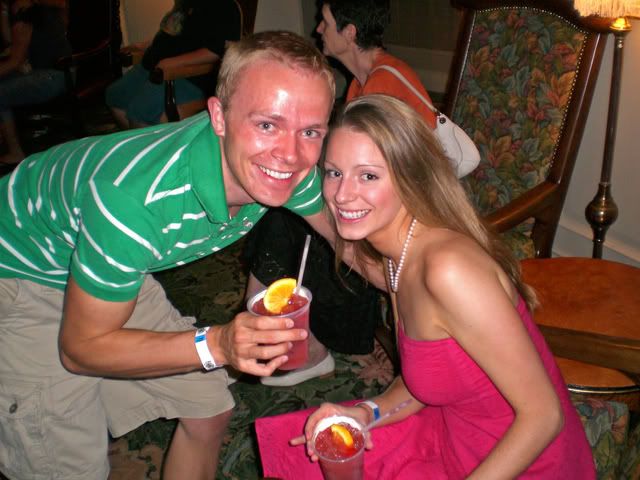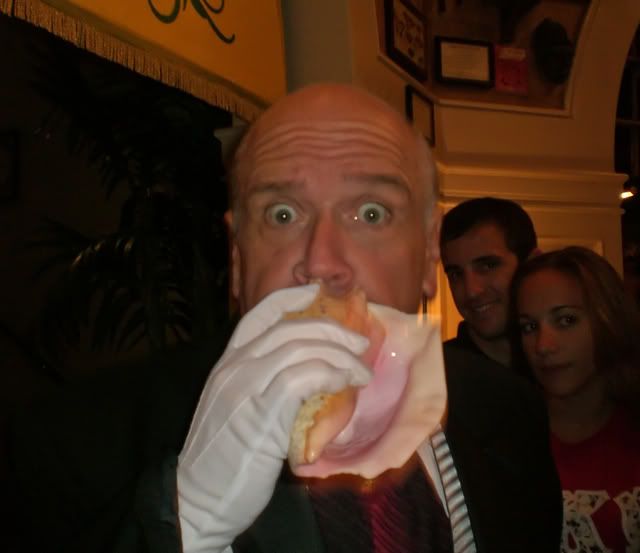 The morning would come quickly, though, with the alarm set for 7:45 a.m. so that we could get up in time for Disney Hollywood Studio's opening. We didn't get there quite when it opened, but we got there about 20 minutes after–at which point we bee-lined it to Toy Story Mania, grabbed Fast Passes, and got in the single riders line. Even though we didn't get to see Mr. Potatohead on the first pass through, we were all quite impressed by the queue. I played around with the camera again, and managed to get some pretty decent shots despite the low lighting.
After a short wait in line, we boarded the attraction. I've tried to avoid reading reviews of the ride (although I had seen a few pictures) so as not to spoil it. I knew the basic jist of the attraction, but when I finally was there to experience the execution, I was floored. It more than lived up to the hype, and, in my opinion, is an "E" ticket. Even if you gauge attraction level by the technology utilized therein, I think it's an "E". It's simply amazing. The easy comparison is Buzz Lightyear's Spaceranger Spin, which is also a favorite of mine. While I like Buzz's use of animatronics, TSM's games are easily better. My only hope is that by the next time we're there, the hype will have worn off a bit, so by the time EMH hours roll around, it will be a walk on.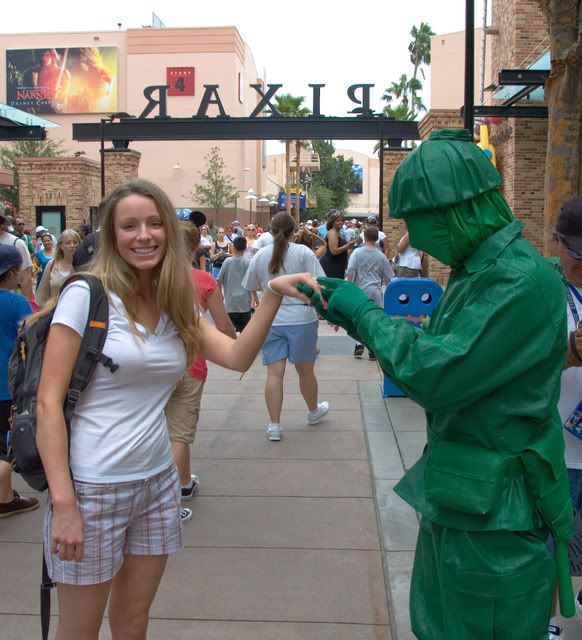 After riding once, we headed over to the Rock 'n' Rollercoaster and Tower of Terror area. We wanted to hit these early, because I knew it would be busy at DHS that day since we were going on an EMH evening. Unfortunately, this was our best day to go due to other conflicts. We got in the RnRC in the single rider line, and rode that once, during which time it seemed that some of the effects were not working. It seemed that were was a lot more "dark" than normal, although I can't confirm that anything specifically was not working.
Tower of Terror had a short wait for standby, so we rode that as well. As usual, it did not disappoint. The Twilight Zone is one of my favorite television series, and I love all of the little homages to episodes throughout the ride. Some day, I really want to try to make a list of them all, because I'm sure there are still some that I've missed. Just another example of Disney's amazing attention to detail.
We then rode Great Movie Ride, where we experienced the "Cowboy" scene for the firs time. Aside from the bank catching on fire, I thought this was inferior to the "Gangster" scene. I speculated to Nick and Sarah that they must have been running the Cowboy scene because the Gangster one was down. Can anyone confirm Cowboy as "B mode"?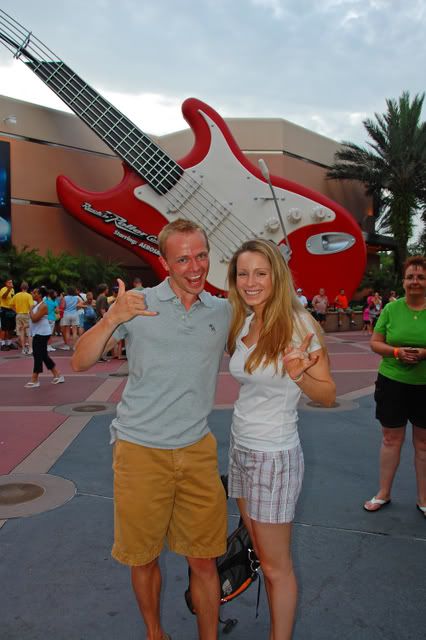 By the time we were done with GMR, our Fast Passes for TSM were ready. After that, we hit up the usual suspects at DHS, and then found seats for Block Party Bash! It was energetic to say the least, and we thoroughly enjoyed it. I am really enjoying the decisions WDW management has made to bring new life to DHS. We had ADRs for 50s Time Prime Café at 5:30 p.m., so we went there and after a short wait, were seated.
Our waiter's name was Jeffrey, and he was very true to character. He played around with us, so I decided to play back. I drew a stick figure picture of he and us on our napkin, then presented it to him as "an artistic rendering of our experience in lieu of a tip." (it was not actually in lieu, I just wanted to see his reaction). He put the drawing on the fridge near the lobby, and we went on our way. The meal itself wasn't that great and I think the menu is a bit too limited, but we saw the restaurant as more of an experience for the ambience, anyway. I have a sneaking suspicion that some here may know our waiter (we saw him later in the week at the AC)–if that's the case, tell him we said hello.
(Our drawing is on the upper right hand corner of the fridge).
After dinner we hit a few more attractions, then watched Fantasmic! I love Fantasmic, but we didn't get very good seats as it was quite crowded. After Fantasmic, it began raining, so we sought shelter in the RnRC gift shop for a bit.
Once the rain stopped, it seemed like the park cleared out a little bit. That, or everyone was over at TSM, which was more likely the case. That evening, they opened the Fast Pass kiosks for additional evening EMH Fast Passes. In what might have been the most thrilling "attraction" of the trip, we got our Fast Passes with 10 seconds to spare (before they were gone). We planned on staying until the end of EMH anyway, so it was not an issue that our FPs were valid from 1:35 a.m. until 2:05 a.m.
We then rode RnRC and ToT a couple more times each, and then took some pictures. By the time we made it over to TSM at 1:40 a.m., standby had cleared out, and was "only" at a 70 minute wait. We rode once with the Fast Passes, and immediately got in line again. We made it into line at 2:00 a.m. exactly, with only 4 people in line behind us.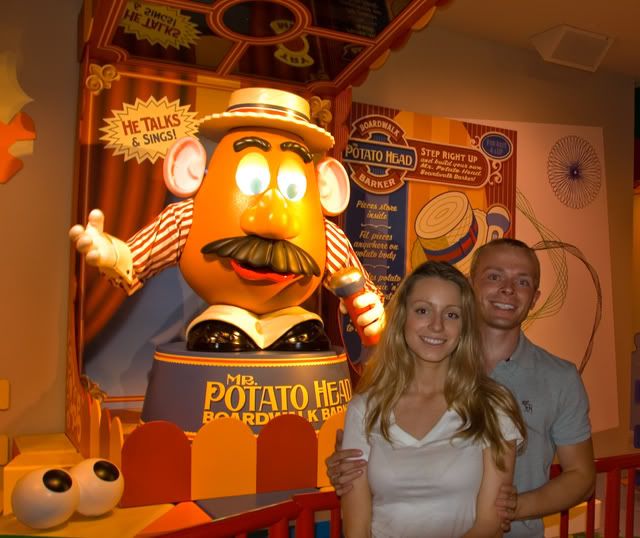 We got done around 2:30, and began taking pictures again. Some of the park sweepers weren't too thrilled with us, and told us we had to leave. Rather than doing this, we just left the TSM area, and got pictures elsewhere. However, since the same sweepers were still near us, we didn't spend as much time taking pictures. I've spent a lot of time in the parks after closing, and this marked the first time anyone has ever hurried us along (verbally, at least). It wouldn't be the last time, as the same thing happened the following night.
We finally made it back to our resort at around 2:15 a.m. and went immediately to bed. The next morning came quite early, again at 7:45 a.m. when we headed to Animal Kingdom.
From the outset, Animal Kingdom was not nearly as busy as DHS had been the previous day. We quickly headed to Asia first, to ride Everest. With only a 20 minute standby wait, we decided to forgo FastPass, and just wait in the queue. We figured it'd be better to save the FastPasses for Kilmanjaro Safaris, and besides, we had never seen the full queue for Everest. I have to admit, the previously unseen portions of the queue lived up to the hype. I have always thought that WDI did a great job with all aspects of Everest, and the queue is one aspect that is easily overlooked. But, when you're waiting in line 2 hours or so for an attraction, that queue can be ever-so-important (if you pay attention to it!).
After Everest, we got FastPasses for Kilimanjaro, rode Dinosaur!, then headed back to Kilimanjaro. It began raining as we boarded Kilimanjaro, but fortunately, we had one of our best safaris ever. We even saw a couple baby elephants playing in the water as adult elephants looked on. After Kilimanjaro, we dined at Flame Tree BBQ. We then went to my favorite AK attraction, Finding Nemo: The Musical.
We were in a time crunch at AK that day due to 4:30 p.m. ADRs for Liberty Tree Tavern (which we were not passing up given that the characters would soon be gone) so we quickly headed over to Camp Minnie Mickey to catch Festival of the Lion King. Being the hardcore pin traders that we are, we still had to stop to trade pins even in the time crunch, and thankfully we did, because while chatting with a manager with whom she was trading, Sarah got (us) asked to be in the parade!
Although the parade was at 4 p.m. and our ADRs were at 4:30 p.m., we could not pass up this opportunity. We decided to at least call LTT to see if they could postpone our reservations at all. After some discussion with Guest Services, someone at LTT said it would be no problem.
Being in the parade was great. It was odd going backstage, and seeing some "weird" things. We really felt like celebrities, although I must admit, all that waving made our arms tired. My only complaint about the whole experience is that the PhotoPass photographers who were taking pictures of us on the parade route only got close up shots! It is nice of Disney to provide these photographers, but how about an establishing shot or two?! The whole point of having pictures of you in the parade is to show that you were in the parade. I don't have much use for 20 close-ups of us waving that don't show the parade float at all. Mix it up a little.
That small complaint aside (and it didn't damper the experience then, since we didn't find out until we returned home), the experience was amazing. Afterward, we high tailed it to Magic Kingdom and LTT. When we arrived, due to two problems (one my fault, one theirs), we had to wait 45 minutes to be seated. Not a big deal at all, given the experience we had there.
Shortly after we were seated is when the fun began. Goofy, Chip, and Dale were very playful that evening, with Chip and Dale on their worst behavior. When we meet characters, they quite often try to "steal" Sarah from me. I always play along, "messing" with them in return. Chip and Dale took it to the next level–in a great way. Chip first ran off with Sarah, encouraging me to follow behind, but at the same time indicating he was ready to fight me. When we got about halfway across the restaurant, he had Sarah move to the side, and challenged me, kung-fu style.
Not wanting my dignity crushed by a rodent, I made a ridiculous kung fu pose, in an attempt to intimidate him. He did not back down, and the exchange went on briefly. When we finally returned to our table, I informed him that I'd be encouraging Goofy to prepare some chipmunk stew later. He motioned that he "had his eyes on me", and moved on. Every time he walked near our table, he would blow kisses to Sarah, and make the "eyes on me" motion to me.
When Goofy came by, I told him of the mischief Dale had caused, informing him that I held him personally responsible since it's his restaurant, and encouraged him to make him into stew. I said just don't feed the stew to me, as I find Chipmunks chewy. Goofy played along for a bit, and requested that we take pictures of him alone.
When Dale came by, it was similar to what happened with Chip. However, Chip also showed up, and the chipmunks fought each other for Sarah this time. I got involved a bit too in an exchange that continued on for a little while. I think someone at LTT didn't want us to eat much of our food, because we spent more time playing with the characters than we did eating!
Later, Dale came and sat down at the empty seat at our table to court Sarah further. I think he got a little too excited, because a drink spilled all over Sarah in the process. Being the helpful chipmunk that he is, he even offered to assist Sarah clean it up! It was really quite the experience. (FYI for those who don't know: the mugs at LTT can be purchased for only $5–just ask your host or hostess!)
After LTT, we visited a couple of attractions, then made our way to the Liberty Square Bridge area, for SpectroMagic spots about 45 minutes before the parade. We didn't get there as early as necessary (it was the last night of Spectro before the bridge was to be repaired), but we managed to get good spots behind some people who were sitting on the ground, in the "front row". Now maybe this is just me being bitter, but I figured that, since these people were sitting, and they had unobstructed front row seats, that they would not stand during the parade. However, I was wrong. I managed to be directly behind a 6"+ tall gentleman.
With some manuveuring, I was able to get some good shots, but the vast majority of my 150+ shots from the parade have a head on the bottom left of the frame, and a hand/camera in the bottom right of the frame. Again, maybe I'm bitter, but the camera in the right hand corner was especially aggravating, given that the person using it was constantly taking "flash" pictures. Oh well, I guess. The parade was amazing as always, and I was very pleased with my pictures (minus the hand). SpectroMagic is one of the most difficult aspects of WDW to photograph, and I feel I got some decent shots given my technical (not having a lens capable of "wide open" aperture) and location limitations. Next time we will most certainly be arriving earlier to get prime seats.
After the parade, we visited the park staples for the few remaining hours until park closing. After closing, we began our nightly picture-taking ritual at Big Thunder Mountain. Immediately, someone came over to me, and, standing right in front of my camera, asked, "What do you need, the park is closed". I responded that we understood, and we would leave soon, but we were just taking pictures, and went back to setting up for a shot. He again informed me that the park was closed, and we needed to leave, in a rude tone. Not being too shy, I forcefully responded, "well, we would be done here, but you just came and stood in front of my camera, so now I'm going to retake this picture." After I said that, he didn't respond, but instead moved to the side. Sarah later told me that he looked quite taken aback when I said that.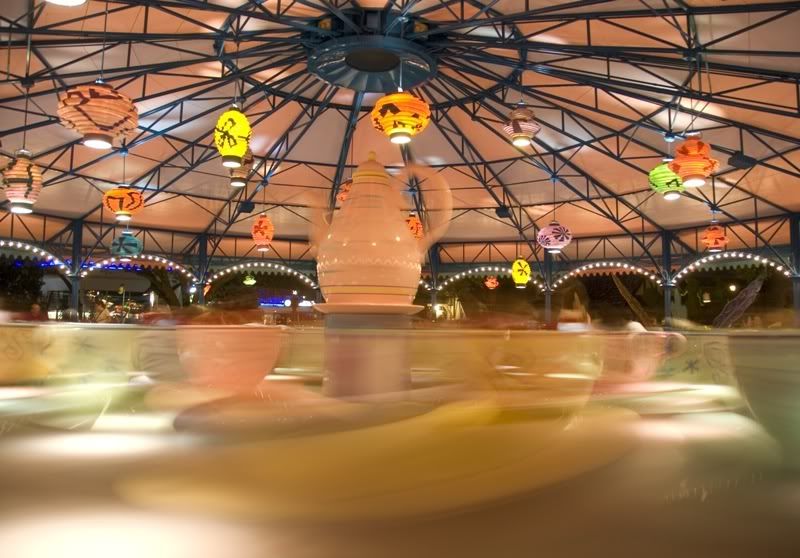 I normally am as polite to Cast Members as possible, attempting to make small talk and ask how they're doing. However, I am no stranger (despite not being a regular visitor) to park closing. We have been told at multiple times that we could linger about after closing, we just couldn't go "backwards" in the park (if you've ever been late, you may notice people follow you as they try to close off back areas of the park). When this guy was a jerk to us 4 minutes after closing, I was willing to reciprocate.
After that slight run in, we took plenty of other pictures (though none at BTMRR). The CM who was following us closing off the park chatted with us, and even encouraged us to take as many pictures as we like, because it was a "rare opportunity to get pictures without others in them." He was very nice, discussing how night was Walt's favorite time to be in the parks. After getting plenty more pictures but not as many as we wanted, my 4GB memory card was full (it was empty that morning). Shortly after putting in a new memory card, my camera battery died. Shoot, should've brought a spare. We switched to Sarah's P&S, although I wasn't too thrilled about the downgrade (especially considering that we had 2 more late nights in the MK), so we decided to call it an early night.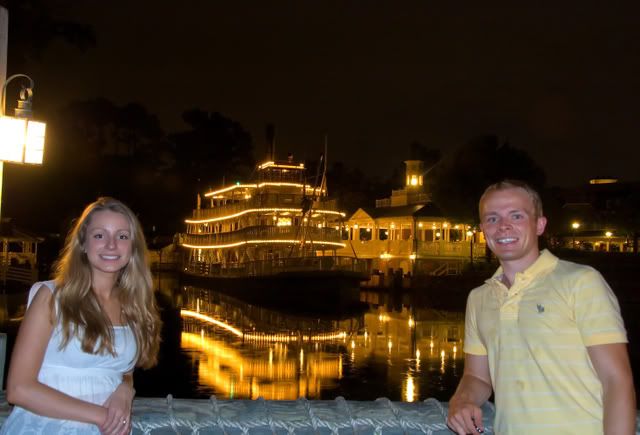 We made it home at around 3 a.m., and promptly went to bed. We'll pick up from here on Page 2!